[ENG/ESP] Splinterlands Brawl Report - PIZZA 2 06/Oct/2021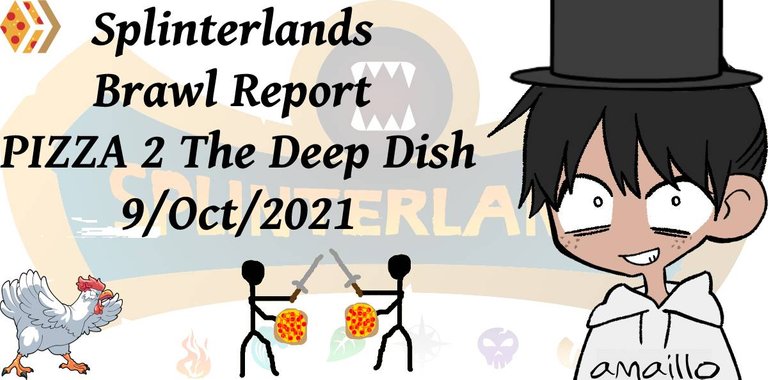 Hello everybody, for the first time i've decided to make a brawl report (i even took the time to make a good miniature, looks nice! xD). I must say that this is not my first brawl, i've entered to like 3 brawls before of this one :P. Anyway, lets roll this !
Hola a todos, por primera vez he decidido hacer un Brawl report (incluso me tomé el tiempo para hacer una buena miniatura, ¡se ve genial! xD). Debo decir que esta no es mi primera brawl, he ingresado a como 3 antes de esta :P. De todos modos, ¡a darle!
Battle #1
Ruleset: Fog of War, Close Range.
Mana: 27.
Allowed teams: Water, dragon.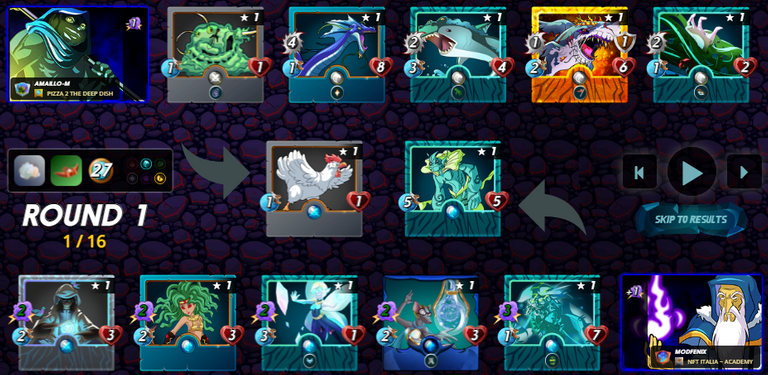 My first think was to use a team to counter the magic, because with Fog Of war in the table, I thought I might meet a magic team ... was right, unfortunately,did not think that i would meet a Venary Wavesmith. For this one, could has been better to use Wizard of eastwood, who gives -2 Shield to opponent + Unicorn mustang + Wood Nymph >_<.
Lo primero que pensé fue usar un equipo para contrarrestar la magia, porque con Fog Of war en la mesa, pensé que podría encontrarme con un equipo mágico ... tenía razón, desafortunadamente, no pensé que me encontraría con un Venary Wavesmith. Para este, podría haber sido mejor usar Wizard of Eastwood, quien da -2 de escudo al oponente + Unicorn mustang + Wood Nymph >_<.
Result of the battle #1: Loss.
Battle #2
Ruleset: Unprotected.
Mana: 50.
Allowed teams: Fire, water, dragon.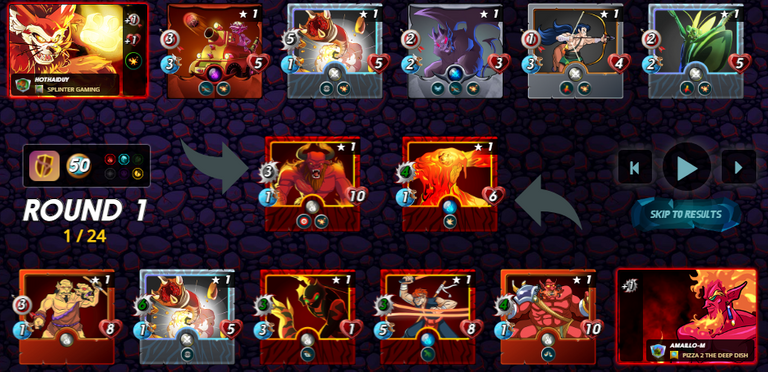 A battle against a Yodin x_x, instant RIP. Whitout Shield and having the posibility of use 50 mana, using water don't looked like a good idea (i don't have enough high mana water monsters), neither dragon, so the choose was fire, and if the opponent had the same way of thinking like me they probably will choose fire too and and probably will use melee (fire has a lot of those), because of that i choosed the Ogre (-1 melee atk to all). Sadly my way of thinking was right in some parts but in others don't xD as you all can see, and that Yoding, crap, badluck.
Una batalla contra un Yodin x_x, RIP instantáneo. Sin escudo y teniendo la posibilidad de usar 50 maná, usar agua no parecía una buena idea (no tengo suficientes monstruos de agua con alto maná), ni dragón, así que mi elección fue fuego, y si el oponente tenía la misma forma de pensar que yo, creí que entonces probablemente elegiría el fuego y probablemente usaría cuerpo a cuerpo (el fuego tiene muchos monstruos de esos), por eso elegí el Ogro (-1 atk cuerpo a cuerpo para todos). Tristemente mi forma de pensar era la correcta en algunas partes pero en otras no xD como todos pueden ver, y ese Yoding, mierda, mala suerte.
Result of the battle #2: Loss.
Battle #3.
Ruleset: Equalizer, Even Stevens.
Mana: 28.
Allowed teams: Fire, water, life, death, dragon.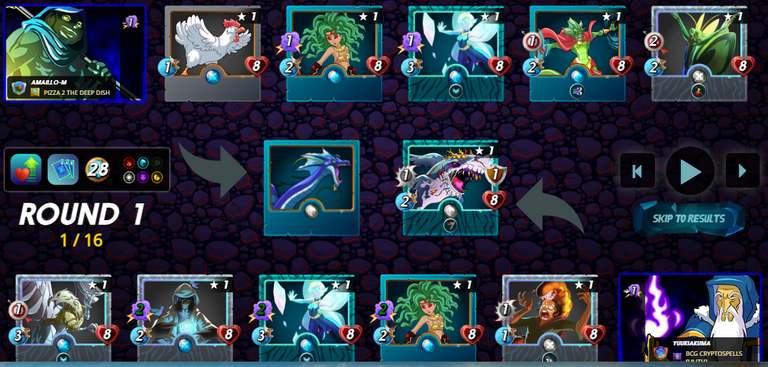 Even Stevens can be a pain the ass, i wanted to use also water elemental but nope. With equializer i rather prefer to use monsters who can cure themselves (as sea monster) because they probably will have a lot of life. Usually people use magic when the equalizer ruleset is on (and i even do, usually low HP monster can benefit from it) so a antimagic summoner as Bortus would do the trick. Sadly the distribution of my damage was not...to good and i ended up loosing again e_e.
Even Stevens puede ser un dolor de cabeza, quería usar también Water elemental, pero no. Con equializer prefiero usar monstruos que puedan curarse a sí mismos (como Sea Monster) porque probablemente tendrán mucha vida. Por lo general, la gente usa magia cuando equializer está activado (e incluso yo lo hago, generalmente los monstruos de bajo HP pueden beneficiarse de ello), por lo que un invocador antimagico como Bortus debería ser útil. Lamentablemente, la distribución de mi daño no fue ... demasiado buena y terminé perdiendo de nuevo e_e.
Result of the battle #3: Lose.
Battle #4.
Ruleset: None.
Mana: 44.
Allowed teams: All.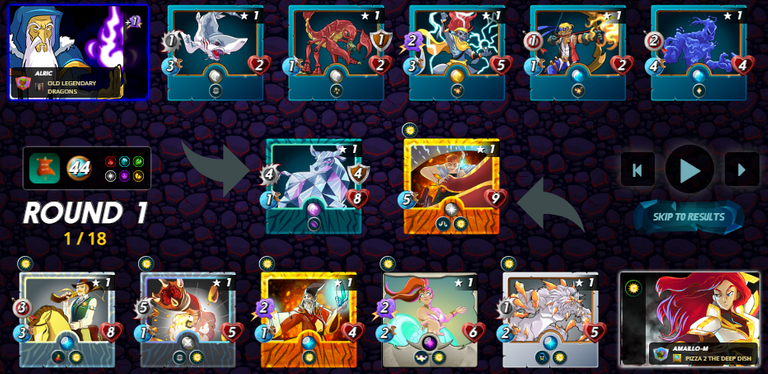 With all the possibilities in the world for what I could find and with 44 mana, the smartest thing I could think of was to make a team that encompasses a little defense against magic and a little against melee damage. The result was good :).
Con todas las posibilidades del mundo para lo que me podía encontrar y con 44 maná, lo más inteligente que se me ocurrió fue hacer un equipo que abarcara un poco de defensa contra la magia y un poco contra el daño cuerpo a cuerpo. El resultado fue bueno :).
Result of the battle #4: Win.
Battle #5
Ruleset: Heavy hitters.
Mana: 48
Allowed teams: Earth, life, dragon.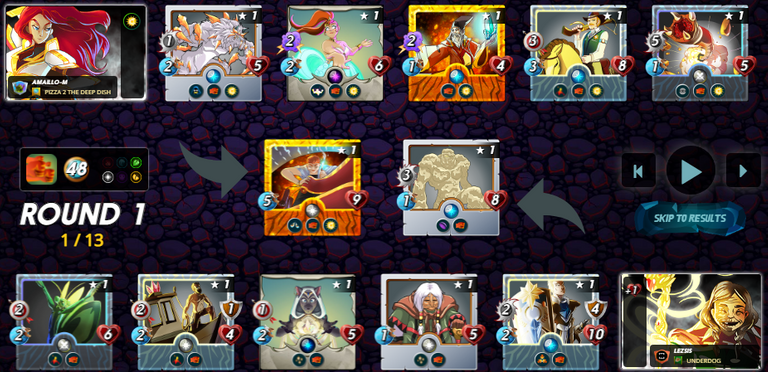 Heavy hitters is..one ruleset that i usually don't take into a count to make a strategy. My way of thinking in this one is similar to the battle #4 there is not much to say, with the exception that putting Djinn Renova in front of Temple Priest was a bad idea. Fortunately, despite that mistake, I did well.
Heavy hitters es ... un conjunto de reglas que normalmente no tomo en cuenta para hacer una estrategia. Mi forma de pensar en esta es similar a la batalla # 4 no hay mucho que decir, con la excepción de que poner a Djinn Renova frente a Temple Priest fue una mala idea. Afortunadamente, a pesar de ese error, lo me fue bien.
Result of the battle #5: Win.
Battle #6
Ruleset: Back to basics, Up close and personal (only melee monsters).
Mana: 34.
Allowed teams: Fire, water, earth, dragon.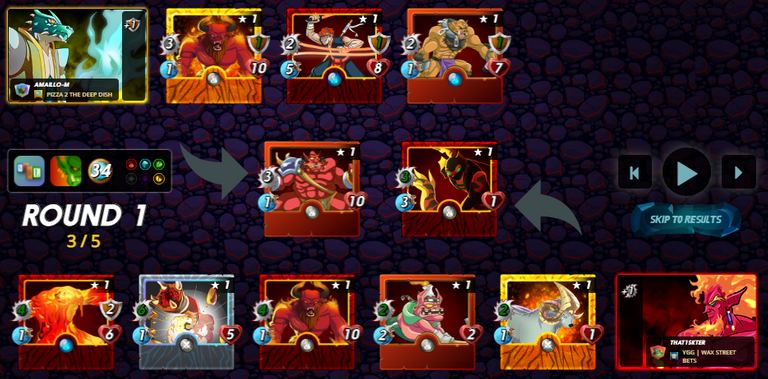 Melee only? Perfect! Go Molten Ogre and Beat 'em all!... oh, RIP.
Being the melee damage the only one that can be received, then a summoner that grants shield like Drake of Arnak comes very well, Molten Ogre himself can help a little by reducing the damage in general, however putting him in the frontline was not one of my best ideas...Interestingly, this would have been the perfect setting for a Mylor.
¿Solo cuerpo a cuerpo? ¡Perfecto! ¡Ve a Molten Ogre y golpéalos a todos! ... oh, RIP.
Siendo el daño cuerpo a cuerpo el único que se puede recibir, entonces un invocador que otorga escudo como Drake de Arnak viene muy bien, el propio Molten Ogre puede ayudar un poco al reducir el daño en general, sin embargo ponerlo en primera línea no fue una de mis mejores ideas ... Curiosamente, este habría sido el escenario perfecto para un Mylor.
Result of the battle #6: Lose.
Battle #7
Ruleset: Even stevens.
Mana: 48.
Allowed teams: Earth, death.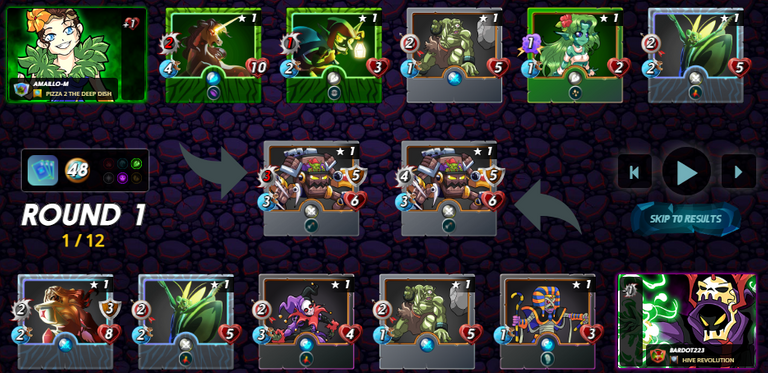 Earth of death? With 48 of mana and Even Stevens i thought that a Earth will be better than Death. I was right (at least for monsters arrangement that m opponent did).
¿Tierra o muerte? Con 48 de maná y Even Stevens, pensé que una Tierra sería mejor que la Muerte. Tenía razón (al menos para la disposición de monstruos que hizo mi oponente).
Result of the battle #7: Win.
Battle #8
Ruleset: Aim true, Broken arrows.
Mana: 44.
Allowed teams: Fire, earth, life, dragon.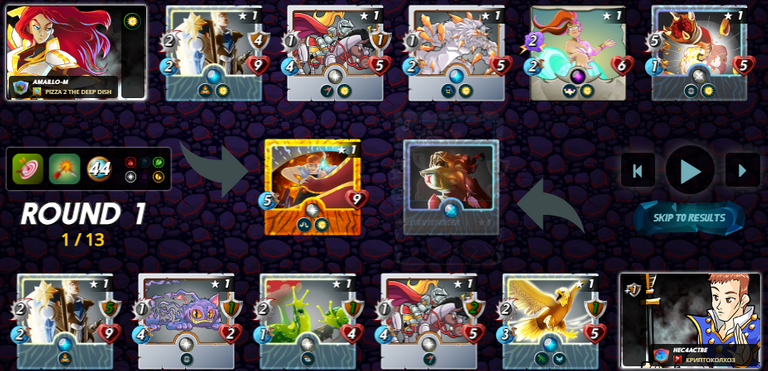 Whaaaat, not range and neither water? nice, two good melee tanks and just to be sure a good magic debuffer and we are done!
Queee, ni rango ni agua? bueno, dos buenos tanques cuerpo a cuerpo y solo para asegurarme, un buen debuffer mágico y ¡listo!
Result of the battle #8: Win.
Brawl final results / Resultados finales de la brawl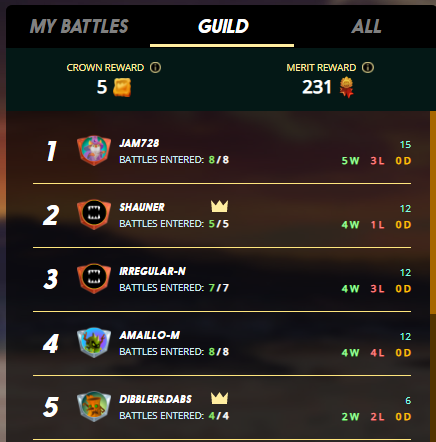 I got the 4th place in this brawl, it had not been my best position, but not the worst either xD.
Conseguí el 4º puesto en esta brawl, no ha sido mi mejor posición, pero tampoco la peor xD.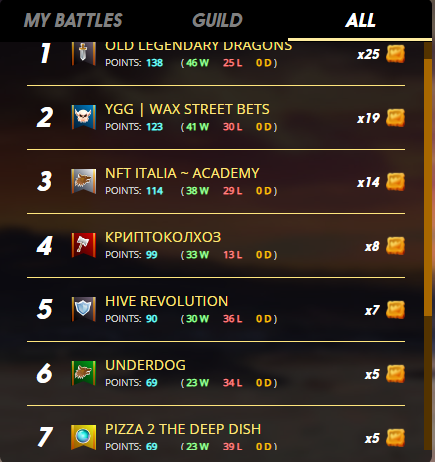 Regarding the guild, we got the 7th place e_e. I hope we do better in the next one.
En cuanto al gremio, obtuvimos el séptimo lugar e_e. Espero que lo hagamos mejor en el próximo.
This is all for today folks! I hope you had fun reading and watching the battles!
¡Esto es todo por hoy amigos! ¡Espero que te hayas divertido leyendo y viendo las batallas!
---
Do you want to try Splinterlands? You can use my referral link (https://splinterlands.com/?ref=amaillo-m), if you do I can delegate some cards that will help you rise in ranks faster!
¿Quieres probar Splinterlands? Puedes usar mi link de referido (https://splinterlands.com/?ref=amaillo-m), si lo haces puedo delegarte (es decir, prestarte) algunas cartas que te ayudarán a subir más rápido de rango!
Hey, if you want to get some extra income in Hive (because yeah, never is enough income xD), why do not to try Rising Star? And also Cryptobrewmaster!, both of them are good and easy games! HUH?! did you don't like games?! O_o
Oye, si quieres obtener un ingreso extra en Hive (porque sí, nunca hay suficientes ingresos xD), ¿por qué no pruebas Rising Star? Y también Cryptobrewmaster!, ¡ambos son juegos buenos y fáciles! ¡¿EH?! ¡¿No te gustan los...juegos?! O_o
Welps, you can emm get PIZZA here and stake 20 PIZZA , to get some more PIZZA and also be capable of give pizza in your comments! What?! The pizza makes you fat u say? O_o (note: you can still be capable of give pizza just by holding 20 tokens).
Bueno, puedes conseguir PIZZA aquí stackear 20 PIZZA, para conseguir más PIZZA y también ser capaz de regalar pizza en tus comentarios! ¡¿Qué?! La pizza engorda, dices? O_o (nota: puedes otorgar pizza aún solo si holdeas 20 tokens).
Ok, you can also delegate some of SPT to (@)monster-curator to get some pasive SPT (in case you aren't doing nothing with it), I probably could add more ways to get some income in Hive, but i don't want to make this wall of text bigger.
Ok, también puedes delegar algo de SPT a (@)monster-curator para obtener algo de SPT pasivo (en caso de que no le estés dando uso para hacer curaciones/dar votos).
¿Nuevo en Hive? Date una vuelta por este post que te explica todo lo básico que necesitas saber. Si quieres comprar Hive puedes darte una vuelta por
Binance o por Orinoco.io, puedes usar Hive para stackearlo y obtener más recursos (es decir, más capacidad para hacer transacciones) además de poder obtener más Hive por tus curaciones (likes).
---
---