Destruction
Destructions do not always need bad intentions. Things can be destructed with an intention of creating ease and providing help.
Sometimes, my kids insist me to take their help. At times, they want to do a tàsk which they can't perform correctly. As a result they only create mess. Well, they are kids. The results are expected from them. However, some of us may have encountered the adults who really have good intentions of helping us. They even do their best to finish the task, but their carelessness brings bigger trouble than the previous one.
This 👇 meme represents the same idea. The friend was given a task of cutting a tree with a chainsaw. He did that finely but due to carelessness, the car is damaged.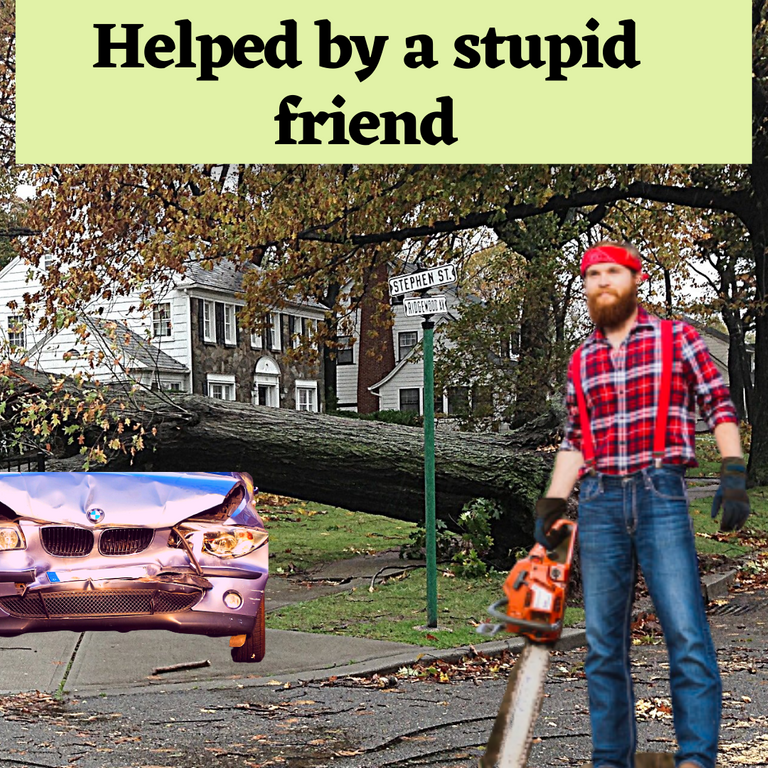 Rumi has rightly said
a wise enemy is better than a foolish friend
For bringing destructions to an area, general foolishness is not the only criterion. People can be knowledgeable and clever but not in the area they are given the responsibility of. If a doctor is given the responsibility of maintaining cars anda mechanic is sent to the operation theatre, What the result would be.....???
Sometimes, it is thought that if a person did well in one related area, he can do well in the other as well. And that proves to be the biggest mistake. For instance, a car mechanic cannot repair an areoplane. If such a person is given the responsibility, the disaster is inevitable.
A worse case is what I see in the parliament and other government departments. The ministry of hockey was given to a person who would not even know how to hold the hockey stick, Ministry of aviation division is with a person who is agriculturist by profession, ministry of science and technology is given to person who has all his degrees in Arts and Commerce. Huuuuuuh! When the responsibilities and authorities are given to people who have no idea of its surroundings, they may learn the very basic skills to stick on the chair of authority. However, their actions will bring disasters, as their knowledge and vision is insufficient to capture the after-effects of their actions.
This 👇 meme displays the same idea. When an amateur is given some authority, his focus is on the superficial tasks as the chainsaw man cuts the tree, but he doesn't foresee that the way he has performed this task will cost more as in the case of damaged car.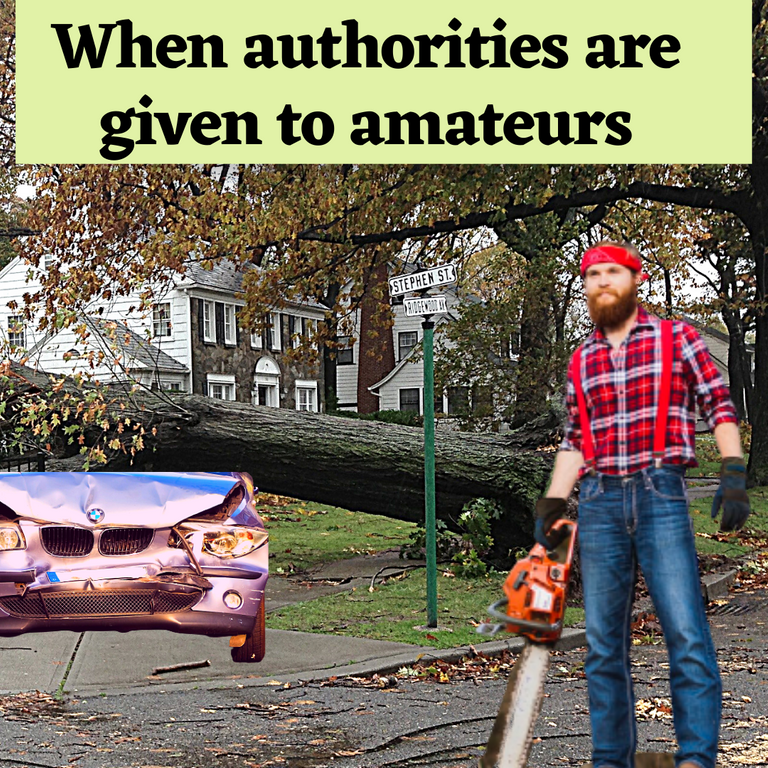 This is my response to the call for fun by @dreemsteem.
The background image for the collage is taken from canva. Other images are taken from Here and Here
---
---