On his way of recovery
There has been a season of colds and coughs in my city for about last two months due to allergic weather. The ailments have affected everyone regardless of the age and gender. The more problematic condition is that the treatments are bringing only temporary benefit for a week or two. Then, there attacks another wave. The extent of diseases in the city can be inferred by shortage of paracetamol tablets. In my marital life of 9 years, I never remember my husband taking medicine with this much consistency as he did in this season. Within the period of 40 days, he completed course of 3 different antibiotics but still the cough hasn't gone completely. I have already written about the time I spent with the ailment of my asthmatic son
Well, today I am going to tell about the little angle at our home. The smallest kid in the household who has not only been affected by the weather but another more severe problem. It is like Allah has given him another life.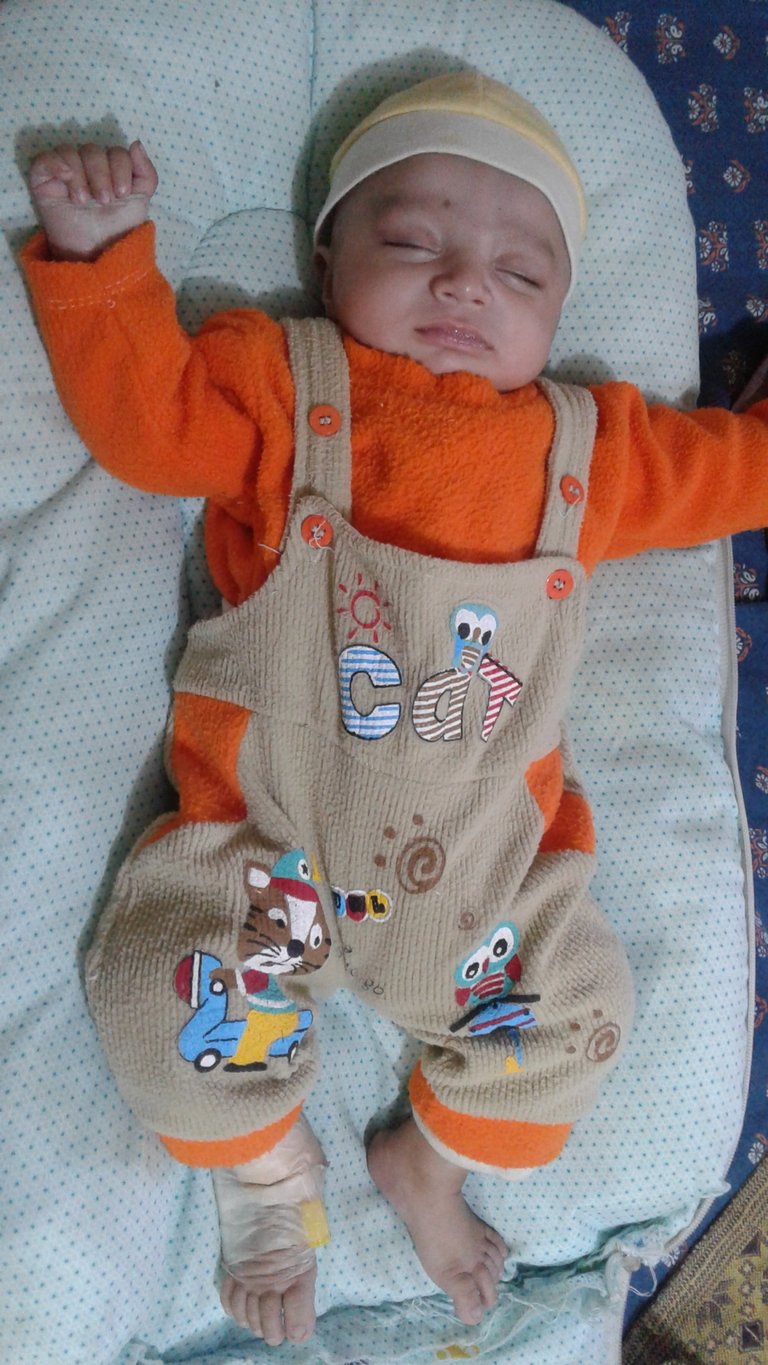 The infant son of my brother-in-law have had minor chest infection for a few days for which doctor had given him the medicine. Despite taking medicine, I could feel the increase of mucus in his chest (my younger son, being asthmatic, has given me the experience). However, it was not appearing a lethal condition at all.
Last Sunday, he started turning blue and his body was taking jerks as if he was struggling for oxygen. It was a holiday's evening so no specialists were available at the private hospitals. His parents took him to a government hospital. They told that the boy was in critical condition. He immediately needed to be admitted for the treatment but no bed was available there. They referred to another hospital. My brother-in-law took him to the other hospital. It was so much crowded and he had to wait for his turn. He requested the staff to send him in first because the child was too serious but the staff didn't permit him and told him to wait till it is his turn.
They got out of there as it was taking to much time while the 40 days old kid was in a dire need of immediate response. They were wondering which hospital to go. Meanwhile , he got a phone call from his sister. She told about the hospital which she thought was apt as she had seen someone always taking their kids to that hospital for a similar kind of condition.
They took him there and got him admitted. I went to the hospital with my husband to see them. When I saw my brother-in-law, I sensed he had cried. This is the first time ever I saw him with tears. Otherwise, he is an easy going person and never takes tension. But this time, he was anxious and afraid. Why shouldn't he be, the doctor had told them to be ready for any outcome. He told me, "the doctor is saying again and again to make our mind for anything (death of the child)."
(I don't know if doctors are supposed to say things like that in such a harsh way. Same thing can be said in a politer way. Anyways.........)
At the hospital, they gave him oxygen, got his tests done and started anti-biotic drips. He was diagnosed with pneumonia. He got some betterment in his condition till the next day. Nevertheless, the next day my brother-in-law took him out of that hospital and ventured for another. I asked him the reason of shifting if he was getting better. He told that all the doctors, even the child specialist, had the similar kind of attitude. They were blaming the mother for the condition as she was giving him the bottled milk, but they were not doing the needful. The child was in a need for NICU, while the service wasn't available there (I am not sure if there were no beds or the service was absent altogether).
Shifting to the other hospital proved to be a good and timely decision. It was there, the major problem for his difficulty breathing was diagnosed. The drops of milk had entered his breathing passage and caused the infection. He was admitted to NICU and his treatment began immediately. He stayed in the ICU for about 3 days where he wasn't allowed to eat or drink anything.
When he gradually started recovering and was finally able to breathe without oxygen aid, he was shifted to ward. The doctors strictly prohibited to give him any milk other than mother feed to avoid further problems.
The other day he was discharged but injections had to be given to him for the next four days, thrice a day. For this purpose, a guy of paramedical staff from the hospital comes at our home.
Yesterday, the cannula in his hand was blocked. Now, it is planted on his foot. The small little angel has passed through so much pain during this whole treatment and ailment period, yet we are grateful to God for recovering him and giving him a new life.
---
---