The Rich Auntie Vibe Boubou

---
Been a while in this community and I must confess I missed sharing my sewing experience here.
Well well, my client came in to make an outfit without having a particular style in mind to make, she trusted that I made something nice by just seeing what might suit the fabric she brought, so I decided to make the "Rich aunty vibes boubou", as we call it here in my country.😄😄
The fabric is mesh but not a plain mesh, a floral mesh which is quite stylish, this mesh is soft and not so easy to handle as it slips from the cutting table, dancing here and there.😃
Since the mesh is quite transparent, I used a sequin fabric as the lining, I also used trimmers and a fancy applique to match.
Here are my materials for making this outfit as seen in this collage.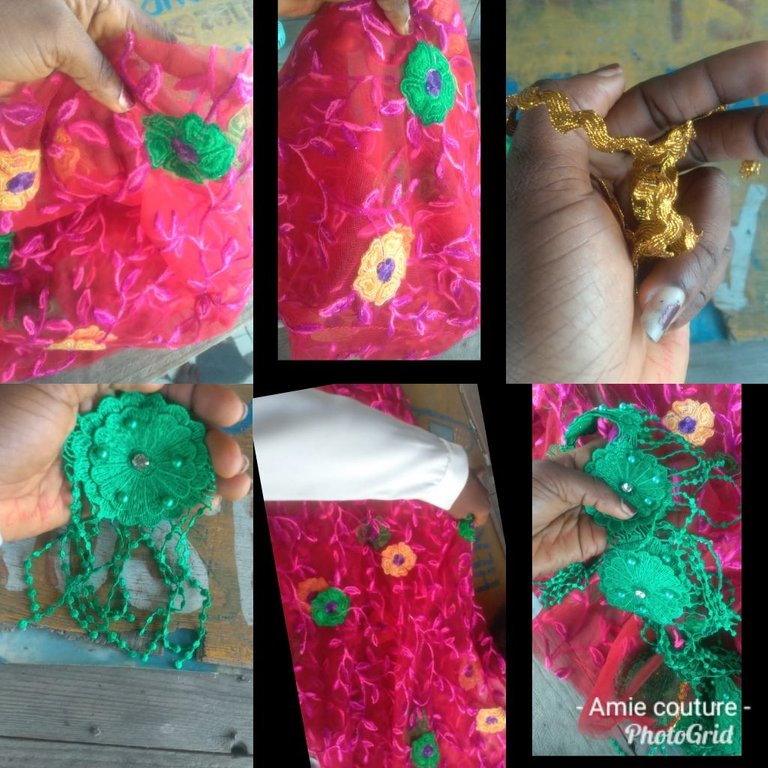 ---
This style is an easy outfit that can be sewn within 15-30mins, both the cutting and the sewing.
I folded the mesh which is about three yards to the size of my client.
Her hip is about 40 inches since it's a boubou, it doesn't need to be taught so I divided it by 4 which gave me 10 inches and then I added about 3 inches allowance to make it big. The length is about 55 inches long. I chose to use the larger part of her body to fold this outfit so that it can be easy to wear since it wouldn't require a zipper.
The neck is a canoe neck shape, see how I folded it in collage 5 in the picture above.
I didn't cut a different sleeve for this style, it was cut together like the regular kaftan/boubou style.
After cutting the back and the front, I joined the two bodices together using a nice color-matching ribbon(bias) to tape around the neck and inside out.
I decided to attach the golden trimming on the neck to add beauty to this boubou.
a for the sleeve, I added that green applique to the two sleeves and also sewn a few of them on the neckline as well using my hand needle and thread.
The lining was a purple color sequin, which I just used the hip measurement to fold as well, draft out my armhole like my regular bodice, added a 2inches allowance after dividing the hip by 4, and then turned the neckline and the armhole. For the neckline of the lining (sequin) I used a u-cut and I went in depth by 5 inches and 4 inches wide.
And then my boubou is really to be worn.
I sampled it on my dummies first and took nice shots of it and even made this video for you all to see.
Here is the picture.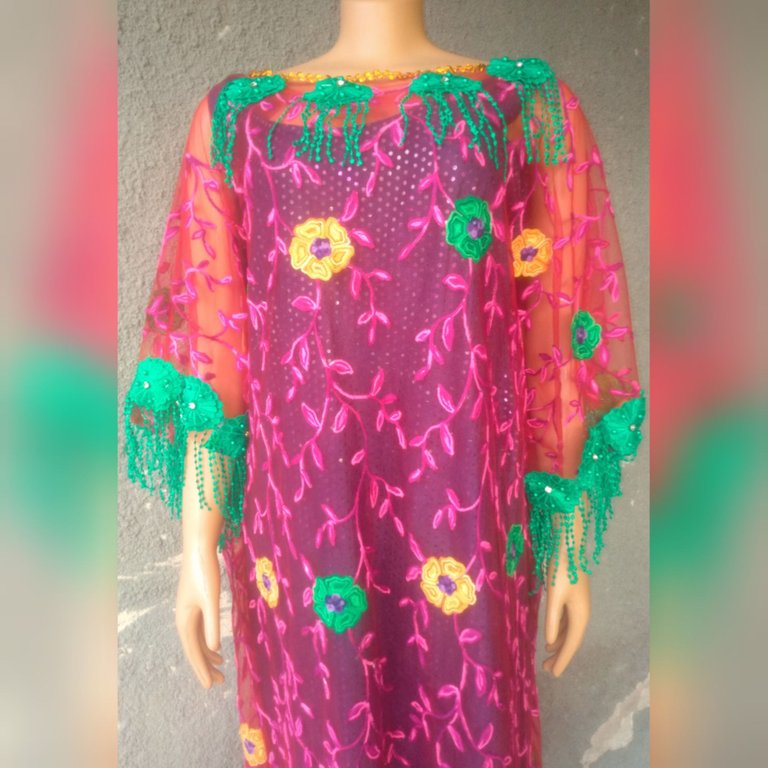 All images used are mine
The video was made in my office and I decided to entertain y'all with the background music sung by
#KizzDaniel titled " Eh God". Well, I love listening to music while working, it makes my work enjoyable.
Your comments are well appreciated. Thanks for viewing, reading, and listening.
This is also my first video on hive. Yeeeeeahy.
😍😍
---
▶️ 3Speak
---
---