200% in three days!?
After three days I thought it was a good time to give an update about my experience with Bit-coin247.com.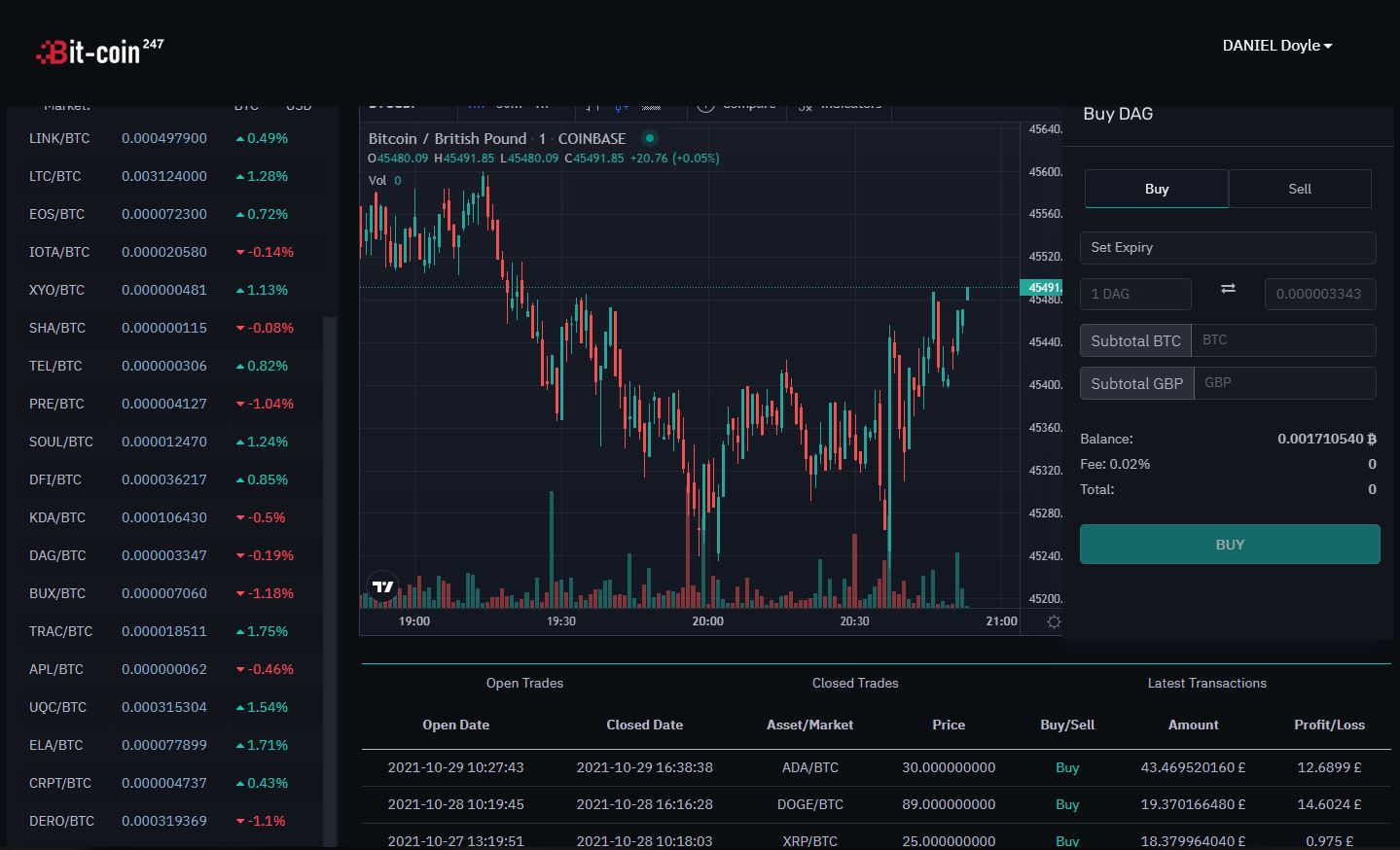 If you have seen my last post about getting a cold call from this website you will remember that although I was nearly 100% sure it was a scam I was willing to bite the hook and create an account with a lodgment of $50 of bitcoin to see what would happen. To be honest, after sending over the money I thought that would be the end of it and that their scam would be complete but the very next day I got a call from a Trader who introduced himself as Brian and he said he would be my personal trader and tell me what trades to make and when.
So I did a trade he suggested XRP/BTC for £18.379 (it seems that the site does things in pounds) It was easy enough, just type the info into the panel on the right of the page and click buy. The next day Brian rang and told me to close the trade and I got a profit of €.975. Not great but not too bad considering I haven't got a clue what I'm doing. Brian suggest I then buy 89 Doge for £19 and close the trade the same day at 16:00hr I did exactly that and got £14.6 profit. Wow! What witchcraft is this?
The next day I just got a text to buy 1.5 DOT and close the trade at 16:30. I could not find the option on the traderoom to buy Dot so texted back. Brain said it should be there on the page but I could not find it. He said it should be above LUNA in the list. But that was not there either. He must be looking at a different screen to mine. Final he suggested buying 30 ADA and closing at 16:30. Which I did and got another €12.6 in profit.
Let us see where this takes us!
So in the last few days, it has doubled my money from $50 to $104. Now, I am not going to get too excited, not until I can withdraw money back to my own wallet to make sure this is not all just smoke and mirrors. I want to see at least my initial investment back before I decided where to go from here. This could all be just part of the scam to get me to invest more but I will be careful and make sure the ball is always in my court. Let's see where next week takes me and us. I would love to get some feedback from the community down below. What am I missing? This seems like it is working as advertised but I am sure it can't all be a bed of roses.
Disclaimer: I am not affiliated with Bit-coin247.com in any way. I am just writing these posts about my experience using the site, a site that could possibly be a scam. Only time will tell, so follow my progress before making your own decision either way and don't come crying to me if things go south.
Posted Using LeoFinance Beta
---
---