(ESP-ING) Tutorial ..como Hacer Una Pajarita para niños//Tutorial ..how to make a bow tie for kids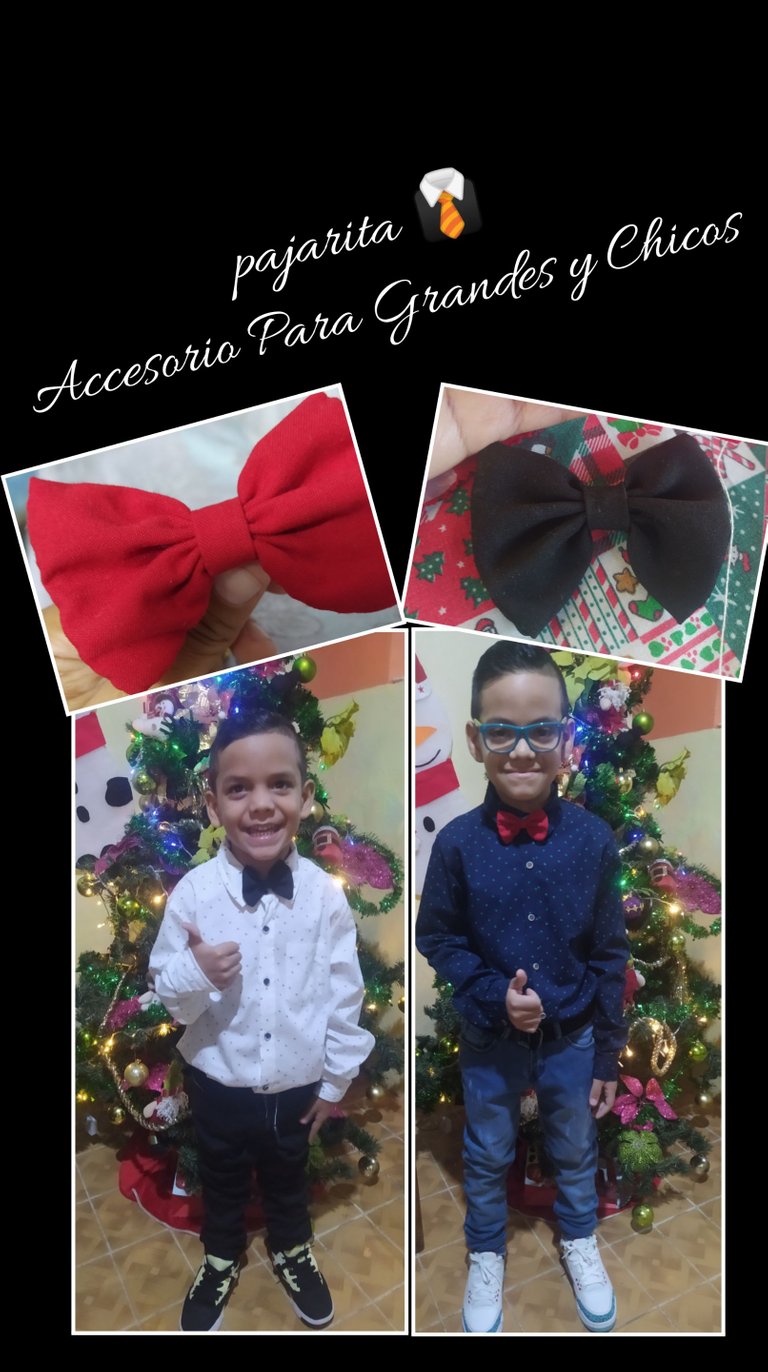 Excelente día, feliz y próspero año nuevo a todos los amigos de Hive deseando siempre que esté sea un año de bendiciones, próspero y exitoso para todos!!
Excellent day, happy and prosperous new year to all the friends of Hive wishing always that this is a year of blessings, prosperous and successful for all!!!
Hoy quiero compartir con ustedes otro proyecto de costura, como mamá nos esmeramos siempre por qué nuestros hijos luzcan hermosos y elegantes como todo unos caballeros! Para esta ocasión el Outfit que lucieron fue una camisa manga larga pero como siempre quiero verlos bellos decidí realizar una corbata o pajarita para niños que la podemos utilizar en ocaciones especiales como bodas bautizos cumpleaños y por supuestos navidad, y es justamente lo que les traigo el día de hoy un tutorial creativo y súper fácil de realizar y lo mejor con muy pocos materiales que los podemos tener en casa. Iniciemos entonces con este proyecto.
Today I want to share with you another sewing project, as a mom we always strive to make our children look beautiful and elegant like gentlemen! For this occasion the Outfit they wore was a long sleeve shirt but as I always want to see them beautiful I decided to make a tie or bow tie for children that can be used in special occasions such as weddings, baptisms, birthdays and of course Christmas, and that is exactly what I bring you today a creative and super easy to make tutorial and the best thing with very few materials that we can have at home. Let's start then with this project.

°Tela (Retazo)
°Goma elastica
°tijera.
°Hilo y Aguja de coser.
materials.
°Cloth (patchwork)
°Rubber
°Scissors.
°Thread and sewing needle.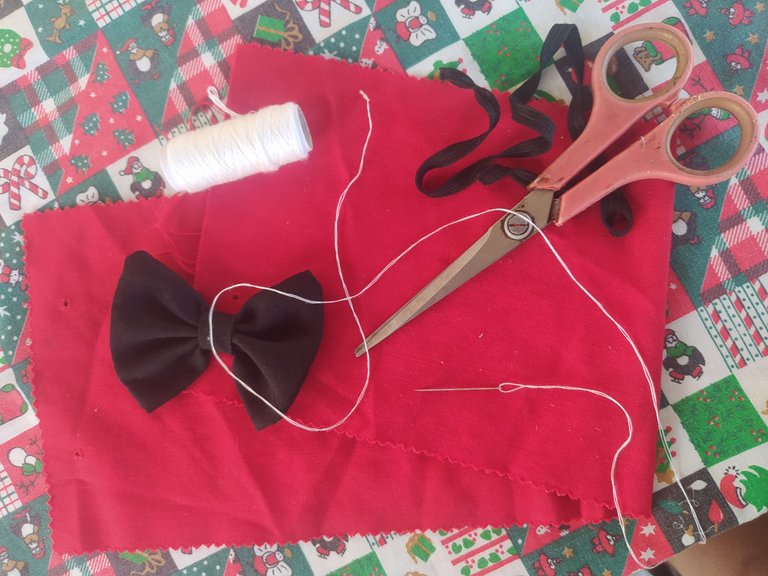 1° tomamos el retazo de tela en este caso yo utilice una tela en color rojo corte un rectángulo de 8cm de largo por 6cm de ancho.
We take the piece of fabric in this case I used a red fabric cut a rectangle of 8cm long by 6cm wide.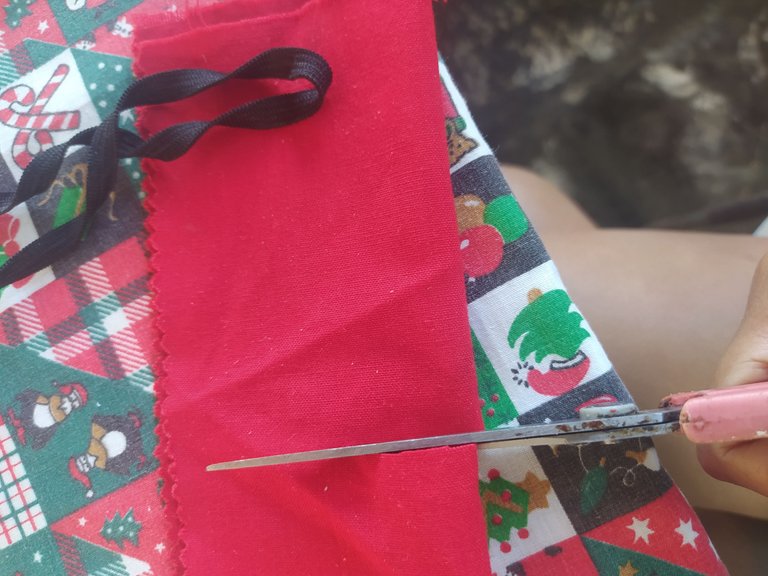 2° listo el rectángulo iniciamos con la costura para ello utilizamos una aguja e hilo de cocer preferiblemete del mismo color,yo estoy usando el hilo blanco porque no disponía del color rojo, cocemos todos los extremos del rectángulo dejando un pequeño orificio por donde vamos a dar la vuelta a la tela,Pero antes con los dedos arreglamos muy bien los bordes de la costura en las esquinas de manera que nos queden rectas y no redondas.
Once the rectangle is ready, we start with the sewing, for this we use a needle and thread, preferably of the same color, I am using white thread because I did not have the red color, we sew all the ends of the rectangle leaving a small hole where we are going to turn the fabric.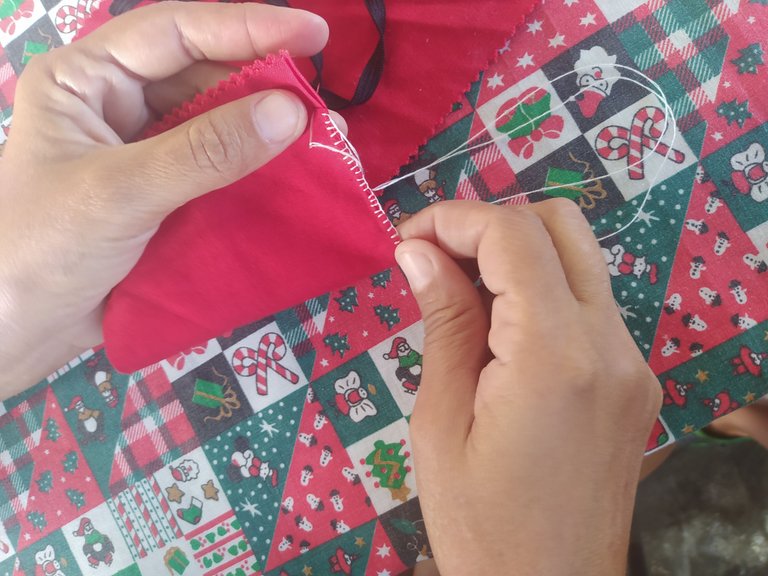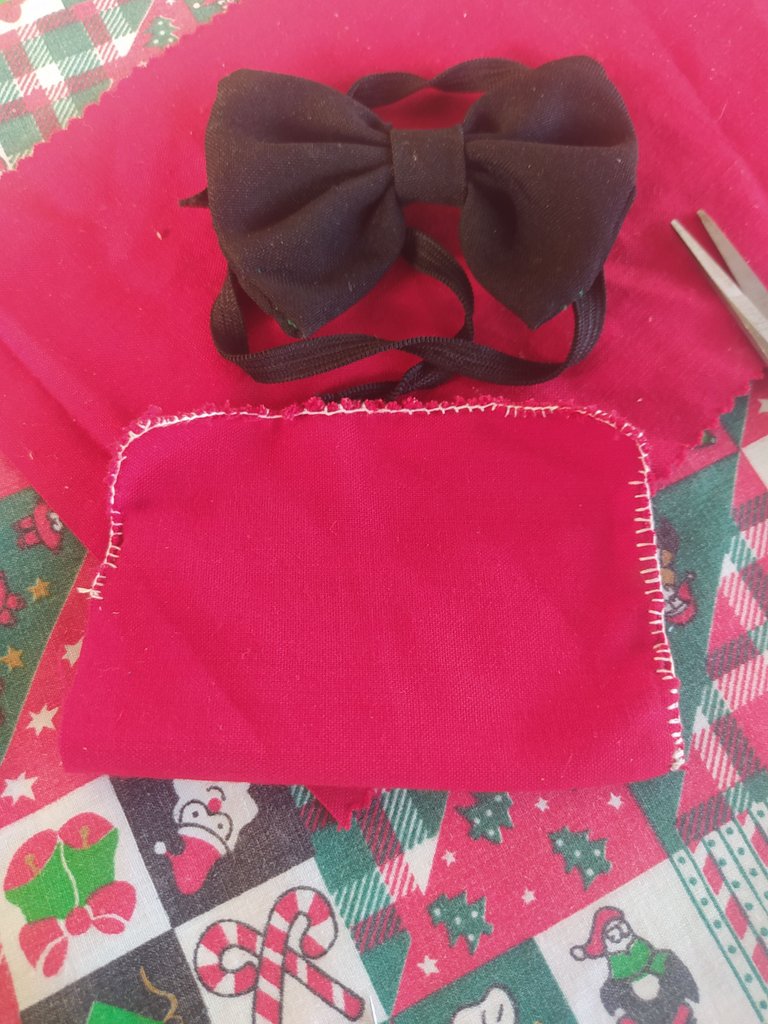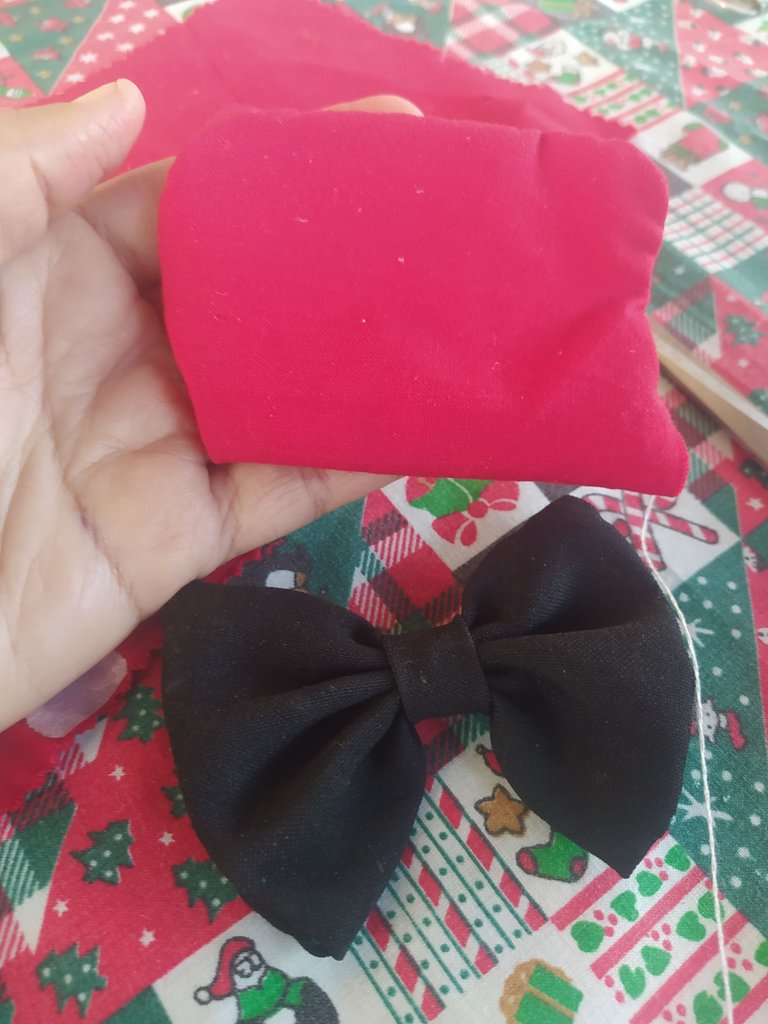 3°ya con el rectángulo de tela Volteado al derecho y con las costuras bien arregladas goce mm os el orificio que deja mm os abierto para ello doblo un poco la tela hacia adentro y cocemos discretamente que no se note.
already with the rectangle of fabric turned right side up and with the seams well fixed, enjoy mm os the hole that leaves mm os open for it I fold a little the fabric inwards and we cook discreetly that it is not noticed.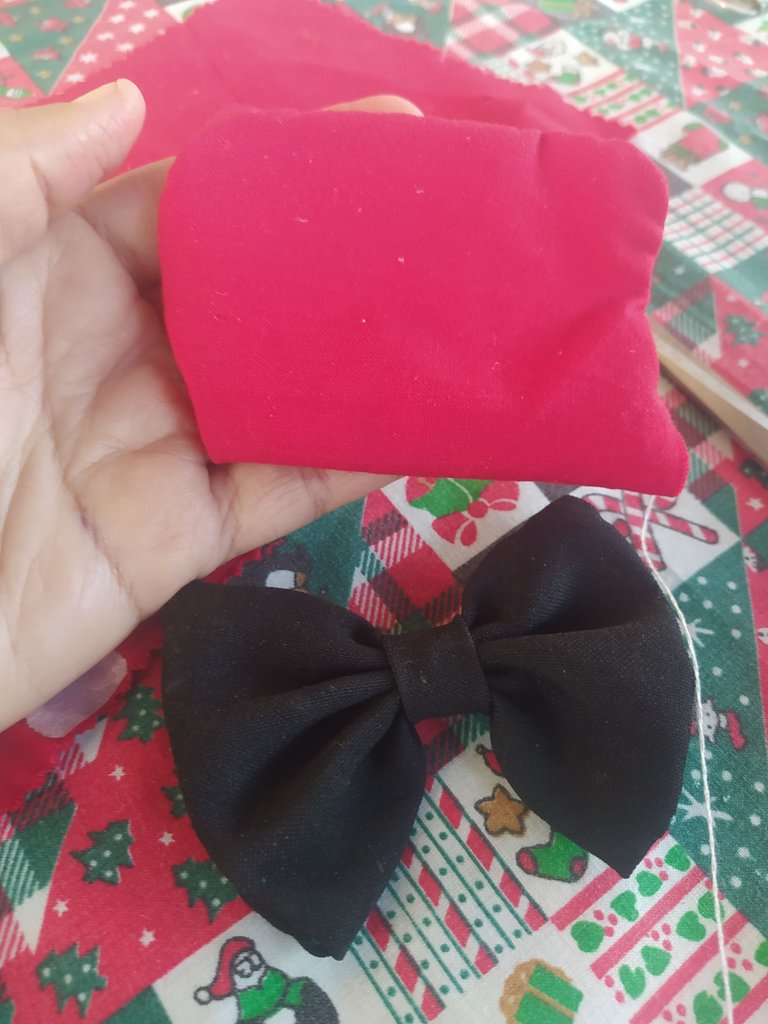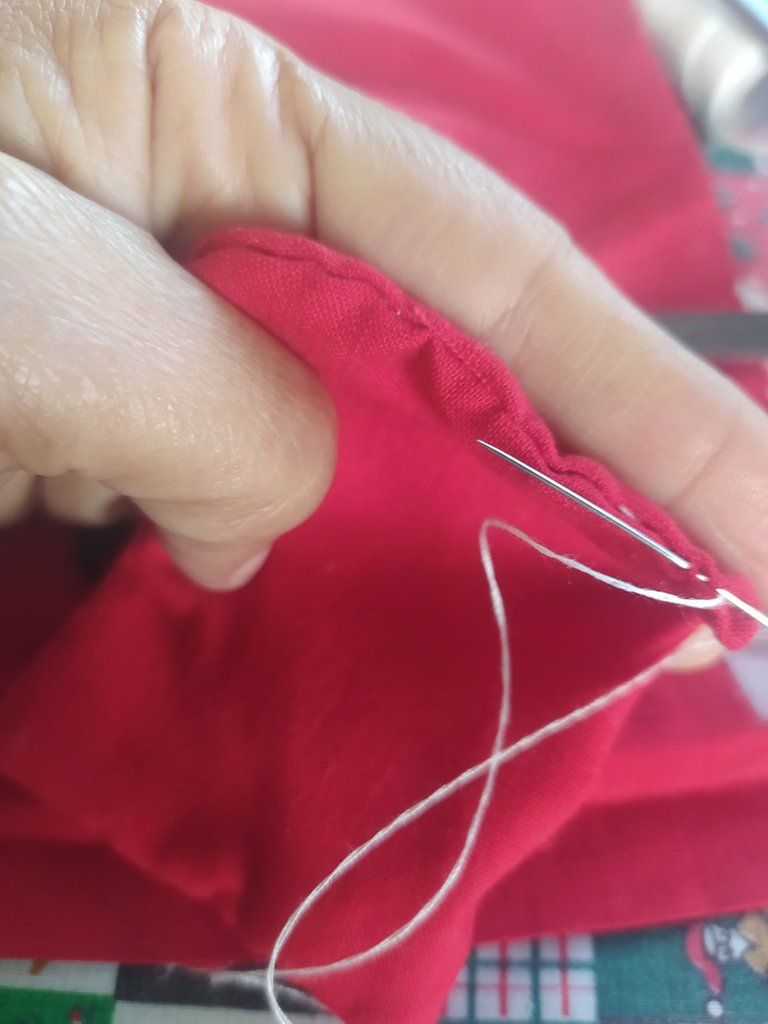 4° ahora sí viene la mejor parte, darle forma a ese cuadro tan simple que tenemos y para esto tomamos la tela ubicamos el centro doblando el rectángulo a la mitad y realizamos una costura corrida de un extremo al otro para luego fruncir o arruchar y ay ya tenemos la forma del lazo.
now comes the best part, to give shape to this simple picture that we have and for this we take the fabric we place the center folding the rectangle in half and we make a running seam from one end to the other to then gather or pucker and ay we already have the shape of the bow.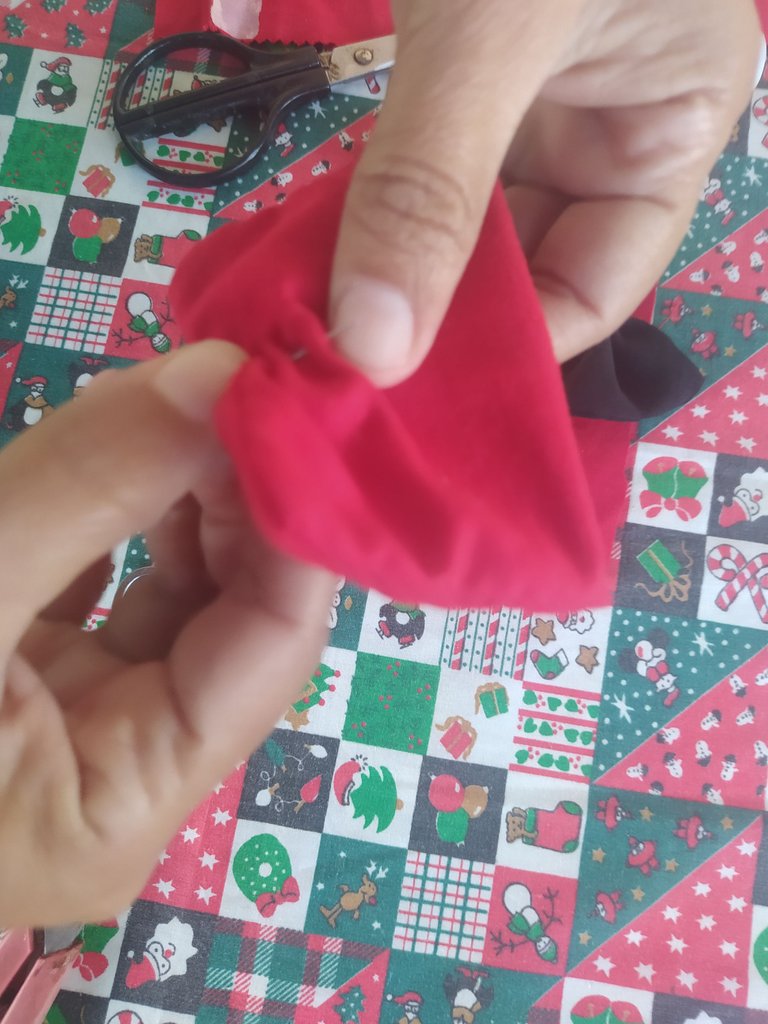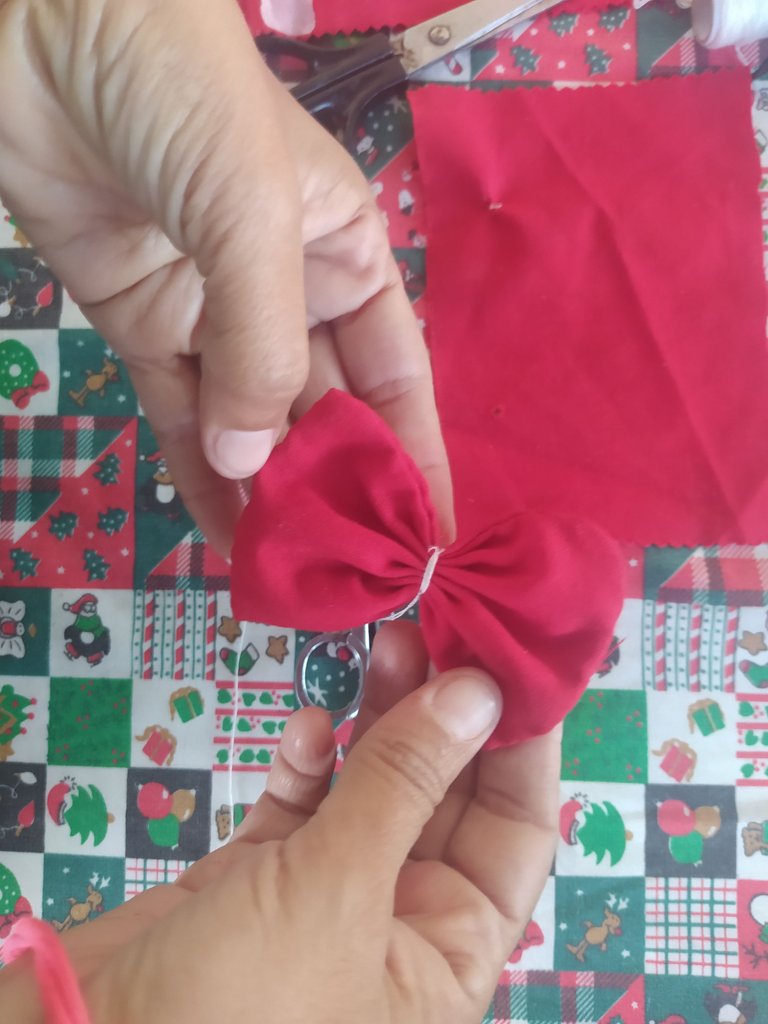 5° ya con nuestro lazo listo ahora procedemos a cocer nuestra cinta elástica o goma para luego tapar la costura del centro con un retazo de tela pequeño para eso recortó un pedazo de tela de 3cm largo por 2cm de ancho y lo doblamos 3 veces ,nos queda como una cinta y lo cocemos al centro del lazo de esa manera tapamos toda la costura y tenemos el resultado final que es nuestro lazo o pajarita un lista para los príncipes.
already with our bow ready now we proceed to cook our elastic band or rubber band and then cover the seam in the center with a small piece of fabric for that cut a piece of fabric 3cm long by 2cm wide and fold it 3 times, we have it as a ribbon and cook it to the center of the bow in that way we cover the entire seam and we have the final result that is our bow or bow tie a list for the princes.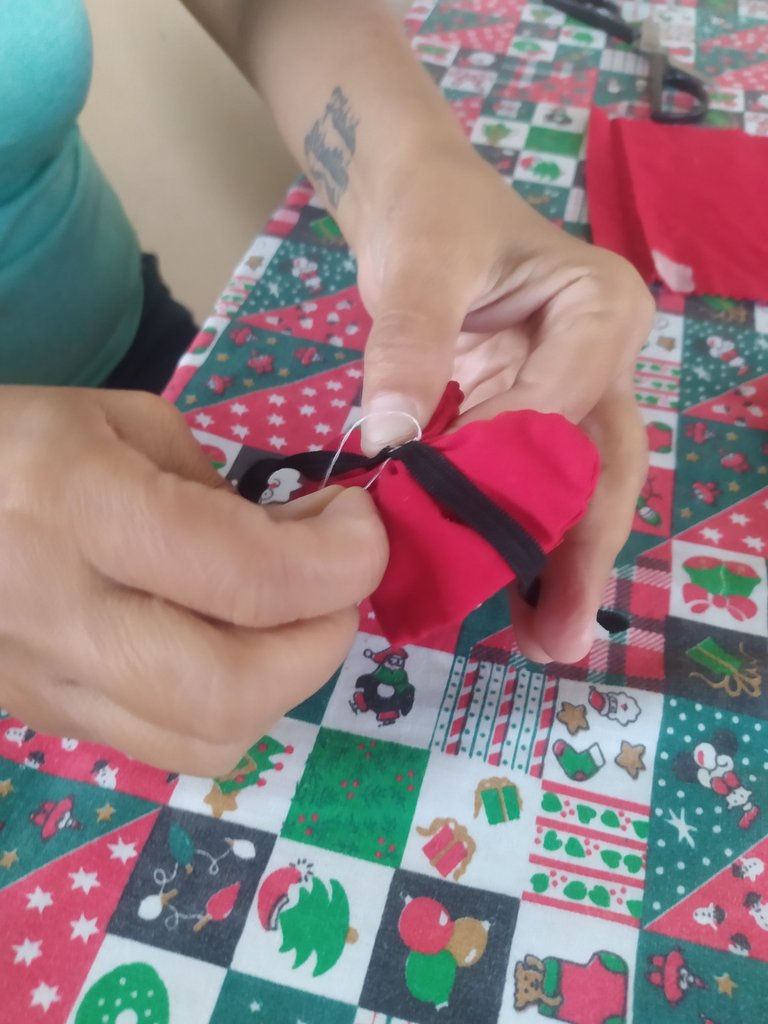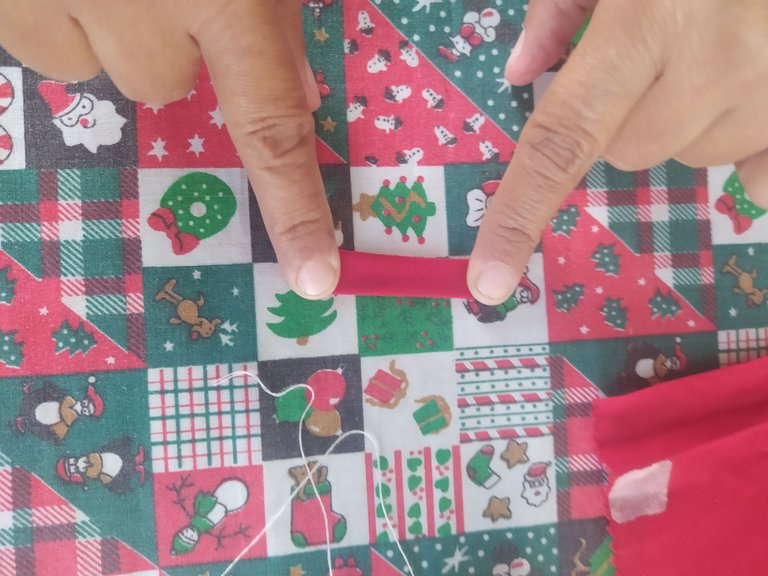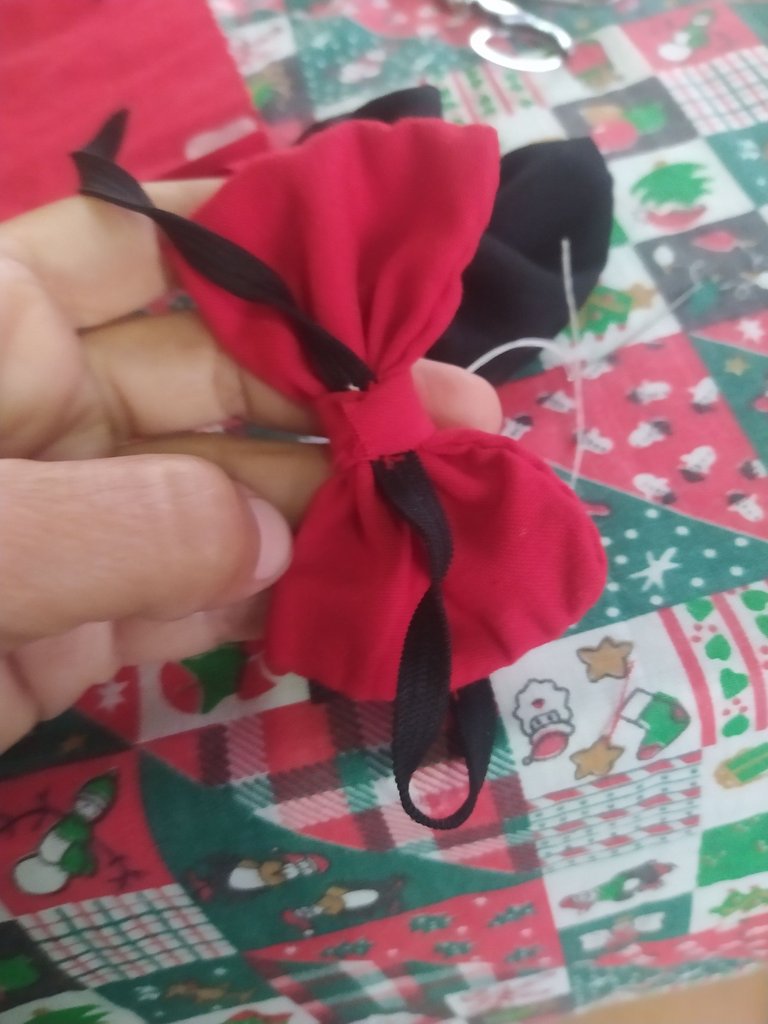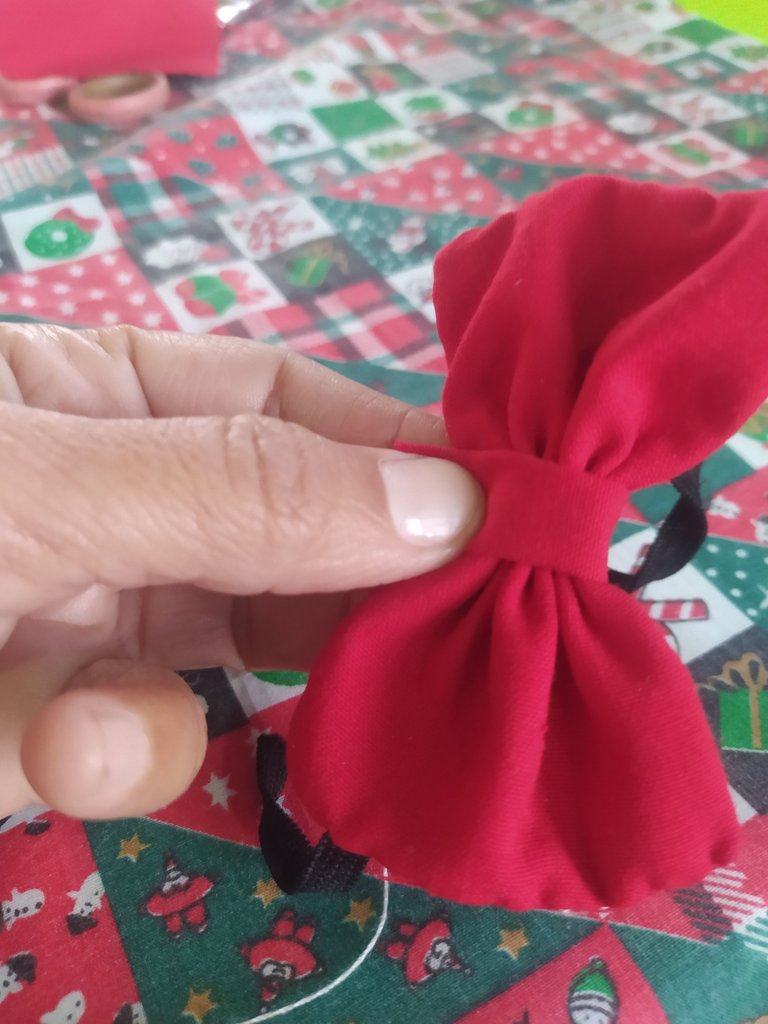 Y así de hermosa quedó la pajarita o lazo.
And that's how beautiful the bow tie turned out.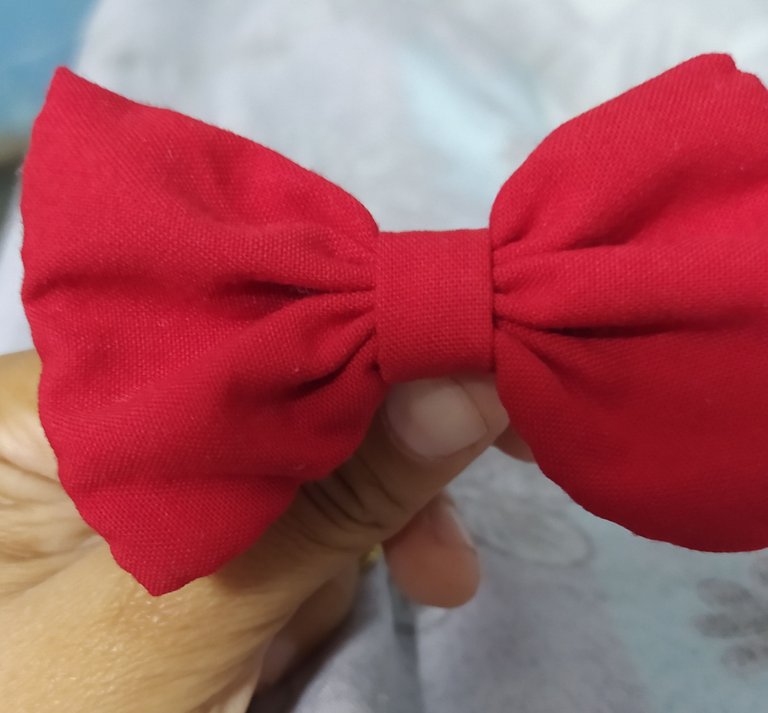 Y asi mucho mas hermosos lucieron mis príncipes su pajarita con su camisas de vestir.
And that's how beautiful my princes wore their bow ties with their dress shirts.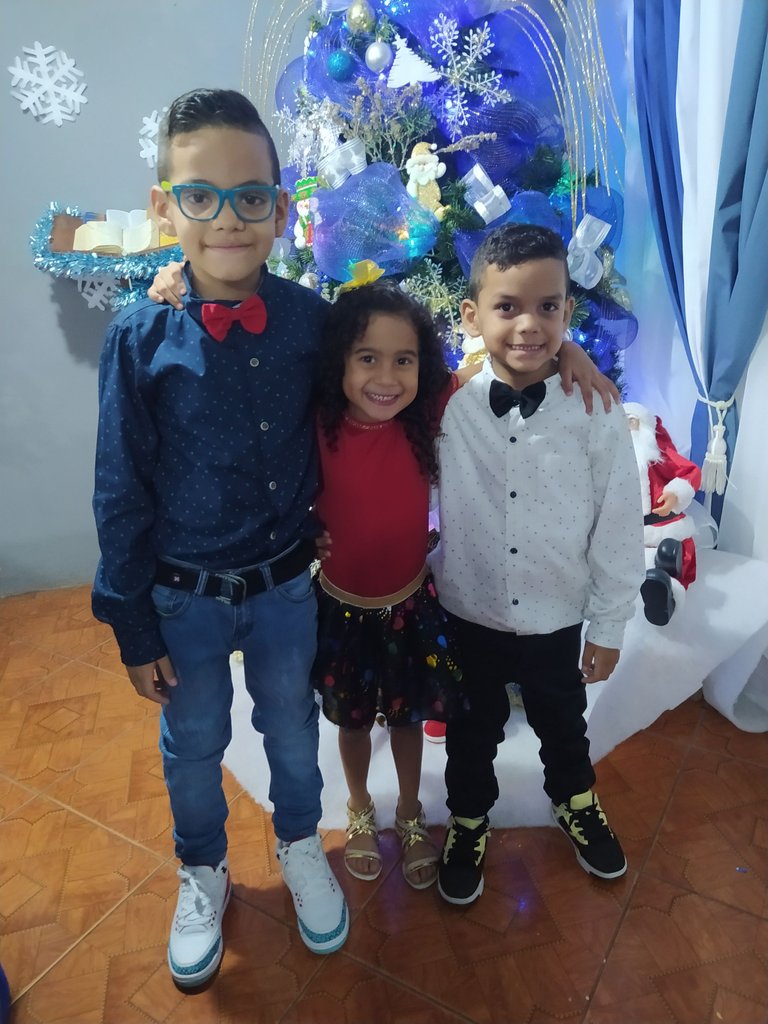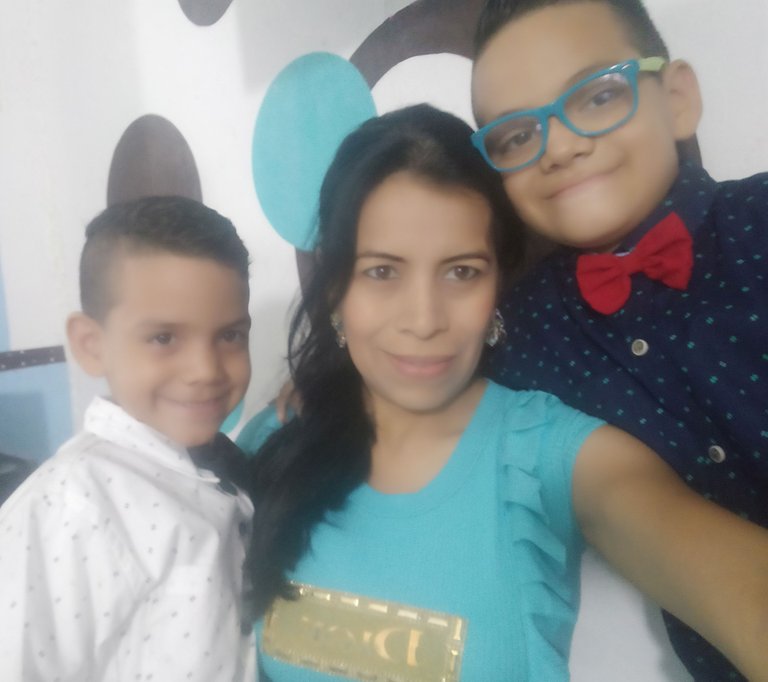 Todas las fotos presentadas en mi publicación son de mi propiedad tomadas con mi teléfono celular y editadas en Incollaje, mi texto es traducido por Deepl.
All photos presented in my publication are my own taken with my cell phone and edited in Incollaje, my text is translated by Deepl.
Mil gracias por leer mi contenido, nos vemos en una próxima ocasión. ❤️ bendiciones ❤️
A thousand thanks for reading my content, see you next time.
❤️ blessings ❤️
---
---