(ESP/ING) Hermosos Aretes tejidos a crochet//Beautiful crocheted earrings.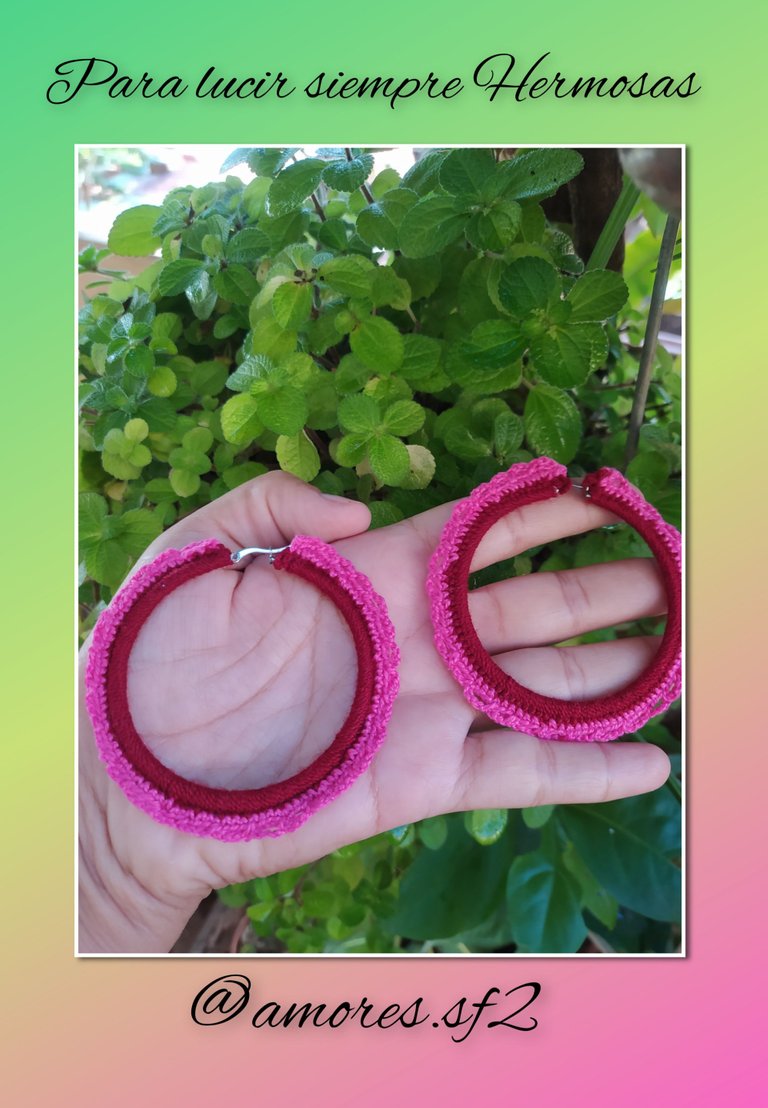 HOLA AMIGOS
Bendiciones nuevamente para mi gente bella de esta comunidad! Hoy vengo a compartir con ustedes un proyecto más, está vez se trata de unos aretes o argollas tejidos a crochet.
Blessings again to my beautiful people of this community! Today I come to share with you all one more project, this time it's about crochet earrings or rings.
Siempre nos gusta lucir hermosas y por ser damas coquetas tenemos miles de accesorios para combinarlos con todos nuestros outfits, a las que aman el tejido como yo cada vez que compramos un accesorio tratamos de que este sea versátil y que podamos transformarlos en este caso agregándole cualquier elemento decorativo para marcar la diferencia y lucir una joya realmente hermosa
We always like to look beautiful and being flirty ladies we have thousands of accessories to combine with all our outfits, those who love the fabric like me every time we buy an accessory we try to make it versatile and we can transform them in this case by adding any decorative element to make a difference and look really beautiful jewelry.
Normalmente siempre tenemos un par de argollas entre nuestros accesorios que no lo usamos habitualmente por alguna razón bien sea porque son quizás muy aburridos o tienen una forma común como es mi caso, tengo un par de estas y quise darle una nueva apariencia una nueva oportunidad por esa razón decidí hacer sobre ellas un tejido sencillo y muy bonitos que le da un toque original además utilizando dos tonos de hilos que le hacen una bella y armoniosa combinación.
Normally we always have a pair of rings among our accessories that we do not usually use for some reason either because they are perhaps very boring or have a common form as in my case, I have a pair of these and wanted to give a new look a new opportunity for that reason I decided to make on them a simple and very nice fabric that gives an original touch also using two shades of yarn that make a beautiful and harmonious combination.
Este es un proyecto muy fácil de realizar con sólo saber lo básico los pueden hacer y lo mejor de todos con muy poco material pero siiii con mucha motivación! por aprender a realizarlos para ti o para obsequiar un lindo accesorio o joya a alguien especial.
This is a very easy project to make with just the basics you can make them and best of all with very little material but siiii with a lot of motivation to learn how to make for yourself or to give a nice accessory or jewelry to someone special.
Los materiales a utilizar para este proyecto son los siguientes:
💎 Argollas tamaño mediana
💎 Hilo de tejer color vino tinto y
fucsia
💎 Aguja de tejer
💎 Tijera.
The materials to be used for this project are as follows:.
💎 Medium size earrings
💎 Knitting yarn in red wine and
fucsia
💎 Knitting needle
💎 Scissors.

Step by step
💎 En primer momento voy a utilizar el hilo en color vino tinto e inicio de la siguiente manera: tomo mis aretes y paso el hilo por debajo de la argolla y halo hacia atrás de manera de enlazarlo y hacer el primer punto.
First I am going to use the red wine colored thread and start as follows: I take my earrings and pass the thread under the ring and pull it back so as to loop it and make the first stitch.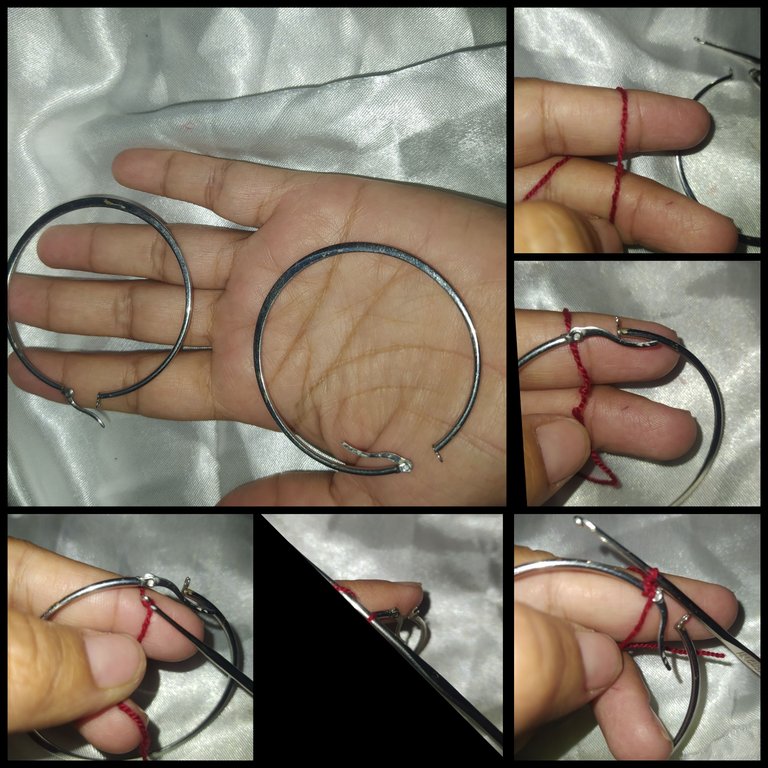 💎 Listo el primer punto tejemos por todo el aro en medio punto hasta terminar la primera vuelta y continuar con la segunda.
Once the first stitch is finished, we knit through the whole ring in half stitch until the first row is finished and continue with the second row.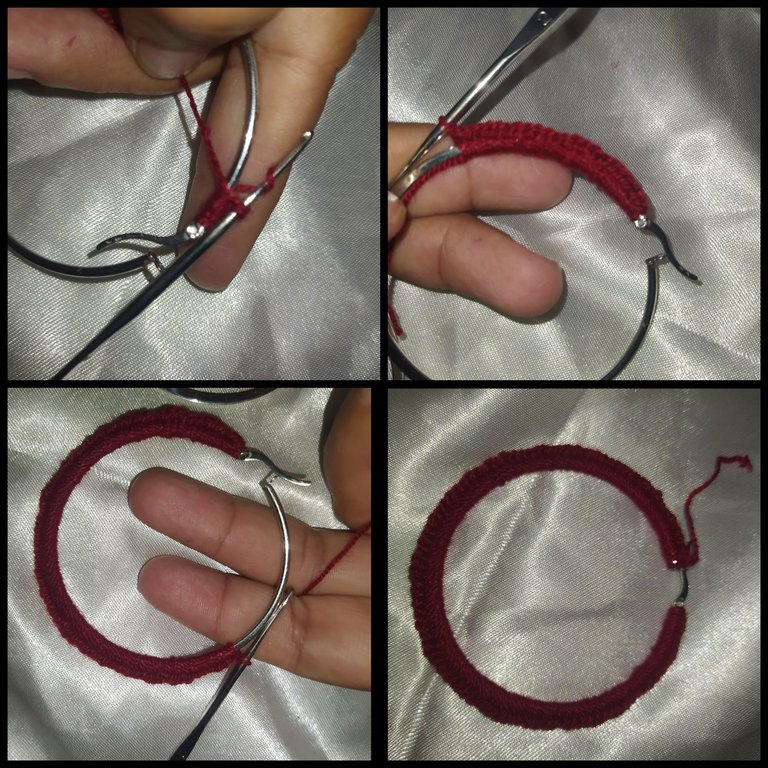 💎 Para finalizar voy a utilizar el hilo en color fucsia y para trabajar esta vuelta realizó medio punto en toda la argolla luego realizamos la 4ta y última vuelta pero ya de otra manera realizó 4 medios puntos y enlazo la aguja en el segundo punto disponible y hago un nudo deslizable y continuo la secuencia hasta terminar yde esta manera nos queda en el tejido una efecto como de faralao que luce muy hermoso.
To finish I am going to use the fuchsia colored yarn and to work this round I made a half stitch in the whole ring, then we make the 4th and last round but in another way I made 4 half stitches and I tie the needle in the second stitch available and I make a slip knot and continue the sequence until the end and in this way we have a faralao effect in the fabric that looks very beautiful.

Aquí les muestro la vuelta #4 donde realizó el faralao.
Here I show you lap #4 where he made the faralao.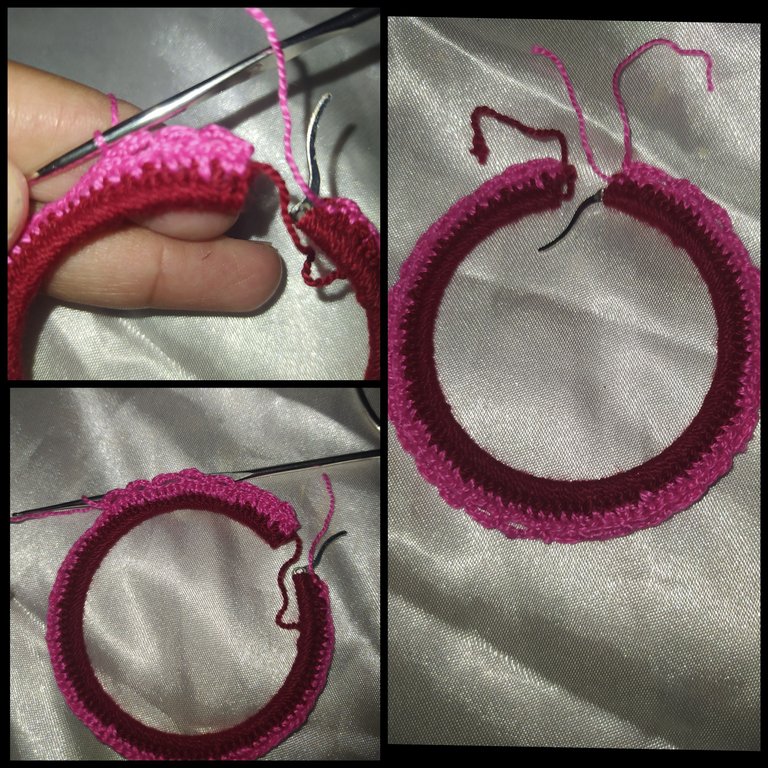 Y así de bella luce mi argolla o arete tejido a Crochet.
This is how beautiful my crochet earring looks.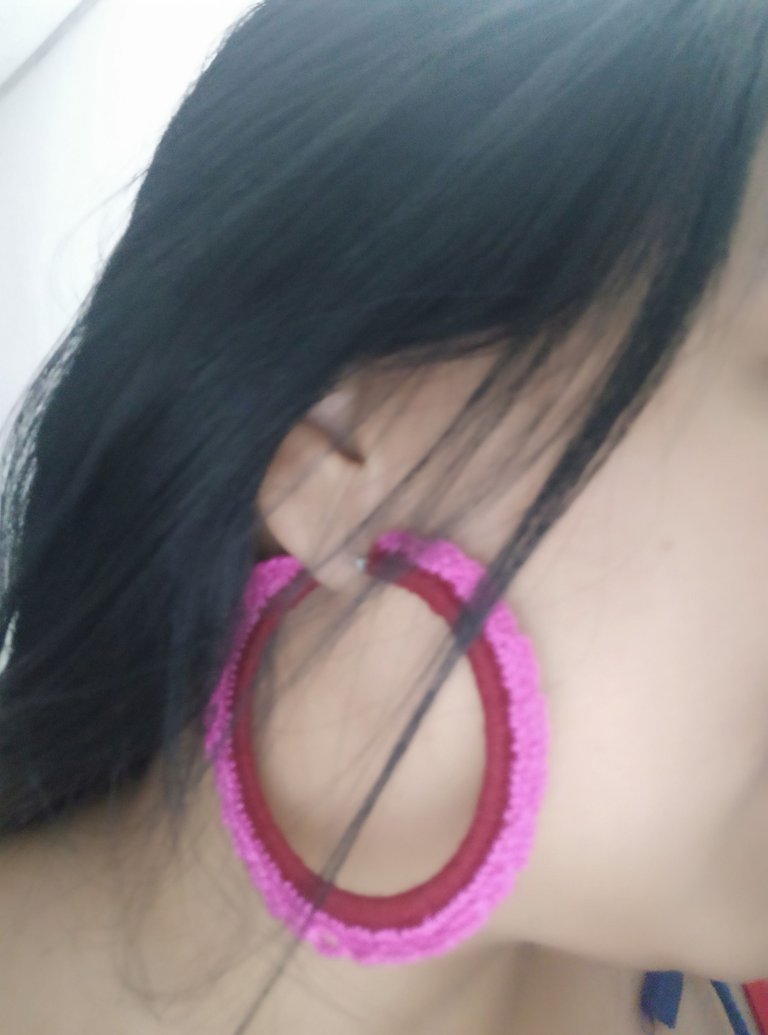 Listo mi proyecto invito a las chicas a qué se animen a crear para ustedes mismas sus lindos accesorios, es satisfactorio cuando podemos lucir alguna prenda elaborada o decorada por nosotras mismas.
Ready my project I invite all the girls to create for yourselves your own beautiful accessories, it is satisfying when we can wear a garment made or decorated by ourselves.
El arte de crear de crear con nuestra manos trae beneficios para la salud física y mental.
The art of creating with our hands brings benefits to our physical and mental health.
Las fotos publicadas son tomadas con mi teléfono Redmi note 8 y editadas en la aplicación Incollaje, mi texto es traducido por Deepl Translate.
All photos posted are personal photos taken with my Redmi note 8 phone and edited in the Incollaje application, my text is tradition from Deepl Translate.
Mil gracias para todos nos vemos en otra ocasión.❤️❤️
A thousand thanks to all see you ❤️❤️
---
---