[ESP/ING]Te mostraré como hacer un hermoso vestido con bordado en nido de abeja🐝/Para niñas.
💖¡HOLA QUERIDOS AMIGOS!.💖
💖HELLO DEAR FRIENDS!.💖
🌹Hermoso vestido de nido de abeja para niñas🌹.
🌹Beautiful honeycomb dress for girls🌹.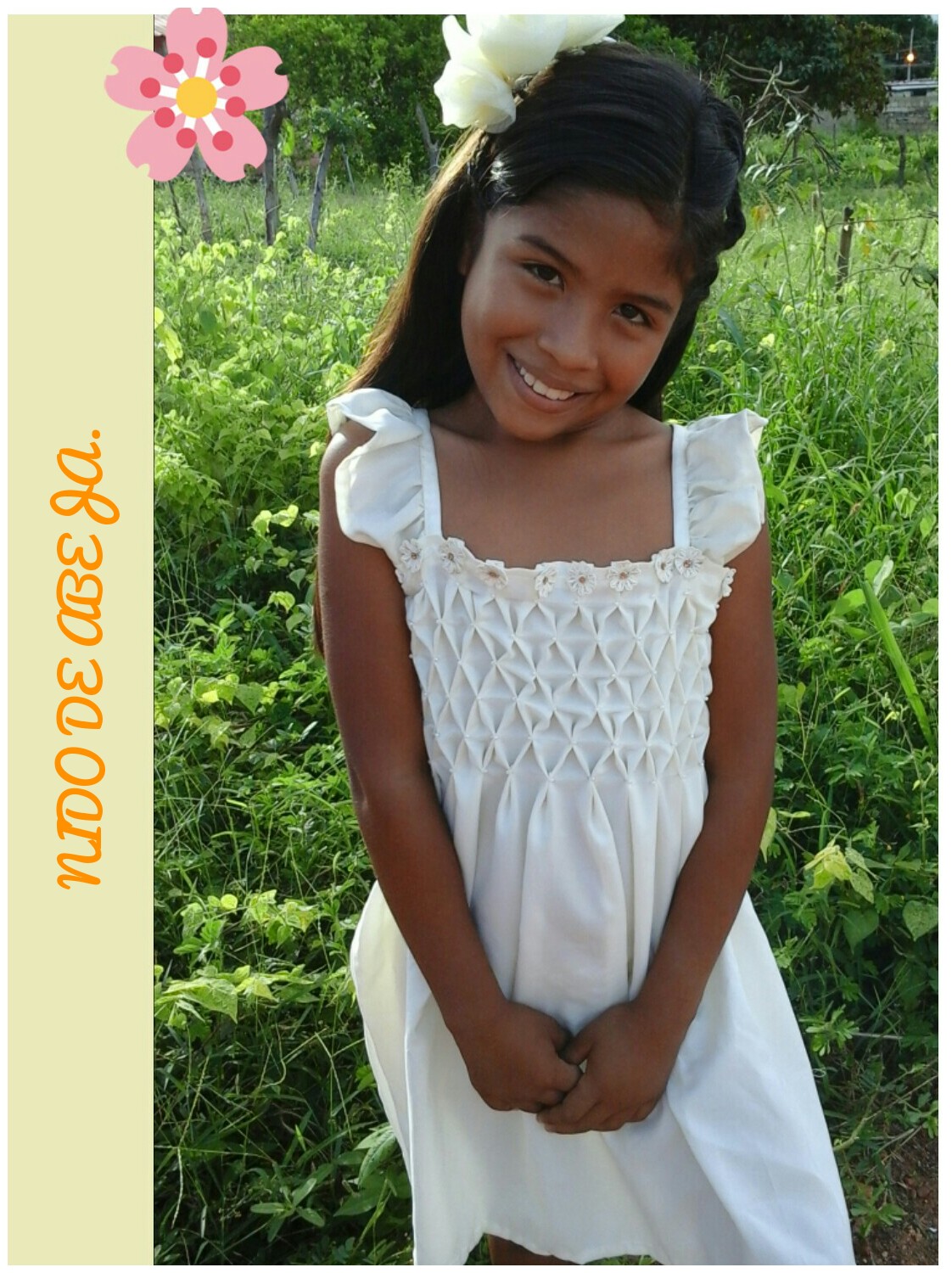 ¡Feliz y hermosa tarde! Espero que se encuentren muy bien y que la paz y el amor de Dios rebose más y más en sus corazones. Antes de comenzar, quiero contarles que en estos días he estado un poco ocupada elaborando un lindo proyecto para compartirlo hoy con todos ustedes. En esta oportunidad les hablo de un hermoso arte, como lo es la técnica de nido de abeja. El nido de abeja es una técnica decorativa que une diferentes pliegues de una única tela, y como resultado se obtiene un fruncido elástico y muy llamativo estéticamente, de esta manera la prenda no necesita cierres y queda totalmente ajustada al cuerpo. Este bordado fue una inspiración artistica de las mujeres inglesas, para hacer ropa de niños de la realeza. Este bordado paso hacer el bordado que, desde hace más de cien años adorna los vestidos de niñas. Sinceramente les confieso que es mi primera vez que hago este tipo de trabajos, nunca he elaborado nido de abeja, pero me gusta aprender cosas que son nuevas para mi. Al principio lo vi muy difícil, de hecho no recuerdo las veces que cosi y desarme ¡jajaja!😁 Entonces me di cuenta que necesitaba un poco de tranquilidad y concentración para poder tener un buen resultado. Después de unas cuantas horas, pude terminar este hermoso vestido en nido de abeja, para las princesas. Sin más, quiero invitarles a leer mi post hasta el final y ver el procedimiento.
Happy and beautiful evening! I hope you are very well and that the peace and love of God overflow more and more in your hearts. Before starting, I want to tell you that these days I have been a bit busy preparing a nice project to share with all of you today. On this occasion I am talking about a beautiful art, such as the honeycomb technique. Honeycomb is a decorative technique that unites different folds of the same fabric, and as a result an elastic and aesthetically striking gather is obtained, in this way the garment does not need closures and is completely adjusted to the body. This embroidery was an artistic inspiration for English women to make clothes for royal children. This embroidery step involves performing the embroidery that has adorned girls' dresses for over a hundred years. I sincerely confess that it is the first time that I do this type of work, I have never made a honeycomb, but I like to learn things that are new to me. At first it was very difficult for me, in fact I don't remember how many times I sewed and disassembled hahaha!😁 Then I realized that I needed a bit of calm and concentration in order to have a good result. After a few hours, I was able to finish this beautiful honeycomb dress for the princesses. Without further ado, I want to invite you to read my post to the end and see the procedure.
MATERIALES.
Tela.
Tijera.
Hilo y aguja.
Lápiz.
Regla.
Apliques y perlas.
MATERIALS.

Cloth.
Scissors.
Thread and needle.
Pencil.
Rule.
Appliques and pearls.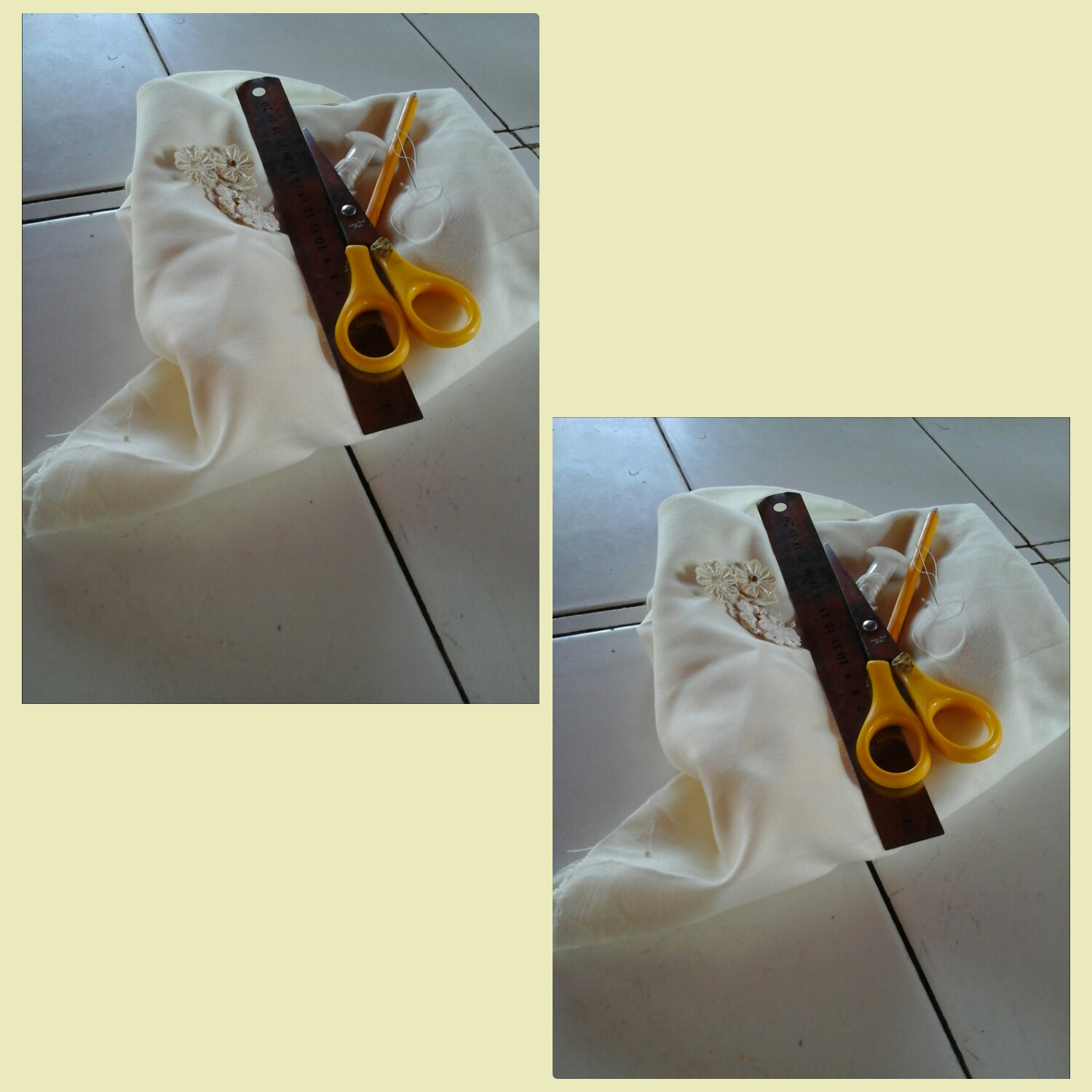 Para comenzar hacer este bordado lo primero que hice fue recortar un par de pedazos de tela de 40cm de ancho por 60cm de largo. Uni ambas partes y Cosi el borde superior. Con ayuda de una regla hice líneas verticales y horizontales hasta crear cuadros de 2cm de ancho por 3cm de largo.
To start making this embroidery, the first thing I did was cut a couple of pieces of fabric 40cm wide by 60cm long. Join both parts and sew the top edge. With the help of a ruler I made vertical and horizontal lines to create squares 2cm wide by 3cm long.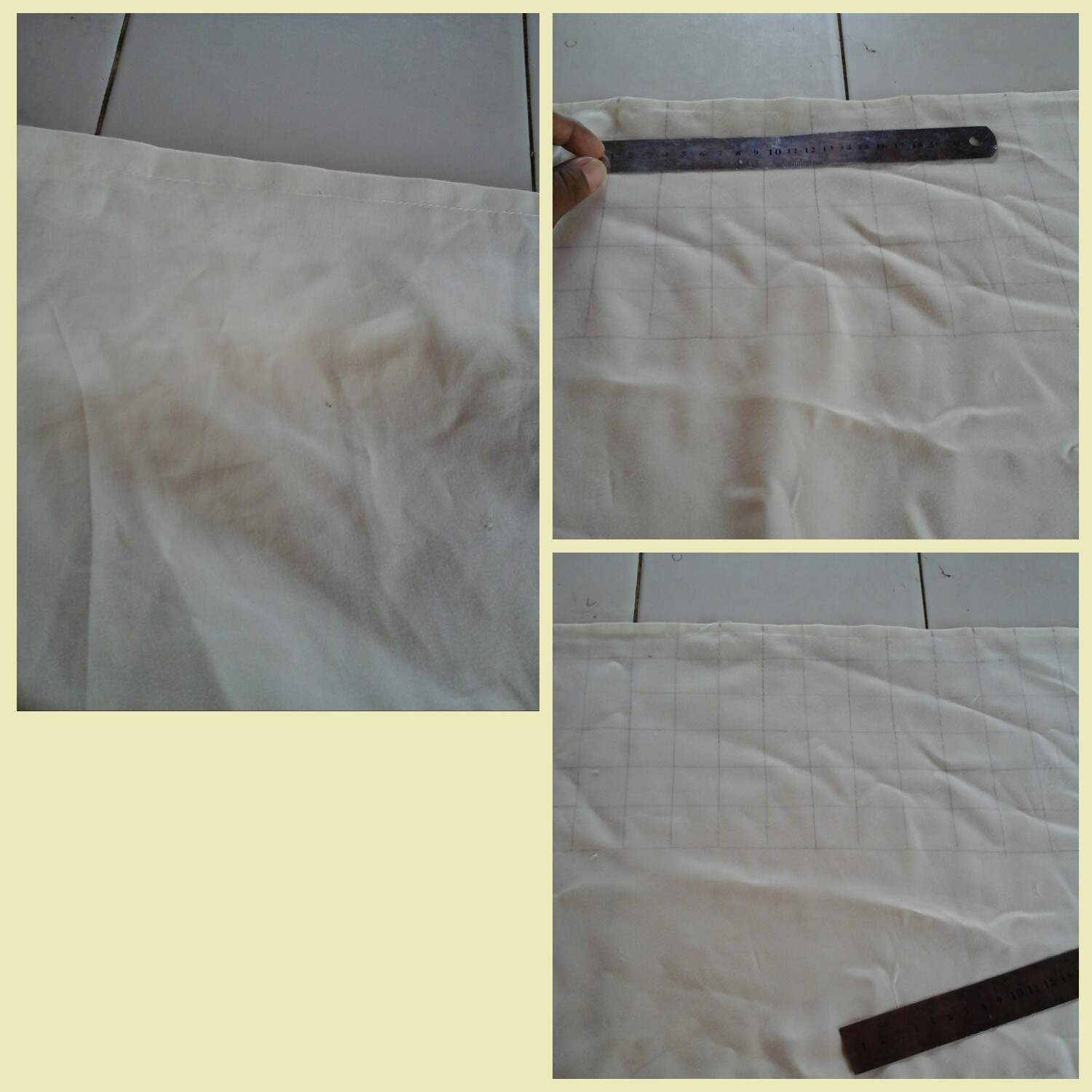 Voy a enumerar las líneas verticales para que sea fácil de explicar, tomé la línea número 1 con el número 2 e hice un punto de costura.
I'm going to list the vertical lines to make it easy to explain, I took line number 1 with number 2 and made a seam stitch.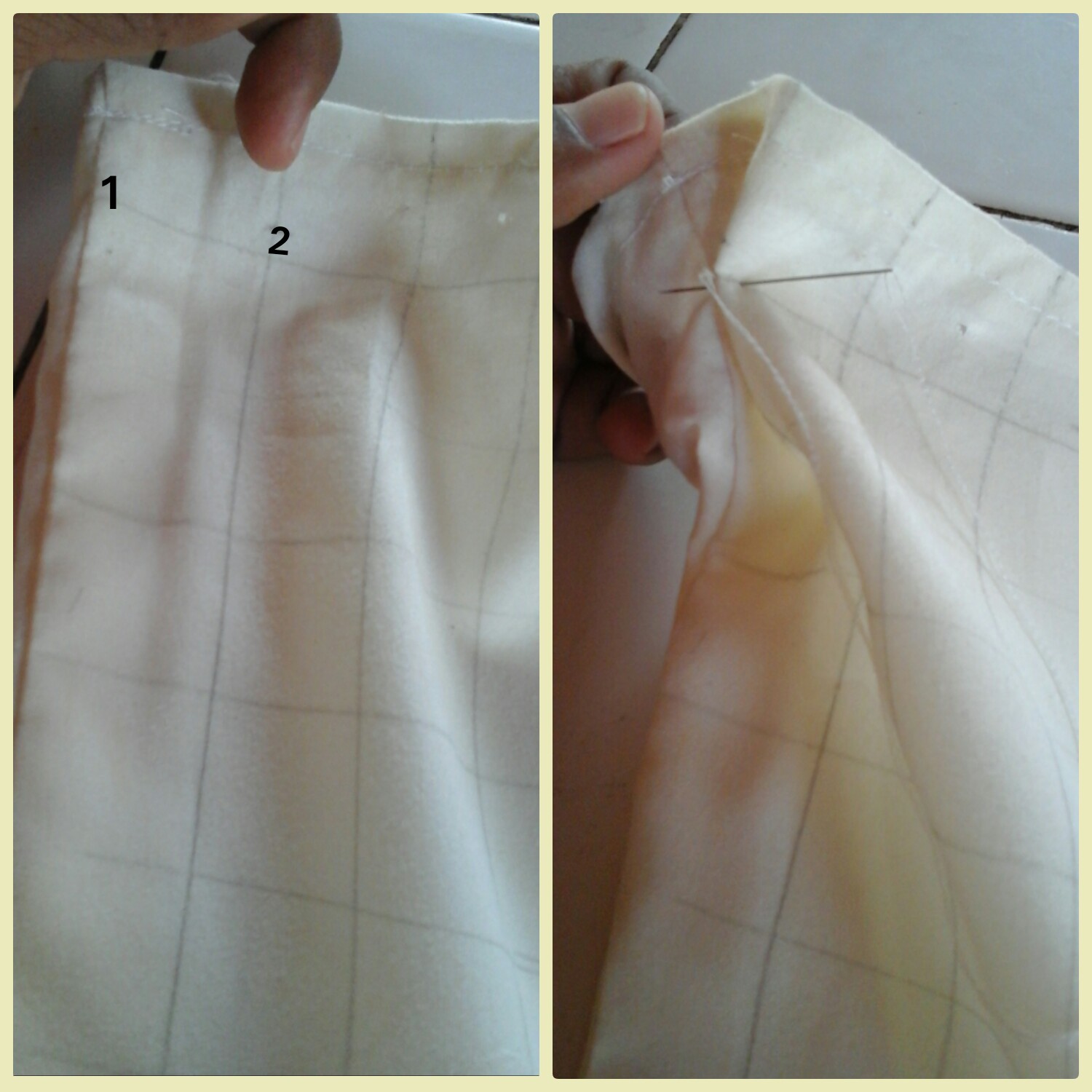 En este paso bajé y uni 3 y 4, hice un punto de costura, seguidamente subí para unir 5 y 6 y voy colocando las perlas.
In this step I went down and joined 3 and 4, I made a sewing stitch, then I went up to join 5 and 6 and I'm placing the pearls.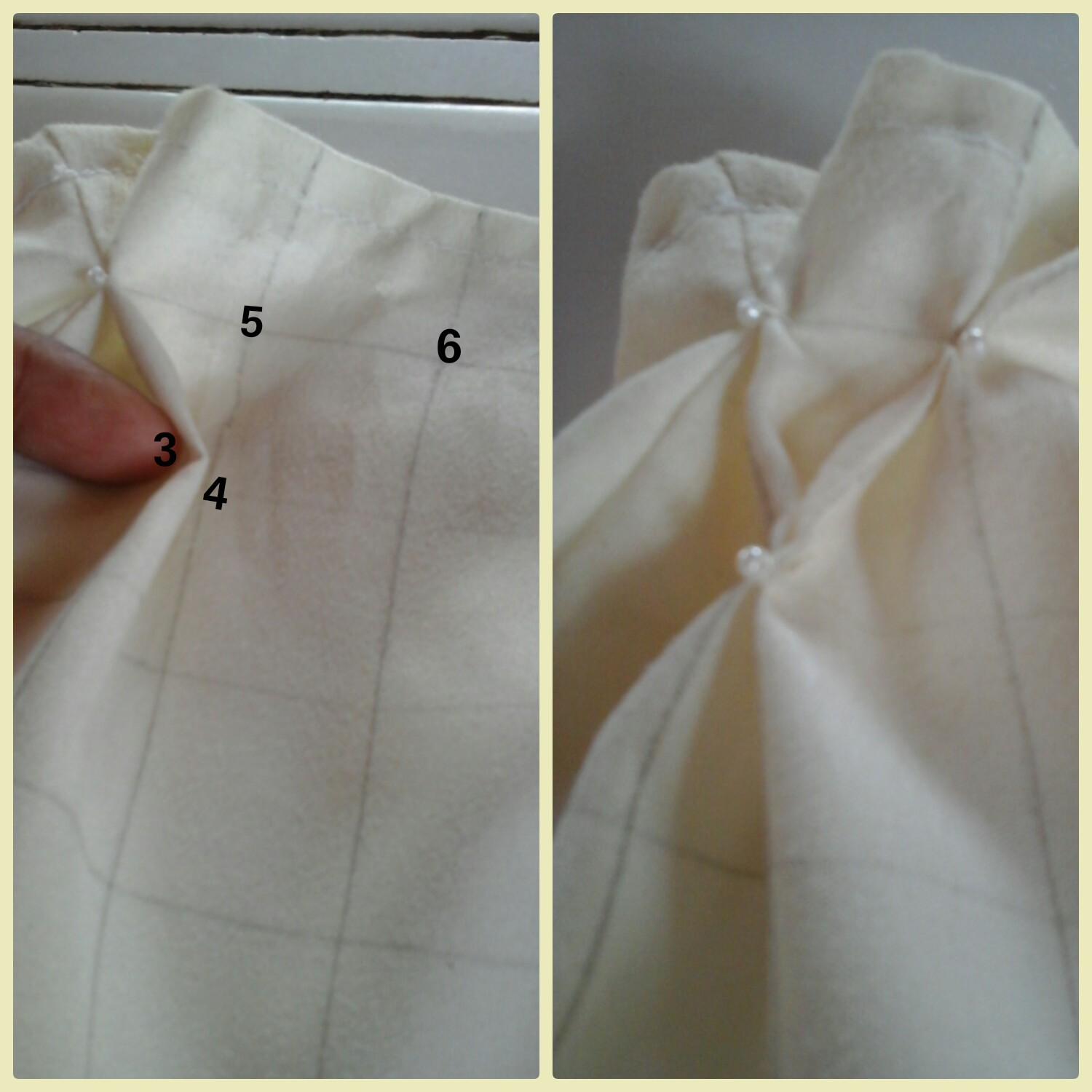 Aquí bajé para unir 7 y 8 e hice un punto de costura, subí para unir 9 y 10. Una vez que he unido 9 y 10, bajé para unir 11 y 12. De esta manera voy creando este bordado. En la tercera línea horizontal voy uniendo las lineas que van quedando abiertas para formar rombos.
Here I went down to join 7 and 8 and stitched up to join 9 and 10. Once I have joined 9 and 10, I went down to join 11 and 12. In this way I am creating this embroidery. On the third horizontal line, I join the lines that remain open to form diamonds.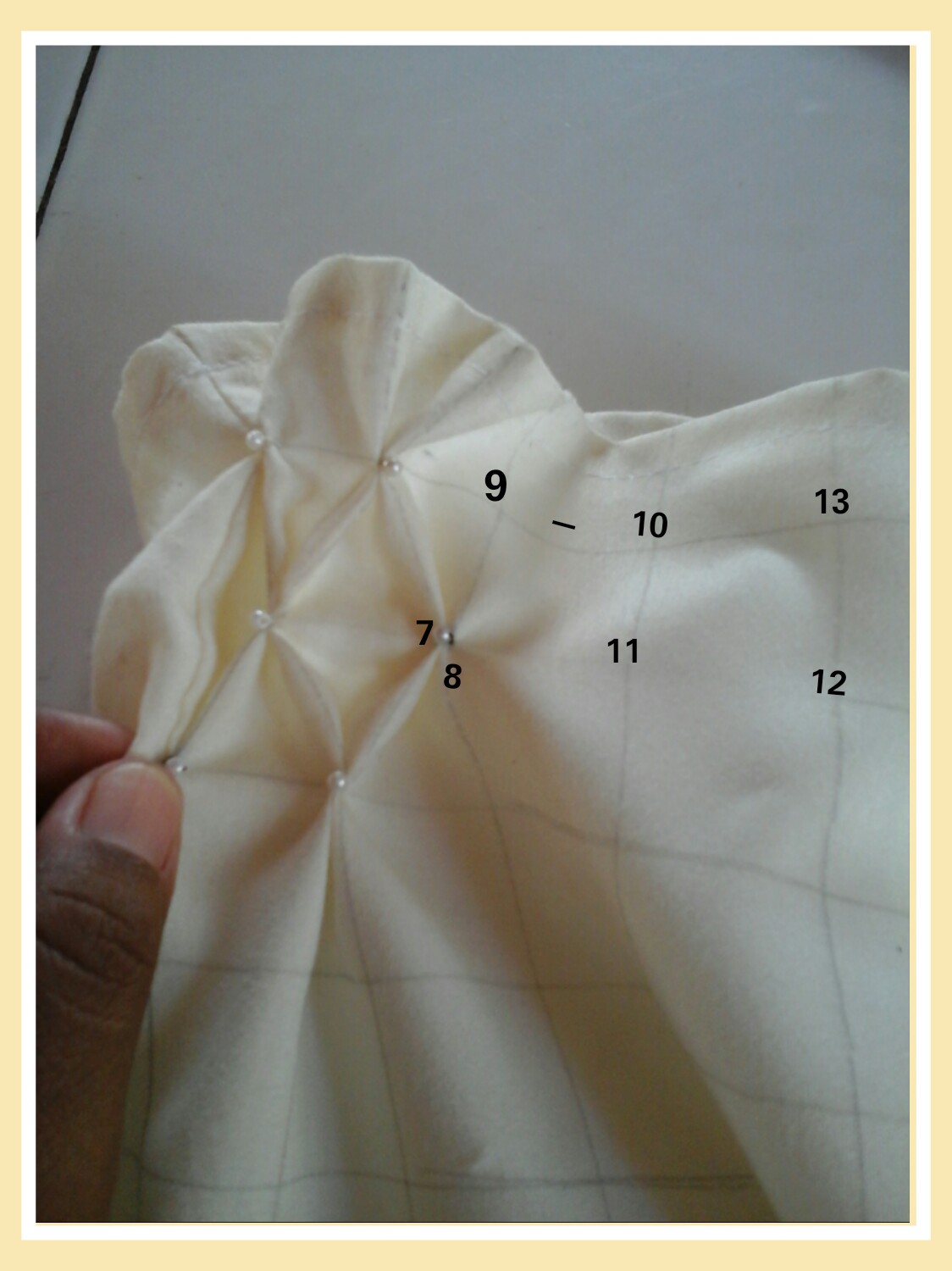 Aquí pueden observar como he ido formando este bordado, hasta terminar todo los cuadros y crear como un fruncido pero sin elástica.
Here you can see how I have been forming this embroidery, until finishing all the squares and creating a gather but without elastic.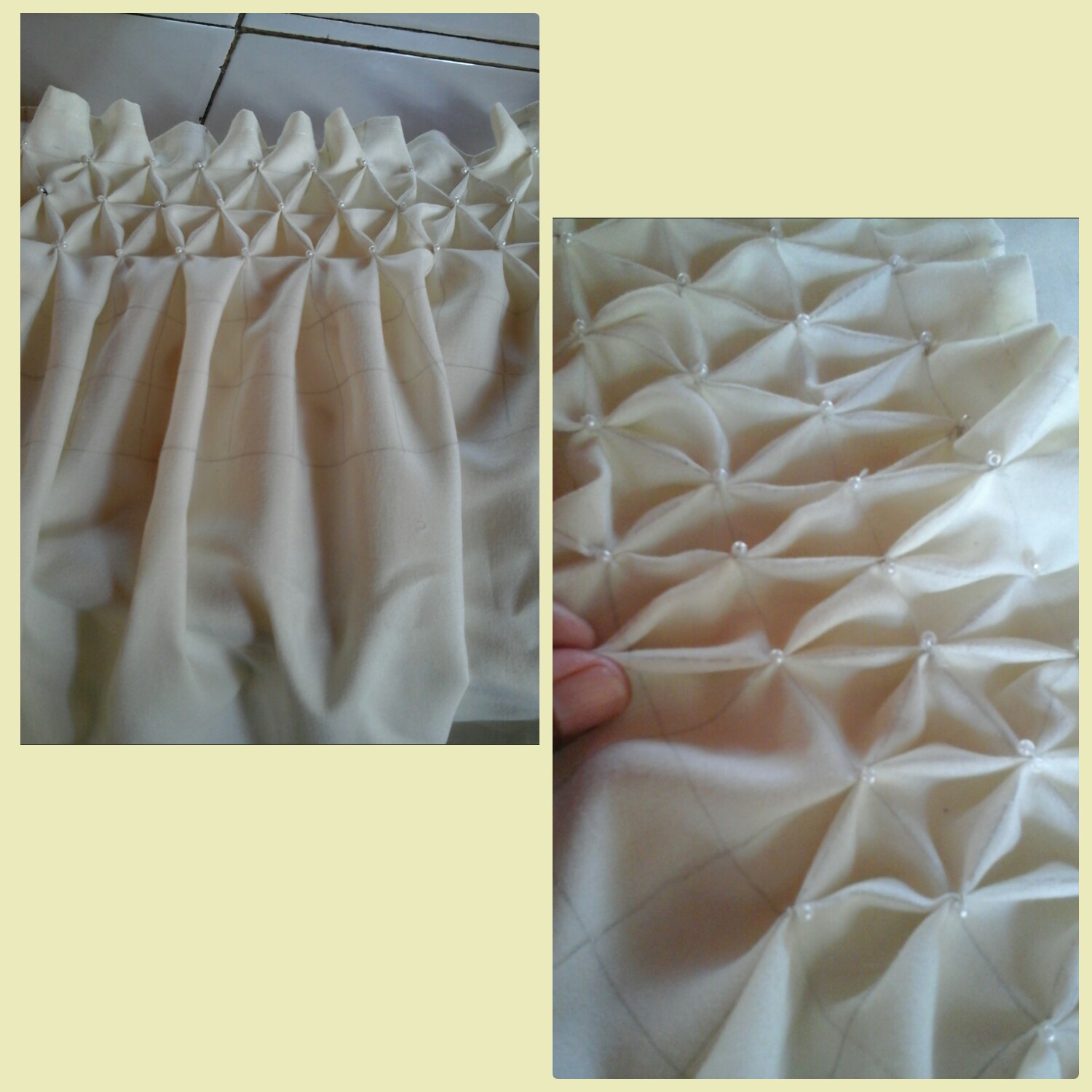 Como pueden observar ha quedado un borde parecido a un volado, éste lo voy a coser para cerrarlos y luego colocar los apliques de flores para adornar.
As ​​you can see, there is an edge similar to a ruffle, I am going to sew this to close them and then place the flower appliques to decorate.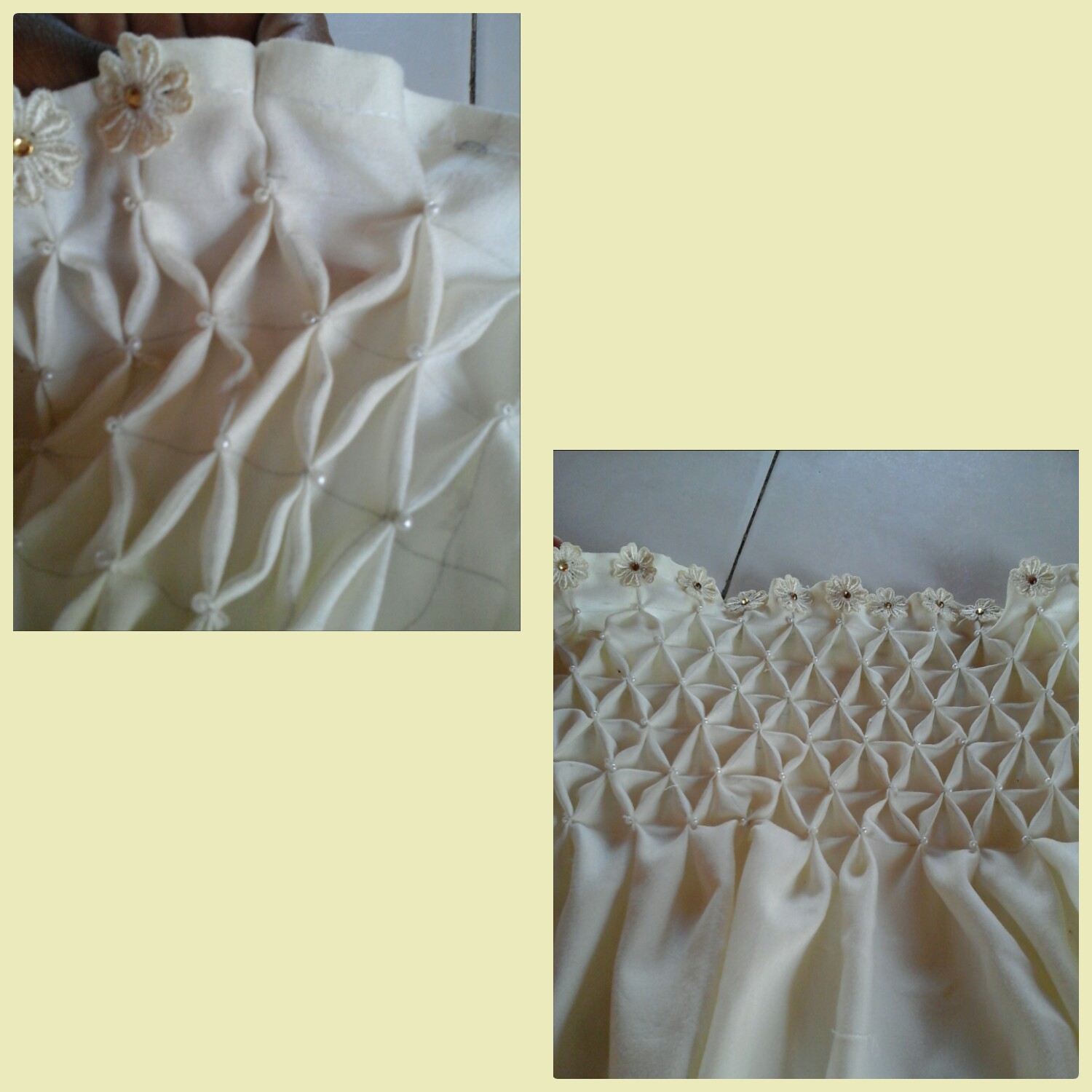 Para hacer los tirantes con volado, recorté un par de rectángulos y cosi el bordes y frunci. Una vez que he terminado de hacer el volado recorté un par de tiras muy finas para coser en el borde de cada una.
To make the ruffled straps, I cut out a couple of rectangles and sewed the edges together and gathered. Once I've finished making the ruffle I cut a couple of very thin strips to sew on the edge of each one.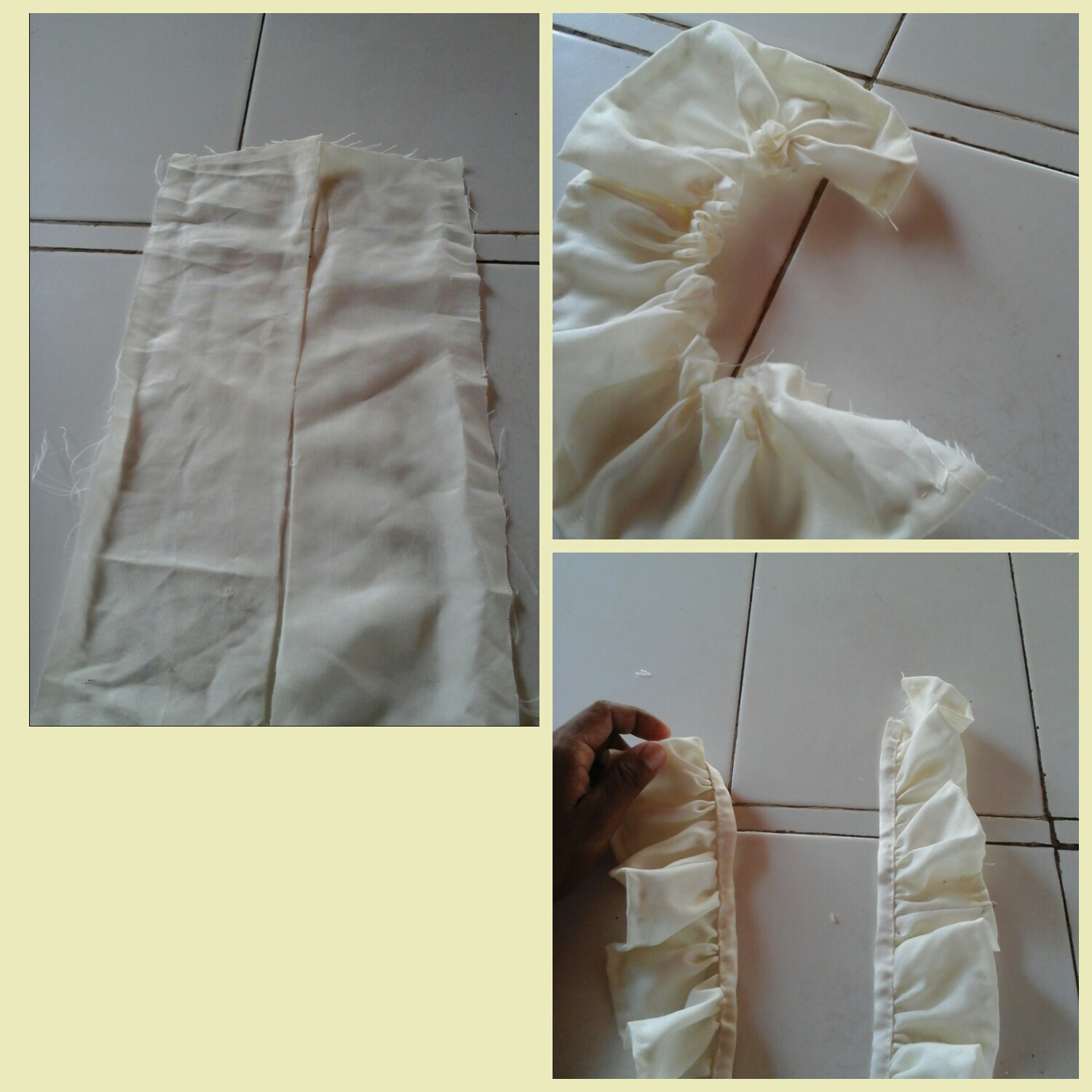 Para terminar Coloqué los tirantes con volado en la parte superior y por último hago el dobladillo, de esta manera he terminado este hermoso atuendo.
Finally I placed the ruffled straps on top and lastly I hem, this way I have finished this beautiful outfit.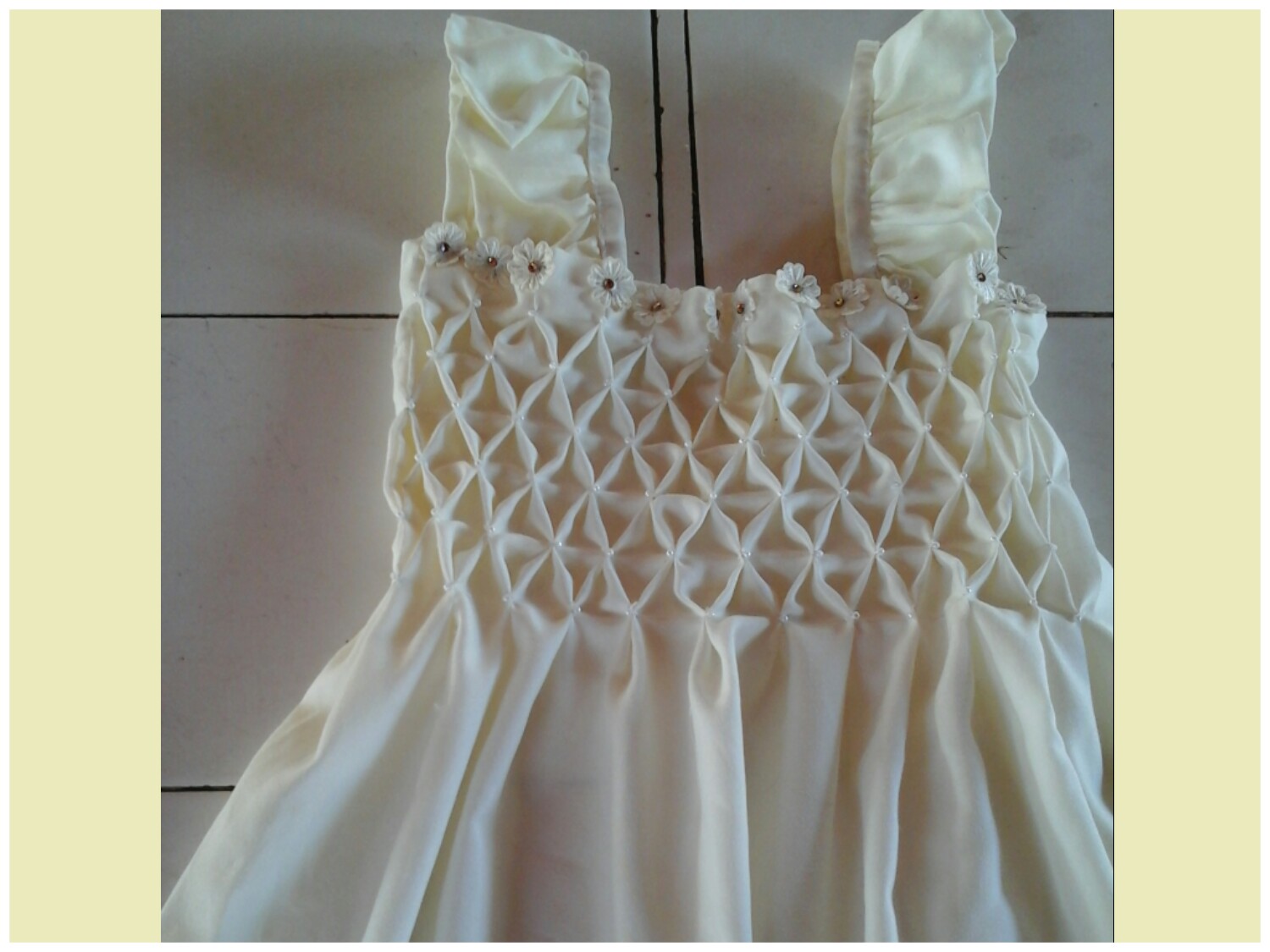 💖RESULTADO.💖
💖RESULT.💖
Aquí pueden apreciar a mi princesa luciendo su hermoso vestido con nido de abeja en el top.
Here you can see my princess wearing her beautiful dress with a honeycomb on the top.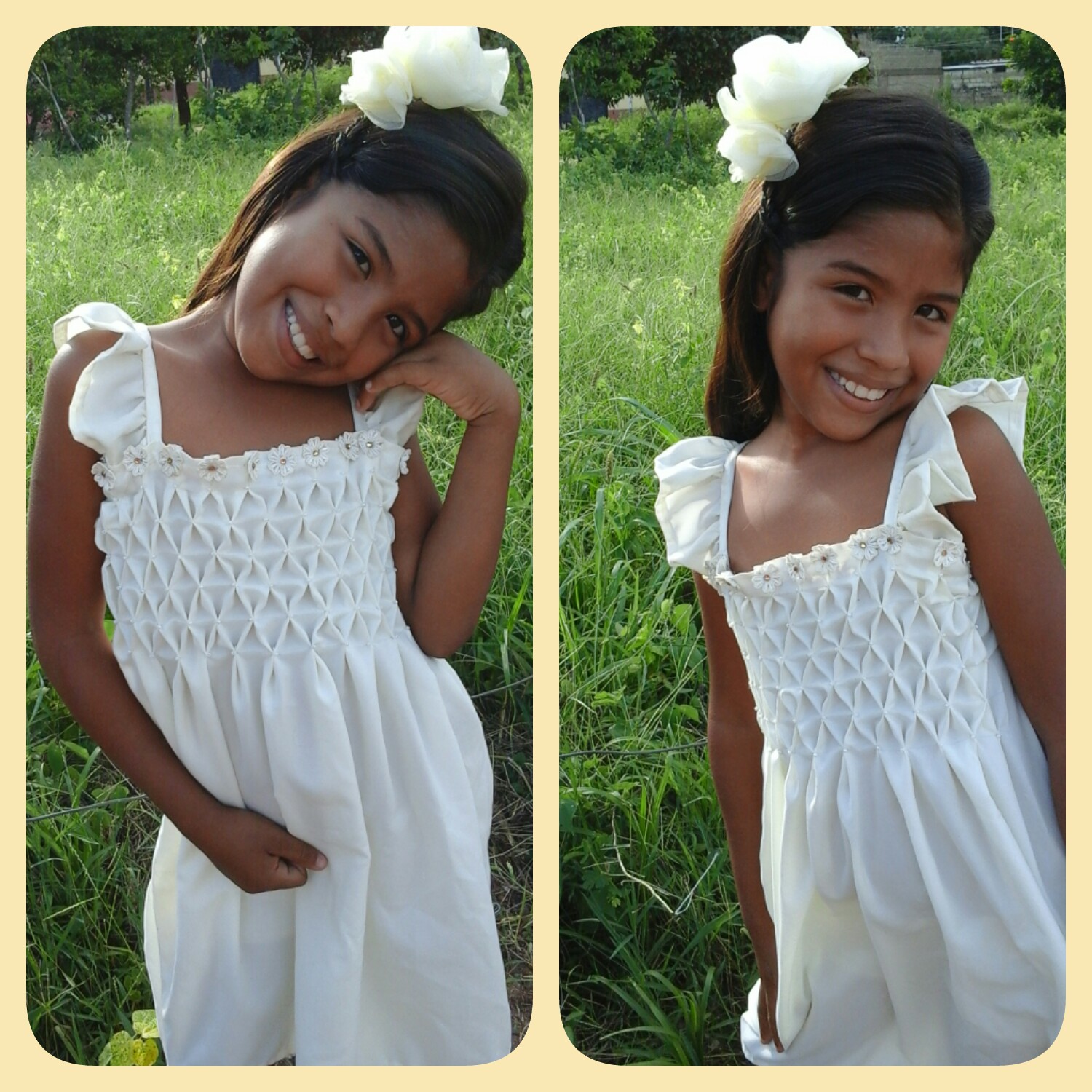 Amigos he llegado al final de éste post y espero que te haya gustado mi proyecto de la tarde de hoy. Agradecida con todos ustedes por visitar mi blog y leer cada paso, sin más me despido deseandoles que tengan ¡una hermosa y bendecida tarde!. Cuidense mucho y espero estar pronto con ustedes.😙
Friends, I have reached the end of this post and I hope you liked my project for today's afternoon. Grateful to all of you for visiting my blog and reading each step, without further ado I say goodbye wishing you a beautiful and blessed afternoon! Take care of yourselves and I hope to be with you soon.😙
Todas las fotos son de mi autoria capturadas por mi tablet Samsung galaxy, editadas por Collage_maker. Traductor utilizado ESP/ING (google.com)
All photos are my own, captured by my Samsung galaxy tablet, edited by Collage_maker. Translator used ESP/ING (google.com)
---
---