Experiencing Badami - first level.

I was beyond excited when I came to know that we were supposed to travel for our design studio for my third semester. I couldn't contain my happiness. Because traveling is something that I have always loved since I was little and this time traveling without family was making me happy and nervous. And the icing on the cake was that I would get to do this with my friends. My best of friends.
In this post I will be sharing with all of you about what we did on the first day at Badami and show my final work for the same. Get a coffee and some snacks maybe , cause boy I have a lot to share with all of you.
So for this design studio our topic was Museum of Vernacular art and knowledge. For this design studio we were supposed to work with our one year senior students. So the third semester and the fifth semester students were working together for this design studio semester. This studio is called Vertical studio. Throughout the semester, I want to share with all of you in this community about the whole process and upto the final work to maybe document my design studio.
We left on 11th of August , on the bus and travelled for about 16 hours from Mangalore and reached Badami at 10:30 in the morning. After which we got dressed and had breakfast and immediately left for site visit. Yes , we did not get to rest even for a While even after travelling for that long in the bus. We were all tired but since our professors wanted us to visit the place they wanted us to , we had to leave. Our first place of visit were the Badami caves.
On the first day we weren't supposed to actually go inside and see the caves for ourselves. We had to do something else for the first day. Which was really really interesting for me. Ofcourse we were all really tired from so many hours of travel but we were so excited to see what's around us. At first glance of the badami caves , we were all so mesmerized by the beauty of the cave temples and how massive the rocks were.
After taking a lot of photographs ( a lot ) , our professors arrived. We were explained our task for the day.
Our task for the day was:
Firstly we had to take a whole round to see the whole site. From the caves , to the lake , to the settlements and finally to the temple. All of this was to be done individually. Without talking to any of our classmates and also we were asked not to take photographs of anything . We were asked not to talk to any of our classmates because we were supposed to make a memory map by the end of the day. For the memory mapping we were supposed to just observe and absorb Badami cave temples and it's surroundings and simply put it on paper.
And inspite of the professors specifically asking us not to take photographs, I'm sorry but I had to break the rule. Sadly I wasn't able to use my camera for too long as our professors were around us and we would get caught while we were breaking the rules. And so all the photos I share with all of you are illegally taken , because we were asked not to. Well what's the fun in following all the rules , don't you think guys think so ? I had to take photographs because , what you see for the first and capture it you wouldn't capture that same thing or see the same thing when you go there the second time.I always have to have photographs to remind me of the day and what I did that day. I couldn't help but photograph the things I saw on the first day at Badami.
When I first started walking: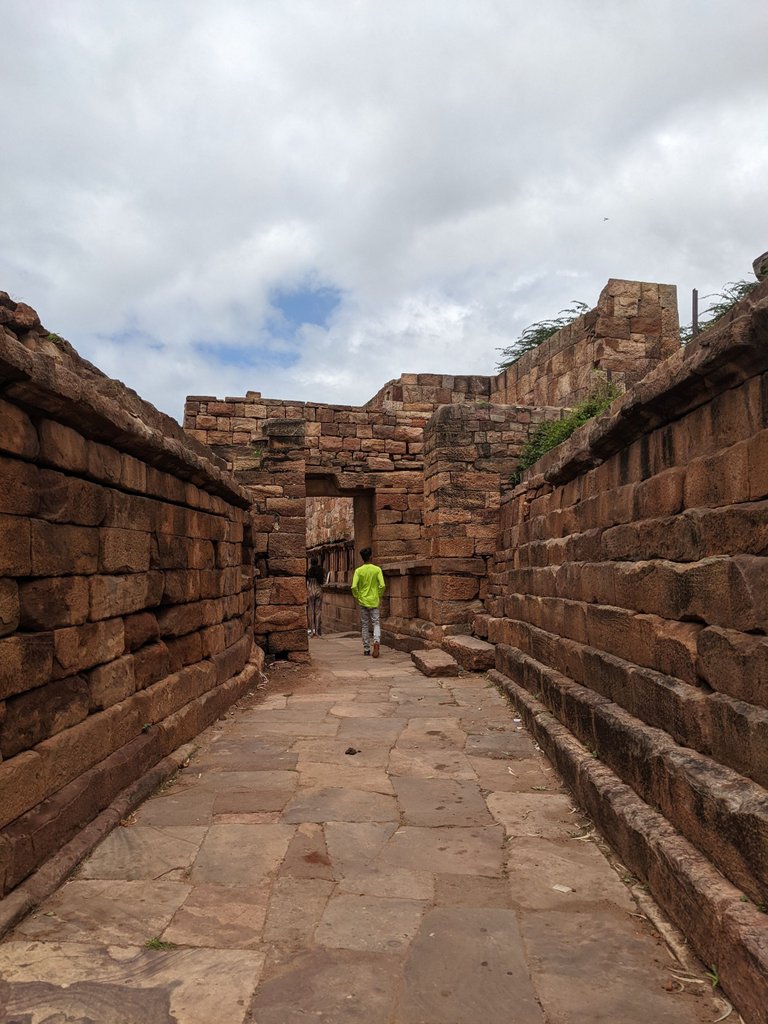 So after passing by the caves I saw this sort of an alley that was made with the same red sandstones , with a retaining wall on my ride side.
What's a retaining wall?
Retaining wall is a structure that holds or retains soil behind it. There are many types of materials that can be used to create retaining walls like concrete blocks, poured concrete, treated timbers, rocks or boulders.
Defination taken from:-
Source
I learnt about the retaining wall , on the trip that day because my seniors told me. You see that's what I like about this course it might be a very time intensive course , but the more time you spend with your seniors the more you learn. They just very randomly go on sharing the knowledge they have and even the conversations we have are so intellectual sometimes. It's just so satisfying at the end of the day , that you get to be friends with such people.
Okay sorry for drifting apart from the topic , I just had to say that. After walking a little forward I reached the Agastya lake. And walked for a while and then saw little kids trying to fish. It was so adorable.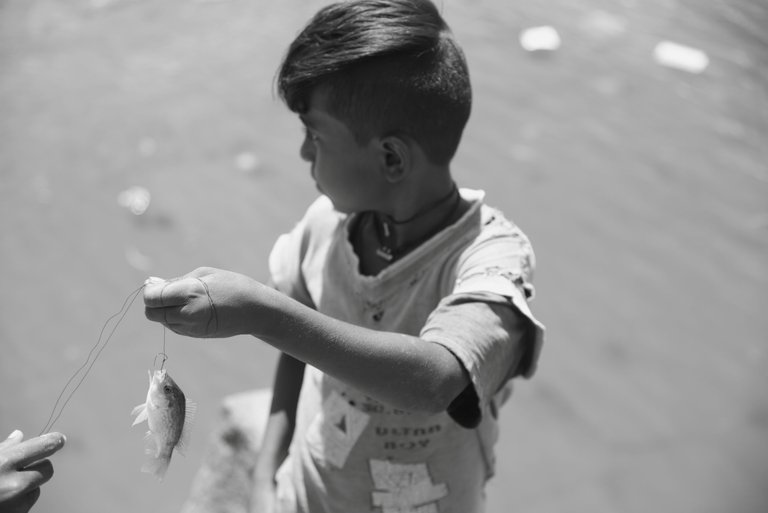 The kid catching the fish.
This made me so happy to look at. They were so excited to show the fishes they had caught. Experiencing the architecture and the built fabric on it's own doesn't bring out the essence of the place. What really let's you experience the architecture are the people present there. They help you understand the built fabric better.
What I saw in the settlements area: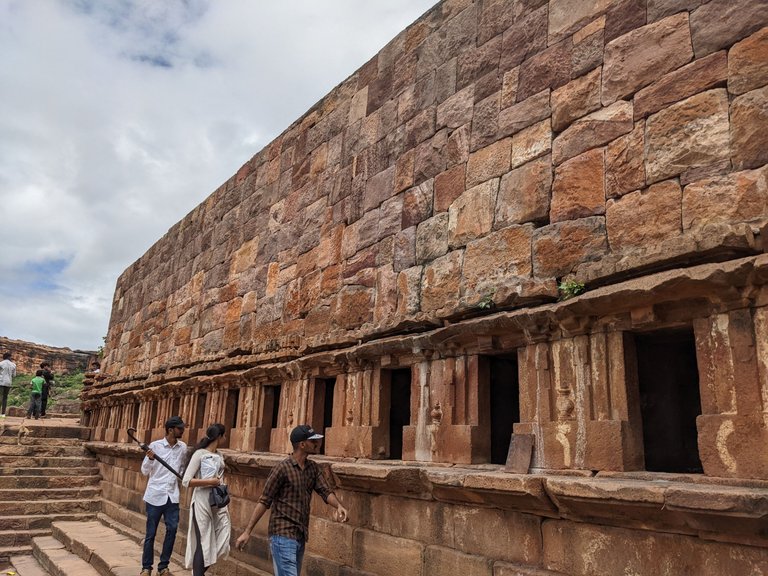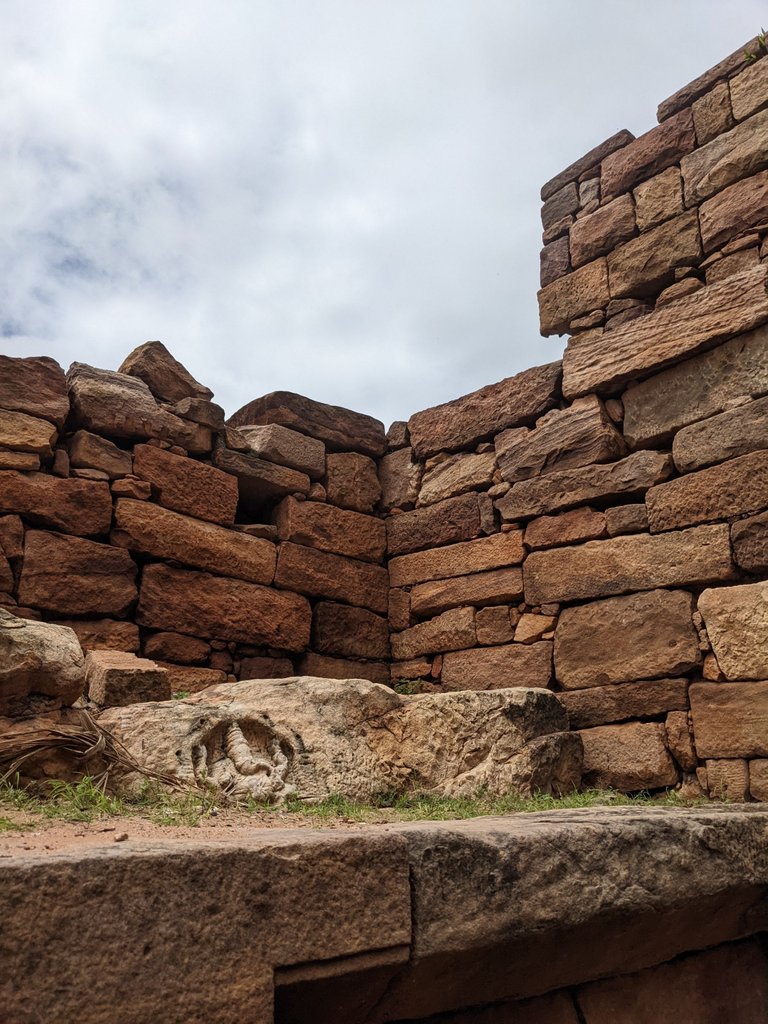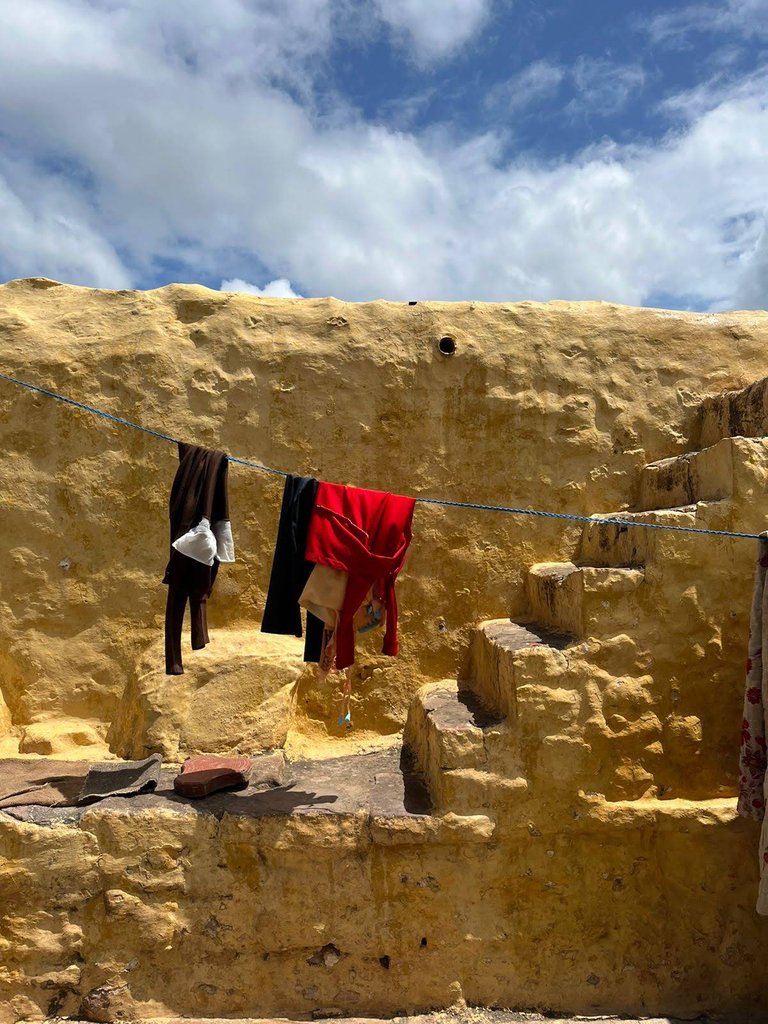 The stairs that lead to the terrace
If you look carefully the risers of the stairs are more than 150mm which are the standard size of the risers. I'm not very sure as to why they were made so high. But this is my assumption, it could be because they were made of stones and stones as we know are really difficult to cut down and hence they stuck to these sizes.
I like that I have ability to observe things , not to boast. But I also like to assume things. Architecture is fun that way. Let's me and my thoughts go haywire about all the assumptions.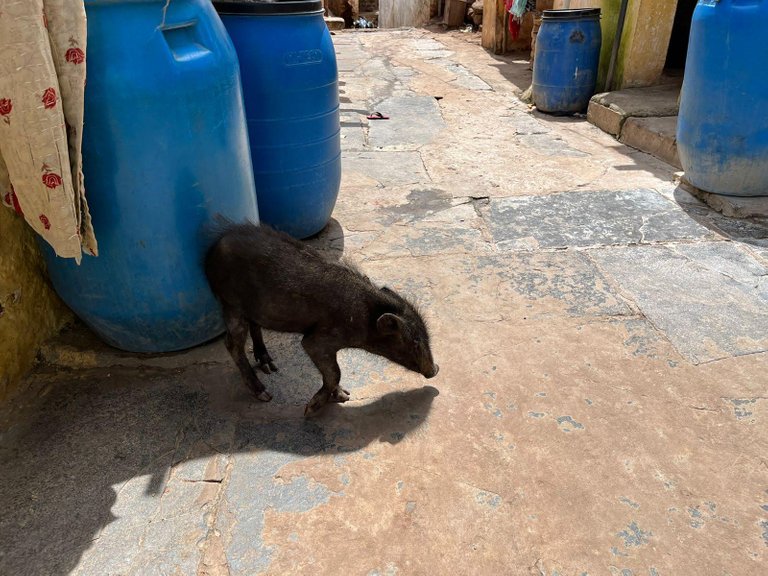 An adorable piggy
I was honestly scared of the pigs. But they were just running around all of us and it was so cute.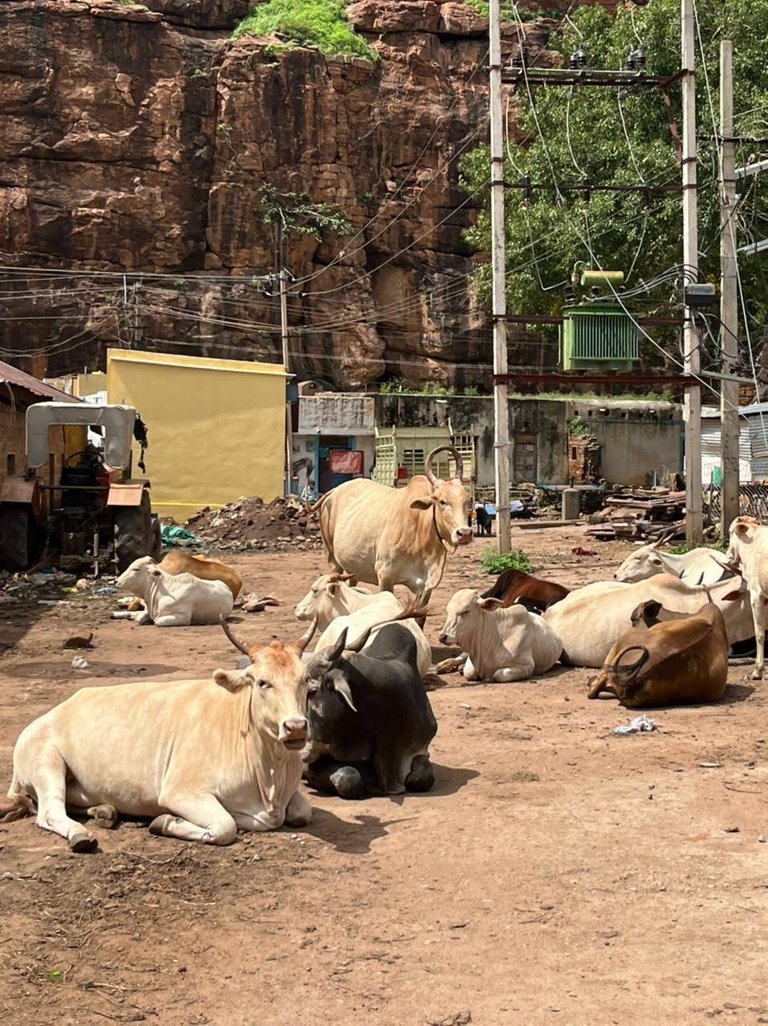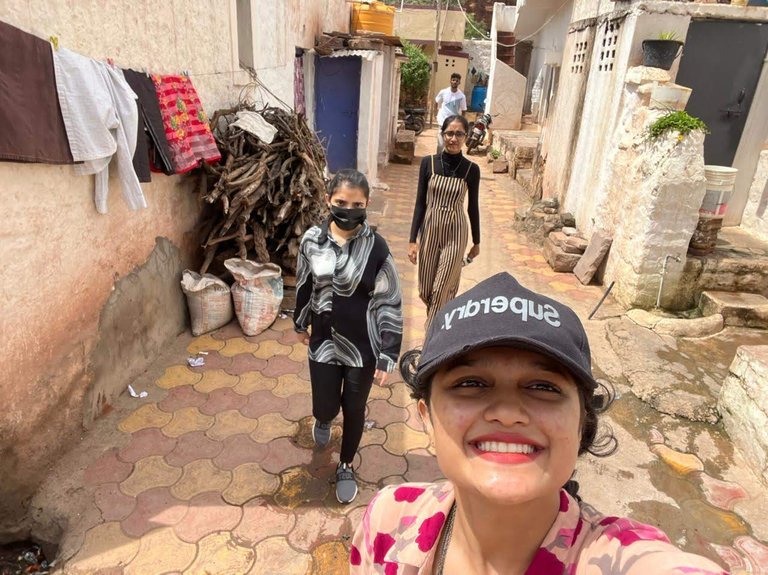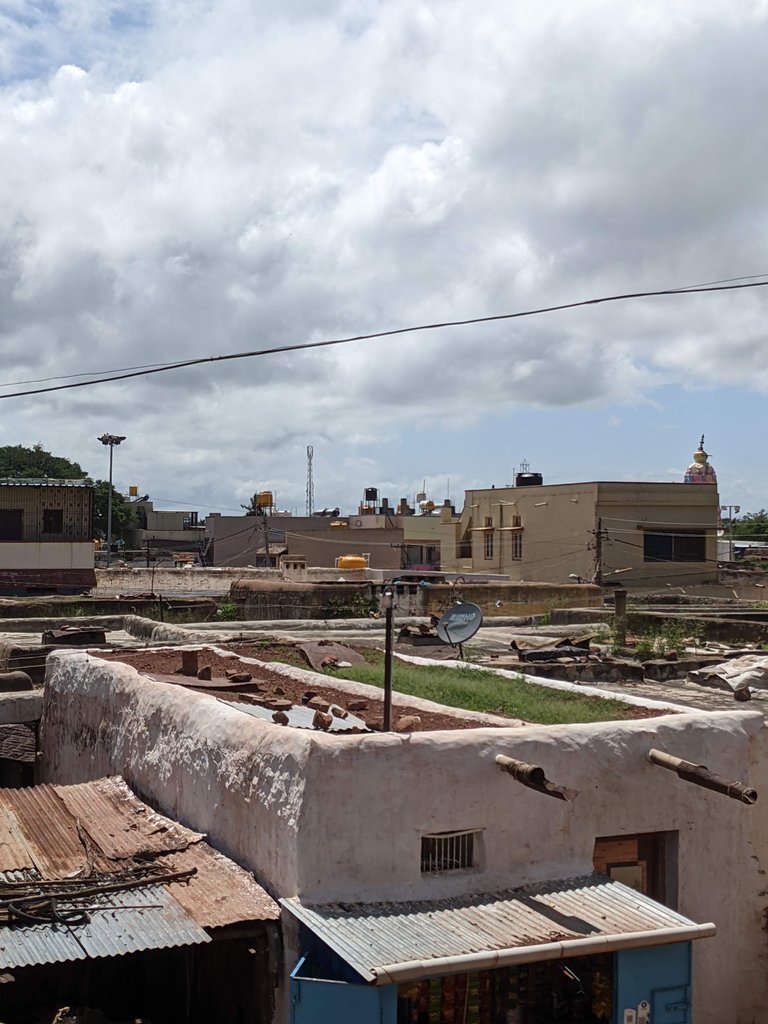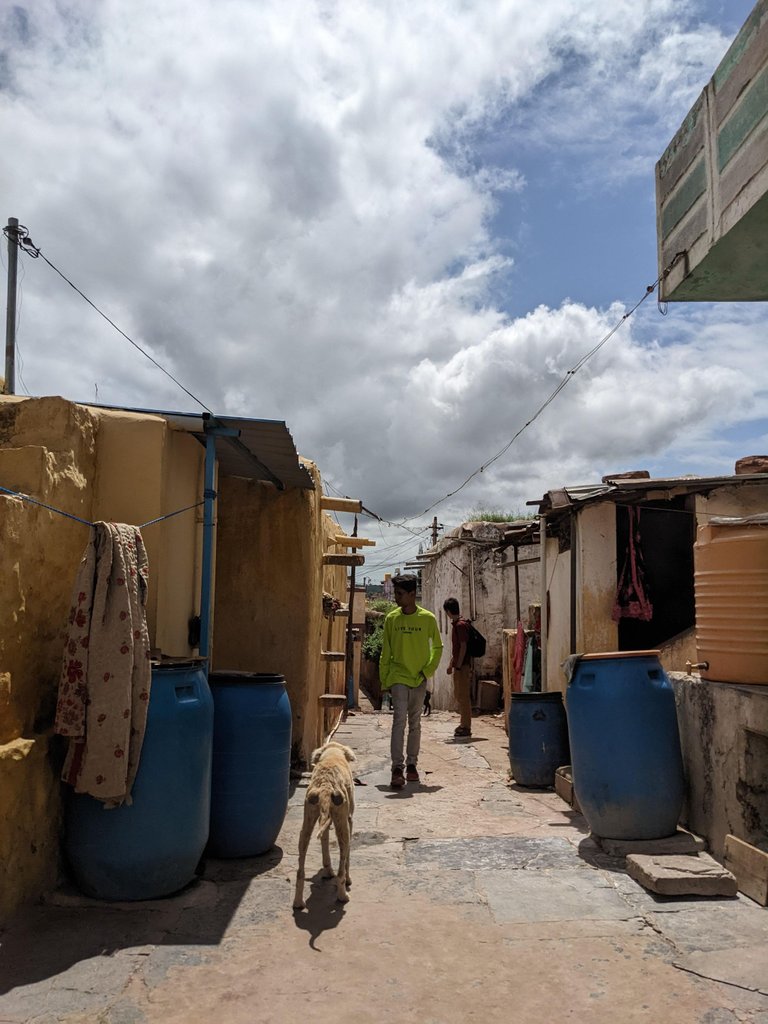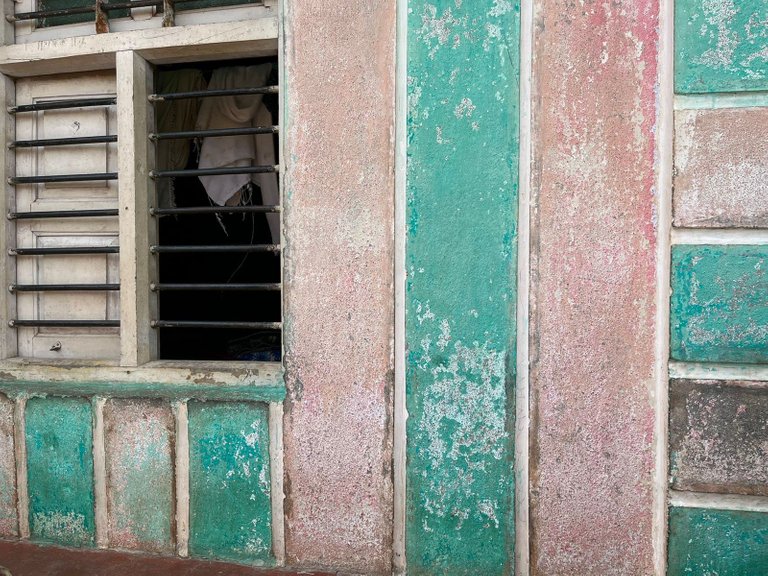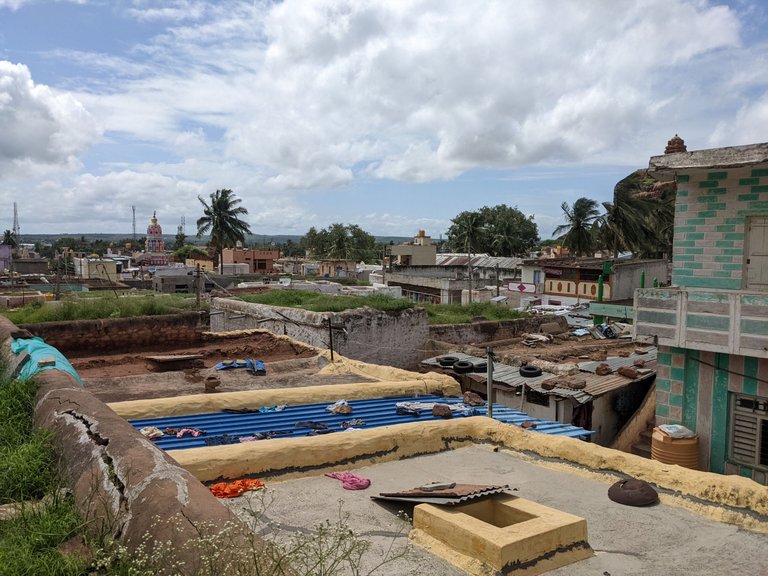 The terraces in these settlements look like this.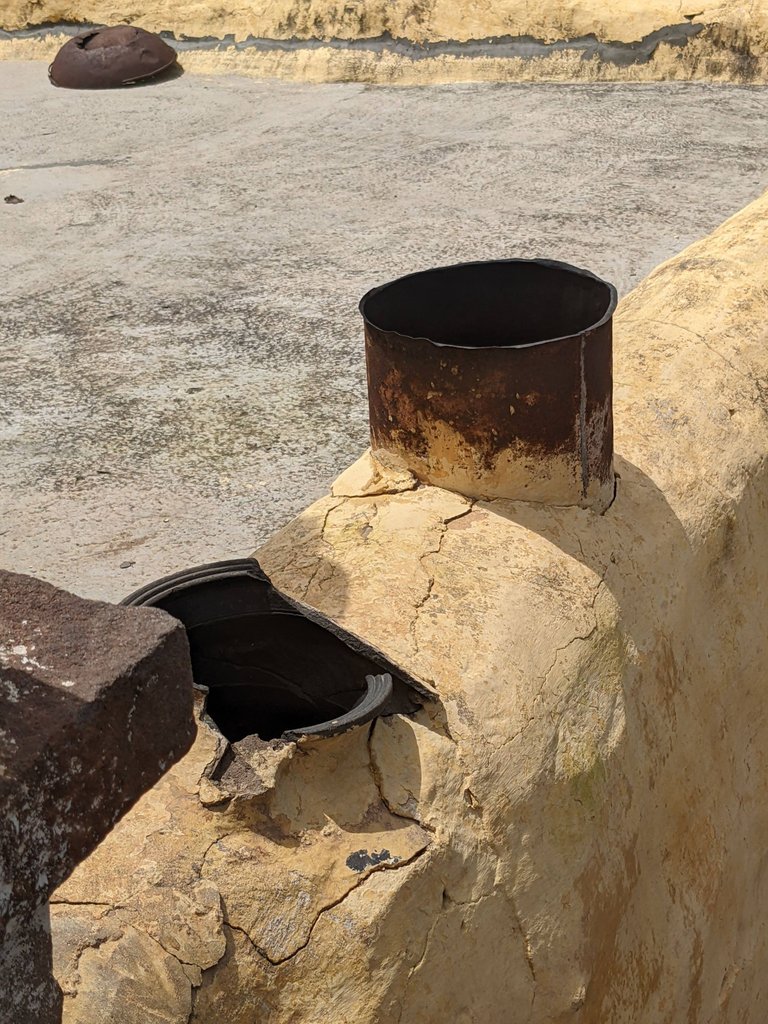 A chimney for the old houses
We are so used to technology, this seemed very very new to all of us. But I'm glad we were able to figure out what the function of it was. As you can see it's in the shape of a pot. That's because it is a pot , but to create a ventilation. I assume it was placed in kitchen , so that the smoke can escape from top.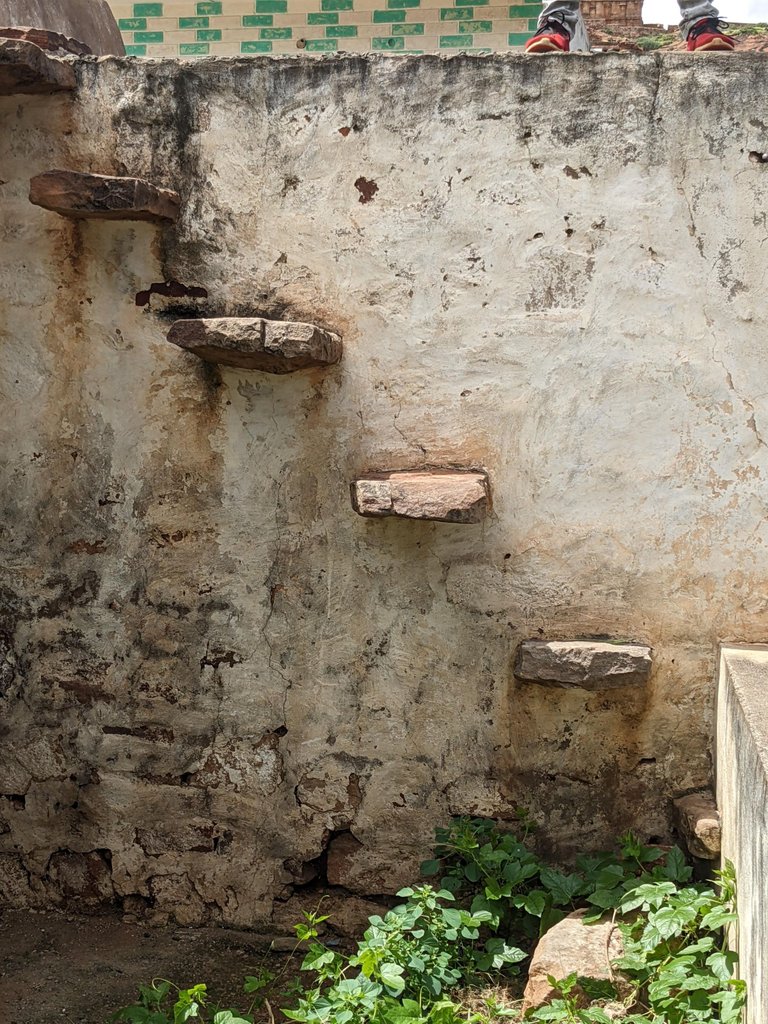 Little stairs to climb up to the terrace.
The overall experience was amazing , and I'm glad I took photos , because it will be kept as memories and I love that. Now moving on to my memory mapping. Immediately after we finished the walk , we wrapped up and went to the hotel.
I first planned and scribbled on another book just to understand what I would put on my paper. After planning and execution, this is what I came up with.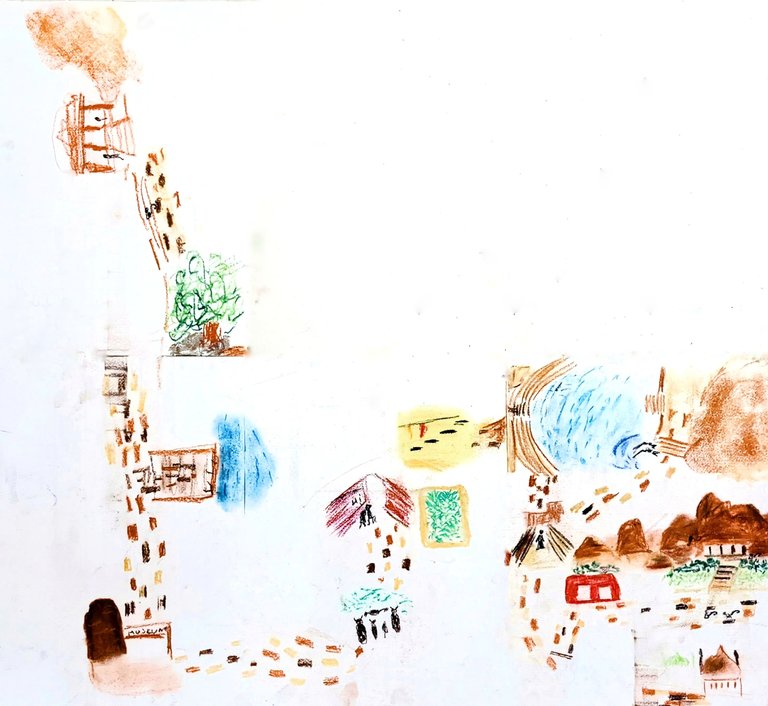 Please do not judge my drawing skills. I had a lot going on in my mind and I needed to put it on paper before I would forget about it. So I couldn't really concentrate on the quality of the drawing.
I just basically tried to show different landmarks, that I created in my head. To create my version of badami. To connect all of the sketches , I drew footsteps in the form of the stones on the footpath that were of different colours.
My professors liked this idea a lot.
Here are a few photos of my peers and I working in the hotel hallway.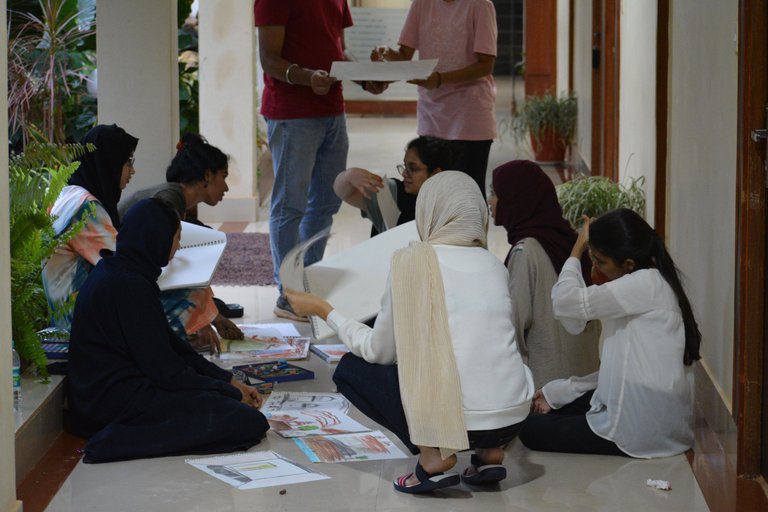 I had so much fun doing this. We were so exhausted by the end of the day , it felt like we had earned the sleep for today. Experiencing the magnificent and glorious badami caves was a task for day 2. I will be sharing that in another post. Please stay tuned. Thank you so much for reading this.
---
---