Готові до всього! • Ready for anything! [ENG/UA]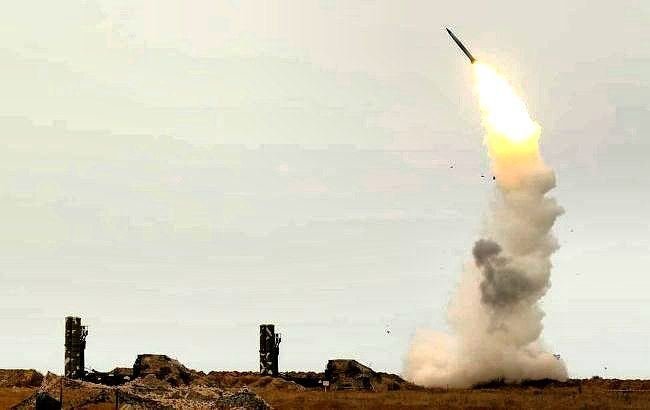 Всім привіт, друзі ✌️
Росіяни таки щось мутять у вигляді відповіді за Херсон. Було багато новин щодо потенційних ракетних обстрілів, застосування якоїсь експериментальної зброї і навіть до завдання електромагнітного удару по Україні, шляхом підриву ядерної бомби у космосі, що начебто як повинно вивести з ладу всю наявну у нас електроніку. Я таке поки тільки у Голлівудських фільмах бачив 😅 Ну, побачимо)
Є інформація щодо можливого масованого ракетного удару 15-16 листопада під час проведення саміту G20 на Балі.
Росіяни, звісно, люблять влаштовувати провокації під час якихось важливих подій у світі, аби як вони вважають мати сильну позицію у переговорах. lol
Hello everyone, friends ✌️
The Russians are starting something in the form of an answer for Kherson. There was a lot of news about potential missile strikes, the use of some kind of experimental weapon, and even about the task of an electromagnetic strike on Ukraine, by detonating a nuclear bomb in space, which is supposed to disable all the electronics we have. So far, I've only seen this in Hollywood films 😅 Well, we'll see)
There is information regarding a possible massive missile strike on November 15-16 during the G20 summit in Bali.
Russians, of course, like to arrange provocations during some important events in the world, so that they think they have a strong position in negotiations. lol

В останні дні якраз спостерігається підвищена активність ворожої авіації з Білорусі і не тільки. Повітряних тривог стало значно більше, у нашій області в тому числі.
In recent days, there has been an increased activity of enemy aviation from Belarus and beyond. There have been many more air alarms, including in our region.


Повітряна тривога (😄)/Air alarm
Але закінчується вона так само несподівано, як і починається!)
But it ends as unexpectedly as it begins!)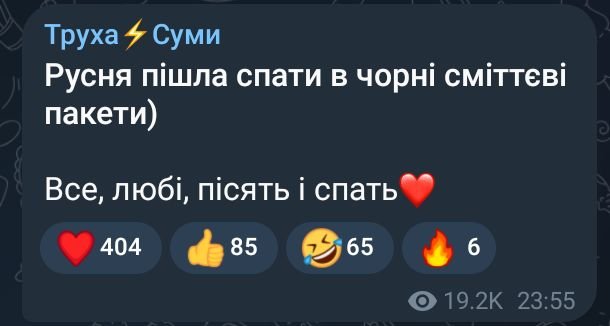 Відбій тривоги (😄)/All-clear
Як ви зрозуміли, адмін нашого місцевого Телеграм каналу дуже чуйна та емоційна людина 😆

Збройні сили України поступово витискають росіян з нашої території. І відбувається це досить швидко, як на мене. Навіть дуже. І це не тому, що росіяни надто слабкі і ні на що не здатні (хоча й таких вистачає), а тому, що наші військові дуже професійно та рішуче діють. Точність вражає, як і сила духу кожного нашого бійця.
Мотивація і єдність це ключ до перемоги, і вона у нас буде.
А заради чого воюють росіяни?...
The armed forces of Ukraine are gradually pushing the Russians out of our territory. And it happens quite quickly, in my opinion. Even very. And this is not because the Russians are too weak and incapable of anything (although there are enough of them), but because our military is acting very professionally and decisively. The accuracy is impressive, as is the spirit of each of our fighters.
Motivation and unity is the key to victory, and we will have it.
And what are the Russians fighting for?...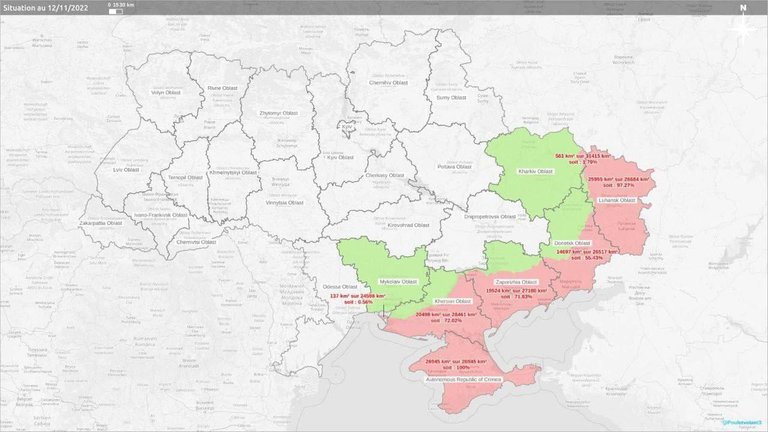 Map of the occupied territories
Вчора побачив ось таку мапу України з даними щодо процентуального співвідношення окупованих територій областей до їх контрольованих Україною частин.
Загалом, 7 регіонів на даний момент знаходиться під частковою або повною окупацією.
(Окуповано)
• 1,79% – Харківська обл.
• 97,27% – Луганська обл.
• 55,43% – Донецька обл.
• 71,83% – Запоріжська обл.
• 72,02% – Херсонська обл.
• 0,56% – Миколаївська обл.
• 100% - Крим.
З кожним днем ці цифри стають все меншими. І я вірю, що в один чудовий момент, ми побачимо на цій статистиці тільки нулі!
Yesterday I saw this map of Ukraine with data on the percentage ratio of the occupied territories of the regions to their parts controlled by Ukraine.
In total, 7 regions are currently under partial or full occupation.
(Occupied)
• 1.79% – Kharkiv region.
• 97.27% – Luhansk region.
• 55.43% – Donetsk region.
• 71.83% – Zaporizhia region.
• 72.02% – Kherson region.
• 0.56% – Mykolaiv region.
• 100% - Crimea.
These numbers are getting smaller every day. And I believe that at one great moment, we will see only zeros on this statistic!
Thank you all for your visit and support guys 🤜🤛
Have a nice day 🍀
---
---

---
---