Pulsera de Sirena • Mermaid Bracelet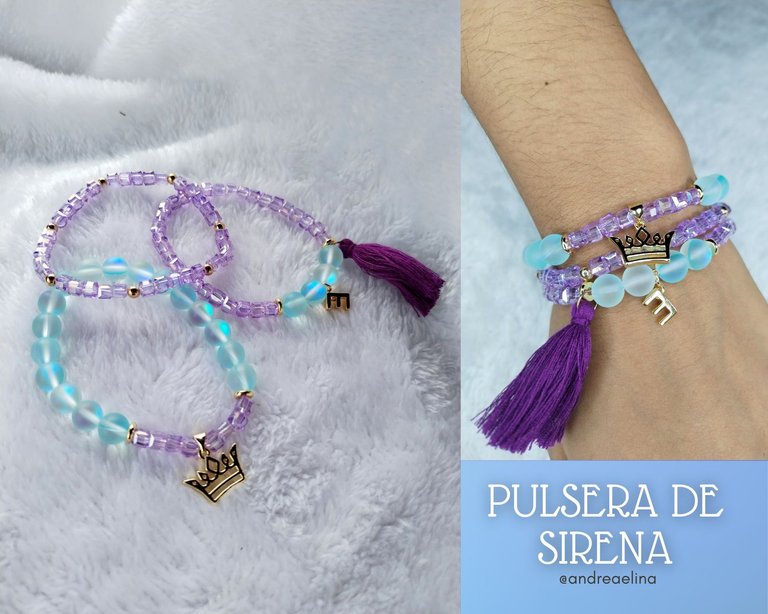 🇪🇸 ESPAÑOL
¡¡Hola amigos creativos!!
Creo que un regalo ideal para toda chica coqueta siempre es una linda bisutería, para las mujeres, niñas y adolescentes que nos gustan los adornos como estos, nunca tenemos suficientes en nuestro joyero.
Por esa razón, en esta ocasión me puse a crear un lindo juego de pulseras inspirado en colores de sirena como detalle de regalo para una chica de 16 años que es hija de unos amigos de mis papás y que con motivo de su graduación de bachiller sus papás decidieron hacerle una fiesta para celebrar.
Pará esta chica de 16 años que es súper coqueta y que le gusta estar a la moda, me inspiré en comprar piedras con colores al estilo sirena, están super de moda y no tienen edad para ser usados, a mí particularmente me encanta esta combinación en tonos, azules, verdes, turquesa, rosados y morados.
En mi caja de piedras de bisutería tengo muchas piedras de tonos muy señoriales, así que tuve que hacer una rápida salida a la mercería y buscar comprar piedras nuevas que me sirvieran para la confección de esta pulsera, me fue genial en mi búsqueda porque acababan de traer nueva mercancía así que compré una tira de bolitas azules tornasoladas que fueron el centro de inspiración para combinarlas con tonos morados y dorados, cuando las vi en seguida me imaginé las pulseras estilo sirena y dije "me las tengo que llevar".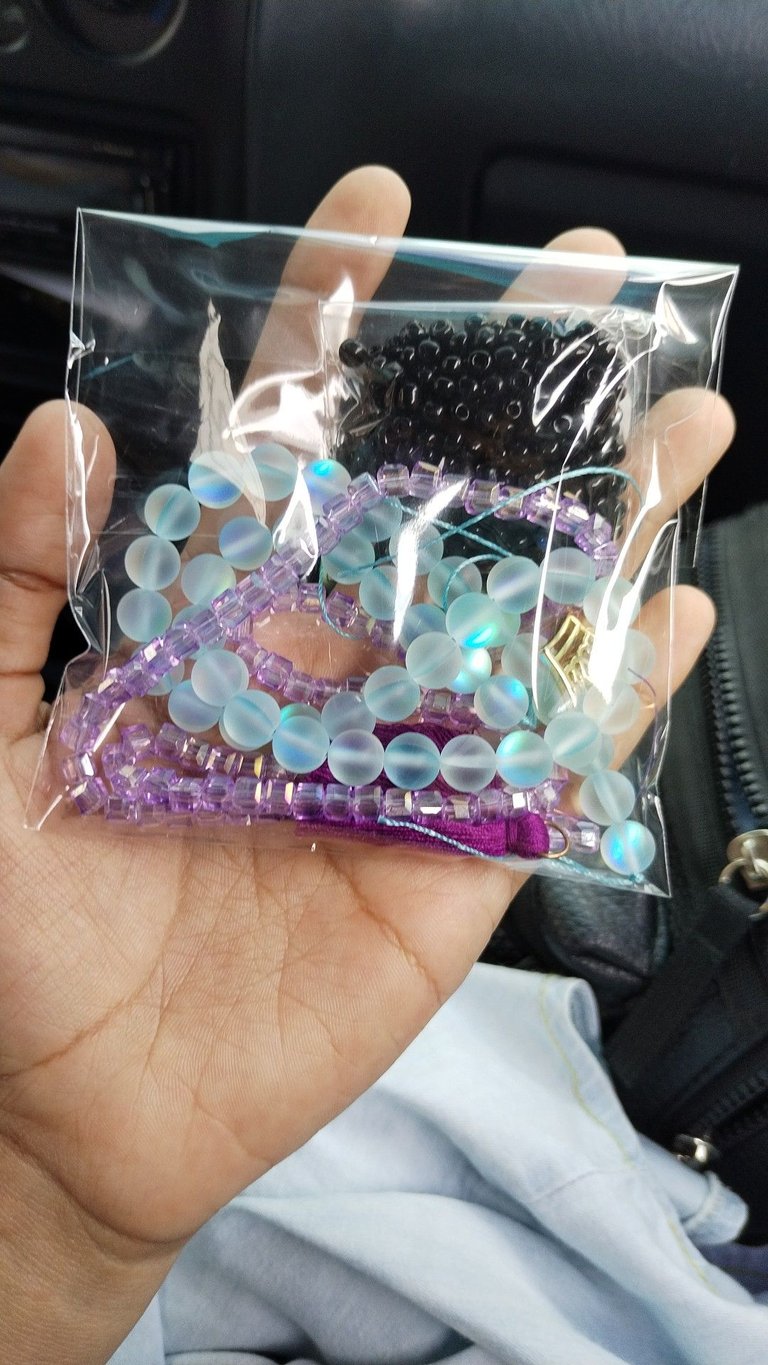 A la compra le adicioné unos cubitos de cristal morados brillantes bellísimos que hacen juego y compre también unos dijecitos especiales para esta chica en particular, conseguí uno con la inicial de su nombre (la letra E) y una coronita dorada que la representa como la princesa que es.
Ya con todo lo que me hacía falta comprado, me fui a casa y comencé a poner a volar mi habilidad e imaginación para ponerme manos a la obra.
Los materiales que utilicé para confeccionar estas pulseras fueron: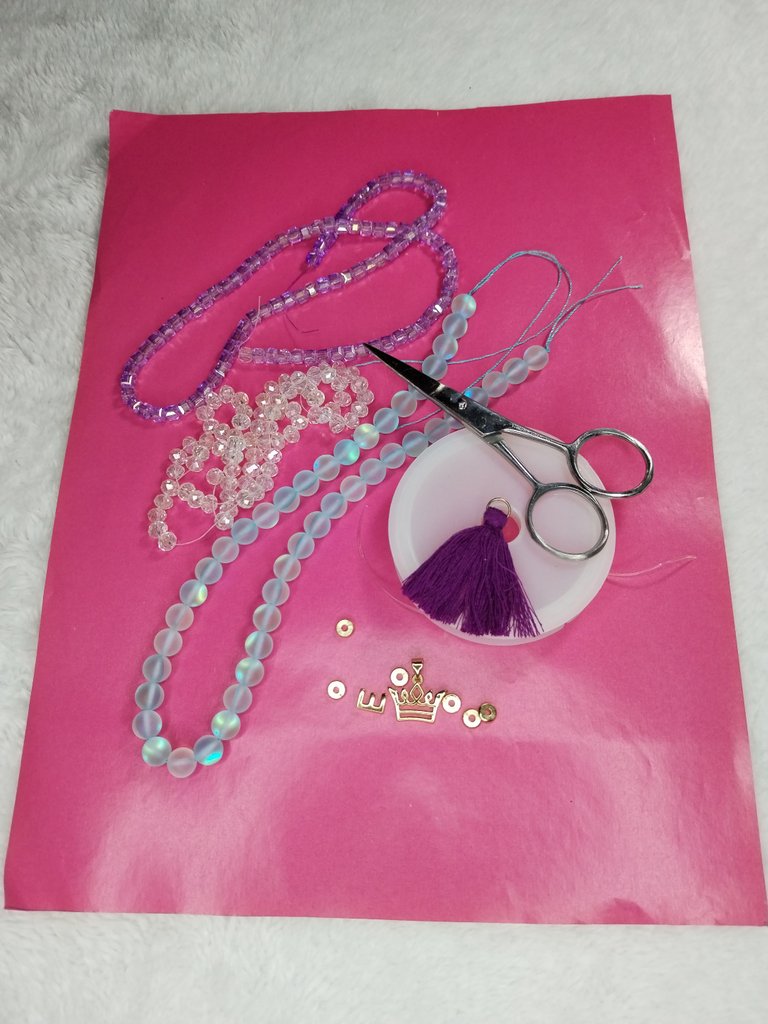 *Nilón elástico.
*Tijera.
*Piedras azules y moradas.
*Dije de pompón morado.
*Dije de corona.
*Dije de la letra E.
*Donitas doradas decorativas.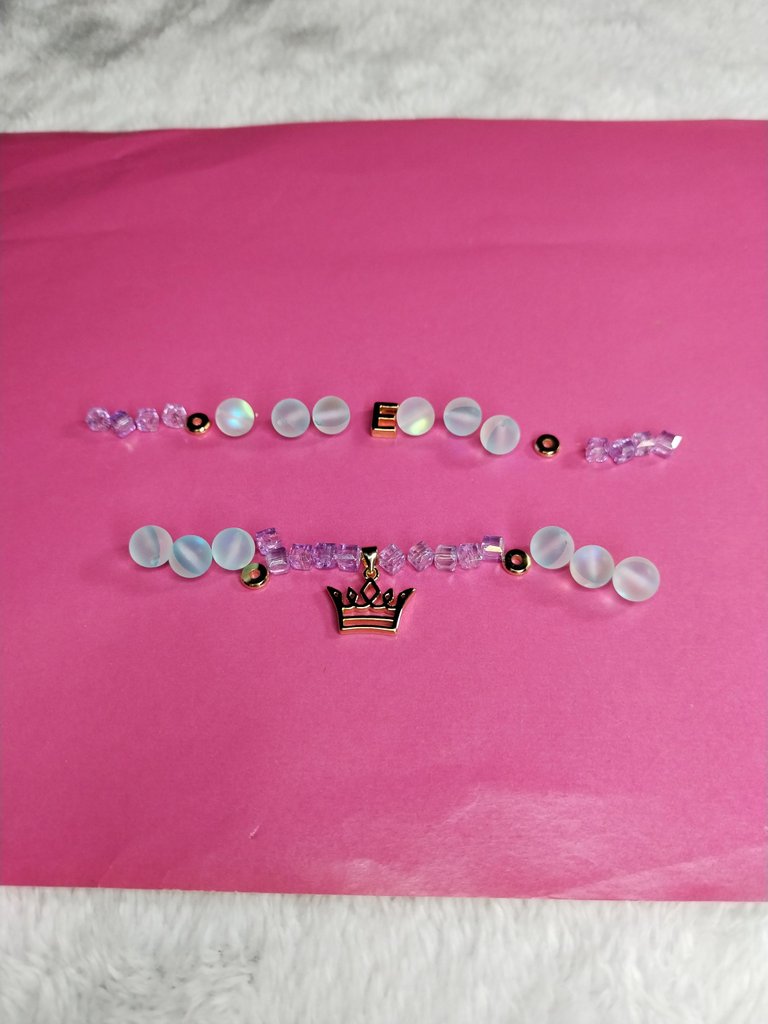 Como ya es costumbre para mí, empiezo colocando una secuencia de como quisiera que se vieran las piedras puestas en la pulsera, algunas veces me queda igual y en otras ocasiones hago algunas modificaciones a medida que el diseño avanza, lo cierto es que hacer esto antes de empezar me da idea de como quisiera que quedara el resultado final y poder ir armando algo con mayor armonía.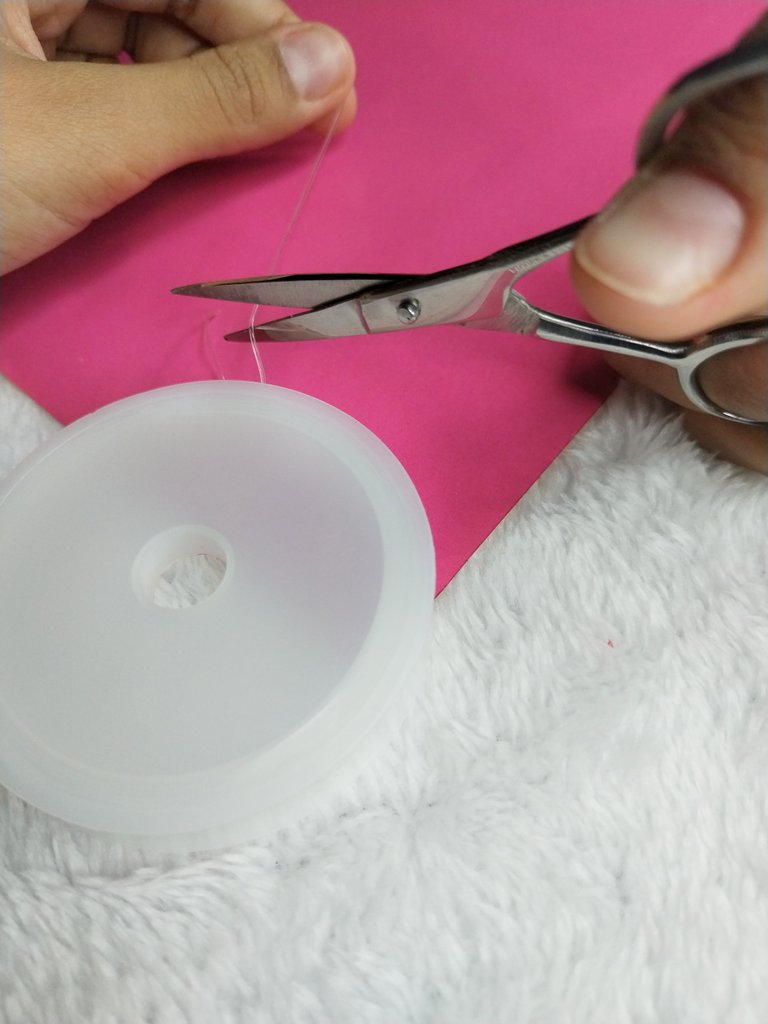 Una vez que tuve mi boceto de la secuencia a seguir armado, corte el nilón elástico y comencé a introducir piedrita por piedrita.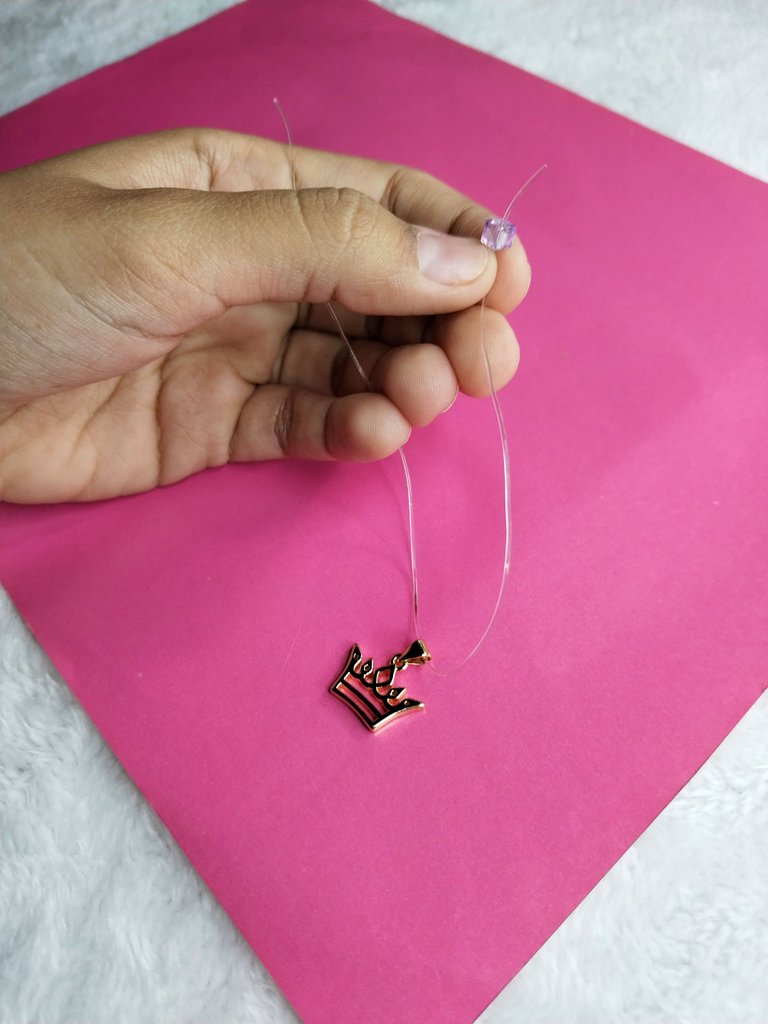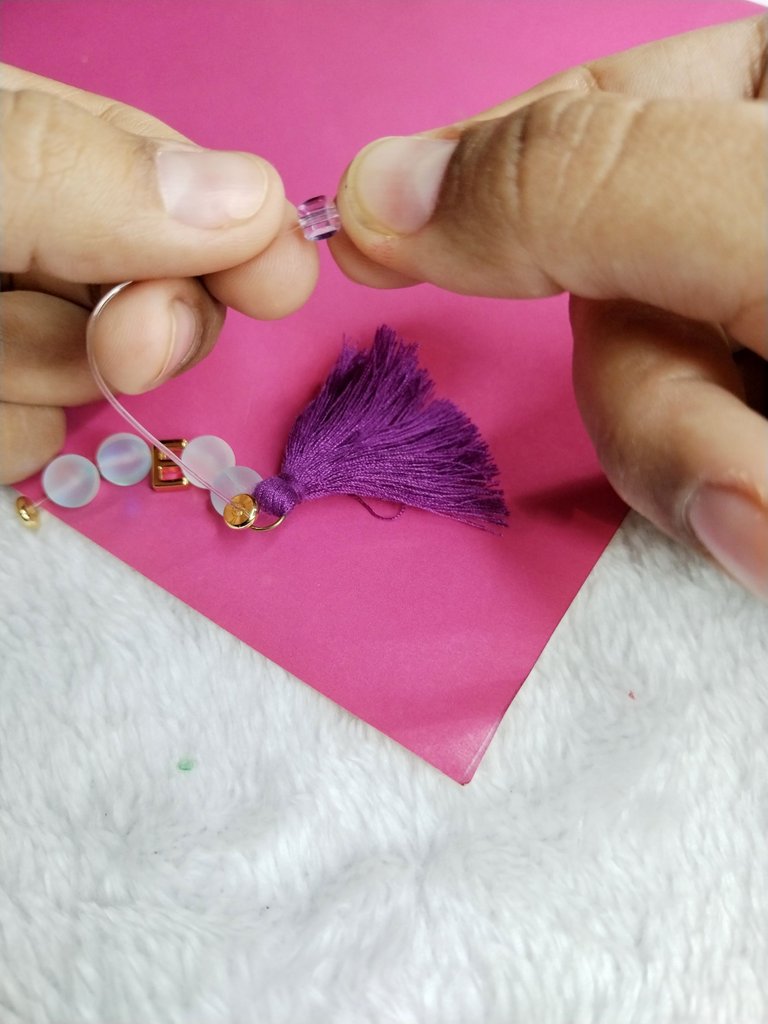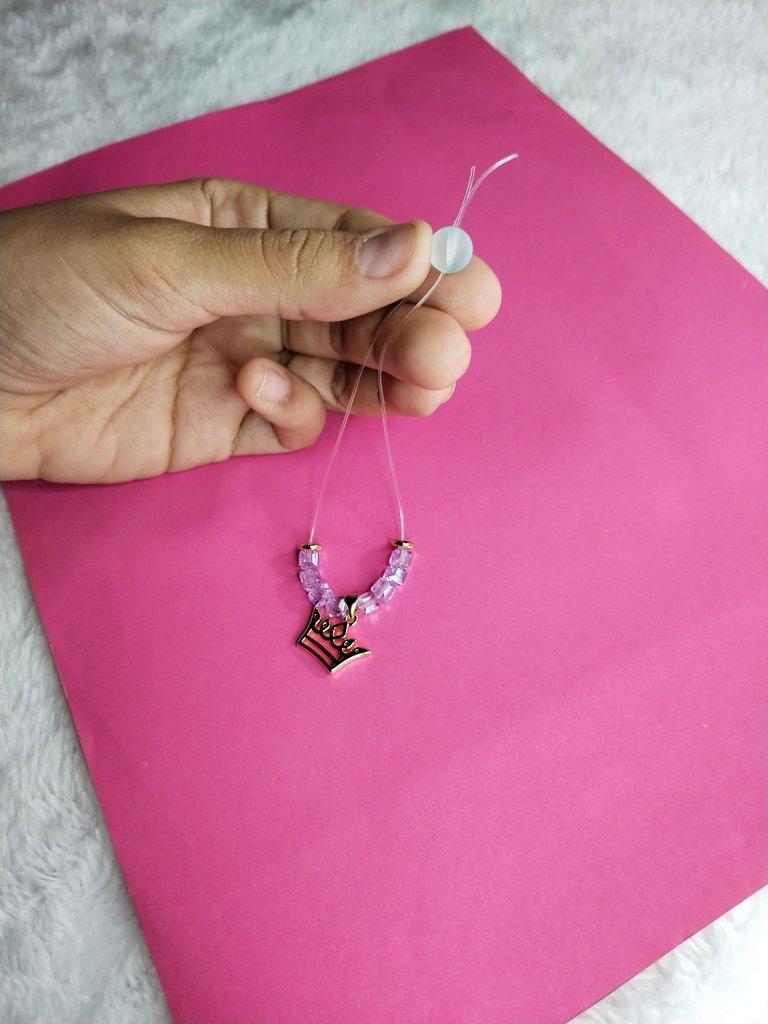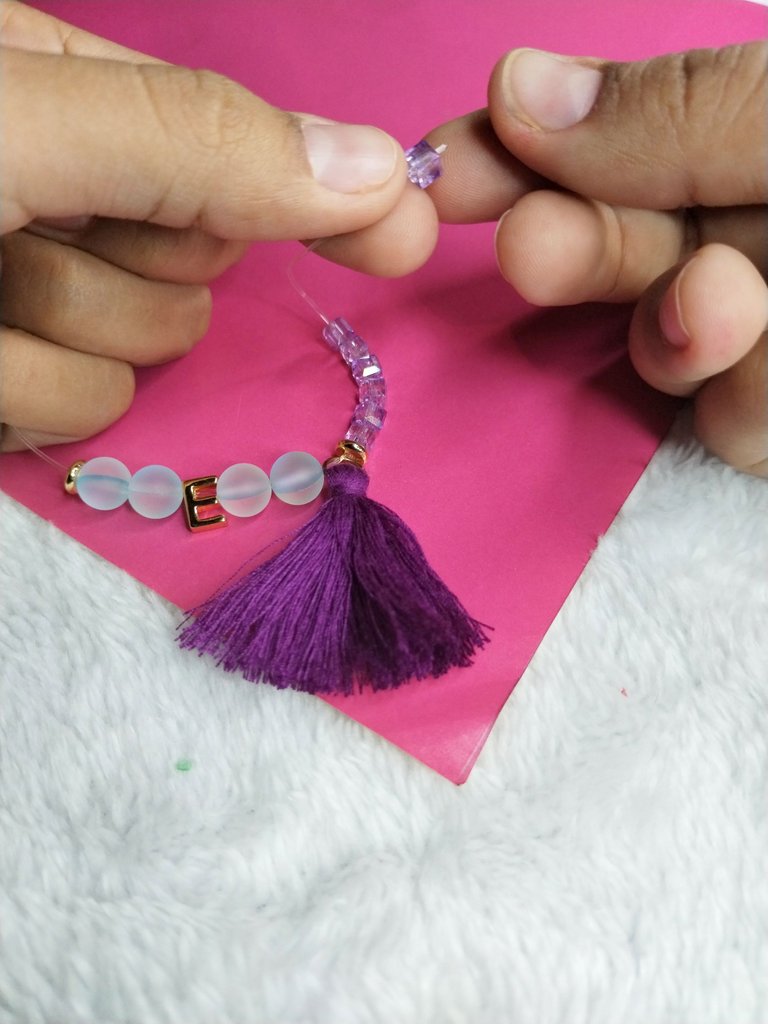 Al final se amarró la pulsera con un triple nudo para que el nilón quede bien fuerte y no se desarme con el tiempo.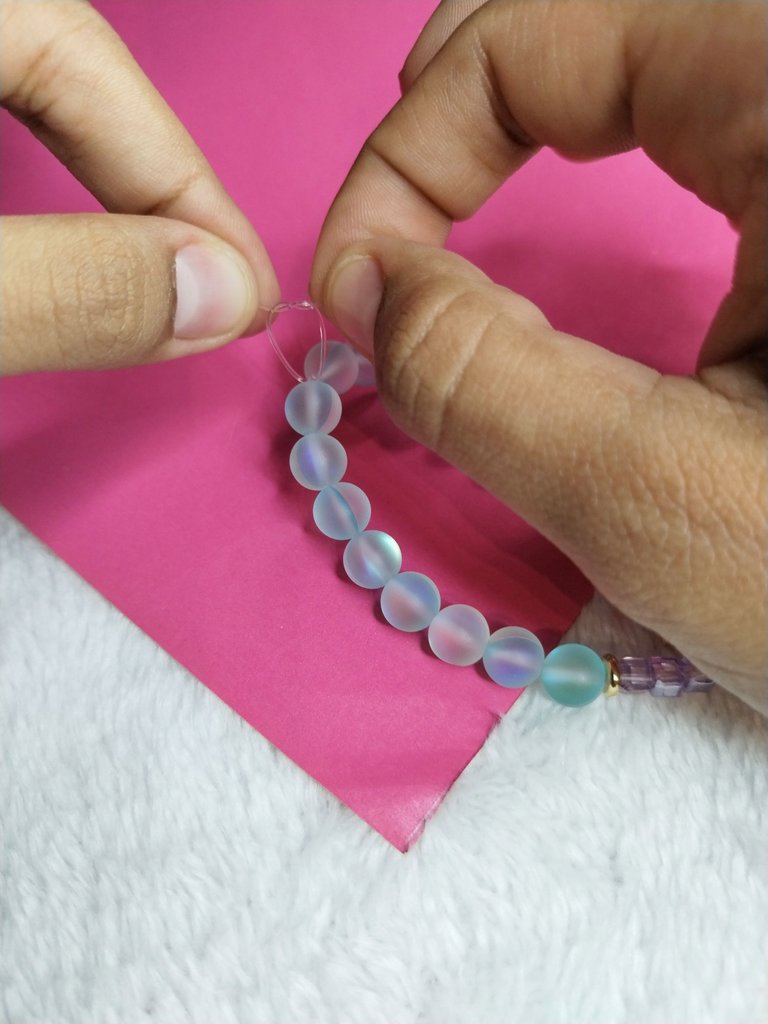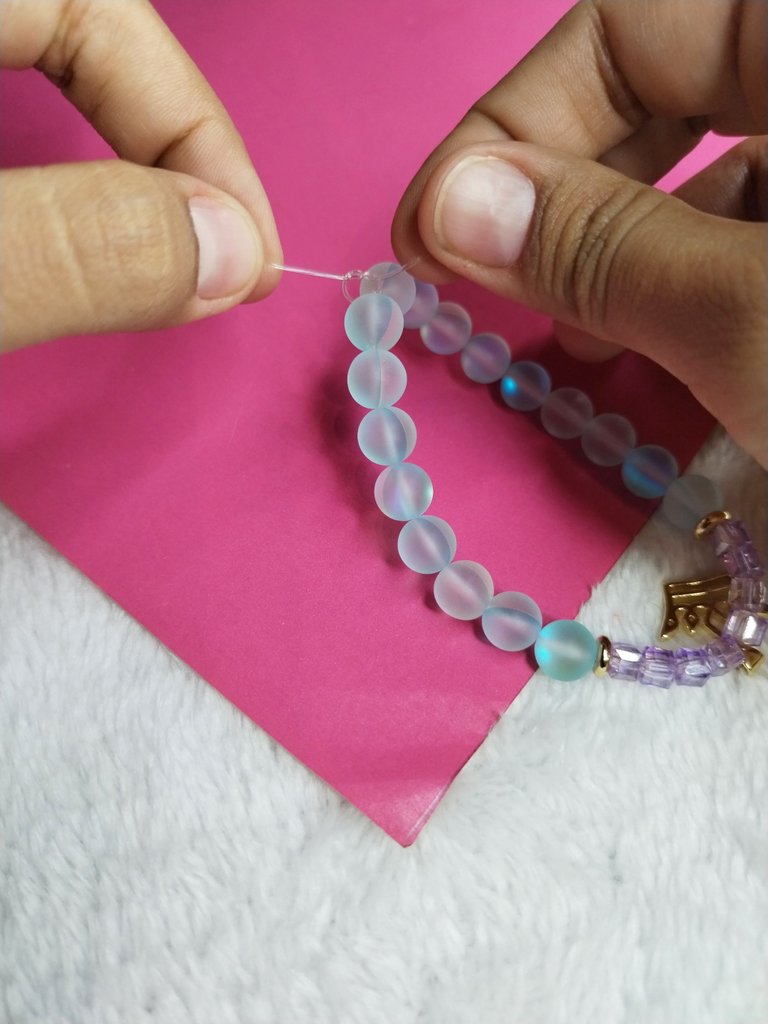 Me encanta hacer estas pulseras de nilón que a mí parecer son super fáciles, prácticas y según las piedritas que escojas puedes hacer infinitas combinaciones para muchas ocasiones y muchas personalidades distintas.
Estas pulseritas me sacan siempre de apuro a la hora de dar un bonito detalle a una amiga coqueta.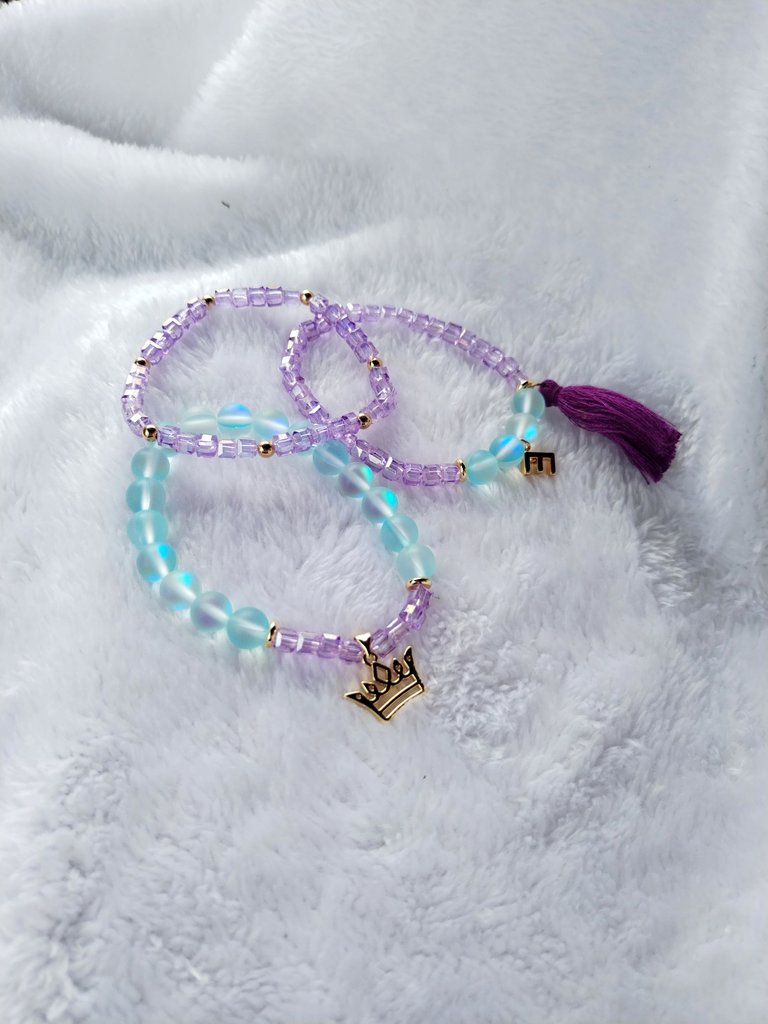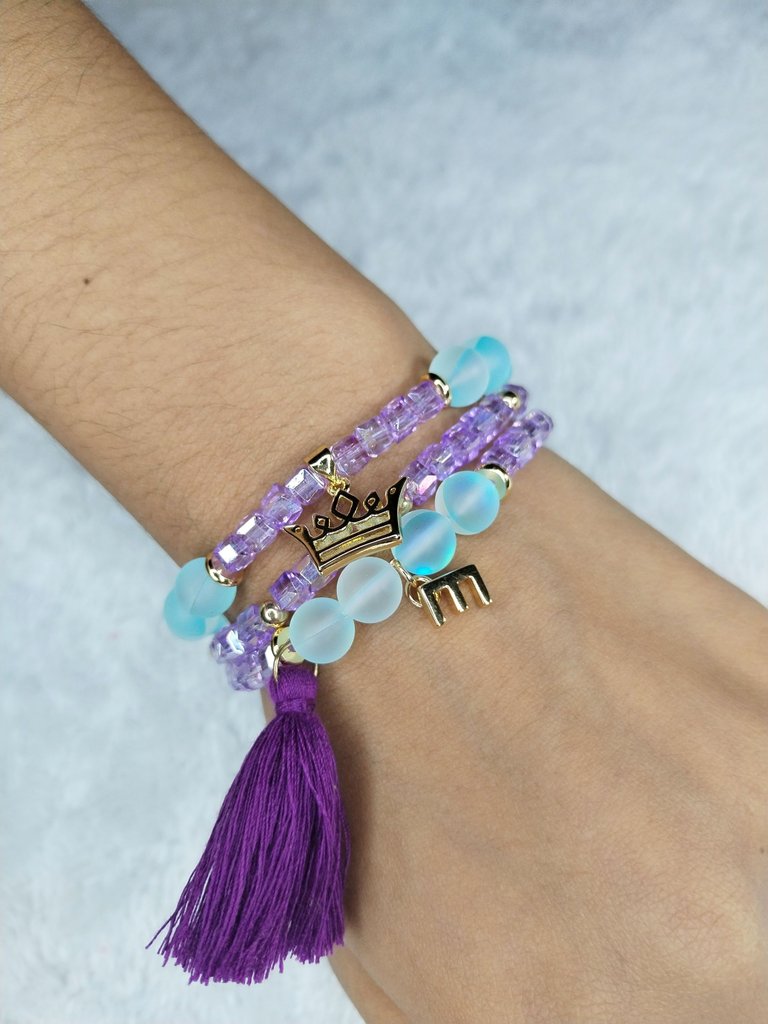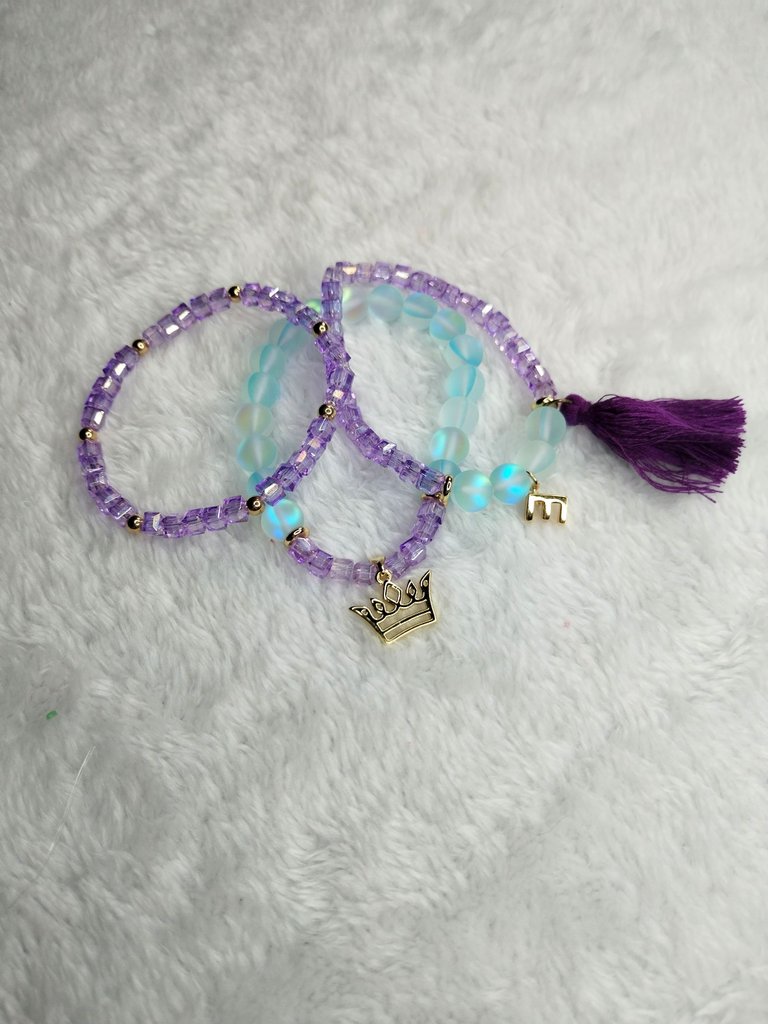 ¡¡Espero les guste esta creación que hice con mucho cariño!!
Hasta una próxima ocasión amigos ❤️😁
---
🇺🇸 ENGLISH
Hello creative friends!!
I think that an ideal gift for any flirtatious girl is always a nice jewelry, for women, girls and teenagers who like ornaments like these, we never have enough in our jewelry box.
For that reason, this time I set out to create a cute set of bracelets inspired by mermaid colors as a gift detail for a 16-year-old girl who is the daughter of some of my parents' friends and who, on the occasion of her high school graduation, parents decided to throw him a party to celebrate.
For this 16-year-old girl who is super flirtatious and who likes to be fashionable, I was inspired to buy stones with mermaid-style colors, they are super fashionable and they are not old enough to be worn, I particularly love this combination in tones, blue, green, turquoise, pink and purple.
In my box of jewelery stones I have many stones of very stately tones, so I had to make a quick trip to the haberdashery and look to buy new stones that would help me make this bracelet, it was great in my search because they had just bring new merchandise so I bought a strip of iridescent blue beads that were the center of inspiration to combine them with purple and gold tones, when I saw them I immediately imagined the mermaid style bracelets and said 'I have to take them'.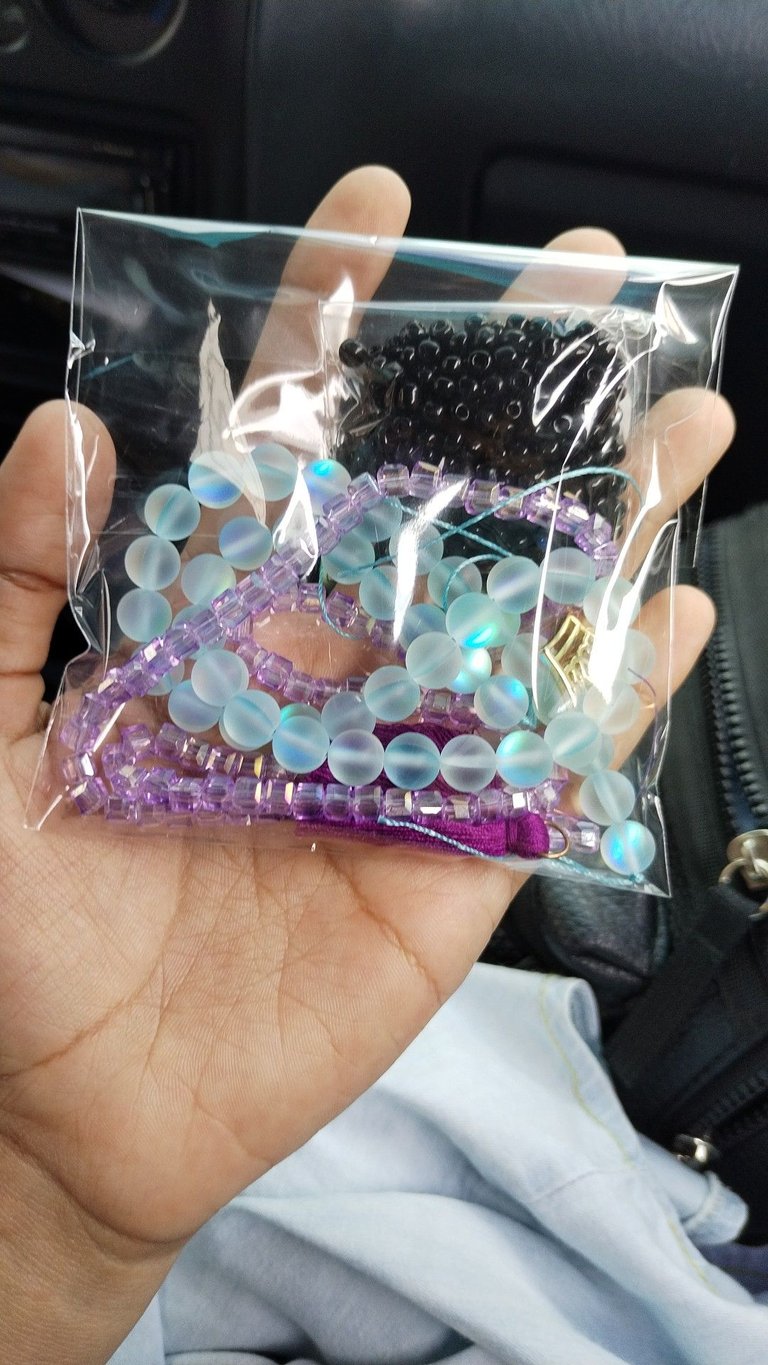 To the purchase I added some beautiful shiny purple glass cubes that match and I also bought some special charms for this particular girl, I got one with the initial of her name (the letter E) and a golden crown that represents her as the princess What is it.
With everything I needed bought, I went home and began to put my skill and imagination to flight to get down to work.
The materials I used to make these bracelets were: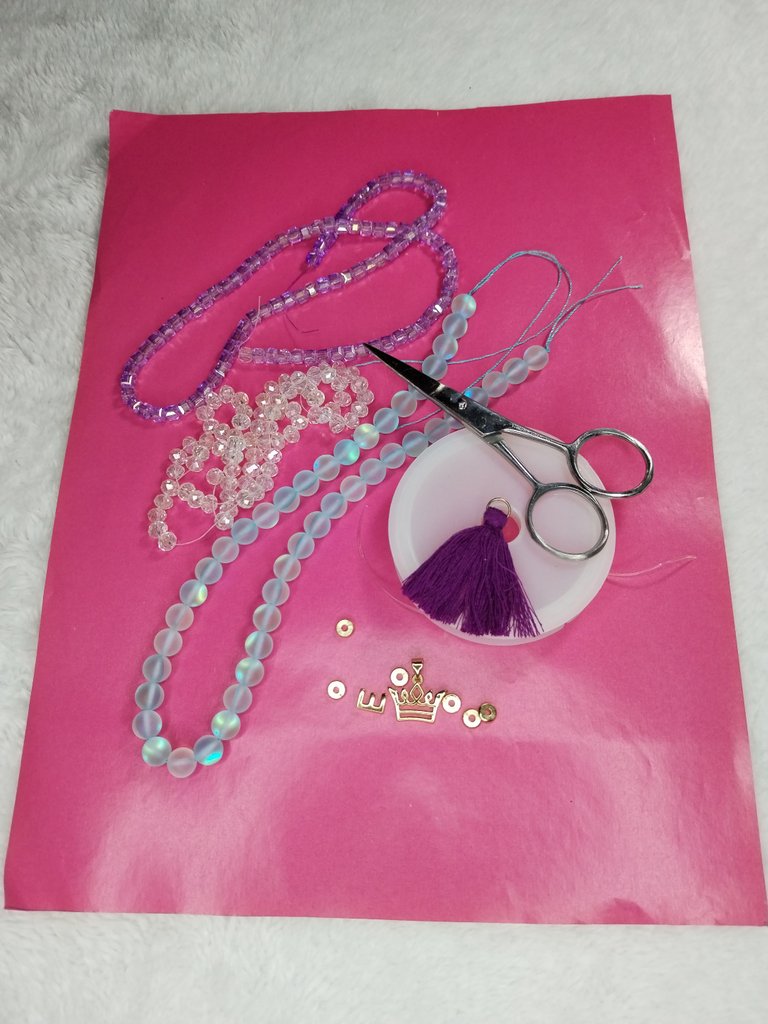 *Elastic nylon.
*Scissors.
Blue and purple stones.
*Purple pom pom charm.
Crown pendant.
I said the letter E.
Decorative golden donuts.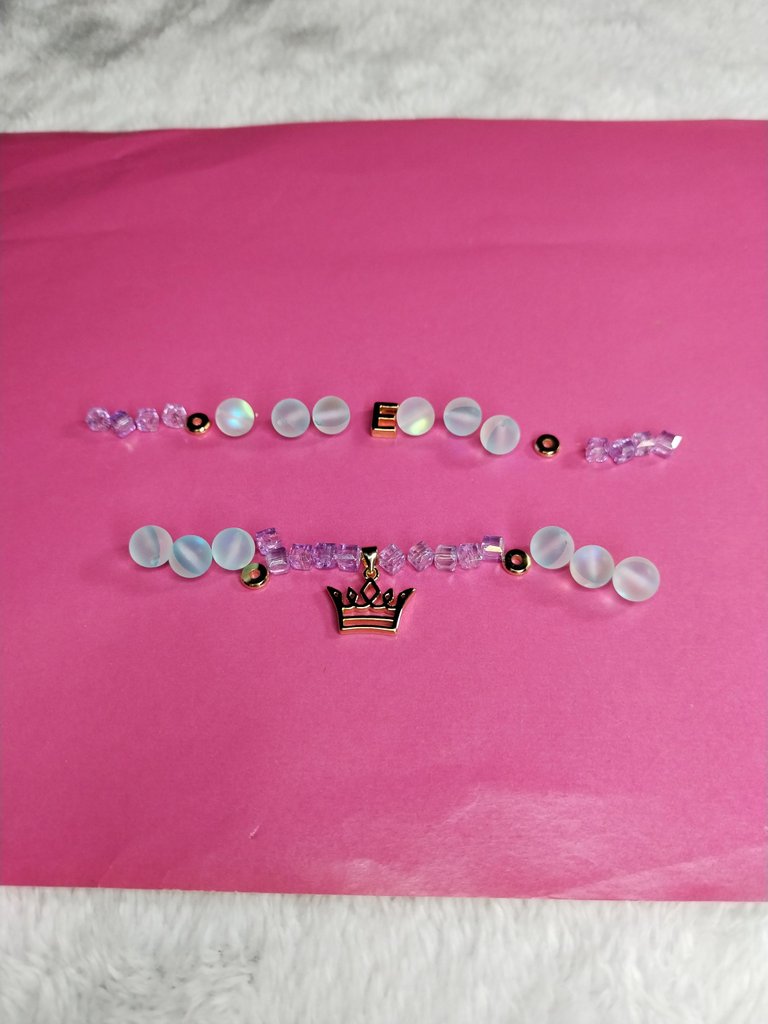 As usual for me, I start by placing a sequence of how I would like the stones placed on the bracelet to look, sometimes it stays the same and other times I make some modifications as the design progresses, the truth is that doing this before To begin with, it gives me an idea of ​​how I would like the final result to be and to be able to put something together with greater harmony.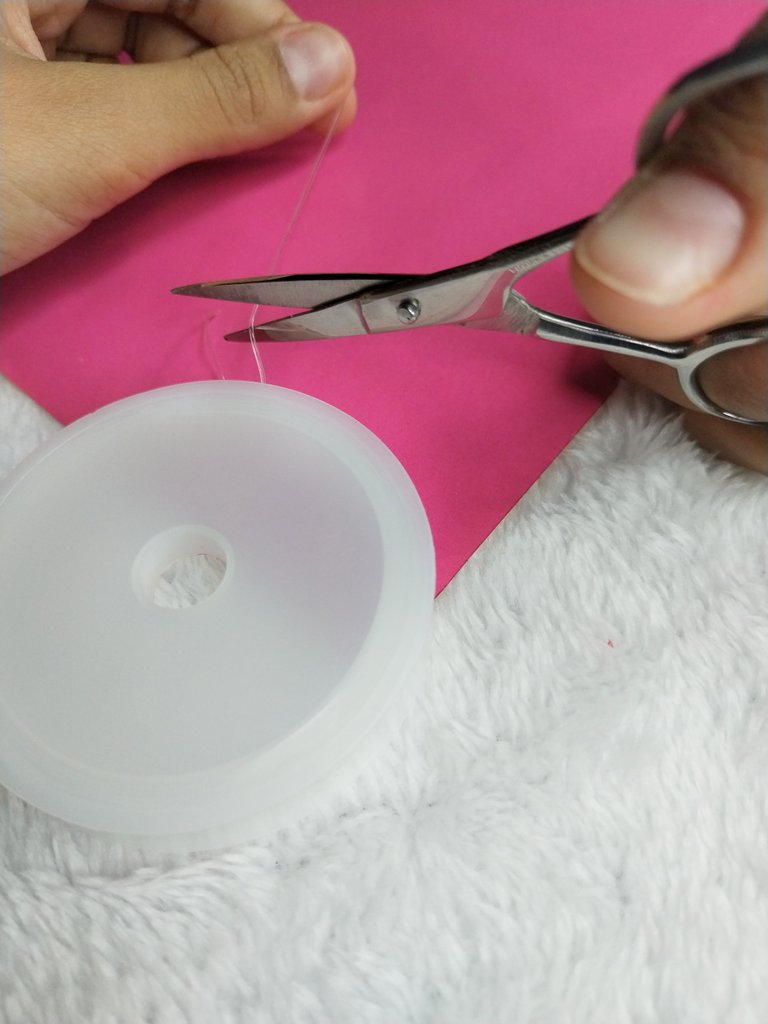 Once I had my sketch of the sequence to follow, I cut the elastic nylon and began to insert stone by stone.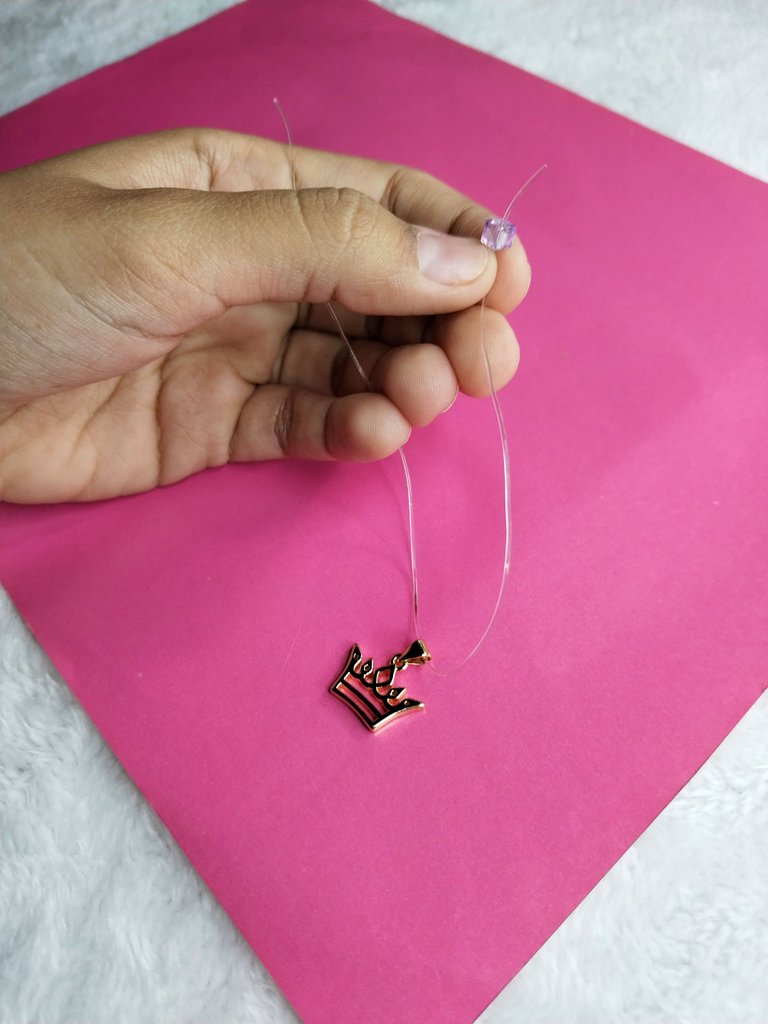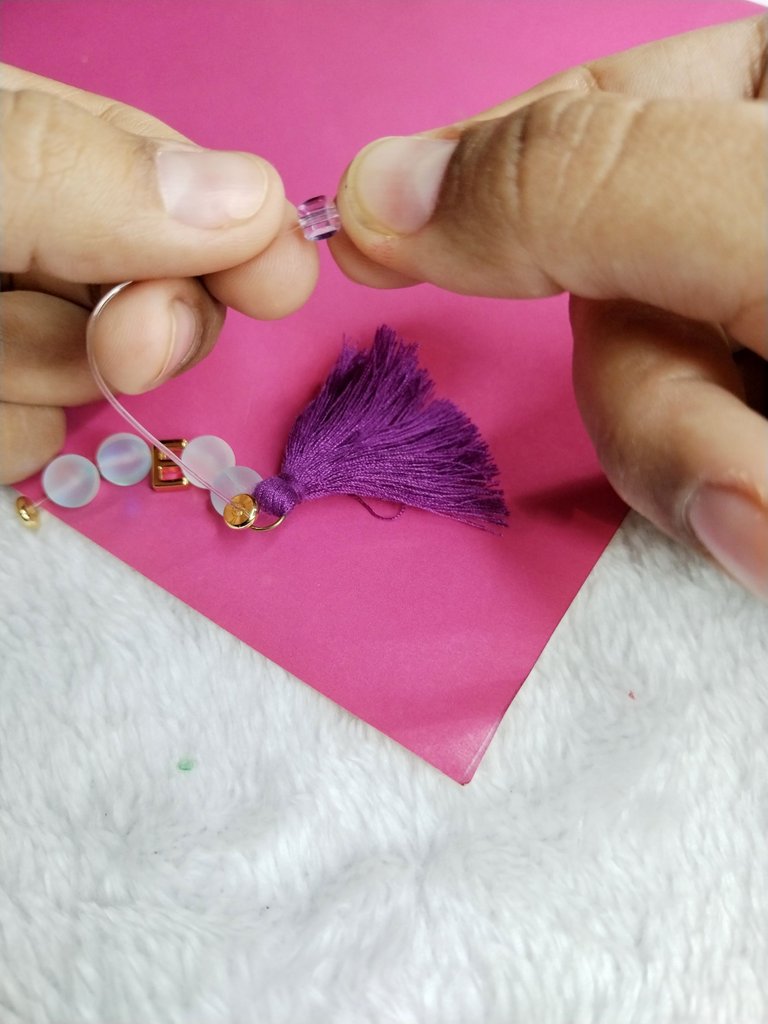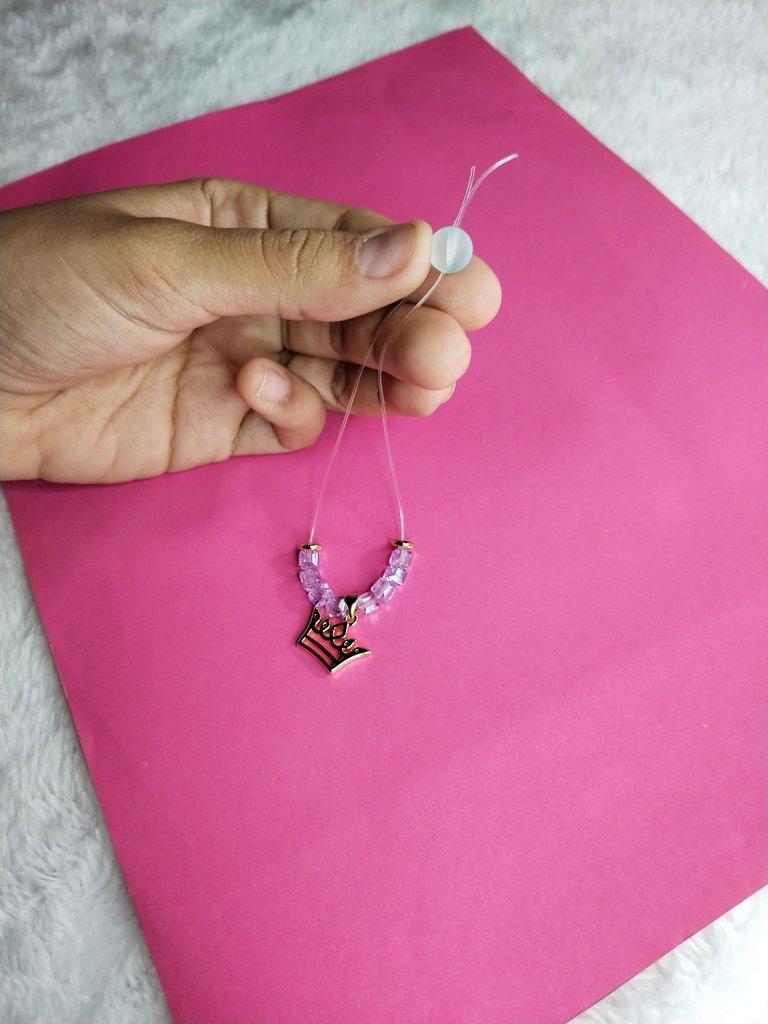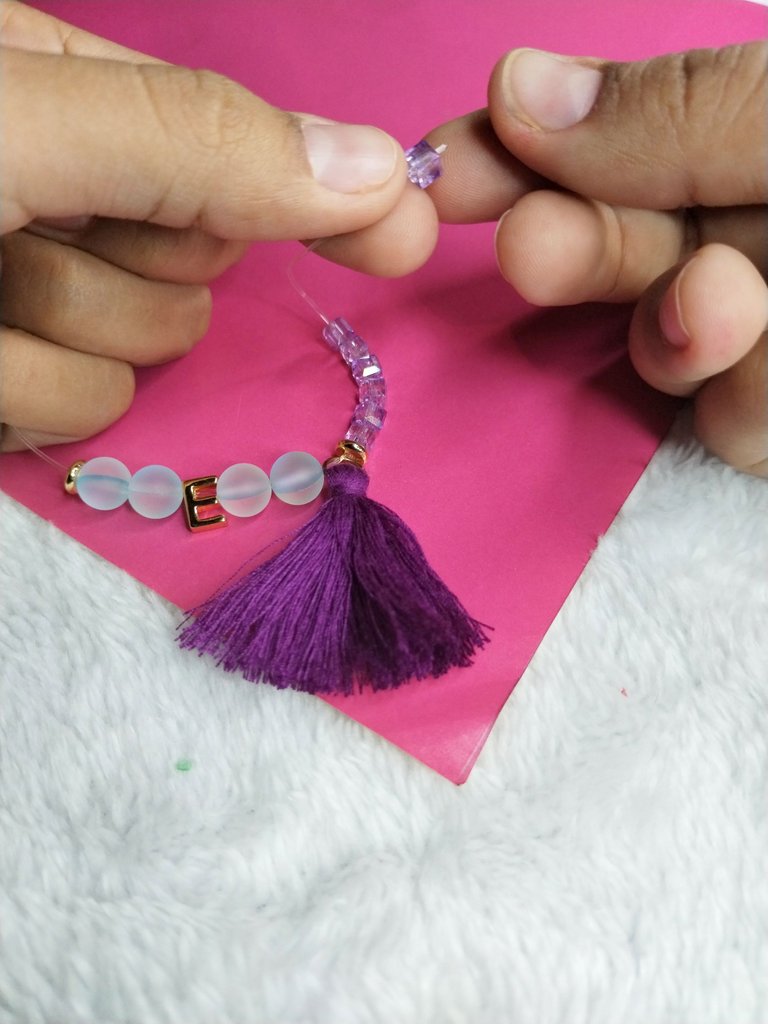 At the end, the bracelet was tied with a triple knot so that the nylon is very strong and does not disarm over time.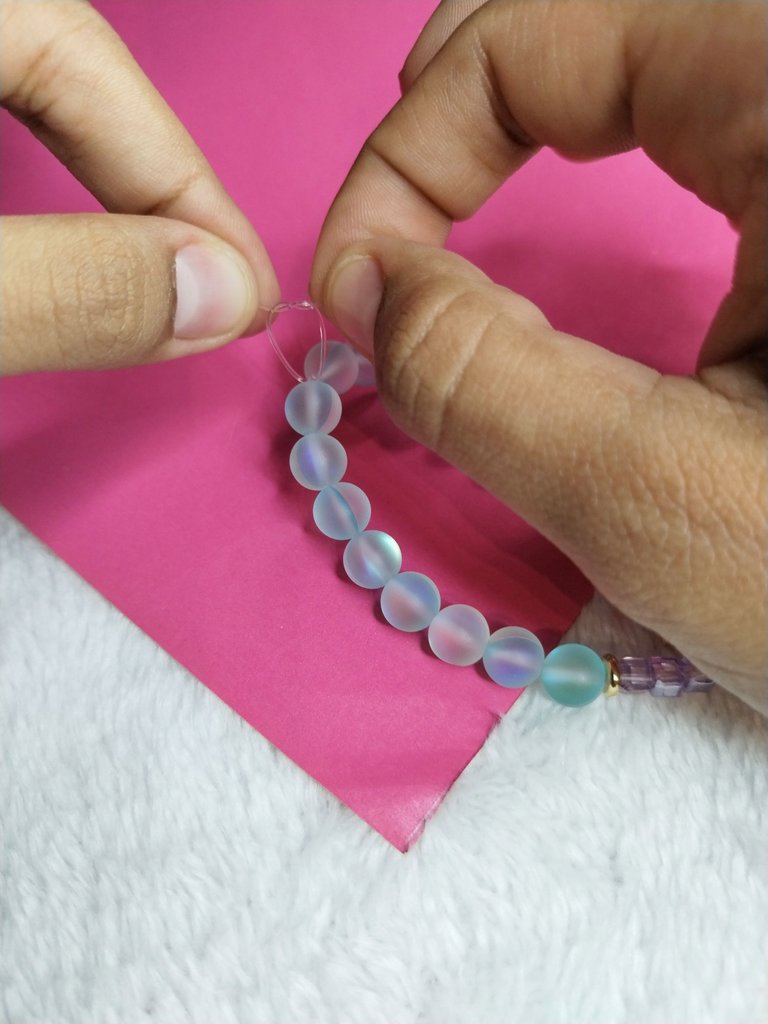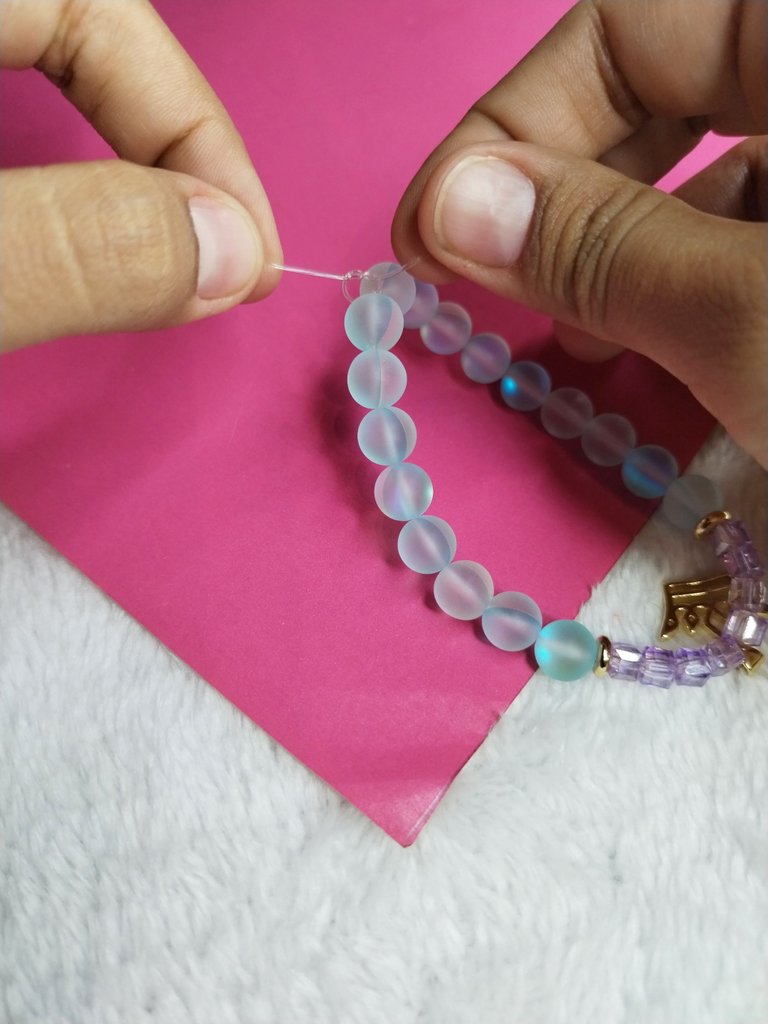 I love making these nylon bracelets that I think are super easy, practical and depending on the stones you choose you can make endless combinations for many occasions and many different personalities.
These bracelets always get me out of trouble when it comes to giving a nice detail to a flirtatious friend.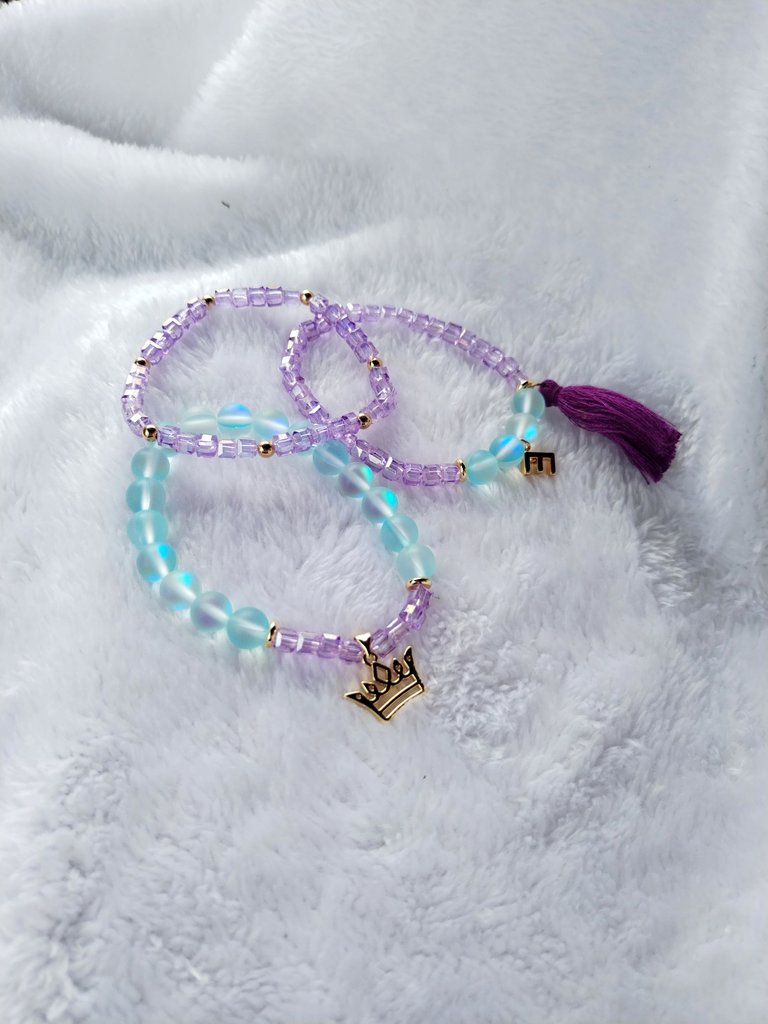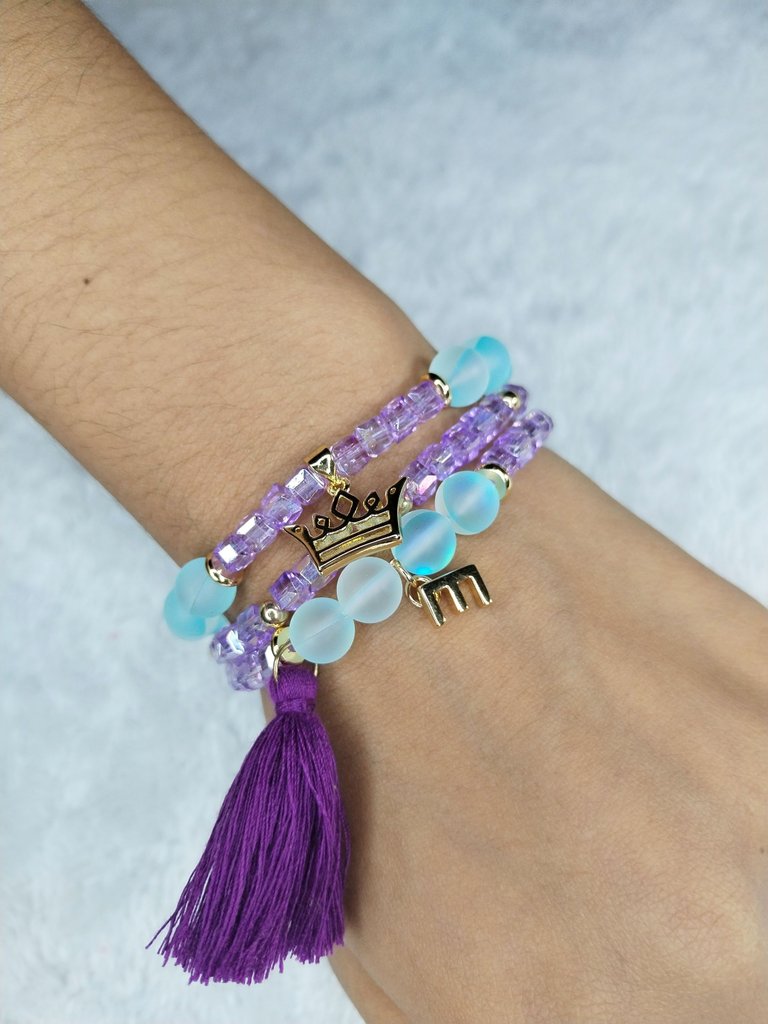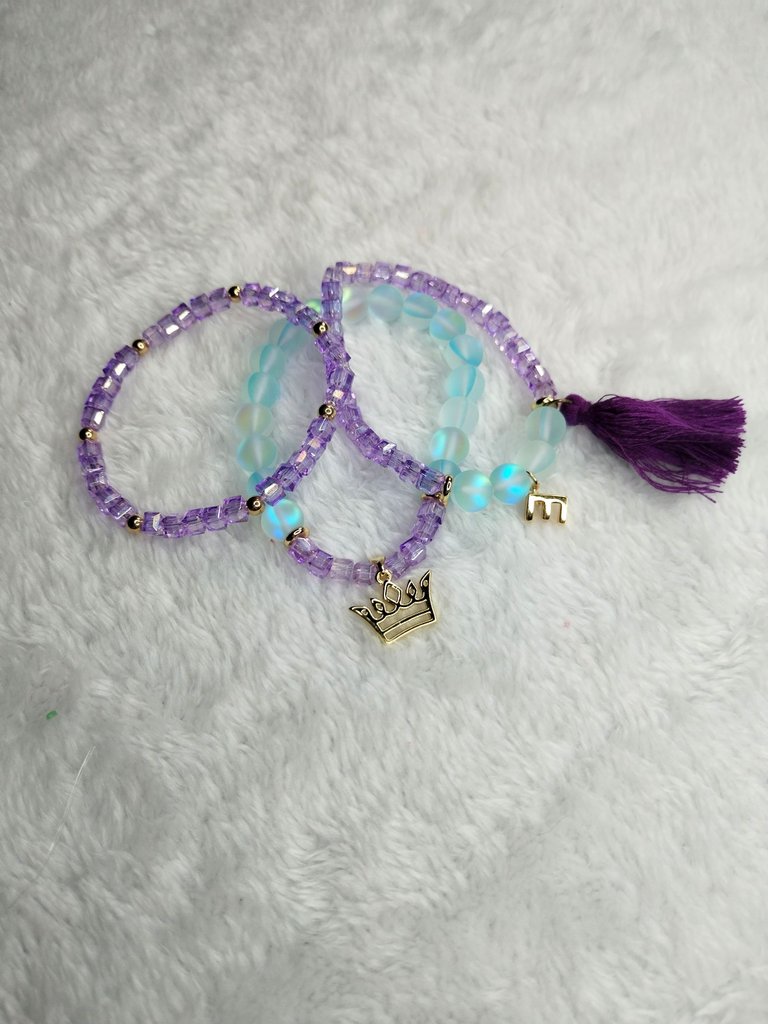 I hope you like this creation that I made with love!!
Until next time friends ❤️😁
---
---