THE CHOSEN ONE [ESP/ENG]

EL ELEGIDO
Saludos para todos, en estos momentos estoy impresionada con el resultado de unas fotos, parece sacada de revista🤩😁
El embarazo de una gata dura mínimo 59 días y máximo 68 días.
El nacimiento del primer gatito puede durar hasta 30-45 minutos y los intervalos entre un nacimiento y el siguiente pueden durar 5 minutos y hasta 1 hora.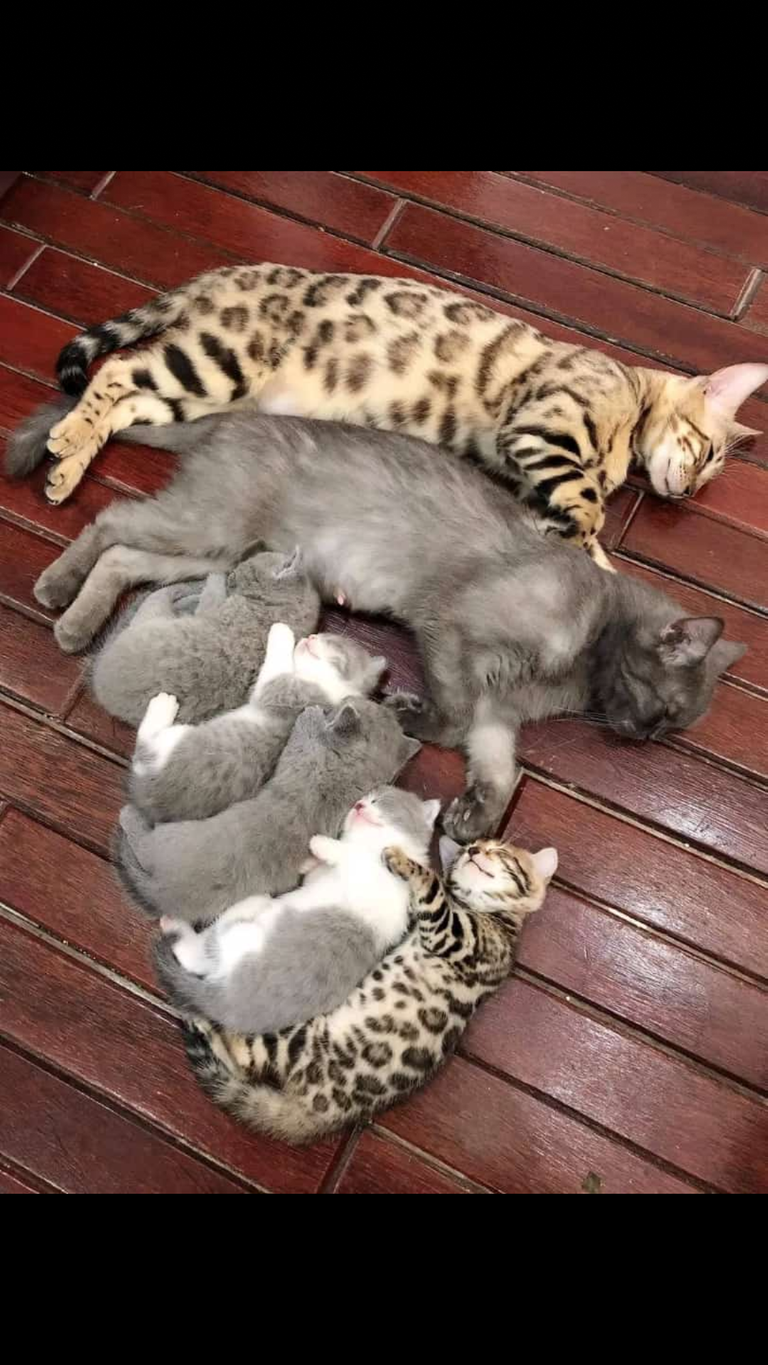 Después de tener a sus crías, una gata puede entrar en celo dos semanas después. Por eso nunca se puede saber con exactitud cuánto tiempo dura.
Emitió un sonido duro, ronroneando, se acercó a nosotros, cómo pidiendo ayuda, pero posterior a eso se alejó en el sitio que le habíamos conseguido para que estuviera cómoda. Duró pujando aproximadamente 2 horas, pero no le gusta que se le acerquen, ella los limpió, y trató de ocultarlos, o mejor dicho protegerlos, por eso le buscamos un sitio en dónde no se sintiera amenazada o con mucho contacto.
Y no se levantó ni siquiera a comer, vigilando que nadie se acerque a sus hijos.
No se pueden tocar porque la mamá después los repele, siempre esperamos hasta un mes, o un mes y medio para poder tener contacto con ellos

¿De que depende el color de los gatos?
Blancos, negros, manchados, atigrados.
Al igual que ocurre con el color de la piel humana, el color de los gatos viene determinado por la melanina.
La proporción en la estructura genética del animal determina el color de cada gato. solo poseen dos pigmentos (El negro, y el rojo) y la ausencia de ambos daría lugar al color blanco, es decir la ausencia de pigmentación.
Hasta la próxima mis queridos amigos les envío saludos🤩😁
         > English 

Greetings to all, right now I'm impressed with the result of some photos, it looks like something out of a magazine🤩😁
A cat's pregnancy lasts a minimum of 59 days and a maximum of 68 days.
The birth of the first kitten can last up to 30-45 minutes, and the intervals between one birth and the next can last from 5 minutes to 1 hour.
After having her kittens, a cat can go into heat two weeks later. That's why you can never know exactly how long it lasts.
He made a harsh sound, purring, he approached us, as if asking for help, but after that he moved away in the place we had found for him so that they would be comfortable. She kept bidding for approximately 2 hours, but she doesn't like to be approached, she cleaned them, and tried to hide them, or rather protect them, that's why we looked for a place where she didn't feel threatened or with a lot of contact.
And she didn't even get up to eat, making sure no one came near her children.
They cannot be touched because the mother repels them afterward, we always wait up to a month, or a month and a half to be able to have contact with them
What does the color of cats depend on?
White, black, spotted, brindle.
As with the color of human skin, the color of cats is determined by melanin.
The proportion in the genetic structure of the animal determines the color of each cat. It only has two pigments (black and red) and the absence of both would give rise to white, that is, the absence of pigmentation.
Until next time my dear friends I send you greetings🤩
---
---