Empecemos el Día con 4 Canciones del Album Red (Taylor's Versión)

Hello Hive Community!
---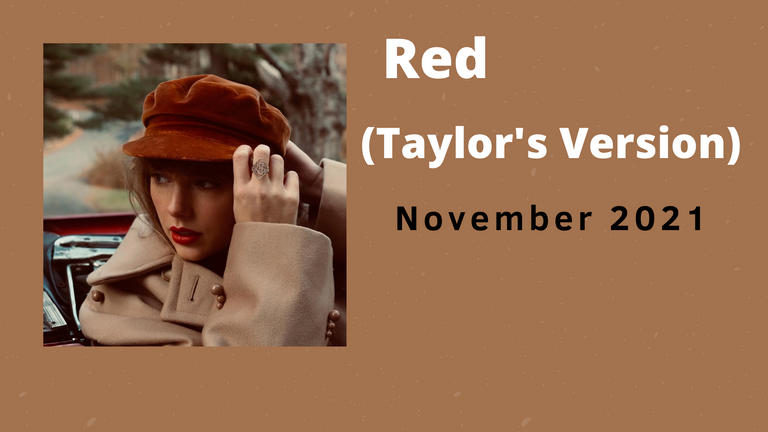 Imagen hecha por mi en Canva
---
Recientemente Taylor Swift saco su nuevo Album llamado Red (Taylor's Version) un disco regrabado por Taylor debido a todo ese conflicto de derechos de autor que pasó en su carrera. Es impresionante porque a pesar de regrabar las canciones de hace 10 años tuvo un éxito increíble. Dentro de esto, sabemos que hubo una canción en especial llamada All Too Well que aunque está fuerte el asunto porque fue para su ex Jake Gyllenhaal, un acontecimiento de hace 10 años y ahora la toca igualmente sigue siendo genial.
Recently Taylor Swift released her new album called Red (Taylor's Version) an album re-recorded by Taylor due to all that copyright conflict that happened in her career. It is impressive because despite re-recording songs from 10 years ago she had an incredible success. Within this, we know that there was a special song called All Too Well that although it is strong the matter because it was for her ex Jake Gyllenhaal, an event of 10 years ago and now she plays it equally is still great.
---

---
Esta canción ha generado una controversia muy grande por el simple hecho de que como fue un cortometraje relatando sobre los acontecimientos de hace 10 años del ex de Taylor como Jake Gyllenhaal, si se considera algo exhaustivo ya que eso fue algo del pasado, sin embargo, está muy bueno la forma en que ella envia el mensaje del comportamiento de una relación cuando hay una pareja mucho más mayor que la otra esto hace que ocurra manipulación en ambas partes. La letra y su ritmo me gusta muchísimo incluso más cuando finaliza. La verdad es que me identifica bastante esa canción y su significado que a pesar de todo es una genial rola.
This song has generated a lot of controversy for the simple fact that as it was a short film telling about the events of 10 years ago of Taylor's ex as Jake Gyllenhaal, if it is considered something exhaustive as that was something in the past, however, it is very good the way she sends the message of the behavior of a relationship when there is a partner much older than the other that causes manipulation on both sides. I like the lyrics and their rhythm, even more, when it ends. The truth is that I really identify with this song and its meaning and it's a great song.
---
Taylor Swift - Run (Taylor's Version) (From The Vault) (Lyric Video) ft. Ed Sheeran
---
Está canción es demasiado bonita y me gusta demasiado por el mensaje que transmite. Es sobre un amor tan bello que indica que huyamos juntos cuando todo a nuestro al rededor se destroce y solo queda el amor que triunfa. Me gustaría huir un día de estos con mi amor y estar solos para siempre sin que nadie se interponga entre nosotros, velo incluso más mágico apartado de todo lo malo. Además de ser una canción tranquila tiene la colaboración con Ed Sheeran que la hace más perfecta de lo que ya es.
This song is too beautiful and I like it too much for the message it conveys. It is about a love so beautiful that it tells us to run away together from everything when everything around us is destroyed and only the master who triumphs is left. I would like to run away one of these days with my love and be alone forever with no one between us, seeing it even more magical away from everything bad. Besides being a quiet song has the collaboration with Ed Sheeran that makes it more perfect than it already is.
---
Taylor Swift - Sad Beautiful Tragic (Taylor's Version)
Si hay una canción que me toque el alma definitivamente es esta. Un amor que ya acabó pero que se tuvo un hermoso y trágico romance. Refleja muchos sentimientos encontrados y en lo que mi respecta, representa está canción como un símbolo de esa relación que ya acabó y que se llevó en el viento todos los recuerdos bonitos. Está para llorar y todo por el ritmo que podría llamarlo hermoso y nostálgico.
If there is a song that touches my soul it is definitely this one. A love that already ended but that had a beautiful and tragic romance. It reflects many mixed feelings and as far as I'm concerned, it represents this song as a symbol of that relationship that already ended and that took in the wind all the beautiful memories. It's a song to cry to, and all because of the rhythm that I could call beautiful and nostalgic.
---
Taylor Swift - Better Man (Taylor's Version)
¿Saben esa frase cliché? Donde dicen que no pedías mucho, era que se lo estabas pidiendo al hombre equivocado. Exactamente esto es como para ese ex que terminaron pero que todavía extraña y todavía desea que fuera un mejor hombre. Sigo sin aburrirme del ritmo de la música.
You know that cliché phrase? Where they say you weren't asking for much, you were asking the wrong man. Exactly this is like for that ex you broke up but still miss and still wish he was a better man. I still don't get bored of the rhythm of the music.
---

Definitivamente el Álbum Red es el que mas me encanta de todos sus discos, sin embargo, este disco regrabado de su nueva versión de Red ha hecho un buen trabajo posicionándose en el numero 1 de Billboard Hot 100 con su álbum. Espero que les haya gustado, nos vemos en un próximo post!
Definitely the Red Album is the one I love the most of all his albums, however, this re-recorded album of his new version of Red has done a good job positioning at number 1 on the Billboard Hot 100 with his album. Hope you liked it, see you in a future post!

---

---
---