Review: The 10 Secrets to Abundant Happiness by Adam J. Jackson
Hello Hive Community!
---
---
Vuelvo con otra reseña sobre el autor del mismo libro, con la diferencia de que está es otra edición el cual se llama "Los 10 secretos de la abundante felicidad" escrita y publicada por Adam.J. Jackson. Son dos libros que tengo de él; de los 10 secretos del amor abundante y lo 10 secretos de la abundante felicidad".
La felicidad la considero efímera, pues siempre nos han vendido esa falacia en que la felicidad es sinónimo de ser felices eternamente cuando en realidad no es así, la felicidad es pasajera. La felicidad son los momentos en que creamos con nuestro interior y también con nuestro exterior, además en los momentos trágicos y en las pérdidas personales es cuando más debemos tener la frente en alto, aún en esas situaciones difíciles debemos sacarle al menos un aporte positivo porque o sino ¿Cómo buscarías la manera de seguir adelante?. Como diría una de sus frases del libro "Recorres en el mundo en búsqueda de una felicidad que está siempre al alcance de tus manos" es decir, tú tienes el poder y la capacidad de ser feliz y experimentar esa sensación de felicidad abundante.
I am back with another review about the author of the same book, with the difference that this is another edition which is called "The 10 Secrets of Abundant Happiness" written and published by Adam.J. Jackson. There are two books I have by him; "The 10 Secrets of Abundant Love" and "The 10 Secrets of Abundant Happiness".
I consider happiness to be ephemeral, because we have always been sold the fallacy that happiness is synonymous with being happy forever when in reality it is not so, happiness is fleeting. Happiness is the moments in which we create with our interior and also with our exterior, also in the tragic moments and in the personal losses is when we should have our heads held high, even in those difficult situations we should at least get a positive contribution because otherwise how would you look for a way to move forward? As one of his phrases from the book says "You travel the world in search of a happiness that is always at your fingertips" that is, you have the power and the ability to be happy and experience that feeling of abundant happiness.
---

---
Sinopsis
La historia relata sobre un joven con muchos problemas en su vida y que llega hasta el tope cuando su carro se queda accidentado en plena noche lluviosa. Maldiciendo ya cansado de su desgracia e infeliz vida, se encuentra con un anciano chino, quien le da una lista de 10 personas donde por sorpresa el encontrará los 10 secretos de la abundante felicidad.
The story tells of a young man with many problems in his life that come to a head when his car crashes in the middle of a rainy night. Cursing and tired of his misfortune and unhappy life, he meets an old Chinese man, who gives him a list of 10 people where he will find the 10 secrets of abundant happiness.
---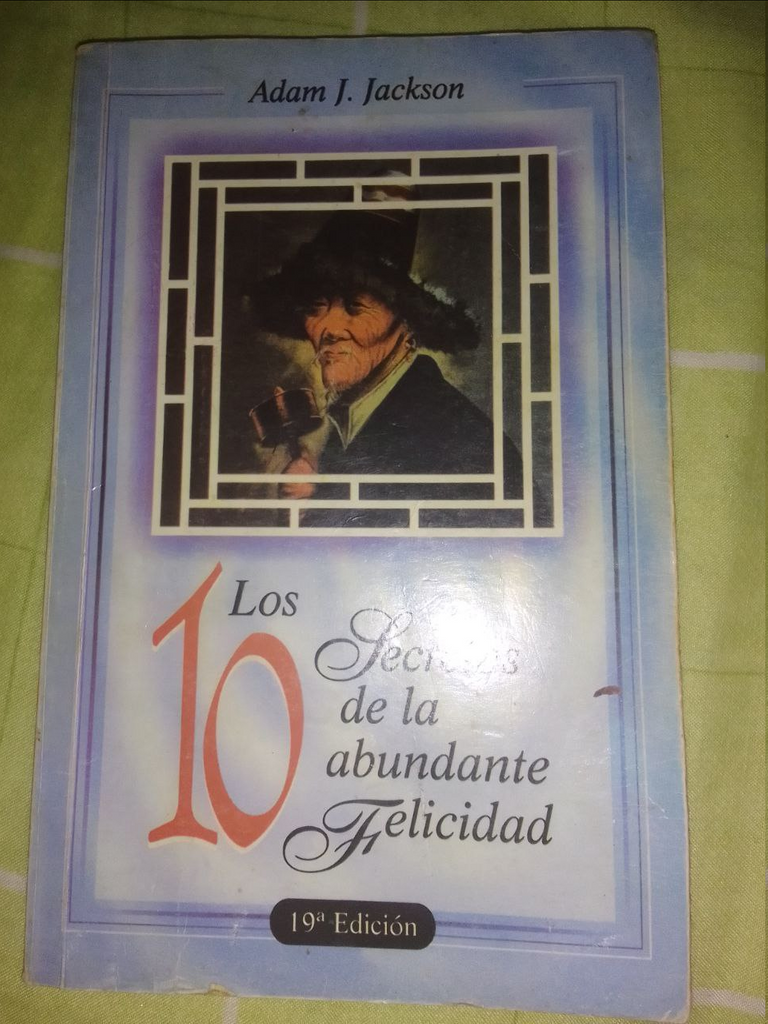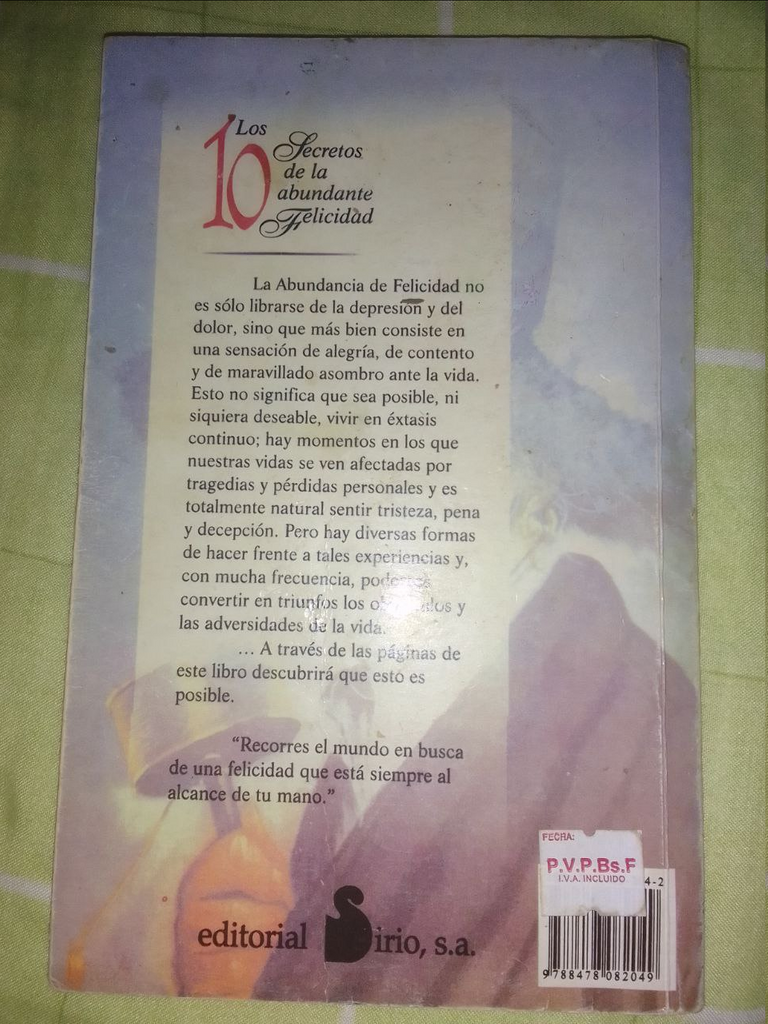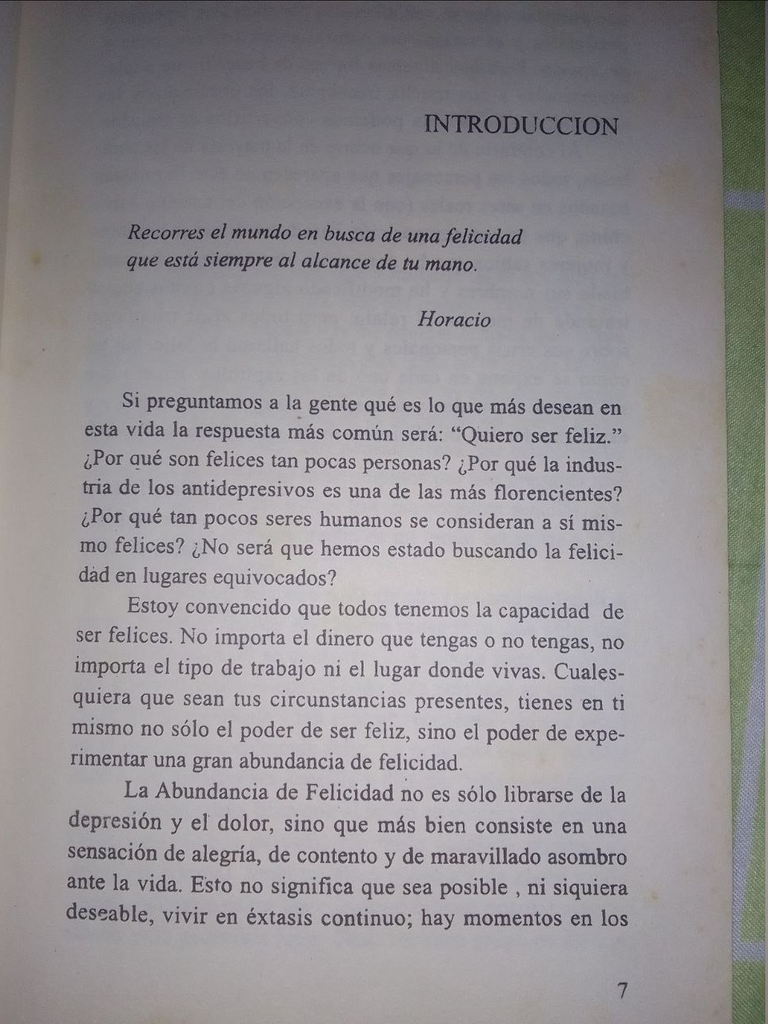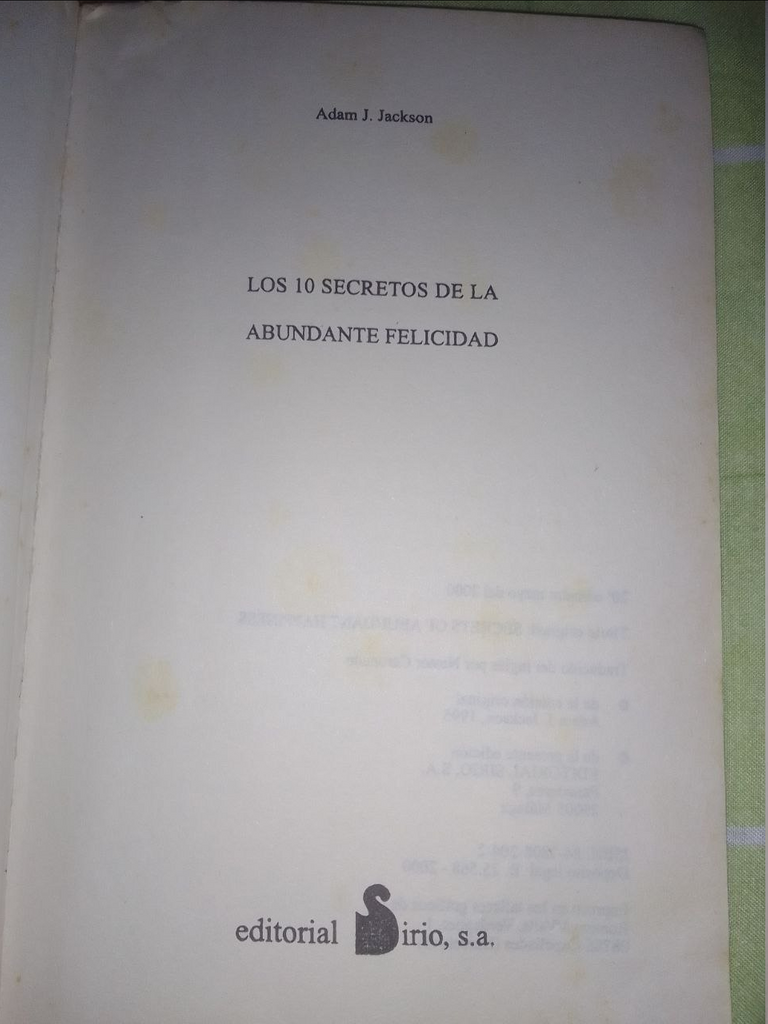 ---

---
Siempre debemos replantearnos una meta o un plan de vida, que sea ese factor donde cada día trabajes por obtenerlo. Tenemos la mala costumbre de pensar en el futuro y en nuestro pasado, buscando esa felicidad en el futuro cuando en realidad debemos crear y construir nuestro futuro en nuestro presente. Cada mañana debemos despertarnos dando gracias, con una actitud positiva, con una imagen propia donde declare que en el día de hoy y los siguientes días trabajare para conseguir esa meta deseada que anhele. Las palabras "Yo soy" "Yo Declaro" son poderosas y no debemos derrumbarnos por algo pequeño. Siempre que seamos empaticos y perdonando a las personas que nos hicieron daños para poder salir por fin de todos resentimientos que nos aturden y que no nos dejan avanzar para sentirnos en paz.
Este libro es de auto ayuda, vaya que si tiene una gran enseñanza si nos ponemos a leer y detallar todas esas reflexiones que deberíamos poner en práctica. Es que en ocasiones nos ahogamos en un vaso de agua por algún problema pequeño y lo hacemos monumental, como si fuera algo gravísimo cuando en realidad hay más personas afuera con toda la actitud positiva enfrentándose a la vida ¿Por qué no contagiarnos de esa actitud? Entonces, ¿Por qué no agradecemos por lo buenos y malos momentos? ¿Por qué no nos damos cuenta? Esa es la clave para obtener aprendizajes gratificantes. En el camino, nos pasan tantas cosas pero no sabemos que todo tiene su "Por qué" y una razón de ser, allí esta el secreto de la vida.
We must always rethink a goal or a life plan, which is that factor where every day you work to obtain it. We have the bad habit of thinking about the future and our past, looking for happiness in the future when in reality we should create and build our future in our present. Every morning we should wake up giving thanks, with a positive attitude, with a self-image where I declare that today and the following days I will work to achieve that desired goal that I long for. The words "I am" "I Declare" are powerful and we should not fall down over something small. As long as we are empathetic and forgiving to the people who hurt us to finally get out of all resentments that torment us and do not let us move forward to feel at peace.
This book is self-help, it has a great teaching if we start reading and detailing all those reflections that we should put into practice. Sometimes we drown in a glass of water for some small problem and we make it monumental, as if it were something very serious when in reality there are more people out there with a positive attitude facing life. Why not infect us with that attitude? So why don't we be thankful for the good times and the bad? Why don't we realize it? That is the key to rewarding learning. On the way, so many things happen to us but we do not know that everything has its "Why" and a reason for being, there is the secret of life.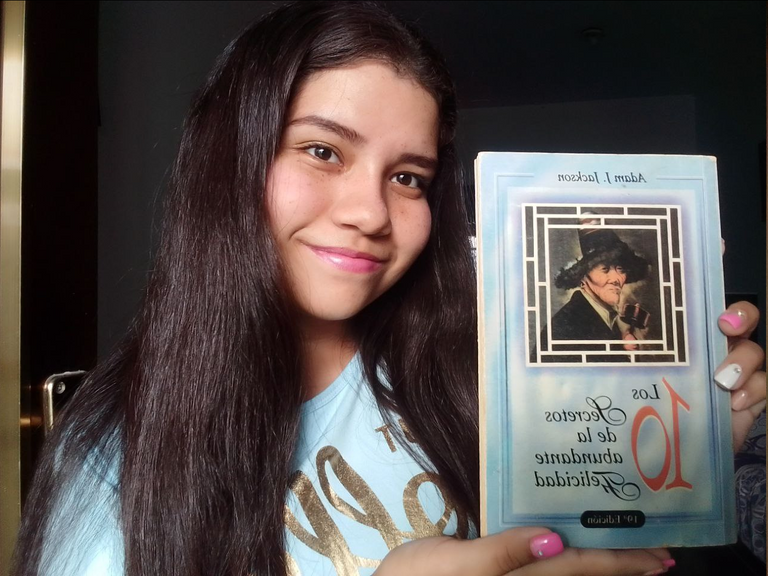 ---

---
Este libro es fantástico, se lo recomiendo 100% porque encontraras muchos mensajes que puedes aprender. Espero que les haya gustado, nos vemos en un próximo post!
This book is fantastic, I recommend it 100% because you will find many messages that you can learn. I hope you liked it, see you in a future post!
---

---
The photos are my property taken with my Realme C11 phone.
---

---
---