Running through Lviv
In this article, I decided to take a walk through Lviv running and talk about its interesting running locations and routes.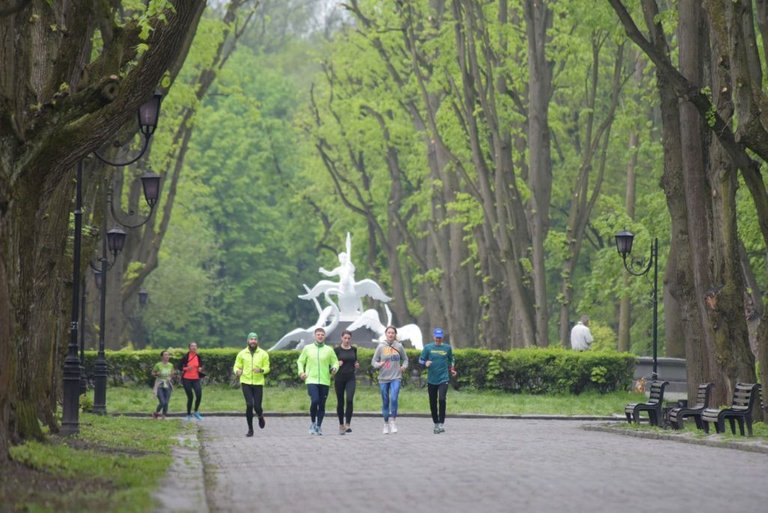 Interesting running locations
A great place for morning runs.
A great place for morning and evening runs.
This is a great location for jogging. Znesinnia Park is a regional landscape park in Lviv. Located near the city center.
This park has earned the title of the favorite among Lviv residents for a reason. Spring and summer are especially beautiful here. Morning joggers can often be found in the park.
Vynnykivsʹkyy park

Distances (trail): 5-10 km.
Coverage: forest trails, off-road
Terrain: plain + moderate hills
You can not only run interestingly but also enjoy the natural landscape of the forest park area and organize a trail race.
Stadiums for jogging
The stadium got this name during Soviet times. Although it's not currently hosting major sporting events and residents are trying to get the stadium back into community ownership, it's a great place for a morning run if you live nearby.
Stadion Lʹvivsʹkoho natsionalʹnoho lisotekhnichnoho universytetu
The cozy stadium will be a favorite place for morning jogs or exercise if you live nearby.
Another place for running is located not too far from the "Gorikhoy Gayu" - the "Dynamo" stadium.
The stadium was recently renovated, with new changing rooms, seats, rain covers, and a grandstand renovation. You can run not only in the stadium but also in the Park of Culture named after Bohdan Khmelnytskyi.
Interesting running routes
Powder Tower → High Castle Park

Distances: 4-6 km.
Covering: asphalt, paving stones
Terrain: plain + moderate hills
A scenic route on which you can be inspired by the panorama of Lviv on the lower and upper viewing platforms of the "High Castle" park.

Powder tower → st. Maksym Kryvonosa → str. Córdoba → Znesinia park

Distances: 6-8 km.
Surface: asphalt, cobblestones, forest paths
Terrain: plain + moderate hills
On this running route to Lviv, you can see the Powder Tower, Lysa Gora, and the old railway, as well as enjoy the natural landscape of Znesinnia Park.

Avenue of Freedom → st. Horodotska (to the station) → Horodotska St. (to the turn on Sechenova St.) → St. Sechenova → St. George's Square → Ivan Franko Park → St. Lystopadovoy Chin → Svoboda Avenue

Distances: 9-10 km.
Covering: asphalt, paving stones
Terrain: mostly flat + sometimes minor ups and downs
The running route passes through architectural landmarks of Lviv, in particular, the Lviv Academic Theater of Opera and Ballet, the Church of Saints Olga and Elizaveta, the central railway station, St. George's Cathedral, the House of Scientists, Lviv National University named after I. Franko, Potocki Palace, Svobody Avenue and many, many other sights.

Porohova Vezha → St. Volodymyr Vynnychenko → st. Ivan Franko → str. Shota Rustaveli → st. Stryyska → Stryysky park → street Panasa Myrny → St. Kybalchicha → Zalizna voda park → Snopkivskyi park → Pogulyanka park → st. Kostya Levytskyi → Cathedral Square

Distances: 12-14 km.
Surface: asphalt, cobblestones, park paths, forest paths
Terrain: plain + moderate hills
The running route passes four large parks of Lviv — Stryi Park, Zalizna Voda Park, Snopkiv Park, and Pogulyanka Park.
---
---