A Cool Song in Support of Today's Topical Event "National Sunglasses Day" 🕶
Today's Topical event is an important topic that will hopefully help raise the importance of wearing sunglasses while we are out in the sunshine. Be aware! Especially now that the Summer has officially started around the World. Let's all protect our eyes, as they are so easily damaged and very hard to replace!
*Also note that "National Sunglasses Day" 🕶 is listed on the National Calendar for Sunday the 27th June 2021.
You don't need to buy the most expensive glasses to get the most effective UVA and UVB protection; even the cheap ones from the grocery store spinning racks are doing you a huge favor! Even if the sun doesn't hurt your eyes UV rays that can cause Photokeratitis, Pingueculae and permanent retinal damage, if you are exposed to them frequently.
Look out for sunglasses that protect you from 99 to 100 percent of both UVA and UVB light. This includes those labeled as "UV 400," which blocks all light rays with wavelengths up to 400 nano-metres. Don't worry they are not very hard to find. Try checking your local TV shopping channels for all the current bargain buys!
Did you know? Sunglasses can also help prevent wrinkles in two ways:
They keep your eyes more relaxed and prevent squinting, which helps prevent crows-feet wrinkles at the corners of the eyes.

They help block dangerous skin damage and cancer from harmful UV rays affecting the sensitive skin around our eyes. So get wearing sunglasses for both your health and for looking awesome.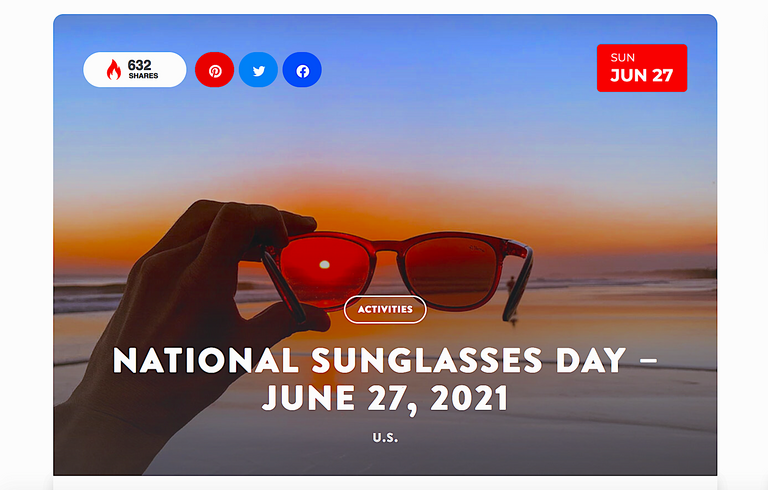 Some of the above "Text Info" & "Screen Shot" Image sourced from [here]
The National Calendar Website Link [here] (For even more INFO).
Now some appropriate Music for Today's Topical event...
"Billy Gibbons" can really play that Gibson Guitar, while "Dusty Hill" is awesome on the bass Guitar, with "Frank Beard" banging on the drums. Yes, I know! Crazy names for a truly crazy rock band. LOL
Possibly the most awesome bands that came from Texas USA. Most definitely one of my favorite bands from the 80's. Perhaps not my favorite song of theirs, but it does mention "Sunglasses" LOL for Today's event.
Song: Cheap Sunglasses
Artist: ZZ Top
Album: Cheap Sunglasses
Writers: Billy Gibbons, Dusty Hill, Frank Beard
My Song Selection for Today is: "Cheap Sunglasses" ~ Performed by the Music band © ZZ TOP
Above Music Video Source: ©YouTube [Here]
Also notice that the special Twitter "hash tag" #NationalSunglassesDay is currently trending!
So you can start interacting with many others on Today's topical event, by Tweeting there NOW!...
Many Thanks for reading and listening, I hope that you all learned something new and were entertained. As we all need to keep our brains active!
see you all again very soon... 👋
*Just as a side note: The price of #HIVE has been disappointing lately, and I really can't see a valid reason for "Staking" it! However, my #CTP Stake is slowly increasing... Currently at 4K Up-Vote Power @ 100% √
---
---