A Song by The Music Artist "Pink" For "National Pink Day" 🌸 Today's Topical Event
Today is lovingly "National Pink Day" 🌸 Just a fun Girlie day that is listed on the "National Calendar" Website for Wednesday 23rd June 2021.
As you might imagine, it's a day to celebrate the meaning, history, and beauty of the pale shade of red. Surveys in both the United States and Europe found "Pink" to be most commonly associated with femininity, sensitivity and tenderness. Definitely a Girlie colour for sure!
The colour "Pink" also being a subject of recent pop culture, to interesting facts about the delightful shade throughout time. Today's Topical event celebrates all things pink.
After all, as Elle Woods in the Movie "Legally Blonde" once famously said, "Whoever said orange is the new pink is seriously disturbed!"


Some of the above "Text Info" sourced from [here]
The National Calendar Website Link [here] (For even more INFO).
Now some appropriate Music for Today's Topical event...
My Song choice for Today simply has to be a popular song by the Music artist "Pink". As the name suggests, it's most appropriate for Today's celebration I think...
My Song Selection for Today is: "What About Us" Sung by Pink
Above Music Video Source: ©YouTube [Here]
Below "Screen Shot" Image sourced from [here]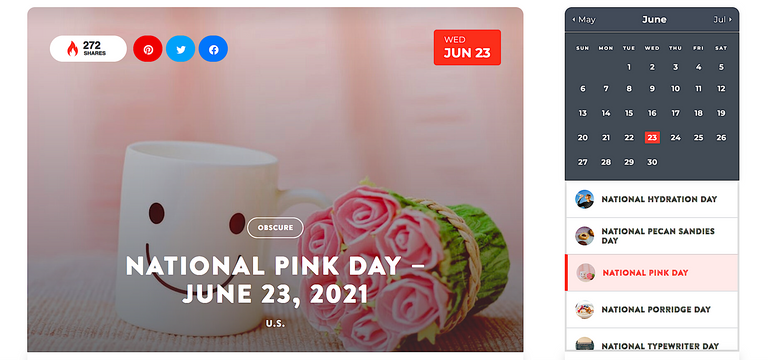 Also notice that the special Twitter "hash tag" #NationalPinkDay is currently trending!
So you can start interacting with many others on Today's topical event, by Tweeting there NOW!...
Many Thanks for reading and listening, I hope that you all learned something new and were entertained. As we all need to keep our brains active!
see you all again very soon... 👋
---
---