My Music Choice and Entertainment For "World Juggling Day" 😎 Today's Topical Event
Today is amazingly "World Juggling Day" 😎 on the "National Calendar" Website listing for Saturday 19th June 2021. A most unusual Topical event indeed... 🤣 Simply A fun day event you might say!
"World Juggling Day" mostly celebrates juggling as an art form. Juggling requires discipline, dedication, and lots of practice. This entertaining act can be done with several items ranging from balls and bowling pins to bottles or even knives (the possibilities are endless).
People can get into juggling at any age as the only prerequisite for this skill is passion. Juggling is an old form of entertainment. There's evidence in paintings on ancient Egyptian tombs where ladies can be seen juggling multiple items.
Circuses also had special juggling segments in their shows as juggling was considered to be a special skill that only a few could master. However, with the advent of TV and the internet, the art form's popularity has grown significantly.
During the Middle Ages and the Renaissance period the "Juggler" or "Conjurer", became known as the Sorcerer who draws forth Elemental powers.
In this video the Juggler invokes the Four Sacred Forces of nature! Namely: Air, Fire, Water, and Earth. This reveals the spiritual infinity within all things. His gift is empowerment, and the following re-connection with the infinite energies of nature herself.
So what you waiting for? Let's get juggling...
Above "Text Info" sourced from [here]
The National Calendar Website Link [here] (For even more INFO).
Now some appropriate Music for Today's Topical event...
My song choice Today is just a fun juggling song, that I found from searching YouTube. Enjoy... 😎
More info specifically about the Jugglers Song can be found [here]
My Song Selection for Today is: "The Jugglers Song" by the Music Artist and Poet © Celestial Elf
Above Music Video Source: ©YouTube [Here]
Below Screen Shot Image sourced from [here]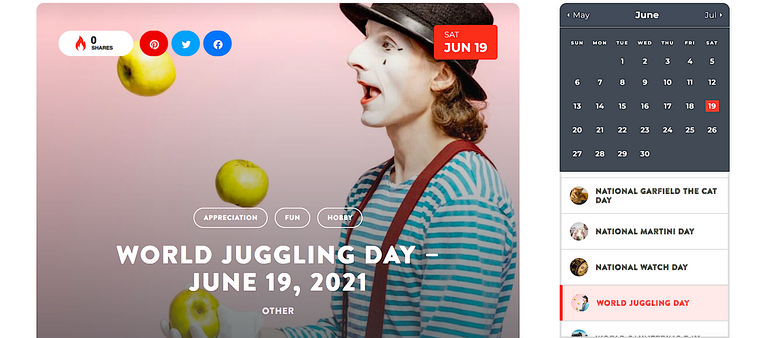 Also notice that the special Twitter "hash tag" #WorldJugglingDay is currently trending!
So you can start interacting with many others on Today's topical event, by Tweeting there NOW!...
Many Thanks for reading and listening, I hope that you all learned something new and were entertained. As we all need to keep our brains active!
see you all again very soon... 👋
---
---