My Song Choice Supports Today's Topical Event "National Dump The Pump Day" 🚫
After watching one of my local UK NOW TV Channels, I have decided to feature "National Dump The Pump Day" 🚫 This event is also listed on the "National Calendar" Website for Thursday 17th June 2021. There are a few other Topical events happening Today, but I think this one is important to the whole World's environment.
The main purpose of having a "National Dump the Pump" Day is simply to encourage commuters to forego their cars by using public transportation. The day's event aims to allow people to save energy and money on gas.
Moreover, this important day will hopefully spread awareness about our depleting fossil fuel resources. Factors to consider are population growth, urbanization, and globalization.
The increased "demand + supply" issue has led humans to use fossil fuels without thinking about any future repercussions. This domino effect has further led to the increase in environmental pollution as well as air-borne diseases.
National Dump the Pump Day should motivate people to think about the future by! By using public transport for not just one day, but the many days to come. Food for thought indeed... 🤔


Above "Text Info" sourced from [here]
The National Calendar Website Link [here] (For even more INFO).
Now some appropriate Music for Today's Topical event...
My song choice Today is an old Techno hit "Pump Up The Jam", first released in 2009. Simply because it is an awesome track to listen to while running or cycling. This song should absolutely get YOU pumping instead of lazily pumping your Car with Gas. Hopefully...!
My Song Selection for Today is: "Pump Up The Jam" by ©Technotronic
Above Music Video Source: ©YouTube [Here]
Below "Screen Shot" Image Sourced from [here]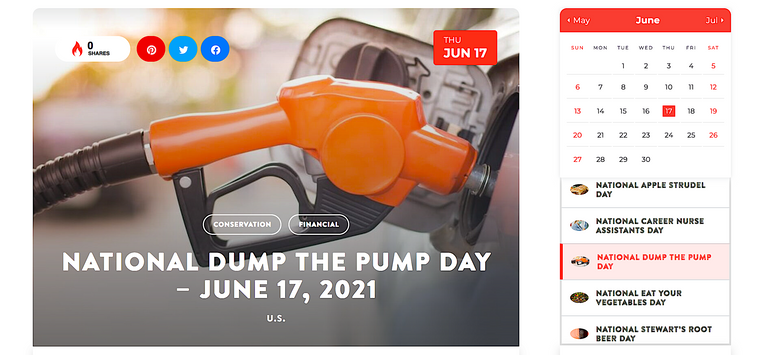 Also notice that the special Twitter "hash tag" #DumpThePump is currently trending!
So you can start interacting with many others on Today's topical event, by Tweeting there NOW!...
Many Thanks for reading and listening, I hope that you all learned something new and were entertained. As we all need to keep our brains active!
see you all again very soon... 👋
---
---