The Old 1970's Song "Son Of My Father" by ©Chicory Tip For "Father's Day" 😎
So far! Today has been mega busy for me as my family often visit on "Father's Day" 😎 I'm sure that is the same for most families around the World. Everyone celebrates this event, and is obviously listed on the "National Calendar" Website for Sunday 20th June 2021.
A most fun and entertaining Topical event indeed... 🤣
Enjoy your day everyone, especially all the Fathers out there...
INSPIRATIONAL QUOTES FOR FATHER'S DAY 🤔
"A father is neither an anchor to hold us back, nor a sail to take us there, but a guiding light whose love shows us the way." – Unknown
"Any man can be a father, it takes someone special to be a Dad." – Anne Geddes
"My Father didn't tell me how to live; he lived and let me watch him do it." – Clarence Budington Kelland
"Dads are most ordinary men turned by love into heroes, adventurers, story-tellers, and singers of song." – Pam Brown
"A Father is someone you look up to no matter how tall you grow." – Unknown Author.
Some of the above "Text Info" sourced from [here]
The National Calendar Website Link [here] (For even more INFO).
Now some appropriate Music for Today's Topical event...
My song choice Today is an old British band "Chicory Tip" performing a most appropriate song "Son Of My Father" live on "Top of the Pops" in 1972. This weekly Music related series was broadcast by the BBC on UK TV for many years.
My Song Selection for Today is: "Son Of My Father" by the Music Artist © Chicory Tip
Above Music Video Source: ©YouTube [Here]
Below "Screen Shot" Image sourced from [here]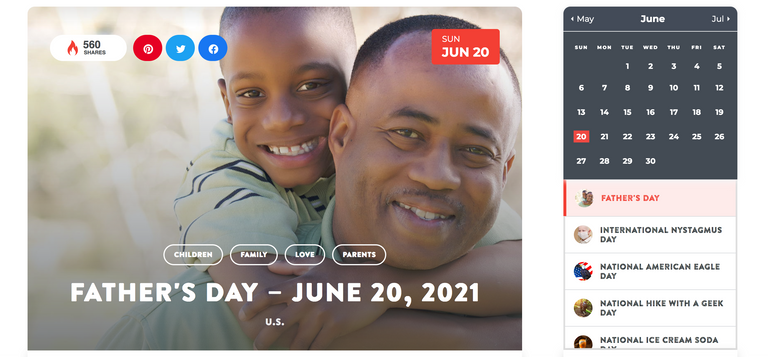 Also notice that the special Twitter "hash tag" #FathersDay is currently trending!
So you can start interacting with many others on Today's topical event, by Tweeting there NOW!...
Many Thanks for reading and listening, I hope that you all learned something new and were entertained. As we all need to keep our brains active!
see you all again very soon... 👋
---
---