The Song "KISS KISS" by "Tarkan" for Today's Topical Event "National Kissing Day" 😘
Today is affectionately "National Kissing Day" 😘 A Topical event that is listed on the "National Calendar" Website for Tuesday 22nd June 2021. So this is a most loving and affectionate Topical event Today...
Did you know that "kissing" can actually improve your health. That's right, kissing is really good for you, by giving that "feel good" factor. Kissing also relieves stress, burns calories, and benefits your immunity.
With so many great advantages, I can't imagine why anyone wouldn't want to celebrate this fun event, so pucker up! and KISS! KISS! KISS! 😘
The very first Cinema "On-Screen" Movie Kiss was actually in a silent film aptly named "The Kiss"! Starring the actors "May Irwin" and "John Rice" affectionately locking lips.


Some of the above "Text Info" sourced from [here]
The National Calendar Website Link [here] (For even more INFO).
Now some appropriate Music for Today's Topical event...
My Song choice for Today is a happy song that was played everywhere when I was on Holiday in Turkey, many years ago. I don't understand a word of it, but it sounds better in Turkish than in English for some strange reason... 🤣
My Song Selection for Today is: "Kiss Kiss" Sung by Tarkan.
Song: Şımarık (in Turkish)
Artist: Tarkan
Album: Ölürüm Sana
Above Music Video Source: ©YouTube [Here]
Below "Screen Shot" Image sourced from [here]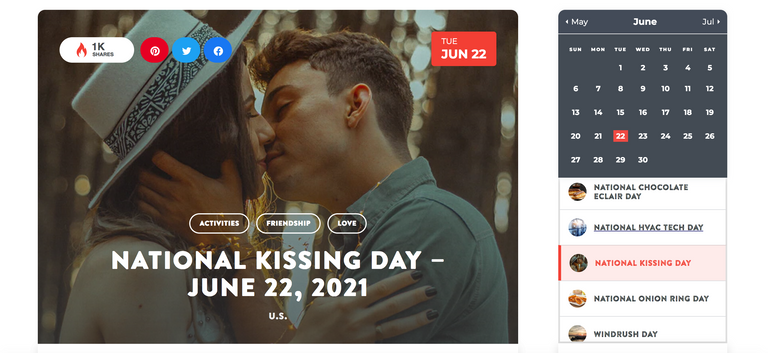 Also notice that the special Twitter "hash tag" #NationalKissingDay is currently trending!
So you can start interacting with many others on Today's topical event, by Tweeting there NOW!...
Many Thanks for reading and listening, I hope that you all learned something new and were entertained. As we all need to keep our brains active!
see you all again very soon... 👋
---
---