Grilled Galangal Skewers
Everytime I go on the street I usually smell the grilled meat, I always want to eat them. But we can't know the quality of those skewers, there are many questions I ask myself: "Is it clean pork or dead pork"? "Are the steps to prepare their skewers clean?" In short, I decided to make my own barbecue skewers at home: delicious, cheap, and clean.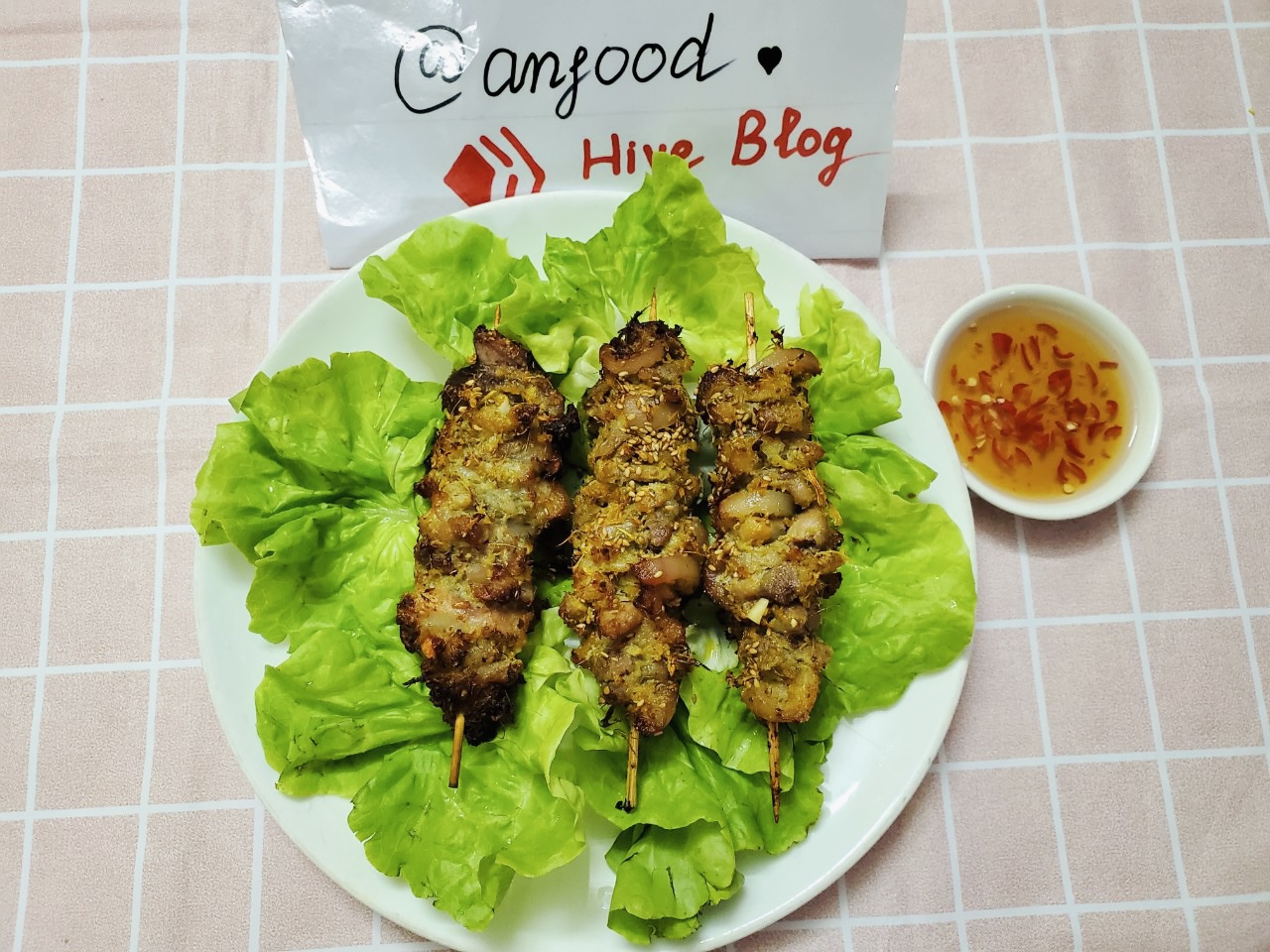 Grilled meat skewers are the most attractive snack or main dish in the world. In any country's cuisine, there are grilled skewers, but the recipe to make them is different. Grilled with honey, grilled with sesame seeds, grilled with bell peppers, grilled with onions, .. and many other delicious barbecue recipes. Today I will introduce to you a new recipe for grilled galangal skewers, this is the most delicious and fragrant dish, a wonderful combination of spices and meat.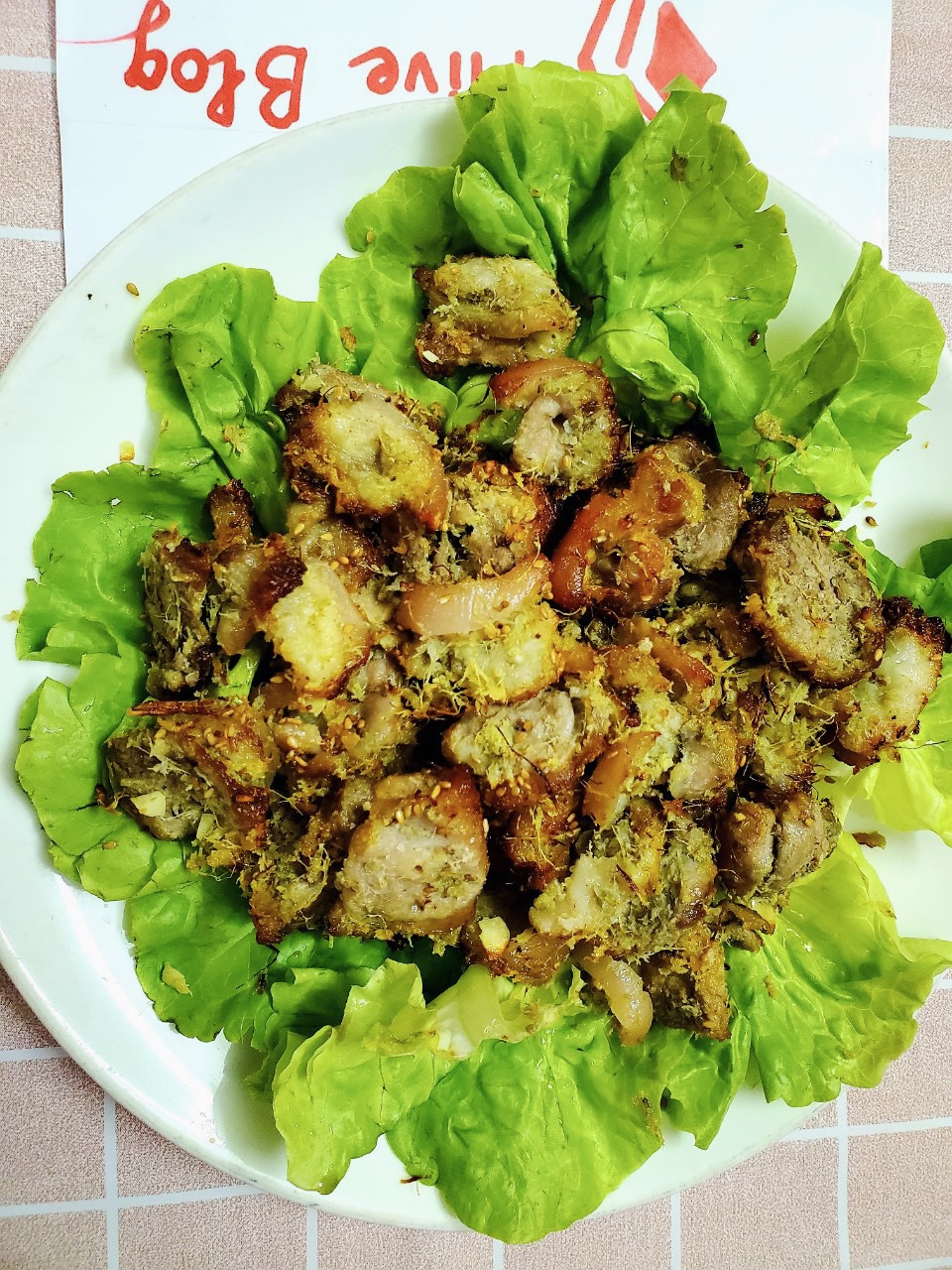 | English (E) | Vietnamese (V) |
| --- | --- |
| Ingredient: | Thành phần |
| - Bacon | - Thịt ba chỉ |
| - Galangal root | -Củ riềng |
| - Dry onion | - Hành khô |
| - Garlic | - Tỏi |
| - Pepper | - Hạt tiêu |
| - Salt | - Muối |
| - MSG | - Mì chính |
| - Fish sauce | - Nước mắm |
| - Broth mix | - Hạt nêm |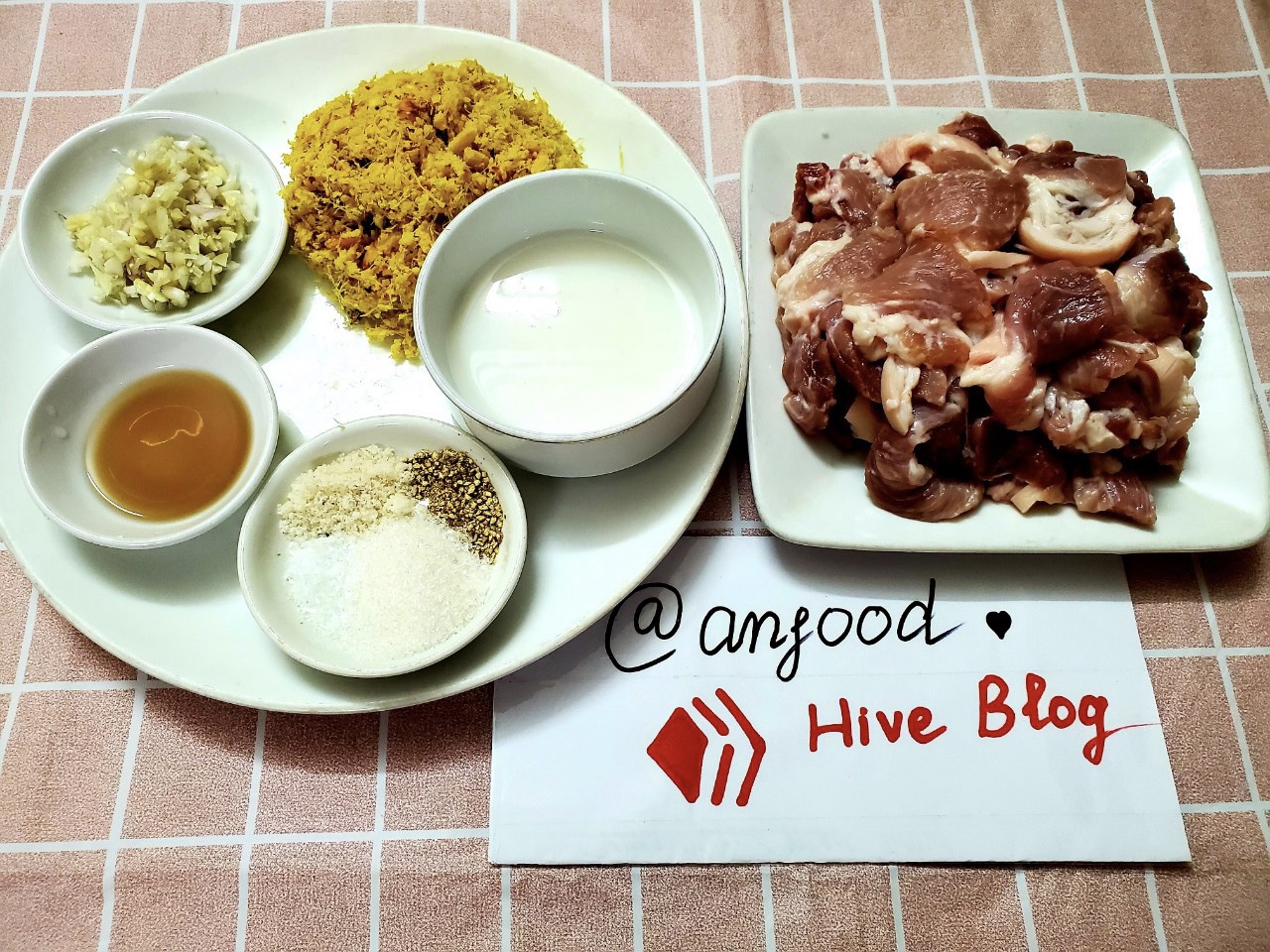 | English (E) | Vietnamese (V) |
| --- | --- |
| 1. Wash the pork, you should choose the pork belly to grill because this is the part that has enough fat and lean meat.You can use metal skewers or wooden skewers to grill meat. If you are using wooden skewers, you need to soak the wooden skewers in water for about 30 minutes before grilling to prevent the skewers from burning. Cut the meat into equal pieces, crush galangal root then marinate galangal, spices with pork belly. | Thịt lợn rửa sạch, bạn nên chọn phần bụng lợn để nướng vì đây là phần có đủ mỡ và nạc, bạn có thể dùng xiên kim loại hoặc xiên gỗ để nướng thịt. Nếu dùng xiên gỗ, bạn cần ngâm xiên gỗ trong nước khoảng 30 phút trước khi nướng để xiên không bị cháy. Cắt thịt thành từng miếng bằng nhau, đập dập củ riềng sau đó ướp riềng, gia vị với thịt ba chỉ. |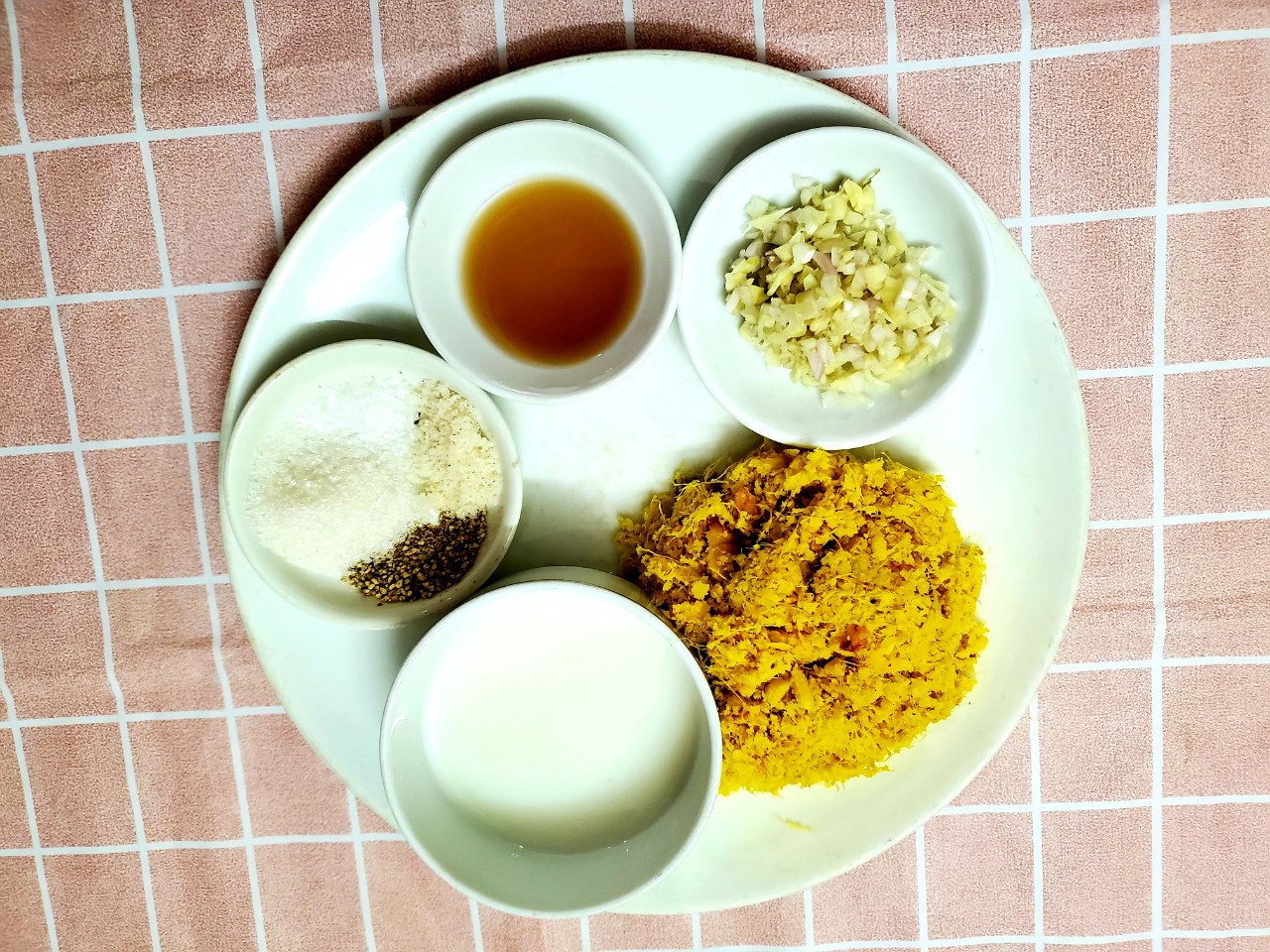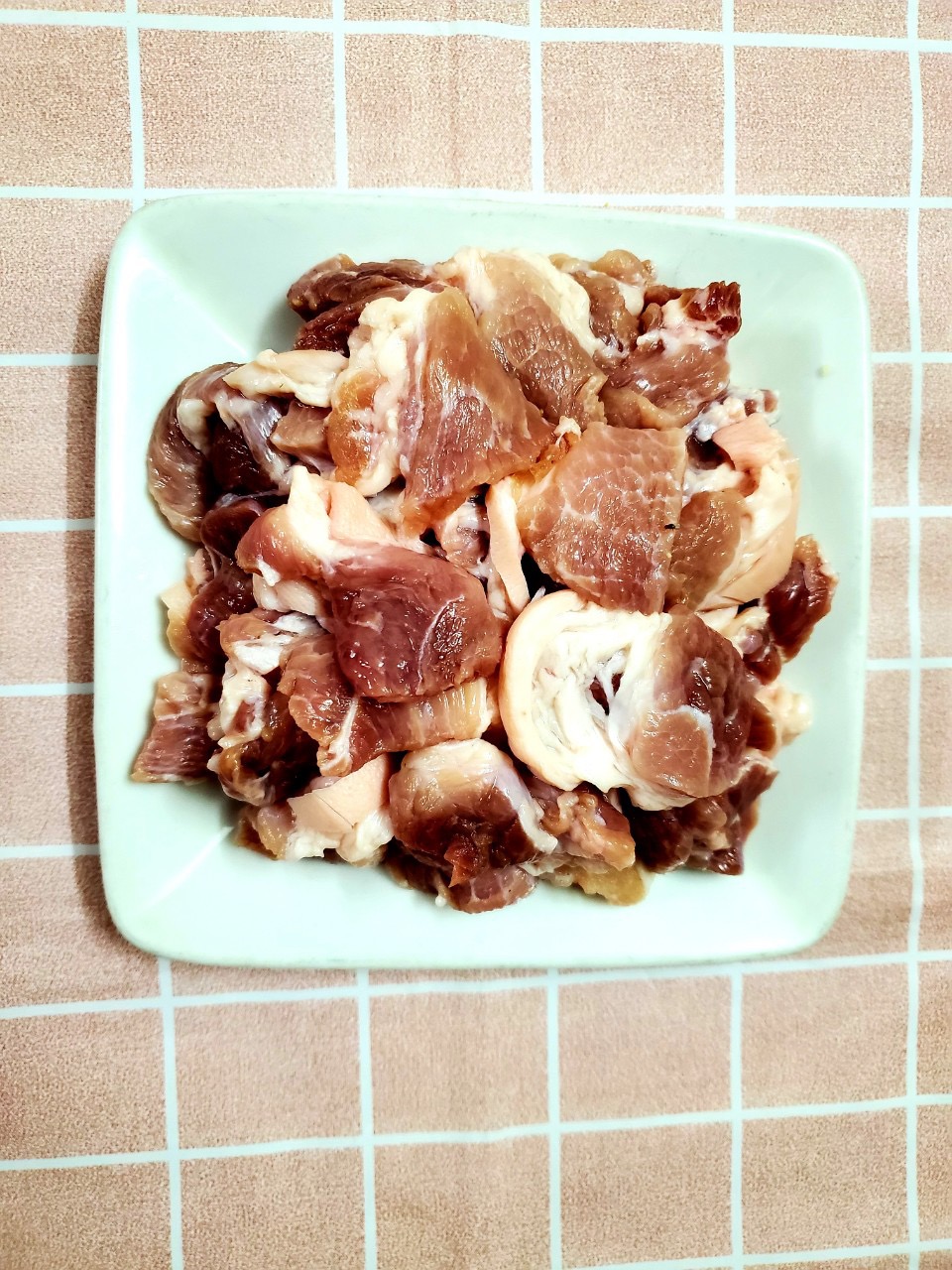 | English (E) | Vietnamese (V) |
| --- | --- |
| 2. Grill the meat in the air fryer for about 15 minutes until the meat is golden brown, during the grilling time you should regularly open the air fryer to check the meat. After the meat is cooked, transfer the meat to a plate and serve with lettuce. | Nướng thịt trong nồi chiên không khí khoảng 15 phút cho đến khi thịt có màu vàng nâu, trong thời gian nướng bạn nên thường xuyên mở nồi chiên không khí để kiểm tra thịt. Sau khi thịt chín, chuyển thịt ra đĩa và ăn kèm với rau xà lách. |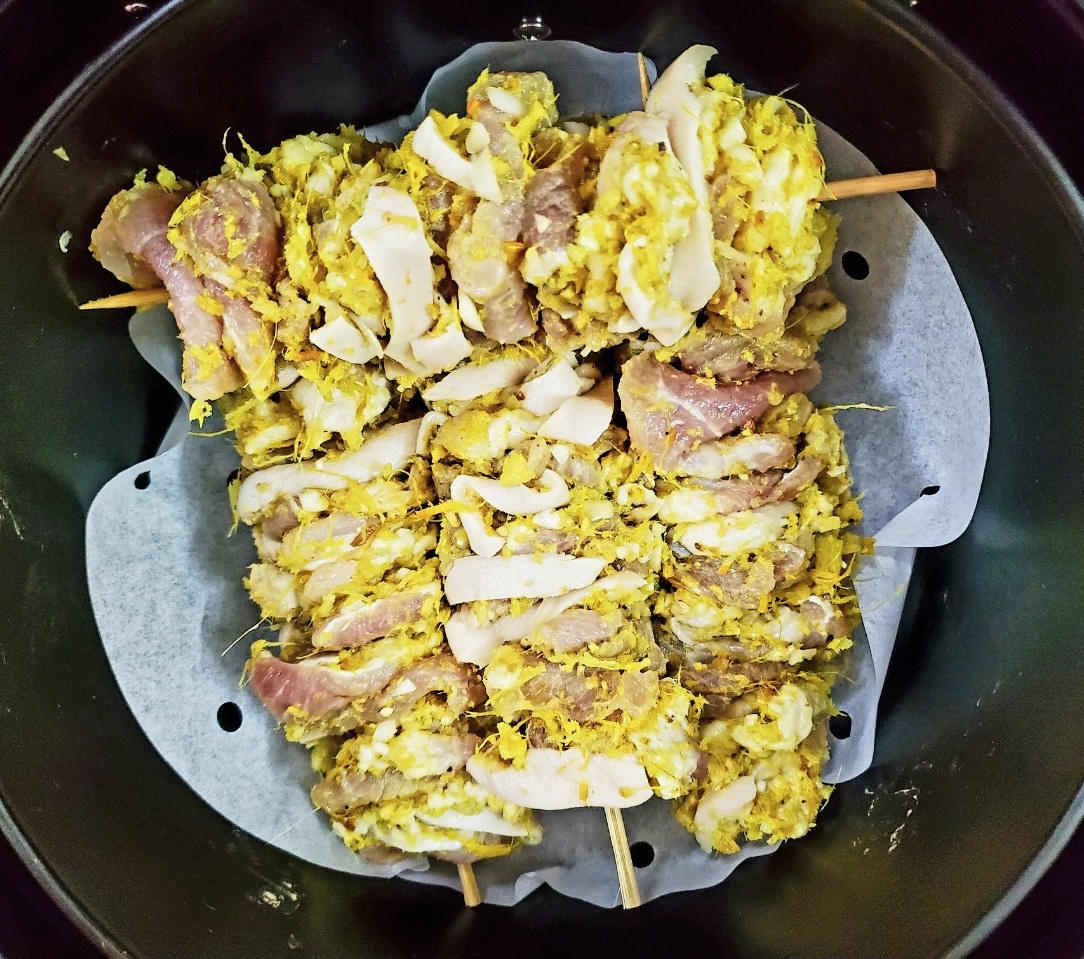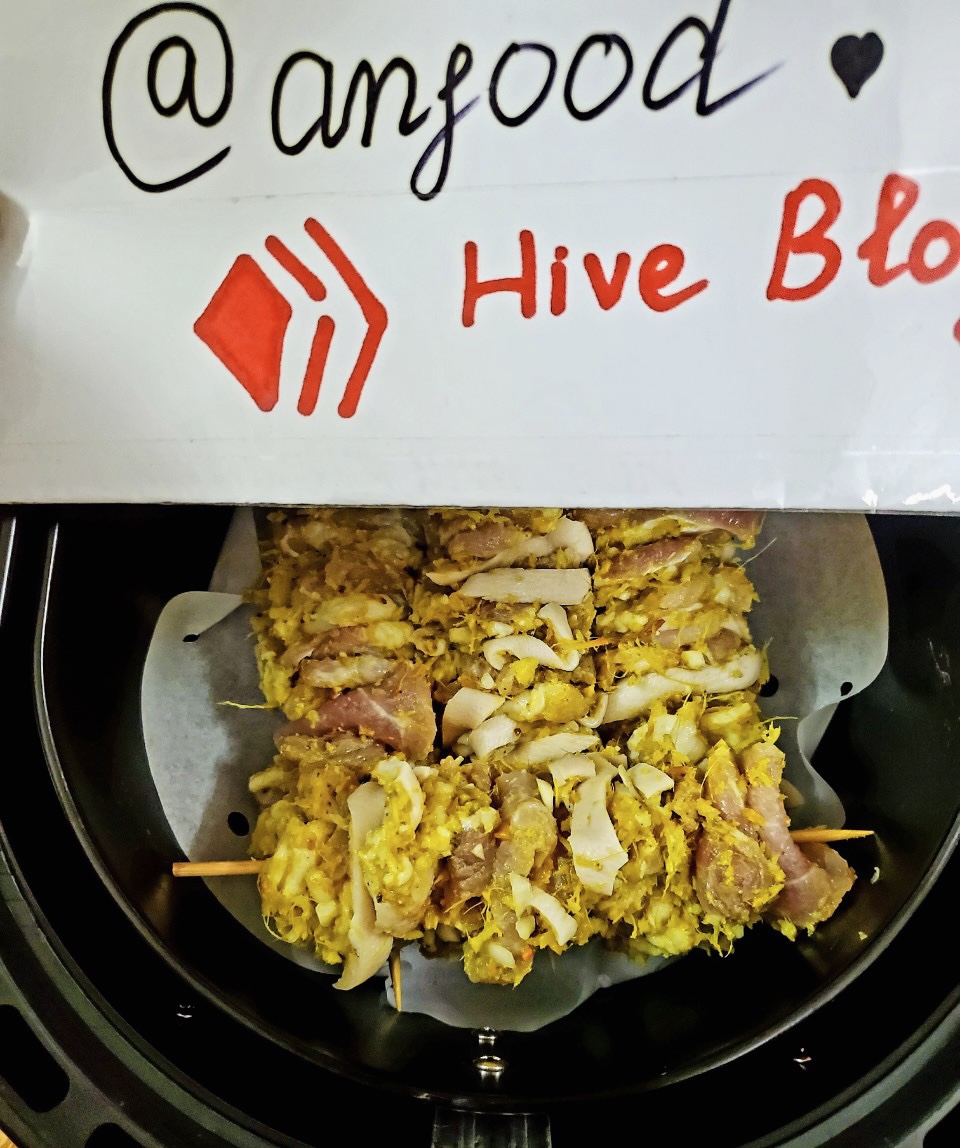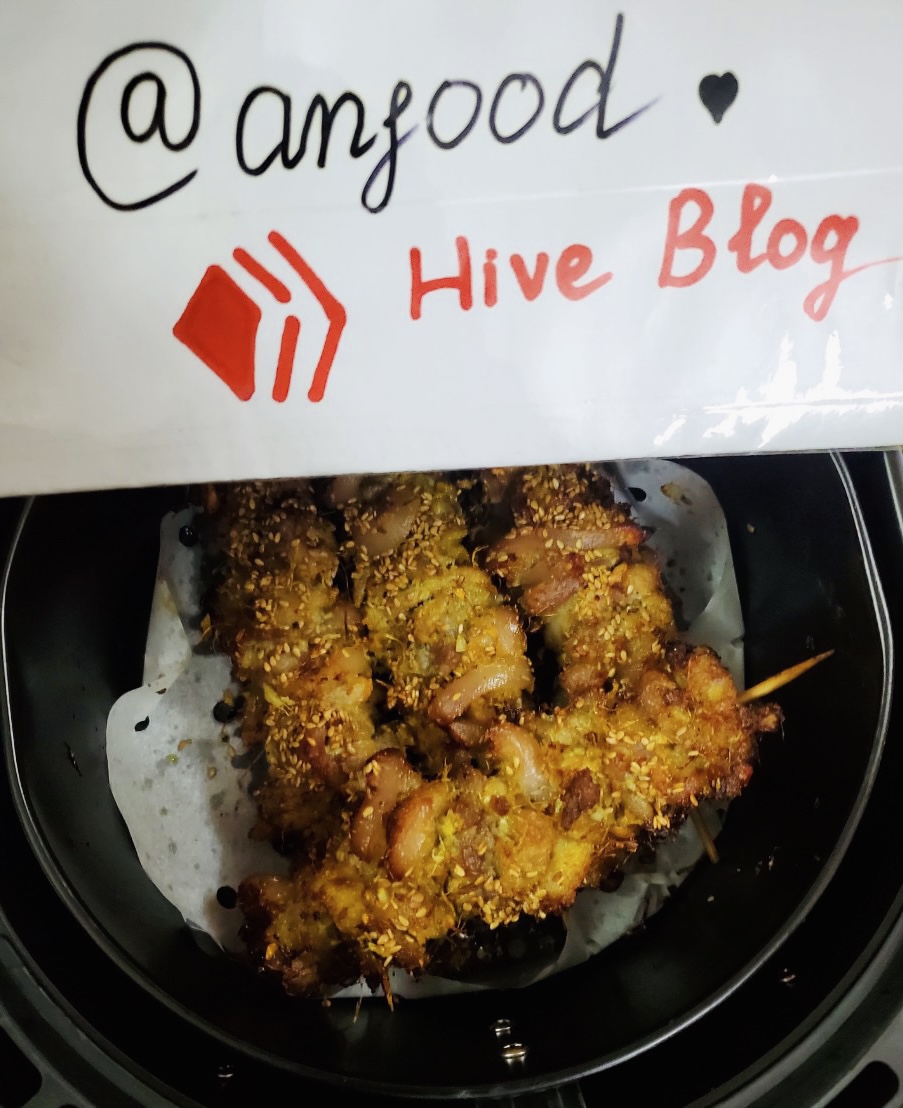 This post is 100% written by me, and the pictures are taken by me with my phone. Hope you enjoyed my post, thank you for reading my post. Please share with me your comment under my post. Have a good day.❤️💛💙💚💖
---
---