Amor Adulto / Adult love [ESP-ENG]
Amor Adulto / Adult love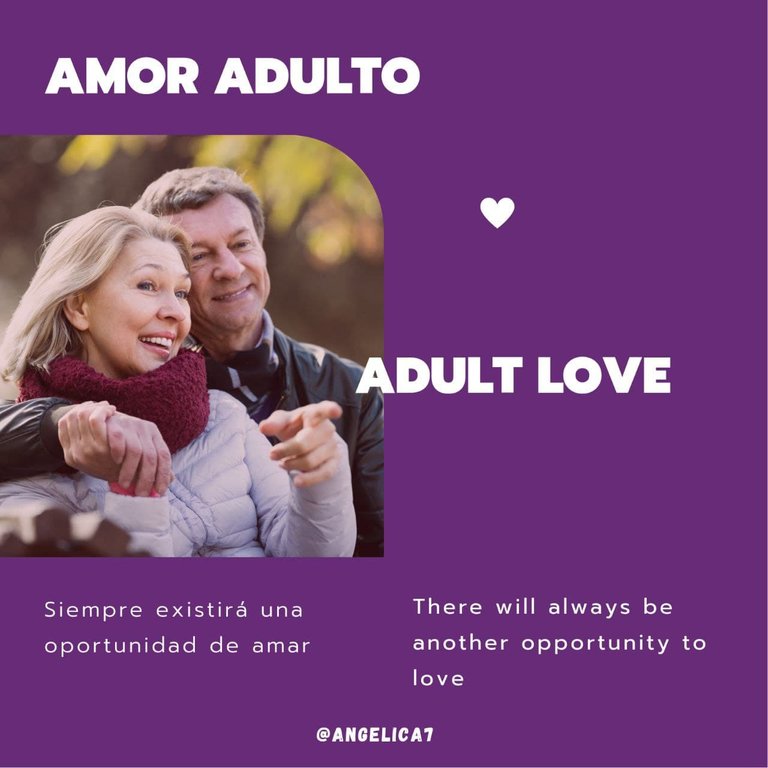 ---
Ser feliz es una decisión // Be happy is a decision
---
---
En la medida que los años pasan y la juventud se aleja de las personas solteras, viudas, divorciadas, sin pareja van experimentando una serie de cambios en su vida que requieren asumir ciertos y riesgos al momento de pensar en volverse a enamorar.
El amor adulto es maravilloso porque viene de la experiencia y crecimiento que el camino de la vida ha ido dejando, es como la huella que cada ser humano se va hacienda desde lo que le ha tocado vivir. Por ello, en ocasiones pensar en volverse a enamorar a veces pude resultar un tema que lleve a ciertos miedos, pero me inclino a pensar que más bien es una oportunidad de amar de forma libre y sin miedos.
English

As the years go by, and youth moves away from single people, widows, divorcees, without a partner, they experience a series of changes in their lives that require taking certain risks when thinking about falling in love again.

Adult love is wonderful because it comes from the experience and growth that the path of life has left, it is like the mark that each human being has made from what he has lived. For this reason, sometimes thinking about falling in love again can sometimes be a theme that leads to certain fears, but I am inclined to think that it is rather an opportunity to love freely and without fear.
---
Enamorarse de nuevo
Es como volver a empezar, recordar aquello que te hace vibrar y sumarlo a otras sensaciones que mueven la sangre y mueven gran energía en las personas, agregándole vitalidad, es con un gran impulso, así como cuando se recargan las baterías antes de un gran momento.
Suelen aparecer algunos miedos y dudas, pero definitivamente no creo sea una limitación porque el amor maduro es experimentado, vivo, deseoso y con un gran ímpetu de vivir a plenitud el tiempo que sea necesario, sin problemas ni complicaciones.
La experiencia de los años nos lleva a conocernos a nosotros mismos, nuestros gustos, lo que nos alienta, lo que nos motiva, lo que nos apasiona y nos hace temblar, por ello el amor adulto lejos de ser tranquilo, es vivo, alegre, sincero es la compañía que llena tus días de nuevas ilusiones.
Además, nos permite expresar abiertamente lo que sentimos sin muchos protocolos ni miramientos, porque el tiempo puede ser nuestro mejor aliado, pero también nuestro enemigo, por ello podemos abrir y mostrar nuestro sentir con libertad y a la vez equilibro con lo que somos en la vida, con el otro y con el universo.
English

Fall in love again

It is like starting over, remembering what makes you vibrate and adding it to other sensations that move the blood and move great energy in people, adding vitality, it is with a great impulse, as well as when the batteries are recharged before a great moment.

Some fears and doubts usually appear, but I definitely do not think it is a limitation because mature love is experienced, alive, eager, and with a great impetus to live fully as long as necessary, without problems or complications.

The experience of the years leads us to know ourselves, our tastes, what encourages us, what motivates us, what we are passionate about, and what makes us tremble, for this reason, adult love is far from being calm, it is alive, joyful, sincere is the company that fills your days with new illusions.

In addition, it allows us to openly express what we feel without many protocols or considerations because time can be our best ally, but also our enemy, therefore we can open and show our feelings with freedom and at the same time balance with who we are in life, with the other and with the universe.
---
Volver a amar
Luego de varias experiencias los adultos podemos decir que hemos recorrido algunas historias, entre buenas y malas que nos han mostrado lo que somos y lo que podemos ser, pero en realidad nunca dejamos de aprender, porque la vida sigue y siempre existirá algo más allá que nos dice, debes continuar porque hay otra oportunidad.
En ocasiones puede resultar increíble imaginar que al encontrarnos en nuestra adultez se puede volver a estar enamorado, pero no es nada complicado ni requiere de magia, tan solo cuando va a suceder solo pasa y así hay que recibirlo, para poder vivir la experiencia, como un amor aprendido, maduro.
Ser adultos nos permite la oportunidad de ya saber lo que nos gusta y nos hace feliz, también de reconocernos y saber qué pasos debemos dar en aras de volver a amar y ser amado.
English

Love again

After several experiences, adults can say that we have traveled through some stories, between good and bad that have shown us what we are and what we can be, but in reality, we never stop learning, because life goes on and there will always be something beyond that. tells us, you must continue because there is another opportunity.

Sometimes it can be incredible to imagine that when we meet in our adulthood we can be in love again, but it is not complicated nor does it require magic, only when it is going to happen it just happens and that is how we have to receive it, to be able to live the experience, as a learned, mature love.

Being adults allows us the opportunity to already know what we like and make us happy, also to recognize ourselves and know what steps we must take in order to love and be loved again.
---
Reflexión
Siempre existirá otra oportunidad para amar, no te cierres al amor y vive lo que tengas que vivir sin miedos y a plenitud.
English

Reflection

There will always be another opportunity to love, do not close yourself to love and live what you have to live without fear and fully.
---
---
Mis mejores deseos para toda la comunidad los comentarios para compartir con una copa vino, sobre este interesante tema, del cual me encantaría conocer tu opinión.
My best wishes to the entire community for the comments to share with a glass of wine, on this interesting topic, of which I would love to hear your opinion.
Con mucho cariño y buena viba / With love and good vibes
Angelica7
---
---
---
Historia original // Original story
Foto: Propia, tomadas con mi teléfono Huawei
Edición: Canva
---
---
Que nadie apague tu luz interior

---
- Minnow Support Project: Si todavía no estás en la comunidad ¿Qué estás esperando? >Minnow Support Project: If you are not yet in the community, what are you waiting for?
---
Te invito a conocer a:
Canales del Discord: @votovzla PAL-net @rutablochain @Cervantes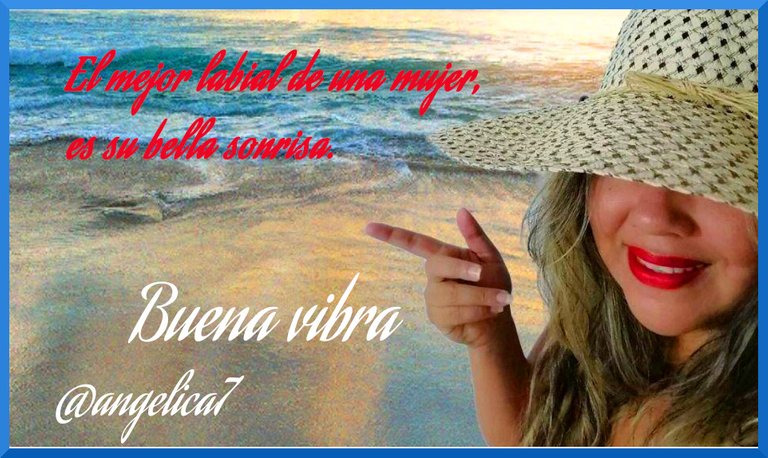 ---
---