Banana Fritters Mixed With Grated Coconut
---
---
Don't throw away overripe bananas.
Fragrant bananas and coconut are perfect for fritters.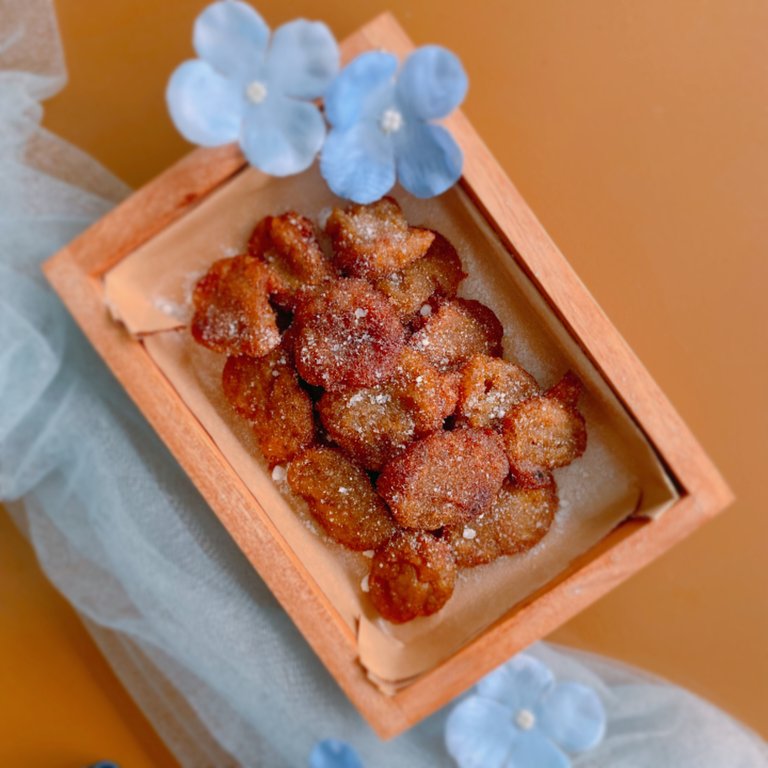 ---
---
This recipe is a story about how in a kitchen there are many cooking failures. It happened to me a while ago, which led to me having a supply of sweet grated coconut, which I had mixed with palm sugar before.
The grated coconut that I kept in the refrigerator is proof of my failure a few days ago. Then, I decided not to throw away the grated coconut. I will make fritter with grated coconut.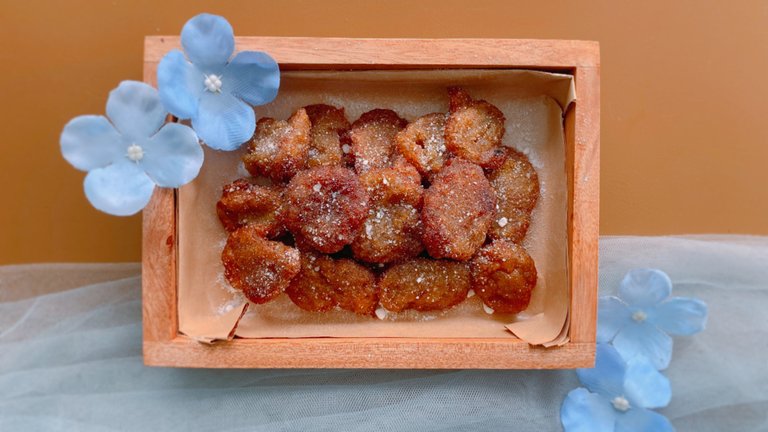 ---
So, long short story, at that time I wanted to make a steamed cake menu filled with sweet grated coconut. But I failed to make a good wrapping dough. I couldn't wrap the sweet grated coconut well which caused water to seep into the dough. Sweet grated coconut that has been mixed with palm sugar before is indeed moist and contains water.
Finally, I was discouraged to make the cake. But I still keep the sweet grated coconut.
Today, I took another look at my fridge. Because it was covered by an airtight container that was not transparent, so I almost forgot what was in that container. When I checked it, I was surprised because I had a stock of sweet-grated coconut.
What a coincidence, there are over ripe bananas from the garden! I also have an idea to make banana fritters. With a mixture of sweet grated coconut, it will make the taste of banana fritters more savory, sweeter, and also more fragrant.
NOTE: I apologize to you guys for the photos of the cooking process that aren't optimal. Everything looks dark because I only process it in my kitchen.
At first, I really didn't want to share these fritters with you. But when I was peeling over ripe bananas for quite a long time, I finally changed my mind. I want to share the results of cooking banana fritters with you.
Well, I also don't use measure ingredients that aren't very precise because I just use my instincts. But I'll still share with you what approximate measure I used for this recipe. If the result of the dough is too soft, you can add all-purpose flour little by little.
I hope you guys like my variety of snacks this time with ingredients from left over the grated coconut and over ripe bananas. Stay tuned!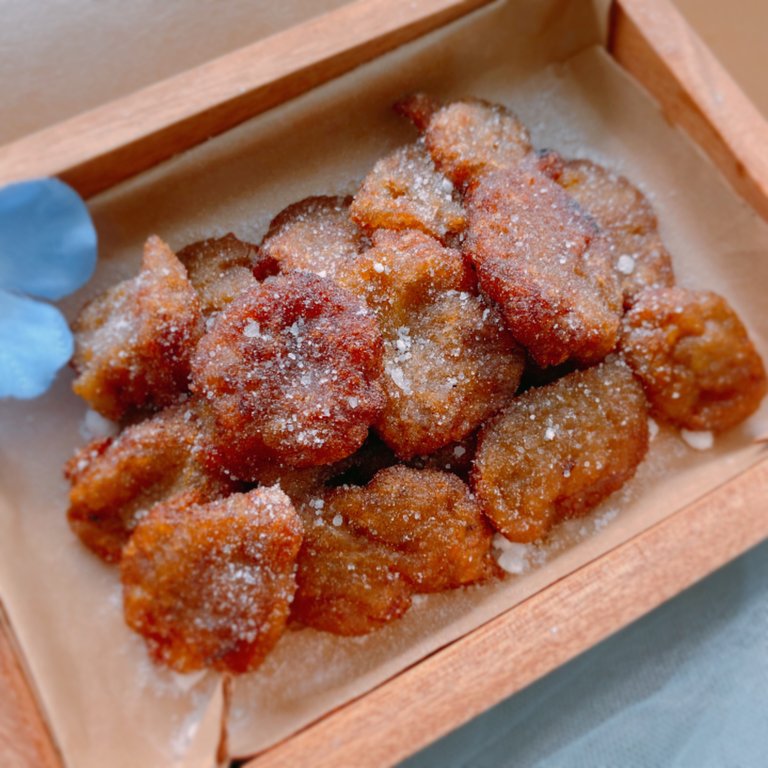 ---
---
---
Banana Fritters Ingredients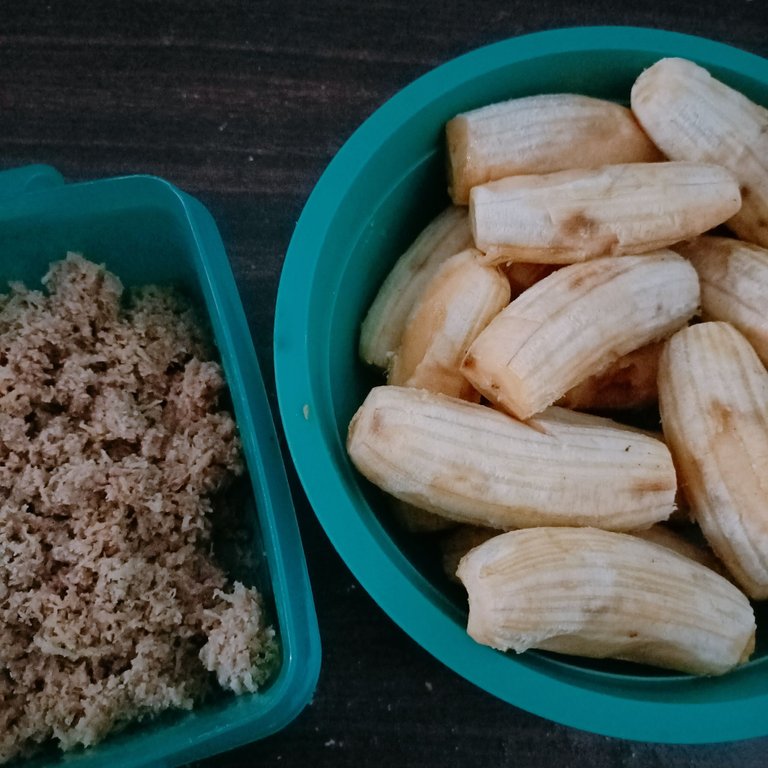 500 grams of over ripe bananas
1/4 cup x 3 times of all-purpose flour
2 cups of grated coconut
1/4 of palm sugar with granular texture
1 teaspoon of salt
1 teaspoon of vanilla
---
---
---
Cooking Instructions
Making sweet grated coconut.
In a sauce pan, caramelize the palm sugar. Then, add grated coconut. Stir well until they become perfectly mixed. Then lift and set aside.
---
---
---
Peeling over ripe bananas.
Peel all the bananas. I used a small, thin knife to remove the banana skin which was almost fused with the banana flesh. Do it slowly so that not much of the banana is wasted.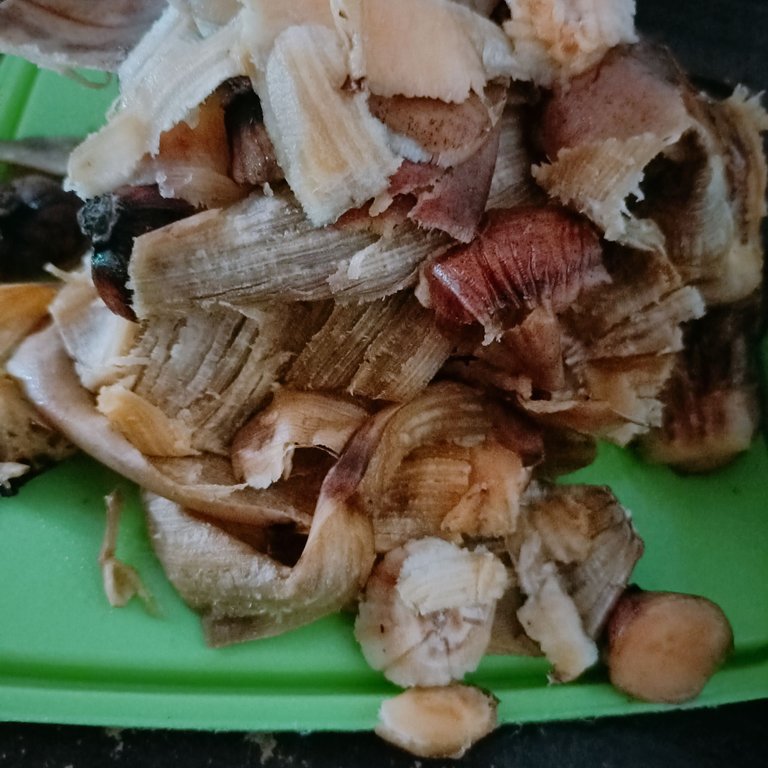 ---
---
---
Mash peeled bananas.
In this recipe, I used a type of banana that has a firm texture. So even though they are overcooked, I still use my energy to mash them. I use a fork to mash bananas.
---
---
---
Mixing sweet grated coconut with mashed bananas.
After all the bananas have been successfully mashed, then add the sweet grated coconut that was made before. Also, add vanilla powder and salt. Mixing them together until they combine well.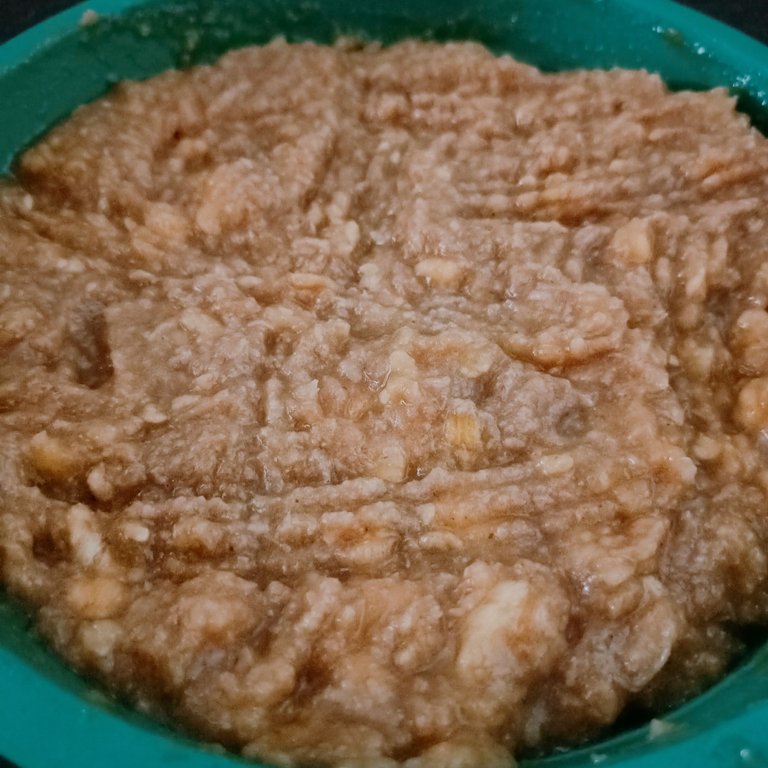 ---
---
---
Adding all purpose flour.
Then, add all purpose flour. I added 1/4 cup flour 3 times to get a dough texture that wasn't too soggy.
---
---
---
Frying the dough.
Fry the dough using the deep frying method until they turn golden brown, until they floating in the oil surface.
Serving!
Serve banana fritters sprinkled with powdered sugar if you like them.
---
---
---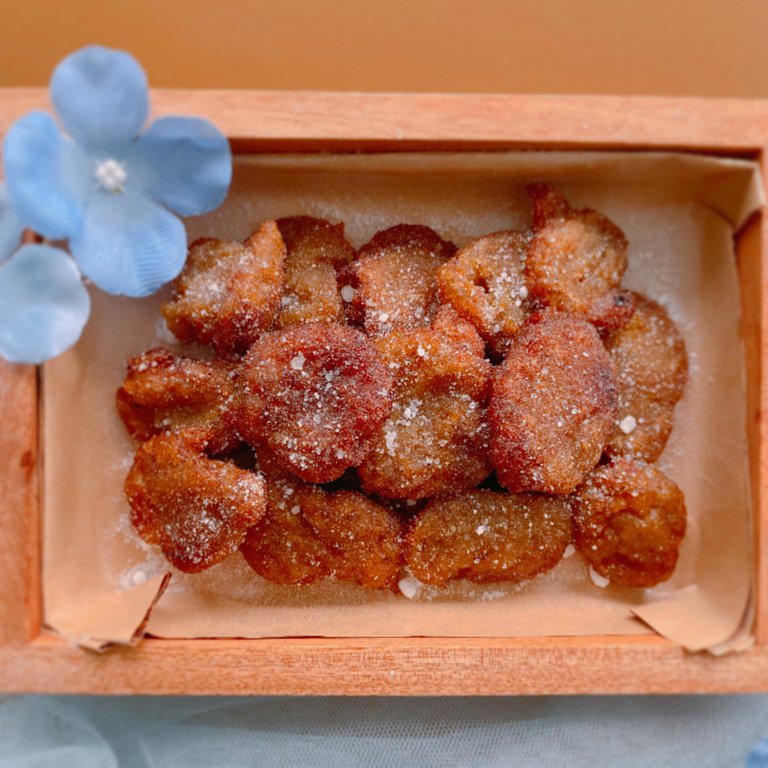 Oh, the fragrance is so good! Especially if we split the banana fritters in half. It will create a savory sweet fragrance.
---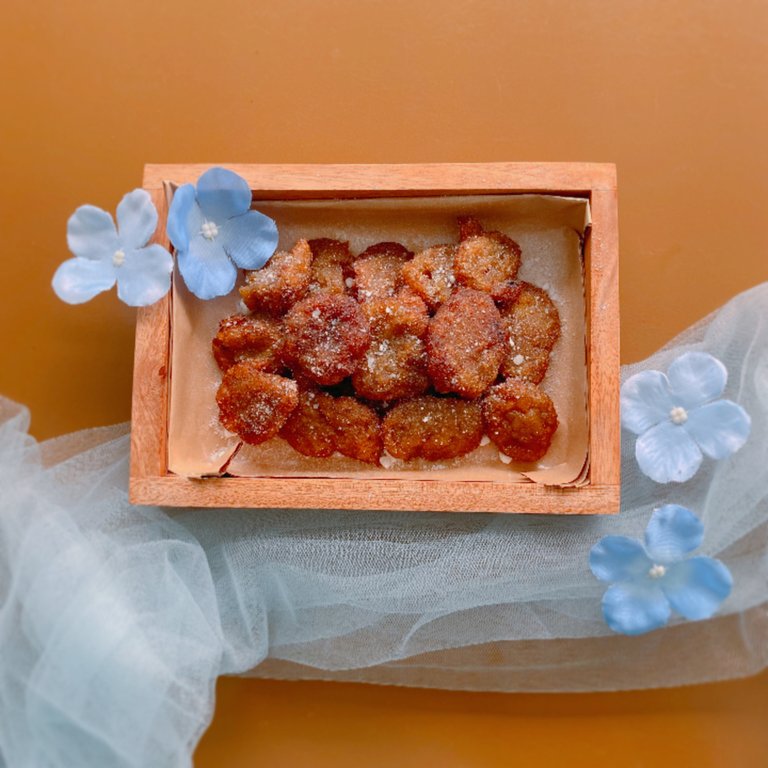 Everyone in my house quickly finished those banana fritters. I'm thankful no food was wasted. Yeay!
---
Thank you for reading my blog and reblog if you want my blog this time worthy of reading by others.
---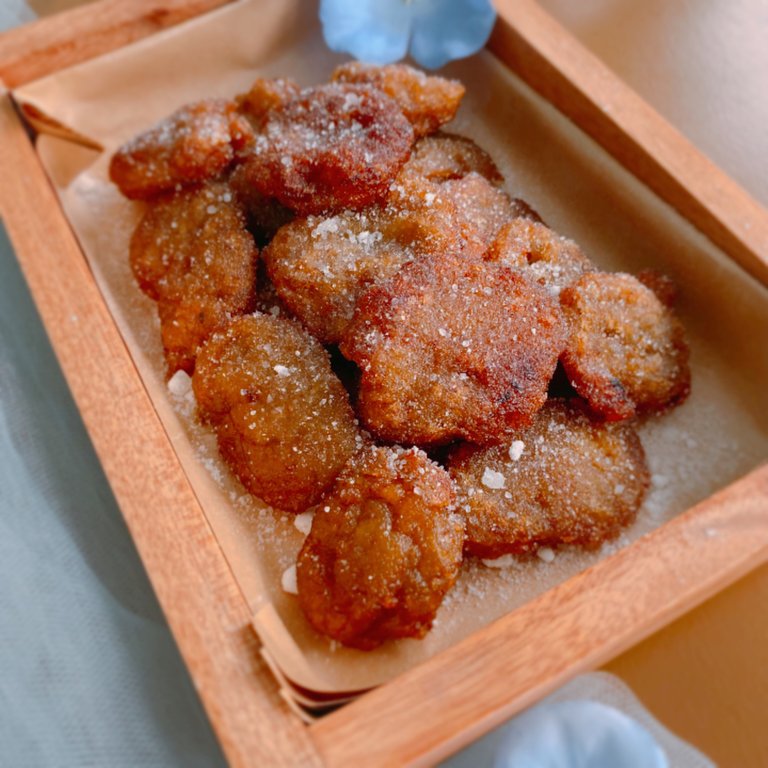 ---
---
---
---
Best Regards,
Anggrek Lestari
---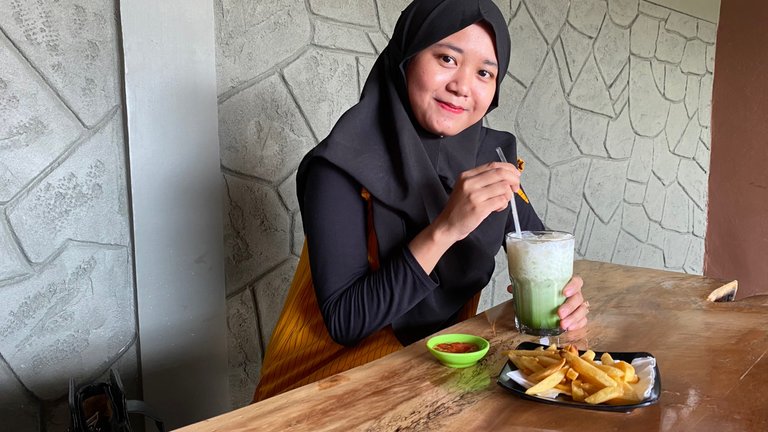 Who is Anggrek Lestari?
Anggrek Lestari is an Indonesian fiction writer who has published two major books. Now She is a full-time content creator. She has a goal to share life, poem, and food content that makes others happy and can get inspiration.
---
Contact Person: [email protected]
Discord: anggreklestari#3009
---
---
---