Caramelized Tempeh Served With Mushrooms
If you have the chance to meet tempeh in a place you are exploring someday, try the caramelized tempeh with soy sauce. It is worth trying once in your life. Do you believe that?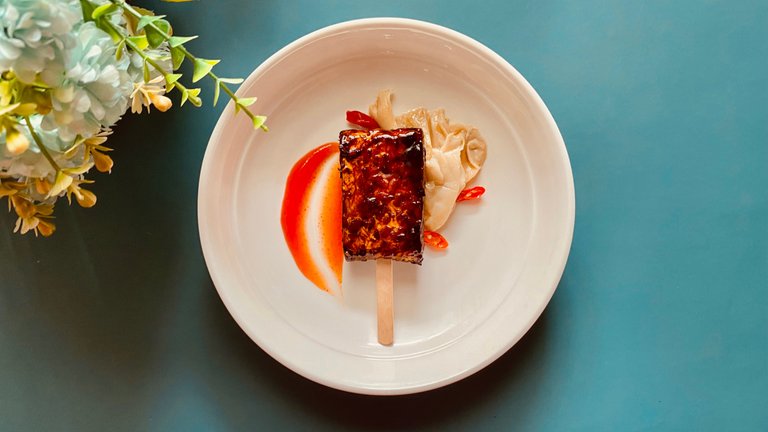 ---
---
---
About the taste of the food as a whole is indeed a personal assessment. From one person to another is very different. Sometimes what feels good to one person may not necessarily taste good to another. But we can still find standard flavors that are said to be good and at least we won't be disappointed if many people say the same about the taste.
Regarding tempeh, some of you who are not from Asia may have never tried Tempeh. Some people also think Tempeh is tofu. But they are different, even though they both have the main ingredient soybeans.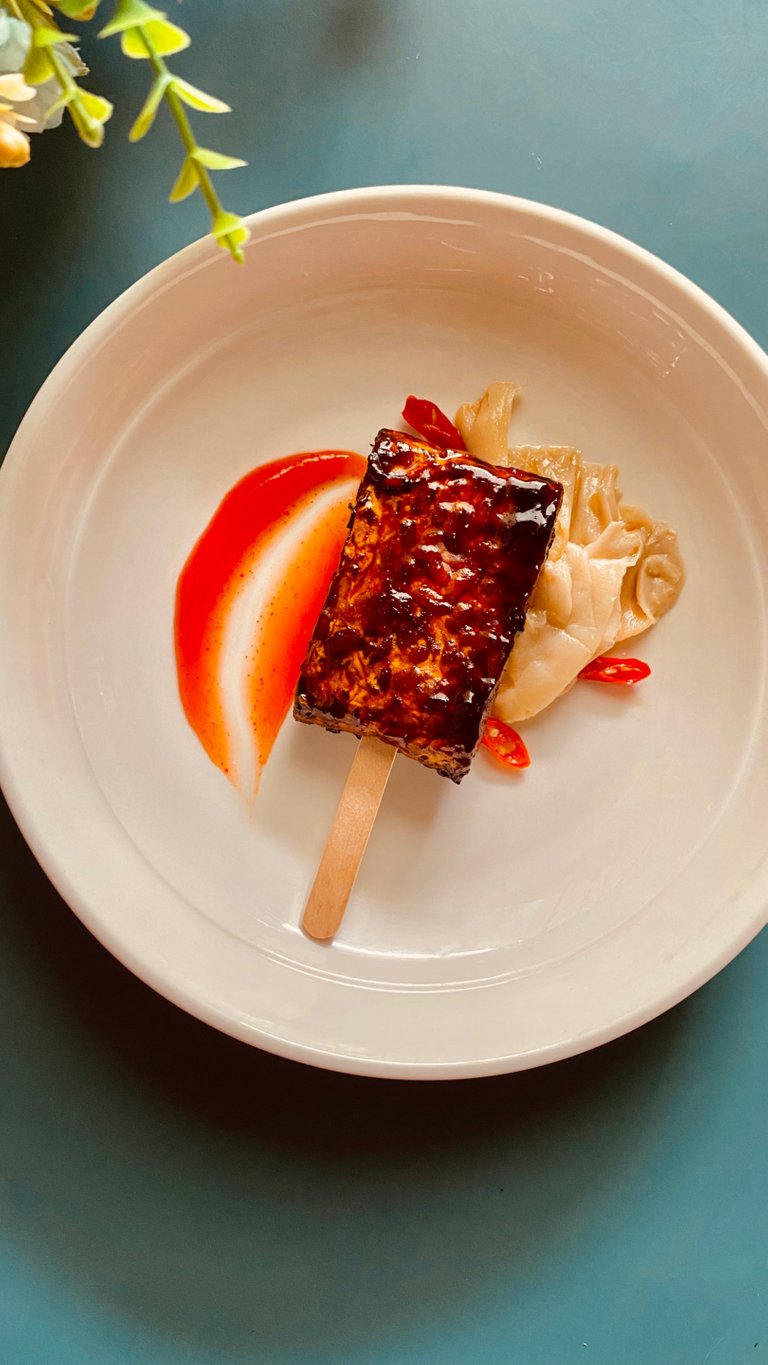 ---
---
---
The Beauty of Tempeh
Tempeh is fermented soybeans using a special yeast that is intended to make Tempeh. We can see the surface of Tempeh is white due to the growth of fungi that comes from the fermentation itself. For me, it is a beauty that always deserves to amaze us and be grateful, that from the miracle of the fermentation process we can have a delicious food source that has high nutritional content.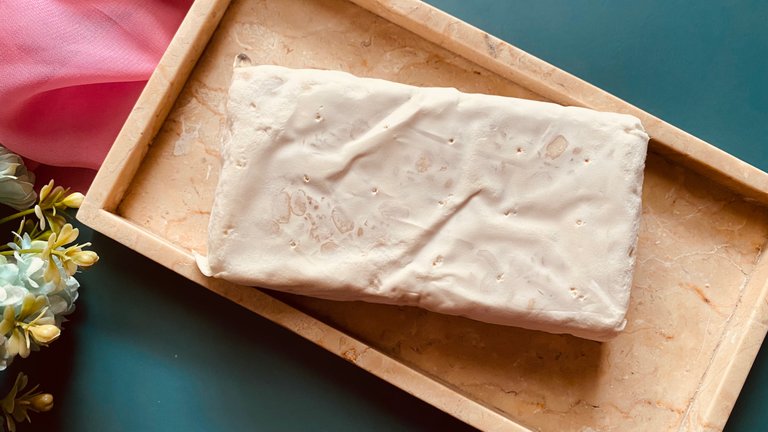 In the past Tempeh did not get a good place in some circles in my country. Many upper-class people think that Tempeh is only food for the lower class. In fact, Tempeh has good nutritional content, including optimizing brain intelligence.
I'm actually very grateful to grow up consuming a lot of Tempeh. It helped me become what I am today, at least I also my other brother/sisters in my family have intelligence that other people don't underestimate. Although we eat more Tempeh, not from fish or meat protein. :)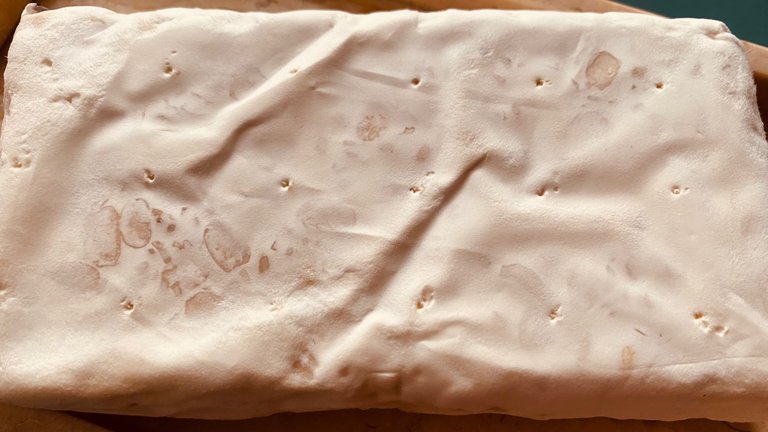 Currently, the price of Tempeh is no longer cheap and many people have realized the good nutritional content of Tempeh. At least Tempeh was no longer looked down upon here.
---
---
---
This time I will bring you guys to enjoy my recipe, Caramelized Tempeh Served With Mushrooms. I also made some differences in the way it is presented to make it more interesting like you are looking at a dish from a restaurant. Stay tuned! :)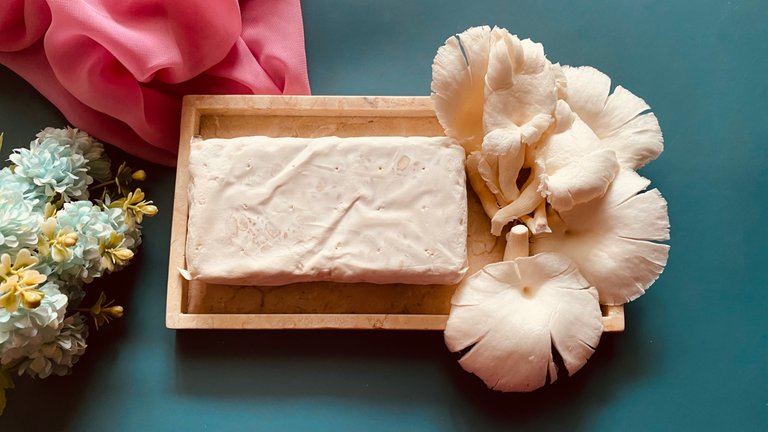 ---
Caramelized Tempeh Served With Mushrooms Recipe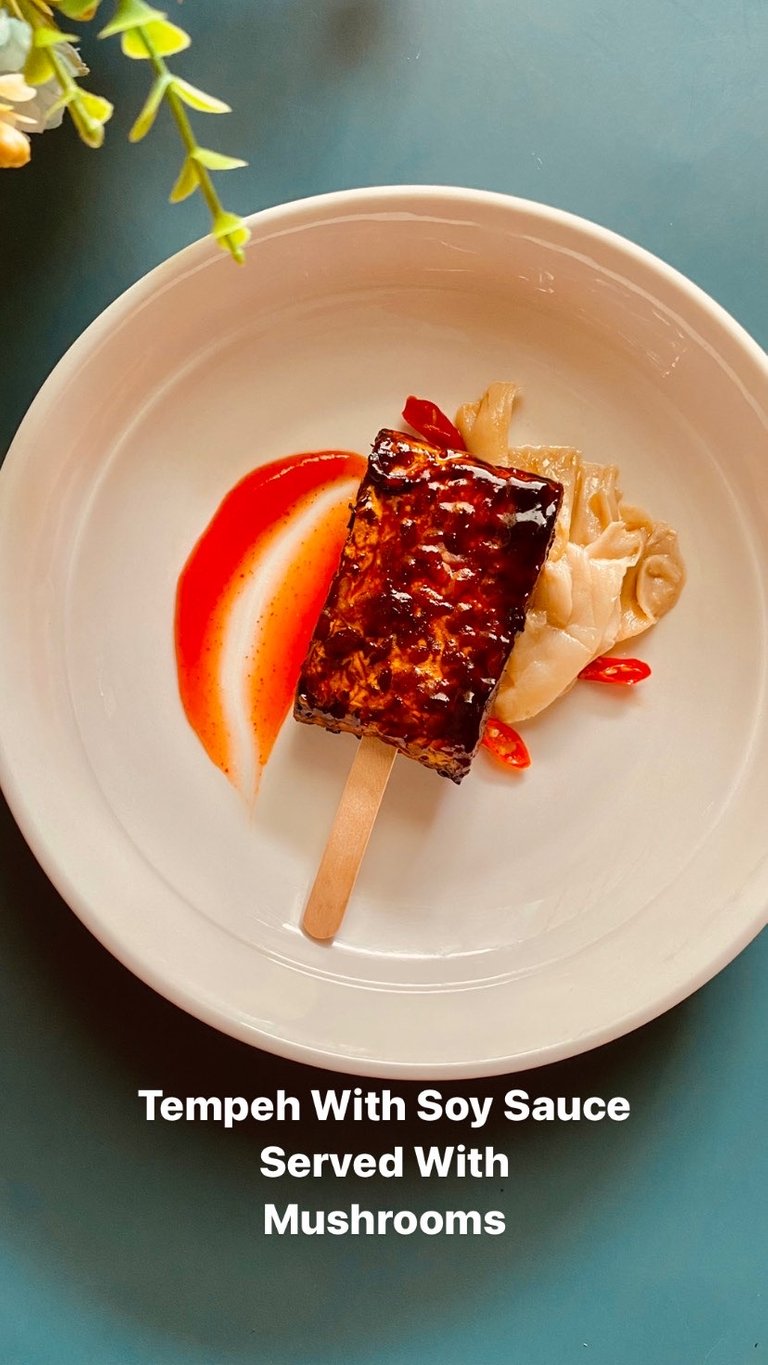 The recipe this time is still the same as the daily food that I often serve. With daily spices that are easily found in the kitchen. For additional flavor enhancers, you can add mushroom broth or the like that you often use in your daily cooking.
---
The Ingredients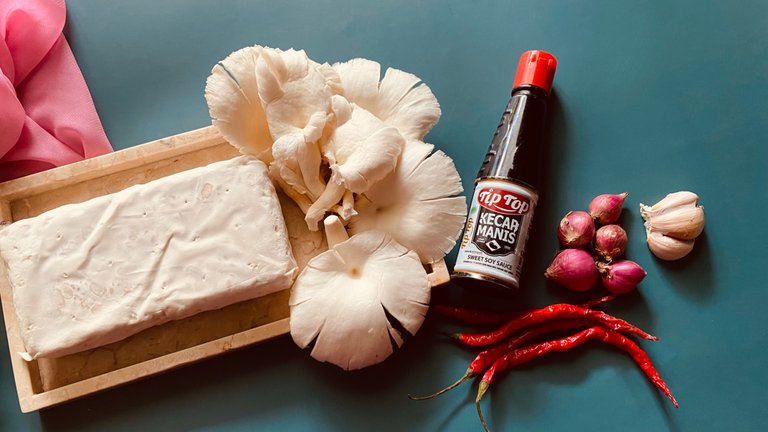 A block of tempeh
2 cups of mushrooms or more according to your taste, because in this recipe, I will cook the mushrooms and tempeh separately. It's just that I serve them at the same time.
5 tablespoons of sweet soy sauce
Garlic
Red Onion
Red Chillies
a tablespoon of pepper
Enough water
Salt to taste
---
---
---
COOKING INSTRUCTIONS
If you have two stoves, then you can cook both dishes at the same time. Since it takes time to make caramelized tempeh, it can be used to make stir-fried mushrooms.
Here I only have one stove. So I decided to cook the mushrooms first. Chop the onions, and slice the red chilies. Then heat the oil to stir-fry them. Sauté the garlic, red onion, and red chilies until fragrant, but be careful not to burn them.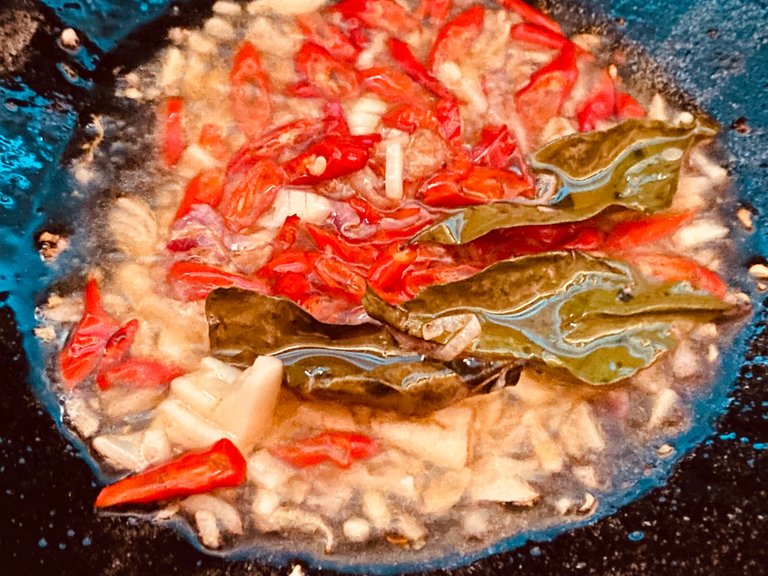 ---
Then add the mushrooms that have been cut into small pieces and also cleaned beforehand. Keep stirring, and let it wilt for a bit.

Don't forget to add seasoning, salt, and pepper until the taste is exactly what you want. Add a little water if the seasoning smells a bit burnt.
Don't let the mushrooms get too mushy. Remove the mushrooms and set them aside to serve later with the Caramelized Tempeh.
---
---
---
Next, let's slice the Tempeh. First, I divided Tempeh into three parts.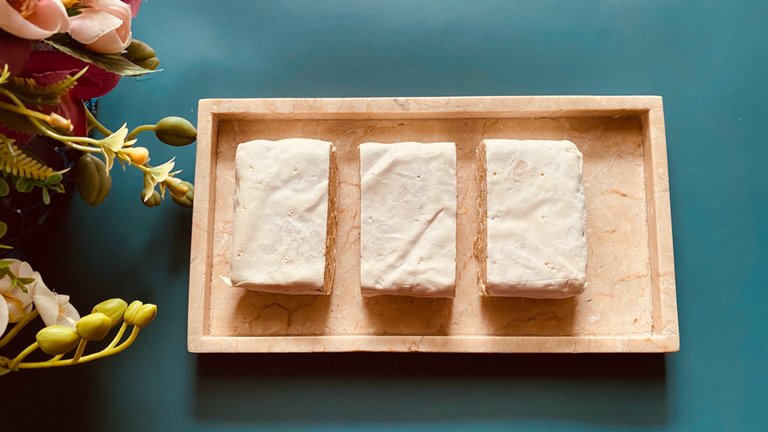 ---
After getting three parts, divide the two parts. So later the slices of Tempeh will not be too thin. I purposely didn't cut the Tempeh into cubes because I wanted to get a shape like ice cream.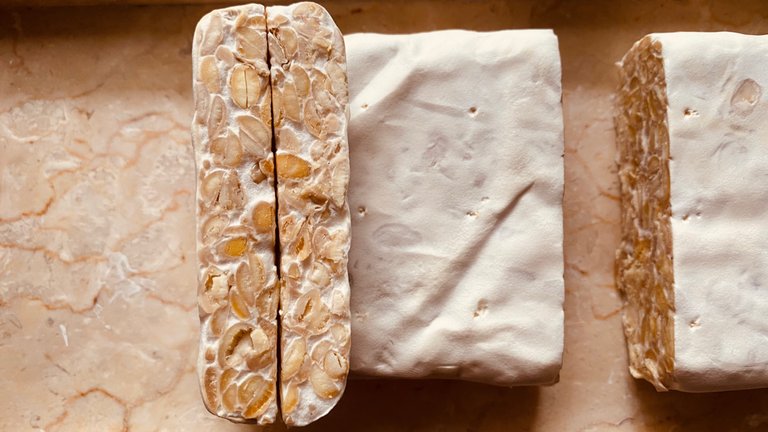 ---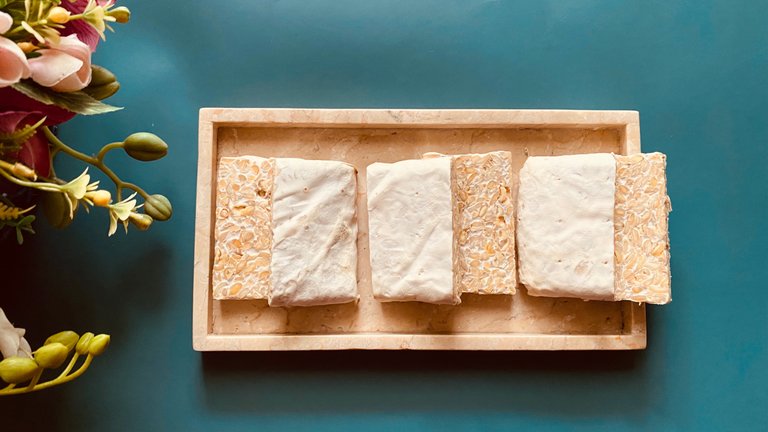 If you want, you can also chop Tempeh into smaller pieces. It has no effect on the taste at all. However, if you want to make a shape as I did, don't forget to pierce the surface of the slices of tempeh with a fork, so that the seasoning can easily absorb into the tempeh so that the overall taste is maximized.
---
---
---
After finishing preparing the slices of tempeh, it's time to cook chopped garlic, red onion, and red chilies. Saute them until fragrant.

---
After the seasoning becomes fragrant, add sweet soy sauce and water so it doesn't burn. Add a little salt and pepper too.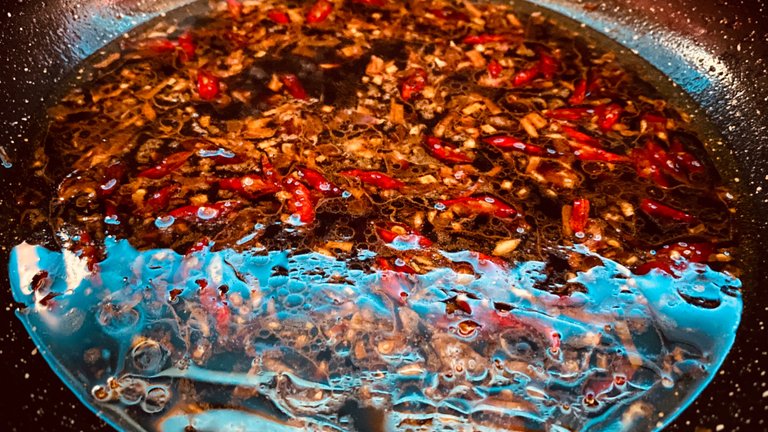 ---
---
---
Add slices of tempeh. Cook until tempeh becomes caramelized. Don't forget to flip the slices of tempeh so that the caramelized soy sauce doesn't burn and avoids a bitter taste.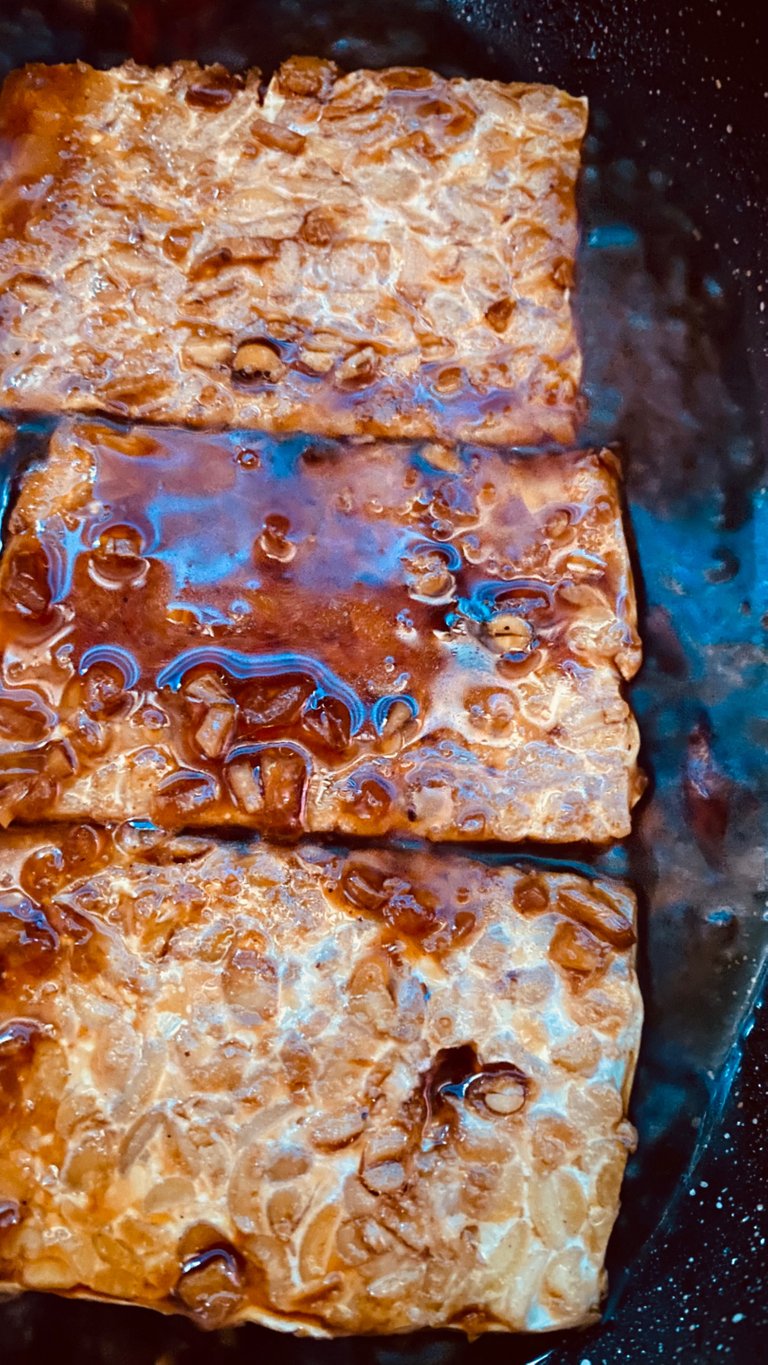 ---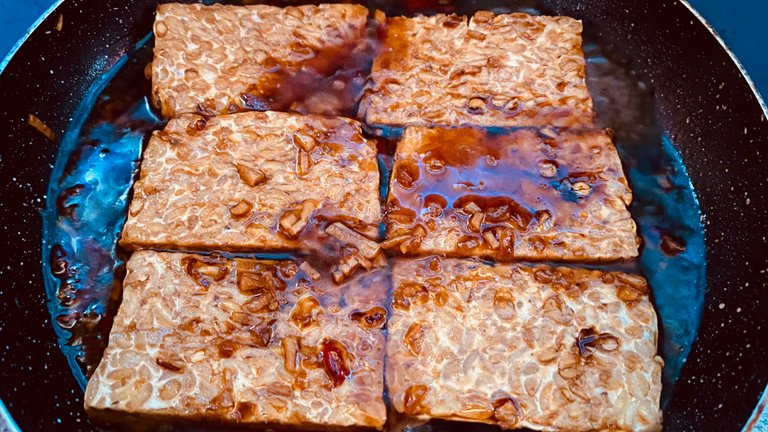 ---
After the Tempeh is caramelized, remove the Tempeh and serve with stir-fried mushrooms, along with other dishes of your choice.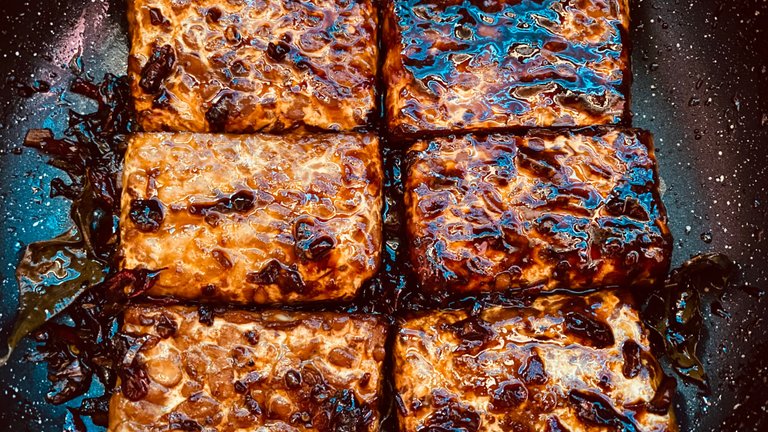 ---
---
---
Using a Wooden Ice Cream Stick
For the presentation, I made this a bit different. I used a wooden ice cream stick. So the end result looks like ice cream. On the other hand, the use of these ice cream sticks can make it easier for us to eat Tempeh. So we no longer need to use a spoon or fork. We're going to eat this Caramelized Tempeh like enjoying some fun ice cream :)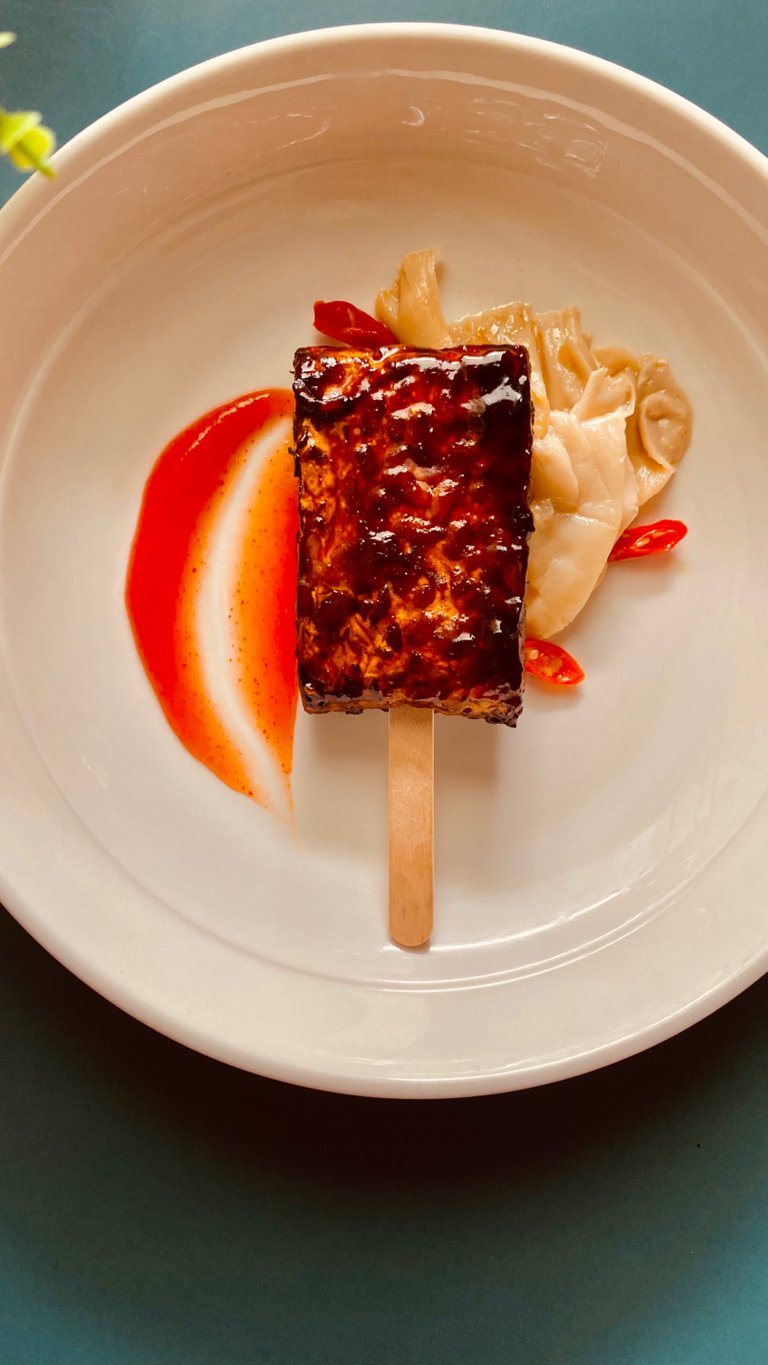 ---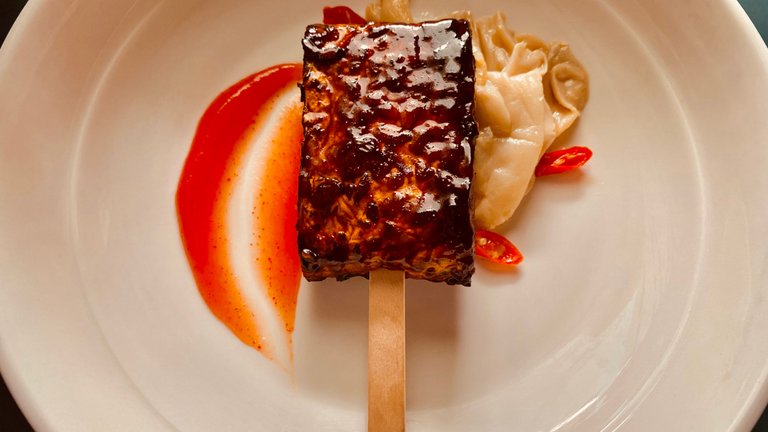 ---
---
---
Before placing the Caramelized Tempeh on a serving plate, I prepared the stir-fried mushrooms first. To maximize a nice color to feed the eye, then I also use the presence of chili sauce.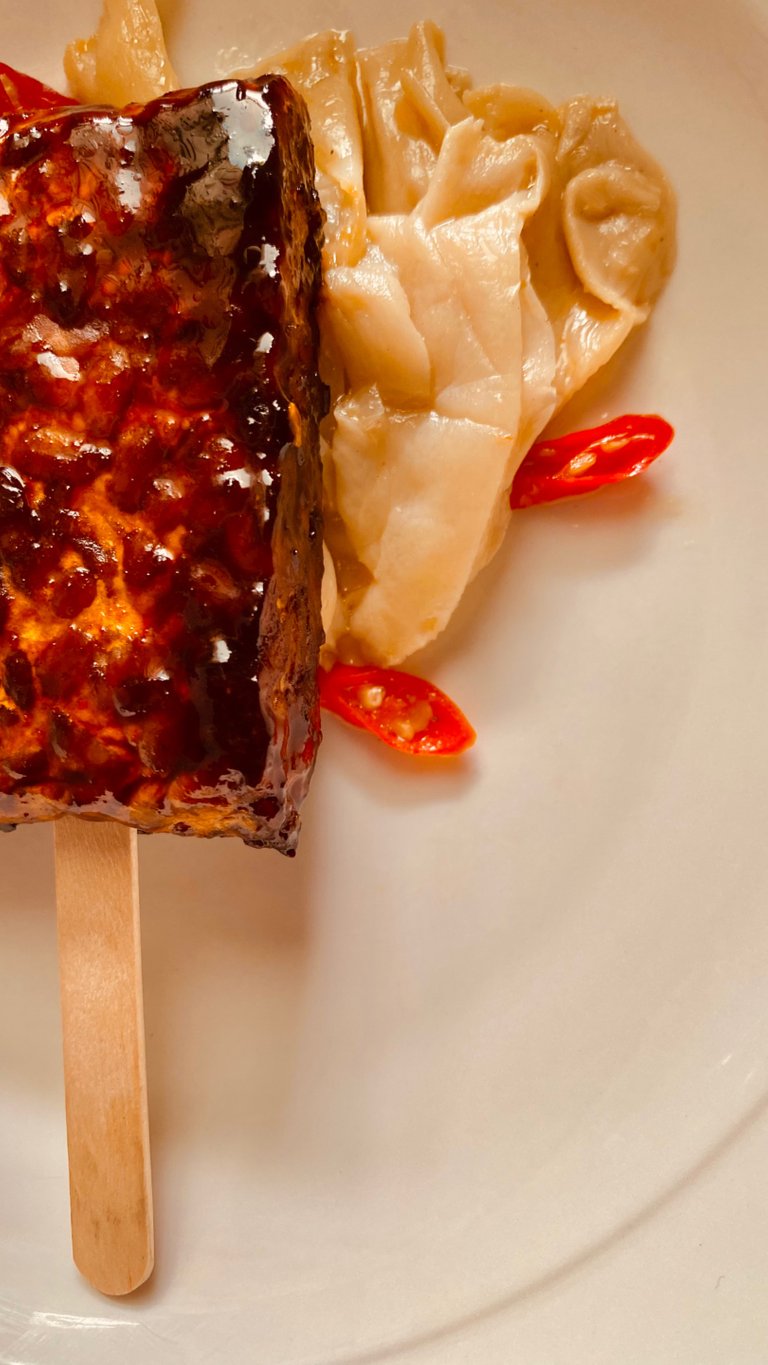 ---
This is the end result. I love it. Really! How about you guys? Did you like the Caramelized Tempeh recipe this time? I'd be happy to give you a nice plate of treats if we had the chance to meet at the same table. :)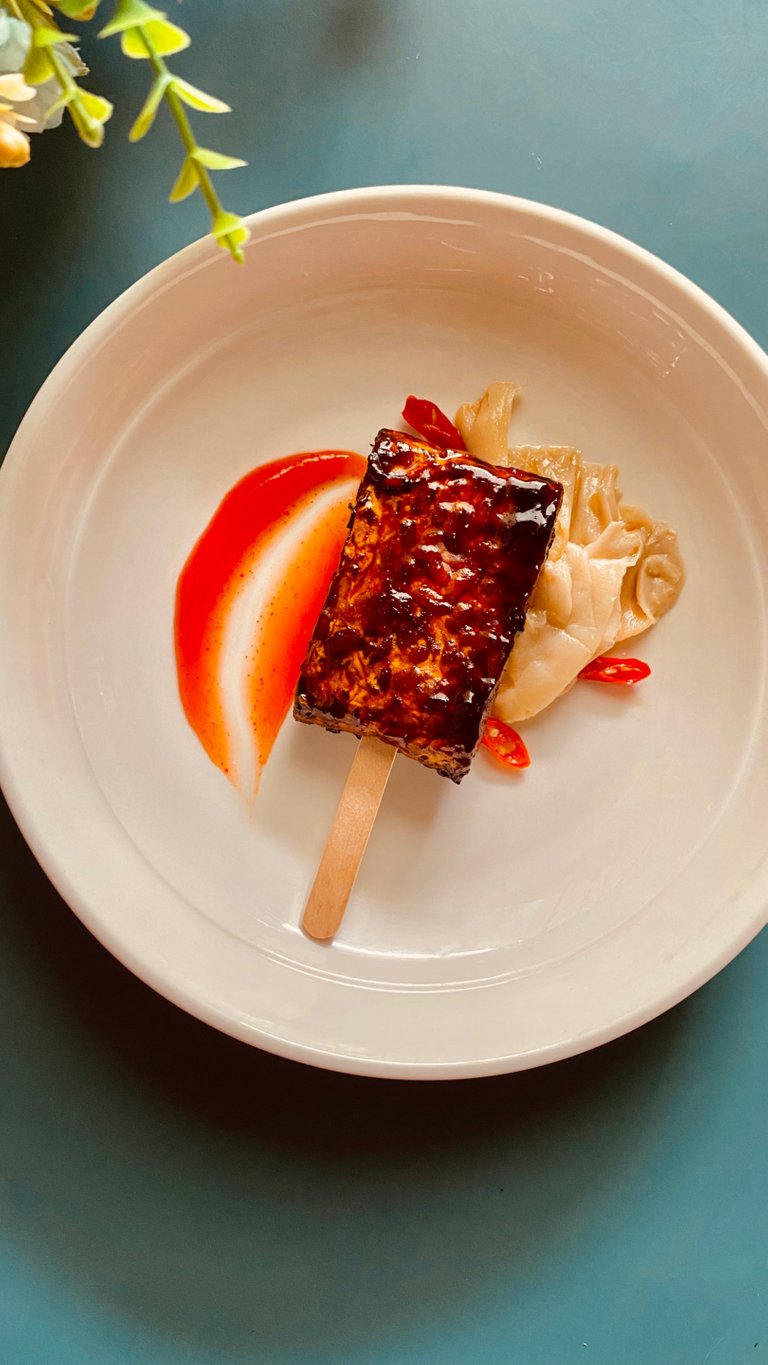 ---
I hope you guys get some new inspiration from my food blog this time, and until next on my food blog, HIVE LOVERS!
---
---
---
Thank you for reading my blog and reblog if you want my blog this time worthy of reading by others.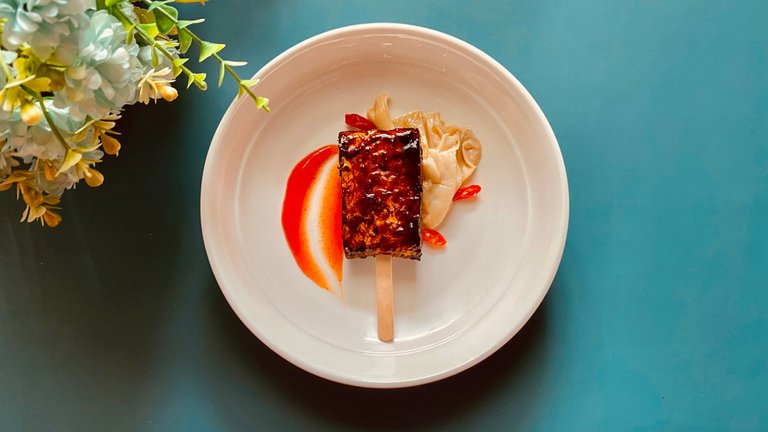 ---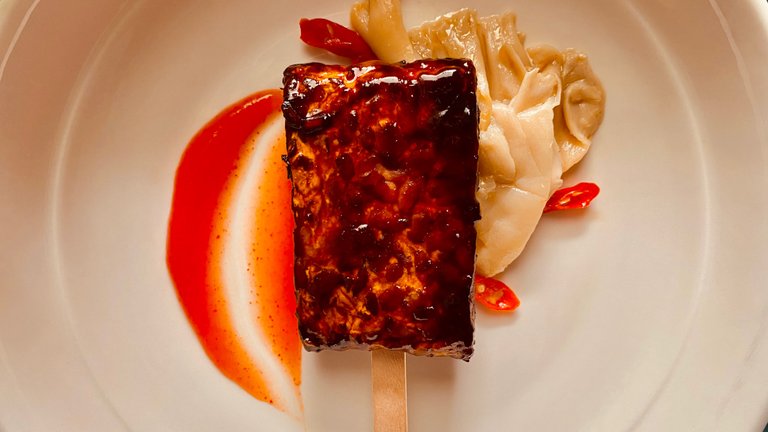 ---
---
---
---
Best Regards,
Anggrek Lestari
---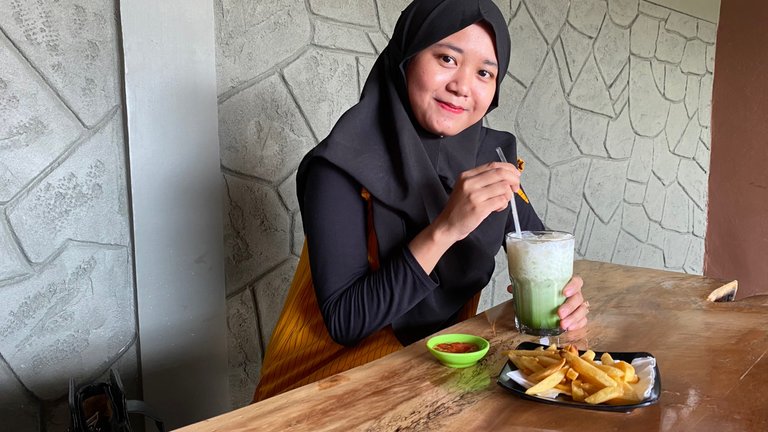 Who is Anggrek Lestari?
Anggrek Lestari is an Indonesian fiction writer who has published two major books. Now She is a full-time content creator. She has a goal to share life, poem, and food content that makes others happy and can get inspiration.
---
Contact Person: [email protected]
Discord: anggreklestari#3009
---
---
---