Chewy Sweet Potato Balls With Thick Brown Sugar Sauce
A bowl of warm food can come from sweet potato desserts, which are also sweet and have a chewy sensation in the mouth.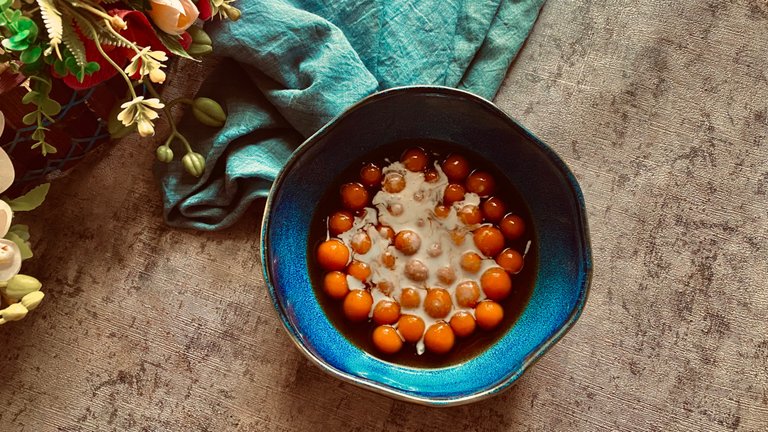 ---
---
---
The earth is often as warm as a blanket at night which makes it comfortable until morning. Sometimes, the earth becomes freezing cold which even makes the feeling stiff.
I don't know, sometimes the coldness actually comes from our own feelings. Suddenly there comes a gloomy mood, making us overcome with cold sadness. As a woman, there are times when I feel sad like that. The term is too sensitive during my period. When that happened, my mood dropped drastically.
---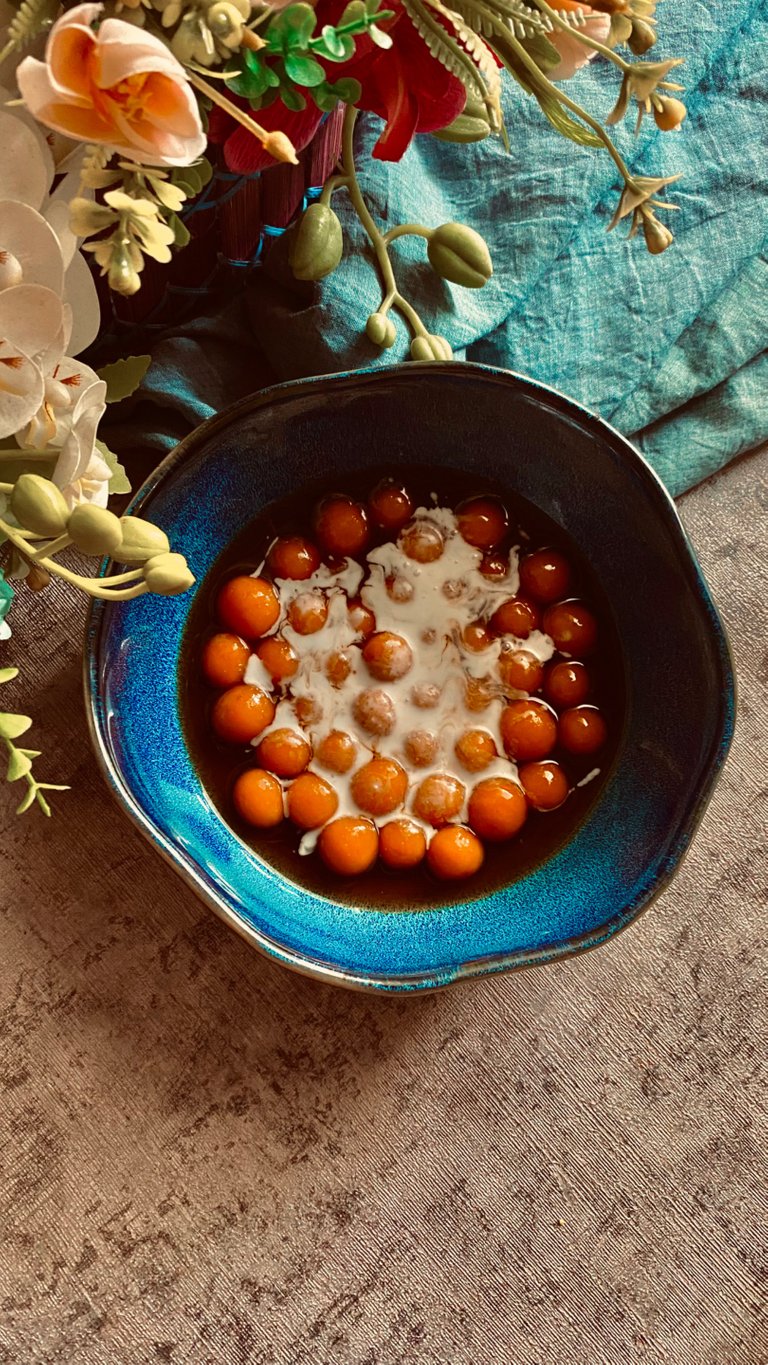 A bowl of sweet treats looks like it can help me get better. Like a bowl of Chewy Sweet Potato Balls which this time I will share with you about how to make it. Stay tuned!
---
---
---
THE INGREDIENTS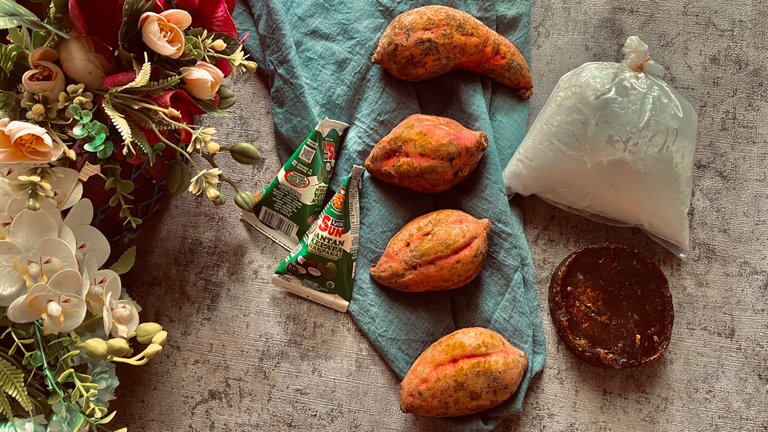 ---
A.For Sweet potato balls ingredients: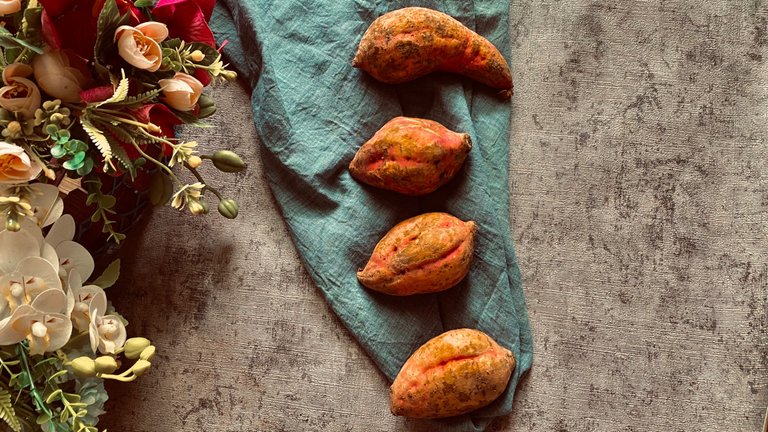 300 grams of yellow/orange sweet potatoes
100 grams of tapioca flour, or more (this is determined from the dough that is kneaded. If the dough is still soft and can't be formed into small balls, then add more tapioca flour little by little until the dough becomes smooth and can be formed into good balls).
a pinch of salt

B.For Brown Sugar Sauce Ingredients
200 grams of brown sugar
300 ml of water
3/4 of white sugar or according to your taste
---
C. For Thick Coconut Milk Sauce (optional)
200 ml of thick coconut milk
a pinch of salt
---
COOKING INSTRUCTIONS
STEP 1
Peel and wash the sweet potatoes. Then cut into small pieces. Then steam until cooked.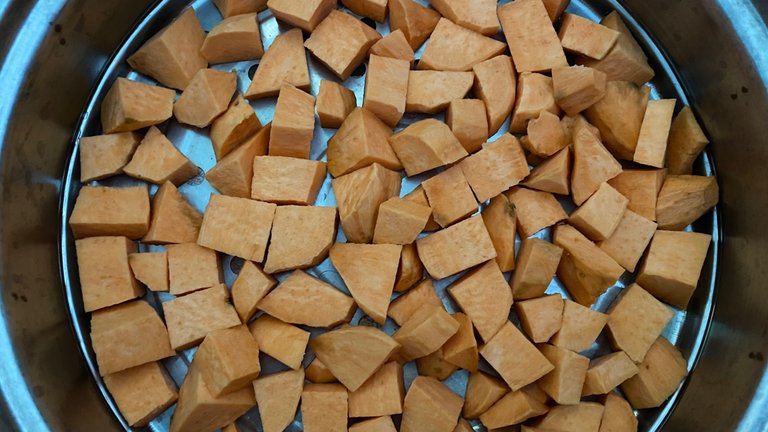 ---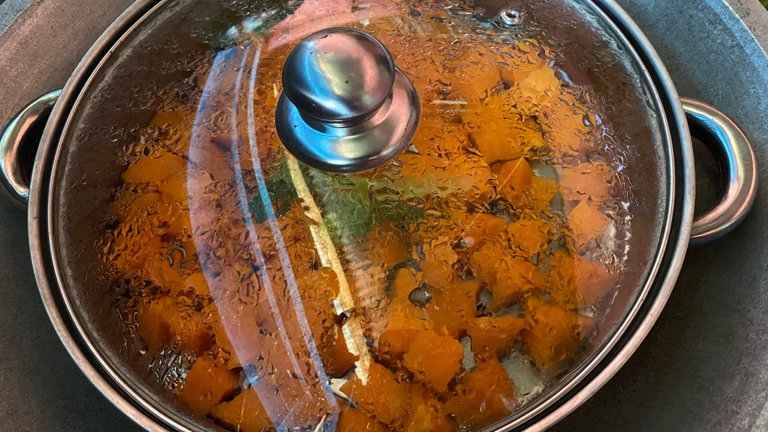 ---
---
---
STEP 2
Mash steamed sweet potatoes until soft. Then let it cool at room temperature before adding the other ingredients.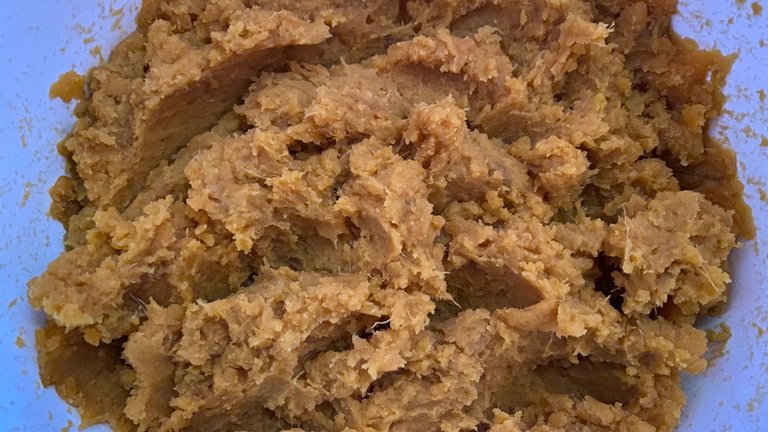 ---
---
---
STEP 3
Add the tapioca flour little by little to the mashed sweet potatoes. Don't forget to add a pinch of salt. Then knead until the dough has a good texture and is ready to be formed into balls.
---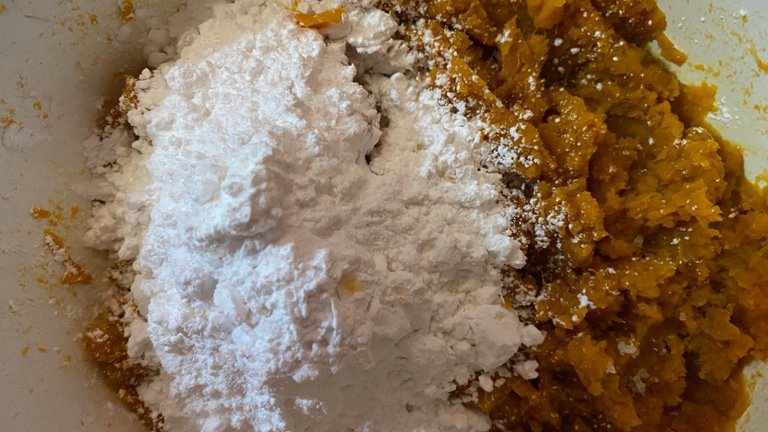 ---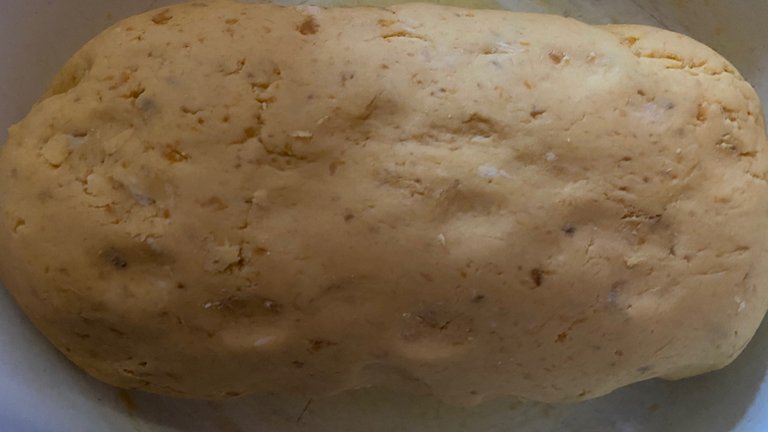 ---
---
---
STEP 4
Shape the dough into balls. Don't be too small, or too big so they can cook at the same time.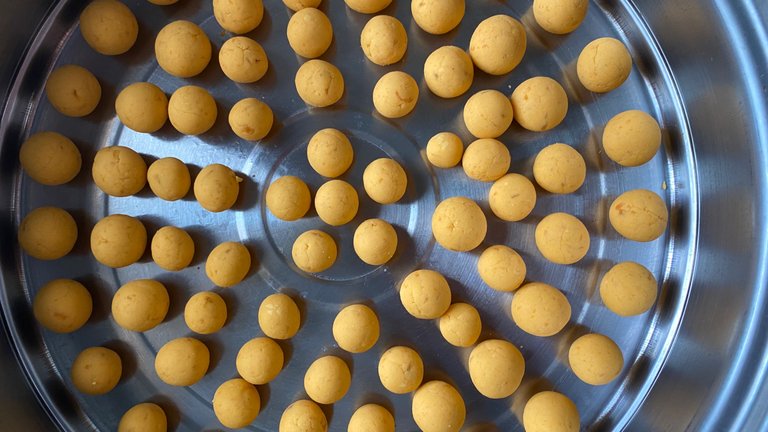 ---
---
---
STEP 5
Bring the water to a boil with vanilla or pandan leaves, then add the sweet potato balls. Cook until the balls are cooked. The characteristics of cooked balls are balls that float to the surface of the water.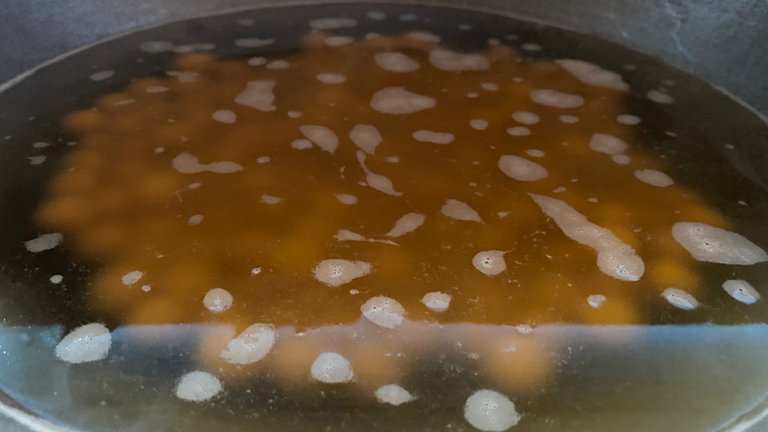 ---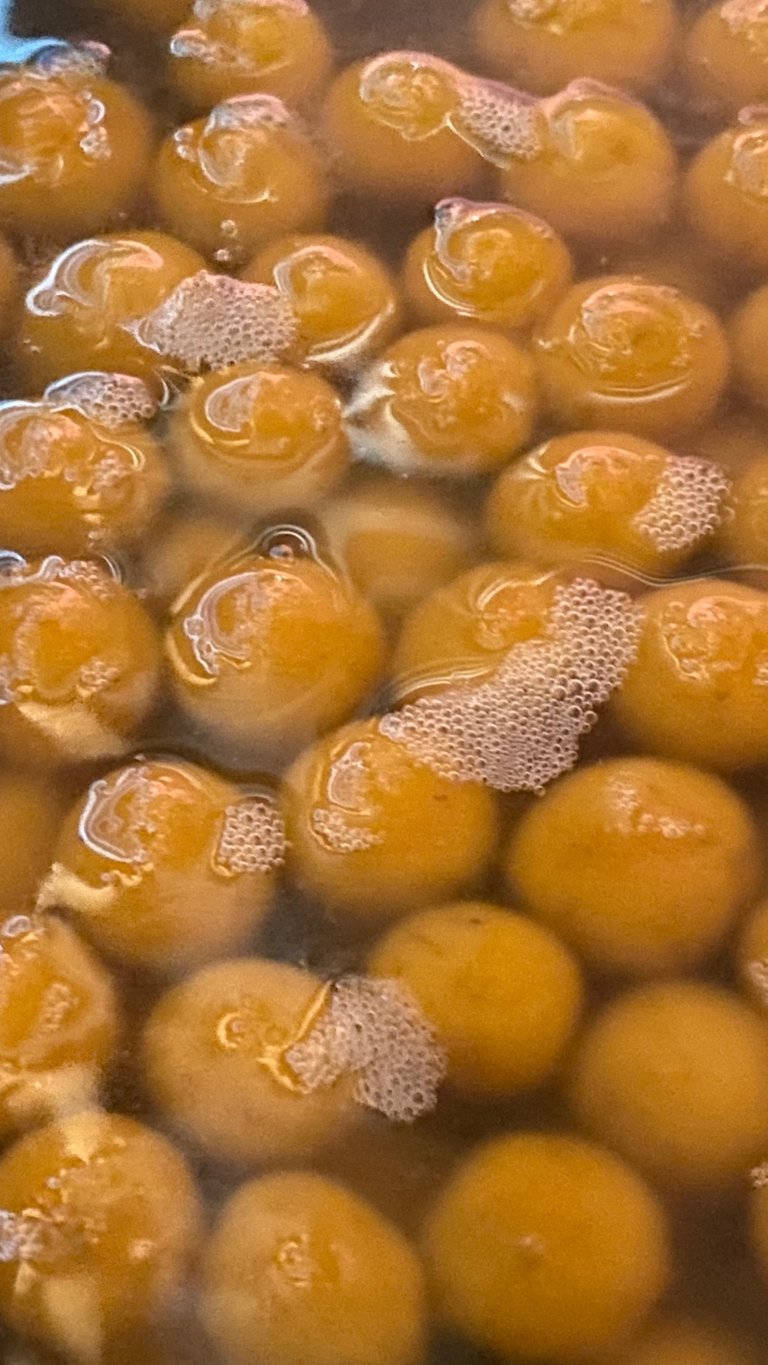 ---
---
---
STEP 6
Take and drain the sweet potato balls when they float to the surface of the water. Set aside.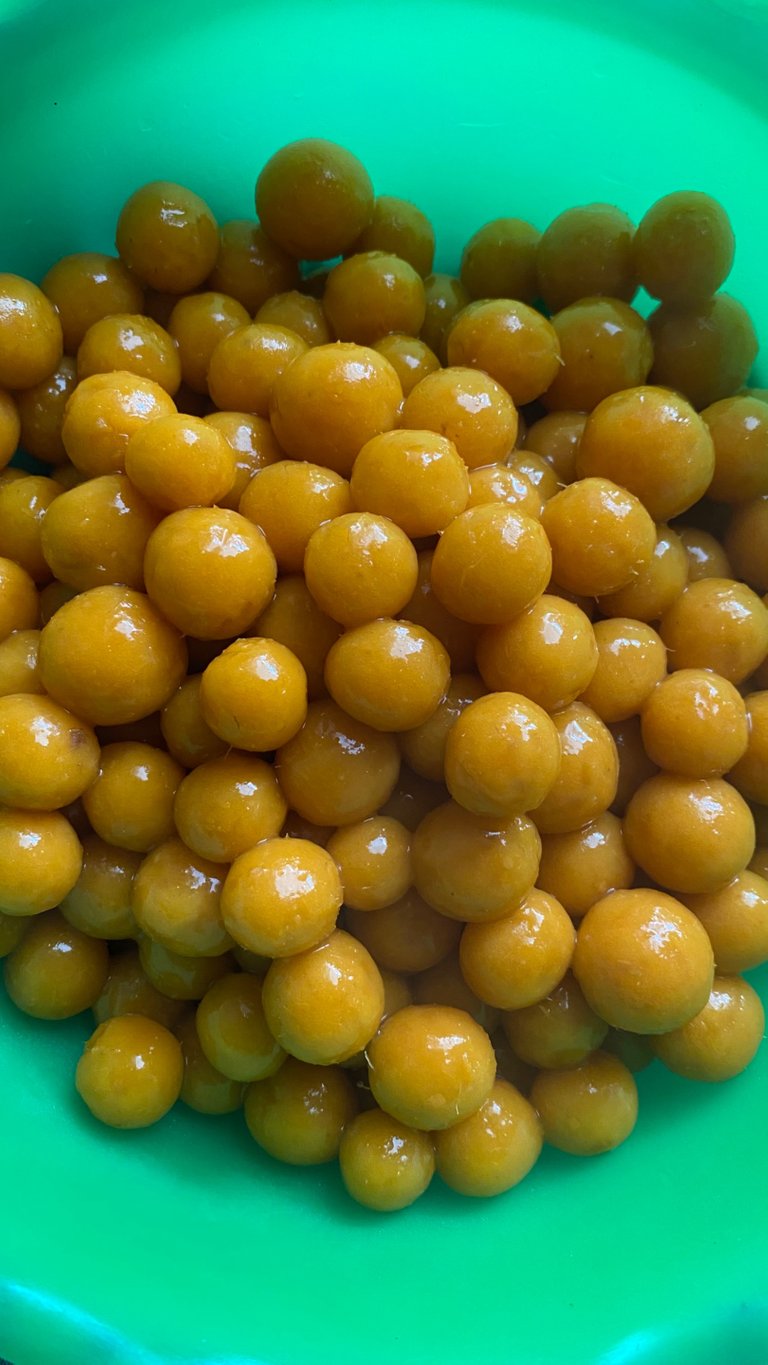 ---
---
---
STEP 7
Next step is cooking brown sugar sauce. Cook brown sugar with white sugar, water, and salt. After everything is well mixed, add all the sweet potato balls. Stir briefly, then add about 4 tablespoons of tapioca flour solution.
---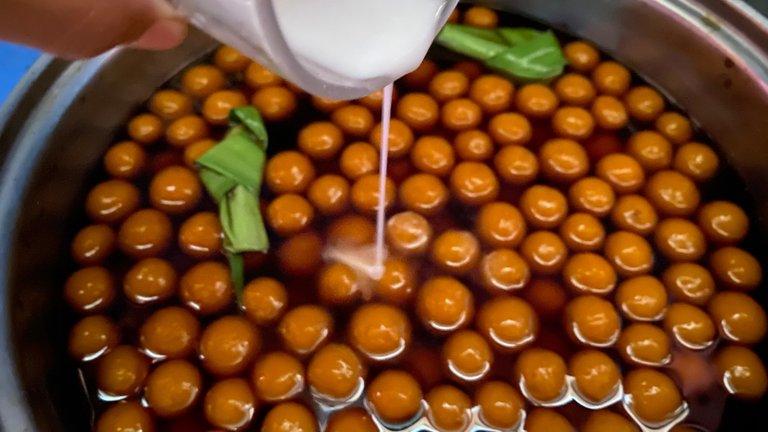 ---
---
---
STEP 8
Turn off the heat when the gravy has become thick after adding the tapioca flour solution.
---
---
---
Serve while warm. Drizzle with thick coconut milk sauce that has been boiled with salt previously. The combination of sweet and savory complements the warmth of a bowl of chewy sweet potato balls.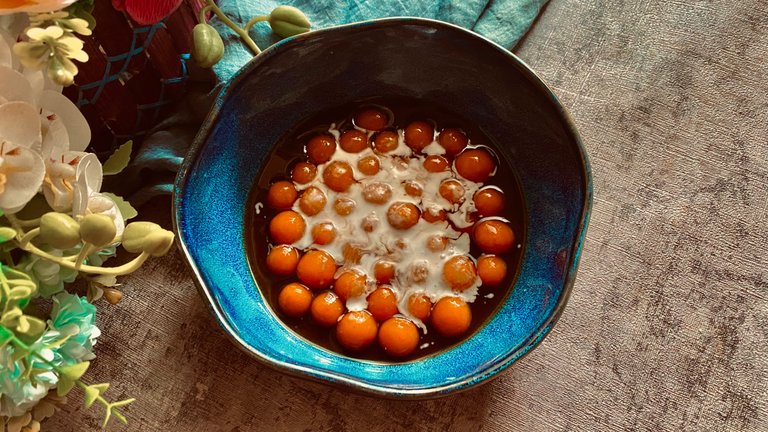 ---
---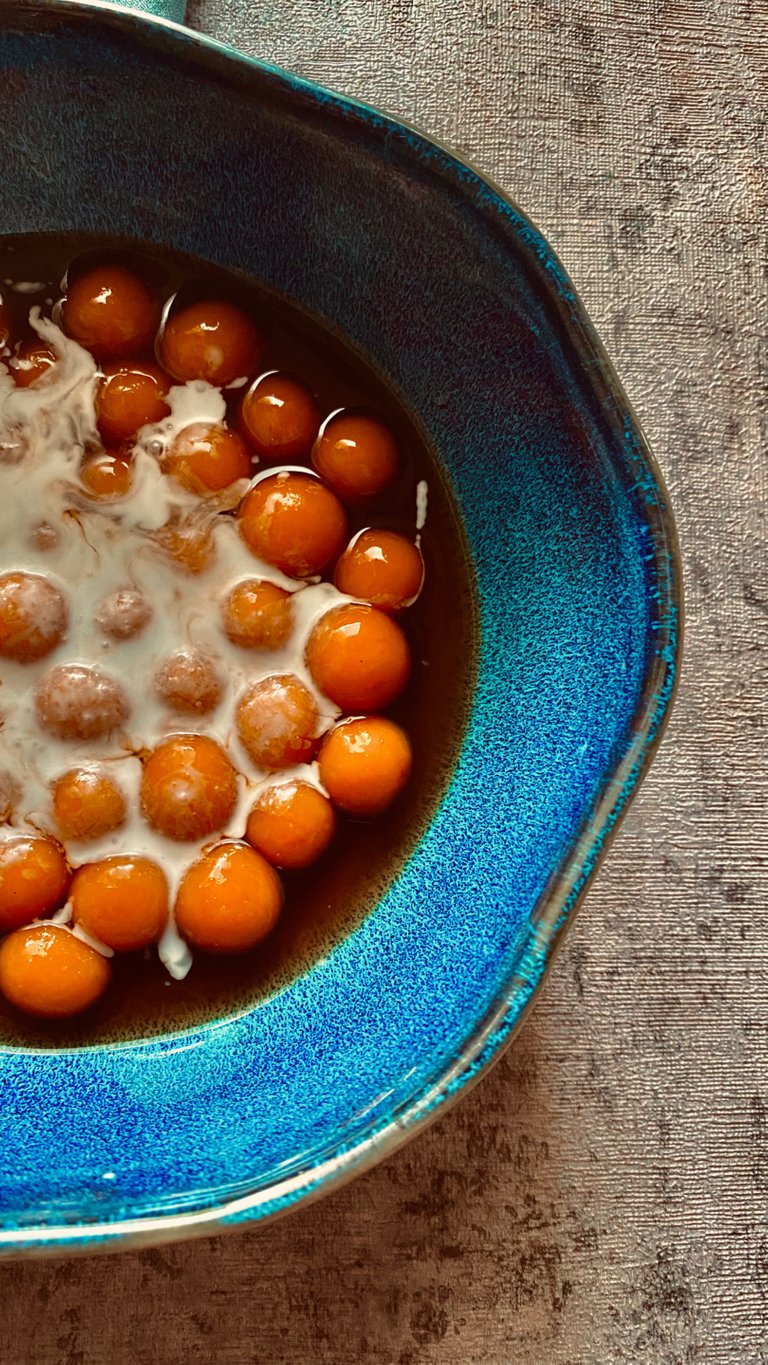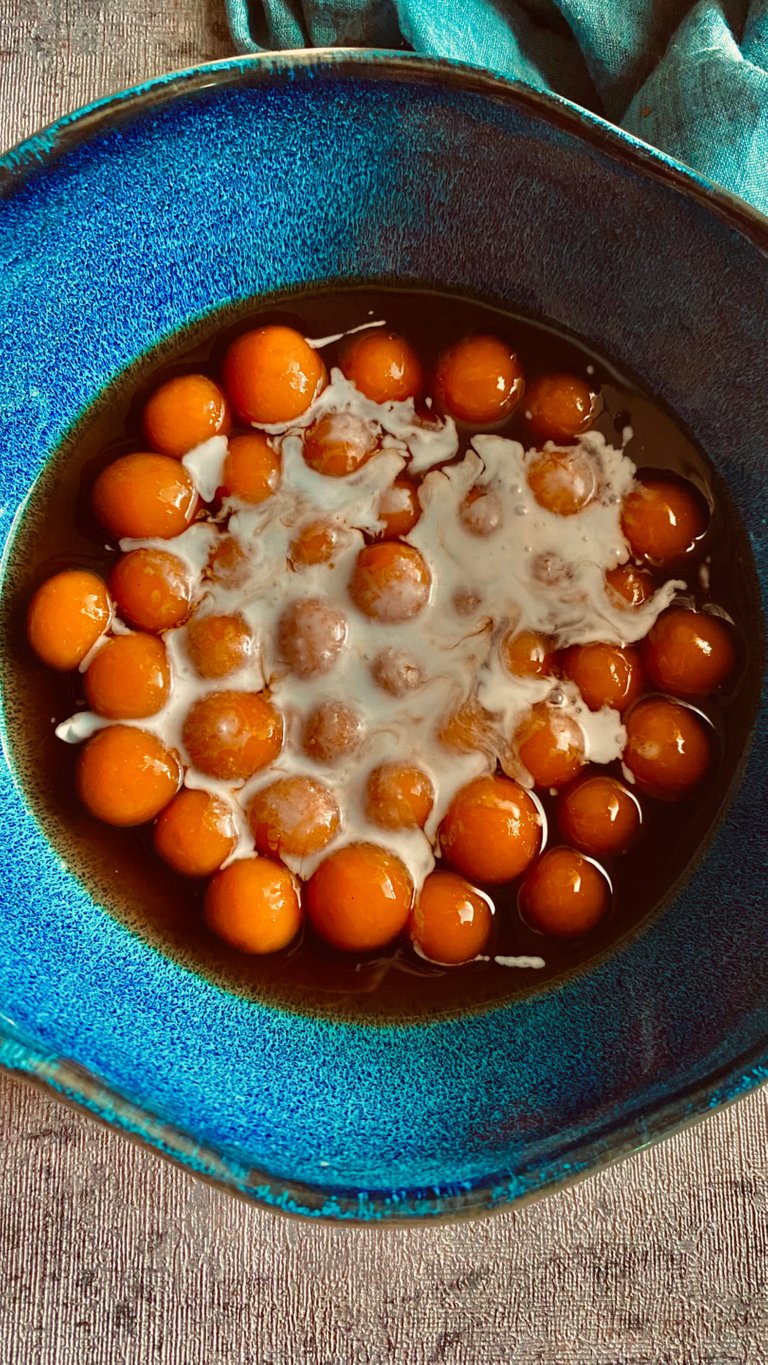 ---
I often make this sweet dish for my family. Incidentally, my partner also really likes sweet potato balls doused with brown sugar sauce. Have you ever tried making balls from tubers mixed with the tapioca flour?
---
---
---
I hope you guys get some new inspiration from my food blog this time, and until next on my food blog, HIVE LOVERS!
---
---
---
Thank you for reading my blog and reblog if you want my blog this time worthy of reading by others.
---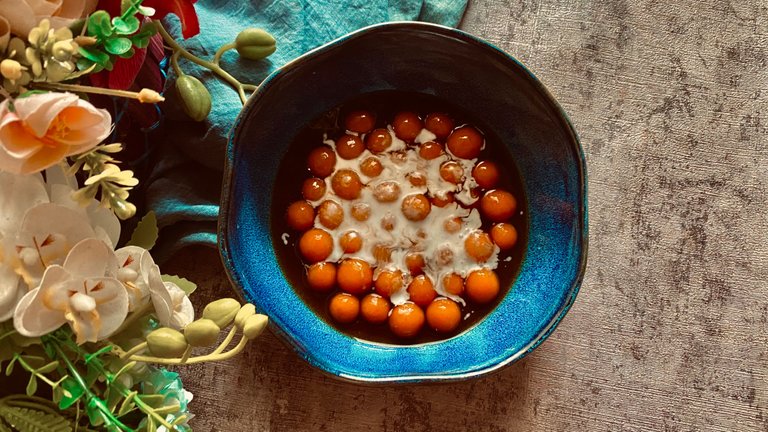 ---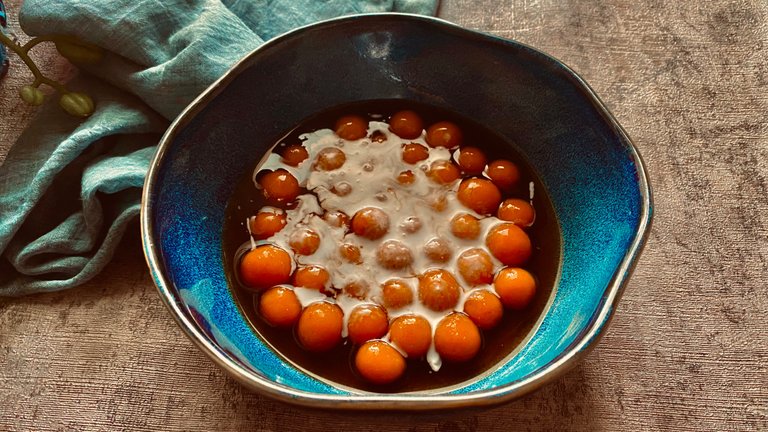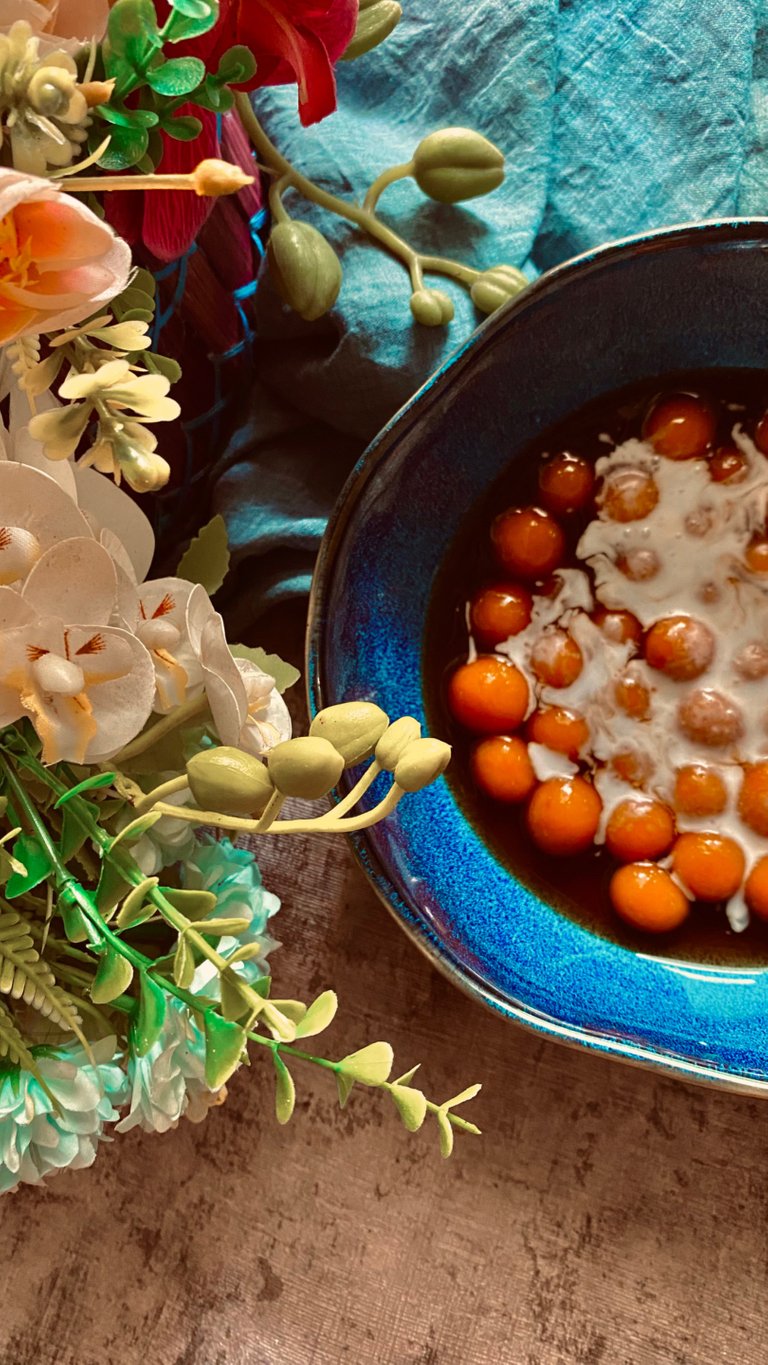 ---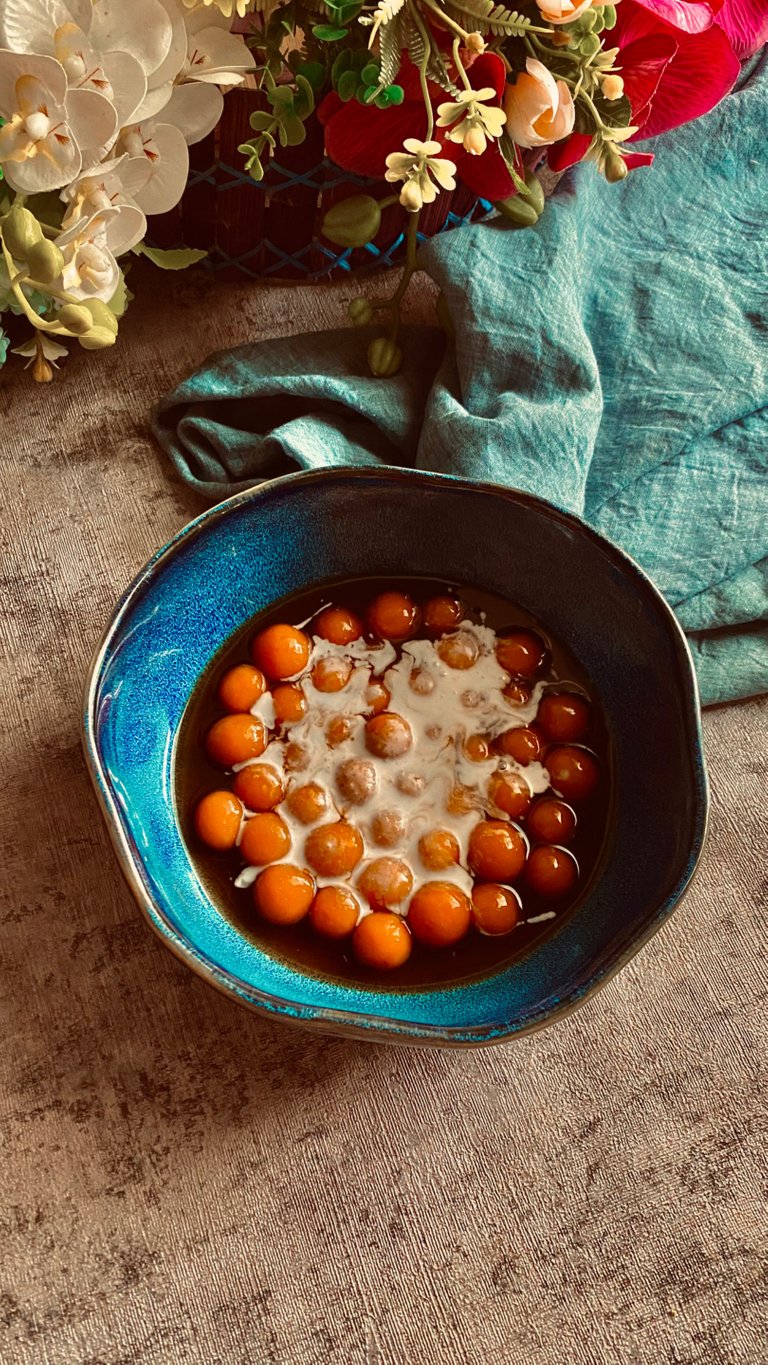 ---
---
---
---
Best Regards,
Anggrek Lestari
---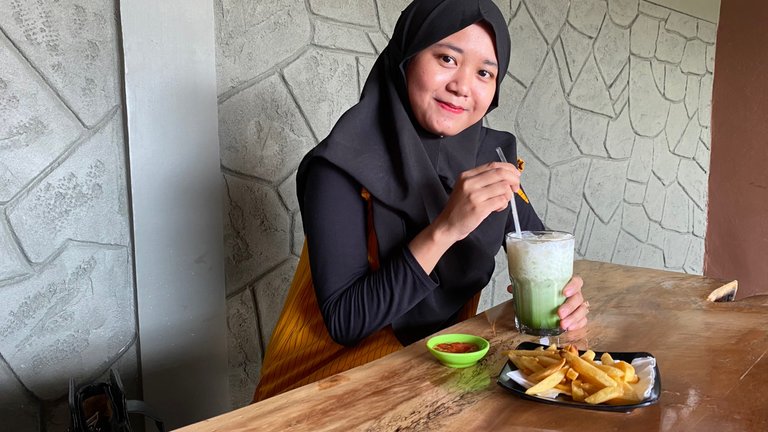 Who is Anggrek Lestari?
Anggrek Lestari is an Indonesian fiction writer who has published two major books. Now She is a full-time content creator. She has a goal to share life, poem, and food content that makes others happy and can get inspiration.
---
Contact Person: [email protected]
Discord: anggreklestari#3009
---
---
---