Easy Steamed Eggplants
---
---
Prepare your steamer. Turn out eggplant into a delicious meal.
No need for extra work. It works!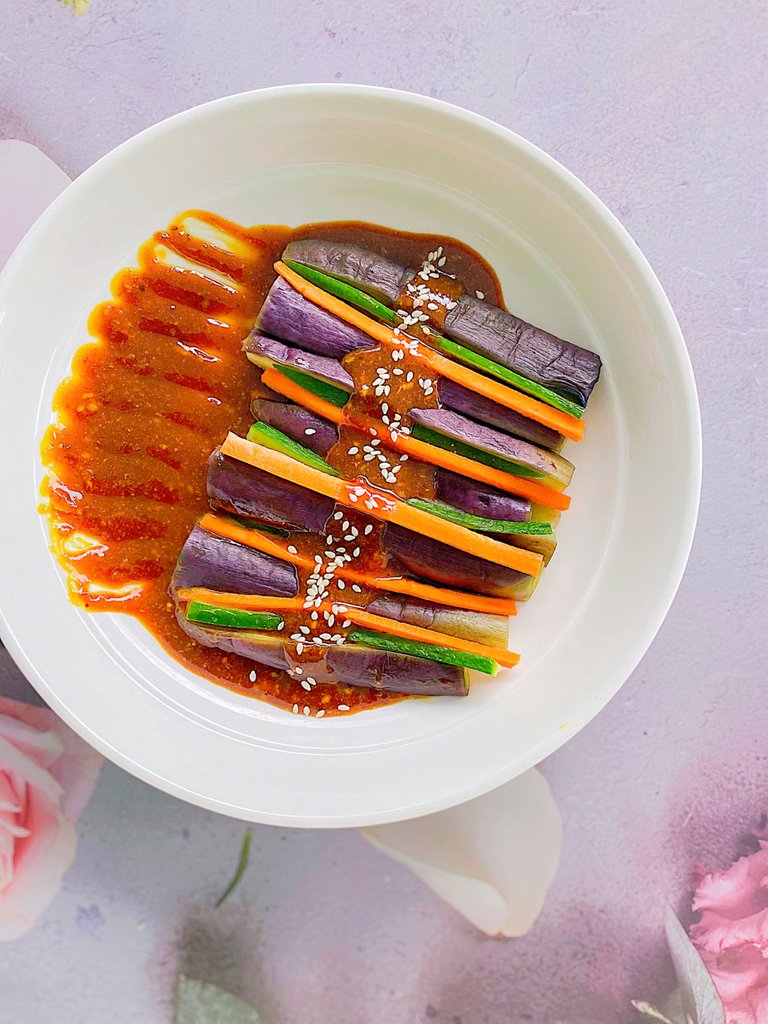 ---
---
I'm not telling you to like eggplants. No, no. I know there are a lot of people who hate eggplant, especially this purple eggplant.
The people around me also don't really like eggplants. But, my late mom and I really like eggplant. In fact, I have a special favorite recipe, fried eggplant doused with spicy seasoning.
Some people say purple eggplant has a bitter taste. So they don't want to try the purple eggplant anymore. I know about that kind of feeling. Once in the past, I cooked eggplant and it was very bitter. Then, I know what causes it.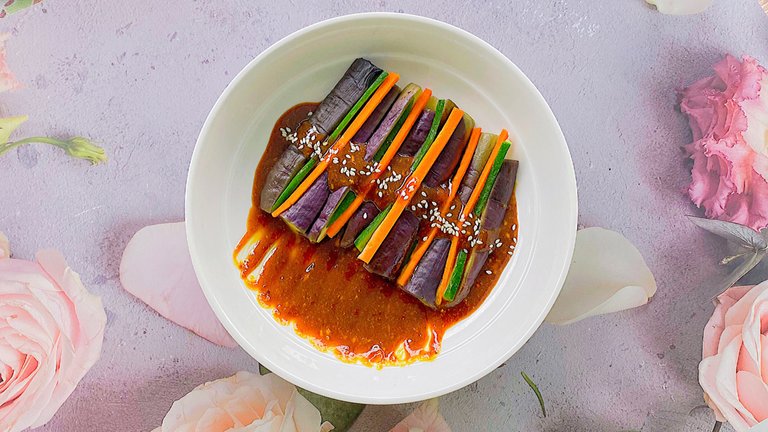 Before I share an eggplant recipe that will change your mind about eggplant later, I will share tips for choosing eggplants to avoid you getting bitter eggplants.
---
---
---
How To Get Nice Eggplant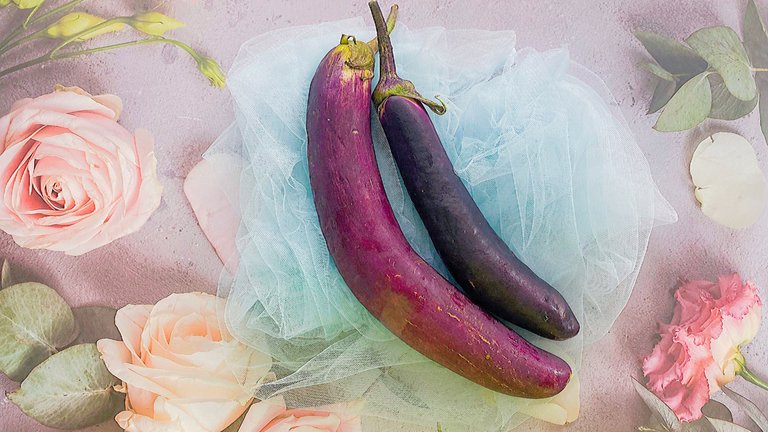 An important key to getting good eggplants to avoid bitter eggplants is to choose eggplants that are young or not too old. Choose the size of the eggplant that is medium, not large. That's because the bigger the size of the eggplant you buy means the eggplant is old and has lots of seeds in it. That's what will cause the eggplant to taste bitter later.
So, make sure you buy medium-sized eggplants and that the color of the end of the eggplant near the stem is still white. But it doesn't matter if you buy eggplants that are not too white at the ends. The most important thing is that you choose eggplants that have skin that is not wrinkled.
Also, make sure you cook the eggplants directly after you buy the eggplants. From the experience that happened in my kitchen, I got the result of cooking bitter eggplant in the past because I kept the eggplant for a few days in the refrigerator.
After knowing these tips, I'm not even afraid anymore to buy eggplant. I already know how to avoid bitter eggplants.
---
What If You're Already Getting Old Eggplants
There are times when we cannot predict circumstances. Sometimes we can just get old eggplant. When we split the eggplant, it will definitely have a lot of seeds. But, you don't have to worry. You can reduce the bitter taste of the eggplant by soaking the eggplant in salt water for at least 20 minutes.
---
---
---
Steamed Eggplant
This time I will share the steamed eggplant recipe. This recipe is very easy to make because we only need to steam the eggplant without any other spices.
Meanwhile, to make the taste richer and more maximal, sauces are added that don't need to be cooked again.
This recipe is one of my favorite recipes and also my partner's favorite recipe. Suitable to be used as an appetizer menu or a healthy snack menu if you have eaten rice but still want to eat more.
---
Everything needed
- 2 medium eggplants
- enough salt to soak the eggplants
---
Cooking Instructions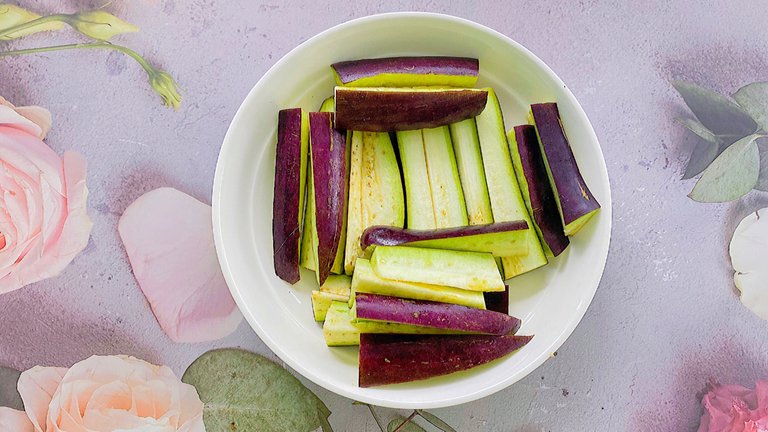 Cut the eggplant.
Cut the eggplant into sticks, without peeling the eggplant. Try as much as possible to make the cuts in the same sizes, so they cook evenly together.
---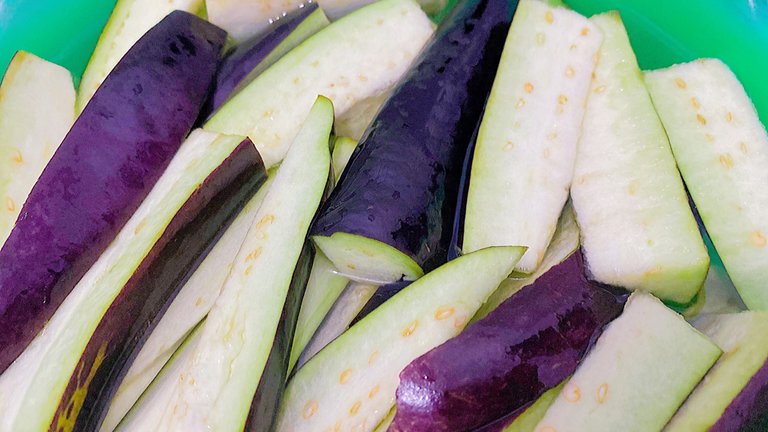 Soak the eggplant.
After cutting the eggplant into pieces, soak the eggplant pieces in water that has been given enough salt. Soak for at least 10 minutes to 20 minutes.
---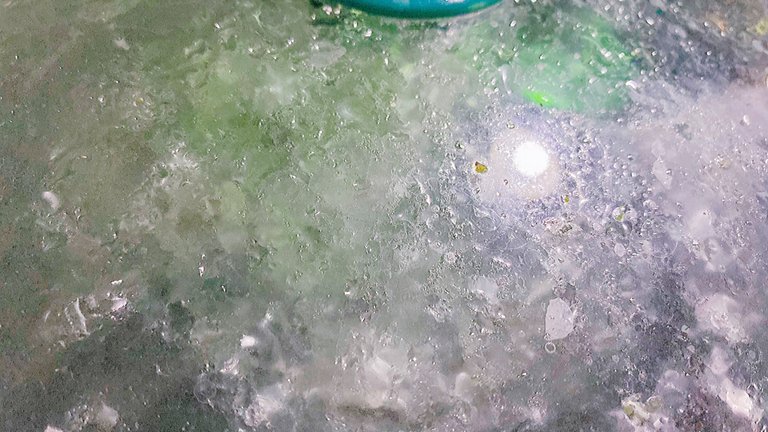 Heat the steamer.
Heat the steamer while waiting for the eggplant to soak in salt water. Here I use a type of steamer that uses the help of boiling water. However, of course, you can use other types of steamers which might be more practical than mine. Currently, many more sophisticated steamers do not need to add water to the bottom.
---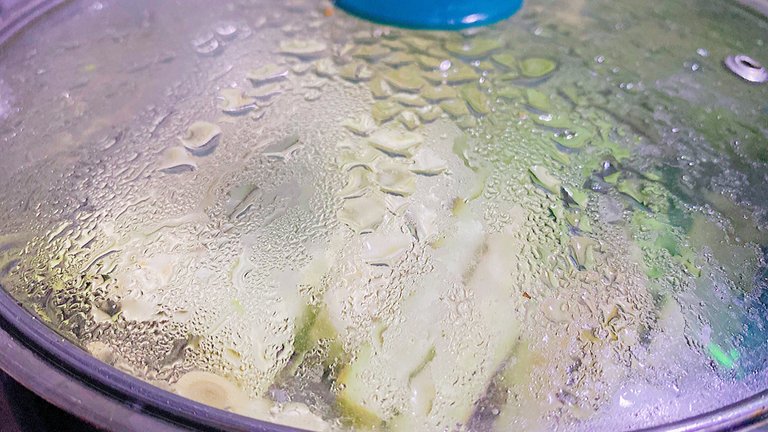 Steam eggplant.
Steam the eggplant that has been soaked before. Steam for only 5 minutes. For eggplants that look older, you can steam them for 7 minutes to 10 minutes. Make sure you put the eggplant skins under the bottom of the steamer.
---
---
---
Making Sauce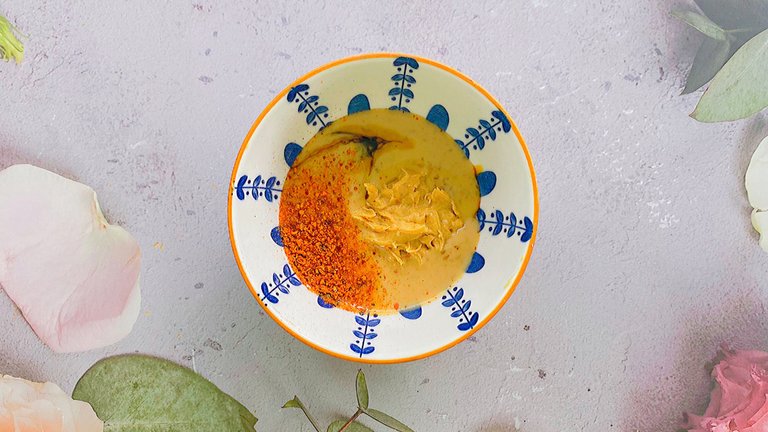 For the sauce that completes this steamed eggplant dish, we don't need to bother cooking the sauce anymore. Here we use uncooked sauce. Just need to prepare the ingredients. Then mix them together in a bowl. The sauce is ready to be poured over the previously steamed eggplant.
---
Sauce Ingredients
3 tablespoons of sesame sauce
2 tablespoons of peanut butter
1 tablespoon of sweet soy sauce
(optional) 1 tablespoon of chili powder
For the measurements of the sauce ingredients, you can adjust the measurements according to yours. Of course, it's adjusted to the portion of the sauce you use to pour over the steamed eggplant. It's just my suggestion, use more of the same amount of sesame sauce so it tastes more savory and less soy sauce so it doesn't taste weird.
---
Mix all the sauce ingredients evenly, then the sauce is ready to be served.
---
Serving Steamed Eggplant With Sauce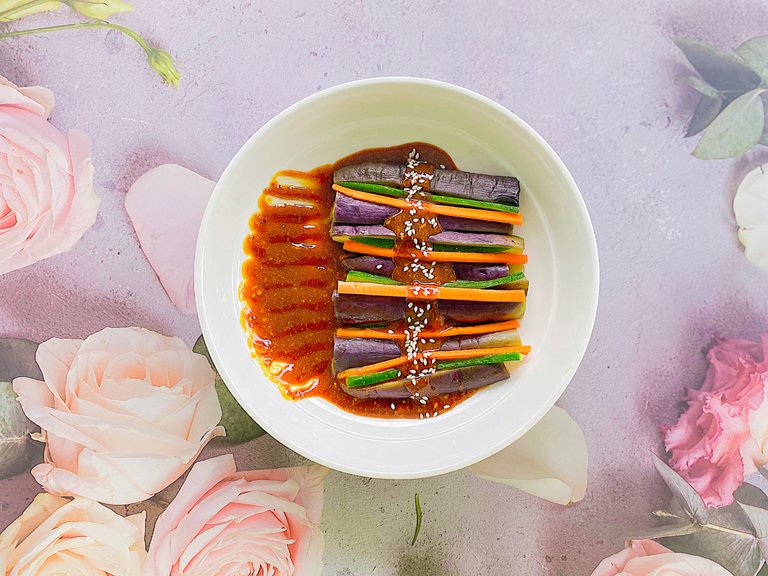 Make sure you have prepared the sauce before the eggplants are finished steaming. This is to ensure that we will serve the steamed eggplants while they are warm. If the steamed eggplant has cooled down, it will have an unpleasant taste. So, here I recommend you to enjoy a dish of steamed eggplant in warm conditions.
---
For the presentation here, I use other complementary ingredients such as pickled carrots and pickled cucumbers. You can skip this pickle if you don't want to use it because it doesn't change the taste at all. Here I use this pickle because I like it. Also, it gives the color of the whole dish a more beautiful appearance.
---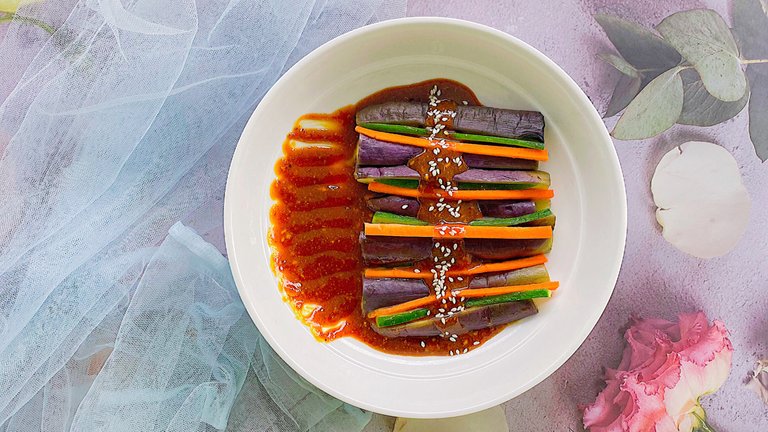 As a final touch, I sprinkle the steamed eggplant with sesame seeds. Well, I and my partner really like the taste. The combination of sweet, savory, and of course spicy because I added a lot of chili powder in the sauce.
By the way, you can also skip soy sauce if you don't like soy sauce ingredients. It doesn't matter at all because sesame sauce will give it a great taste even if you don't use soy sauce.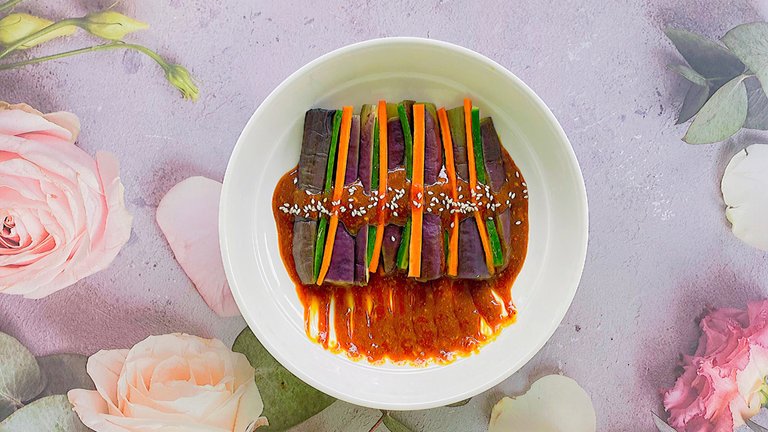 So, what do you think about this steamed eggplant dish this time? In my opinion, this steamed eggplant is perfect for you to enjoy as an appetizer. However, make sure the eggplant you have or buy from the market is good eggplant. Good luck.
---
Thank you for reading my blog and reblog if you want my blog this time worthy of reading by others.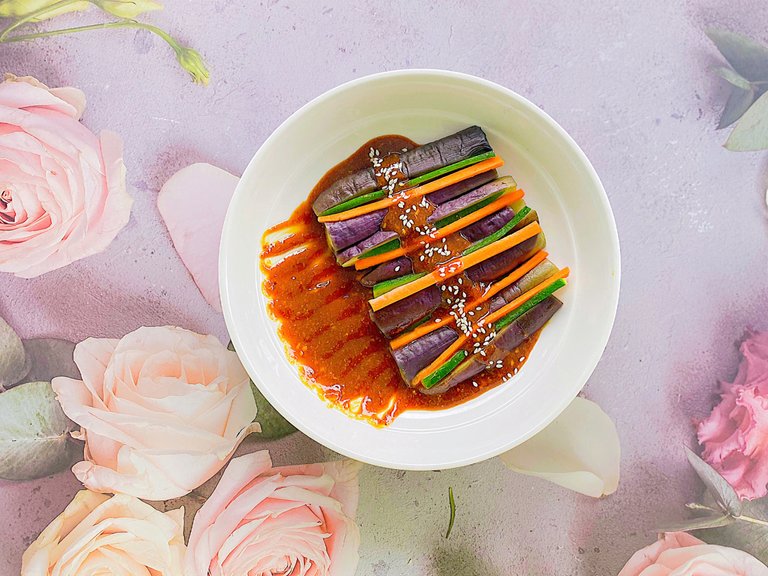 ---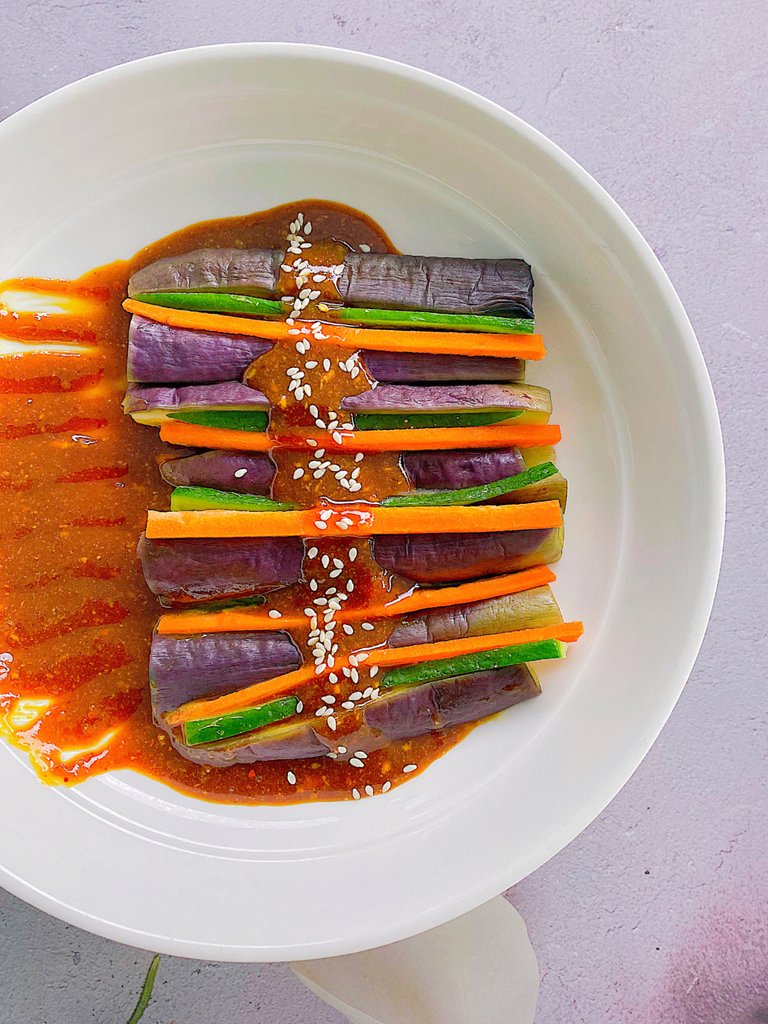 ---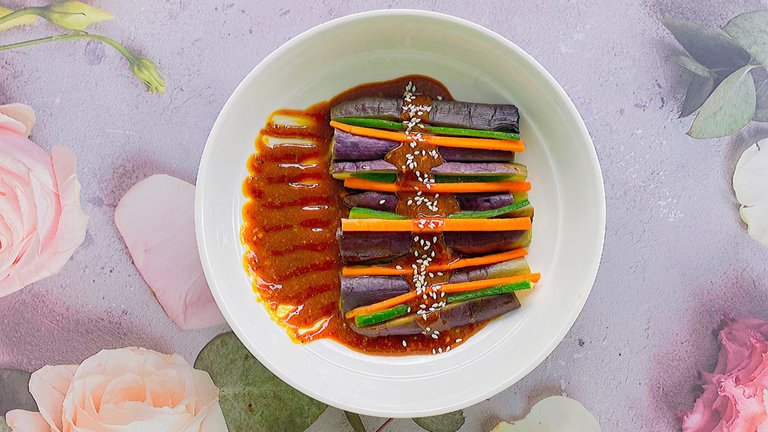 ---
---
---
Best Regards,
Anggrek Lestari
---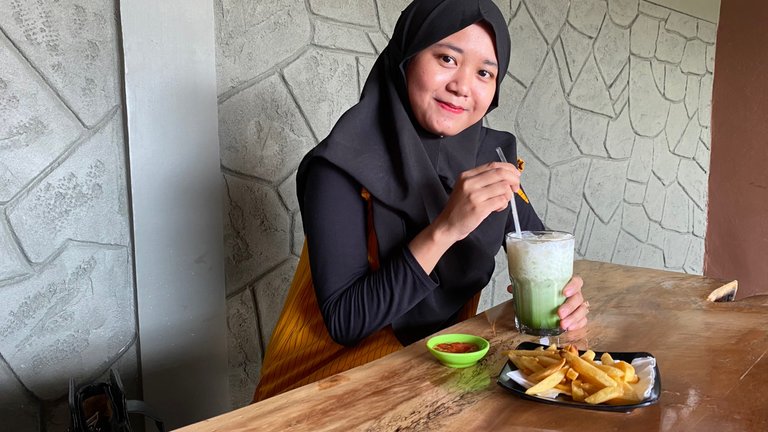 Who is Anggrek Lestari?
Anggrek Lestari is an Indonesian fiction writer who has published two major books. Now She is a full-time content creator. She has a goal to share life, poem, and food content that makes others happy and can get inspiration.
---
Contact Person: [email protected]
Discord: anggreklestari#3009
---
---
---