Grilled Tempeh With Green Beans And Boiled Sweet Potato
Days feel hard without something we like. And for me, I like crunchy vegetables which make me cheerful.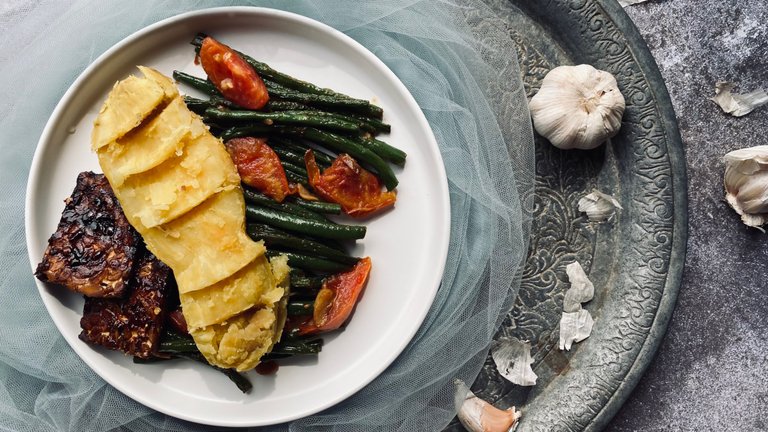 ---
Taking a mindful breath, I finished my meditation at the end of the morning. It was a bright day and the sun looked quite high.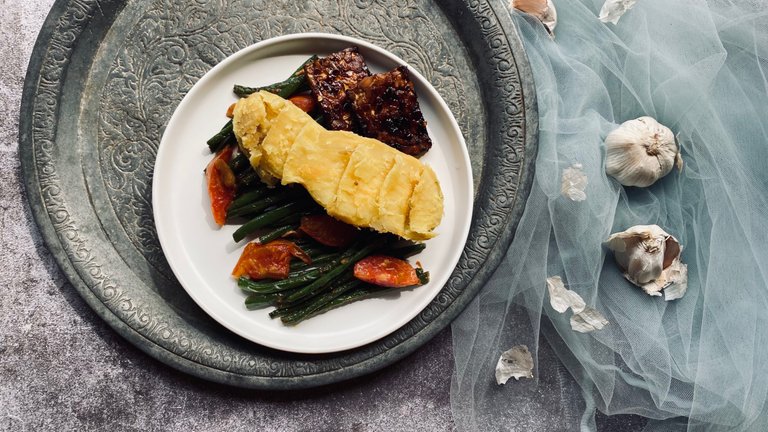 I checked the vegetable supply after this morning I only made vegetable sandwiches. I breathed a sigh of relief, there were still enough vegetables to combine.
I think I will feel uninspired if the supply of vegetables runs out. So, vegetables have a huge impact on making my day.
---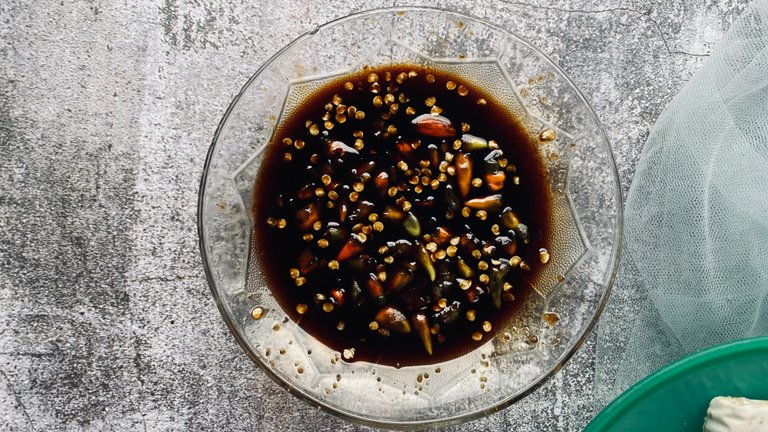 Spicy sweet sauce
Besides, that day I still had a supply of spicy sweet sauce. I also had the idea to combine spicy sweet sauce with tempeh. I know in many places it is difficult to find Tempeh. So, you can replace it with another protein, such as tofu or more.
---
---
---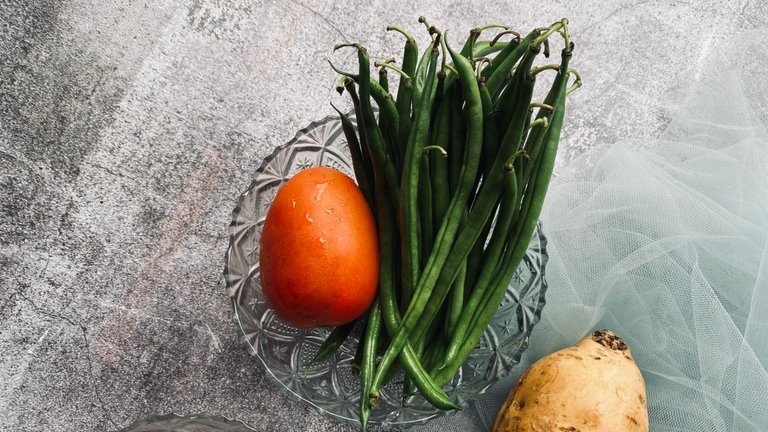 That day, I also had baby green beans. My husband always chooses baby green beans to buy when we go to the market. My husband said that baby green beans are crunchier compared to larger green beans in general. So, baby green beans are a must on our list of daily food sources.
To increase the flavor of the baby green beans, I added a tomato to complement the stir-fried baby green beans.
---
---
---
I set aside those ingredients, then that day I finished washing my clothes first. Only then will I cook for lunch. A fun fact, when washing, I will also get good inspiration about what combinations I will make to cook the ingredients that I have prepared beforehand.
---
---
---
Meanwhile, to fill my energy, I will use a big sweet potato. That could be enough for my husband and I's lunch menu.
Usually, I will make roasted sweet potatoes using an oven or an air-fryer. But for that day, I stayed at my mother-in-law's house which didn't have an oven or an air-fryer. So, I'm just going to boil the sweet potato.
Well, you can replace a sweet potato with potatoes if you are used to eating potatoes for your carbo intake.
---
---
---
Lunch Menu Ingredients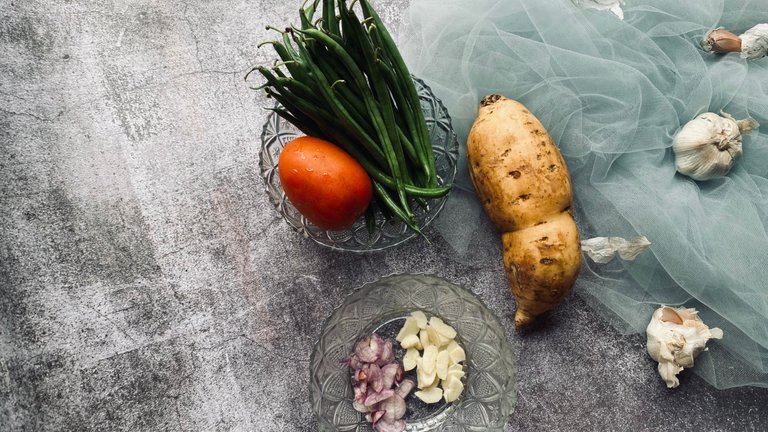 a handful of baby green beans
a tomato
1 clove of garlic, sliced.
3 small cloves of red onion, sliced.
1/2 teaspoon of salt
a sweet potato
1 pack of Tempeh or about 100-150 grams
---
---
---
Cooking Process
CLEAN A SWEET POTATO
Before Cleaning
After Cleaning
---
I'll boil a sweet potato with the skin on. So, I just cleaned a sweet potato by using a fruit scrubber to remove dirt from the surface of the sweet potato.
The outer surface of the sweet potato skin will look thinner and cleaner after brushing and washing it thoroughly.
---
---
---
BOIL A SWEET POTATO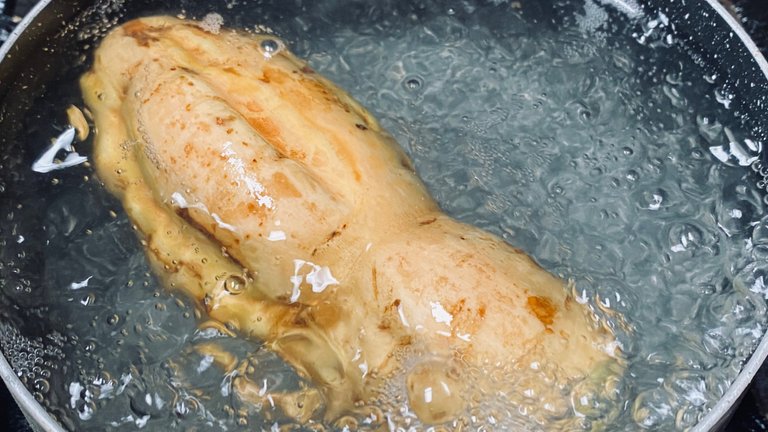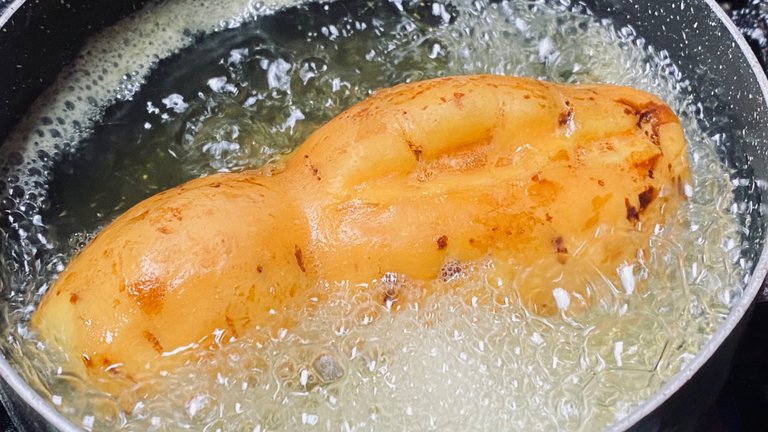 ---
Boil the water first. Only then add a sweet potato with a pinch of salt. Then, boil the sweet potatoes until tender. Prick with a fork to make sure the sweet potatoes are cooked to the texture you want.
---
---
---
STIR-FRY GARLIC AND RED ONION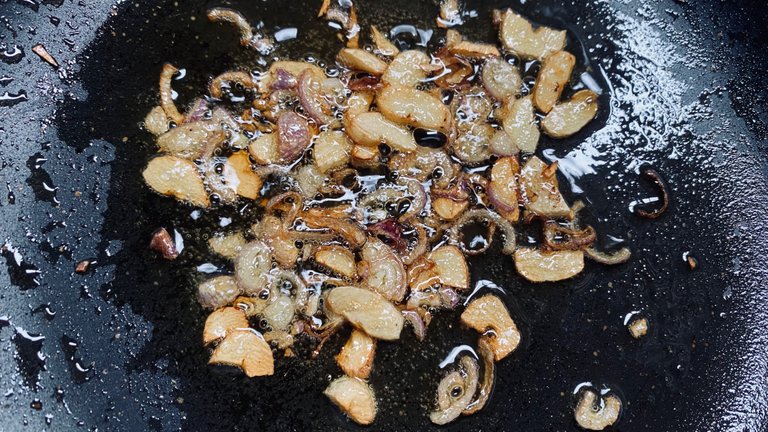 Heat a little cooking oil. Then, add slices of garlic and red onion. Stir-fry them until they smell delicious.
---
---
---
STIR-FRY BABY GREEN BEANS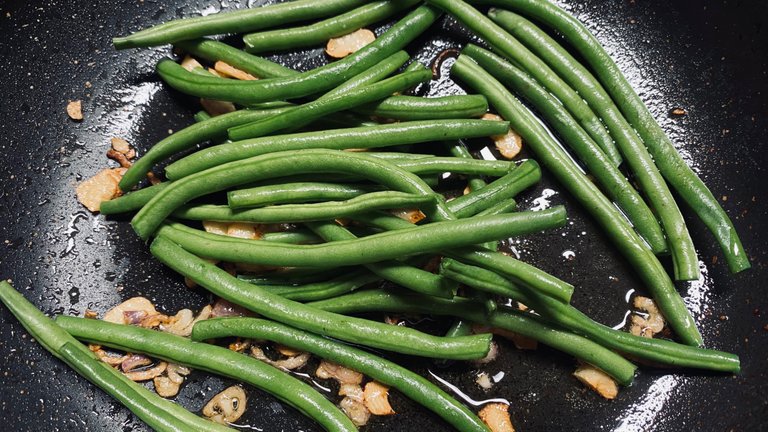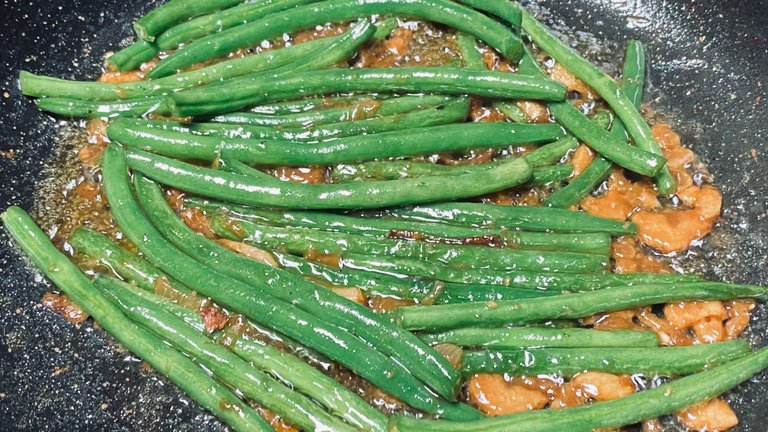 ---
Add baby green beans that have been removed from the right and left edges. Keep stirring them. Sprinkle them with a little water if they look like they are going to burn.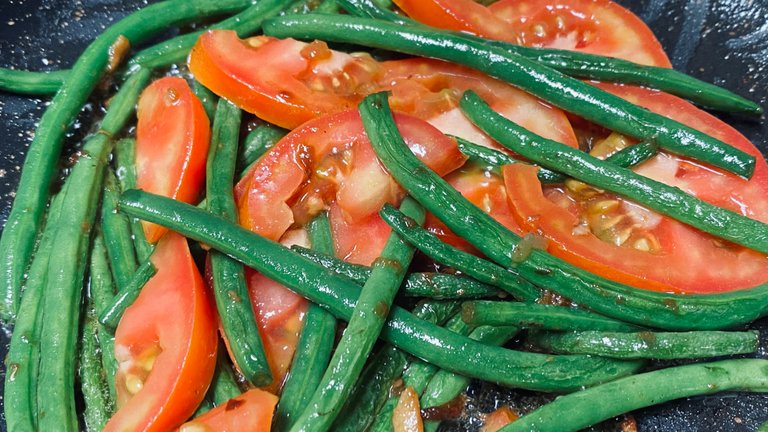 When it is cooked, add the tomato pieces and salt. Correct the taste before lifting.
---
---
---
Grill Tempeh
Prepare soy sauce. Add chili if you want something hot for your body on a cold day.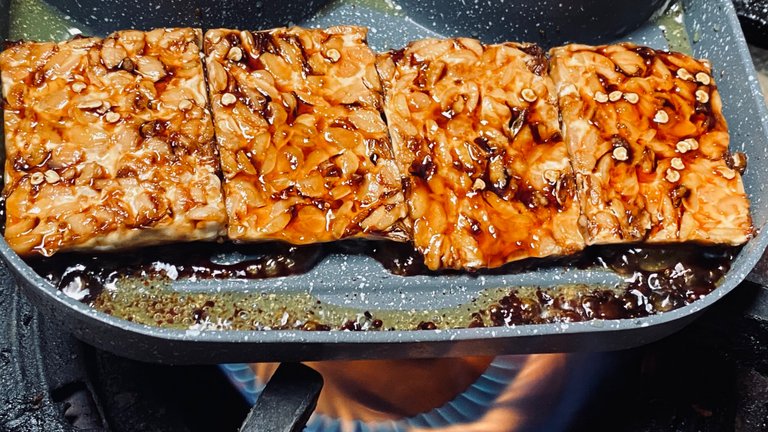 Brush the Tempeh pieces with the sauce, then grill them on both sides.
---
---
---
Serving Time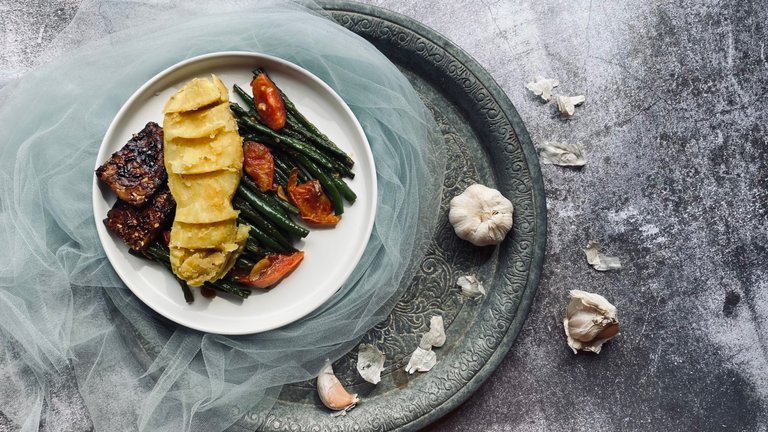 Serve them together. I split a boiled sweet potato first. Then, I made a wave texture on the surface of the sweet potato which I had split into two parts. I used a spoon to create the waves.
Then, I put a boiled sweet potato on top of the stir-fried baby green beans. Don't forget to add grilled tempeh to the serving plate.
---
---
---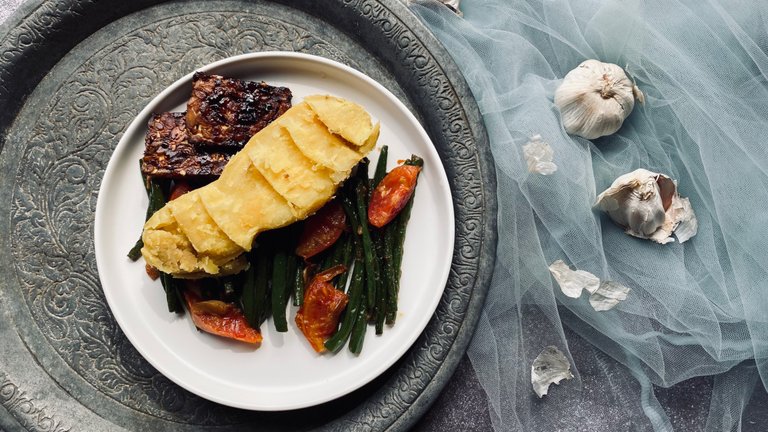 I liked the lunch combination that day. Grilled Tempeh was a highlight of the lunch menu that time. Also, baby green beans are something fun with a crunchy texture when bitten.
❤️❤️❤️ See you, Veggie Lovers!
---
---
---
Thank you for reading my blog and reblog if you want my blog this time worthy of reading by others.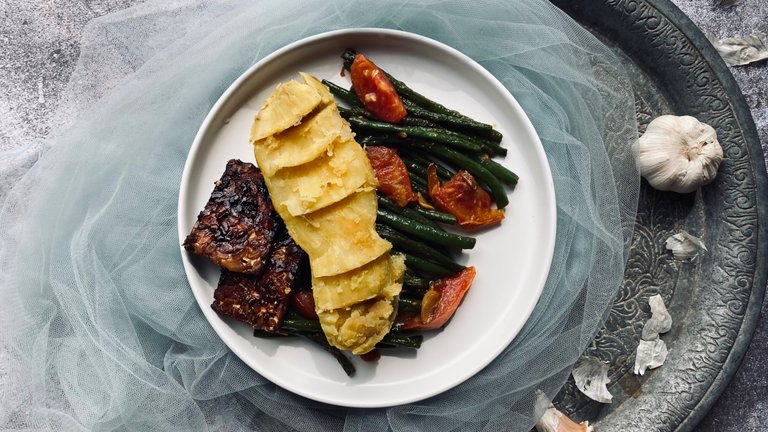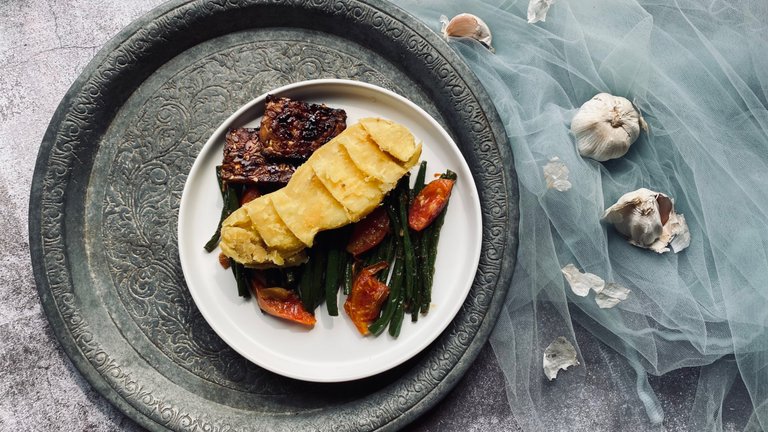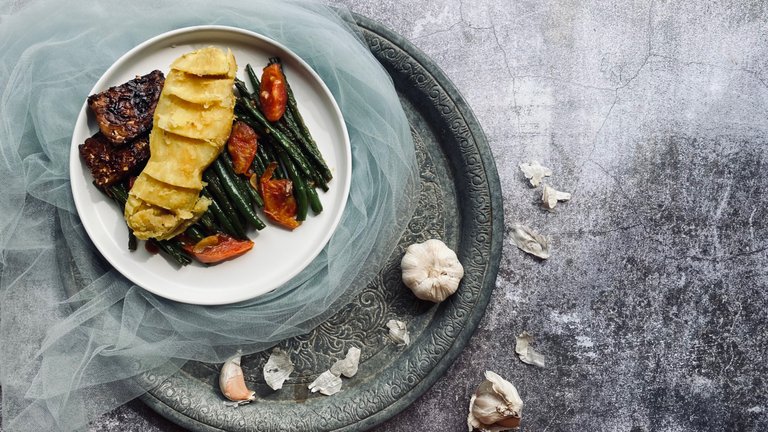 ---
---
---
Best Regards,
Anggrek Lestari
---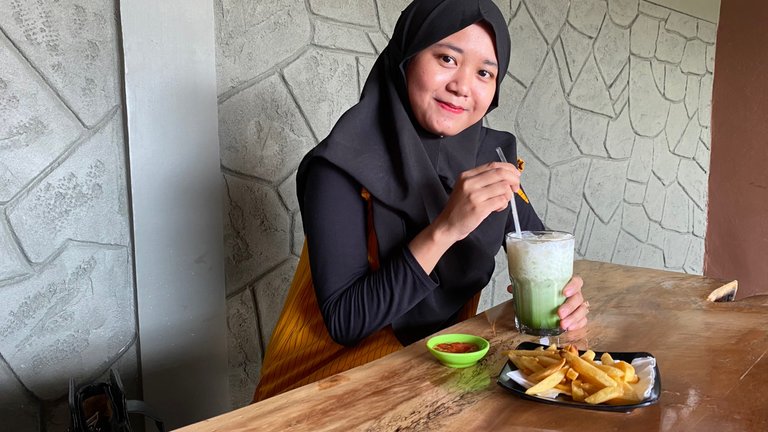 Who is Anggrek Lestari?
Anggrek Lestari is an Indonesian fiction writer who has published two major books. Now She is a full-time content creator. She has a goal to share life, poem, and food content that makes others happy and can get inspiration.
---
Contact Person: [email protected]
Discord: anggreklestari#3009
---
---
---