[Healthy Bento] Yellow Vibes Meals From Corn, Orange, And More
---
---
Create your own character color.
But don't forget about your health.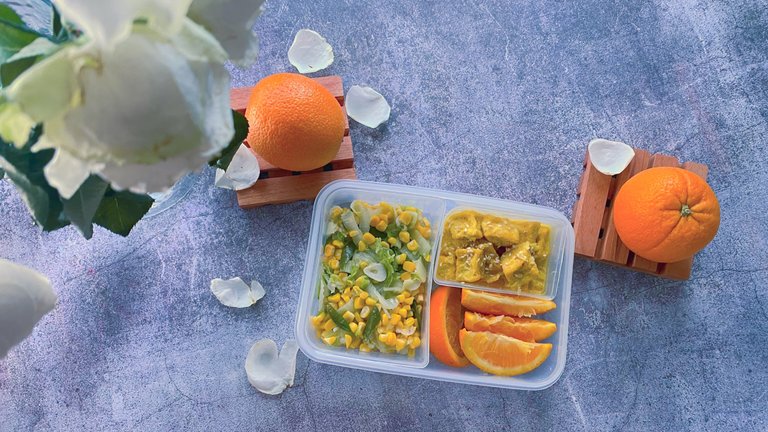 ---
---
Since I was little, there has always been a saying that "health is expensive" that I always hear. The more I grew up, the more I realized about the meaning of this proverb. Maintaining our health comes from diet, which is a source of energy for our body.
But there is a funny fact about it. Healthy foods are often inexpensive, it's just that the delicious taste is reduced if we are used to eating delicious foods full of flour, oil, and sugar. It is precisely from this unpleasant taste that we need a strong determination to resist our appetite so that we are not tempted by delicious food but become a source of disease for the body.
Maybe when the body is still young, the habit of consuming unhealthy food has not felt the effect. But when he got older, the disease began to arrive because of the accumulation of unhealthy habits that had been carried out since he was young. So, we must try to change our unhealthy food consumption habits, to become healthier, even though it is very hard.
---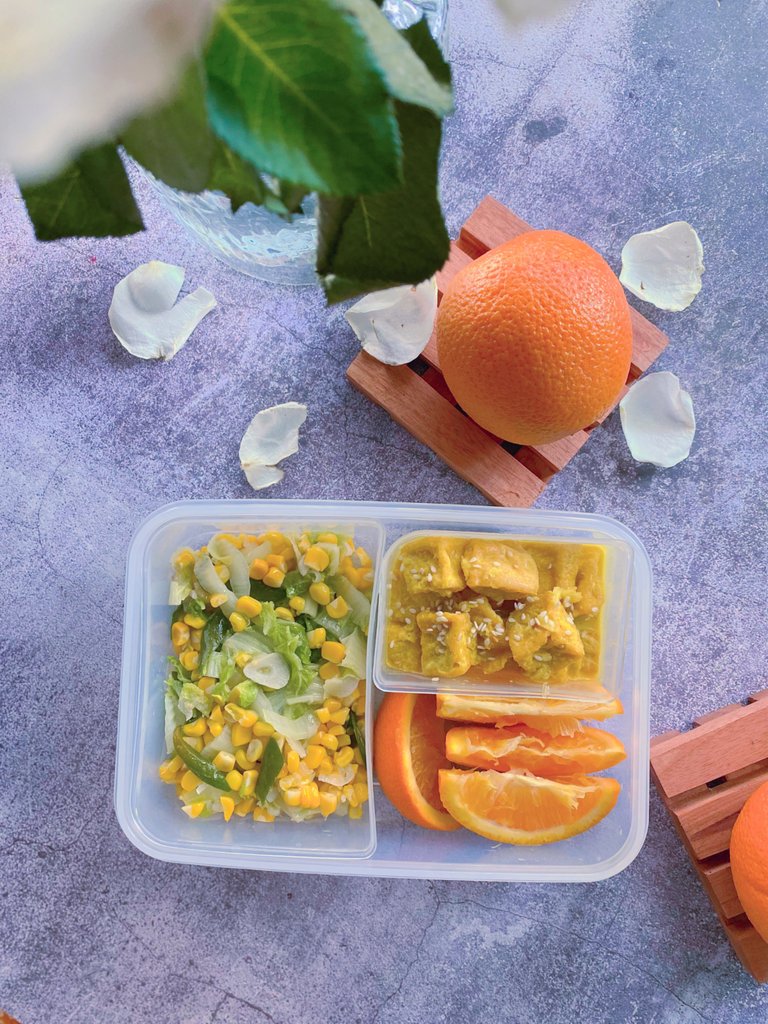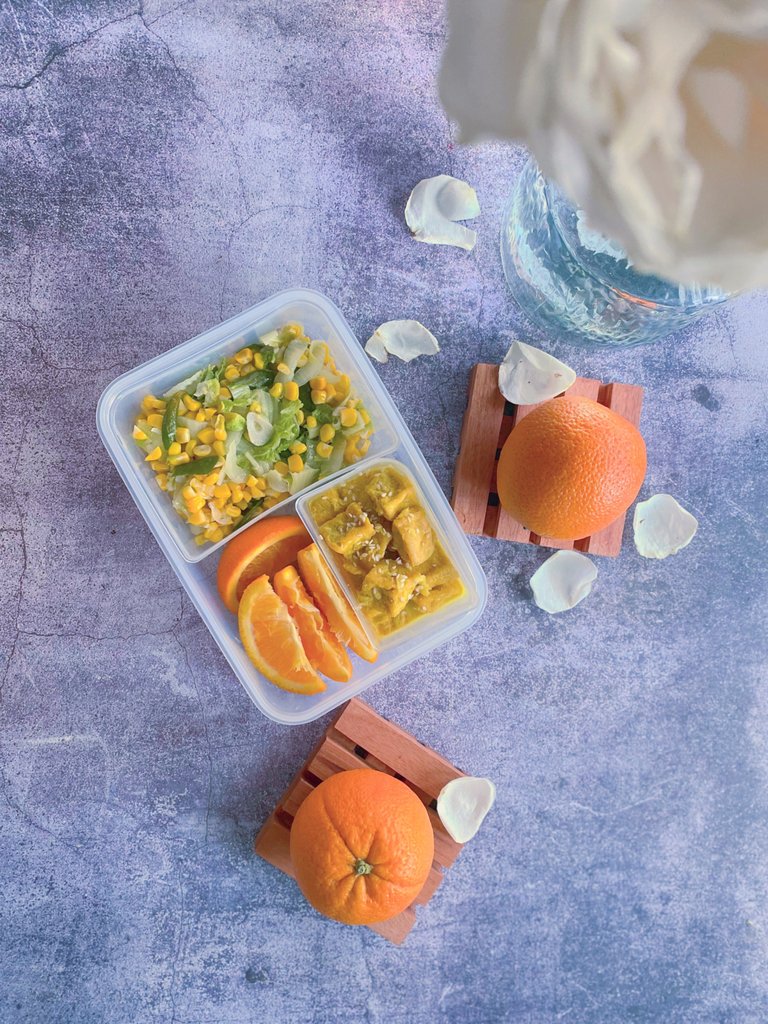 ---
Eating bad food for the sake of health. It is a difficult thing and it becomes a costly thing for life itself. But once you get used to it, you will find a better version of delicious food (of course with healthier food). So all of that is about changing habits, about changing zones.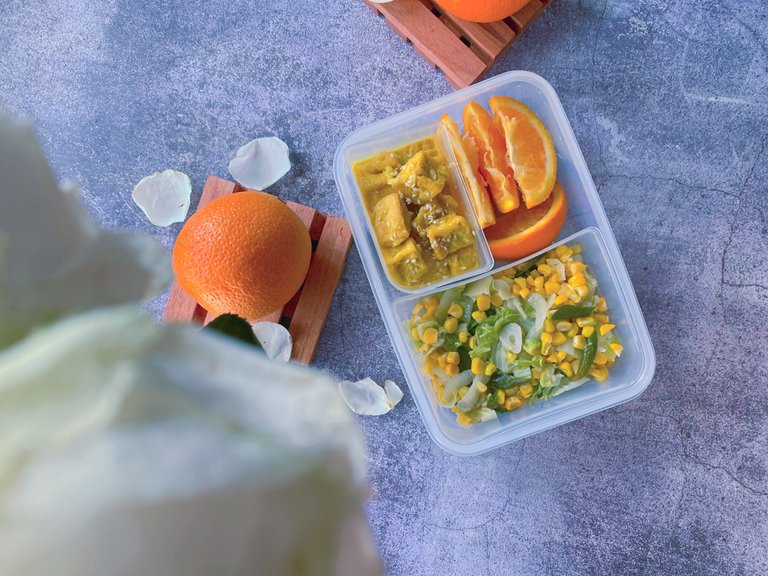 In [Healthy Bento] recipe this time I'm trying to create vibes to raise a good mood with bright colors. The use of bright colors is usually also successful in increasing children's interest and appetite. I chose yellow this time as the basic theme in my bento box today series.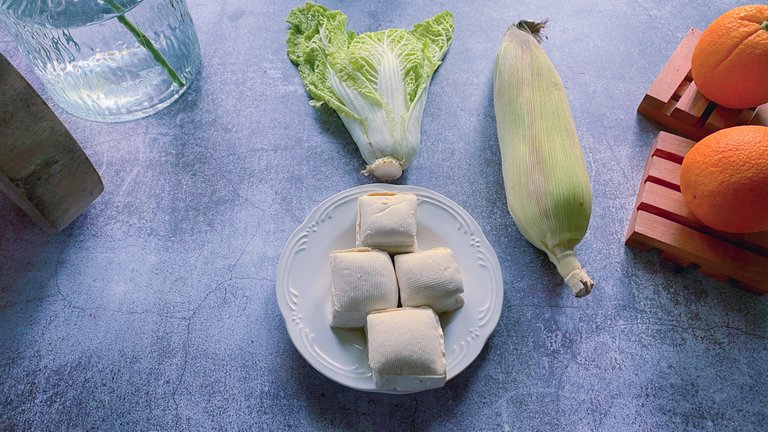 ---
---
---
Yellow Meals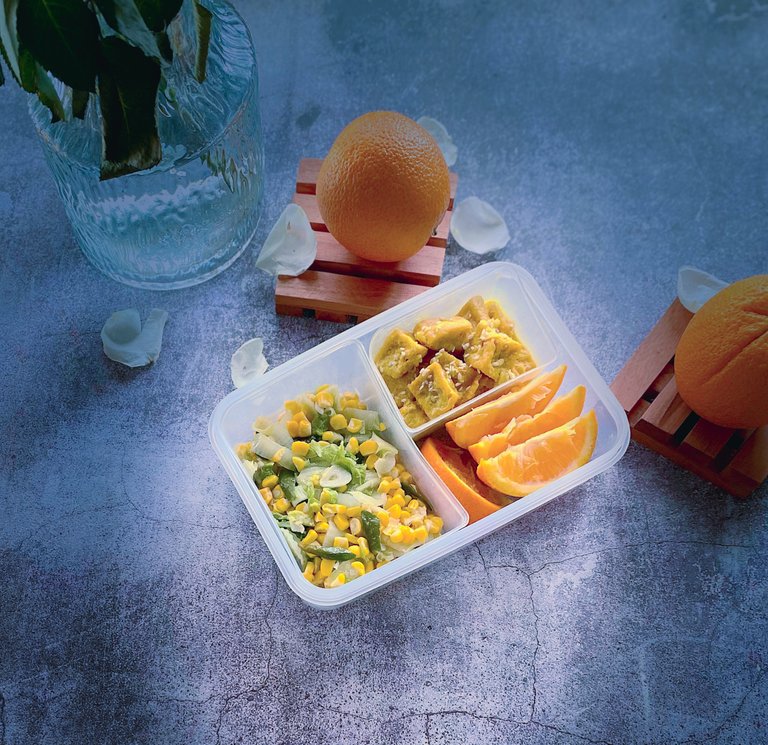 Yellow is known as cheerfulness. Warm and passionate like the sunshine that brings hope and gives warmth, as well as life. I want meals for lunch this time to bring that joy. Also, increase energy after resting work.
I brought this bento box for my husband's lunch. So I hope he will come back excited after eating those bento meals. With simple ingredients but nutritious, we can easily and quickly prepare this healthy bento box.
---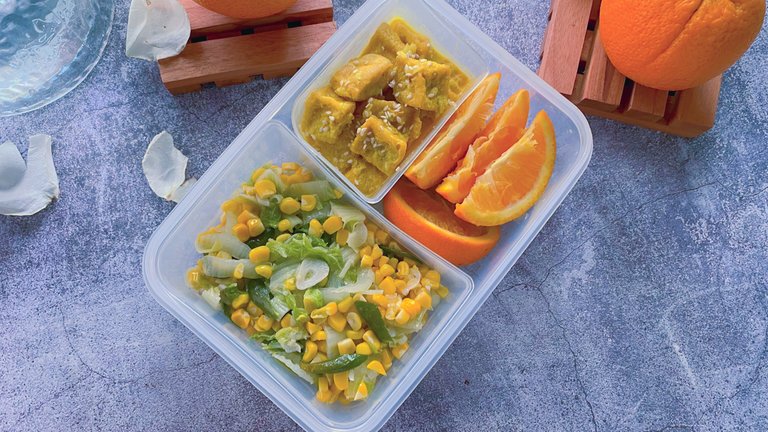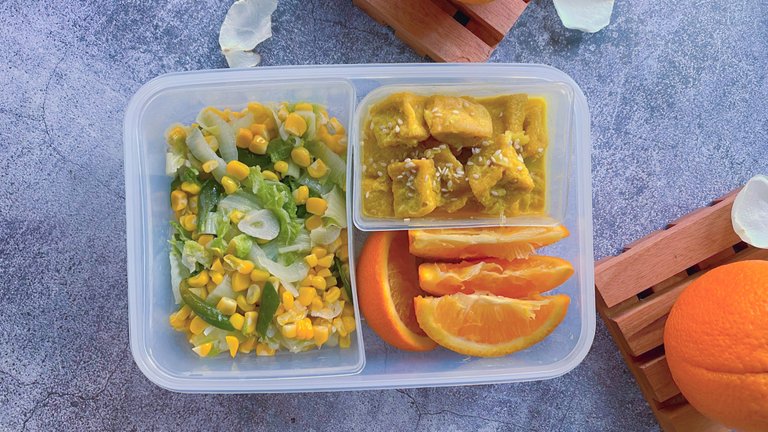 ---
For ingredients, I combine corn, with Chinese cabbage which is served as stir-fried green chili and veggies. Also, the tofu is served as tofu curry.
---
---
---
Stir-fried Veggies With Green Chilli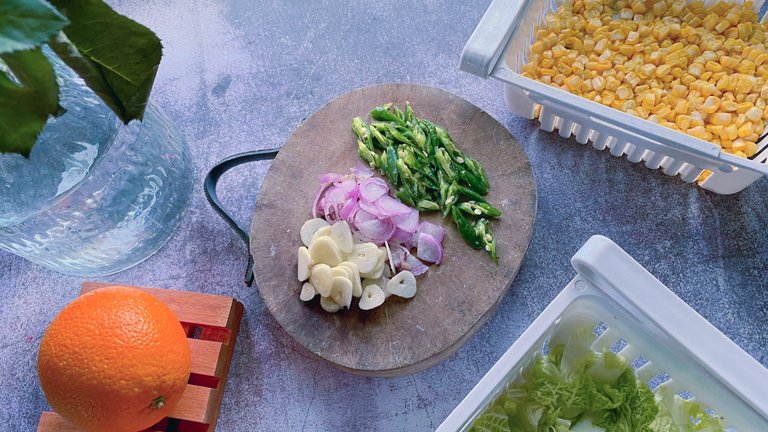 ---
THE INGREDIENTS
---
corn or 1/2 cup of kernels
150 grams of Chinese cabbage or general cabbage
3 cloves of red onion, sliced
3 cloves of garlic, sliced
3 green chilies, sliced
1/2 teaspoon of salt
---
COOKING INSTRUCTIONS
1.Preparing Corn.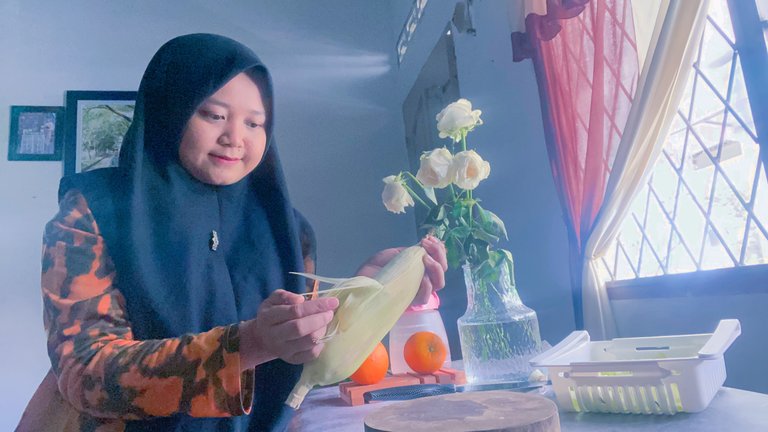 Corn always challenges us to turn them into kernels, and separate the corn from the corn cobs. This is always a fun activity in my kitchen.
---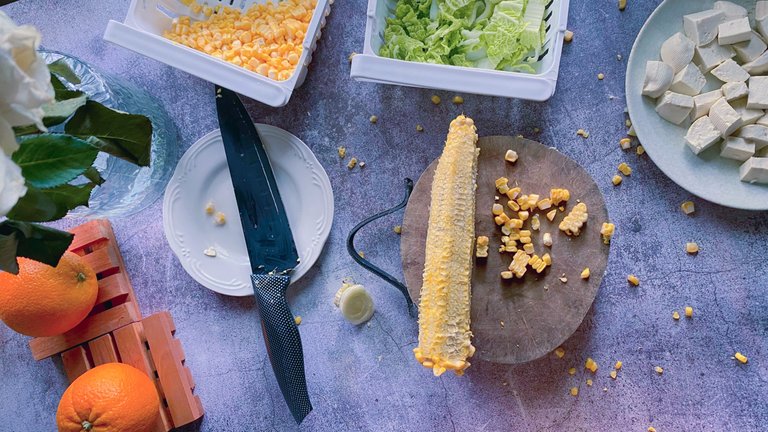 Well, at first it looked fine. Or, at least all you see is the tidiness on my kitchen table. In fact, let me tell you in the picture above. Oops! Kernels look messy everywhere after I sliced the corn, remove corn from corn cobs.
---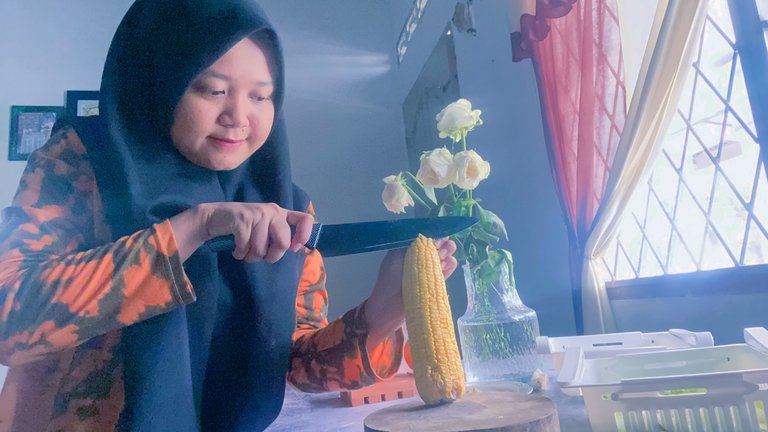 ---
Of course, you can use kernels that are available in canned form which is more convenient. But fresh is always better even though we have to add a little longer to prepare fresh corn into ready-to-cook kernels.
---
2.Slice Chinese Cabbage.
You can also use general cabbage for this recipe. Their slices are not too thin to keep their texture crunchy after sautéing them later.
---
3.Slice Chilli.
I sliced the green chile thinly, alternating sides of the chili so that you get thin slices. This technique will produce a spicy taste in the dish. Use red/green bell pepper if you have a problem with green chili.
---
4.Stir-fried Seasoning.
---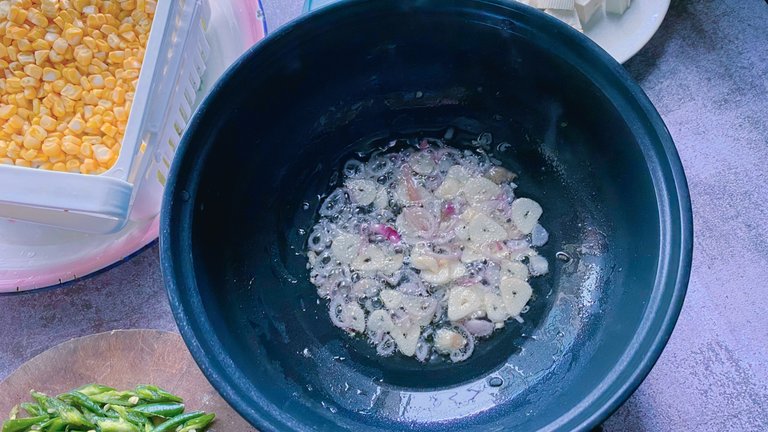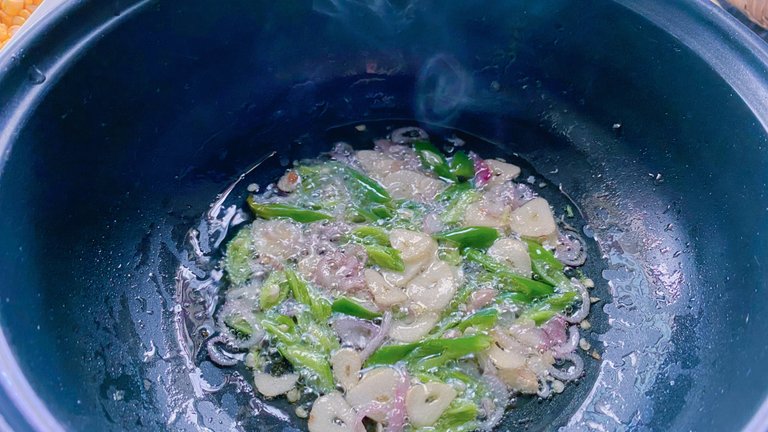 ---
Heat a few tablespoons of cooking oil. Then sauté sliced onions and garlic until fragrant. Then, add sliced green chilies, followed by kernels.
---
5.Cook Kernels.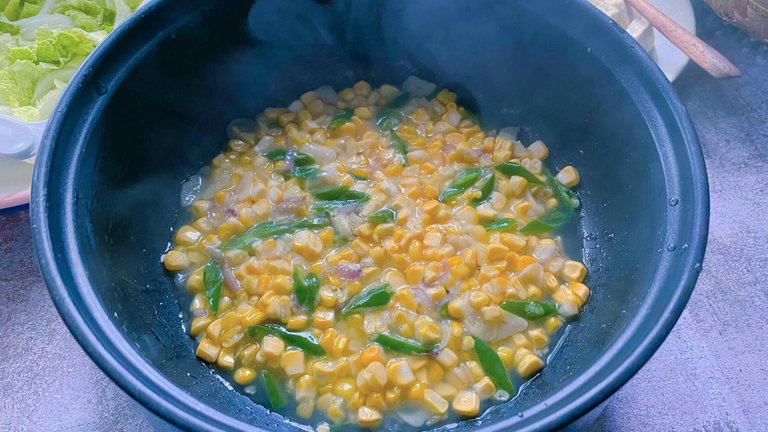 Add the kernels after the green chilies are wilted. Also, add enough water to cook the kernels until cooked without burning. Cook for about 10-15 minutes.
---
6. Cook Chinese Cabbage.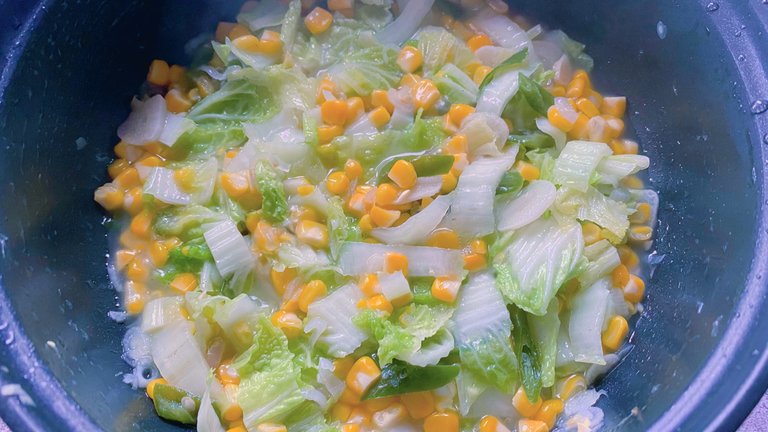 After the corn is cooked, add slices of Chinese cabbage. Cook until they wilt. Add salt and taste corrections before removing them.
---
---
---
Curry Tofu
---
THE INGREDIENTS
4 medium blocks of tofu or 200 grams of tofu
1 cup of coconut milk or any plant-based milk
2 cloves of red onion and 3 cloves of garlic, 1/2 teaspoon of salt then mashed
spices and herbs: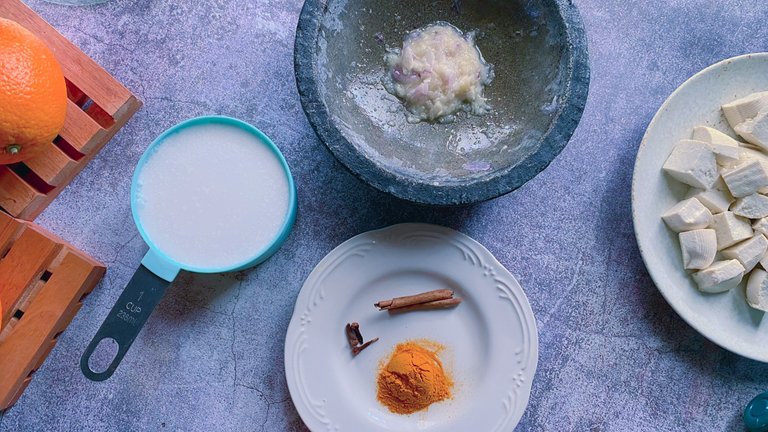 3 cloves
1 small cinnamon stick or 1/2 teaspoon cinnamon powder
1/2 tablespoon of turmeric powder or turmeric paste
---
COOKING INSTRUCTIONS
1.Preparing Tofu.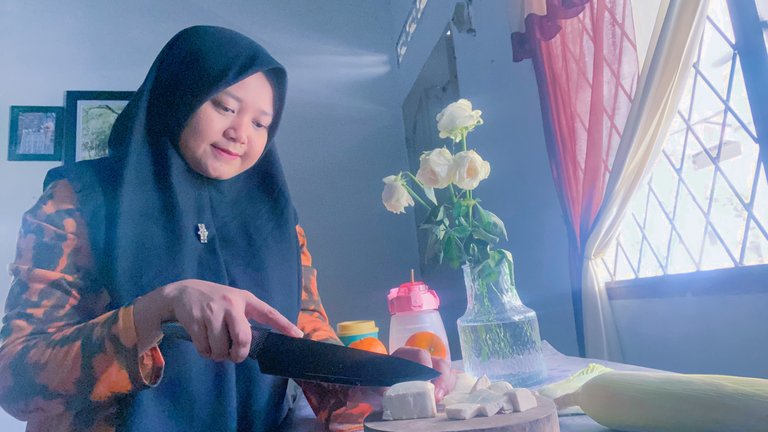 First, I cut the tofu into cubes. But you can also use other cut shapes according to the shape of the tofu. Then, after cutting the tofu, fry it until golden brown.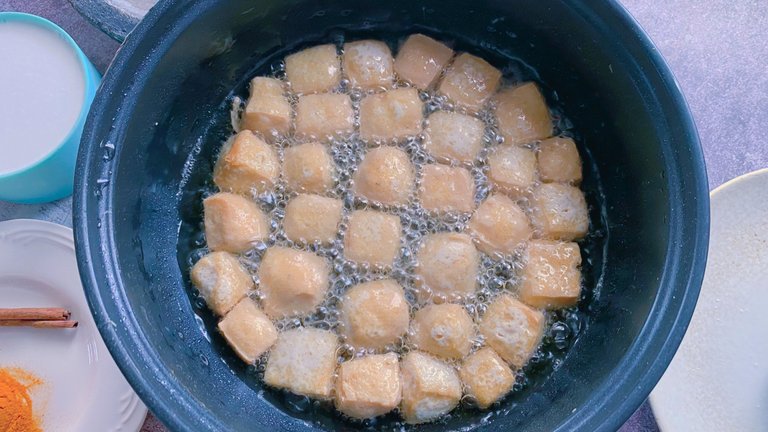 ---
2.Making Onion Paste.
---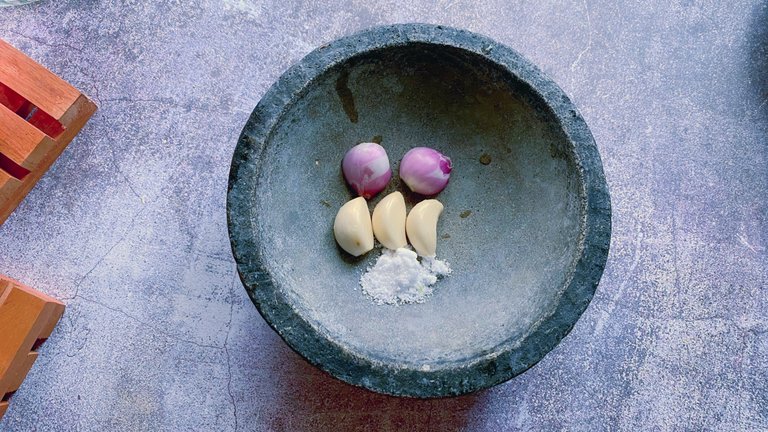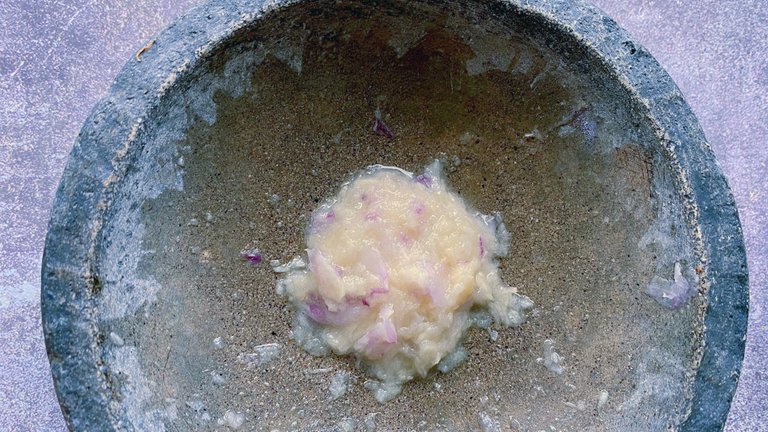 ---
Make onion paste by grinding red onion, garlic, and salt. I use my old mortar and pestle.
---
3.Making Curry.
---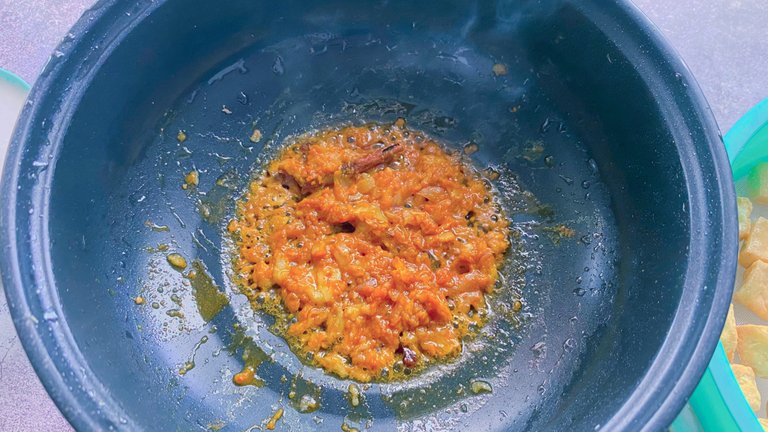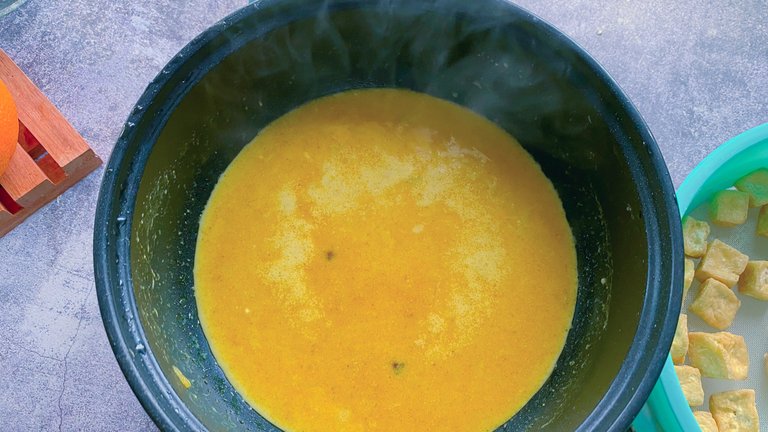 ---
Stir-fry onion paste with all herbs and spices including turmeric powder, also salt. Their scent is simply delicious! After it is charred, add coconut oil.
---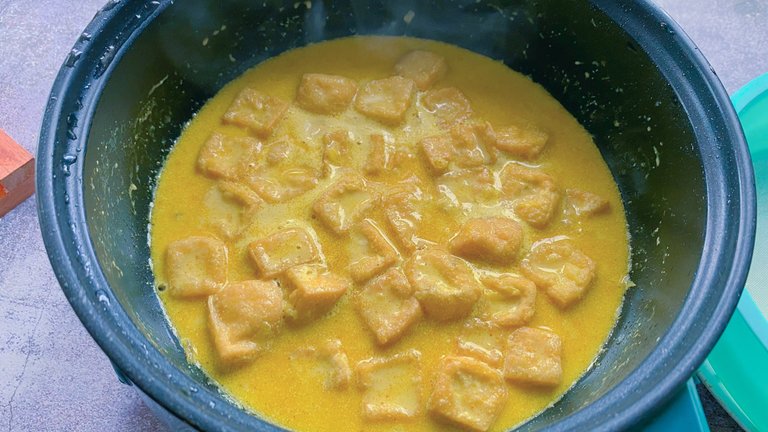 Adding fried-tofu. Bring them to a simmer or until the fried tofu can soak well in the curry gravy. Correct the taste before removing the tofu curry.
Later, serve with other dishes as well as slices of orange fruits that are yellow or orange in color. I got a beautiful bento box with meals that are healthy and less carb. Perfect!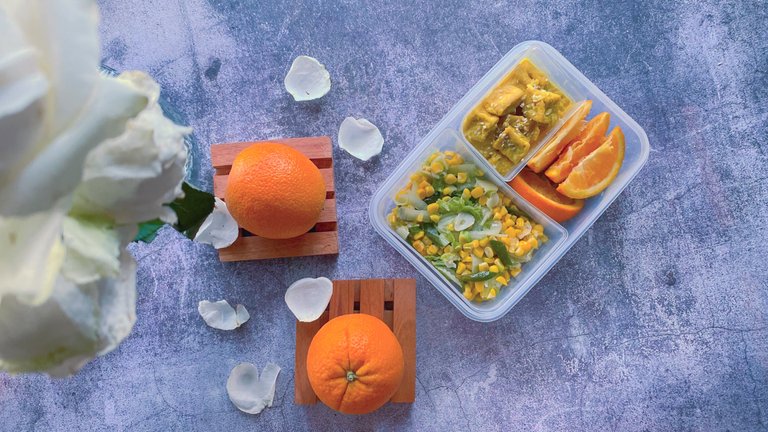 ---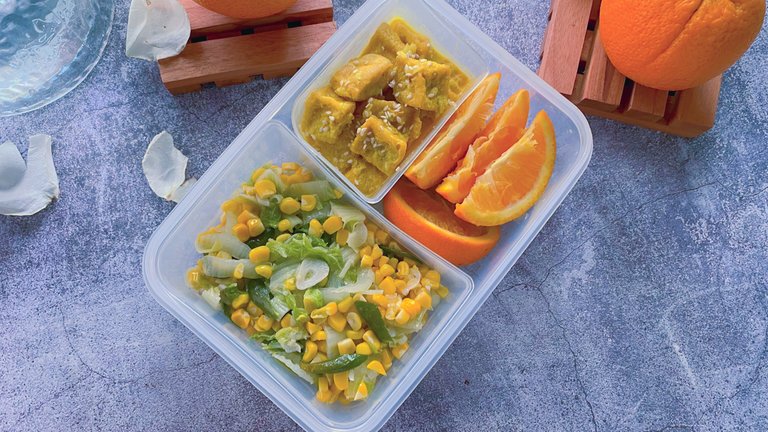 ---
---
---
Thank you for reading my blog and reblog if you want my blog this time worthy of reading by others.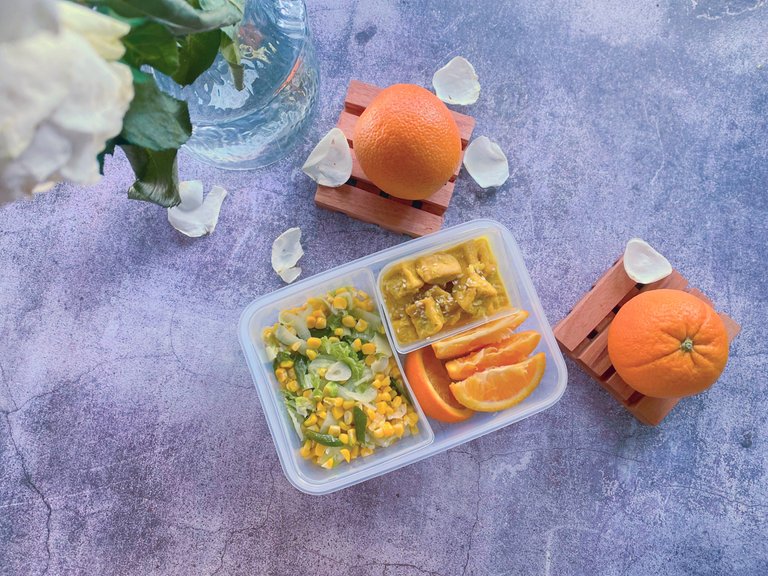 ---
---
---
Best Regards,
Anggrek Lestari
---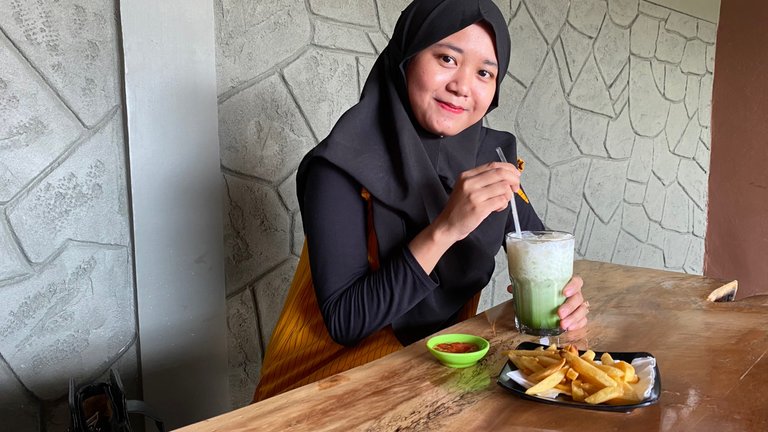 Who is Anggrek Lestari?
Anggrek Lestari is an Indonesian fiction writer who has published two major books. Now She is a full-time content creator. She has a goal to share life, poem, and food content that makes others happy and can get inspiration.
---
Contact Person: [email protected]
Discord: anggreklestari#3009
---
---
---