Iced Strawberry Milk, A New Saucepan, and Nice Weekend Vibes!
---
---

Getting a new cookware is something that makes my heart happy. And celebrating that by making refreshing ice is sharing happiness.
Making Iced Strawberry Milk for Family Members on a Sunny Weekend.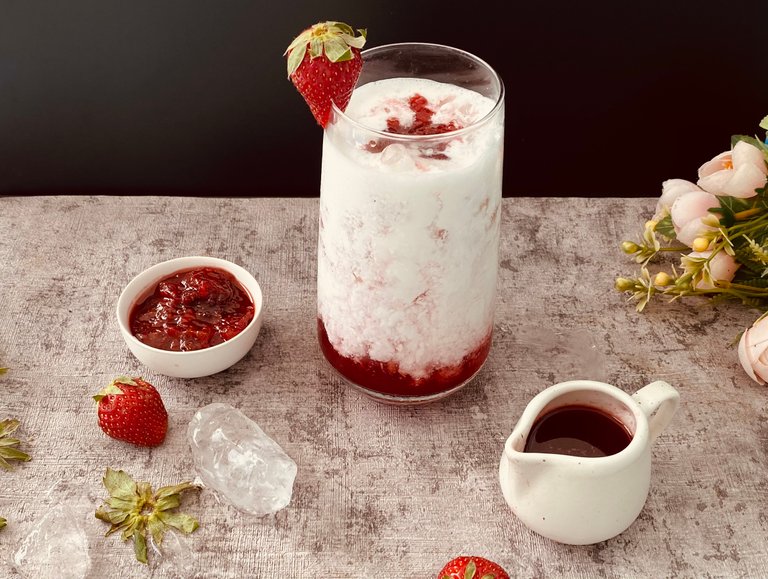 ---
---
Seeing bright colors, as well as bright, usually excites me. Like a child, they are really excited when they see brightly colored toys.
Stocks of brightly colored strawberries, also I have a new saucepan which is pastel pink, it all makes my weekend feel exciting.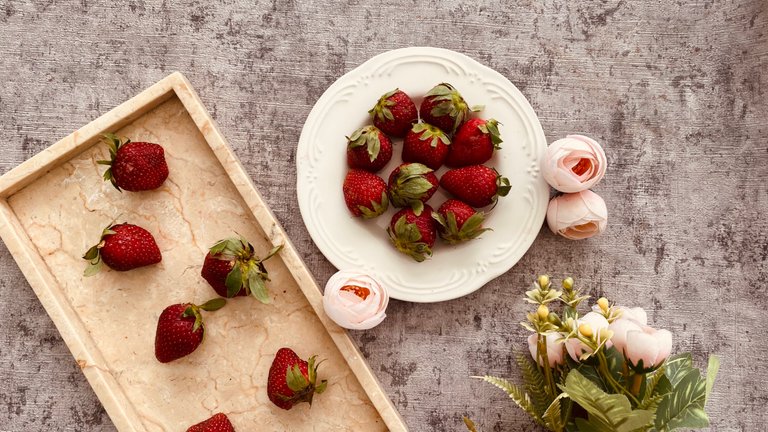 ---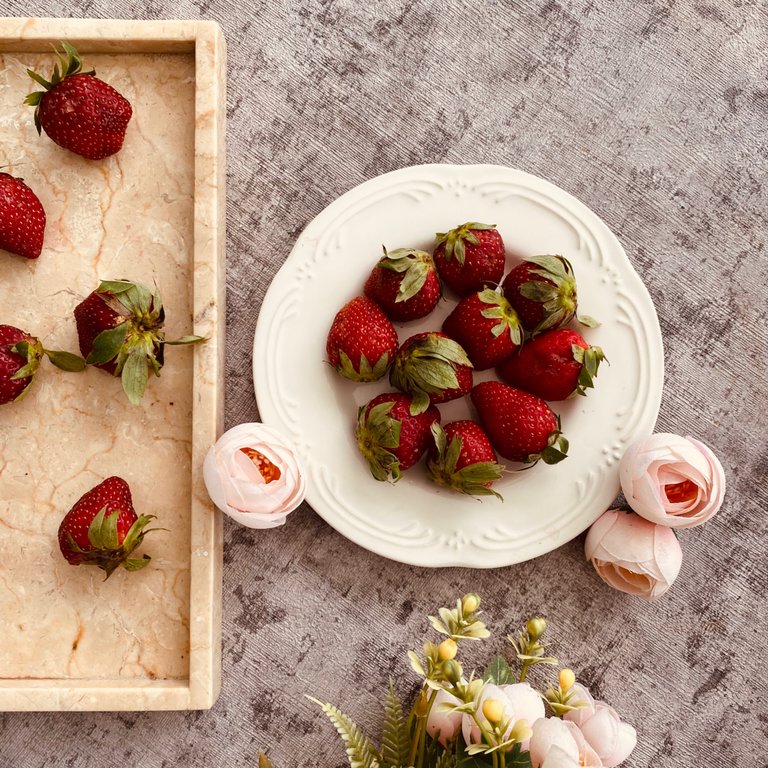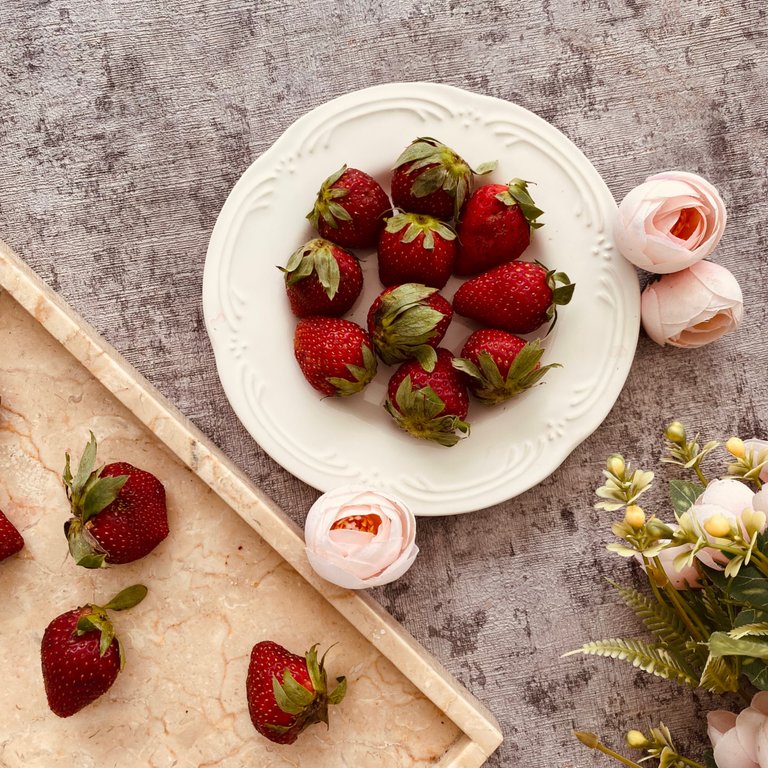 ---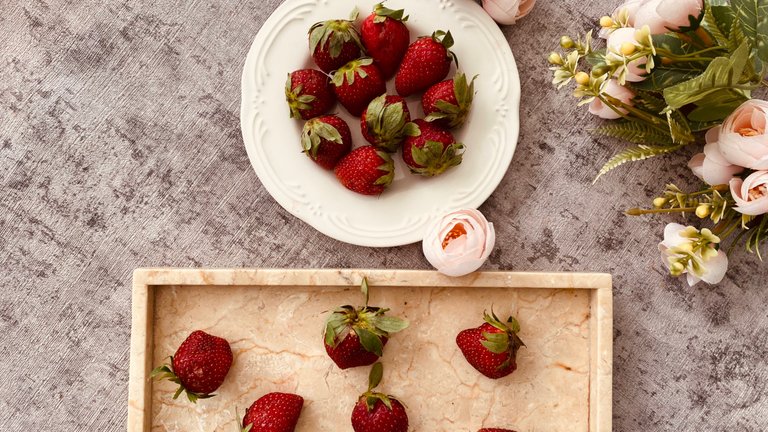 ---
I also thought of something to share with my nieces and nephews. They were hanging out with my mother, which they usually did on the weekends.
Sharing makes the heart feel better. So this is a good coincidence. I will share sweet and refreshing iced strawberry milk for a sunny day. My nephews like sweet things over savory things.
Before I prepare the iced strawberry milk, I'm going to show you a new saucepan which is my favorite color!
---
PINK SAUCEPAN
---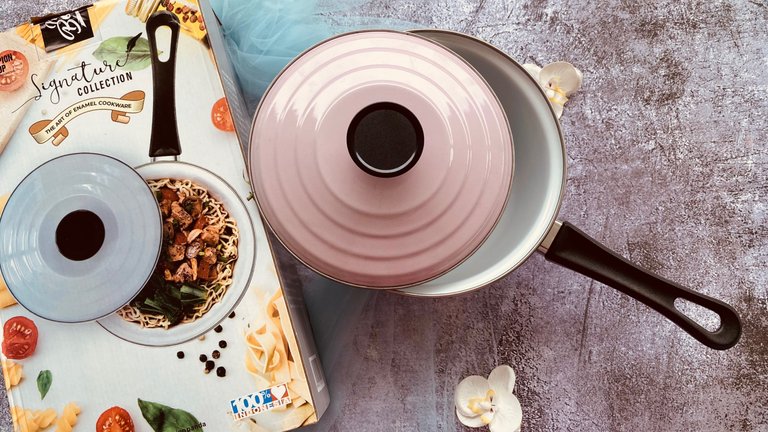 Cookware with a favorite color also gives good energy while cooking, plus it is a gift from someone who appreciates us. It is a blessing that should always be grateful for.
Just as I am very grateful that a friend @devyswan1 gave me a saucepan that I really like! Honestly, this is what I need. I did have the intention to buy a new saucepan before. So I'm so glad my friend gave me what I really needed.
This saucepan is made of a lightweight enamel material. The size of this saucepan is quite large and bigger than my old saucepan.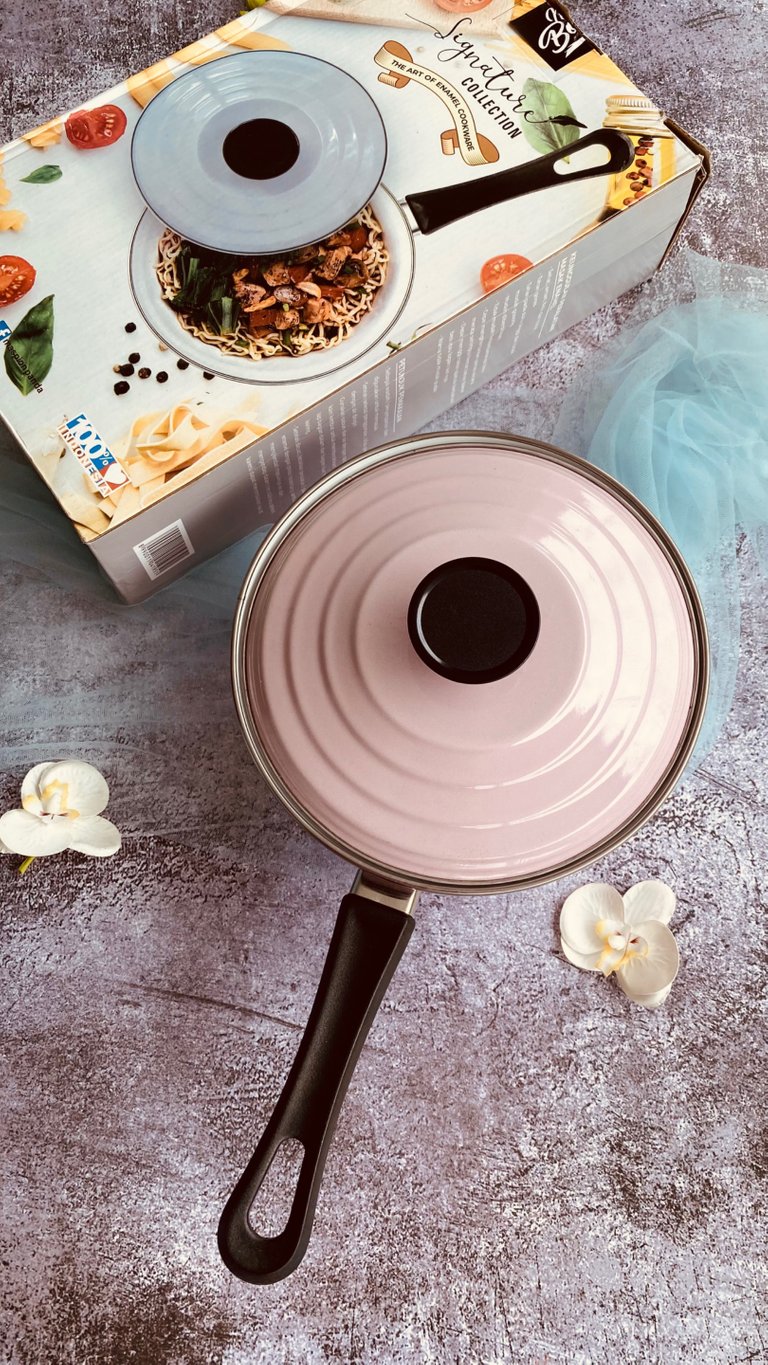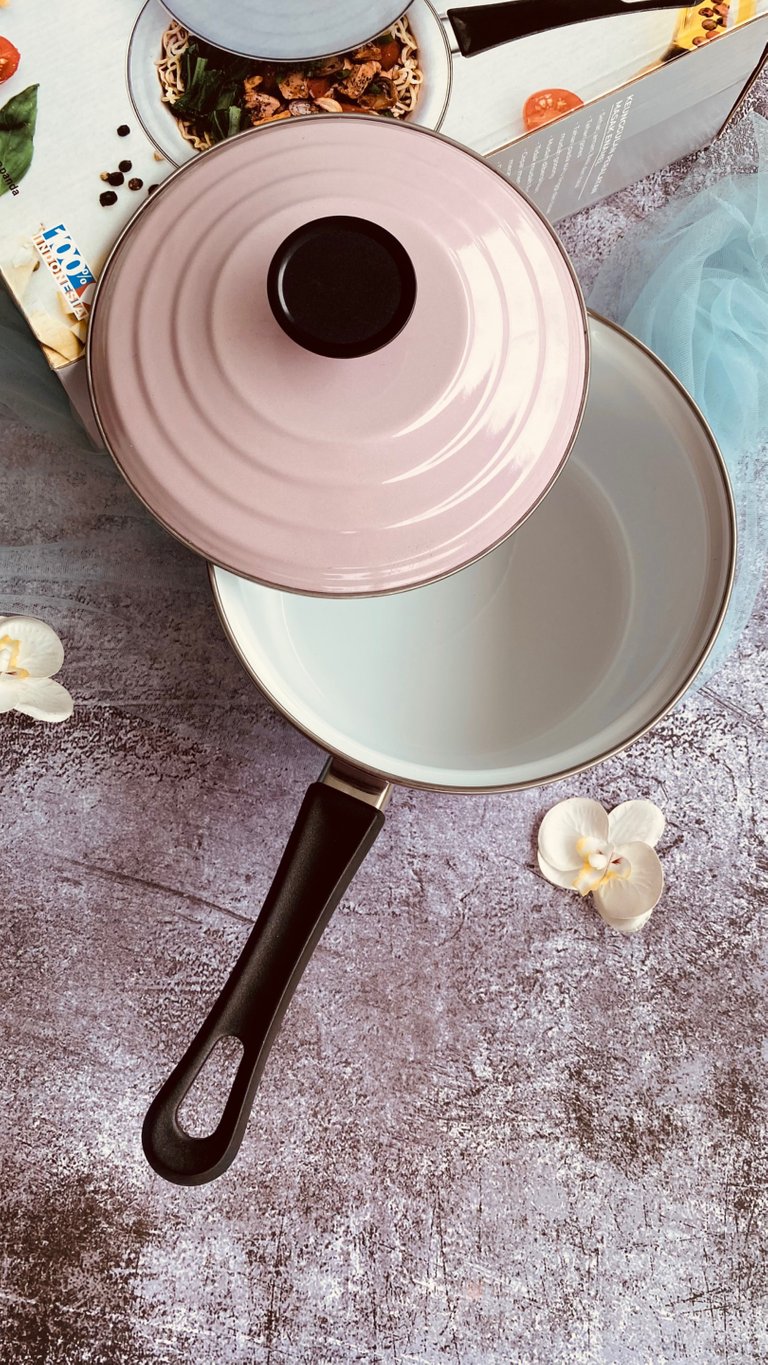 ---
Equipped with a lid that has a nice design, making the whole pan look beautiful compared to without a lid.
The outside is a soft pastel pink, while the inside is white which makes the food inside clearly visible.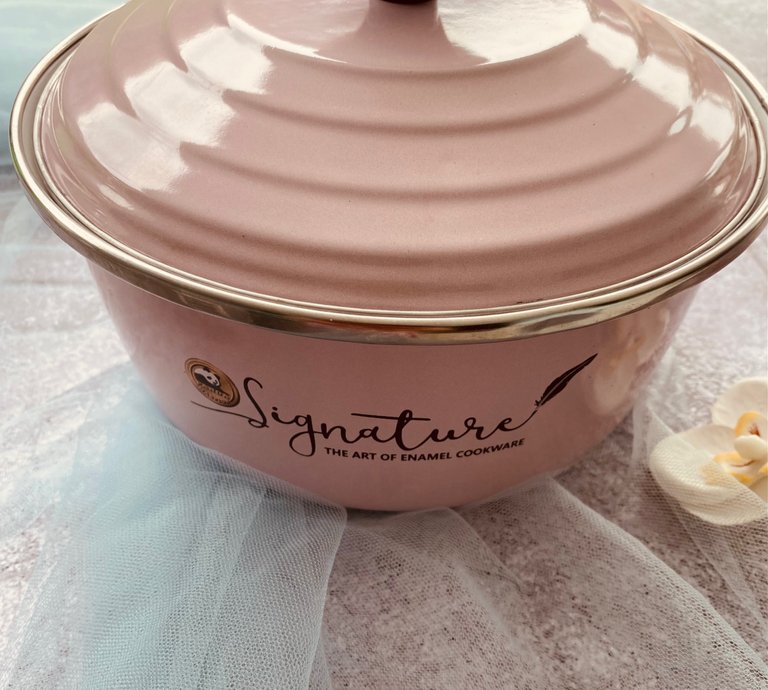 What do you think? This is an adorable saucepan, right? From a well-known brand in my country, this saucepan is one of my fav cookware now. Then, let's next make the iced strawberry milk. ️
---
---
ICED STRAWBERRY MILK
---
---
This recipe has often been seen on the internet, especially in the Korean version. But this time I made a plant-based version, using coconut milk.
To serve the ice, first I have to make the strawberry syrup.
---
---
Strawberry Syrup Ingredients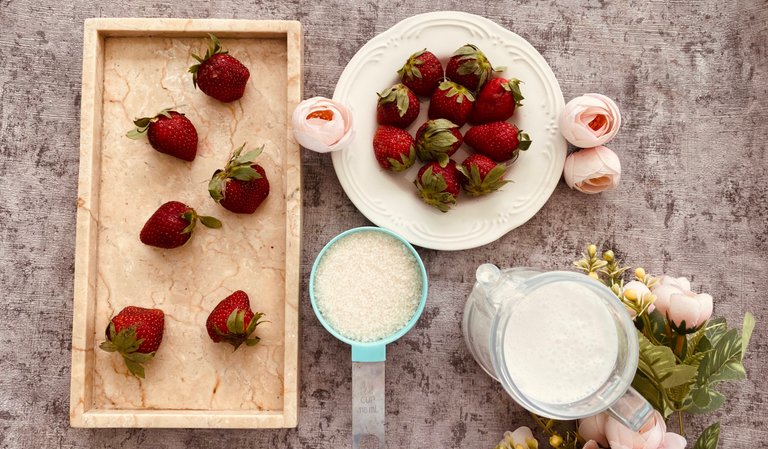 ---
---
250 grams of fresh strawberries
1 cup of sugar (in my picture, it says 1/2 cup, but during the cooking process, I realized that my stock of strawberries was too low. That's why I needed more sugar to make the strawberry syrup thick).
250 ml of water
---
For serving
---
Ice cubes
Coconut milk, I use 200 ml for about 4 serving glasses of iced strawberry milk.
---
---
---
MAKING STRAWBERRY SYRUP
---
---
First, we need to soak the strawberries. I used salt water. Soak for 15 minutes to remove any tiny caterpillars or debris trapped in the strawberries.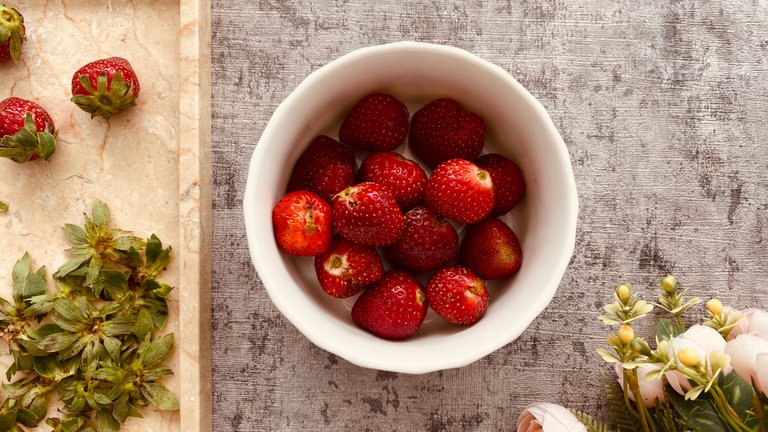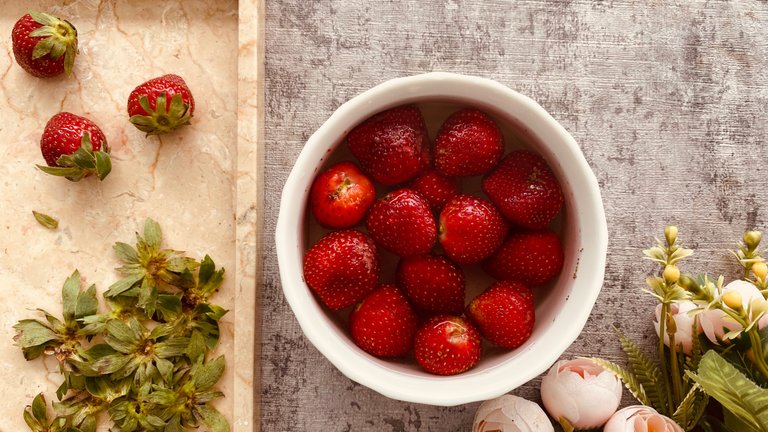 ---
---
Next, put all syrup ingredients into a saucepan. Cook until thickened. I had to help crush the strawberries with a spatula to make it a thick, sweet syrup faster.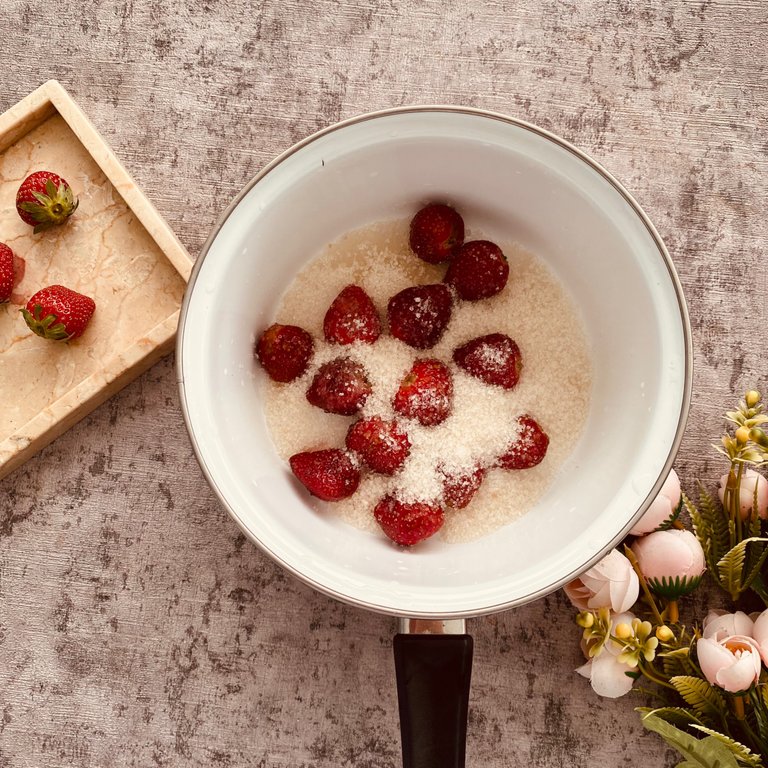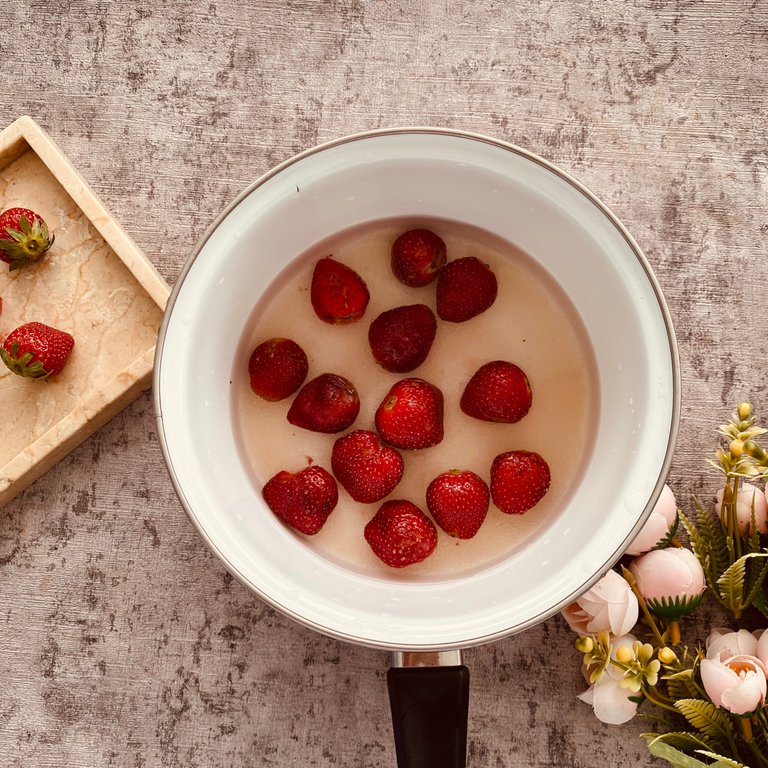 ---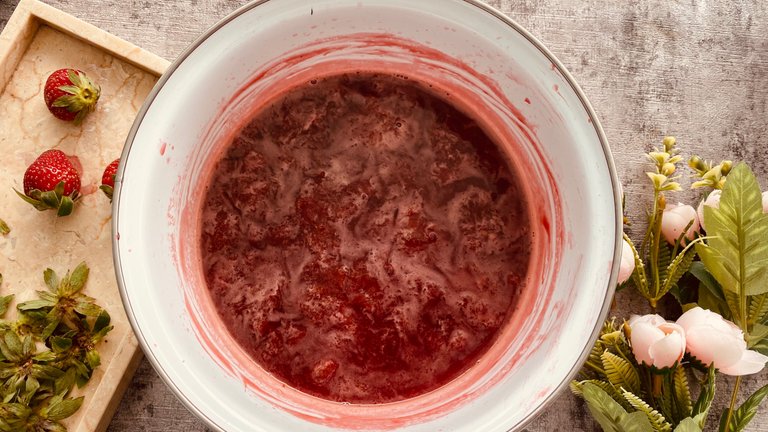 ---
After thickening, we can separate the syrup from the rest of the strawberry juice. Then we can store the strawberry syrup without the juice in the fridge for the next day. If you don't want to separate the strawberry juice from the syrup, then that's no problem at all.
---
I managed to get enough strawberry syrup for me to serve to my family members, especially to my sweet little nieces and nephews. There's also strawberry juice made from filtered syrup.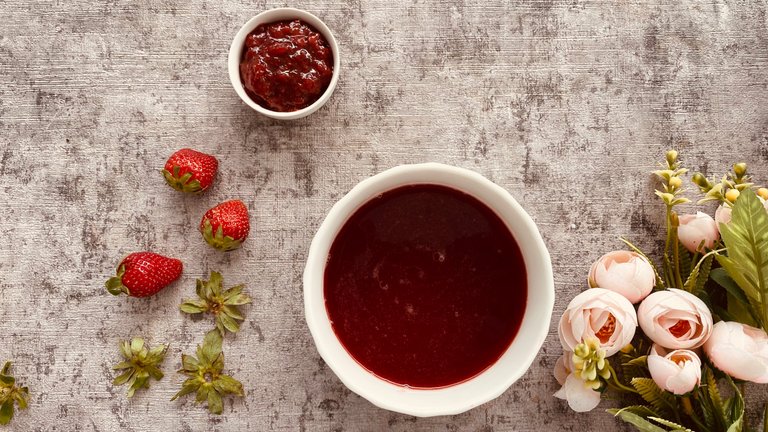 The result of filtering the syrup is similar to that of strawberry jam. This is good because we also use it as a deliciously sweet toast topping.
---
---
SERVING ICED STRAWBERRY MILK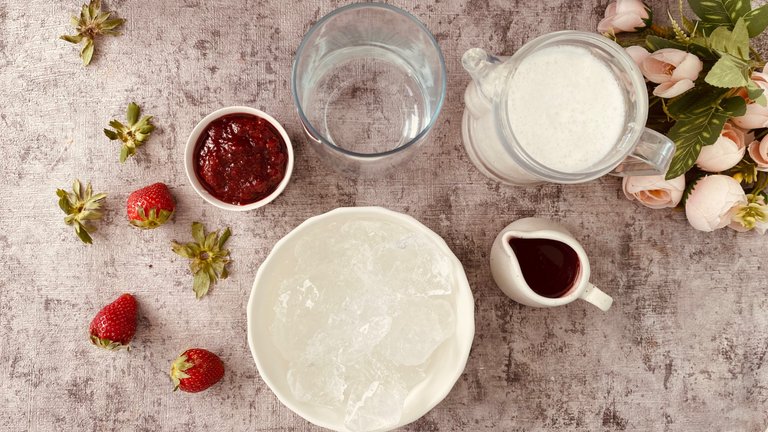 ---
---
Prepare all the ingredients needed for serving iced strawberry milk. Also serving glasses. For the initial presentation that I will shoot, I use a tall glass.
First, pour the strawberry syrup into the glass. Then followed by adding ice cubes.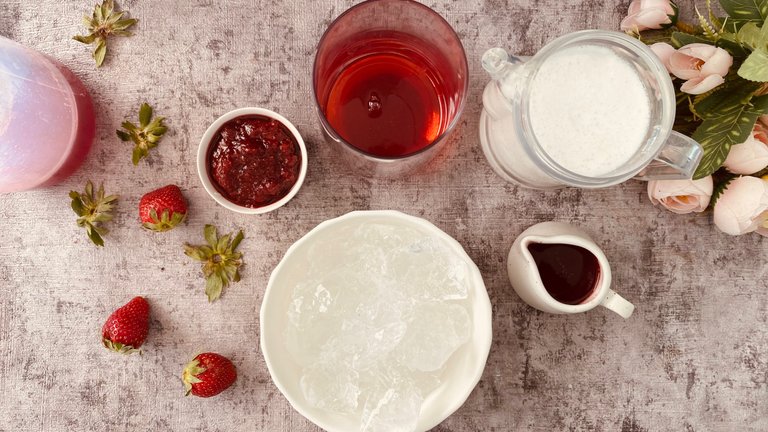 ---
---
Adding coconut milk and as optional, we can add strawberry puree which is similar to jam. The sweetness of them will be maximized. Perfect as sweet treats on the beautiful weekend!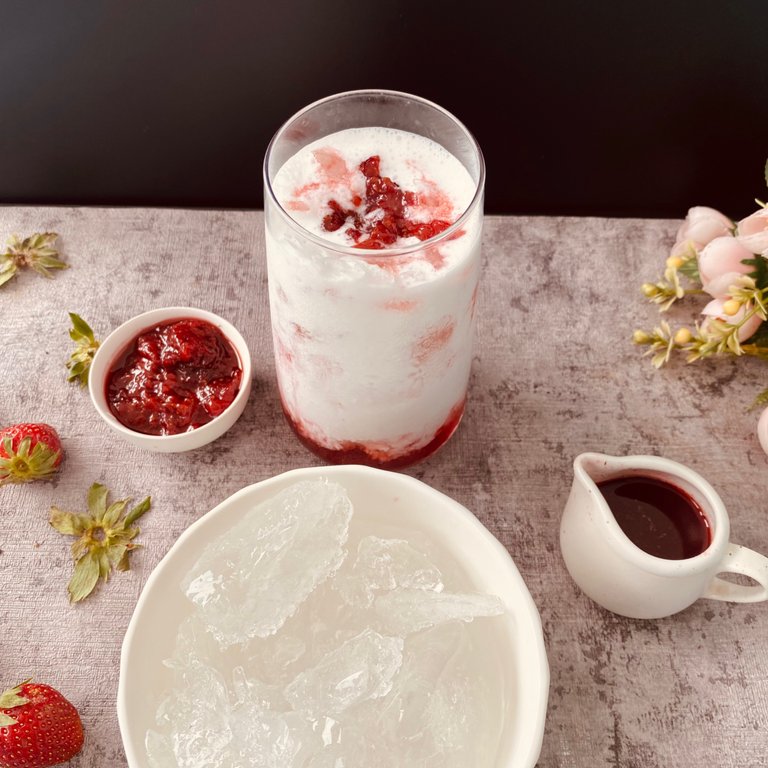 ---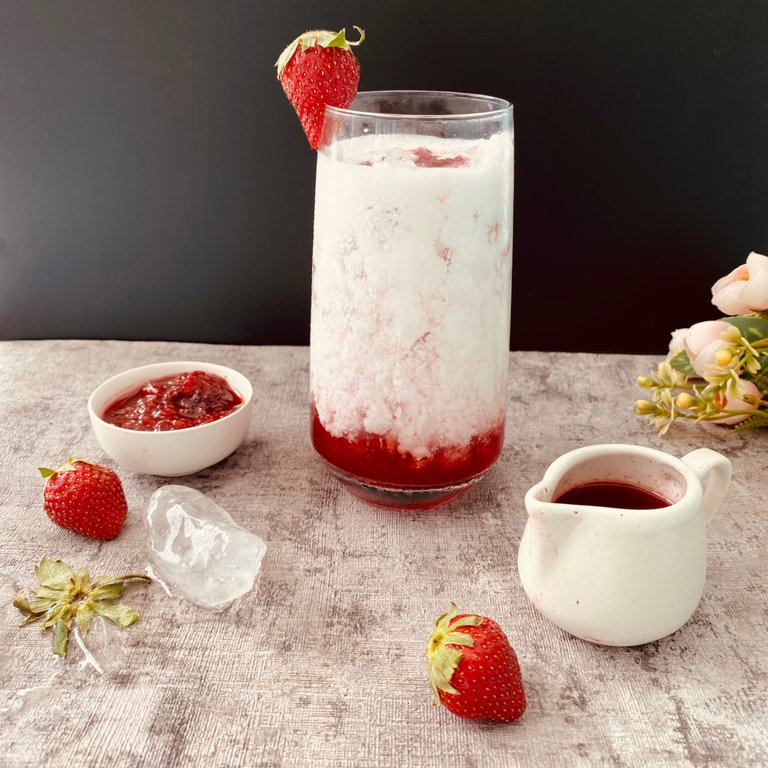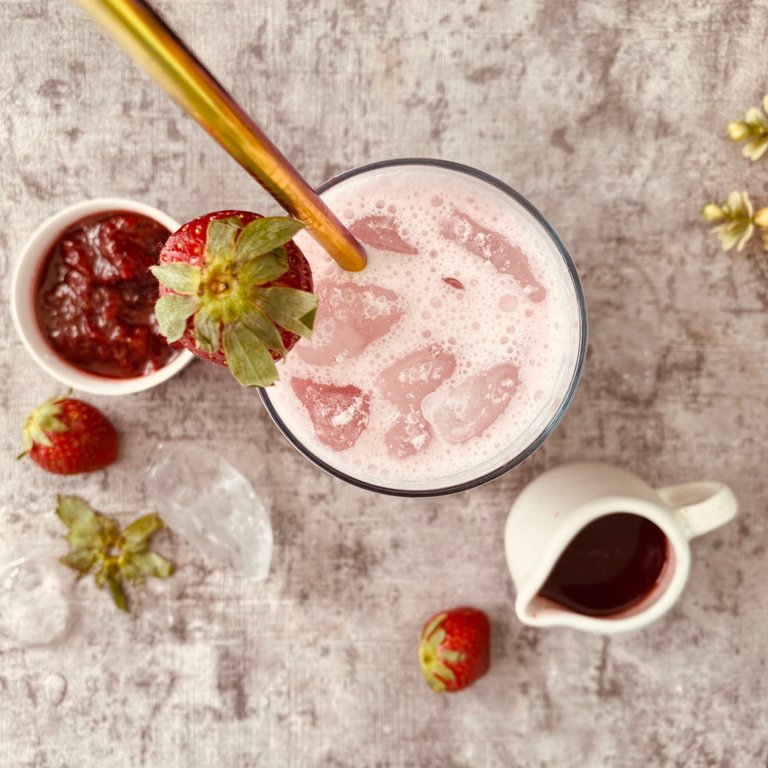 ---
---
---
---
I love the many bright colors that fill my weekend, and that of my family. We did "cheers" with sweet iced strawberry milk. As sweet as my nephew's smile. Also, my love's smile completes my weekend. Until next guys, on my blog!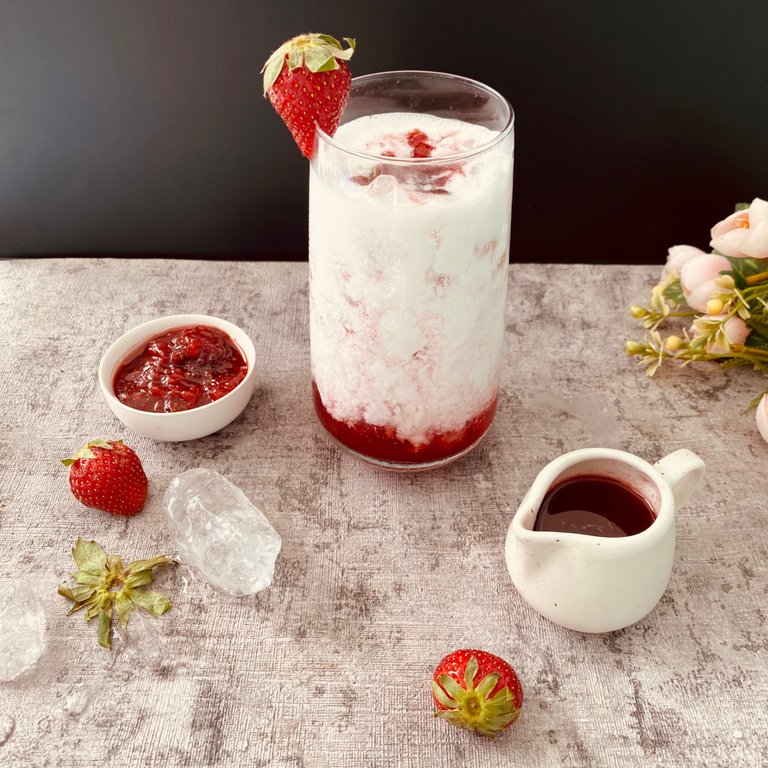 ---
---
---
Thank you for reading my blog and reblog if you want my blog this time worthy of reading by others.
All pictures were taken using iPhone 11.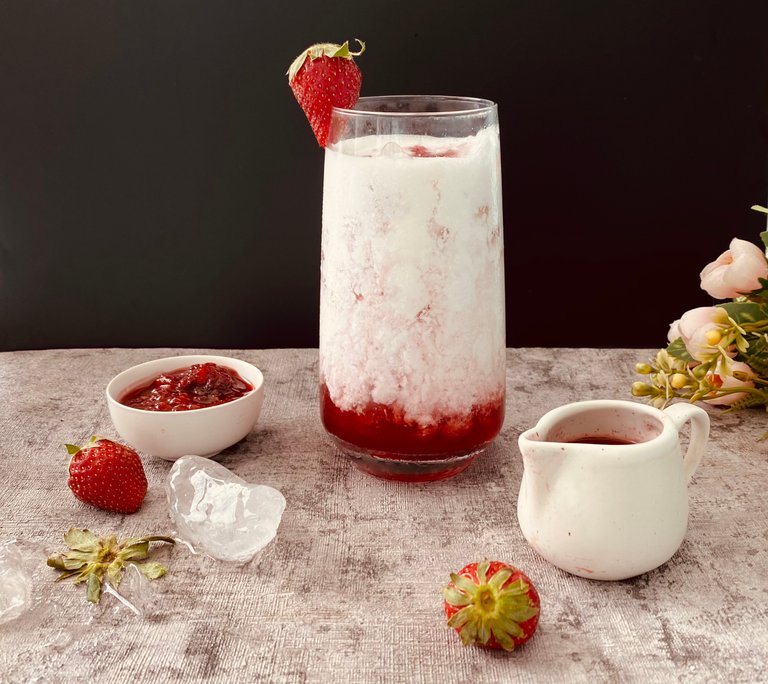 ---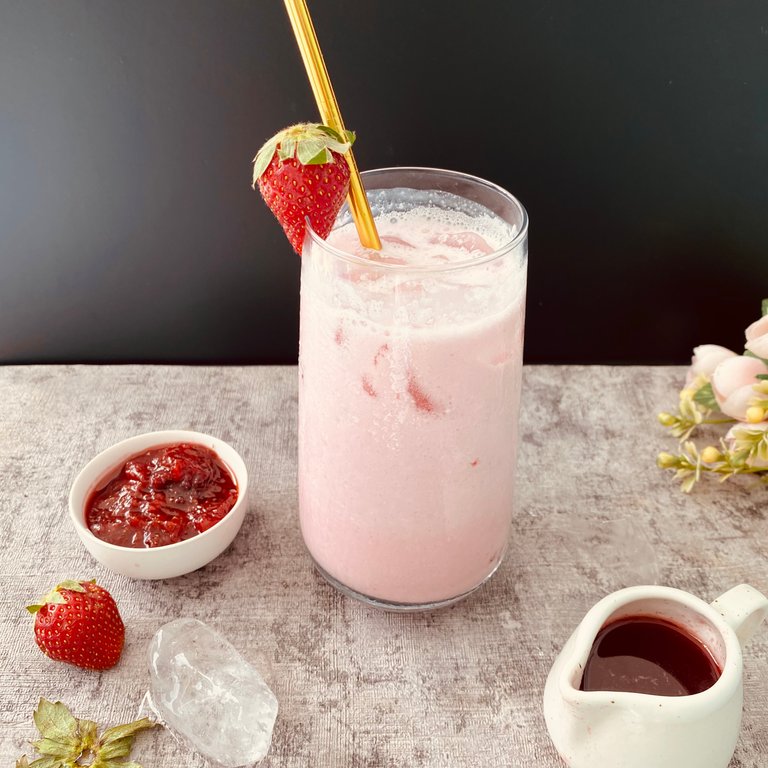 ---
---
---
Best Regards,
Anggrek Lestari
---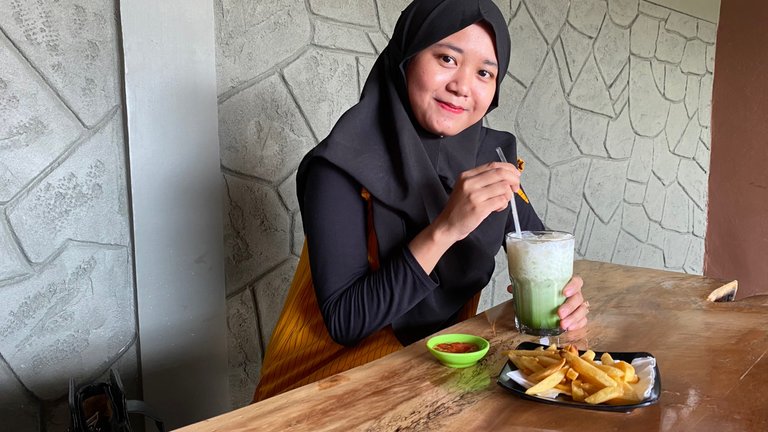 Who is Anggrek Lestari?
Anggrek Lestari is an Indonesian fiction writer who has published two major books. Now She is a full-time content creator. She has a goal to share life, poem, and food content that makes others happy and can get inspiration.
---
Contact Person: [email protected]
Discord: anggreklestari#3009
---
---
---