Noodles With Pumpkin Shoots and Carrots
---
---

Noodles are always a help when hungry times come.
Add unusual vegetables to create a noodle dish that looks different.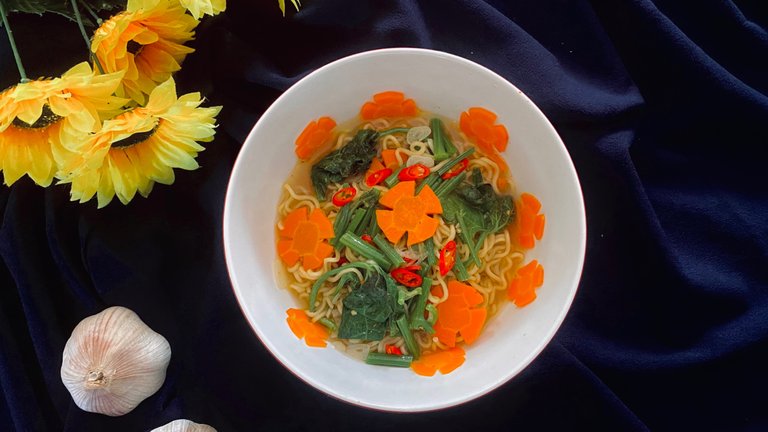 ---
---
For me and my family, noodles have become a main food when we are in a difficult situation. Noodles are quite filling and can be served with a variety of vegetables available in our village.
Apart from that, noodles are indeed used as food in a simple way of serving, especially when the weather is rainy. In my area the rainfall is very high. So we often feel hungry, especially when we have a small supply of food and heavy rains that make us choose to cook noodles with vegetables available in our backyard garden.
---
Well, this time I'm still in the village where my brother lives, in Banda Aceh City. I want to cook noodles. Then I remembered, I still have pumpkin shoots in the fridge. I bought this pumpkin shoot vegetable at a traditional market a few days ago when I just arrived in Banda Aceh.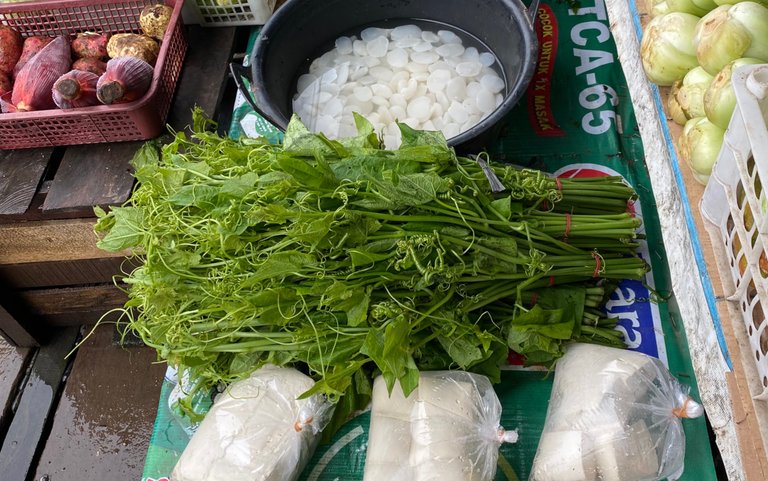 Pumpkin Shoots sold at a traditional market in Banda Aceh City.
---
You could say it's been a long time since I ate pumpkin shoots. That's why a few days ago when I went to a traditional market in Banda Aceh City, I was immediately interested in the tops of the pumpkins that were placed on the selling tables in the market. Then I decided to buy some bunches of pumpkin shoots. So, this time I will serve pumpkin shoots with noodles.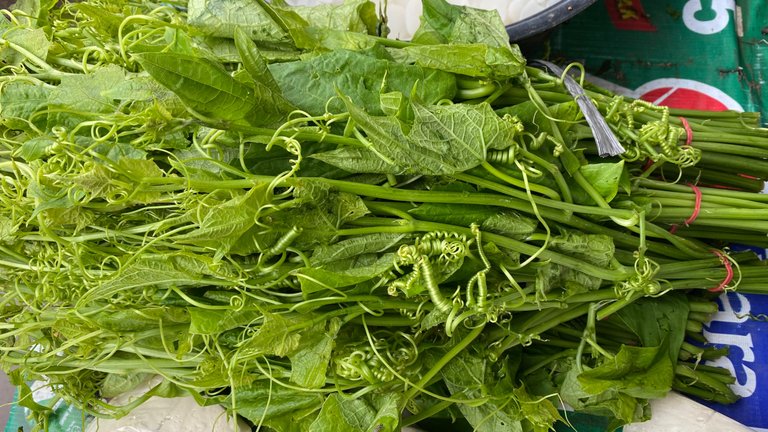 Pumpkin shoot is classified as a vegetable that is easy to serve. It's enough just to stir-fry them, or make them a mixture of soupy dishes. Have you ever tried dish pumpkin shoots before?
---
THE INGREDIENTS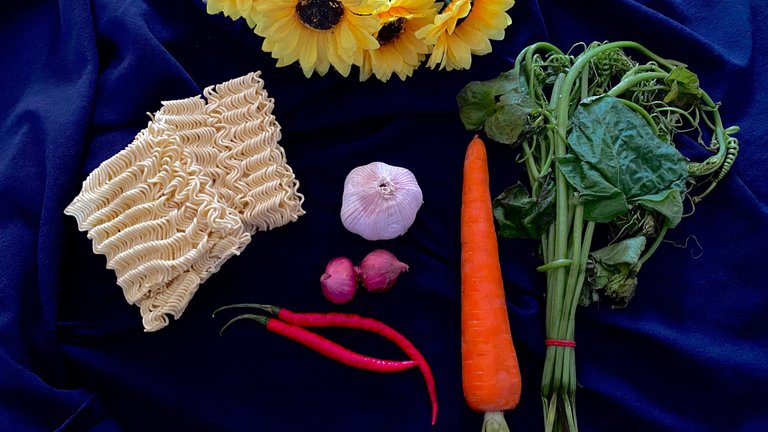 ---
- Two pieces of vegan noodles
There are many choices of vegan noodles that only use certain types of flour with water. Especially now that there are many vegan noodle products in supermarkets (which have many imported products from other countries that are vegan friendly).
---
- Seasonings
I use two red chilies, two red onions, and one medium-sized garlic clove. Also spring onions. For this seasoning, it depends on your individual tastes. Especially the chilies, you can skip the chilies, or even increase the amount of chilies if you are a spicy lover.
Don't forget to also add salt, or mushroom powder if there is no seasoning available on the noodle product packaging.
---
-A Carrot
I used a carrot which I then shaped into flowers.
---
-1 Liter of Water
The amount of water is adjusted according to your taste. If you like more graphics, then add more water if when cooking, the noodles look less gravy.
---
COOKING INSTRUCTIONS
---
STEP 1
Prepare the carrots first. Because here I want to shape the carrot into a flower shape (to improve the impression of ordinary noodles), so I have to work a little extra to make the carrot more attractive.
---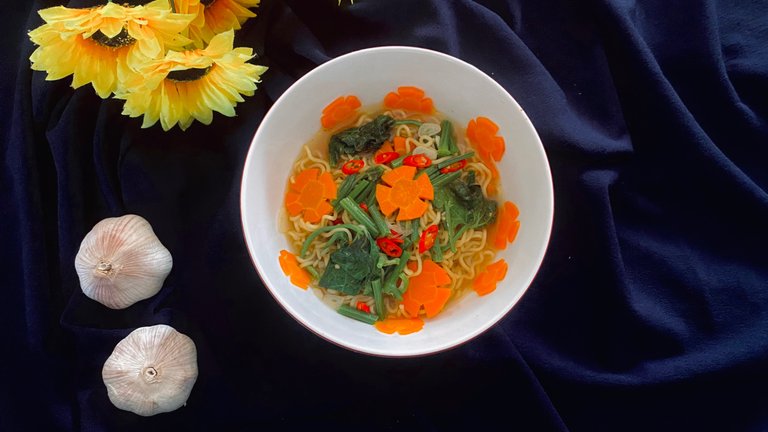 As you can see here, I plucked a few pieces on the right and left side of the carrot. There are 4 elongated sections.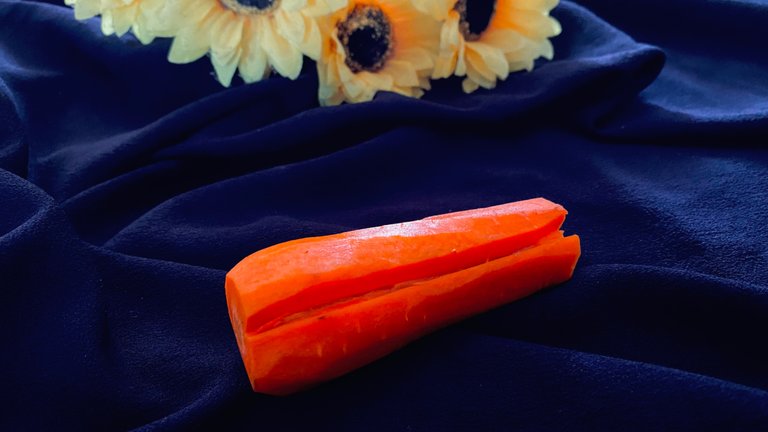 Do it carefully so that when you gouge the carrot it is not too deep which will cause the carrot to split apart.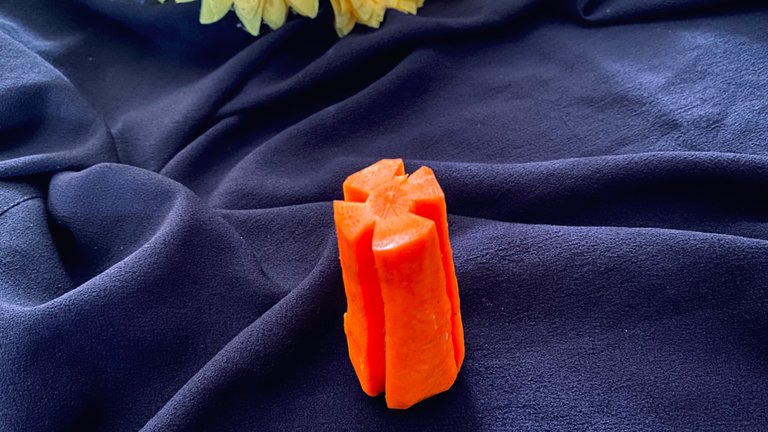 After making 4 parts of the results of gouging, then slice the carrots into flower shapes.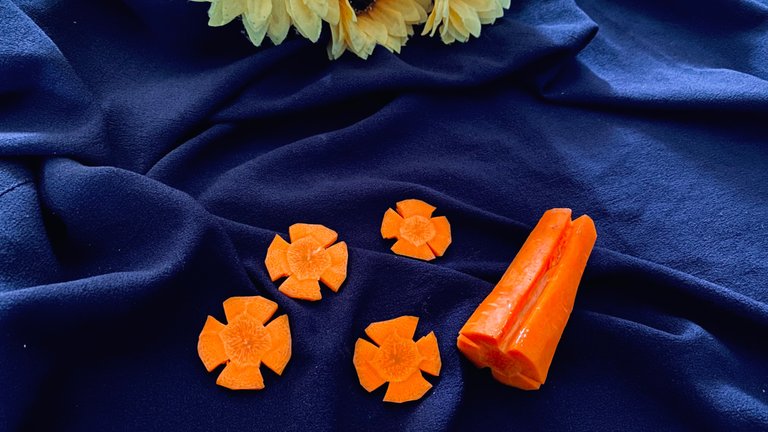 ---
---
---
STEP 2
Cut off the top of the pumpkin, then discard the vines. Because the pumpkin shoot stem and pumpkin shoot leaves have different textures, so I separated the two of them.

---
I'm going to put in the carrots and the pumpkin shoot stems first later, without the leaves of the pumpkin shoot leaves.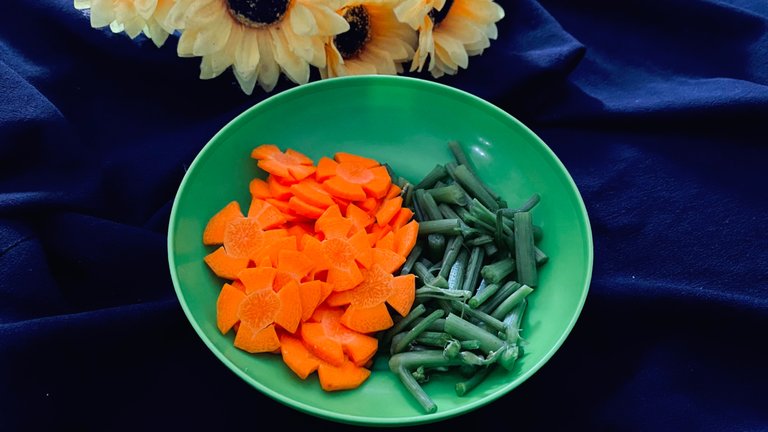 ---
---
---
STEP 3
After finishing chopping the onions, it's time to heat up the cooking oil. Then sauté the onions until fragrant.

---
---
---
STEP 4
After the onions are fragrant, add the carrots and pumpkin shoots, saute for a while, then add water. Cook until carrots and pumpkin shoots are cooked.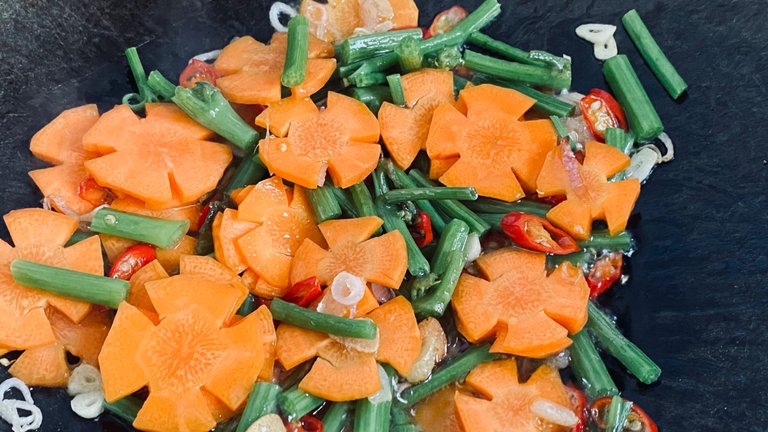 ---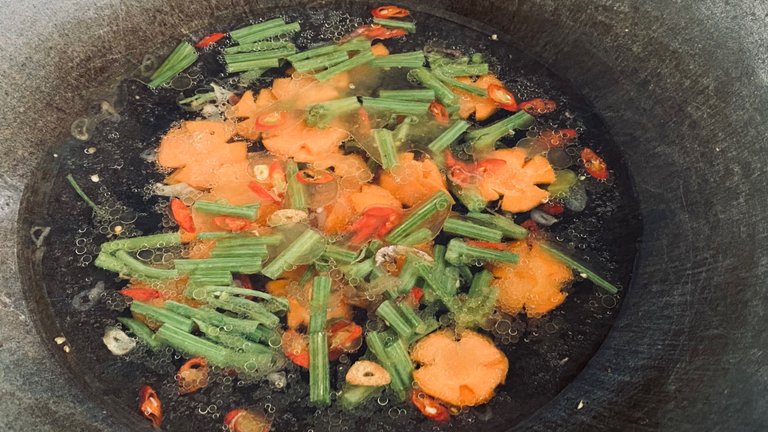 ---
---
---
STEP 5
After the vegetables are cooked, then add the noodles. Stir the noodles until cooked.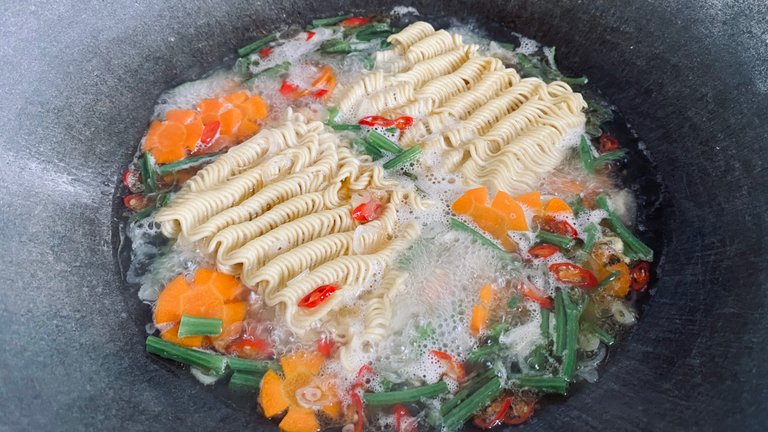 ---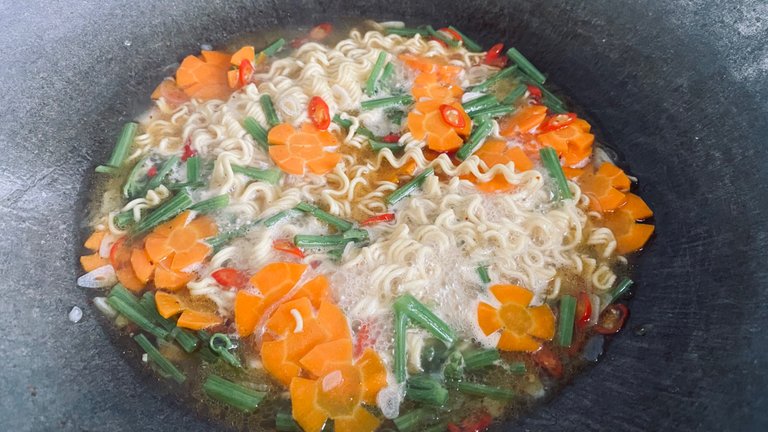 ---
---
---
STEP 6
Final step, add pumpkin shoots and slices of spring onion. Stir them briefly before removing.

---
---
---
Serve noodles while warm. This dish seems new to me, because it uses pumpkin shoots that I haven't cooked in a long time. Also, using a carrot that is shaped like a flower can be an added impression for a more attractive appearance.
I hope you guys like the dish this time. Have you ever cooked pumpkin shoots before?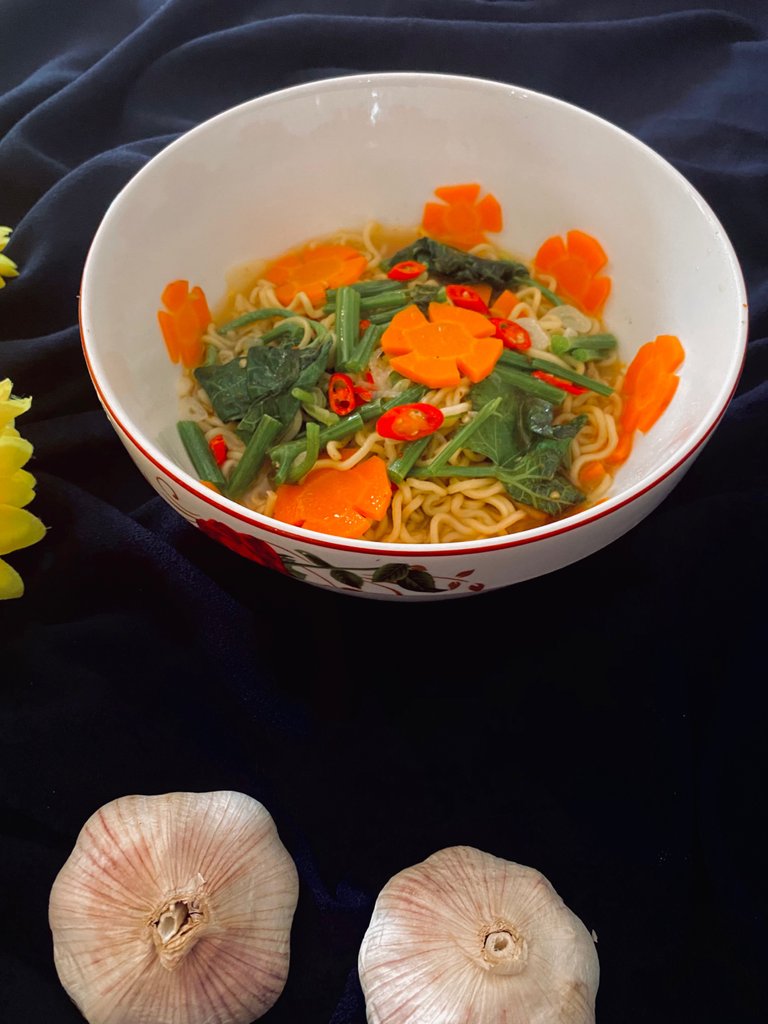 ---
---
---
Thank you for reading my blog and reblog if you want my blog this time worthy of reading by others.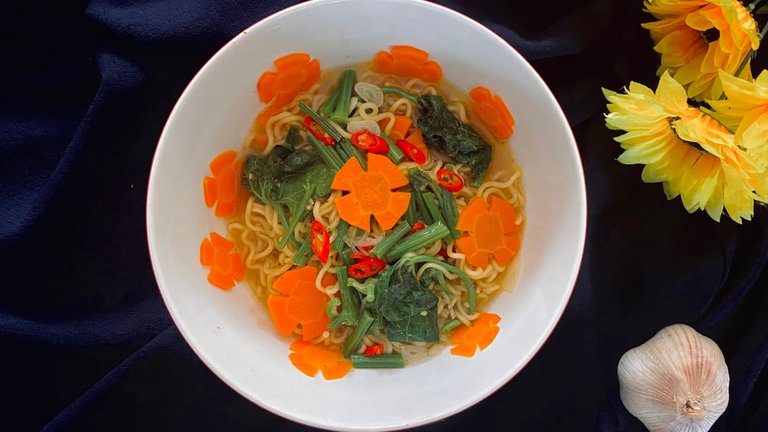 ---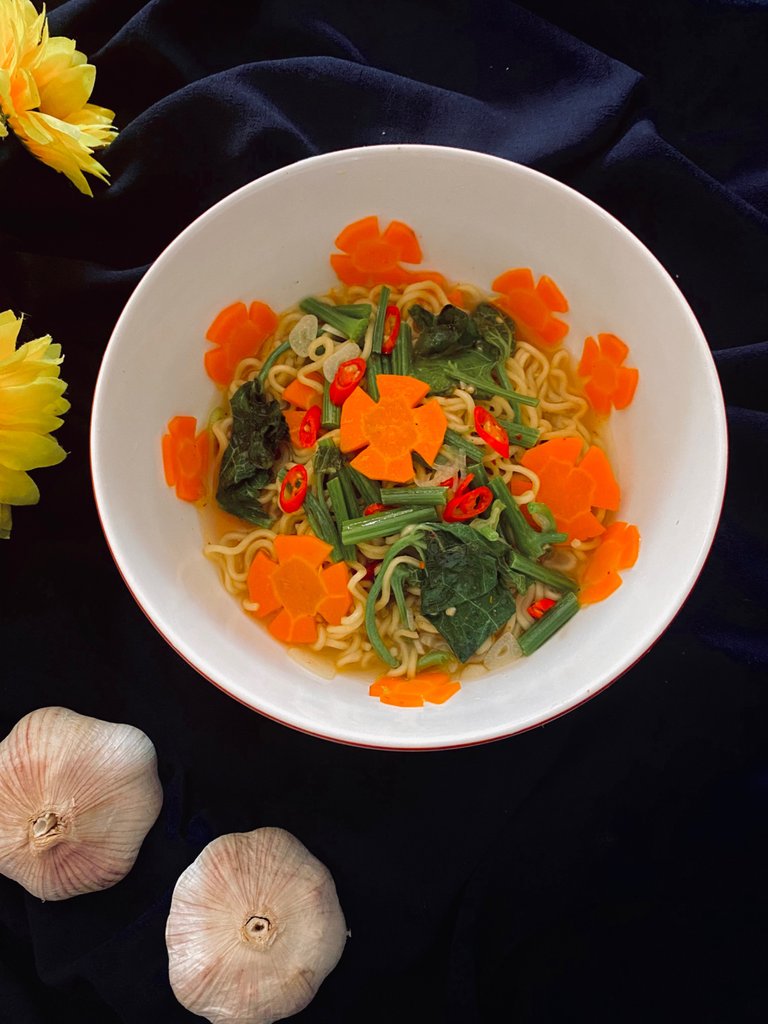 ---
---
---
Best Regards,
Anggrek Lestari
---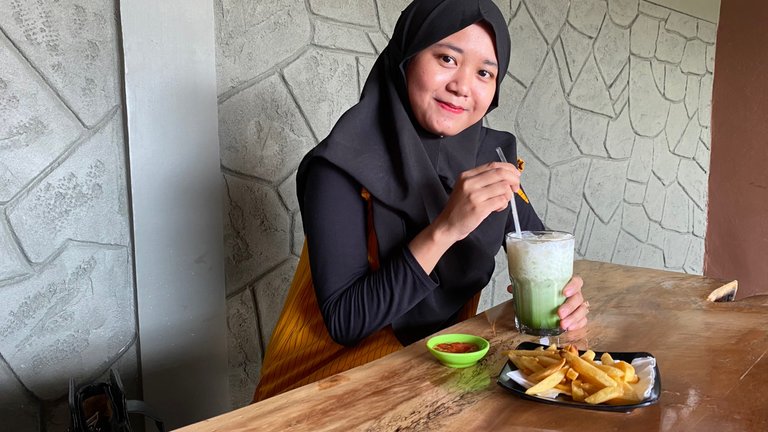 Who is Anggrek Lestari?
Anggrek Lestari is an Indonesian fiction writer who has published two major books. Now She is a full-time content creator. She has a goal to share life, poem, and food content that makes others happy and can get inspiration.
---
Contact Person: [email protected]
Discord: anggreklestari#3009
---
---
---