Plant-based Bunny Ears (My Mind Cooks Up Something Different)
---
---
We never know the outcome of something.
Do what we can, surrender to the results.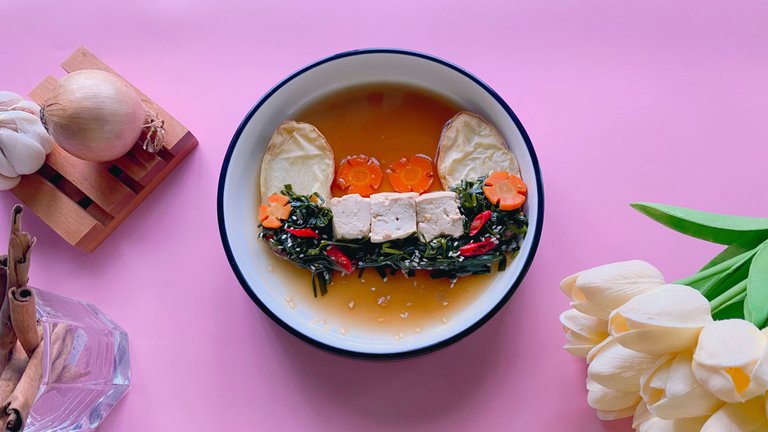 ---
---
Cooking and creating content from it is never an easy job for me. Especially when my mind really invites me to do a presentation that is beyond my expectations. It really makes me exhausted because my energy is drained to think about how my cooking will look like.
But, I'm always grateful. Many good results beyond my expectations. My actions when plating food are random based on the condition of the texture and color of the food itself.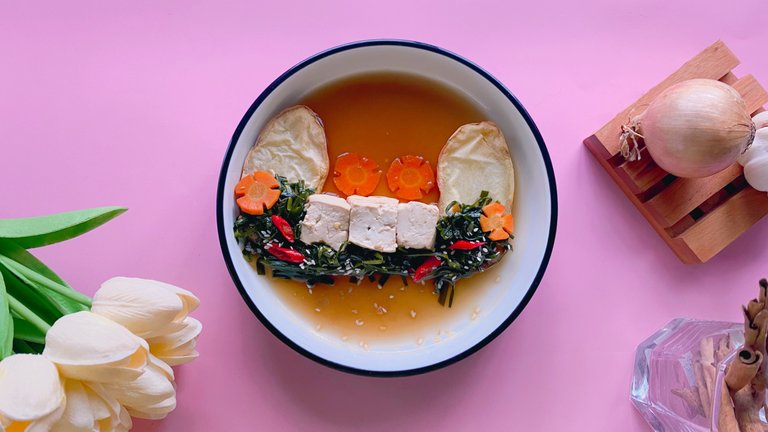 Just like this time, the appearance of my dish on the plating plate was beyond my expectations. It looks like a nice bunny ear shape. I didn't realize from the start even until the end of the photo shoot of the cooking.
It felt like someone was moving my hand. Whispers from my mind that ultimately made me show the presentation of the dish. What do you think? Does that really look like a cute pair of ears?
---
---
---
Chives With Tofu and Potatoes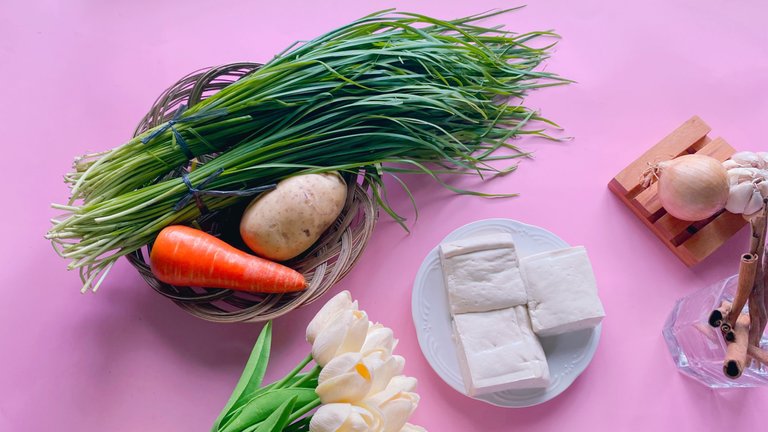 Can you guess the ingredients on my plate? They consist of Chives as the main vegetable, there is also tofu as a complement, and potatoes to make us full.
In my area, Chives are not popular for serving salads. Chives are popularly cooked with tofu. Tofu is the most famous pair of Chives. We rarely find other popular ingredients to pair with Chives.
As dinner is not too heavy compared to lunch, I decided to make a variation on the Chives menu. Since undergoing the weight loss program, I have become accustomed to feeling full quickly. So, I make menus with small portions, but most importantly they contain good nutrition. Stay tuned for the recipe!
---
---
---
Roasted Potatoes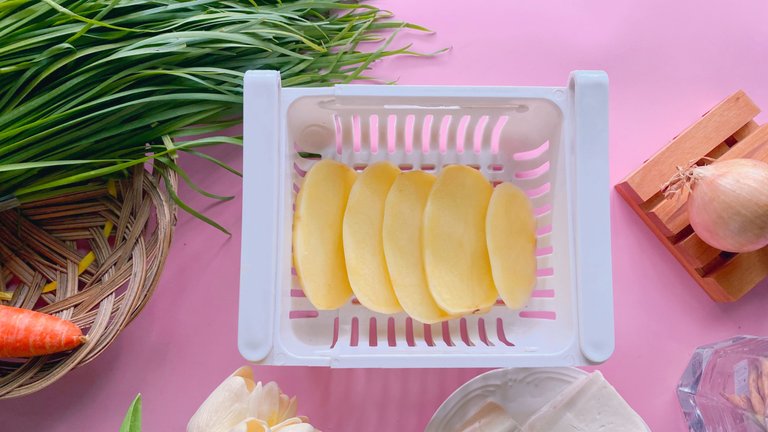 As usual, I use an air-fryer to roast potatoes. I often change the shape of the potato pieces to avoid boredom while eating.
This time I used a potato cut shape with long and slightly thick slices.
---
---
---
Stir-fry Chives
I am a spontaneous person. Likewise with daily food for my family. I don't always make plans for my cooking. In fact, by seeing various vegetables in the market, I was inspired to make different menus every day.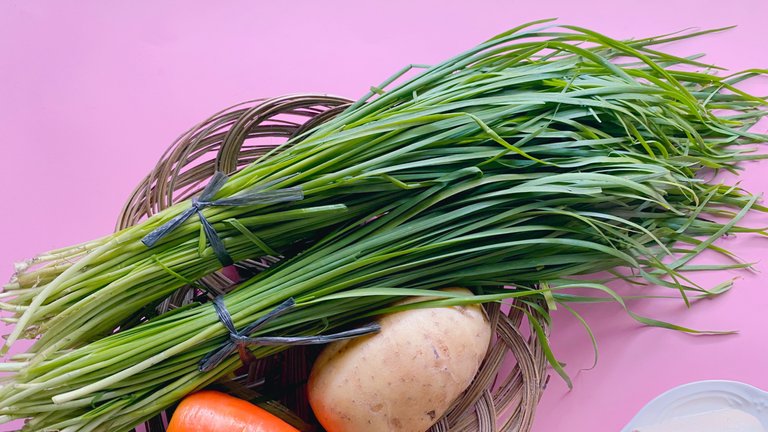 The spontaneous thing that makes me prepare different food every day is also because I often look at cooking inspiration from the Pinterest app. Of course! We need a lot of inspiration to make dishes every day. Especially for chefs at home for family members.
---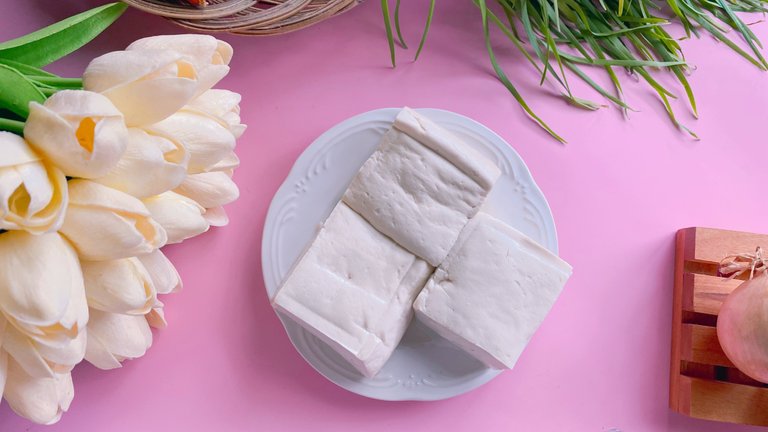 Chives fresh from the market really tempt me. Also, the tofu looks good with its shape.
---
---
---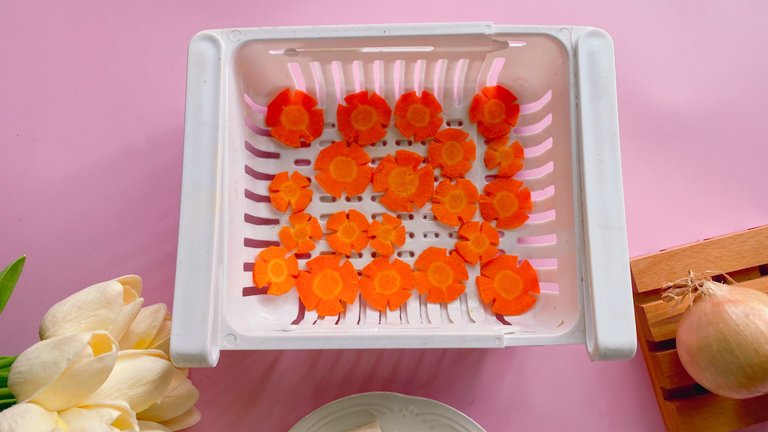 To create bright colors and increase appetite starting from the visuals, I use slices of carrots which I shape into flowers. I shaped a carrot into flower slices manually with a knife. I made holes on all 4 sides of the carrot, before slicing the carrot. But make sure the four sides of the hole don't penetrate all the way to the hard-textured center of the carrot. That will make the flower shape fail to form. So, we need a strong feeling to move the knife when forming flowers manually from a carrot.
---
Seasoning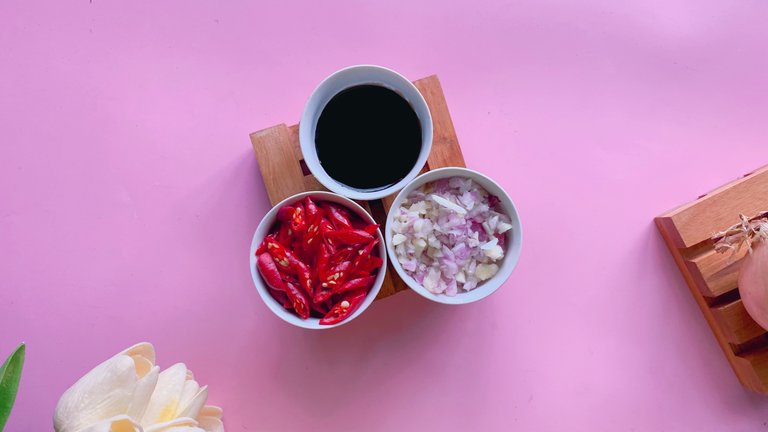 2 tablespoons of sweet soy sauce
2 tablespoons of chopped garlic and red onion
slices of red chilli or red bell pepper to taste
1/2 teaspoon of salt or according to your taste
150 ml of water
---
Cooking Instructions
Stir-fry Seasoning.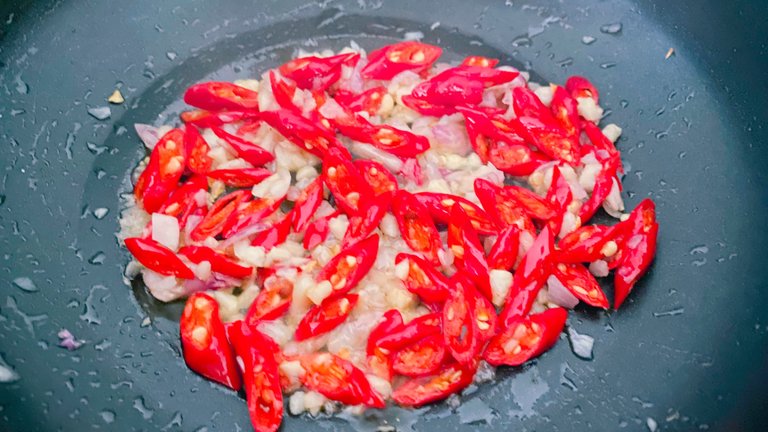 Heat some oil. Then, stir-fry the chopped onions until they smell fragrant. After it becomes fragrant, add slices of chilli/bell pepper. Stir for a while until the slices of chilli look wilted.
---
Add All Veggies.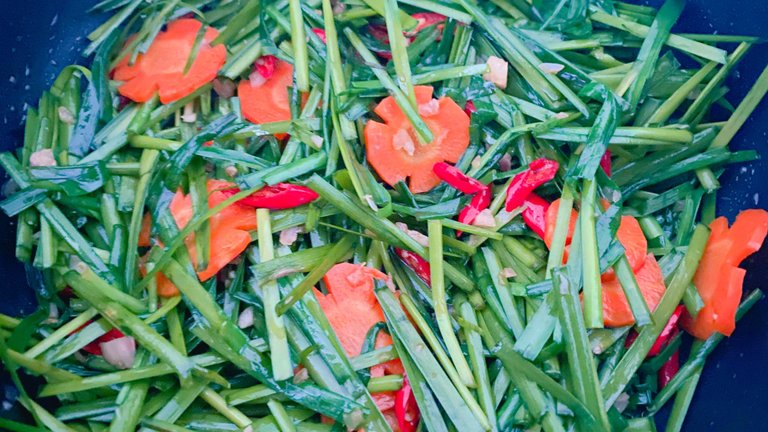 Then, add all the veggies. Add about 150 ml of water to prevent them from burning. Cook them until the texture is cooked or adjust to your taste. I use about 5 minutes.
---
Add tofu.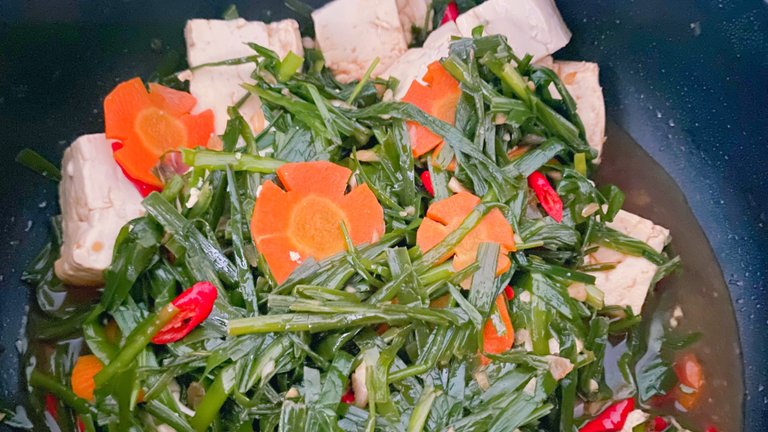 Final step, add tofu, soy sauce, and salt. Cook again for about 3 minutes. Taste correction before lifting.
---
---
---
Serving Time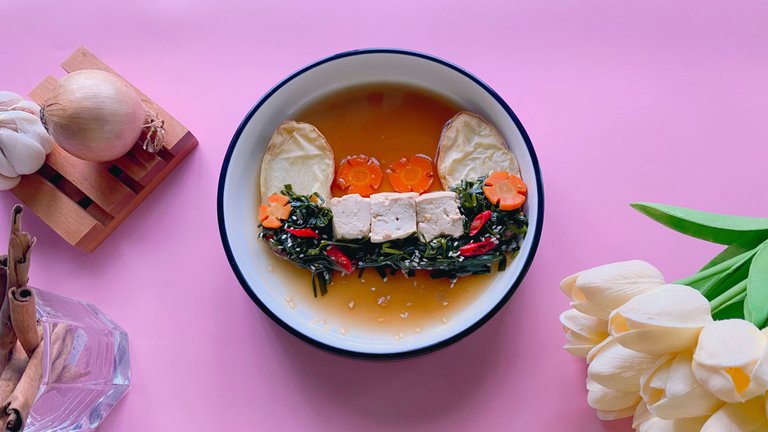 ---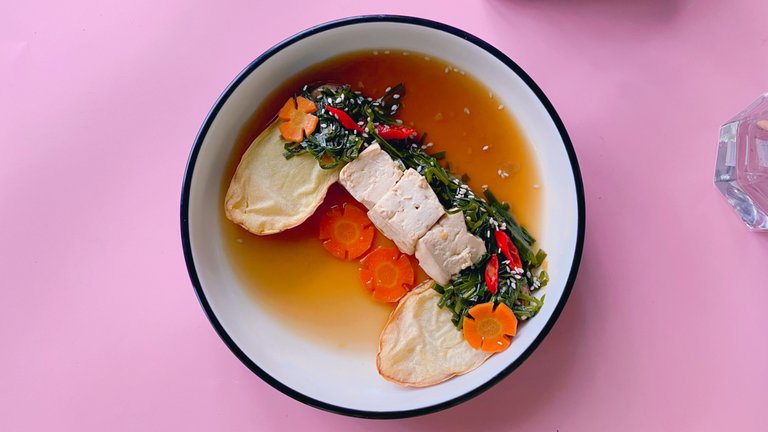 ---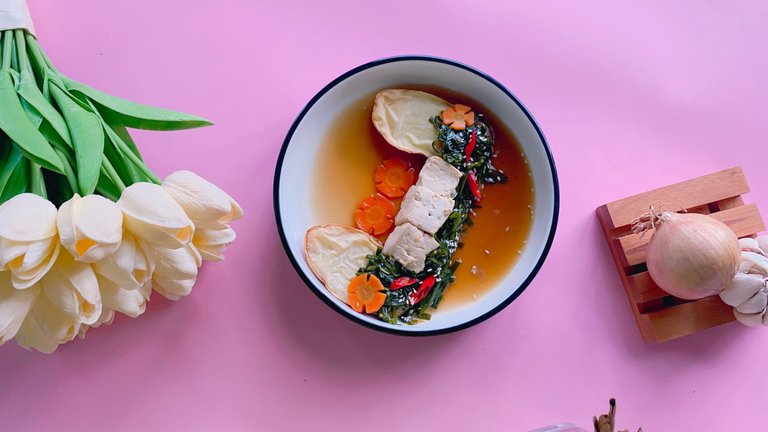 Serve while everything is warm. I arranged all the elements on the same plate. I also added gravy to the serving plate. Using a serving plate that has a high rim is important. But wait, you can also use a bowl to be more practical and put all the meals together.
Tadaa! This is my plant-based bunny ear. Roasted Potatoes that make the visuals so different this time! Oh, thanks to the Roasted Potatoes!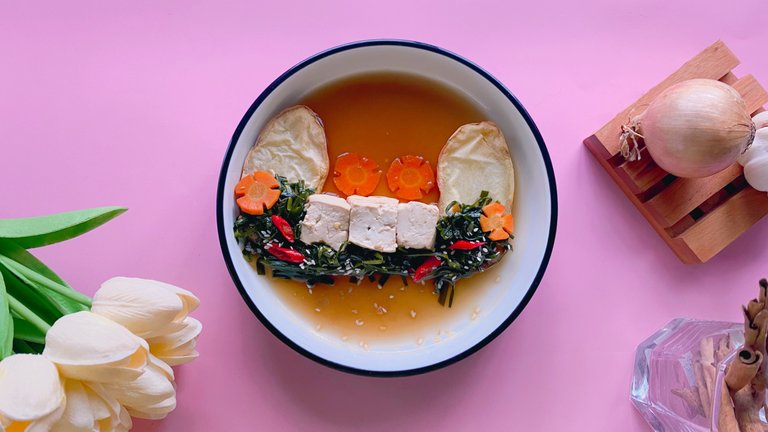 ---
---
---
Thank you for reading my blog and reblog if you want my blog this time worthy of reading by others.
---
---
---
Best Regards,
Anggrek Lestari
---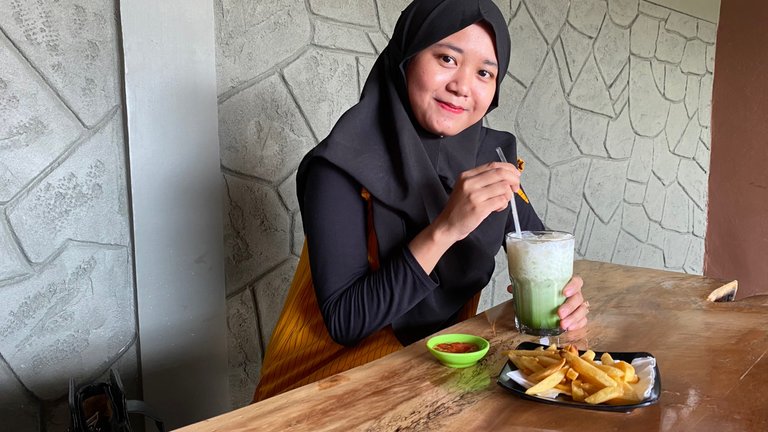 Who is Anggrek Lestari?
Anggrek Lestari is an Indonesian fiction writer who has published two major books. Now She is a full-time content creator. She has a goal to share life, poem, and food content that makes others happy and can get inspiration.
---
Contact Person: [email protected]
Discord: anggreklestari#3009
---
---
---