Plant-Based Teriyaki Bowl
---
Not the beef teriyaki you're looking at. Those are slices of tempeh covered with teriyaki sauce.
Sweet and salty from teriyaki sauce is a great mix for tempeh in a bowl of spicy noodles.
---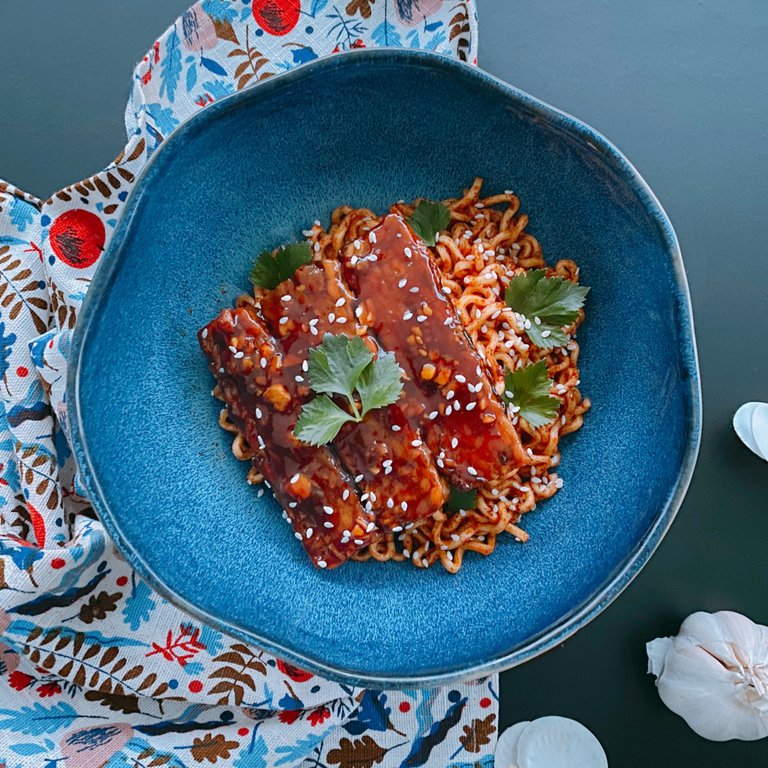 Do you like sweet and salty teriyaki sauce that is easy to make at home? Well, I just found out that the sauce is called "teriyaki". I often make this sauce even though I didn't know the name of this sauce at first.
Until finally I found out the name of this sauce when I explored the inspiration for a new food menu on the Pinterest application. Actually, teriyaki sauce is made from garlic, and ginger, with soy sauce, brown sugar, and salt. Then we can add cornstarch flour to change the texture to be thicker.
---
Using Tempeh Instead Beef of or Chicken
Beef of Chicken is common, but tempeh is an authentic thing worth trying
---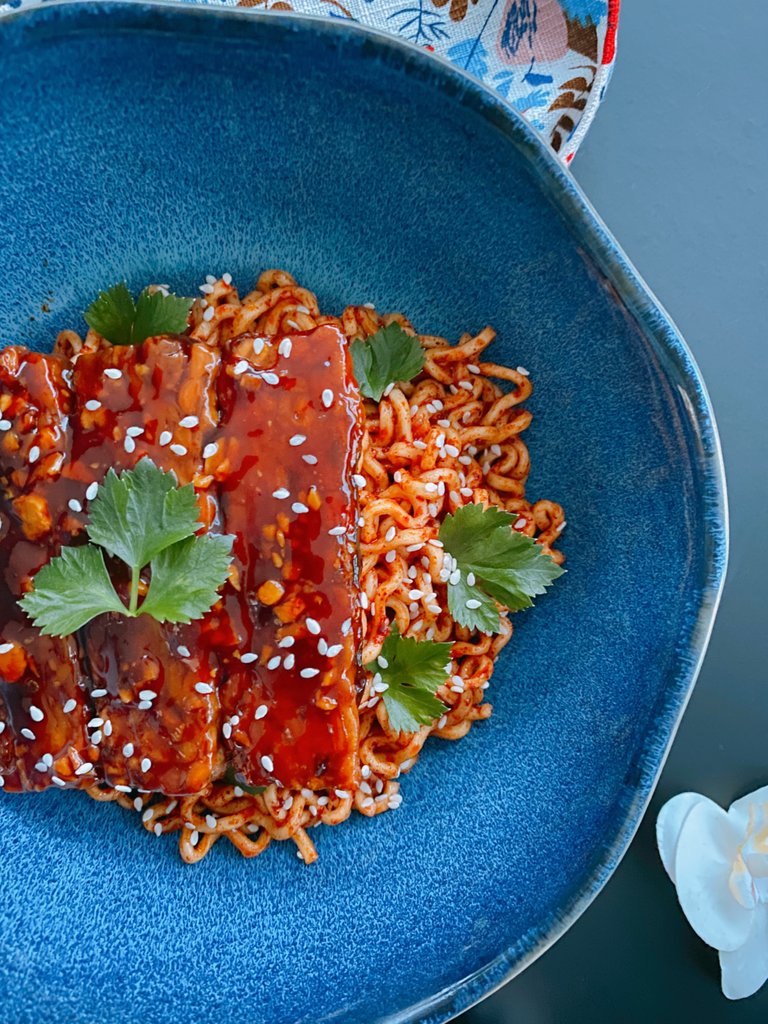 I used only one tempeh block. This can be enough for up to 3 servings. I have a stock of tempeh wrapped in banana leaves. This is the traditional tempeh which takes longer to rot than the modern tempeh wrapped in plastic.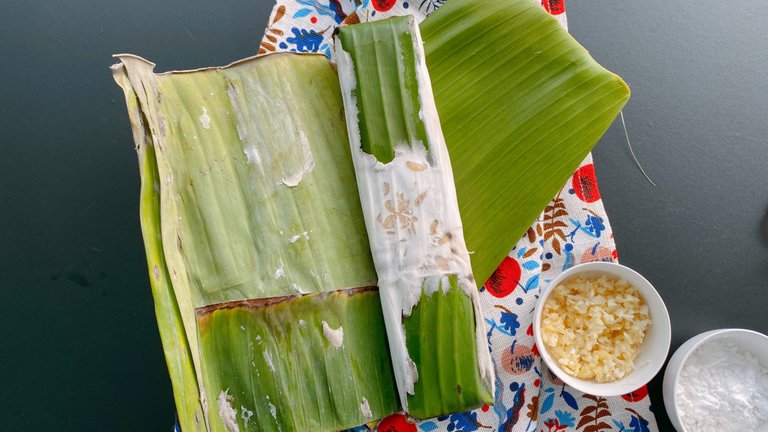 ---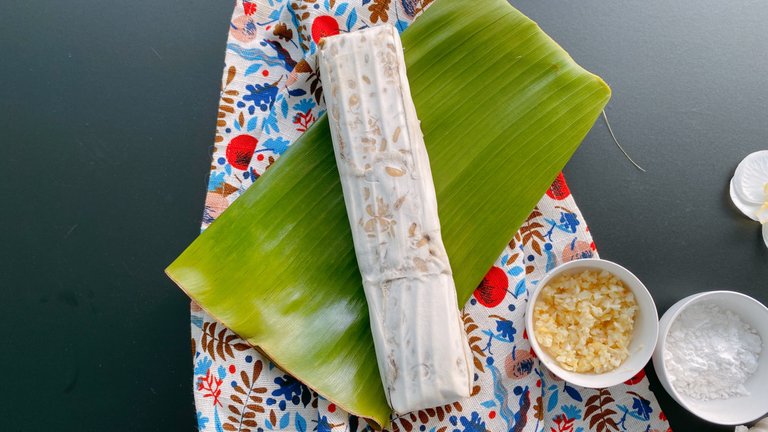 So, if the shop has tempeh wrapped in banana leaves, I will buy it instead of buying tempeh wrapped in plastic.
---
Then the tempeh is sliced ​​lengthwise but not too thin to avoid the tempeh being crushed during the cooking process.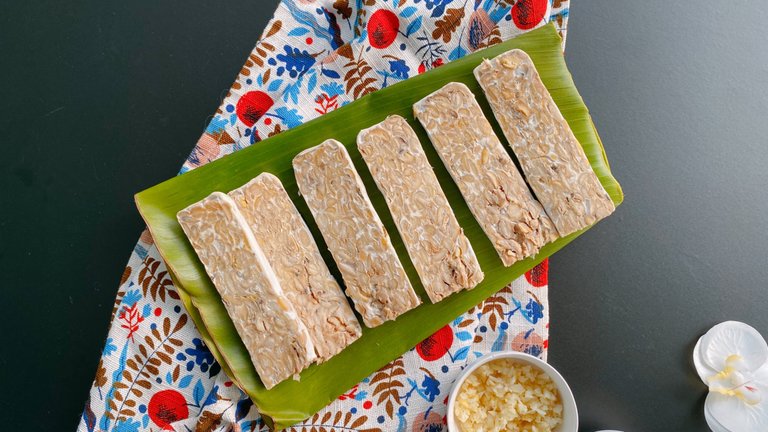 ---
Heat oil, then fry tempeh on both sides. Once cooked, remove and drain.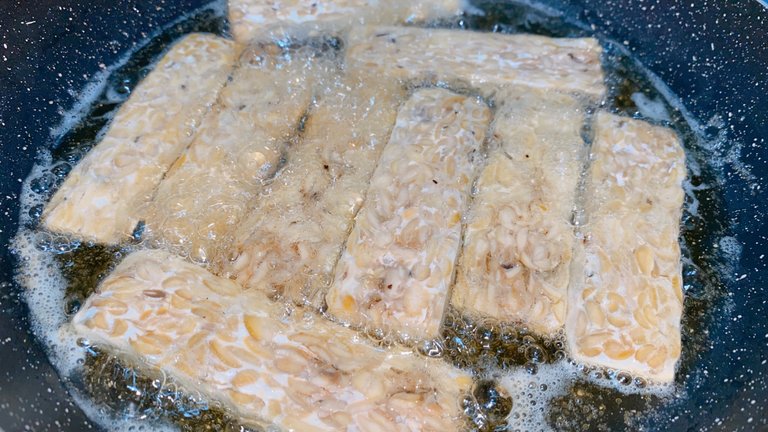 ---
---
---
Making Teriyaki Sauce
---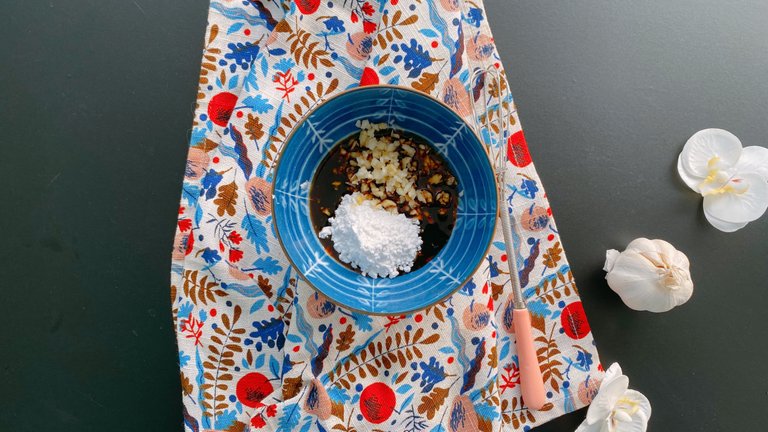 Let's prepare the teriyaki sauce. The ingredients that must be prepared are finely chopped garlic and ginger.
Then a few tablespoons of soy sauce. Here I use sweet soy sauce, so I don't need to add any more sugar.
For those of you who don't use sweet soy sauce, you have to add brown sugar to add the sweetness that must be present in the flavor component of this teriyaki sauce.
Then, here I also use a tablespoon of cornstarch sauce. If you don't like a thick sauce, you can skip this ingredient.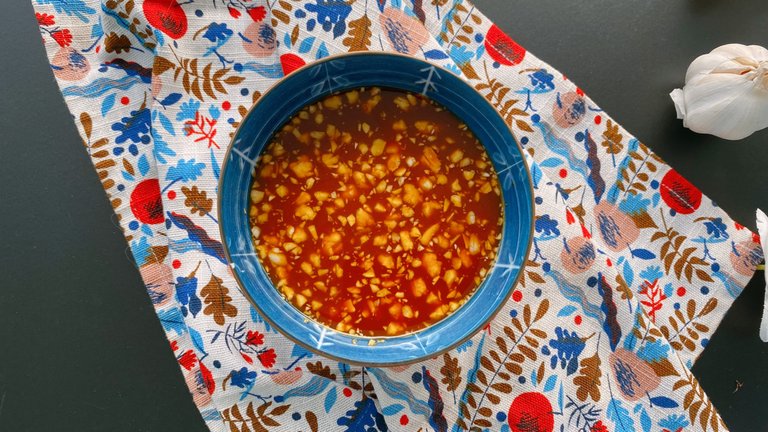 Don't forget to also add water so that the sauce doesn't burn.
---
Stir all ingredients until well blended. Then, bring them to a simmer. Keep stirring so the sauce doesn't burn.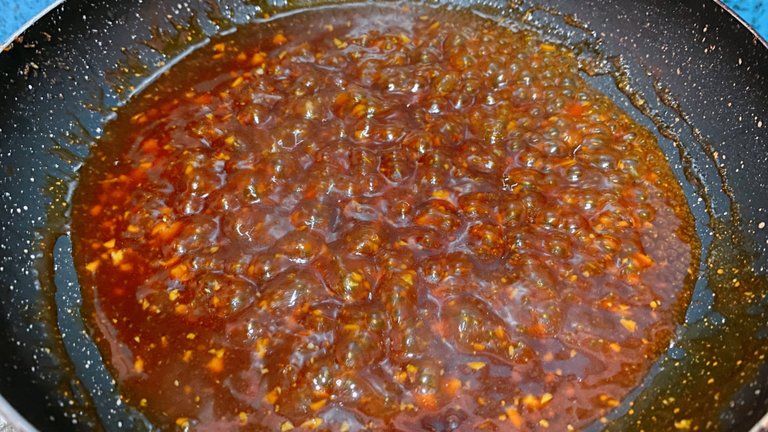 ---
After the sauce thickens and bubbles form on the surface of the sauce, add the fried tempeh. Cook for a while, then turn off the heat.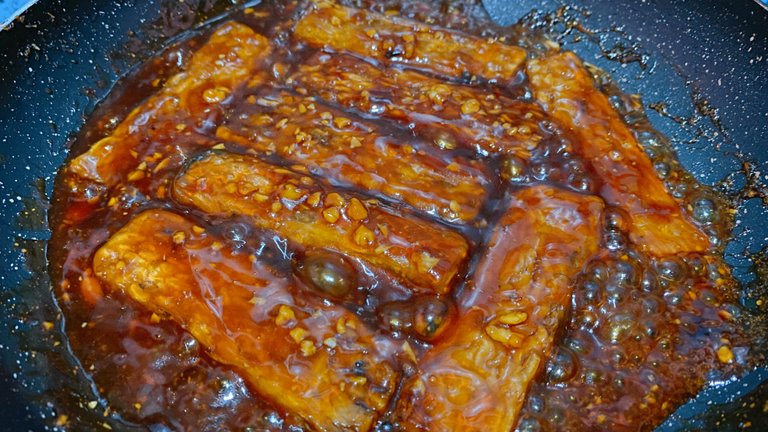 ---
Serving
Serve tempeh teriyaki with noodles or rice using a bowl. Here I used spicy noodles that I had previously prepared. Use vegan noodles for the vegan version.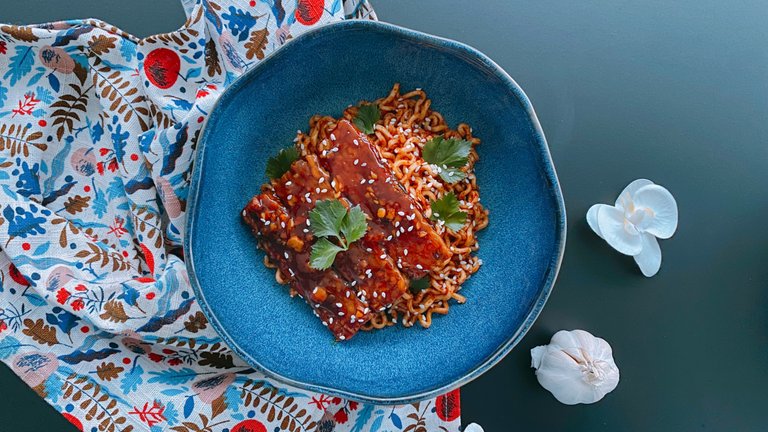 ---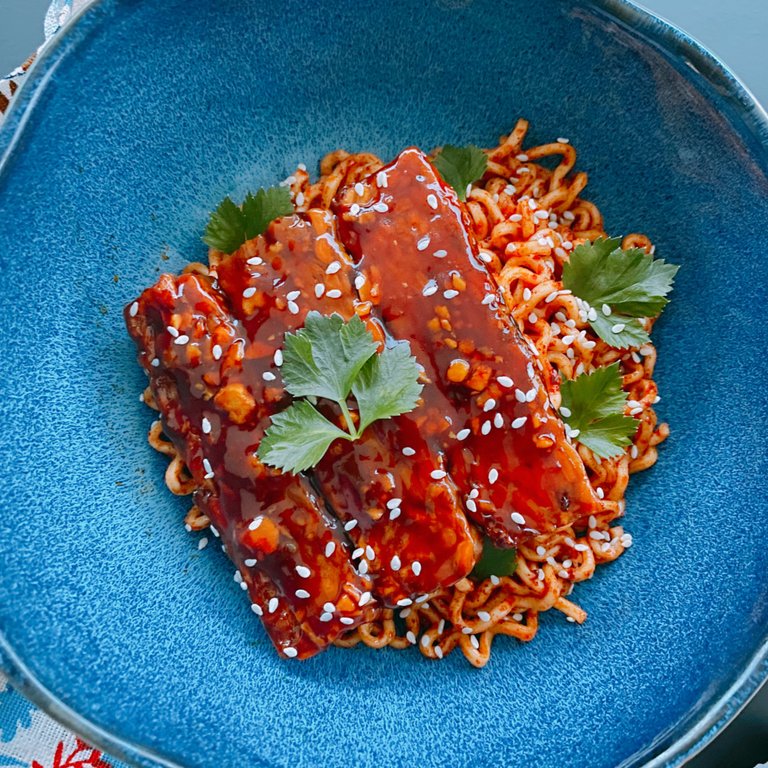 You can also serve this type of tempeh with warm rice, or mashed potatoes. The choice is yours. So, what's your choice, HIVE Lovers?!
I really like this menu, especially for dinner on a fairly busy evening. Even a few times I only fry tempeh using the Air Fryer which can save me even more time. I can wait for tempeh to ripen in the Air Fryer while I do other activities.
The teriyaki sauce itself is quite easy to make. So, this menu is easily included in the list of favorite meals for my family members. I hope you guys like this too. And, until next, plant-based food lovers!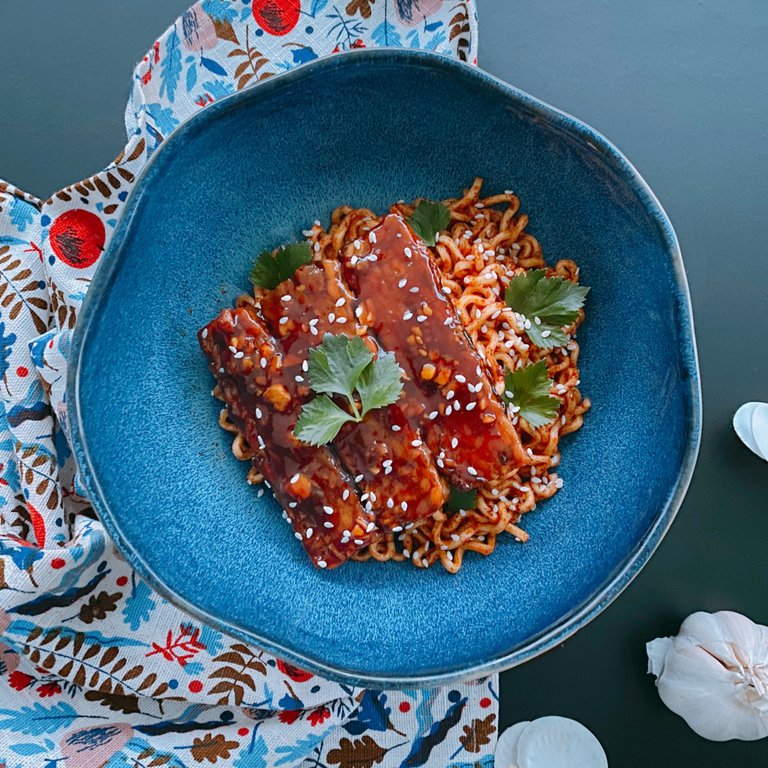 ---
---
---
Thank you for reading my blog and reblog if you want my blog this time worthy of reading by others.
All pictures were taken using iPhone 11.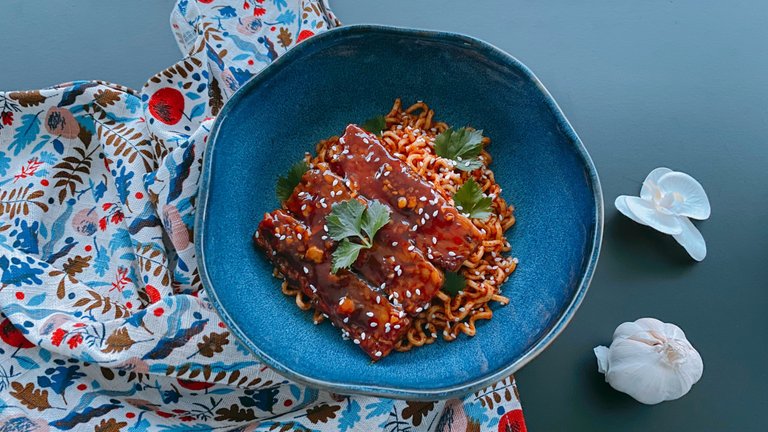 ---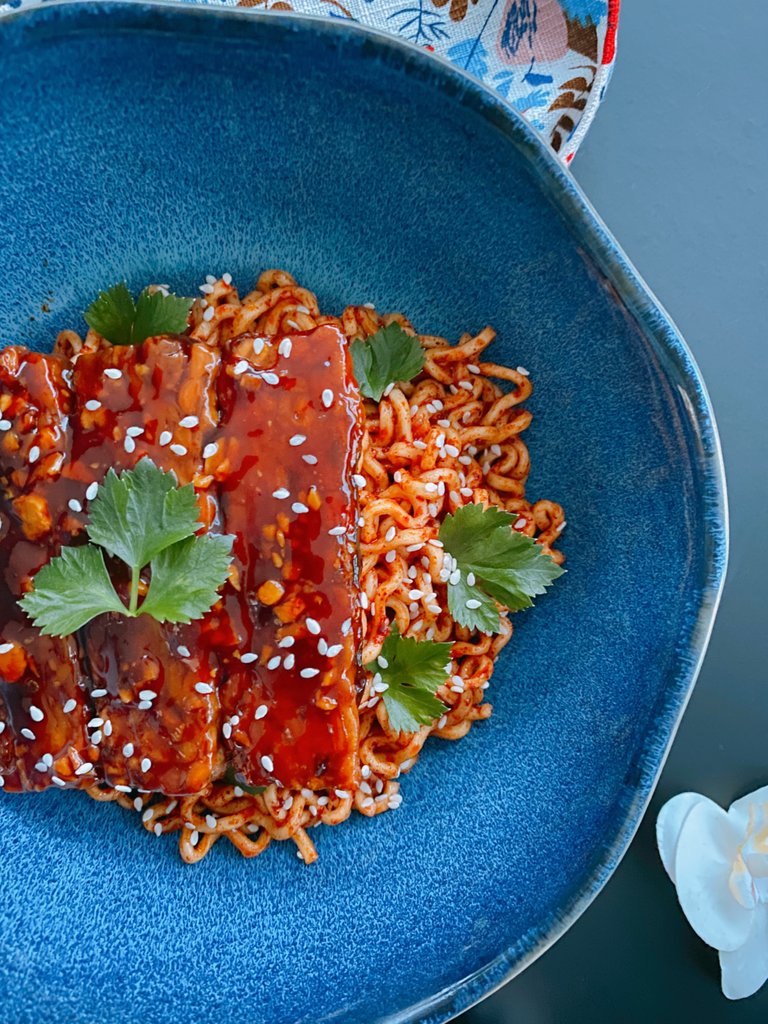 ---
---
---
Best Regards,
Anggrek Lestari
---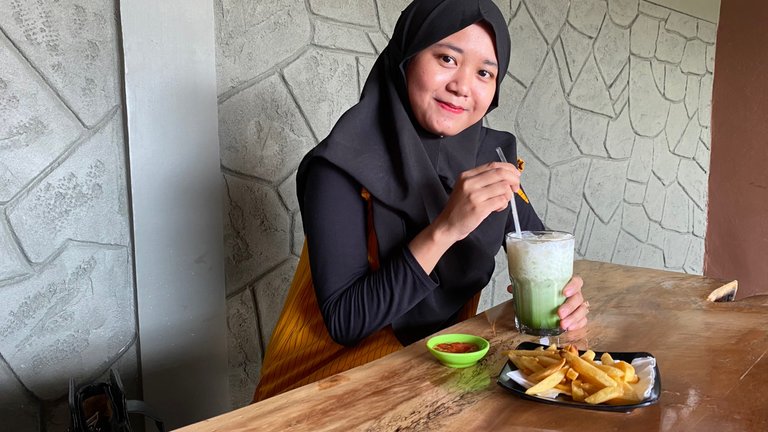 Who is Anggrek Lestari?
Anggrek Lestari is an Indonesian fiction writer who has published two major books. Now She is a full-time content creator. She has a goal to share life, poem, and food content that makes others happy and can get inspiration.
---
Contact Person: [email protected]
Discord: anggreklestari#3009
---
---
---