Serving Cucumbers In A New Way For The First Time
If life gives us an abundance supply of cucumbers, then making a variety of dressing sauces is the solution for serving cucumbers in many ways.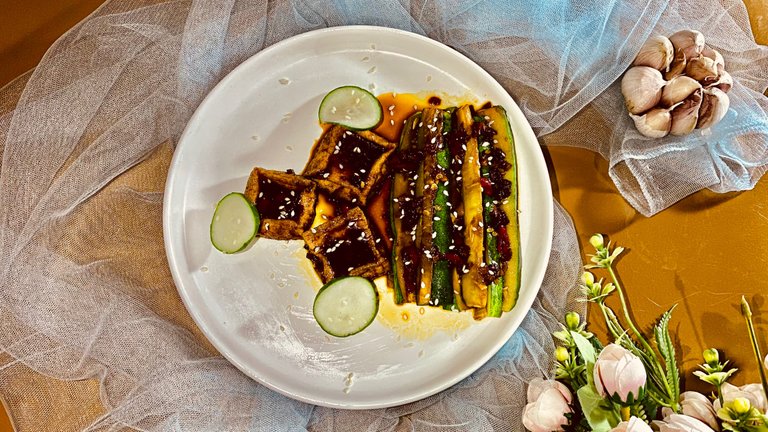 ---
---
---
Do you like cucumbers? Maybe the answer will be the same as mine, not very fond of cucumbers. But with easy-to-find supplies, and the perishable condition of cucumbers forced me to process the cucumbers before the cucumbers ended up in the trash because they were rotting.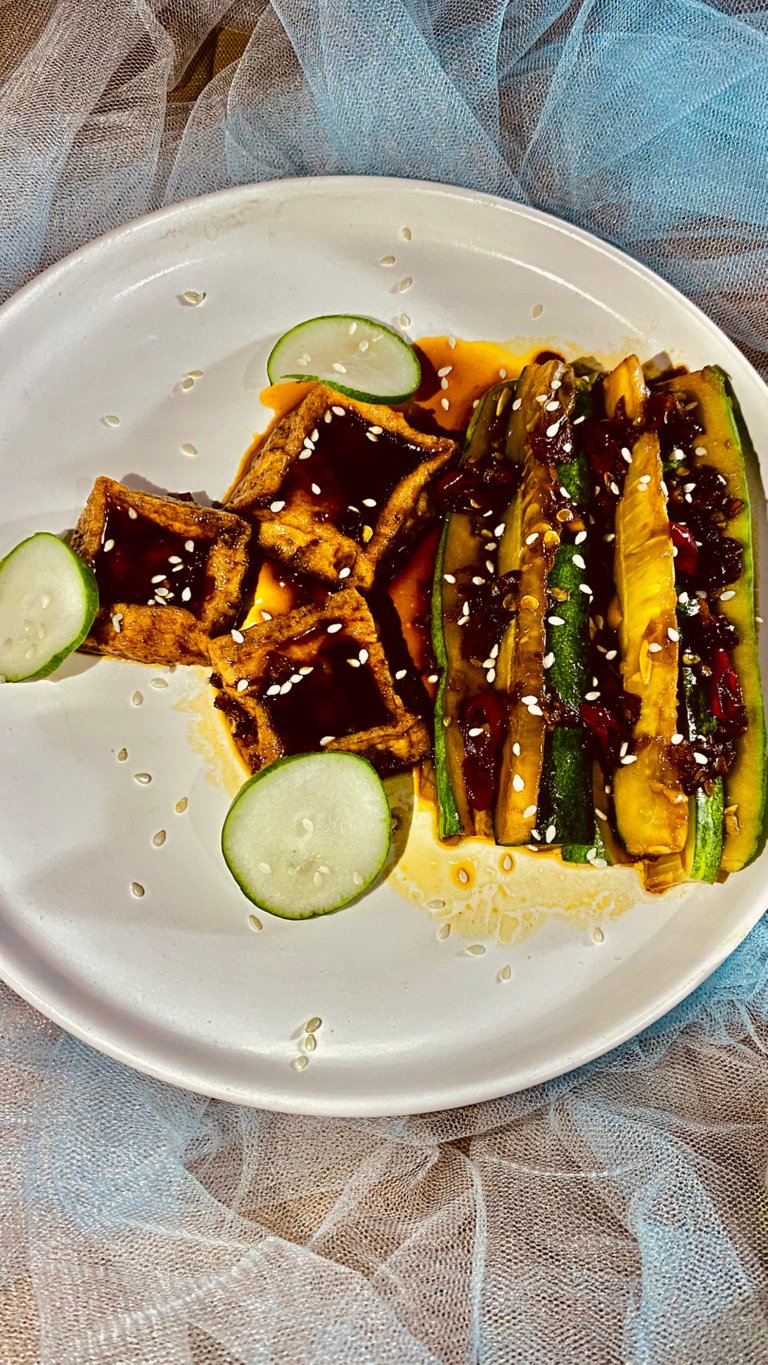 In Indonesia, we often see cucumber as a garnish that is eaten raw. Usually, we find it on the Sambal menu, fried rice, and various side dishes from animal protein.
---
---
---
Eaten Raw as a Treatment to Lower Blood Pressure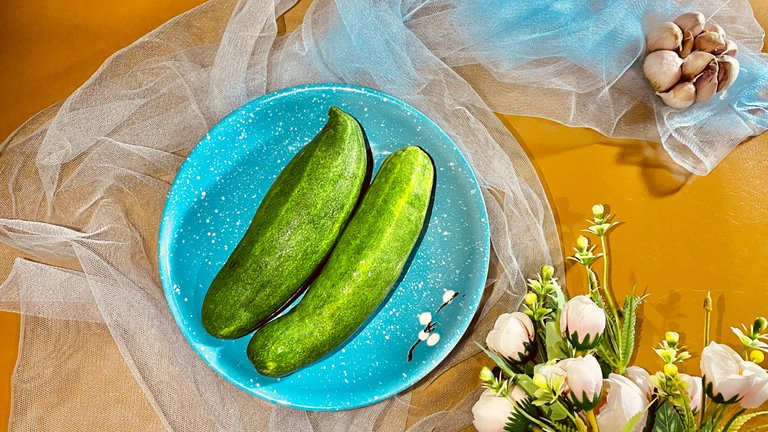 So far, in the area where I live, we usually eat cucumber raw or make a salad with a certain seasoning. The obvious benefit of consuming cucumber is lowering blood pressure.
That's why my mother regularly supplies cucumbers at home. My mother is a sufferer of high blood pressure, especially when eating certain foods. So cucumber really helped my mother to stabilize her high blood pressure.
---
---
---
Cucumber with Soy Sauce and Fried Tofu
In the area where I live, my uncle often gives us harvested cucumbers. In addition, my mother also often buys cucumber at a local small shop if she does not get a supply of cucumber from my uncle.
So I often find cucumbers in the refrigerator, and most of the time my mother doesn't finish them. Like today, I saw that there were some cucumbers that looked like they had to be processed today. If the cucumber is not processed today, it will rot tomorrow.
Then the problem arises, I have never processed cucumbers into anything else. Usually, I only eat cucumbers raw or doused with fruit salad sauce.
I thought of an idea that is still related to salad dressing so that the final taste of the food I make is still comfortable and familiar to my tongue.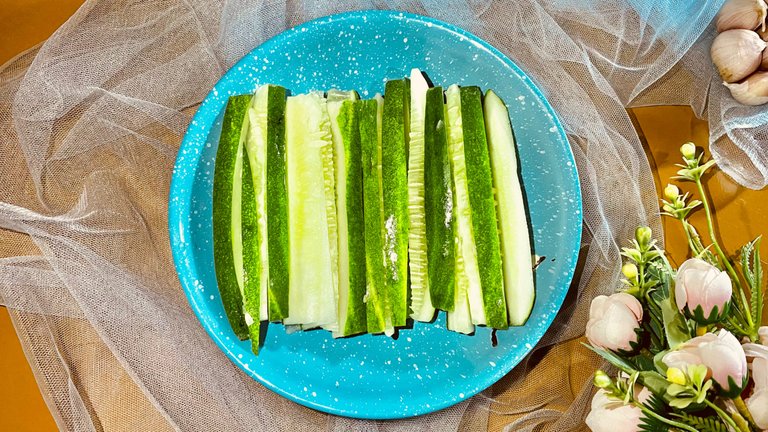 For the type of cucumber in my area, where we can see a clear difference compared to the Japanese cucumber. The cucumber in my area has more inner seeds than the thickness of the cucumber itself. But fortunately, the overall texture of the cucumber is still crunchy, although not as crunchy as the Japanese cucumber.
---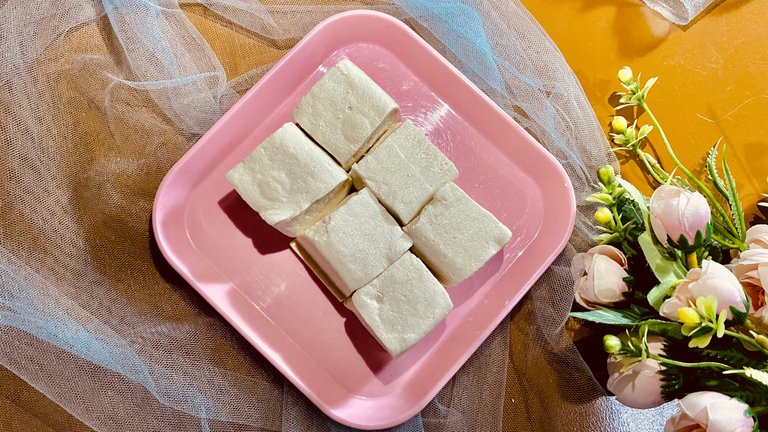 Then I got the idea to make soy sauce. Incidentally, I also have a stock of tofu. Tofu is also very perfect when paired with a dish of soy sauce.
So, let's start to make cucumber with soy sauce and fried tofu. Stay tuned!
---
---
---
The Ingredients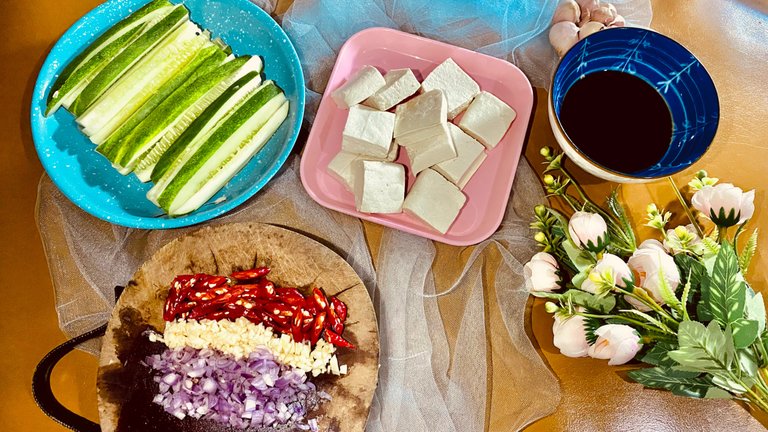 2 medium-sized cucumbers
Tofu, about 300 grams
5 tablespoons of soy sauce
3 cloves of garlic
5 cloves of red onions, or using shallots
5 pieces of red chili
salt to taste
pepper to taste
a little water so that the soy sauce doesn't caramelize and doesn't burn.
---
---
---
COOKING INSTRUCTIONS
STEP 1
Prepare all ingredients. Cut the cucumber. Also, cut the tofu into small pieces, and also chop the red chilies, red onions, and garlic.
For the cucumber slices, I didn't cut the cucumber round here, but I cut the cucumber lengthwise. But you can cut the cucumber according to your taste.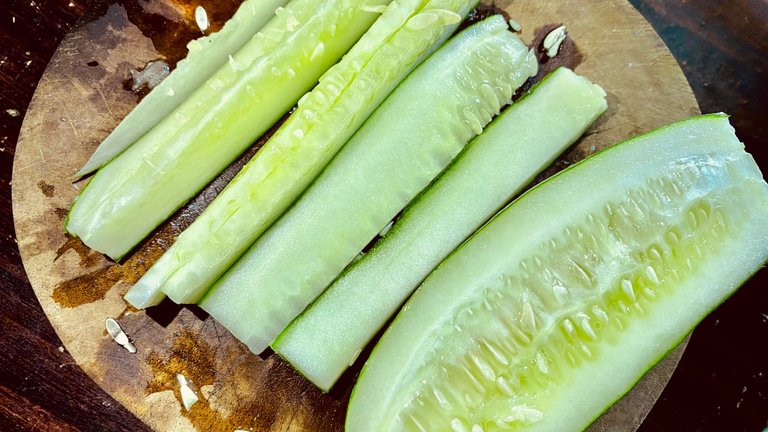 ---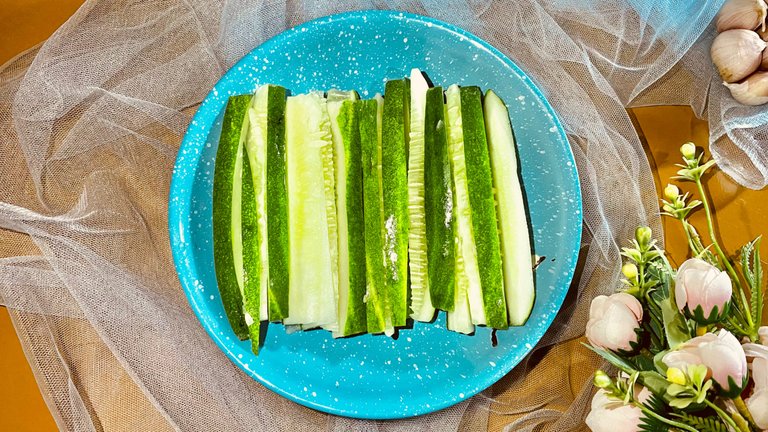 ---
---
---
STEP 2
Heat the oil for frying. But not with the deep-frying method. Then fry the pieces of tofu until slightly brown. Don't forget to flip the tofu so that the other side is also cooked. For those of you who want to fry the tofu in an air fryer, it's better and healthier. :)
---
---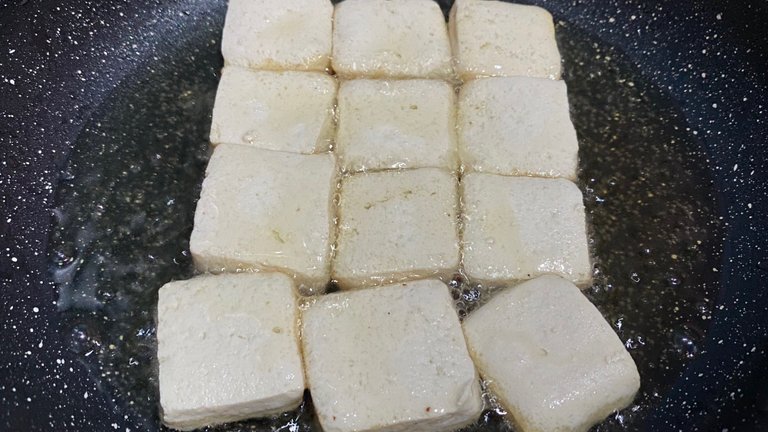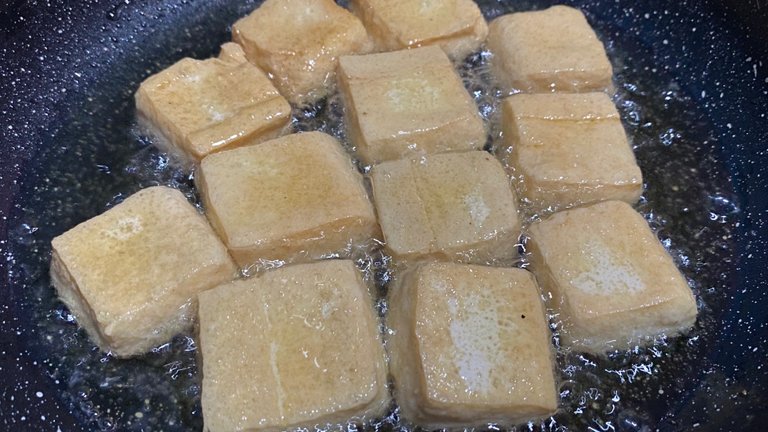 ---
In this recipe, I fry tofu to evoke the tofu's distinctive taste. Of course, the taste will be different if it is not fried. Usually, the tofu that is served without being fried first is for soup or curry dishes.
Another thing that is important to note before frying tofu is to make sure the tofu is dry. Dry the tofu with a paper towel first. That's because tofu is sold in a water-soaked condition to make it last longer. So we will always get tofu in wet conditions. So, don't forget to dry the tofu before frying, or you will face a noisy oil when it mixes with the water from the tofu.
---
---
---
STEP 3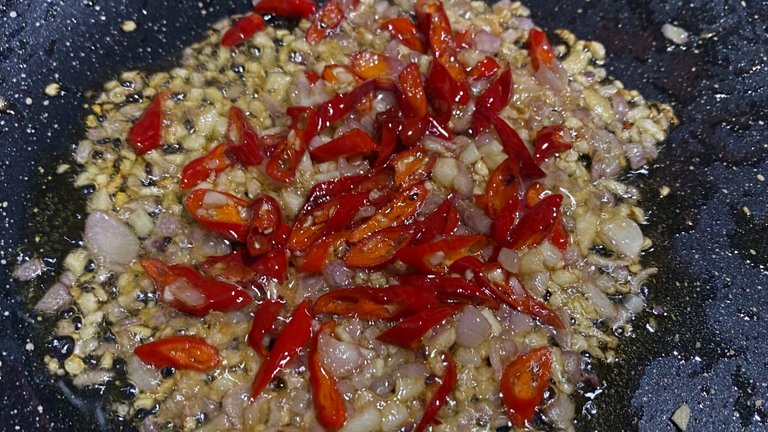 After you finish frying the tofu, set aside the fried tofu, then heat a little oil for sauteing the seasoning. Saute seasoning (chopped garlic, onion, and red chilies) until fragrant.
---
---
---
STEP 4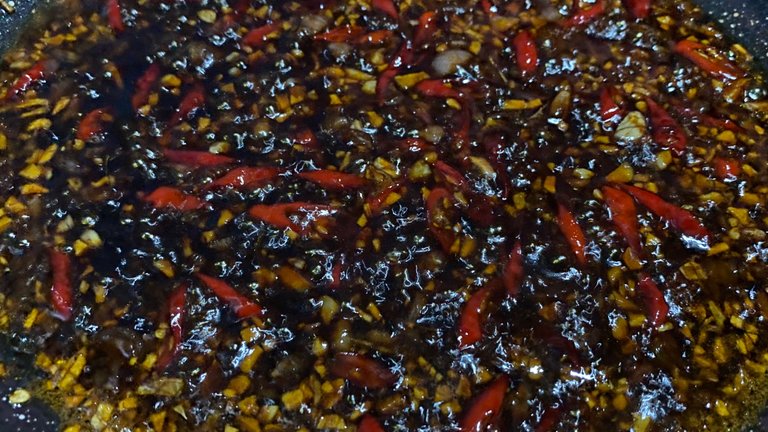 Add soy sauce, a little water, salt, and pepper.
---
---
---
STEP 5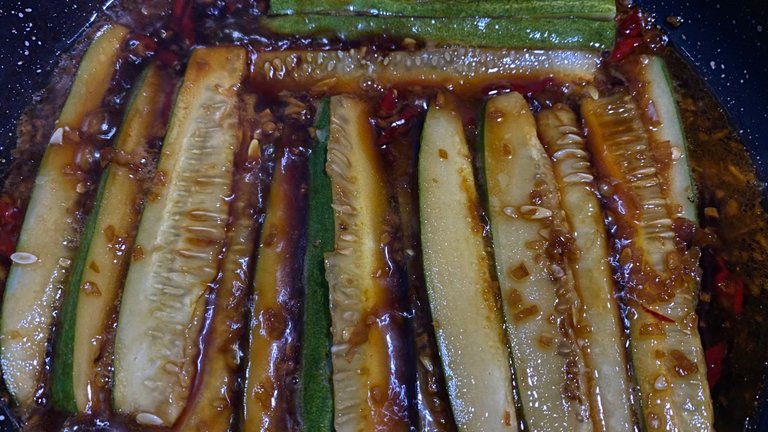 ---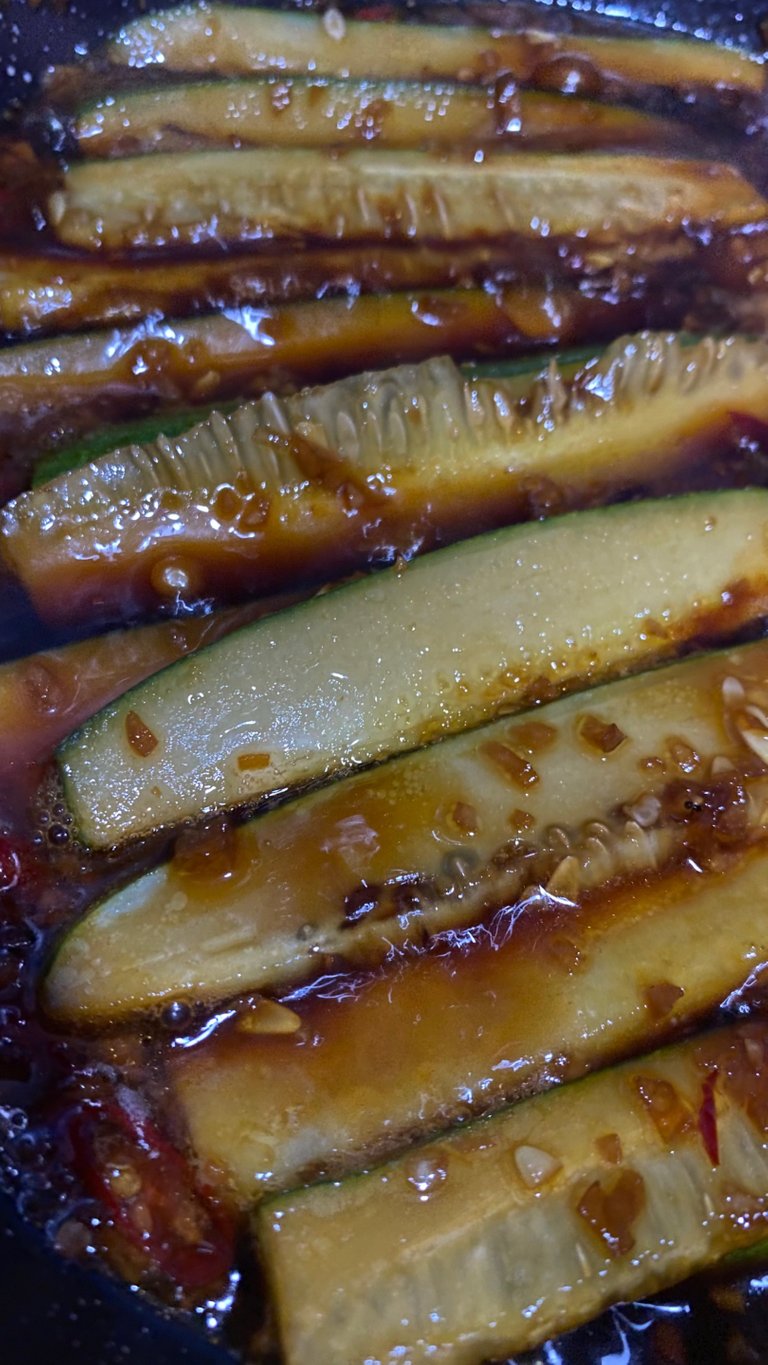 Add pieces of cucumber. Cook until the sauce seems to simmer, or we can see the sauce has absorbed the cucumber.
---
---
---
STEP 6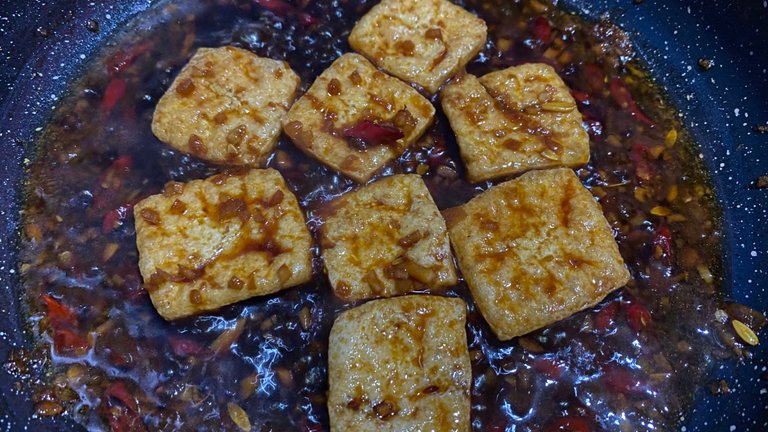 Set aside the cucumber, then it's time to add fried tofu. I added the tofu and cucumber separately because I have a small pan. For those of you who have a large enough pan, you can cook fried tofu and cucumber at the same time.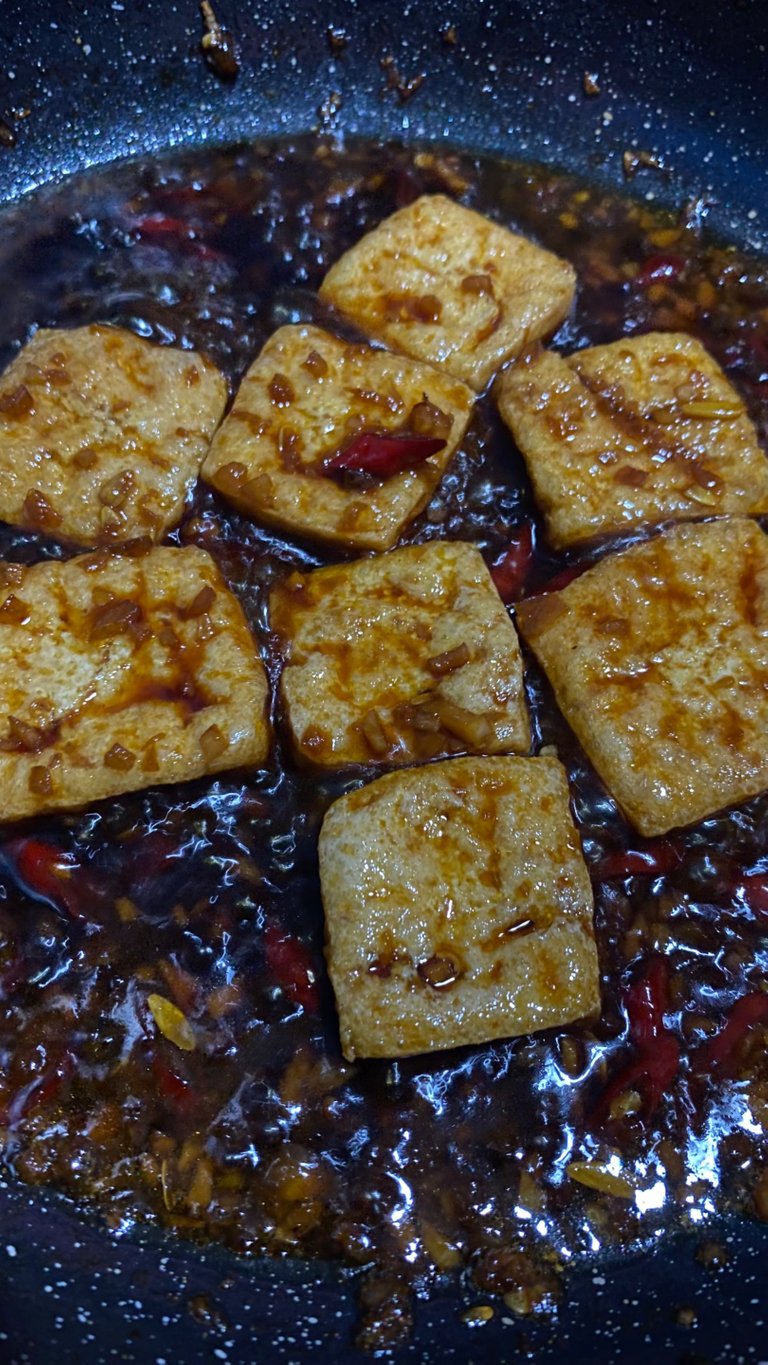 ---
---
---
STEP 7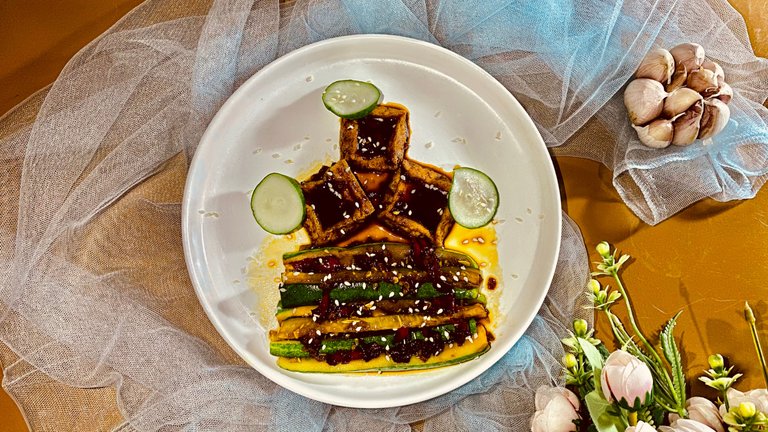 ---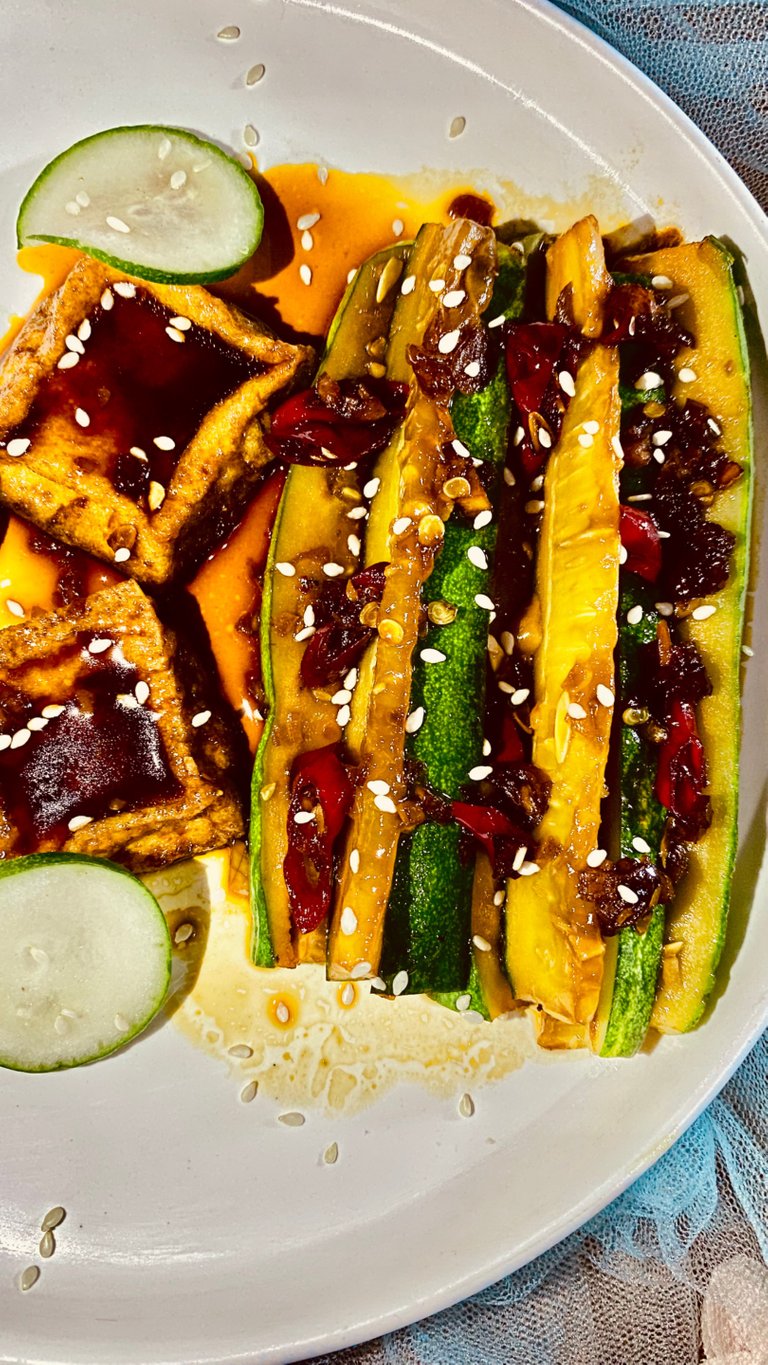 Serve cucumber and tofu while hot. Sprinkle them with sesame seeds.
---
---
---
We can serve cucumber with soy sauce and fried tofu as an appetizer, or as evening snacks. So, how about the taste?
My first impression was that this food was yummy! Even though this is the first time I've served cucumber in this way, the taste is comfortable for my tongue, and it feels familiar like any dish I've had before.
I really like the texture of the cucumber which is still crunchy even though it is served with this technique. The important thing is, don't cook the cucumber for too long in the sauce to keep the cucumber texture crunchy.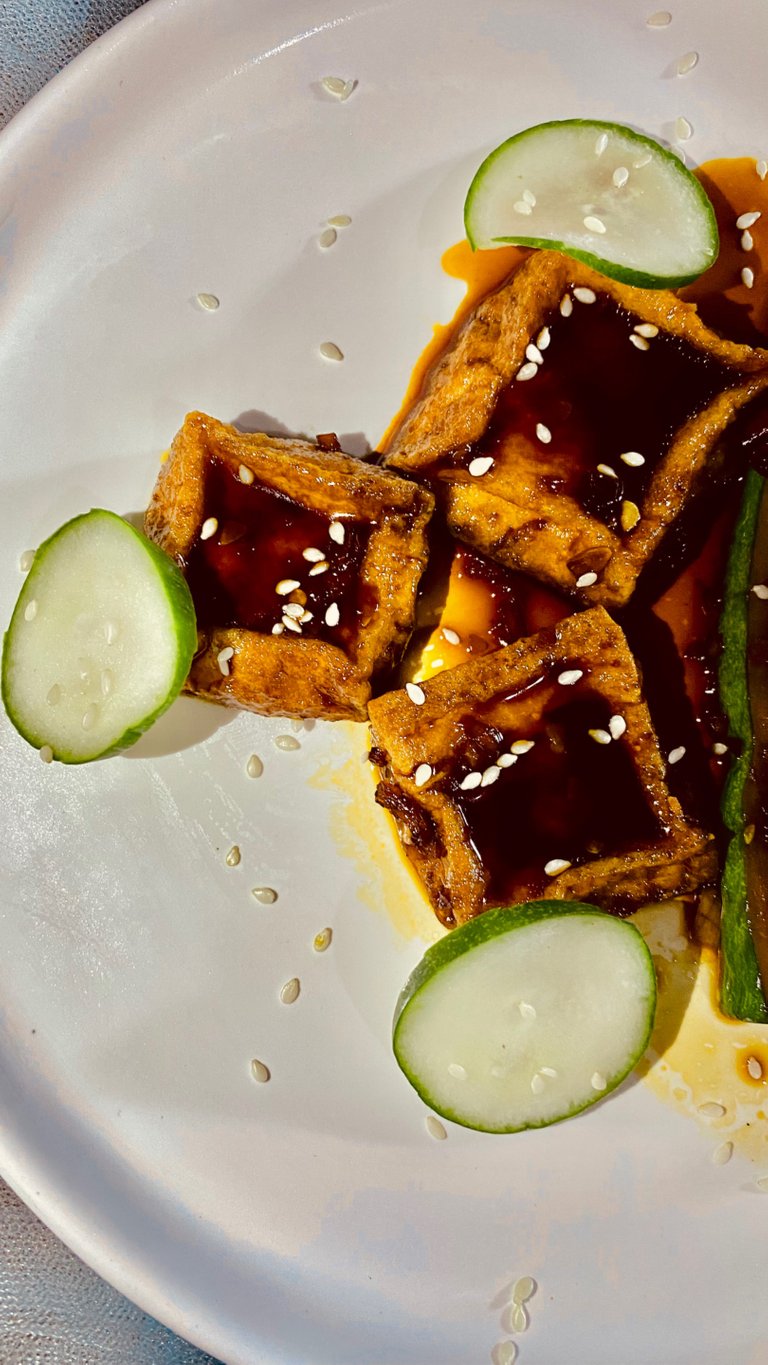 Another hand, fried tofu, which is a friend of the dish from cucumber this time, adds to the value of the delicacy.
---
---
---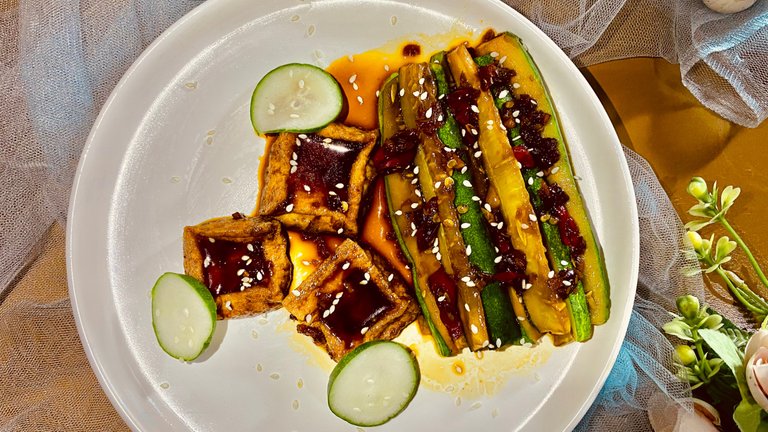 What do you think of this cucumber dish recipe? Have you ever served cucumber in a familiar way like my recipe this time? It might also look like salad dressing for the soy sauce. I hope you guys get some new inspiration from my food blog this time, and until next on my food blog, HIVE LOVERS!
---
---
---
Finding the things that you deserve to find today. Have a great day, good people, HIVE Lovers!
---
---
---
Thank you for reading my blog and reblog if you want my blog this time worthy of reading by others.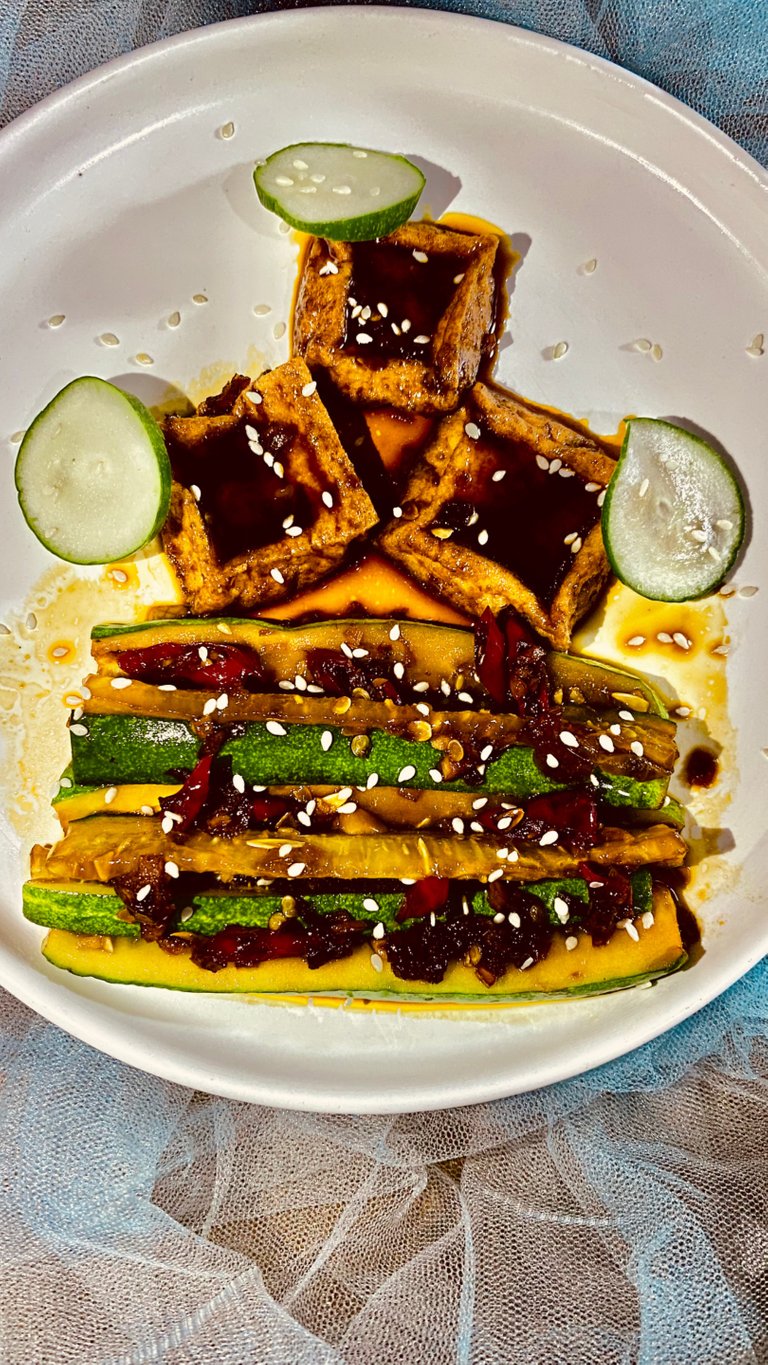 ---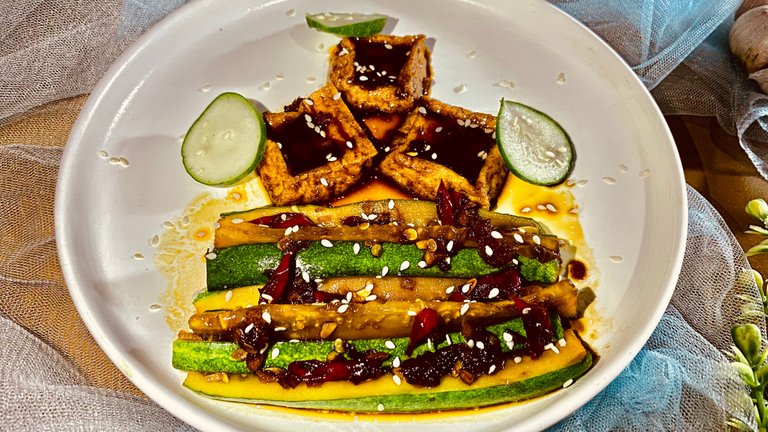 ---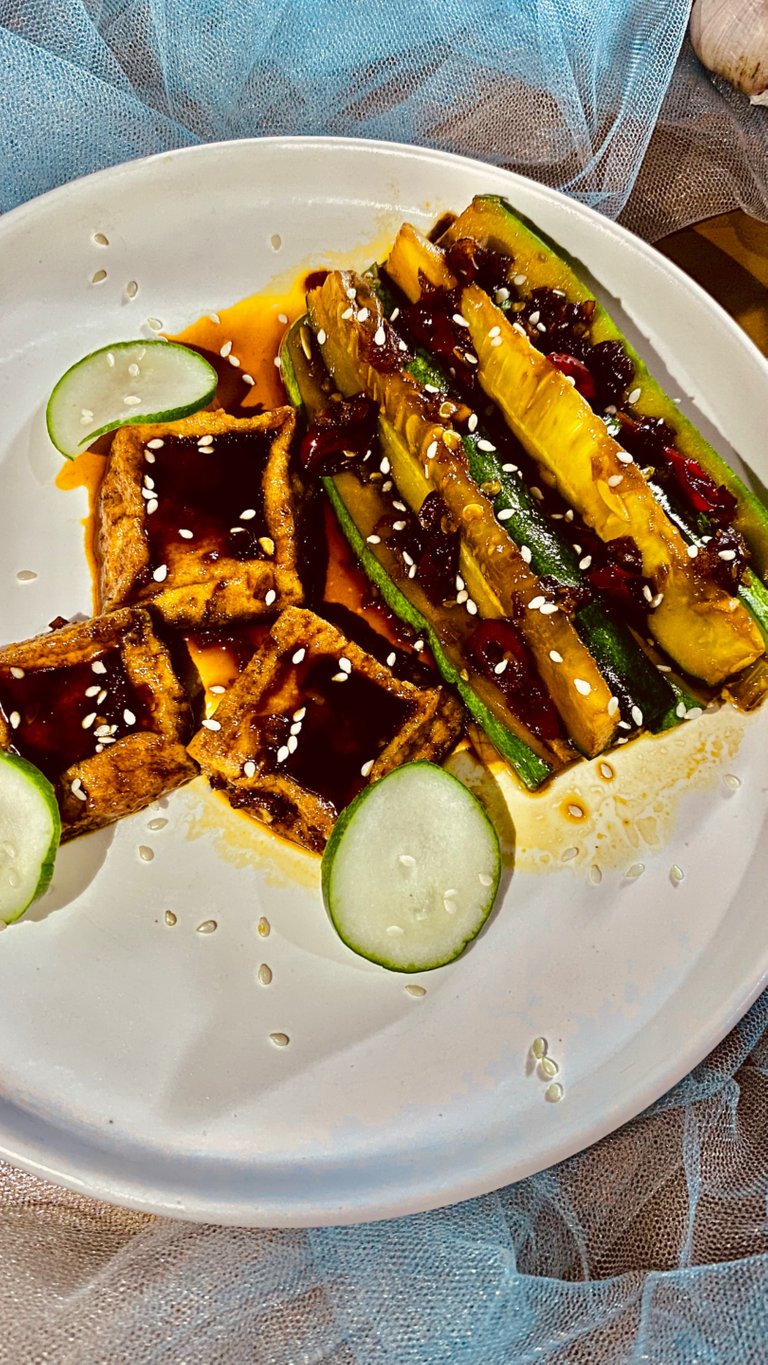 ---
---
---
Best Regards,
Anggrek Lestari
---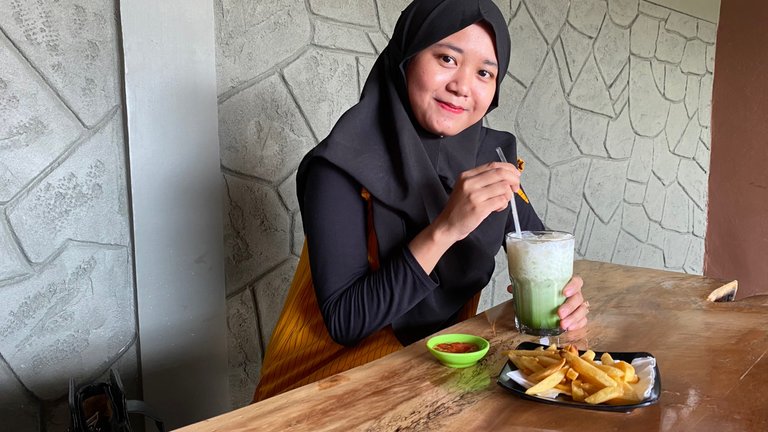 Who is Anggrek Lestari?
Anggrek Lestari is an Indonesian fiction writer who has published two major books. Now She is a full-time content creator. She has a goal to share life, poem, and food content that makes others happy and can get inspiration.
---
Contact Person: [email protected]
Discord: anggreklestari#3009
---
---
---