Tofu Balls With 2 Serving Ways
---
We don't always have a choice. But when it's there, make the most of it for a better feeling.
Enjoy the recipe for tofu balls served just by frying or by adding spicy butter sauce.
---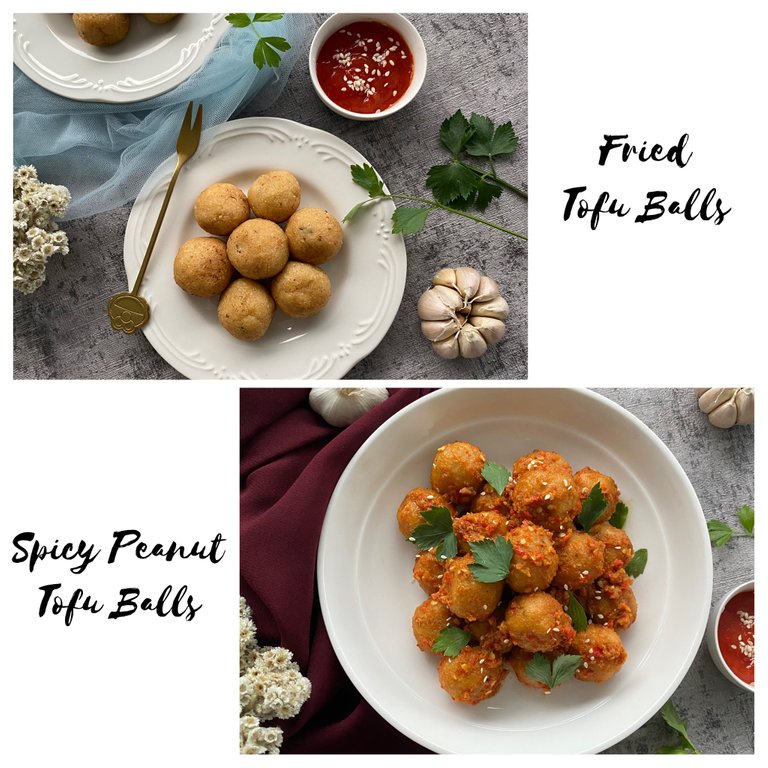 You may be able to imitate many things, but not with feelings. Go into the kitchen, make a menu, set good intentions to serve the best, and do the rest. This time I will make tofu balls which are widely available with similar recipes on the internet.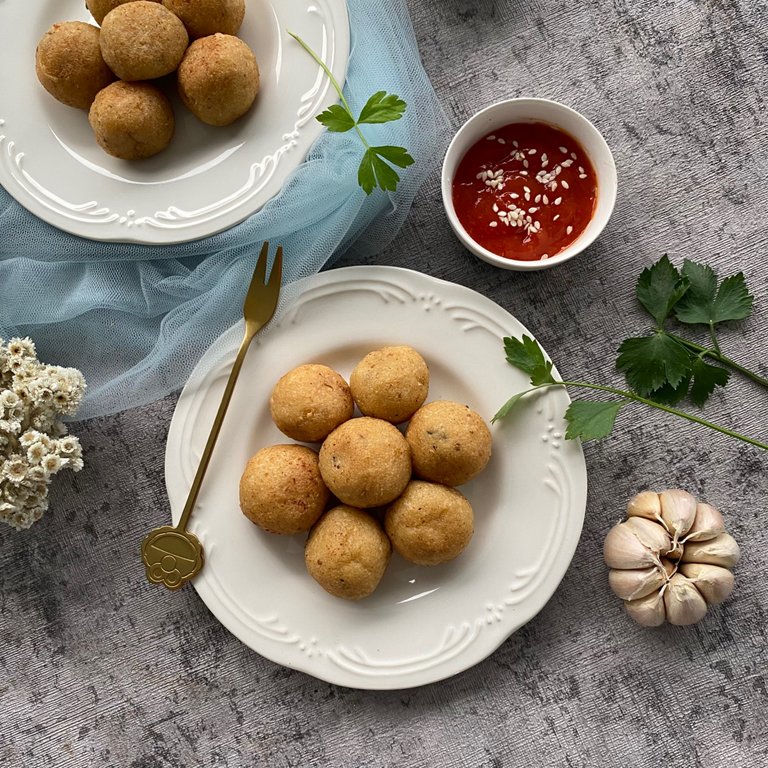 ---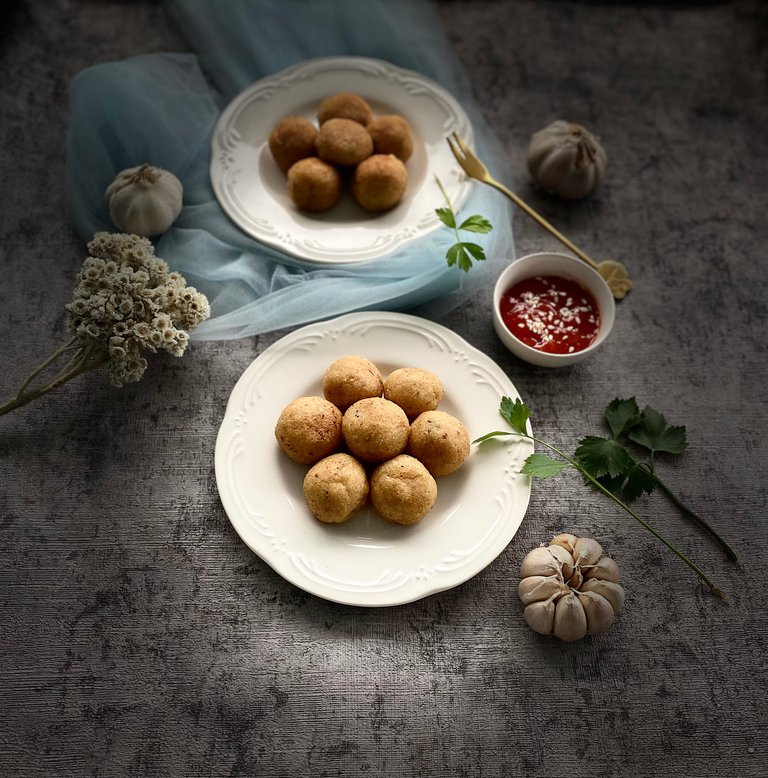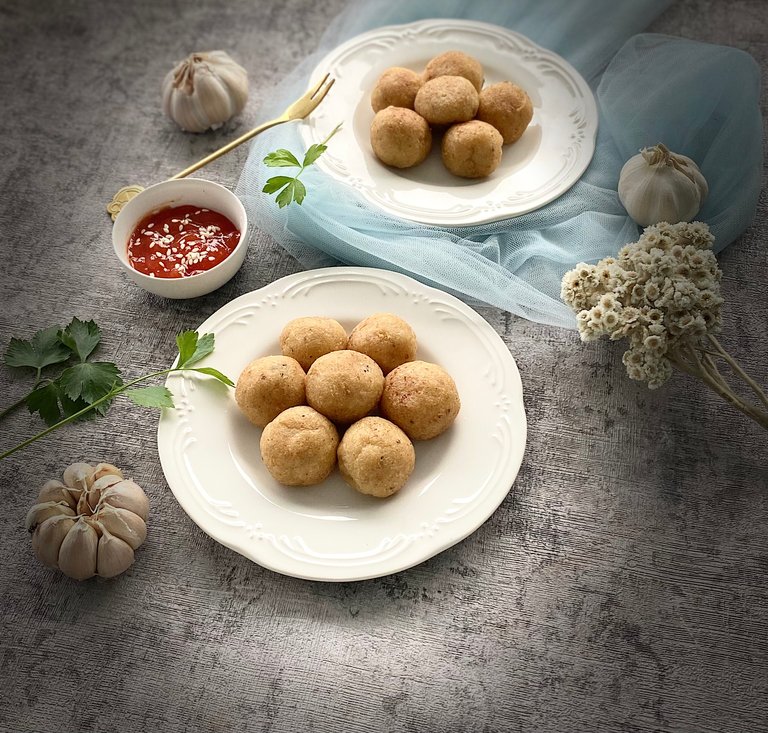 ---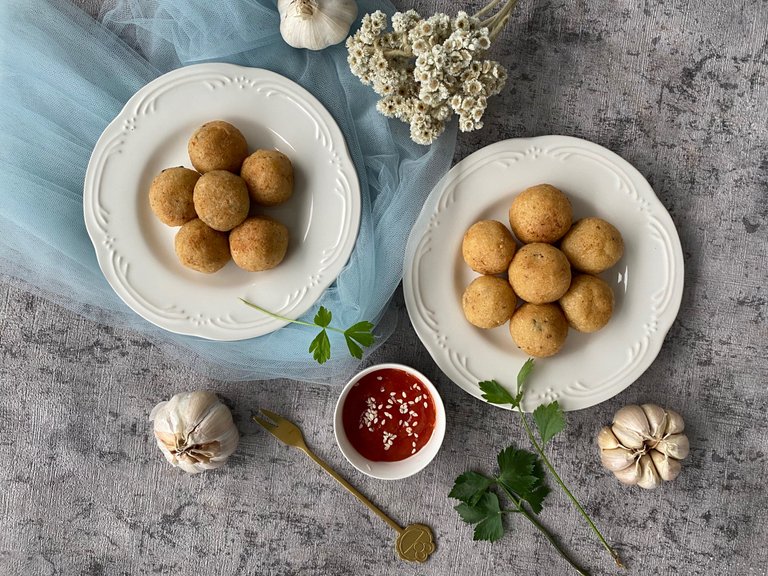 Tofu balls with frying method.
---
I will make a plant-based version, without any animal products at all. So instead of making meatballs, I'm going to make tofu balls. The texture will be chewy on the outside and once you bite into it, you will get a soft texture that is typical of tofu.
---
Anything we need?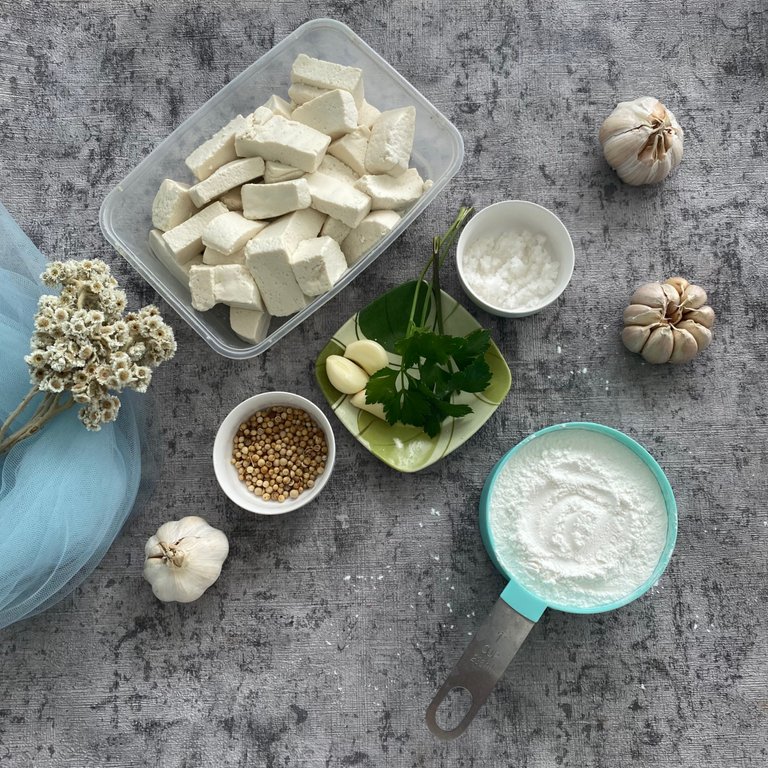 tofu, here I used about 10 small cubes of tofu. You can use all the tofu on a package once you buy it. Because tofu won't last long.
glutinous rice flour. I used 1 cup. How to use the right dose? During the cooking process, provide more glutinous rice flour. Later pour the flour little by little onto the mashed tofu. If the tofu mixture cannot be formed into balls, then add more flour.
garlic, up to 5 cloves
2 tablespoons of coriander
1 tablespoon salt, or, use your feeling. I'm serious. We have to use feeling when it comes to adding seasoning.
pepper to taste
some celery sticks
---
LET'S COOK!
---
Prepare seasoning
You could say the important seasoning for tofu balls is coriander, garlic, pepper, and salt. So, make them a smooth paste first.
Here I used a pestle and mortar. Or you can also use a spice maker that grinds grains.
Because it uses pestle and mortar, so I have to gradually refine the seasoning ingredients.
First, I grind the coriander seeds, pepper, and salt. Here it takes consistent effort so that the coriander and pepper grains can be smoothed well, although not as smooth as a seed crusher.

---
After I get the desired coriander texture, then add garlic. Then, puree them together.
---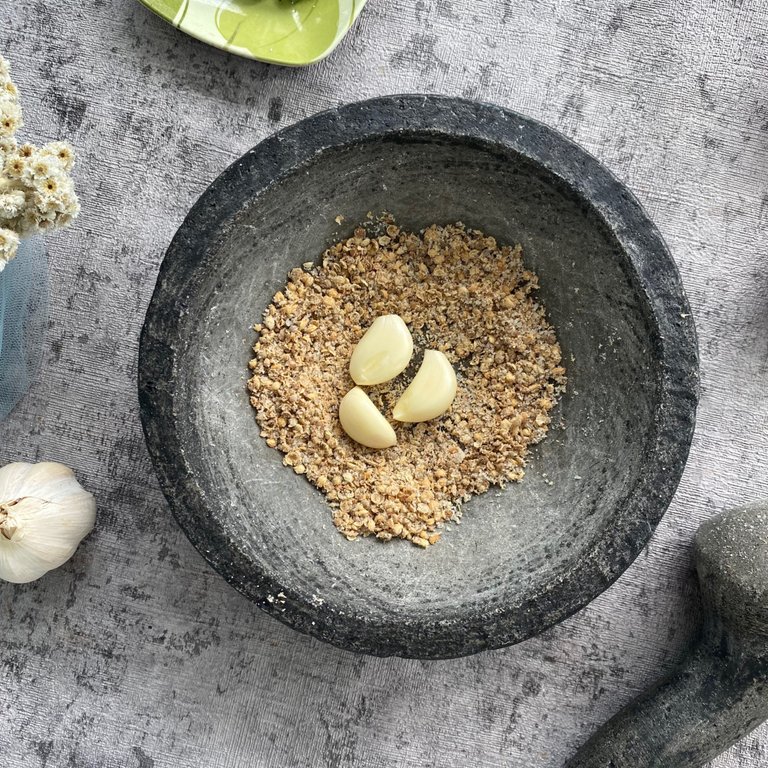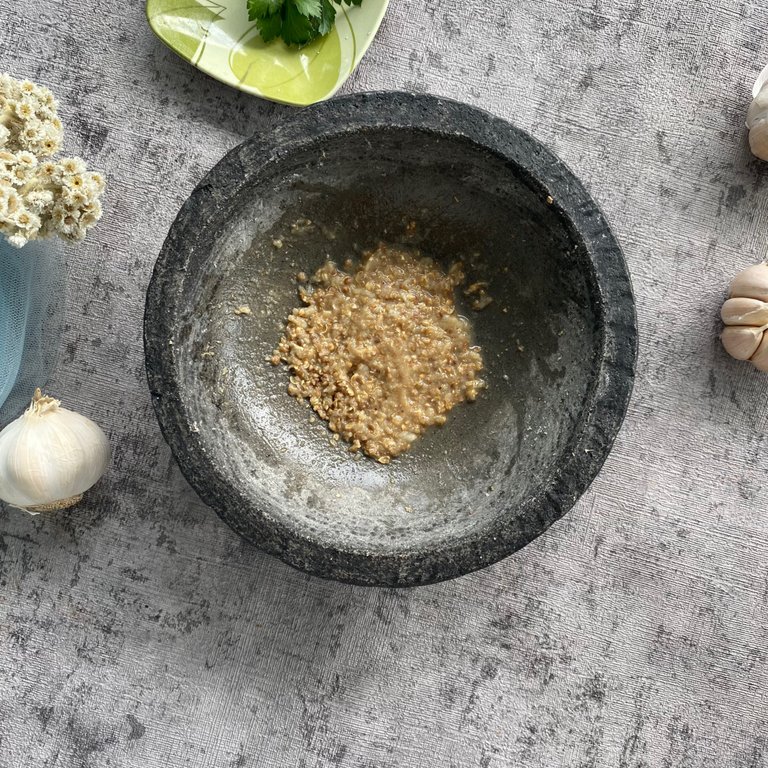 ---
---
Making tofu mixture
Combine tofu, seasoning, and celery. Then puree them together. I use a manual chopper without electricity. So, I let my hands keep working hard, hmm, just a little. Not over.

To smooth the tofu, you can use a potato crusher or anything else. Or, the simple thing, just use a fork and it will still work great for crushing soft tofu. Then mix well with seasoning.
---
Mixing tofu mixture with flour
In a bowl, mix the tofu mixture with glutinous rice flour. Knead until smooth.

Make tofu dough that can be formed into balls nicely without any cracks in the balls.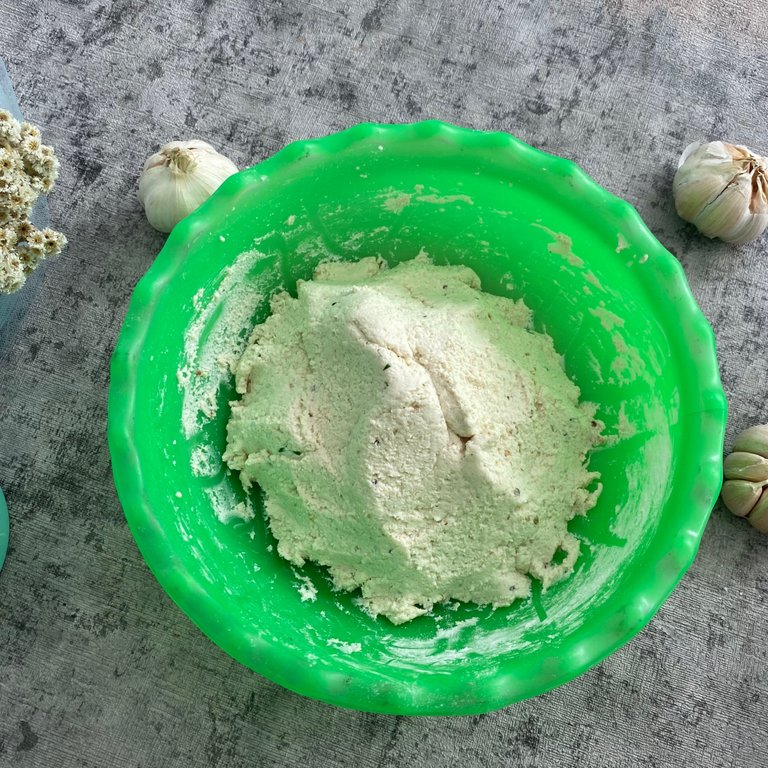 ---
Make it fun by forming the dough into balls
---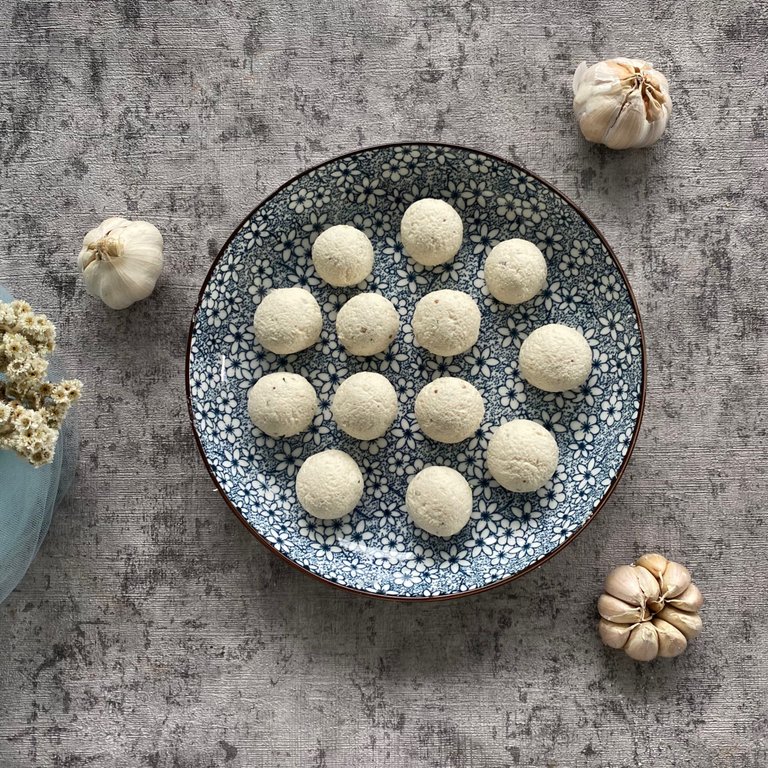 This is the step I like the most. Forming tofu dough into balls is a super fun, and satisfying thing. You can do this with your partner, or even with your children. Spend some time together and it's super exciting. Isn't, right?
I get beautiful balls shape. Oh, I think I'm excited at how cute the balls are.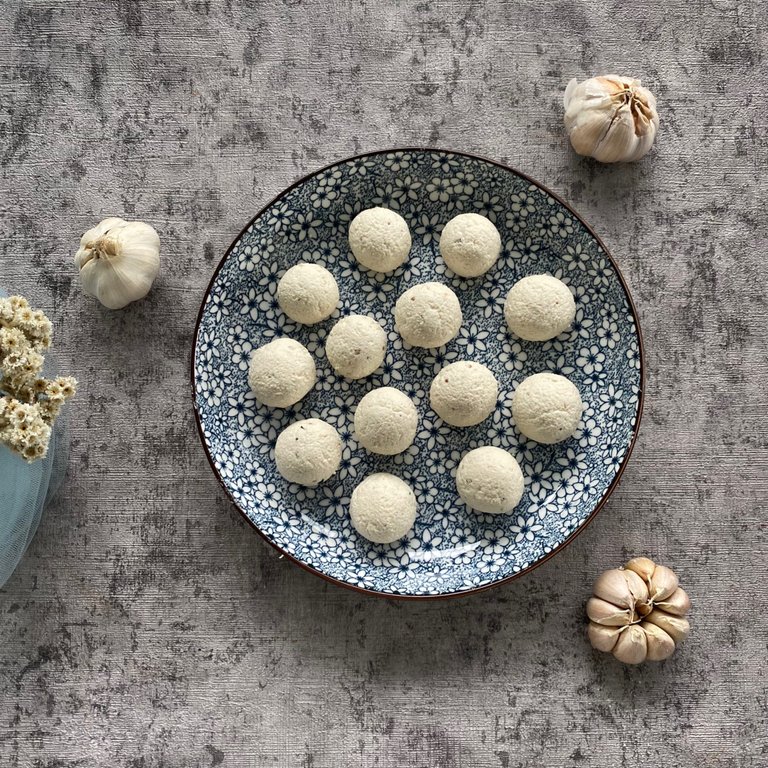 ---
---
---
FRIED BALLS
---
---
---
It's time to process the tofu balls to be ready for consumption. Well, a smokey effect is always the perfect option, especially for this recipe. So, first, the tofu balls must be fried. Anyway, you can also steam them if you're avoiding fried foods.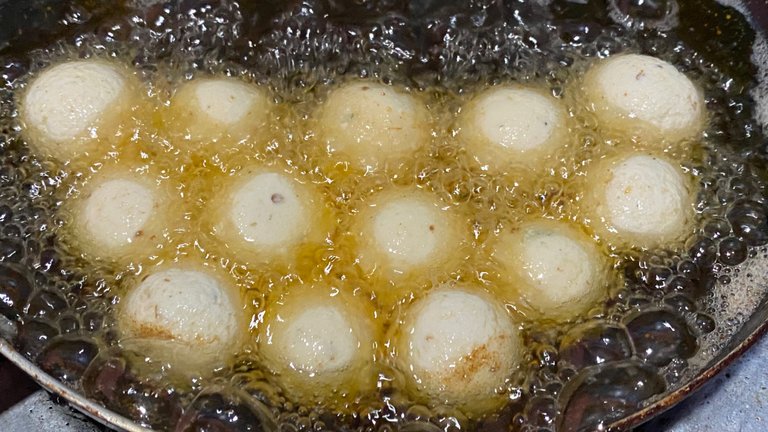 Fry the tofu balls until golden brown. Don't forget to water the parts of the balls that haven't been exposed to oil so they can cook them. Oh, look at them. That's really wonderful for those of us who appreciate food! Did you see that?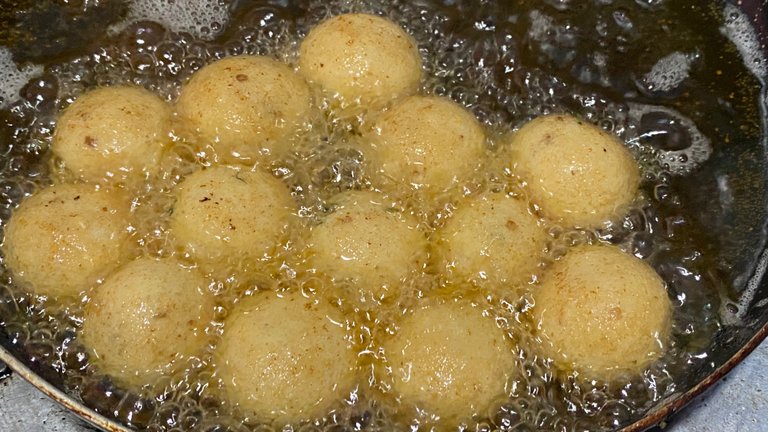 ---
Serve the tofu balls while warm to keep them perfectly round and not dented because their texture is soft and chewy.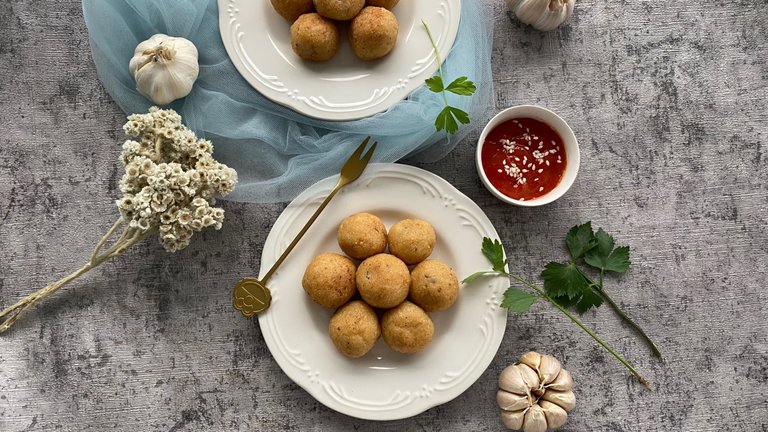 ---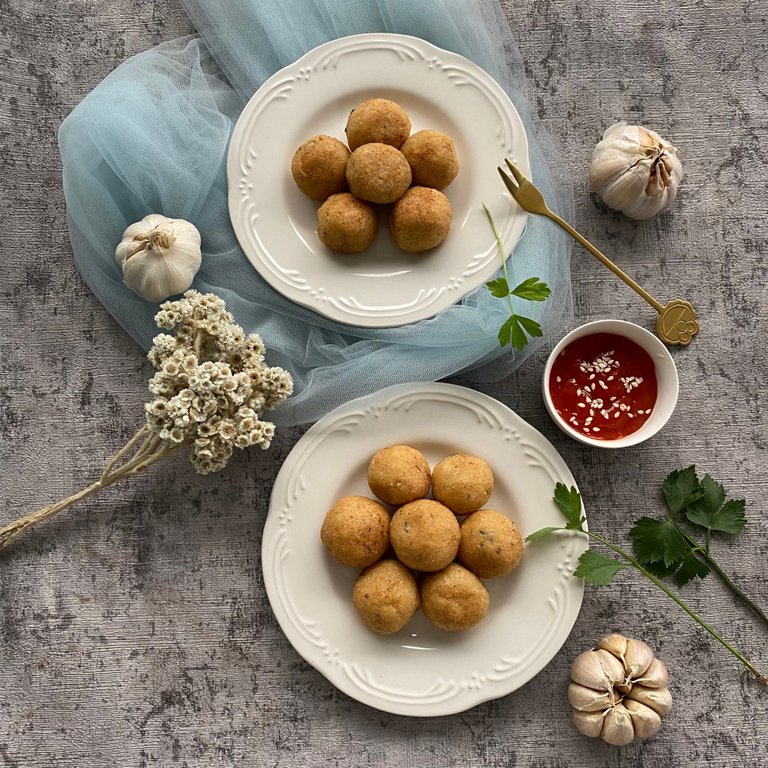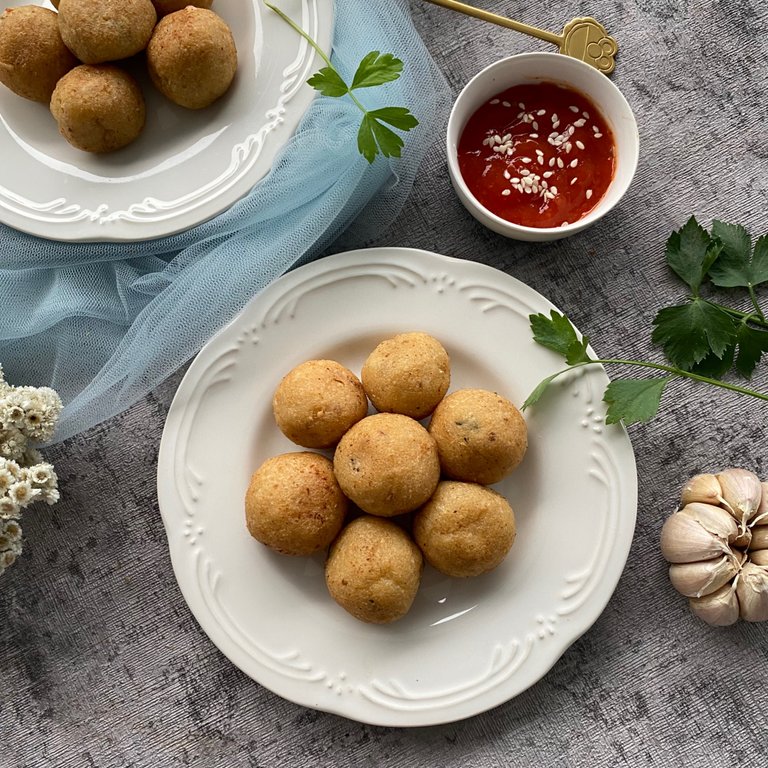 ---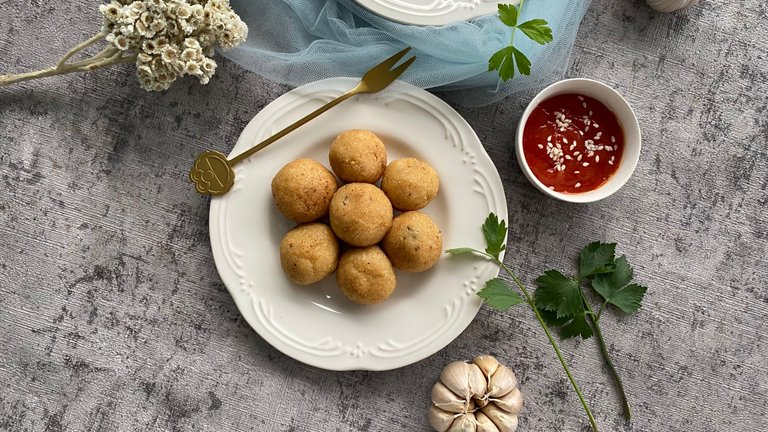 So, fry the tofu balls a moment before serving. Well, you can freeze the tofu balls to keep them for a few days, and once you want to eat these snacks, all you have to do is fry them.
---
---
---
SPICY PEANUT SAUCE
---
---
---
Besides being fried, we can serve tofu balls in a spicy way as side dishes. We can eat spicy balls along with warm rice with a sprinkling of sesame seeds. Sounds good, right?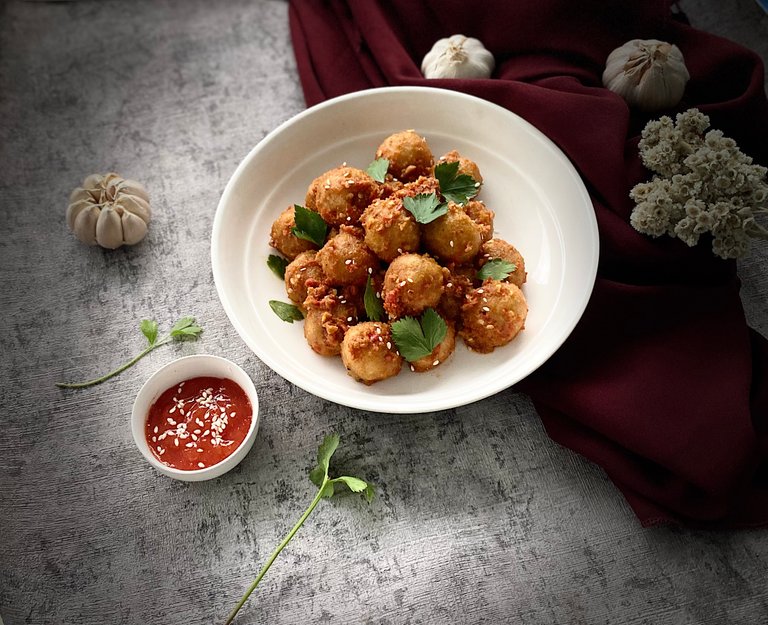 Well, you can use the choice of sauce you like. Such as bbq sauce, soy sauce, or more. Just make your food comfortable for you.
---
Making Spicy Paste
---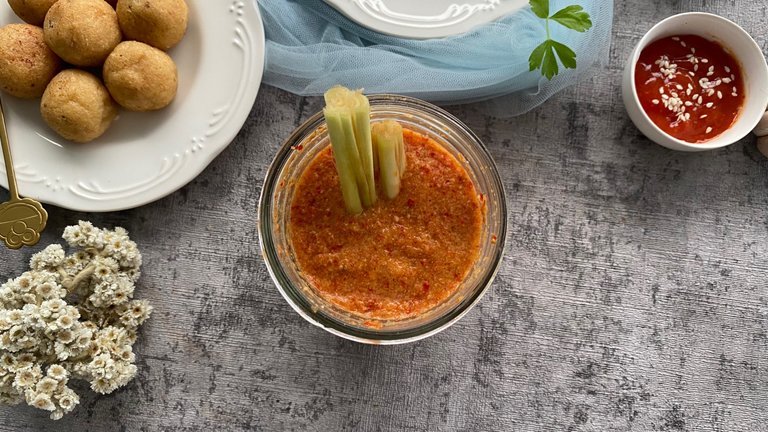 I blended them all together and one of them was red chili, onion, garlic, and peanut.
Prepare the flattened lemon grass for additional seasoning when cooking later.
---
Stir-Fry Tofu Balls with Sauce
---
Heat oil, then saute seasoning with flattened lemon grass. you can add your favorite herbs to create nice smells.

Then add the fried tofu balls into the spicy sauce that has been sauteed and becomes fragrant. It only takes a moment to stir them and then they are ready to serve.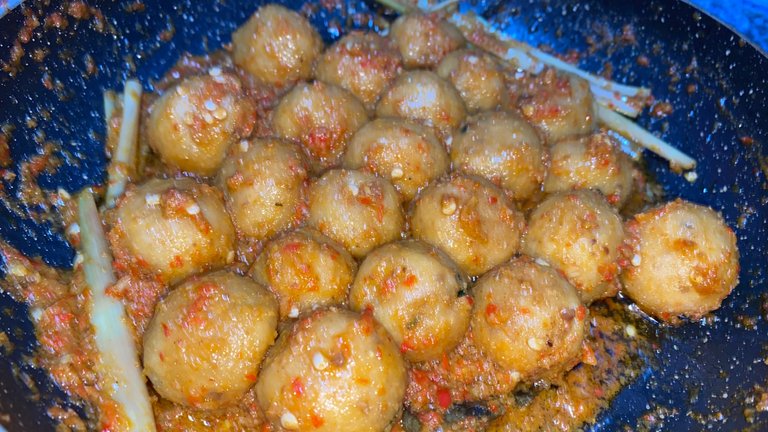 ---
---
---
No matter how you enjoy tofu balls, fried ones, or serving with sauce, both give a distinct impression on the tongue.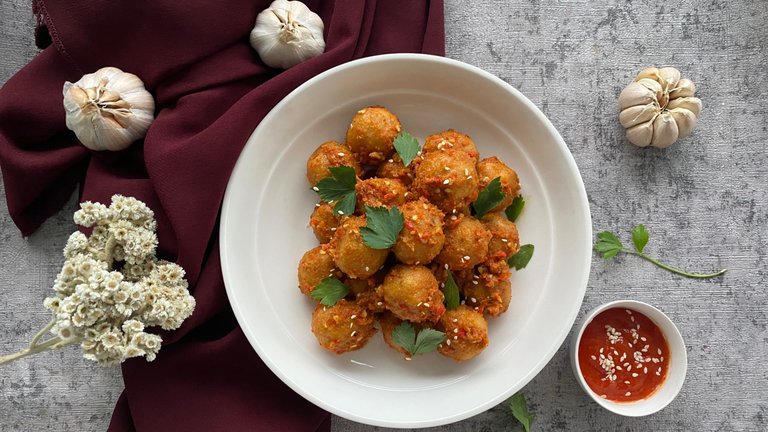 ---
Serve them in a fried way for a savory snack, meanwhile serve them with sauce if you want to enjoy them as side dishes, with rice, noodles, or even mashed potatoes.
---
---
---
Thank you for reading my blog and reblog if you want my blog this time worthy of reading by others.
All pictures were taken using iPhone 11.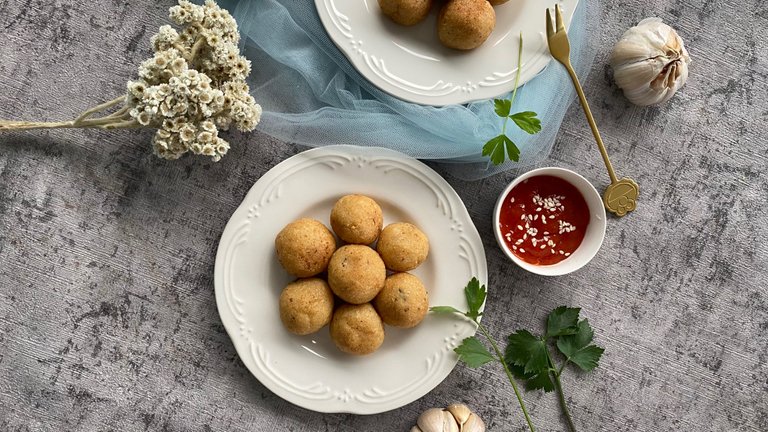 ---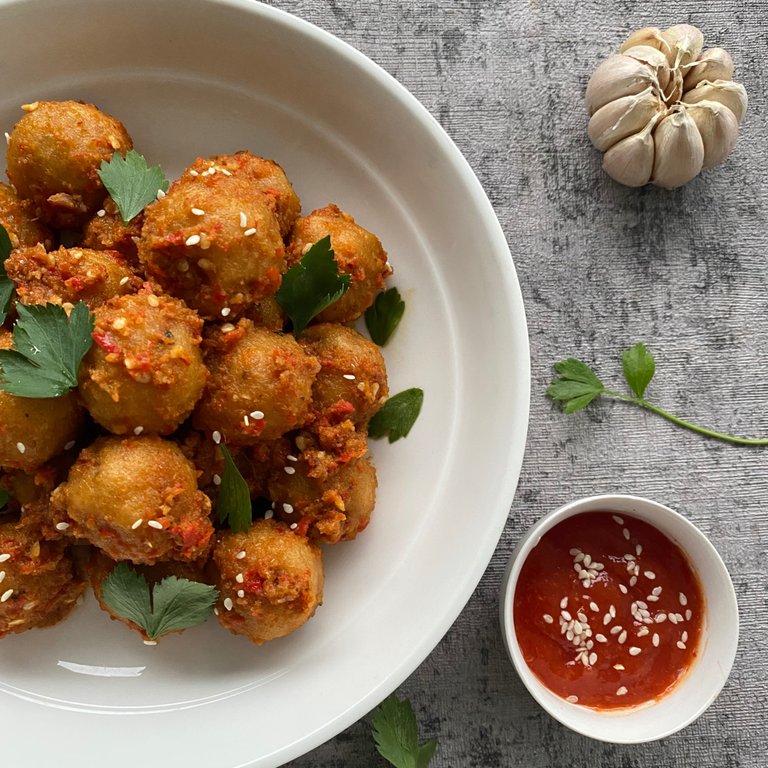 ---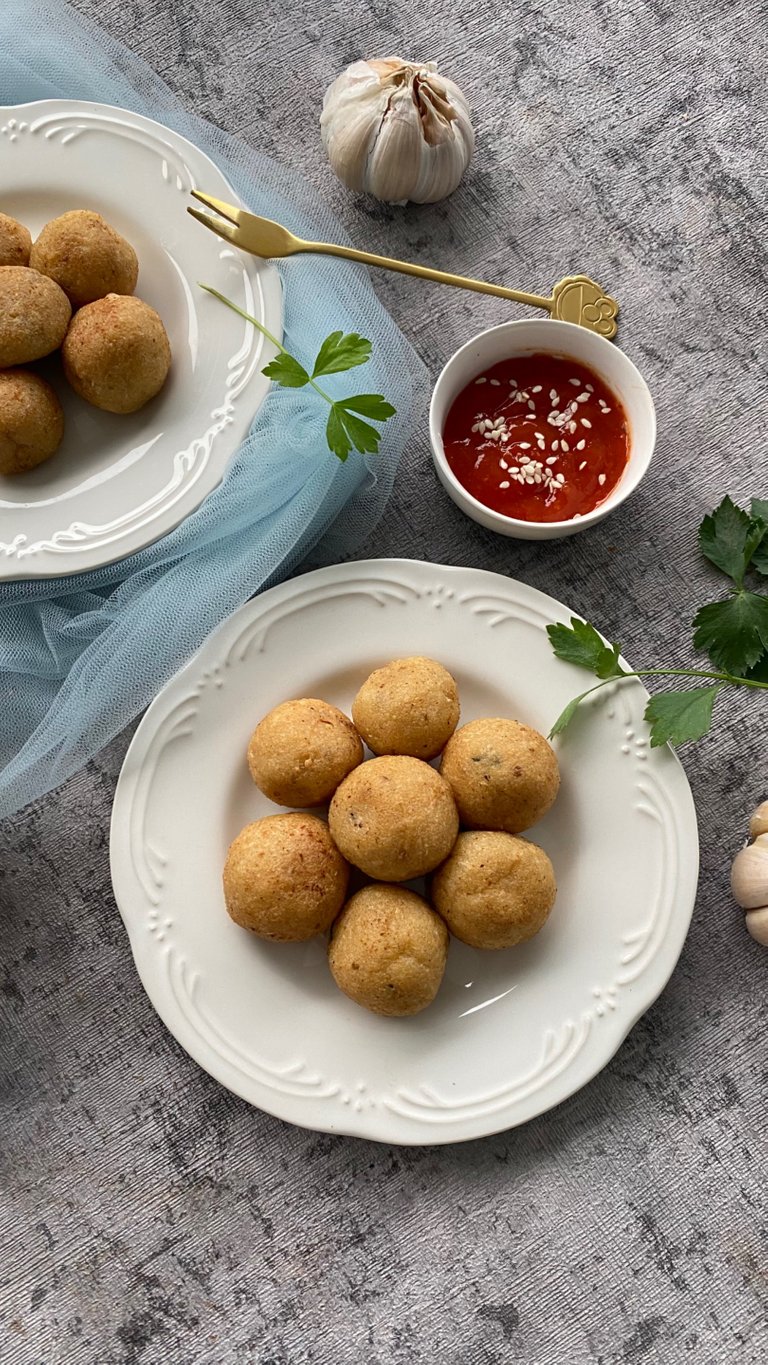 ---
---
---
---
Best Regards,
Anggrek Lestari
---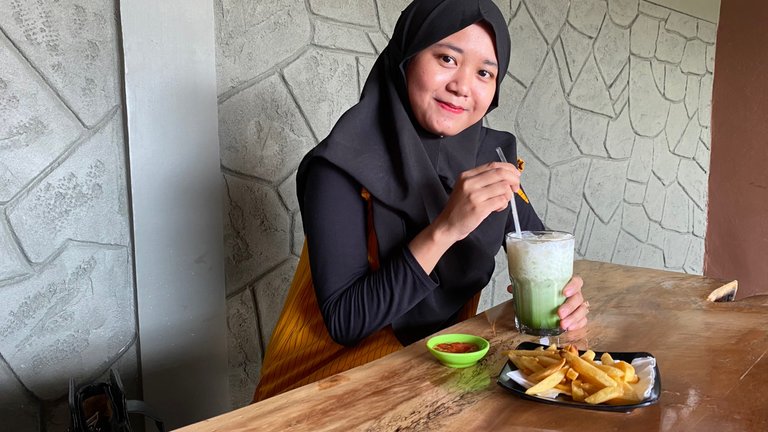 Who is Anggrek Lestari?
Anggrek Lestari is an Indonesian fiction writer who has published two major books. Now She is a full-time content creator. She has a goal to share life, poem, and food content that makes others happy and can get inspiration.
---
Contact Person: [email protected]
Discord: anggreklestari#3009
---
---
---