Un regalo con huellas de amor 🌻🐶🐱💕🎉 [Esp-Esp]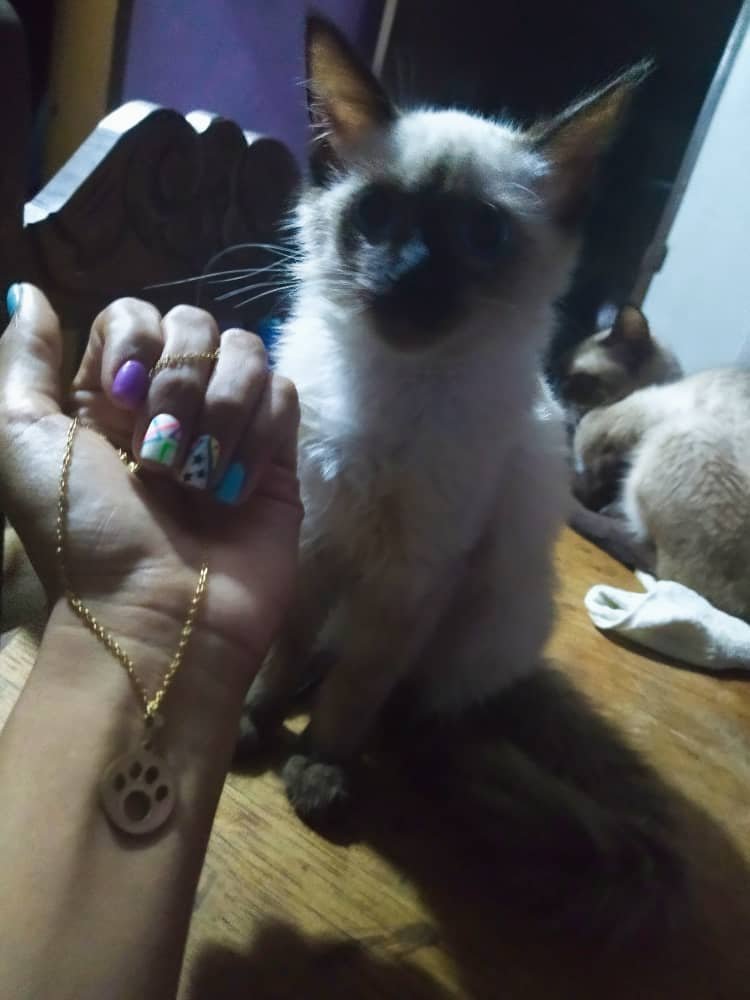 Queridos amigos de Hive, espero se encuentren muy bien, el día de hoy quiero mostrarles el hermoso regalo que he recibido está semana, y por supuesto contarles la experiencia con mi regalo.
Debo confesar que me emocionan demasiado los regalos, no me importa si son grandes o pequeños, valoro mucho la intención con que me lo dan, desde una nota en una hoja de reciclaje hasta un teléfono (qué es el regalo más costoso que he recibido), para mí cualquier detalle tiene un valor único e inigualable, guardo hasta los papelitos de las chucherías.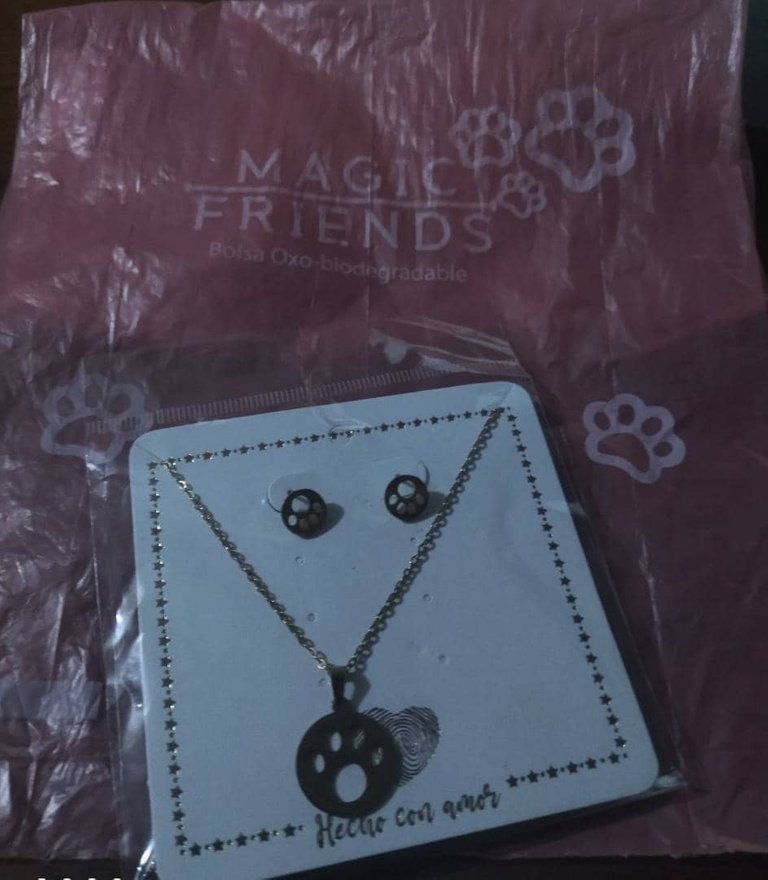 Cuando una persona tiene un detalle contigo es porque te ha pensado y te ha tenido presente en ese momento, y dice "llevaré esto para Angélica, seguro le va a gustar", eso quiere decir que eres apreciado e importante para esa persona que está considerando un detalle para ti, así que valora ese regalo.
Por supuesto que nuestro mayor regalo es tener un día más de vida pero esos detalles accesorios son necesarios para sacarnos sonrisas, atesorar y recordar momentos y personas.
Mi amiga Neyla que estuvo de viaje unos días por sus vacaciones me ha traído una cadenita y unos zarcillos que sin duda alguna, los amé ❤️ Sí, los amé porque son unas huellitas de amor, por supuesto también me trajo galletas y chocolates pero de esos solo guardo los papelitos 😊
Fue tan emocionante el momento que hasta mis gatitos lo amaron, estaban de curiosos viendo cuando abrí el regalo, de hecho logré captar una fotografía, y ha quedado hermosa.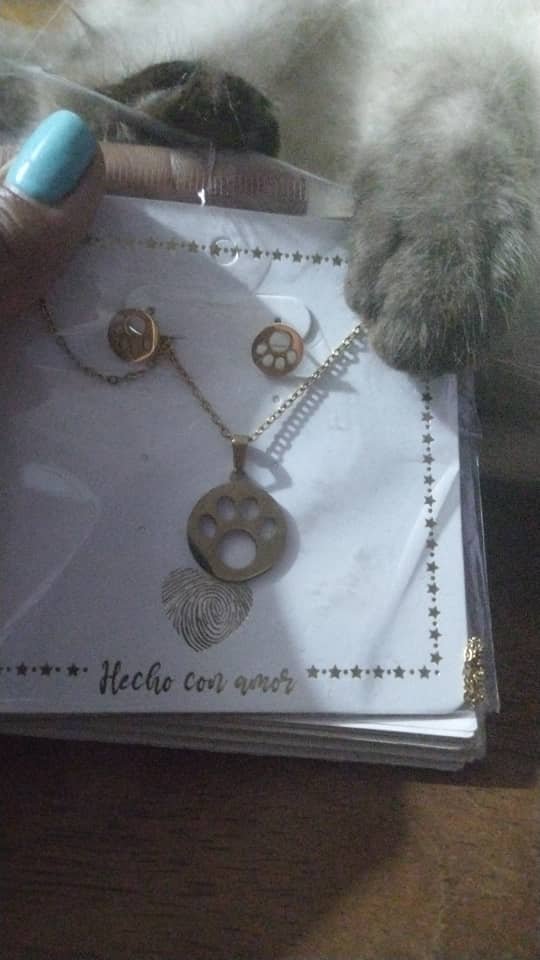 La bolsita es súper hermosa con una propuesta ecológica por ser biodegradable, y el empaque de la cadenita y los zarcillos me tocó demasiado cuando ví que dice "Hecho con Amor", no tengo la menor duda de que esa firma sea solo comercial; pero para mí esa frase vale más que mil palabras, lo sentí como un mensaje especial y valioso.
Las huellitas de amor de un hermoso ser de 4 patitas y una huella dactilar, me ha mostrado que no estoy equivocada en el amor que le he entregado a mis mascotas y por supuesto el que he recibido de ellos, son y han sido mi mejor compañía, mi amiga sabe cuánto amo a mis animalitos y cuánto los cuido.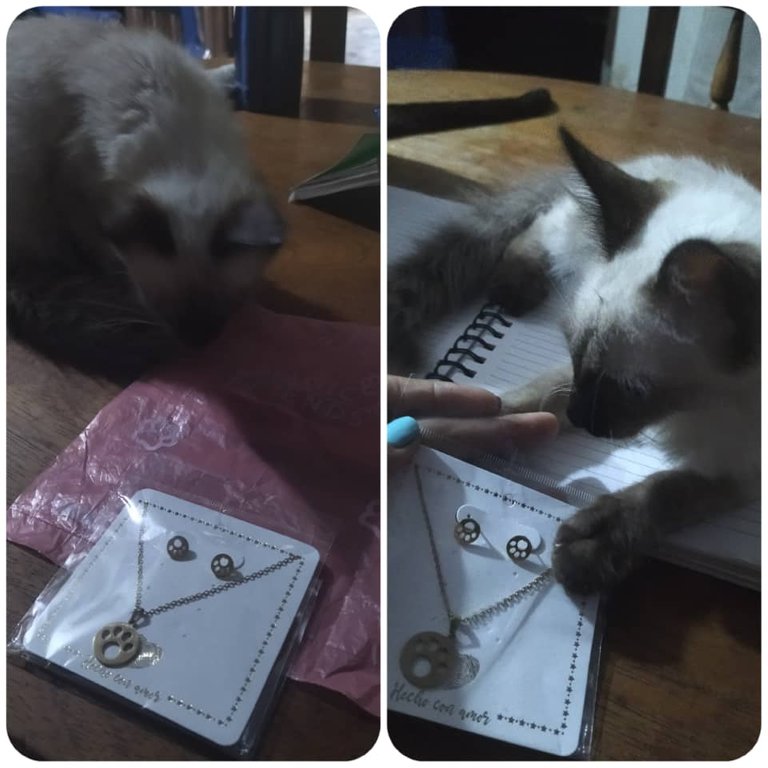 Este regalo me ha recordado una vez más que debemos enfocarnos en concientizar el tema del respeto hacía quienes no tienen voz, entendiendo que ellos en su inmensa nobleza solo pueden darnos amor incondicional.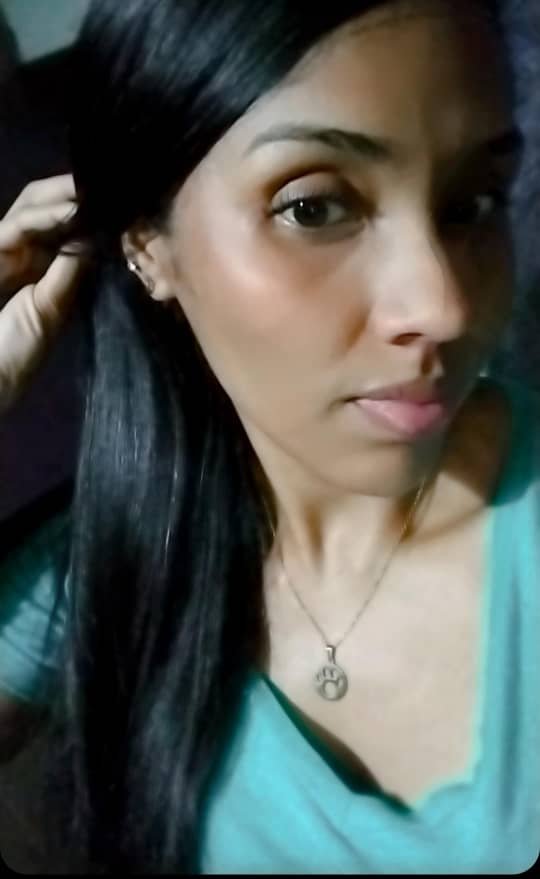 Gracias por su apoyo y por leerme Con Cariño Angie 🌻☺️
---
ENGLISH
---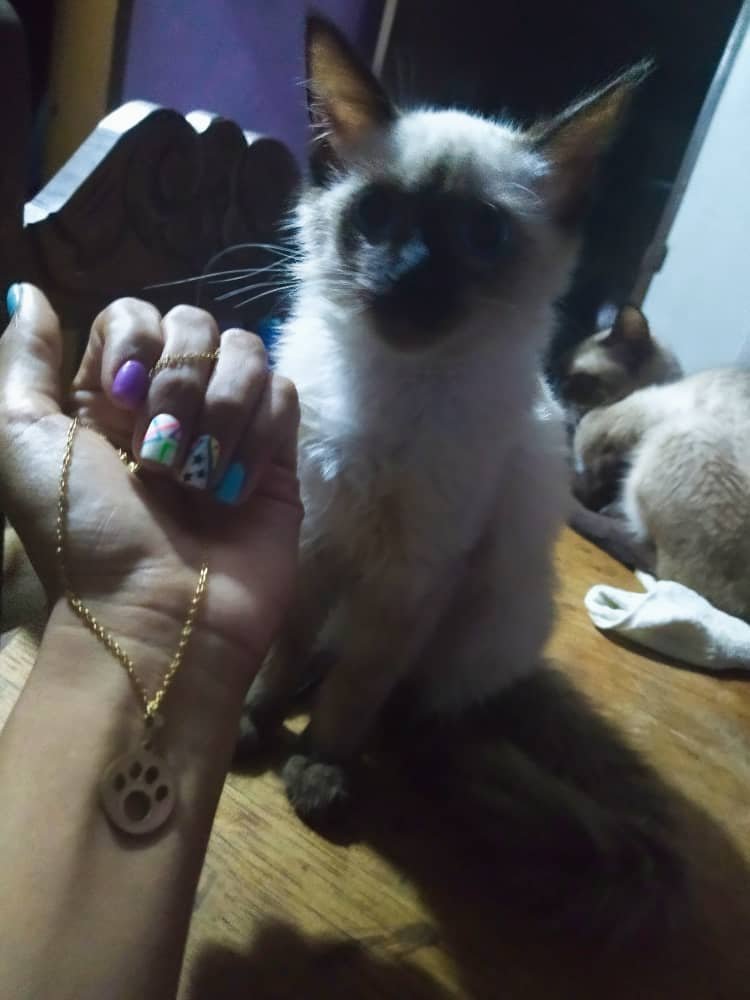 Dear friends of Hive, I hope you are very well, today I want to show you the beautiful gift I received this week, and of course tell you the experience with my gift.
I must confess that I get very excited with gifts, I don't care if they are big or small, I value very much the intention with which they are given to me, from a note on a recycling sheet to a phone (which is the most expensive gift I have received), for me any detail has a unique and incomparable value, I even keep the candy wrapping paper.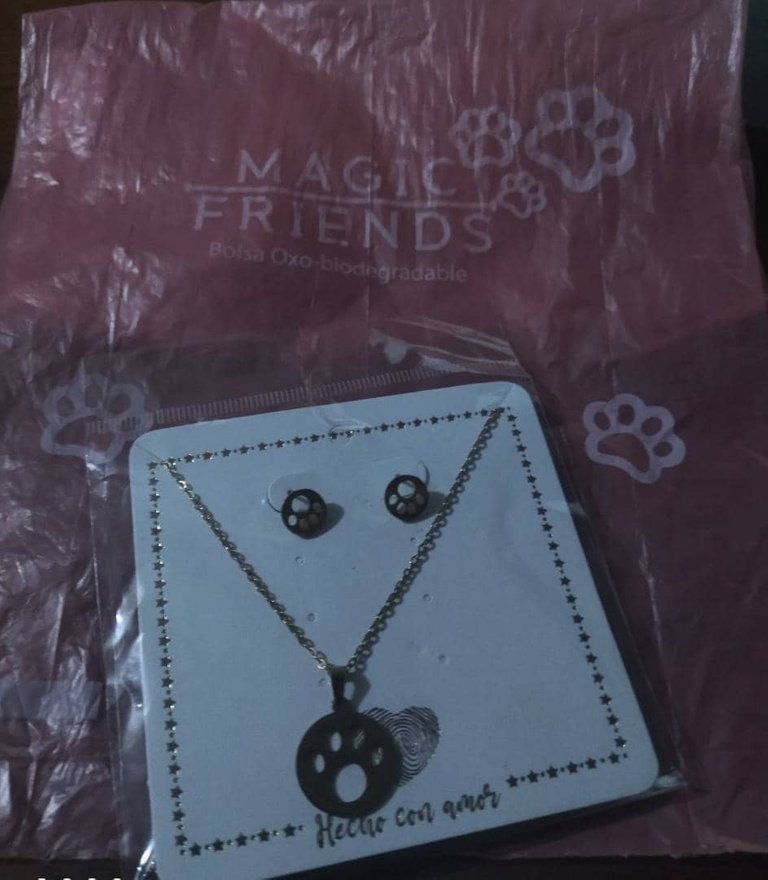 When a person has a detail with you is because he/she has thought about you and has kept you in mind at that moment, and says "I will take this for Angelica, she will like it for sure", that means that you are appreciated and important for that person who is considering a detail for you, so value that gift.
Of course our greatest gift is to have one more day to live but those accessory details are necessary to bring out smiles, treasure and remember moments and people.
My friend Neyla who was away for a few days for her vacation has brought me a little chain and earrings that without a doubt, I loved them ❤️ Yes, I loved them because they are little love footprints, of course she also brought me cookies and chocolates but of those I only keep the little papers 😊.
It was such an exciting moment that even my kitties loved it, they were curious to see when I opened the gift, I actually managed to capture a picture, and it has turned out beautiful.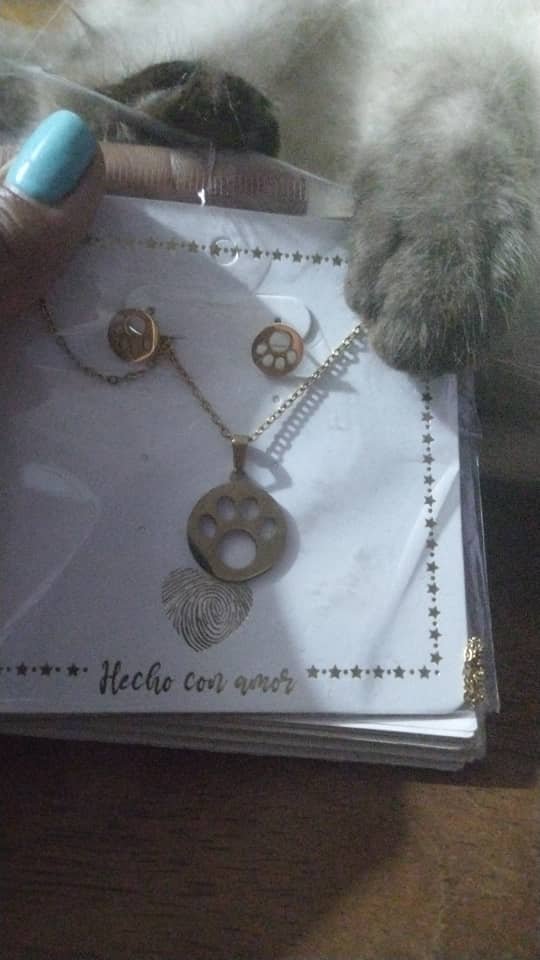 The bag is super beautiful with an ecological proposal for being biodegradable, and the packaging of the chain and tendrils touched me too much when I saw that it says "Made with Love", I have no doubt that this signature is only commercial; but for me that phrase is worth more than a thousand words, I felt it as a special and valuable message.
The little footprints of love of a beautiful being with 4 paws and a fingerprint, has shown me that I am not wrong in the love I have given to my pets and of course the love I have received from them, they are and have been my best company, my friend knows how much I love my pets and how much I take care of them.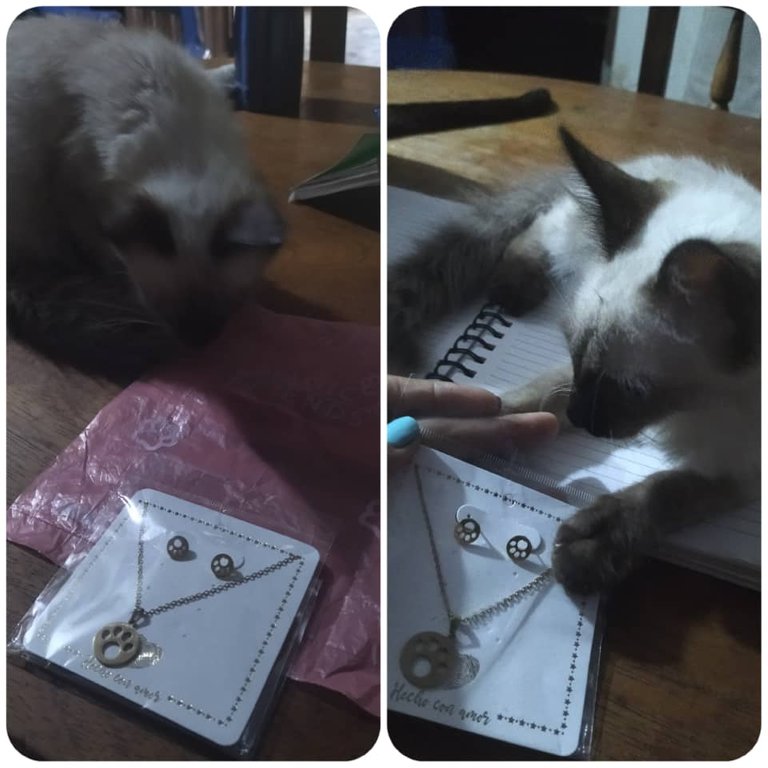 This gift has reminded me once again that we must focus on raising awareness on the issue of respect for those who have no voice, understanding that they in their immense nobility can only give us unconditional love.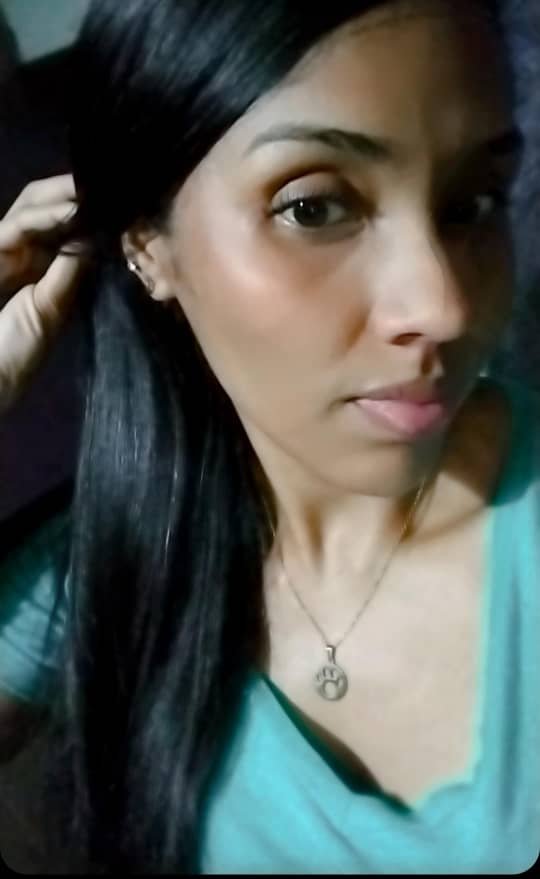 Thank you for your support and for reading me, Love Angie 🌻☺️
---
Texto original de @angielr27/ Fotos propias editadas en Inshot/ Endcard diseño en Canva de fotografía propia.
Original text by @angielr27/ Own photos edited in Inshot/ Endcard design in Canva of own photography.
---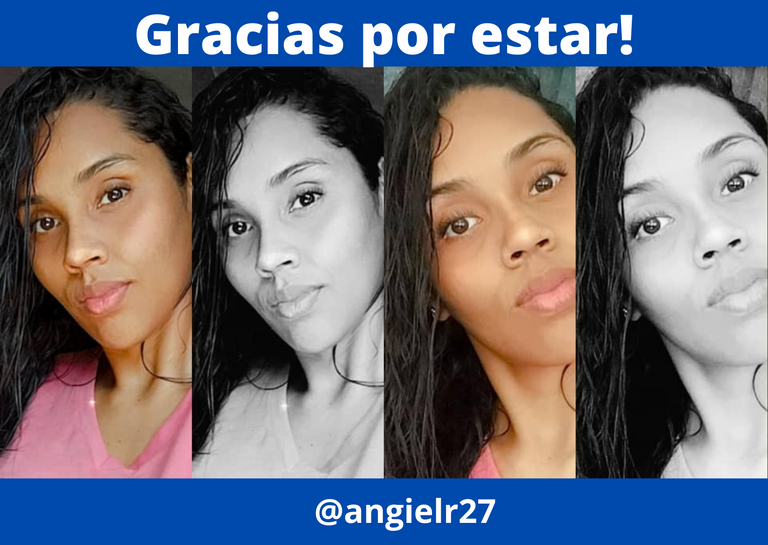 ---
---