Combo Full Defense in Life (Gold League) // Social Media Challenge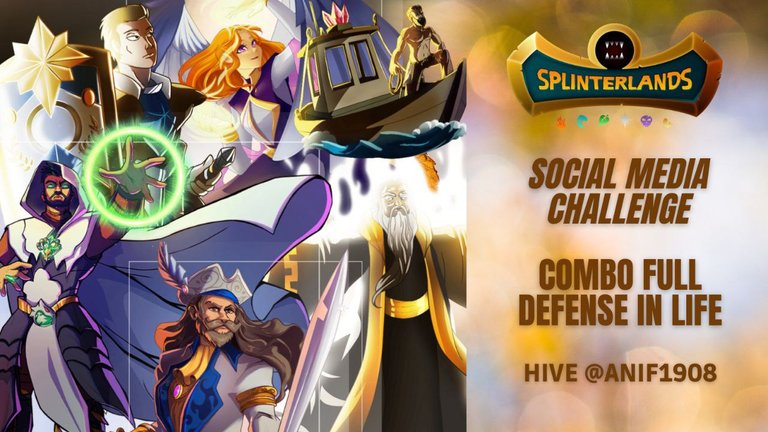 Hello Everyone!
I'm back again with the Splinterlands post. I'm writing this post to follow the Social Media Challenge for this week. This time I will share one of the defense strategies that is very difficult for opponents to penetrate using a combination of monsters from the Life element.
Last week I entered the tournament Gold Modern League Splinterlands Open Hosted by Splinterlands and created by @sps.tournaments. This tournament is slightly different from the usual tournament in that all cards are provided by the organizer, so all participants have all the same cards of the same level. So all participants are really fighting skills, not just strong cards. Although I didn't get any satisfactory results but this experience was quite valuable. The battle strategy that I will share is one of the battles I did from Round 2 of this tournament.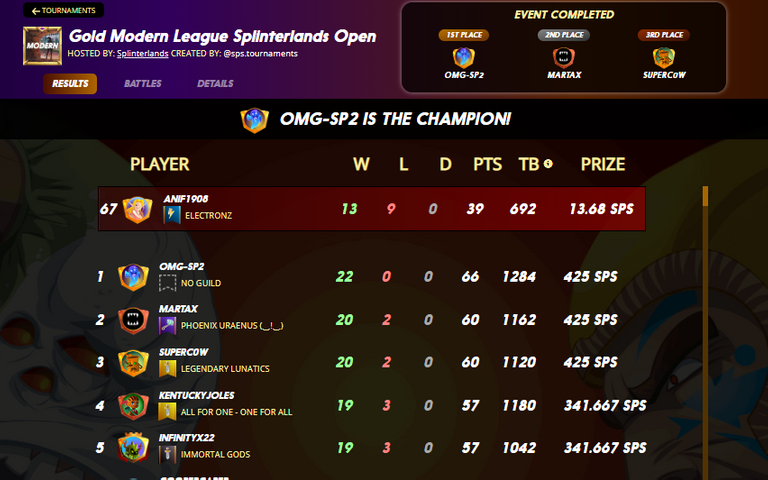 In addition to participating in the Gold Modern League Splinterlands Open Tournament, I also participated in private tournaments specifically for Indonesian players Indonesia Qualifiers for Indo vs Japan for Silver League with No Legendary Cards. I managed to finish in second place and was rewarded with 2 Riftwatchers packs, 3 Chaos Legion Packs, and 1 Spellbook. Maybe on another occasion I will also share one of my battle strategies from this tournament.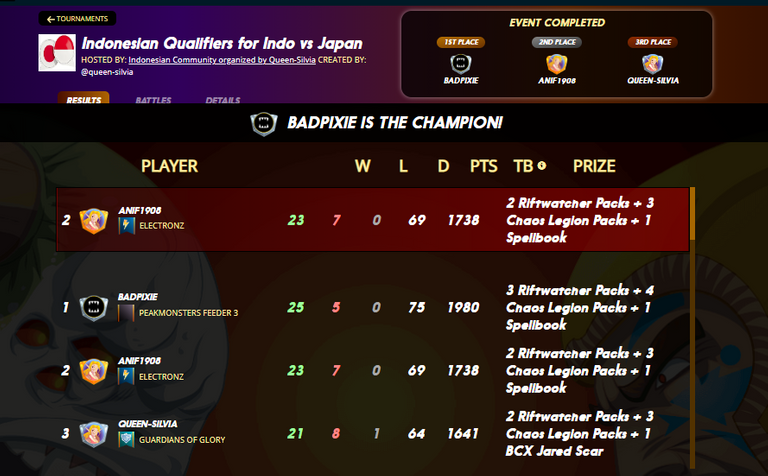 Well as you know I'm not a proplayer nor am I a tournament hero, I'm just happy to share the battle strategy of the battle which I find interesting which might be a reference you can use if the monsters and rulesets in your battle support it.

BATTLE PREPARATION
RULESETS

The rulesets of this battle are Fog of War and Healed Out with a capacity of 58 with active elements Life and Death.
| Fog of War | Monsters lose the Sneak and Snipe abilities |
| --- | --- |
| Healed Out | All Healing abilities are removed from all monsters and summoners |
LINE-UP AND STRATEGY
If you want to use a defensive strategy, the best Summoner of the Life element that you can use in Modern battles is Grandmaster Rathe or Chanceus The Great. Grandmaster Rathe has +1 Armor ability, Void Armor and Amplify. Void armor is very helpful for monsters to survive magic attacks so that attacks do not directly hit Health, but Armor first. While Chanceus The Great has the ability to Repair, Triage, and Resurrect.
If you look at the rulesets above, I think it would be more suitable if you use the summoner Grandmaster Rathe, which is combined with monsters that have Repair abilities and resurrects. The best tank is a tank that has quite a lot of Armor so that when the resurrect is active, the monster will last a little longer even though it only has only 1 Health. I think Shieldbearer is the best tank choice. Let's see the order of the monsters and the strategy of each monster in the table below:
| Monster | Posisi | Strategy |
| --- | --- | --- |
| | Summoner | Grandmaster Rathe, As I explained above, this Summoner has abilities that support these rulesets because they provide +1 Armor, Void Armor, and Amplify buffs. |
| | First (Tank) | Shieldbearer with Taunt and Shield abilities and have 10HP, 6 Armor and 3 Melee attacks. I think this monster becomes very powerful to withstand the pain of both Melee, Range and Magic when combined with Grandmaster Rathe. |
| | Second (Attacker) | corsair Bosun, this monster have Reach, Reflection Shield and Cleanse abilities. All the abilities possessed are very useful for battles in the Gold league. |
| | Third ( Support + Attacker) | High Priest Darius with Resurrect, Weake, and Blast abilities, also have 3 damage magic. Resurrect will be very useful for reclaiming dead monsters so that the defenses in the formation will last longer. In addition, Attack 3 damage magic with Blast seems to me strong enough to act as an attacker in battle |
| | Fourth(Support) | Adelade Brightwing have Flying, Repair, Resurrect, and Immunity abilities. Repair and Resurrect are the suppors that support this battle because of the Healed Out rulesets. |
| | Fifth (Support + Attacker) | Lone Boatman, have abilities Snipe and Repair as attacker and support. Formations with Void armor buffs and 2 Repair abilities will make their defenses difficult for opponents to penetrate. |
| | Last (Attacker) | Rune Crafter with Fury and Snare abilities and have 3 Range attacks. Fury ability will give double damage if hit target with Taunt ability. I guess that the opponent will definitely use a minimum of 1 tank with Taunt ability, so this monster will be very useful. |

LET'S GO TO THE BATTLEFIELD!!!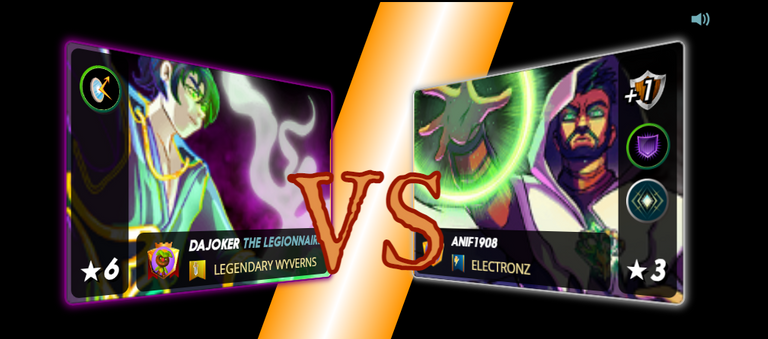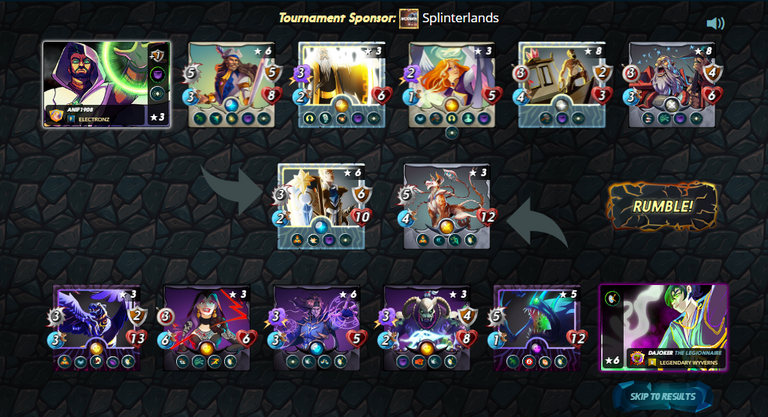 Wow, the opponent chose to use the Death element with summoner Owster Rotwell by using 2 tanks that have Taunt abilities in the frontmost and rearmost positions. The monster order of the opponent's formation is Coeurl Lurker in the first position, The Gorlodon in the second position, Djinn Muirat in the third position, Cabalist in the fourth position, Lira The Dark in the fifth position, and Dark Ha'on in the last position.
To see what this battle looks like, you can play directly the video from youtube that I attach below, or directly click the direct link that I reported to see this battle.
(Unsupported https://youtu.be/2s6zRNcADxM)

The battle begins with the giving of buffs and debuffs from all Summners and Monsters. After getting buffs and debuffs, the number of attacks I have is 6 melee attacks, 5 magic attacks and 6 Range attacks. So there are a total of 17 attacks in 1 round. While on the opponent's side there are 10 melee attacks, 6 magic attacks and 3 range attacks, so there are 19 attacks in 1 round.
Not only in terms of the number of attacks, in terms of speed, my team also lost far to the opposing monsters. After 3 consecutive attacks from Lira The Dark, Coeurl Lurker, and Cabalist only then can Lone Boatman retaliate against the attack.
Rune Carfter really showed off in this round, once attacked 6 damage attacks hit Coeurl Lurker. Luckily there were no missed attacks so Coeurl Lurker could die in Round#1.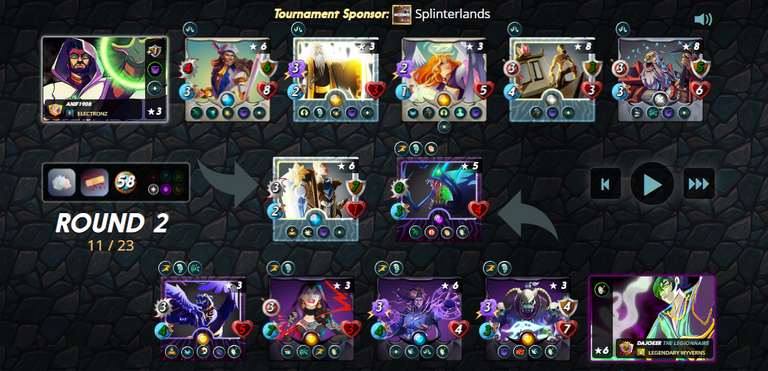 In Round#2, Shieldbearer dies for the first time and is resurrected by High Priest Darius. I think this is one of the epic moments in this battle. The second resurrect occurred when High Priest Darius died then Resurrect by Adelade Brightwing.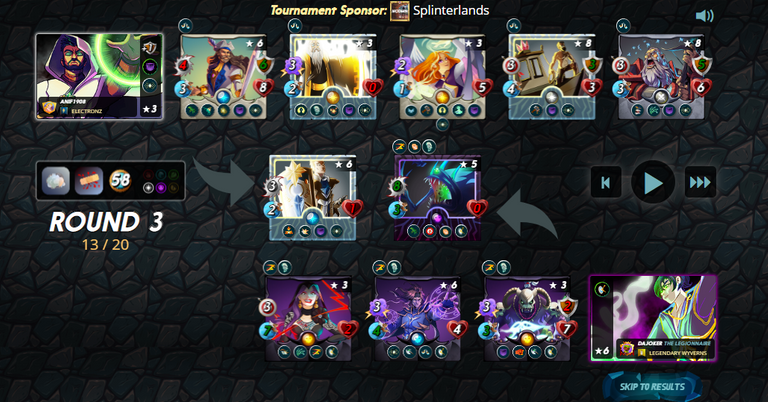 In Round#3 Dark Ha'on died due to an attack from the Rune Crafter, now in the opponent's position it no longer has a monster Taunt. At the end of this round, there are 3 monsters left on the opposing side. Up to this point, it can be seen that my team is stronger than the opposing team.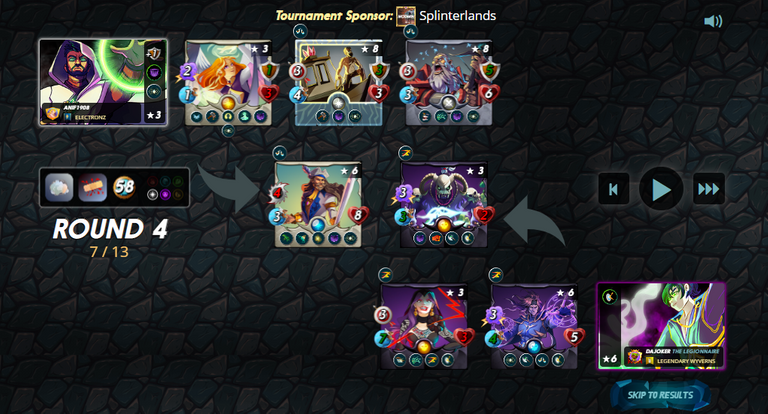 Shieldbearer died at the beginning of Round#4 and the tabk position was taken over by Consair Bosun. Although Adelade Brightwing also died in this round, the opposing side also only left 2 monsters.

This battle ends in Round#5 with after Lira The Dark, the last monster from the opposing side was killed by Consair Bosun. Victory is on your side by leaving 3 monsters, namely Consair Bosun, Lone Boatman, and Rune Crafter.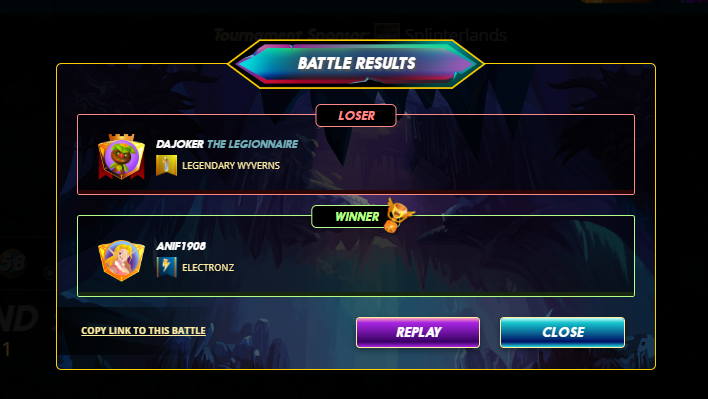 CONCLUTION
This defensive strategy that I implemented went very well in this battle. Even though it has a smaller number of attacks and a lower speed, I can win this battle. The most important component of this strategy is Grandmaster Rathe as a summoner who does have buffs to last longer, as well as support Repair ability and Resurrect ability.


Alright, I think my writing is enough here, thank you for visiting my blog, don't forget to upvote and leave a comment. If you want to start playing Splinterland and don't have an account yet, don't hesitate to use my referral:
https://splinterlands.com?ref=anif1908
Credits:
The wonderful divider by @kyo-gaming
Thumbnail created using canva
All images taken from Splinterlands website
@splinterlands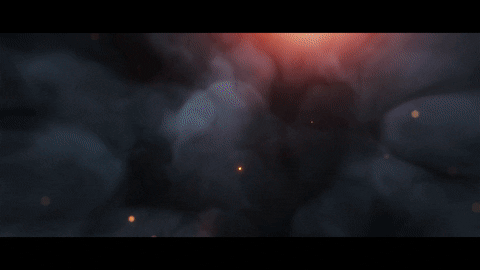 ---
---