CRYPTO SHOTS, New Play to Earn 3D Game

Hello everyone!
I'm back again to share something special for you. Different from my usual post, this time I will review one of the new 3D play to earn games that are under Hive and Wax network, namely Crypto Shots.
I'm not actually a gamer, and currently only play the Play to Earn Splinterlands and Jobstribes games, but I'm writing this review to follow OCD & Crypto-Shots Contest.
As written in their whitepaper, and Website Crypto Shots is THE 1st P2E FPS on WAX. And HIVE. Play and earn $BOOM tokens, collect weapon parts (NFT), merge them into weapons (NFT), increase your earnings adding boosters (NFT) to your equipment. Discover new characters (NFT), take down enemies (NFT), travel to different planets using spaceships (NFT). Challenge your friends (HUMAN) in arenas (NFT).. all on the blockchain!!
Okay, guys, let's just visit their browser https://play.crypto-shots.com/

On the home page, there will be 2 options to play i.e. Free to Play and Play to Earn. If you choose Free to Play, you can try playing this game directly without having to log in, just need to click PLAY 3D GAME. But if you choose Play to Earn you need to log in using your Wax account or Hive account.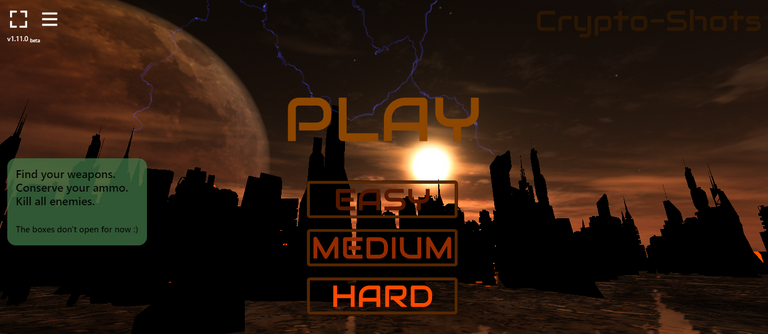 If you choose Free to Play, the next display is as shown above. Frankly I'm very happy to see the background of this look hehe. There are 3 choices of levels, that is Easy, Medium and Hard. Here is a description box on how to play, "Find your weapons, Conserve your ammo, Kill all enemies".
After you choose the distress level, you will enter the arena directly. You are given the opportunity to play as many as 3 minutes to play and 50 bullets. In the upper right corner there is Time Life left and the lower right corner there are the number of bullets left.
If you manage to shoot all the enemies and the time has run out, there will be a caption No More Resources then there's the Buy or Leave option.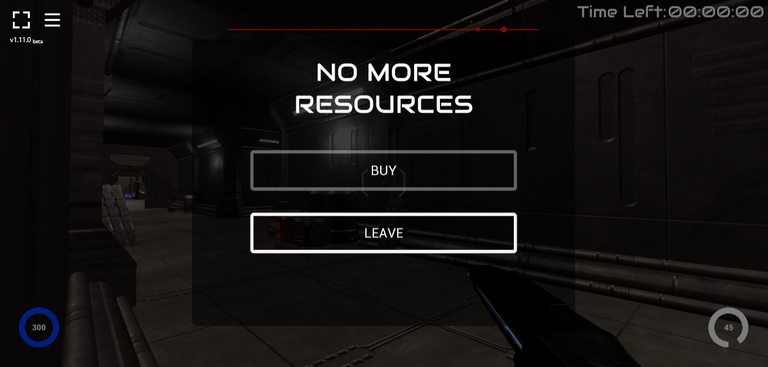 But if you get shot by the opponent, then Game over with display as below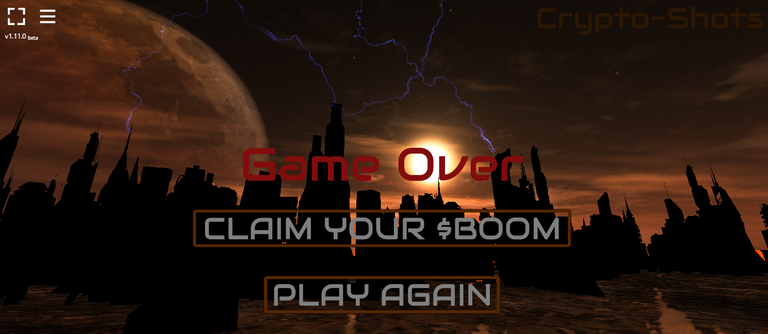 Well I think this game is quite interesting, because there are not many 3D Play to Earn games. Unfortunately, when I open the browser from this game, my laptop immediately hangs haha. Understandably, is an old laptop released in 2013 that may be a bit heavy to play this game. When I tried to play with my Cellular phone , it also didn't run smoothly because still had less sophisticated specifications.
How interesting is this game? You can see the trailer on youtube @cryptoshots.nft

(Unsupported https://www.youtube.com/watch?v=LhUSZ0QU0MA)

Okay, I think enough for this review, hope you like it. If you want to know more about this game, you can visit the link below:
Play now 3D Game: https://play.crypto-shots.com/
Hive NFTs Marketplace: https://crypto-shots.com/
Project Website: https://crypto-shots.com/
Discord: https://crypto-shots.com/discord
Twitter: https://twitter.com/@cryptoshots_nft
---
---