Unforgettable Battle // Weekly Battle Challenge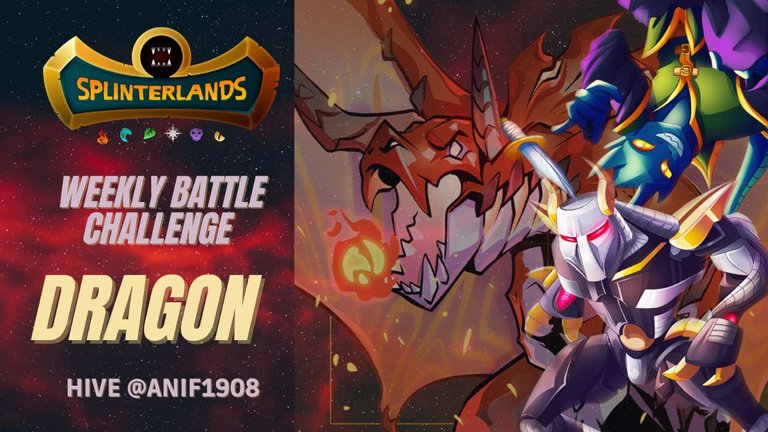 Hello Everyone!
I'm back again with my Splinterlands post. I created this article to take part in the Splinterlands Wekkly Battle Challenge which this week's theme is Dragon. This season I haven't been active to push rank again and only play during brawls. But I have some pretty interesting battle history that's hard for me to forget. So on this occasion I will share one of my battle history using the first monster Promo from the Riftwatchers pack sale, Oshuur Constantia.
Ok, guys, let's just discuss more in depth about Oshuur Constantia, as well as the Strategy battle with this monster.

OSHUUR CONSTANTIA
Today, the stories of Corsec Constantia are more fiction than fact–as are the tales of his children, his children's children, their children, and all the generations between then and now that have led the Riftwatchers in pursuit of the Chaos Legion.
Oshuur Constantia is the last in that long and venerable line. Her youthful appearance belies a wisdom and strength of will born of a life of loss and hardship. Still, a great weight rests on her shoulders.
Lore from Oshuur Constantia is quite long, you can read the full Lore in Splinterlands Lore.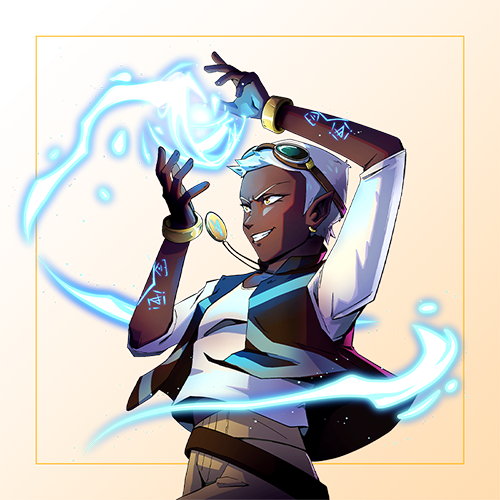 Edition: PROMO CARD (Riftwatchers)
Rarity: Legendary
Element: LIFE
Attack: MAGIC
Mana Capacity : 7
Abilities: Resurresct, Reflection Shied, Thank Heal
Like the monsters from other Promo Editions, Oshuur Constantia is also special because of the limited number of monsters as well as the abilities that will be the MVP of each battle. At level 1 the Resurrect ability is active, and at level 2 there is an additional active ability, namely Reflection Shield, and at level 3 the Thank Heal ability will be active and the max level of this monster is reduced damage to 3 magic attacks. In general, the millestone of the card level increases is quite satisfactory.

| Ability | Information |
| --- | --- |
| | When a friendly Monster dies it is brought back to life with 1 Health. This ability can only trigger once per battle. |
| | This Monster doesn't take damage from Blast, Magic Reflect, Thorns, or Return Fire |
| | Restores a portion of the Monster in the first position's health each round. |
You can read more about abilities, type cards, bacis cards, splinter, and stats at Gameplay Splinterlands.
Speaking of prices, Oshuur Constantia is quite cheap compared to other promo cards. From the Splinterlands in-game Market, Oshuur Constantian is the number 3 most popular Promo Card, which is above the price of Minotaur Warlord and Lord of Fire.



BATTLE PREPARATION
RULESETS
The rulesets in this battle are Traget Practice (All Ranged and Magic attack Monsters have the Snipe ability) and Thorns (All Monsters have the Thorn ability) with manacap 59 and the active elements are Fire, Water, Earth, Death, and Dragon.
LINE-UP AND STRATEGY
Broadly speaking, there are 3 strategies that I use to adjust to the rulesets above
Using Taunt monsters for Target Practice rulesets and providing support for Taunt Monster to survive as long as possible
Minimize the use of Melee monsters for Thorn rulesets
Use Magic and Range monsters as Attackers
Since the theme of this battle is dragon monster, of course I will use Dragon Summoner, and the most appropriate choice for this battle is Quix The Devious because it will give Debuffs -1 Range and -1 Speed. My guess is that the opponent will also minimize the use of melee monsters and maximize the Magic and Range of monsters, so this Summoner will be very useful.
You can see the line-ups of the two teams as shown below, and the strategy of each monster I chose can be seen in the table below:
| Monster | Position | Ability | Strategy |
| --- | --- | --- | --- |
| Diemonshark | First (Tank) | Trample, Enrage | Although this ruleset is Thorn, but I put Melee monster in the first position because this monster has a fairly high HP and Armor, and will also be supported by other monsters that have the ability Thank Heal, so it can last longer as a Tank. In addition, the abilities possessed are very difficult if they are active, which will be very deadly. |
| Chaos Dragon | Second (Attacker) | Flying, Scatter, Blast, Blind | This monster attack is very strong because it has 3 Magic damage coupled with the Scatter ability which allows attacks in all directions and the explosive nature of the Blast ability which makes monsters on the right and left of the target attack also hit by attacks from this monster. If My Tank with Taunt dies, this monster will become the target of attacks from Magic and Range monsters, but this is not a problem because this monster also has Flying abilities that increase the chance miss of Range attacks and this monster also has high HP and Armor. |
| Oshuur Constantia | Third (Attacker + Support) | Resurrect, Reflection Shield, Thank Heal | Although this monster only has 2 Magic damage, the ability possessed by this monster is very useful for defense in this battle. The first monster that dies will be resurrected again by this monster, and also Thank Heal ability will restore HP from the monster in the first position. |
| River Hellondale | Fourth (Attacker + Support) | Resurrect, Inspire, Dispell | Just like Oshuur Constantia, I chose this monster in my line-up because it has Resurrect ability so that the second Monster that dies will be resurrected again by this monster. The Inspire Ability is not very useful here because only the Tank in the first position is a Melee Monster. |
| Angelic Mandarin | Fifth (Attacker + Support) | Triage | This monster will be a support for Agor Longtail as a monster Taunt because the Triage ability will restore the monster's HP at the position of not the first one that gets the most attacks. |
| Agor Longtail | Last (Tank) | Flying, Taunt, Void Armor, Heal | MVP from this battle because have many abilities that very useful to defense from Opponent attack. This monster will be target from all enemy monster, but this monster is very strong with high HP and Armor, and also have Heal ability and will supported by Triage ability from Angelic Mandarin. |

LET'S GO TO BATTLEFIELD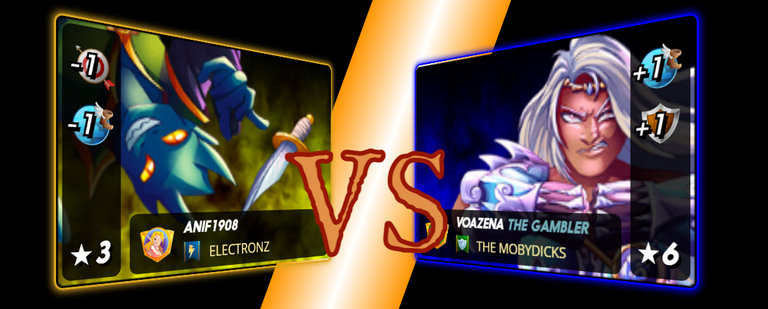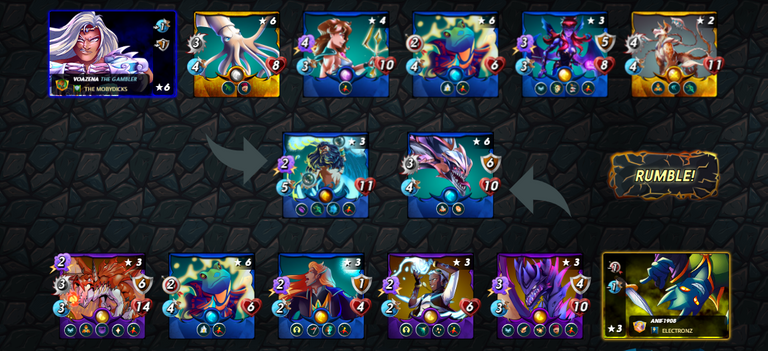 The opponent uses Summoner Kelya Frendul with the formation of Djinn Oshanus that have Void, Phase and Forcefield abilities in the first position, Flying Squid with Reach and Blind abilities at second position, Nerissa Tridawn with 4 Magic attacks at third position, Mardaali Guardian with Triage ability at Fouth position, Runemancer Kye, one of the strongest monsters from the Riftwatchers edition who has the abilities of Flying, Life Leech, and Fury in fifth place and in the last position there is a monster Taunt who is very difficult to hit because it has Dodge and Phase abilities, Coeurl Lurker.
(Unsupported https://youtu.be/tp7_xMT7iDk)
You can see this battle by directly click video from youtube that I put above. However, if you get difficulties in playback or the video quality is not good, you can also see this battle directly from the Splinterlands website by clicking the Direct Link below: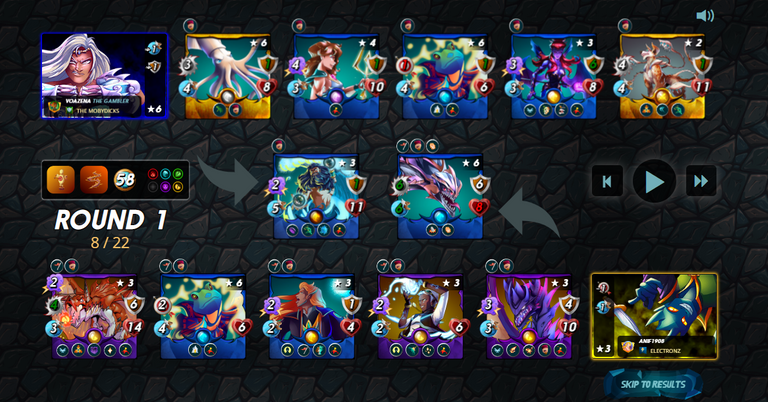 The first round begins with Buffs and Debuffs from all Summoners and Monsters. Djinn Oshanus gets the opportunity to attack for the first time and immediately activates the enrage ability from Diemonshark. The annoying thing has started since the first round, Magic attacks from Agor Longtail, Oshuur Constantia, and River Hellondale can't hit Coeurl Lurker.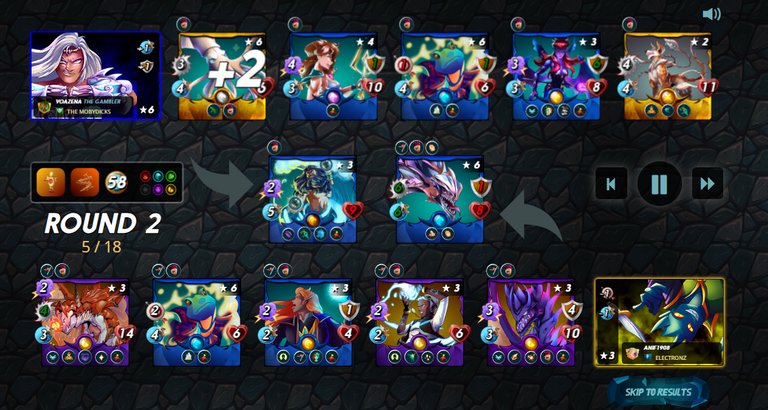 In the second round, Diemonshark's attack hit Djinn Oshanus. Just like the first round, attacks from Oshuur Constantia and River Hellondale also missed Coeurl Lurker. Another epic moment that happened was during an attack from Runemancer Kye who had Fury ability which had Damage 3 magic hit Agor Longtail, his attack was doubled to 6 damage. At the end of the third round, Agor Longtail's HP only had 1 left.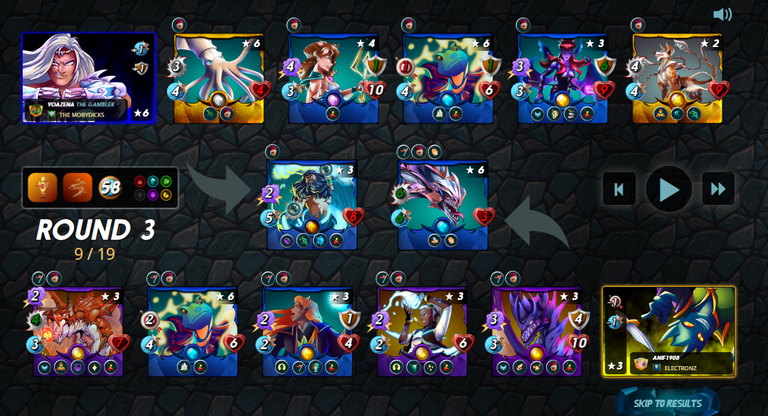 Round 3 is the same as the first round, Magic attacks from Oshuur Constantia and River Hellondale Back miss , even attacks from Agor Longtail also miss hit Coeurl Lurker.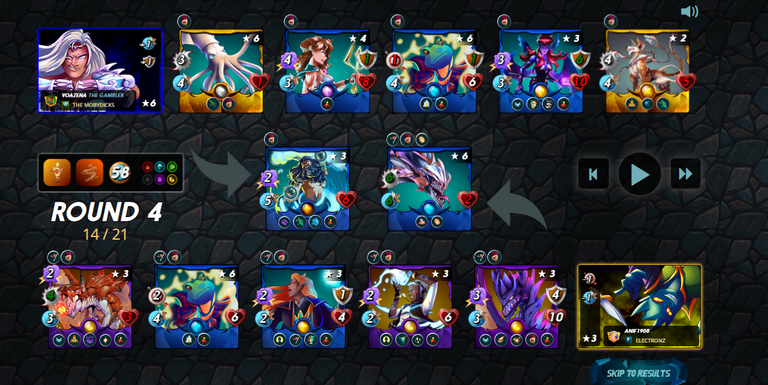 At the beginning of this round, Agor Longtail managed to restore HP from Heal ability and Triage ability, but in the end it remained dead and was revived by the Resurrect ability of Oshuur Constantia. Finally, in this round, Oshuur Constantia and River Hellondale can hit Coeurl Lurker.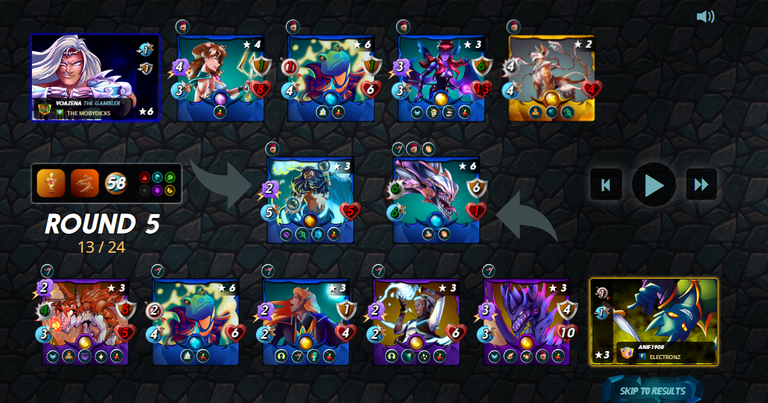 In this fifth round, Diemonshark died due to an attack from Flying Squid, but Flying Squid also died due to Thorn's attack. Diemonshark was resurrected again by River Hellondale. The end of this round Coeurl Lurker finally died. Diemonshark's HP was successfully restored by Oshuur Constantia's Thank Heal ability.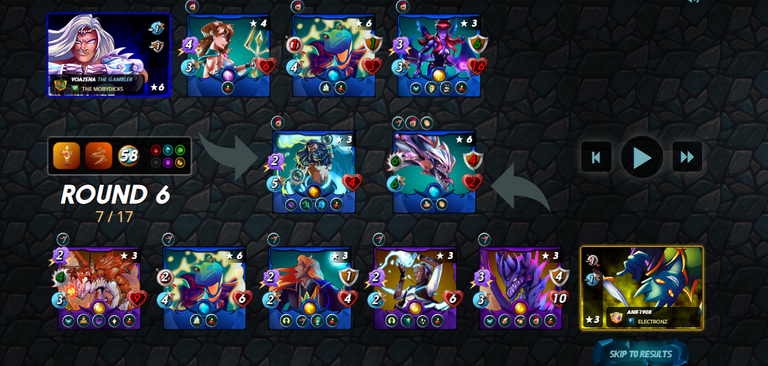 Up to this point, it seems that my team is stronger than the opposing team. At the end of the sixth round, Nerissa Tridawn also died and there were only 3 monsters left on the opposing side, while my formation was still with a complete team.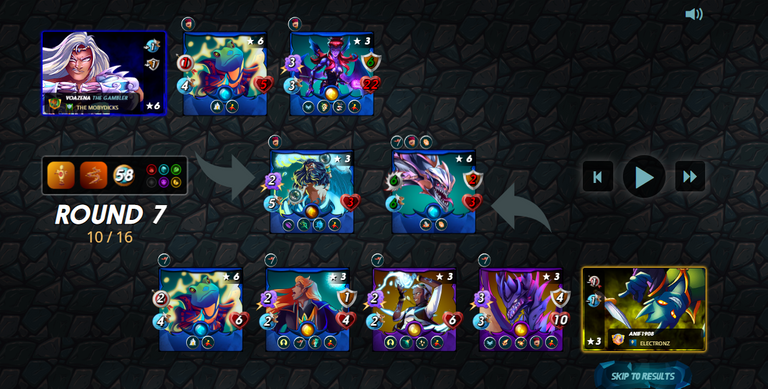 In the next round, Agor Longtail finally died after an attack from Runemancer Kye. But Maardali guardian of the opposing team also died, so at the end of this round the opposing team only left Djinn Oshanus who already had a small HP and Runemancer Kye.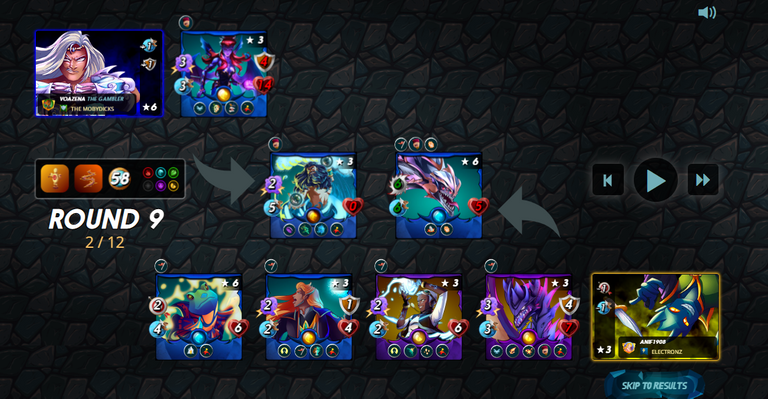 Djin Oshanus eventually died at the beginning of round 9. Although the opposing team only has 1 monster left, it will take a few more rounds to win.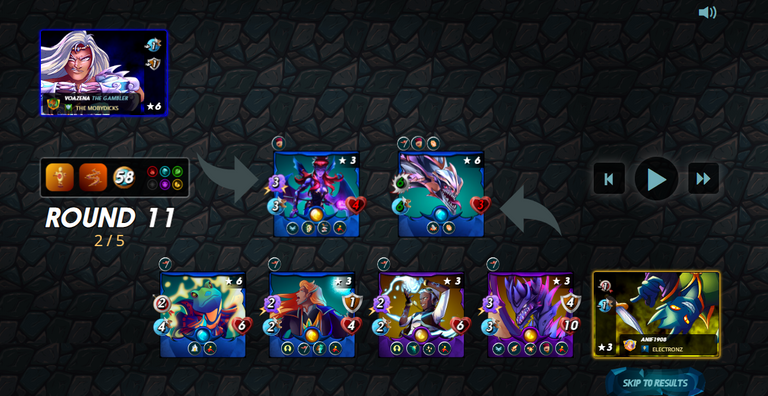 Eventually this match ended with 11 rounds. I won by only losing 1 dead monster. The final result of this battle I get +15 increase rank, +20,118 RP and +0.732 SPS. Haha, it feels so proud when you can beat other players who have Tittle besides their IGN.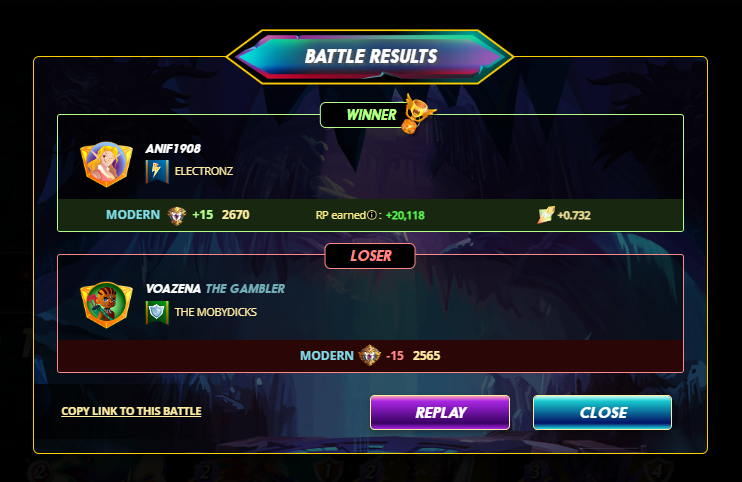 CONCLUTION
Even with a long battle, I was finally able to win this battle. The srategy that I used with a defensive focus and only relied on Chaos Dragon attacks succeeded in this battle. I think the key to my victory is the monster support that I put in the right position. Although Coeulr Lurker is hard to hit, the RNG God is not always valid. There will definitely be a moment when this monster is hit, and because it doesn't have Armor, then HP from this monster will reduced if hit by an attack. Coeurl Lurker's placement in the last position in this battle is also less advantageous, because it only plays a role in receiving attacks without being able to counterattack.

Alright, I think my writing is enough here, thank you for visiting my blog, don't forget to upvote and leave a comment. If you want to start playing Splinterland and don't have an account yet, don't hesitate to use my referral:
https://splinterlands.com?ref=anif1908
Credits:
The wonderful divider by @kyo-gaming
Thumbnail created using canva
All images taken from Splinterlands website
@splinterlands
---
---