Mantecado, el sabor fantasma de Walmart / Mantecado, the ghost flavour of Walmart
Hola, esta es mi primera vez en esta comunidad y antes que todo quiero agradecer a @dswigle por esta iniciativa de #MarketFriday. Aquí va mi participación con esta crónica desde San Cristóbal de Las Casas, México.
Hello, this is my first time in this community and first of all, I want to thank @dswigle for this #MarketFriday initiative. Here's my participation in this chronicle from San Cristóbal de Las Casas, Mexico.

🌟

Degustar un helado me fascina, no son demasiadas las cosas que provocan en mí un estado casi de delirio; mi esposo dice que a mí nada me llama la atención. Bueno... que no exagere, pero el helado sí es una de esas cosas con las que alucino, sobre todo con el de mantecado.
Tasting ice cream fascinates me, there are not too many things that provoke an almost delirious state in me; my husband says that nothing catches my attention. Well... he's not exaggerating, but ice cream is one of those things that blows my mind, especially Mantecado (buttery ice cream).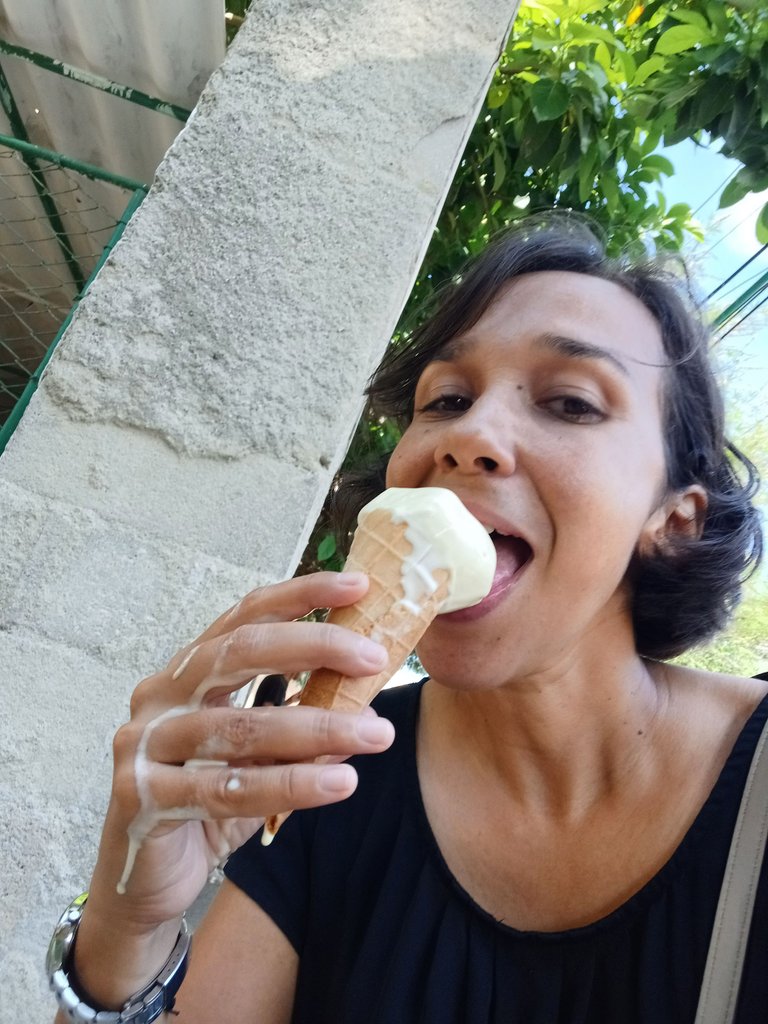 Este, en particular, me hace la boca agua. Hoy, me levanté temprano. Hablé como de costumbre con mi esposo y le deseé a mi niño un excelente día, es muy difícil querer y amar desde la distancia y mucho menos a través de una 📷, la conversación a menudo la siento tan impersonal.
Mis padres también me hablaron; mi mamany se sintió tan a gusto que hasta decidió tomarse una cervecita de esas que ella siempre esconde de mi papá para tomársela después que se baña, 😆 hoy no esperó.
Entre risas y halagos mi papá me confesó que estaba muy feliz, 😄 quizás ese impulso me hizo lavar varias cosas a mano; había estado postergando este momento porque el frío me congelaba las manos. Después tomé un baño y me vestí para ir al mercado. Había mucho frío, pero casi no lo percibí.
Aquí ir al mercado, es complicado; quizás para ustedes no, pero para mí es como una muerte lenta. Apenas llevaba en el carrito leche, yogurt, refrescos de Flor de Jamaica, sopa, mayonesa y me detuve frente a las neveras de los helados. Después de revisar minuciosamente cada sabor y cada detalle me percaté que no había mantecado.
Pensé que era una cuestión del mercado o de los fabricantes, o que no se sabe aquí qué es el mantecado. Caminé por largo rato y volví a llamar a mis padres y les enseñé la gran variedad de cervezas que hay aquí. Al final quedas en una disyuntiva, ¿cuál vas a tomar? Recuerden que soy una cubana que acabo de llegar practicamente a México y jamás había puesto los pies en un Walmart.
Ellos reían como locos, porque les gusta preparar la casa para sentarse los dos y tomarse junticos unos traguitos. En aquel momento pensé: si estuvieran aquí lo haríamos juntos y nos reiríamos de las cosas de la familia. Las locuras de mis tías... o los resabios de mi abuela.
Seguí caminando y decidí comprar chocolate, o galletas. Siempre me parece un gasto de dinero innecesario, del que por el momento puedo prescindir. Fui a la caja a pagar mis cuentas, recogí mi mercancía y me dispuse a salir. El señor quitó el sello de la mochila y eché mis compras en ella.
Al mirar hacia atrás, vi un pequeño servicio de heladería y me acerqué. Le pregunté a la muchacha, ¿qué sabores tiene? Ella me respondió: fresa, vainilla, oreo, pistacho, menta, con frutos secos, mango, chocolate, naranja, plátano y para mi sorpresa, ¡¡¡tampoco había mantecado!!!
Nunca había visto tantos sabores, y mucho menos había probado el de pistacho, pues decidí tomar helado de pistacho.
This one, in particular, makes my mouth water. Today, I got up early. I spoke as usual with my husband and wished my boy a great day, it's so hard to love and love from a distance let alone through a 📷, the conversation often feels so impersonal. My parents also talked to me; my mum and dad felt so comfortable that she even decided to have one of those beers that she always hides from my dad to drink after she takes a bath, 😆 today she didn't wait.

Between laughs and compliments my dad confessed to me that he was very happy, 😄 maybe that impulse made me wash several things by hand; I had been postponing this moment because the cold was freezing my hands. Then I took a bath and got dressed to go to the market. It was very cold, but I hardly noticed it.

Here, going to the Supermarket is complicated; maybe not for you, but for me it is like a slow death. I barely had milk, yoghurt, Flor de Jamaica soft drinks, soup, and mayonnaise in my trolley and I stopped in front of the ice cream coolers. After carefully checking every flavour and every detail I realised that there was no ice cream.

I thought it was a question of the market or the manufacturers, or that they don't know what mantecado is here. I walked around for a long time and called my parents back and showed them the great variety of beers here. In the end, you are left with a dilemma, which one are you going to drink? Remember that I am a Cuban who has just arrived in Mexico and I had never set foot in a Walmart Supermarket before.

They laughed like crazy because they like to prepare the house so they can both sit down and have a few drinks together. At that moment I thought: if they were here we would do it together and laugh about family things. My aunts' crazy things... or my grandmother's hangovers.

I kept walking and decided to buy chocolate or biscuits. It always seems to me an unnecessary waste of money, which I can do without for the time being. I went to the cashier to pay my bills, picked up my goods and prepared to leave. The gentleman removed the seal from my rucksack and I threw my purchases into it.

As I looked back, I saw a small ice cream parlour and approached it. I asked the girl, what flavours do you have? She replied: strawberry, vanilla, oreo, pistachio, mint, dried fruit, mango, chocolate, orange, banana and to my surprise, there was no butter!!!!!

I had never seen so many flavours, let alone tried pistachio, so I decided to have pistachio ice cream.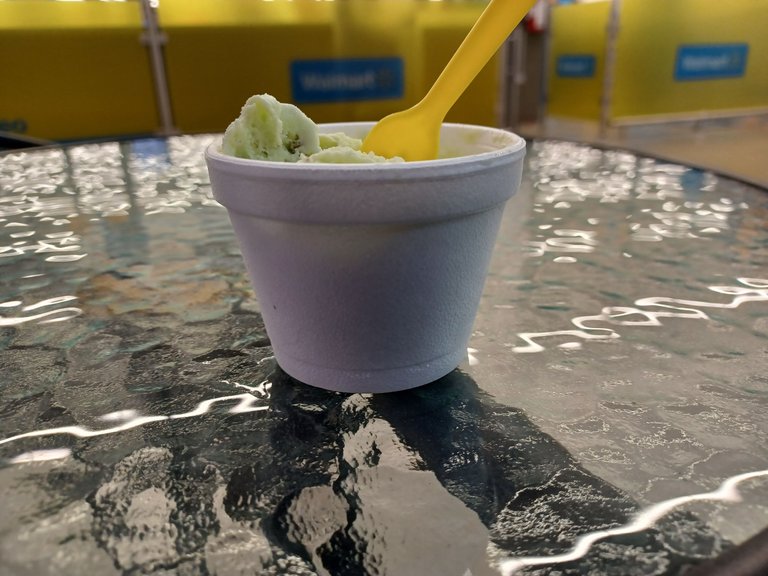 No es nada del otro mundo, quizás es que tenía ese deseo rotundo por el mantecado. Me senté solita en aquella mesa mientras miraba pasar a la gente, otros pagaban sus cuentas y compraban allí una paleta. Se me hizo largo el helado. Es una sensación de insatisfacción... o no sé cómo explicárselos.
La mesa me quedaba muy grande o yo era demasiado pequeña en aquella mesa de cristal. Me llegó a faltar el aire e imaginé miles de versiones de helado. Creo que me vi en el desierto sin agua. La gente tomaba sus compras y se iba, los carros vacíos, la muchacha sonreía y yo estaba con aquel helado de pistacho sin nadie, sola en medio del supermercado Walmart, con miles de palabras atragantadas... en fin, sola.
It was no big deal, maybe it was just that I had a strong craving for butter. I sat alone at that table while I watched people passing by, others were paying their bills and buying a lollipop. The ice cream took a long time. It's a feeling of dissatisfaction... or I don't know how to explain it to you.

The table was too big for me or I was too small on that glass table. I became short of breath and imagined a thousand versions of ice cream. I think I saw myself in the desert without water. People were shopping and leaving, the carts were empty, the girl was smiling and I was with that pistachio ice cream with no one, alone in the middle of the Walmart Supermarket, with thousands of words choked... in short, alone.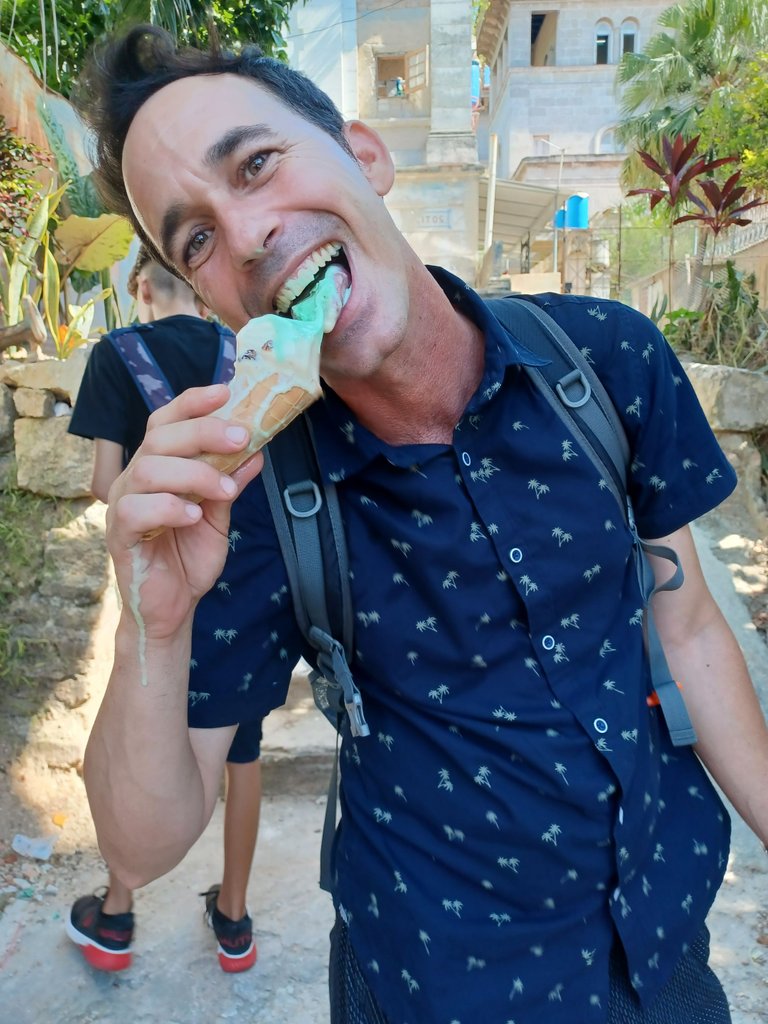 ¡Podría ser un sueño! Mi helado de pistacho había acabado y yo recordaba ese sabor inconfundible del mantecado. Mi esposo hubiese pedido menta y chocolate, mi hijo solo por imitar menta y mantecado. Éramos los tres en aquel momento, la mente se traslada cual máquina del tiempo, borrando todos los relojes.
La Habana, 22 de agosto de 2022.
Mi máquina del tiempo tenía efectos regresivos y podía oler, sentir y todo con lujo de detalles. Ellos hacían mi mente volar, sus risas, la espera que iba acompañada de grandes burlas por mi antojo en aquella heladería del Vedado capitalino llamada Montefreddo.
Es pequeña aquella heladería en Cuba, es cierto, pero están todos los sabores, incluso el mantecado. Ese sabor que en el súpermercado Walmart no estaba y que yo añoraba degustar.
Deposité el recipiente vacío en el cesto, miré a la muchacha que sonreía y salí con mi mochila de regreso a casa.
It could be a dream! My pistachio ice cream was finished and I remembered that unmistakable taste of buttercream. My husband would have asked for mint and chocolate, and my son just to imitate mint and buttercream. It was the three of us at that moment, the mind moving like a time machine, erasing all the clocks.

Havana, 22 August 2022.

My time machine had regressive effects and I could smell, feel and everything in detail. They made my mind fly, their laughter, the wait that was accompanied by great teasing for my craving in that ice cream parlour in the capital's Vedado district called Montefreddo.

That ice cream parlour in Cuba is small, it's true, but there are all the flavours, even the mantecado. That flavour that wasn't available in the Walmart supermarket and that I longed to taste.

I put the empty container in the basket, looked at the smiling girl and left with my backpack to return home.
Translated with www.DeepL.com/Translator (free version)

🌟🌟🌟

Texto y fotos por @anixaeva - Agradeciendo de antemano su apoyo y valoración. Todos los comentarios en este blog serán respondidos.
Text and photos by @anixaeva - Thanking you in advance for your support and appreciation. All comments on this blog will be answered.
---
---