The Covid-19 Transmission Rate in Aceh Increases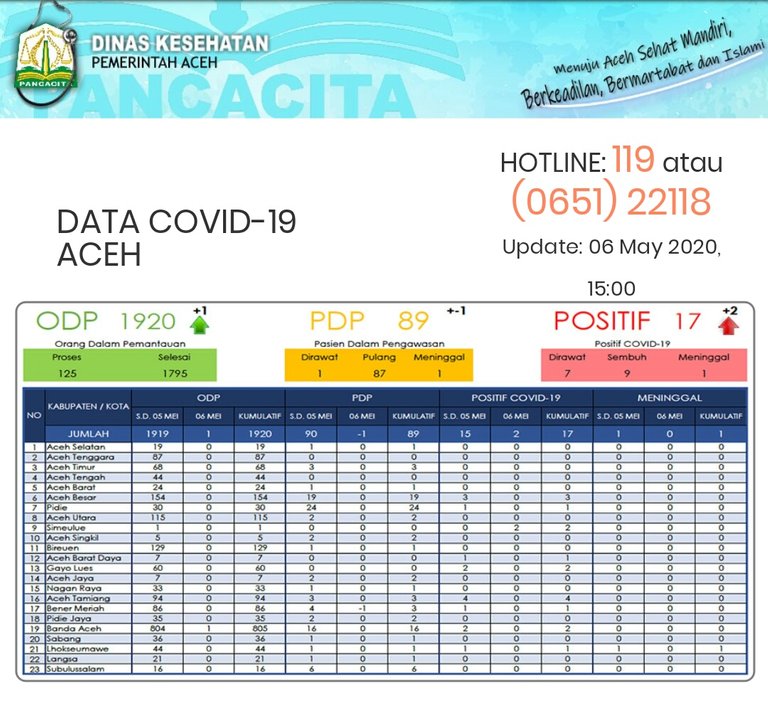 In Aceh the regulation on self quarantine has been loose from a few weeks ago. This policy was carried out by the Aceh government when patients with Covid-19 were completely cured and no new cases were found. But only a few days after the application of the regulation has been loosed, there has been a significant increase in cases of patients infected with the case. When the regulation was loose, 9 out of 10 patients infected with coronavirus had recovered and another died. Now the case has increased again as many as 7 patients infected with coronavirus and still under treatment.
The increase in the number of patients infected with coronaviruses is because of Acehnese who have been overseas, many have returned to Aceh so they brought coronavirus. This has caused a drastic surge in recent weeks. So far in Aceh the number of cases of patients infected with coronavirus has become 17 patients. With details before 5 May 2020 there were 15 cases and and on 6 May yesterday two new cases were added.
Aceh Tamiang which is a regency bordering North Sumatra Province (red zone of Covid-19 transmission) and is the entry point by land to Aceh was ranked first with 4 cases. The second position is occupied by the District of Aceh Besar which is the entrance to Aceh by air with a total of 3 cases. Underneath are Simeulue District, Gayo Lues District and Banda Aceh City (capital of Aceh province), each of which has two cases of patients infected with Covid-19. Four more cases each occurred in Pidie District, Bener Meriah District, Southwest Aceh District and Lhokseumawe City.
At present the people of Aceh must be alert again with a very significant increase in the Covid-19 case. Because what is very worrying is the people who have been in contact with these patients who can be agents of spreading the virus. Because they are people who show no symptoms of having contracted coronavirus, so they are still active outside the home and not self quarantine so far.
I want to share this content with @xpilar, @trafalgar, @traf, @tonyz, @gidlark, @r2cornell, @streetstyle, @cjsdns, @michealb, @wisdomandjustice, @introvert-dime and others.

5156

---
---