Why non-Asian coronavirus "victims" are in fine health

"I don't have any symptoms. I would never have known [that I had coronavirus] had I not been randomly selected..."
These are the words of Rebecca Frasure of Forest Grove, Oregon who tested positive for the novel coronavirus after two weeks aboard the Diamond Princess cruise ship. See her full interview:
There are 369 people on the Diamond Princess who have tested positive for novel Coronavirus (2019 nCov). Yet I have seen no evidence that any of them are seriously ill. Indeed, all the reports are of "mild" cases - meaning nothing you would normally even see a doctor about.
This is by far the largest group of people of non-Asian ancestry who have tested positive for 2019 nCOV.
There is also the case of British "super spreader" Steve Walsh, who like the good boy scout he is, reported himself to the nCOV hotline after having mild flu like symptoms because he was aware of having contact with another confirmed nCOV case. https://www.thesun.co.uk/news/10937268/coronavirus-uk-brit-superspreader/
While he infected a number of other westerners in France and the UK, there has been no report of any of them being seriously ill.
Why is nCOV deadly to Chinese but not those of European ancestry?
There has not been a single death from 2019 nCOV of a person of non-Asian ancestry.
The "American" who was earlier reported to have died in Wuhan was later corrected to be Lian Hong, a 53 year old Chinese woman who had spent considerable time in the US, but was not a US citizen.
Nor have there been reports of serious illness from 2019 nCOV in Africa, where the Chinese are very active and where flights from China have continued. This has been explained by a lack of nCOV testing kits, but if people were seriously ill they would have sought medical attention and nCOV would have been suspected via other diagnostic means.
Indeed, the only cases of people outside Asia testing positive for 2019 nCOV are when authorities have traced the contacts which a confirmed case had or have tested a whole ship.
There have been no independent outbreaks.
Given how contagious 2019 nCOV is, it seems impossible to believe that authorities could have traced and caught every non-Asian who had caught it.
The more plausible explanation is that 2019 nCOV doesn't make non-Asians sick enough to bother going to the doctor and appears like a very mild cold (which is another type of coronavirus).
I am not the first person to state this and there is a solid scientific explanation as to why.
2019 nCOV targets ACE2 receptors
2019 nCOV enters the body by targeting the ACE2 receptor.
This is similar to SARS.
People of North Asian ancestry (Han Chinese and Japanese) have much higher levels of ACE2 receptors than Europeans.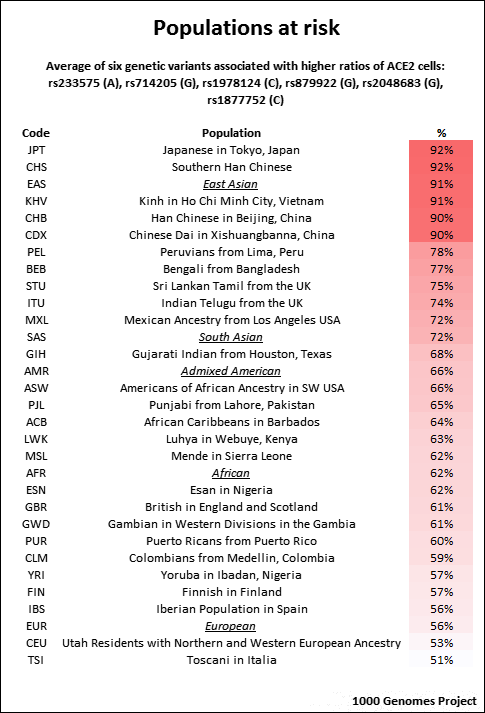 Source: https://pbs.twimg.com/media/EPnyPKvX0AAtdJ0?format=png&name=900x900
See also: https://www.biorxiv.org/content/10.1101/2020.01.26.919985v1.full
This may be why Chinese and Japanese get less lung cancer than Americans while smoking more.
Certainly there is a link between ACE2 receptor expression, smoking and predisposition to become seriously ill from 2019 nCOV.
Implications
While this is a very early stage analysis based on the limited data available, the implications are very significant!
One of the key factors that makes 2019 nCOV so dangerous is that data out of China indicated that 20-25% of those that contracted it became seriously ill and needed an ICU bed. This statistic is very scary for health care professionals because it means that health systems are quickly overwhelmed.
The other key statistic was the death rate: at 2.5%-5%+ it was 100 times higher than flu.
But if these percentages are close to zero in non-Asians then 2019 nCOV is not serious threat outside Asia.
It also means that nCOV may have silently spread much more widely in the rest of the world than is known. It is just that people who are not sick don't normally have any contact with the medical system and thus will never be diagnosed.
Once it becomes apparent that 2019 nCOV is not a mortal threat to non-Asians and has already spread silently throughout the world, non-Asian governments will de-prioritise the issue.
But for the Chinese and Japanese, 2019 nCOV will remain a mortal threat.
Their natural and sensible reaction will be to cut off contact with outsiders and demand nCOV free certificates before having personal contact with any outsider who could be an unknown super-spreader.
It will lead to a massive split in the world economy, with the world's 2nd and 3rd largest economies de-coupling from the rest of the world.
Both China and Japan have long histories of self-isolation and 2019 nCOV could lead them back down this path.
2019 nCOV is a black swan event that will change the world forever.
Exactly how remains to be seen, but the massive disruption of the global economy which I predicted over 2 weeks ago is gaining pace and now appears unstoppable.
---
While you can't control the world economy, you can make sure you get your piece of the damages from the world's largest class action lawsuit (which is not negatively affected by 2019 nCOV]:

---
---