DIY A Happy Congratulatory Sandal Gift to @crosheille in Hive for her Two Months Leave

A happy new month to every member of this family, I'm very glad that the WIP challenge ended well and that this month brings new creativity to the Needlework. Please it's an honor to inform you all in the community that our admin @crosheille will be embarking on two months' leave from the platform. When I came in contact with the post she shared about the leave last week, I felt that I will be missing her but I couldn't control it which is the more reason I decided to crochet a sandal for her as a means of seeing her for the two months.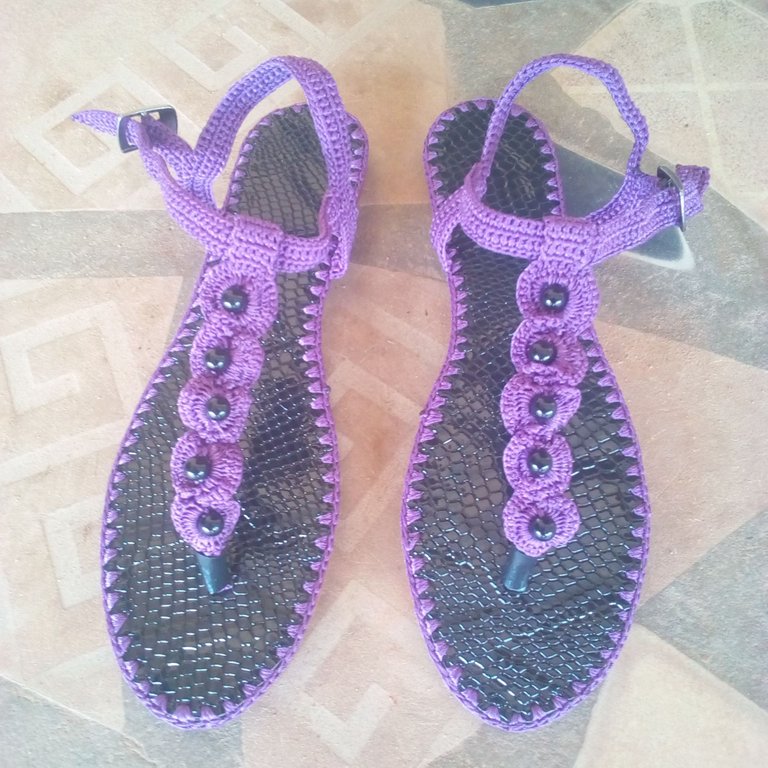 Like I keep saying that I love appreciating those whom I value and respect so much in life and @crosheille is among the people that I respect in #Hive and in the community. I have presented her a gift before with a crocheted slipper but this one is different as it's a sandal to enable her to wear them for her two months' leave. At least by the time, she'll be carrying out some of the activities from home and the people she'll be teaching, she can always wear them.
Some people do not really understand that she plays a very significant role in Hive through several communities like the NeedleWorkMonday, OCD, HommeEdders, and stockImages. In each of these communities, she'll have to comment, curate, and do many other significant activities in the communities. Whenever I witness her doing all these functions, I know it requires a lot of professionalism, time, and energy. I congratulate her on that.
I wanted to feel very bad seeing her going on leave but come to think of the functions she has been doing in Hive, of course, she really needs to go home for that two months' leave to enable her to regain more strength and also acquire new skills she will be displaying in Hive by the time she'll be back.
Do you know that when the sandal was in process of crochet that a lot of customers were admiring and wanted to pay for it but I told them that it was meant for a special mentor and mother? I love you and will be missing you for the two months' leave @crosheille.
Materials used in making the sandal:
Yarn which I consider very vital for the making of footwear through crocheting was used. Yarn is just like every other material for the making of sandals but specifically for crocheting/knitting, and many more.
Sole is a common leather type material but thicker from the downside and used by shoemakers to make footwear.
Leather: This material is what I use to make the downside of the sandal and it's where the user will be fixing her leg to avoid injuries from the sole during wear.
Buckle: this is just in an aluminum construction form used to hold sandals during wear so that the person's leg will not pool out.
Gum is in a liquid form but can't separate from water. It's for holding leathers together.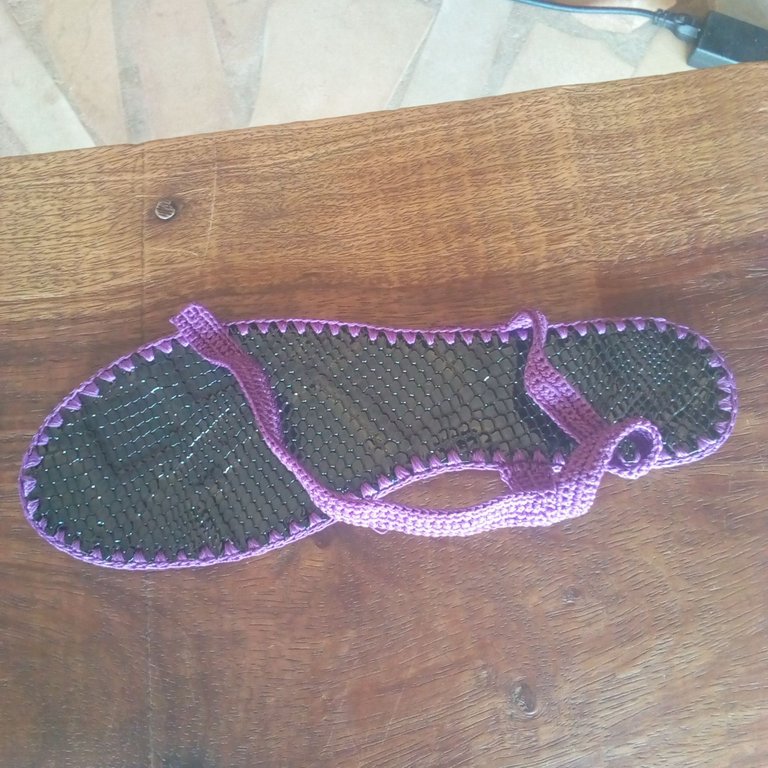 Tools that were used:
A yarn pin looks exactly like a needle but has a bending hook used for the crocheting of foot wears.
A needle is commonly known among tailors and other needle workers but is used generally for sewing.
Scissors are sharp objects that I prefer to use to cut leather, and yarn during footwear making.
Hammer is a hard iron constructed and used for the hitting of foot wears by shoemakers.
Some processes which were adopted in making the sandal:
I make sure to go through my catalogs and get a fine sandal to crochet.
Purchasing the materials to be used from the market was followed.
Taking a measurement of size 41 was adopted.
Cutting the leathers to be used according to the footwear size.
Gumming the downside was followed.
I crocheted the front design of the sandal separately before the back side and followed by the side and the complete design.
I make sure to sandpaper the sole and the crocheted sandal leather very clean.
I applied gum on them and then allow them to dry under the sun for about 3hrs.
I have to assemble the complete sandal and then used a hammer to hold them well.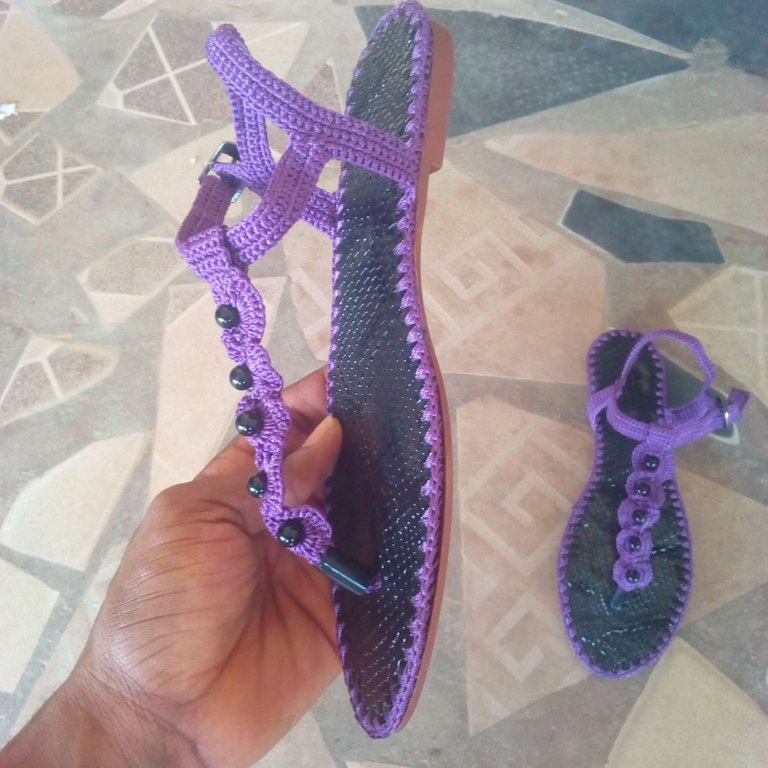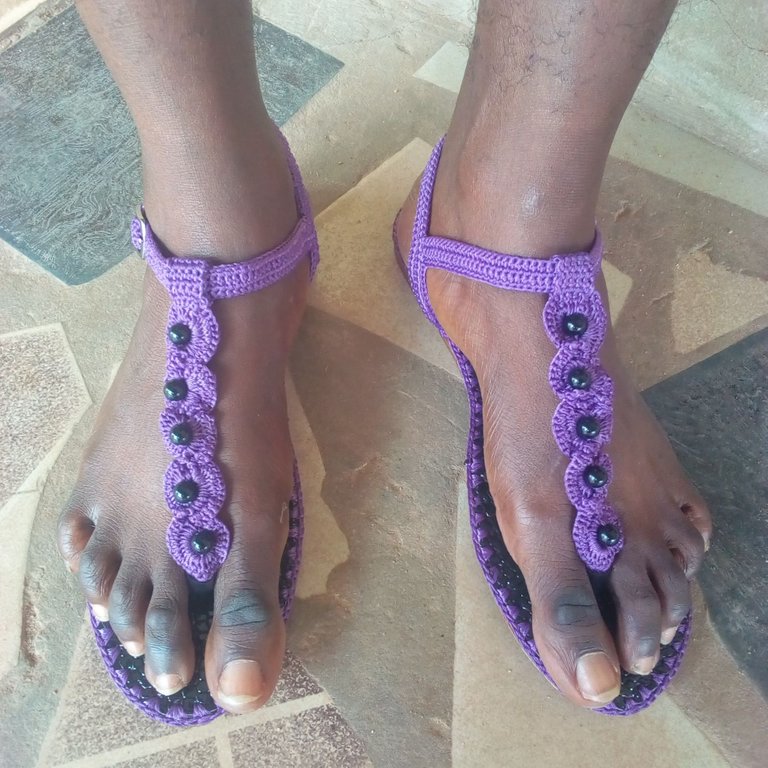 ---
---