NeedleWork: A Customer Request for another Palm Slipper after Making Trouble // NeedleWork: una solicitud de un cliente para otra zapatilla de palma después de causar problemas [ENG/ESP]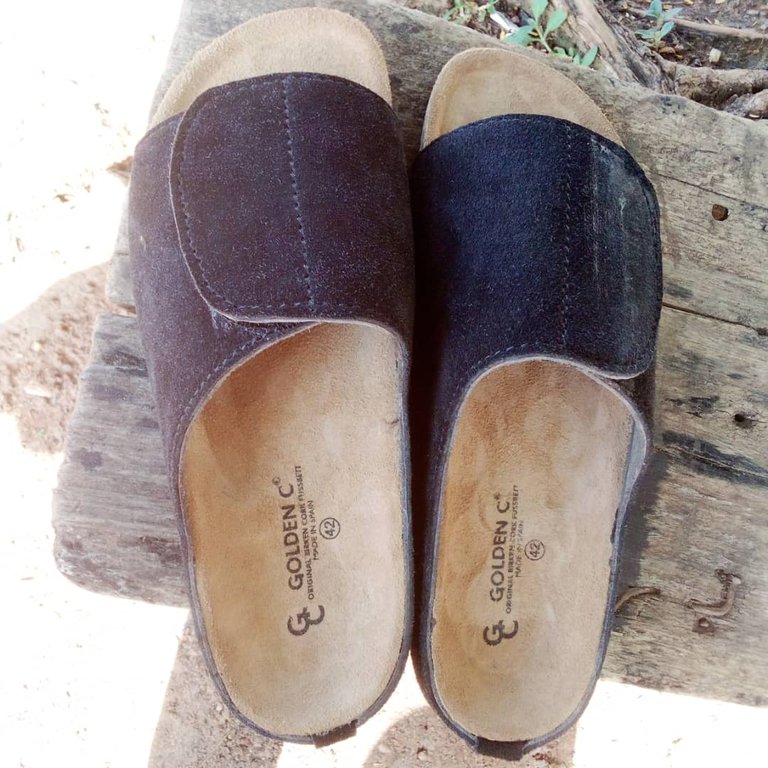 Today I was faced with a difficult challenge from a customer who requested that I should make a palm slipper for him but in the end, he made a choice for another. Some customers will always like to prove themselves right even when they are wrong.
How it all happened was that when the customer came to my shoemaking office and requested that I should make a leather palm slipper for him which we later bargained price and he was told by my shoemaking team to come this even to collect the slipper.
Hoy me enfrenté a un desafío difícil de un cliente que me pidió que le hiciera una pantufla de palma, pero al final, eligió otra. A algunos clientes siempre les gustará demostrar que tienen razón, incluso cuando están equivocados.
Todo sucedió cuando el cliente vino a mi oficina de zapatería y me pidió que le hiciera una zapatilla de palma de cuero, cuyo precio luego negociamos y mi equipo de zapatería le dijo que viniera incluso a recoger la zapatilla.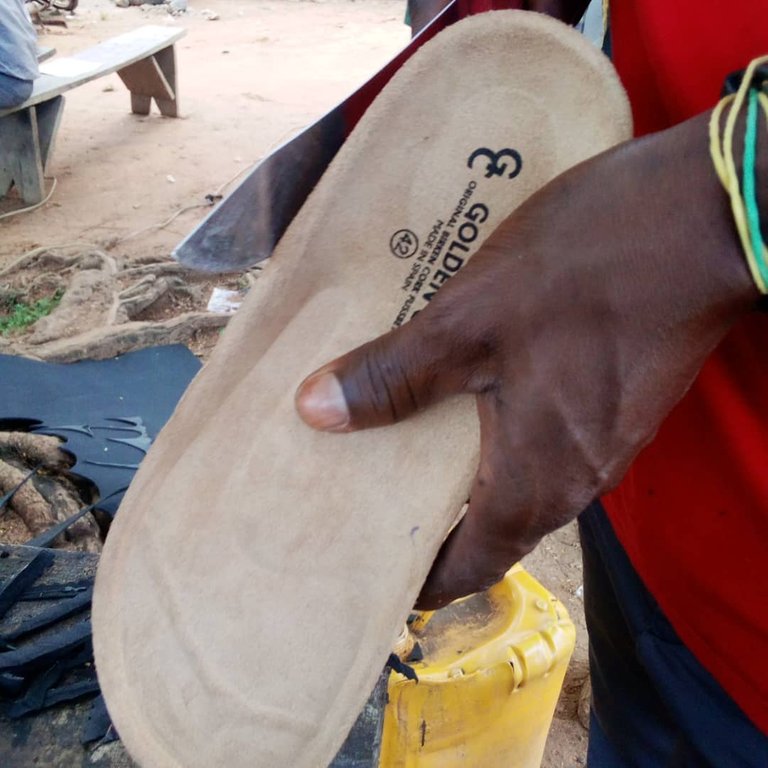 When the customer came this even as agreed, I and my shoemaking team were able to get the palm slipper ready but something happened. When the customer entered our office this evening and saw the palm slipper that was meant for him, he nearly wanted to collect it but he saw another palm slipper that was meant for another customer and decided that he will be going with that one.
Cuando el cliente llegó así de acuerdo con lo acordado, mi equipo de zapateros y yo pudimos preparar la zapatilla de palma, pero algo sucedió. Cuando el cliente entró en nuestra oficina esta noche y vio la pantufla de palma que era para él, casi quiso recogerla, pero vio otra pantufla de palma que era para otro cliente y decidió que se quedaría con esa.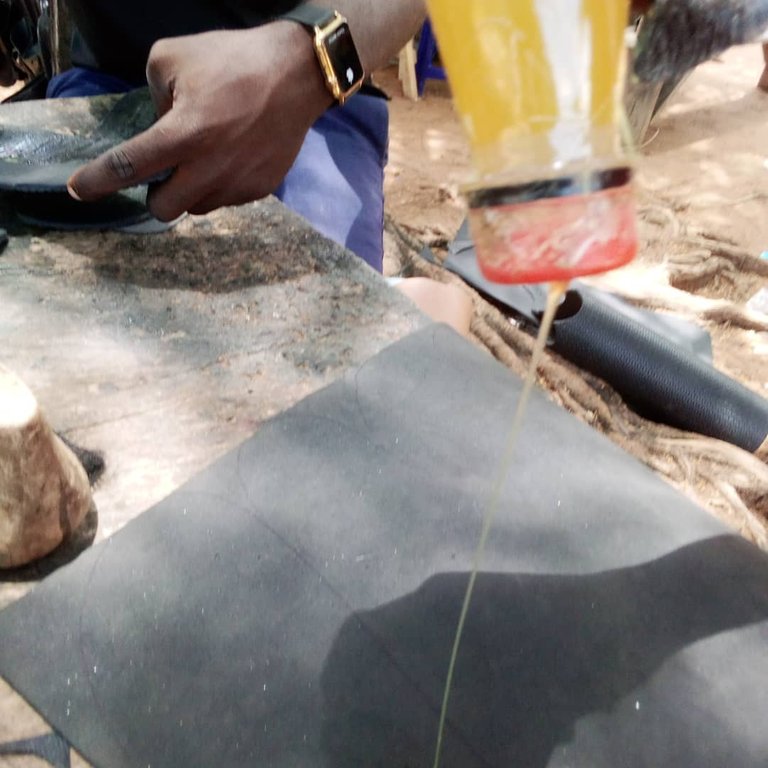 I tried my possible best to let him know that the palm was meant for another customer that will be coming to collect his own footwear this same evening. Before I could finish explaining to the man, the owner of the palm came in and was what is going on with the footwear that I meant for him. Here I was confused and decided to keep explaining.
Hice todo lo posible para hacerle saber que la palma estaba destinada a otro cliente que vendrá a recoger su propio calzado esta misma noche. Antes de que pudiera terminar de explicarle al hombre, el dueño de la palma entró y fue lo que está pasando con el calzado que le quise decir. Aquí estaba confundido y decidí seguir explicando.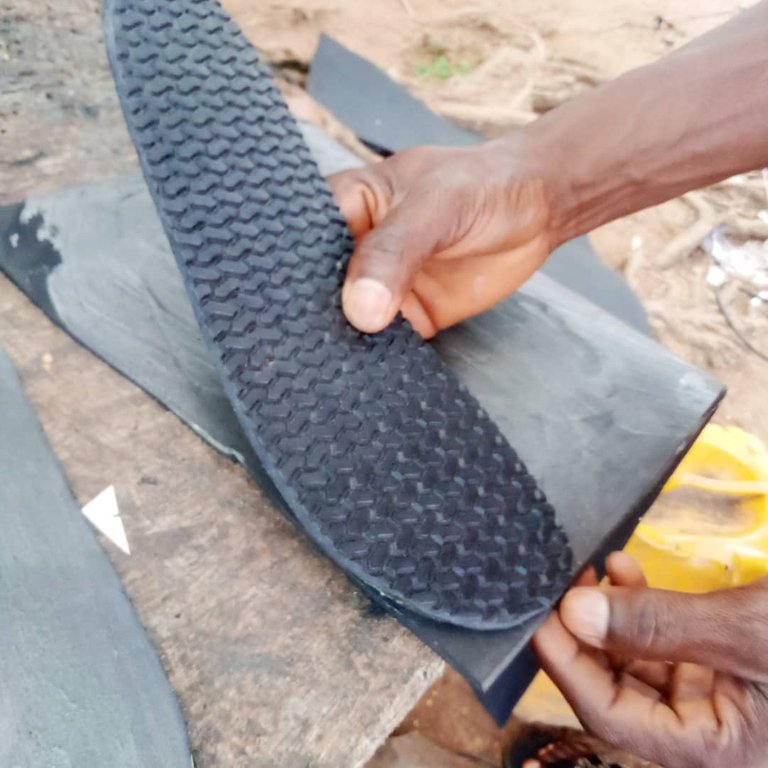 After the whole explanation trying to calm the first customer, he never wanted to listen to an extent that he told me that he will be paying for both footwear. I called the second customer to one side and told him to let the first customer go with the footwear that I will be making another one for him by Monday and I will reduce the price for him. Fortunately for me, the second customer accepted and told me that he was accepting because he wants peace to reign.
Después de toda la explicación tratando de calmar al primer cliente, él nunca quiso escuchar hasta el punto de que me dijo que pagaría por ambos zapatos. Llamé a un lado al segundo cliente y le dije que dejara ir al primer cliente con el calzado que el lunes le haré otro y le rebajaré el precio. Afortunadamente para mí, el segundo cliente aceptó y me dijo que aceptaba porque quiere que reine la paz.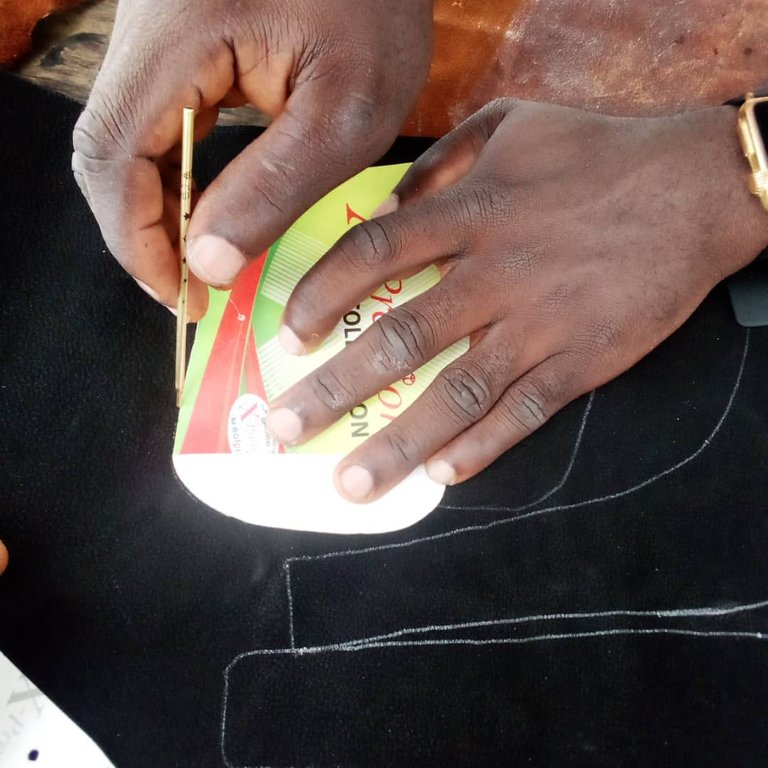 This was how I was able to let the first customer go with the one that was meant for the second customer. I allowed this to happen because when you notice that some customers are troublesome, you don't need to argue with such people because they may end up spoiling the name of your business. So, it's better to act as if you no nothing just for peace to reign and I was happy to see that the second customer was tolerant.
Así fue como pude dejar ir al primer cliente con el que estaba destinado al segundo cliente. Permití que esto sucediera porque cuando notas que algunos clientes son problemáticos, no necesitas discutir con esas personas porque pueden terminar estropeando el nombre de tu negocio. Entonces, es mejor actuar como si nada solo para que reine la paz y me alegró ver que el segundo cliente fue tolerant.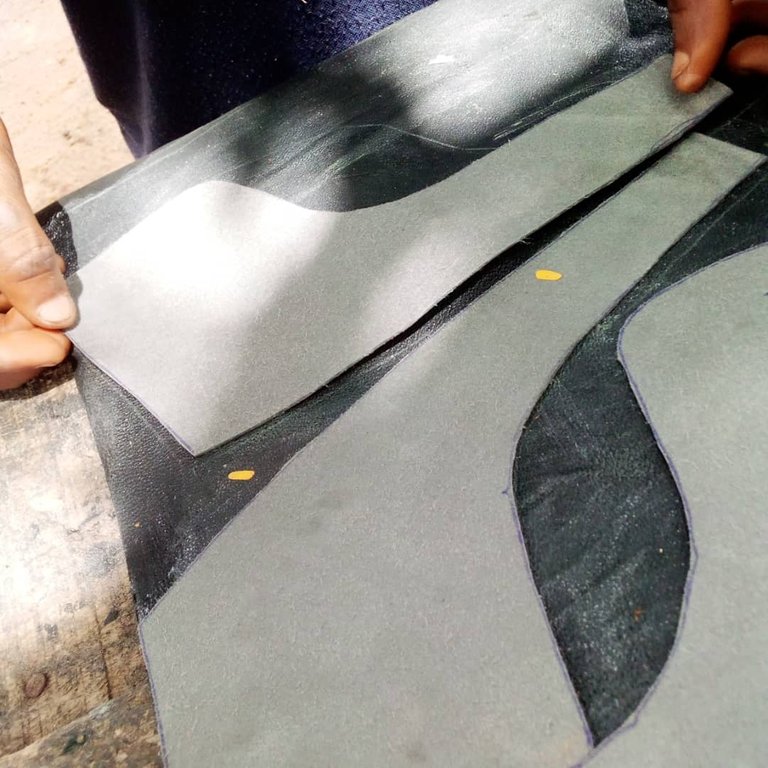 Materials and tools used in making the palm slipper are as follows:
Leather.
Sole.
Thread.
Sewing machine.
Needle.
Scissors.
Gum and Hammer.
Los materiales y herramientas utilizados para hacer la zapatilla de palma son los siguientes:
Cuero.
Único.
Hilo.
Máquina de coser.
Aguja.
Tijeras.
Chicle y Martillo.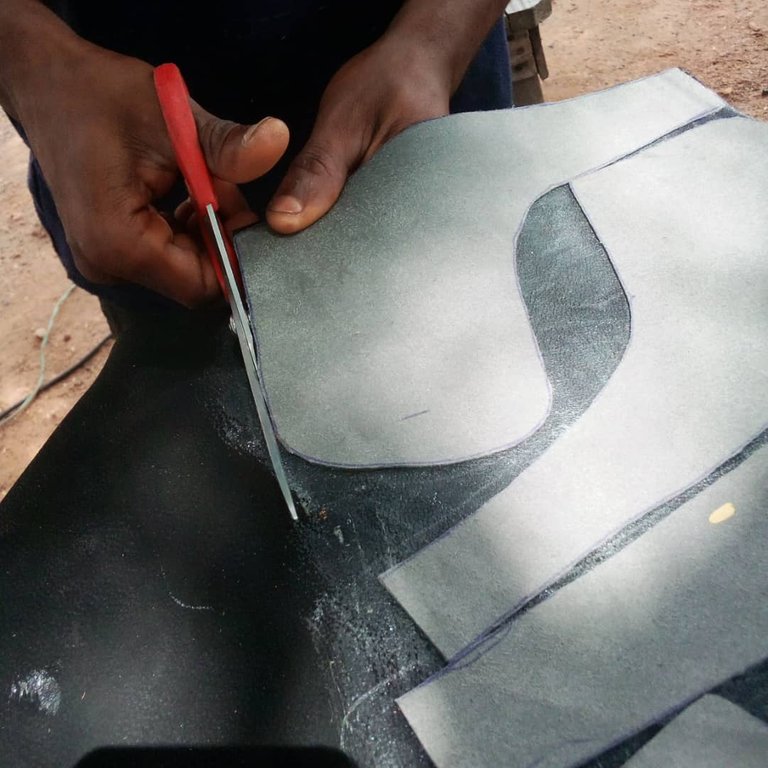 How the leather palm slipper was made is also as follows:
Getting the materials from the market was a priority.
Division of labor among my team was done.
We have to make sure the proper measurement of the leather palm slipper is taken.
After the measurement, we have to make a sketch.
We now have to use scissors to cut the leather according to the main target of the palm we are making.
We have to use a sewing machine to sew the top leather of the palm slipper according to the design.
We have to sandpaper the soles and make sure that we allow them to under the sun to dry adequately.
After allowing the gums to dry, we decided to fix the sole and the leather sewn together and then use a hammer on them for proper collide.
Cómo se hizo la zapatilla de palma de cuero también es la siguiente:
Conseguir los materiales del mercado era una prioridad.
Se hizo la división del trabajo entre mi equipo.
Tenemos que asegurarnos de que se tome la medida adecuada de la zapatilla de palma de cuero.
Después de la medición, tenemos que hacer un boceto.
Ahora tenemos que usar unas tijeras para cortar el cuero según el objetivo principal de la palma que estamos haciendo.
Tenemos que usar una máquina de coser para coser el cuero superior de la zapatilla de palma de acuerdo con el diseño.
Tenemos que lijar las suelas y asegurarnos de dejarlas al sol para que se sequen adecuadamente.
Después de dejar que las gomas se sequen, decidimos unir la suela y el cuero cosiéndolos y luego usar un martillo para que choquen correctamente.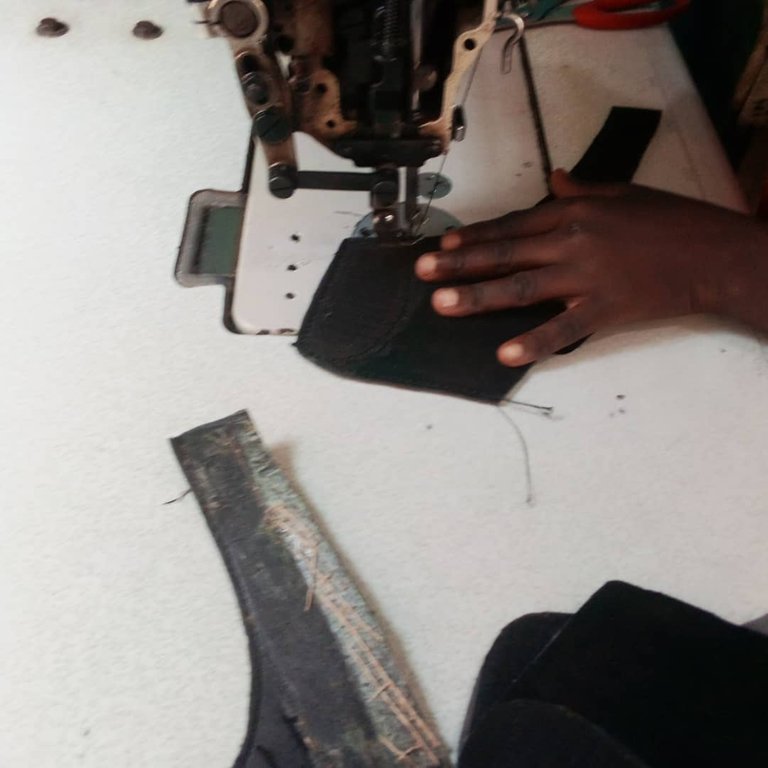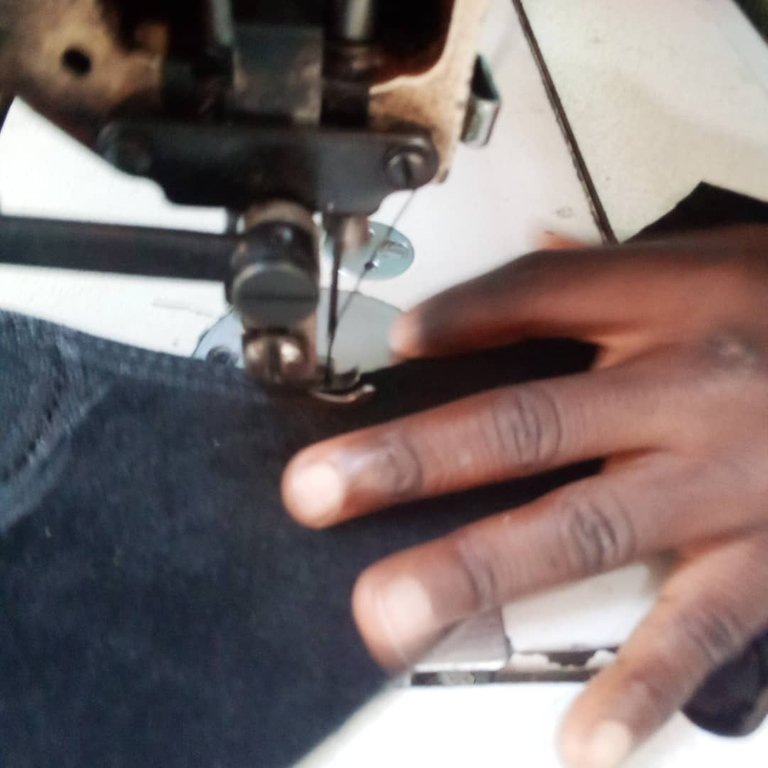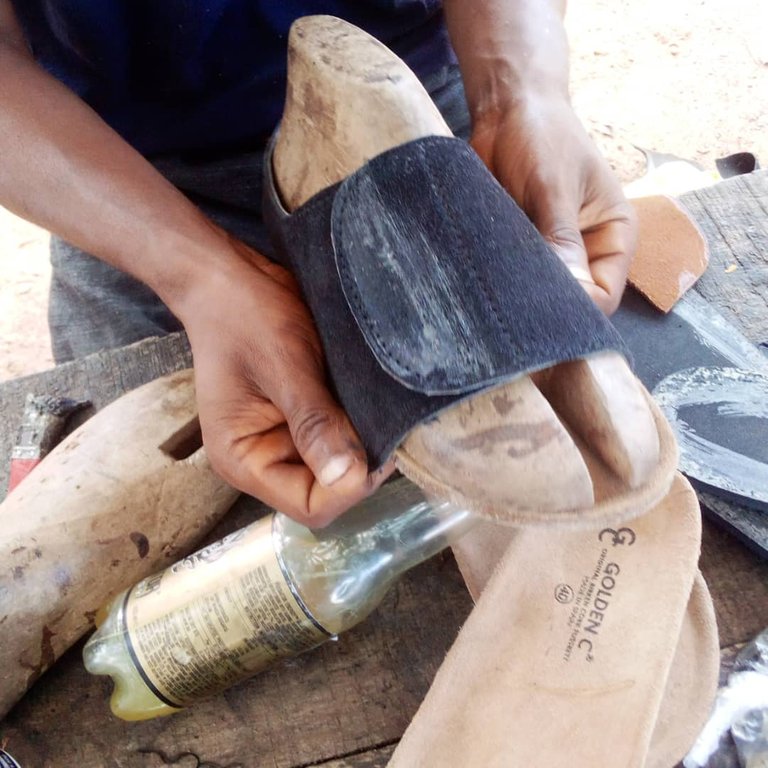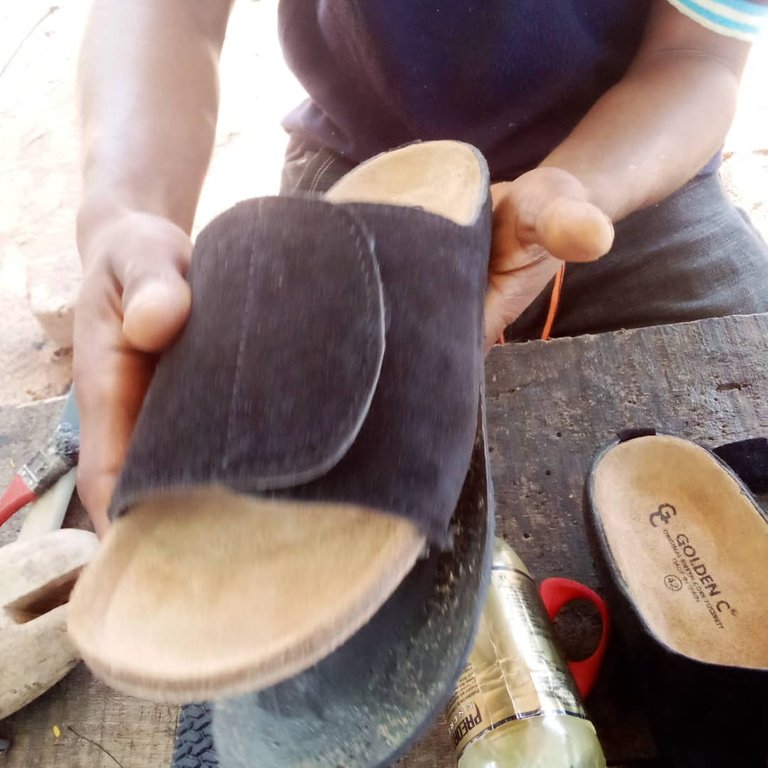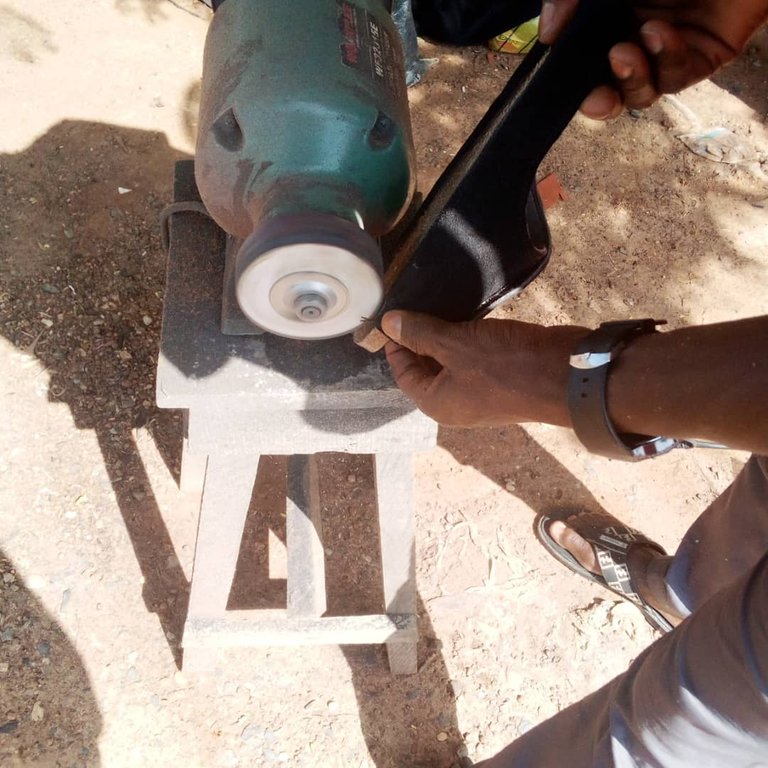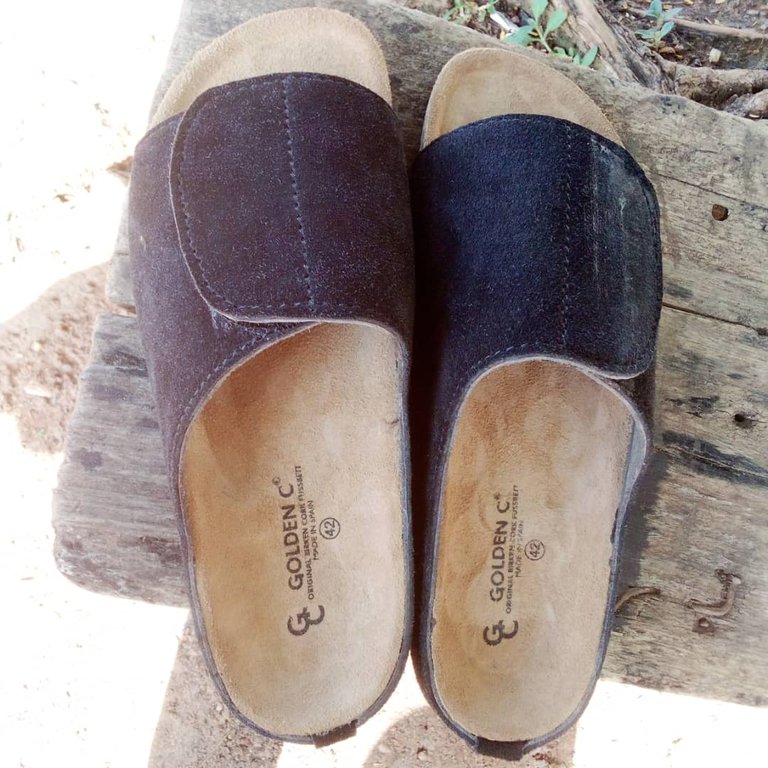 ---
---