[ENG/ITA] So Close! / Ad un Soffio dal Podio!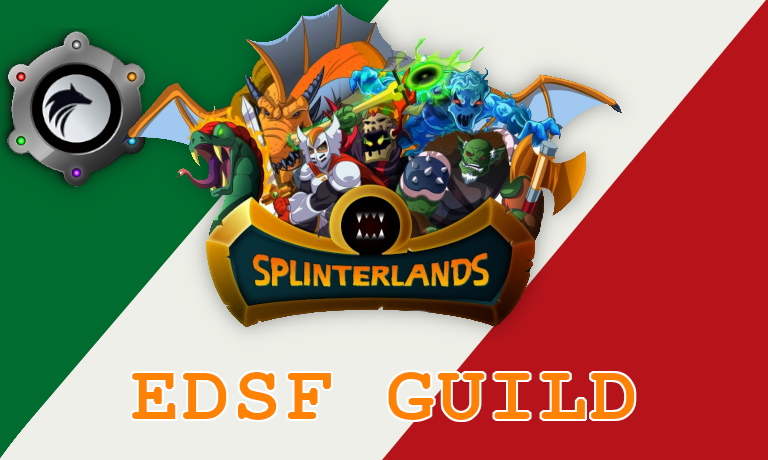 ---
La versione italiana

si trova sotto quella inglese

The italian version

is under the english one

---
So Close!
Let's raise the bar again! This time the Guild got the fourth place, further improving the result achieved in the last brawl and missing the podium by an inch! After a couple of months spent gaining experience in the Tier 2, the EDSF Guild seems to have found its way: it will certainly happen again to find ourself fighting not to be the last team in the leaderboard, but at least now we know we can aim for better resuts. Also, finally SPS tokens in brawls have arrived, increasing the rewards for all members! Another excellent reason not to miss any brawl and continue to help the Guild grow more and more.

The fourth place allowed us to get not only 1050
merits
points, but also 14.881 SPS: in brief, a good prize, especially for those who usually plays in the lower leagues. As always, the result achieved belongs to the whole team, but the first three places between the members were this time taken by: 🥇
@giuatt07
, with 6 wins and 2 losses; 🥈
@arc7icwolf
, with 6 wins and 2 losses; 🥉
@ilpobre
, with 5 wins and 3 losses.

Moving on to the analysis of the matches played, let's see some of the victories achieved by these three players! >click on the image to zoom or on the player's name to get to the battle on
Splinterlands.com
---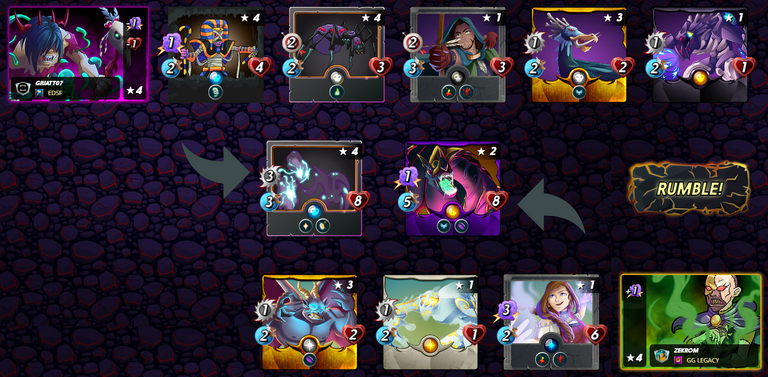 Brawl match by Giuatt07
-
@giuatt07
found himself facing
Delwyn Dragonscale
, a Summoner capable of enhancing the magical attack of the opponent's creatures: with the presence of
Thaddius Brood
, however, the enemy bonus was countered and the forces deployed by the player of the EDSF Guild got the final victory, easily overwhelming the enemy creatures.
---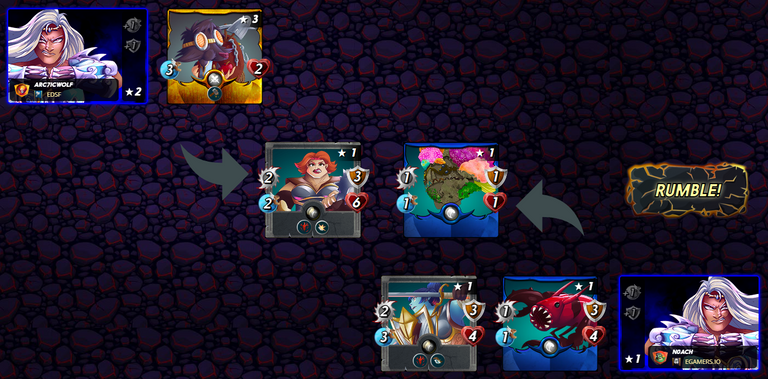 Brawl match by Arc7icWolf
-
Alva The Crusher
, deployed by
@arc7icwolf
, fought against
Isgald Vorst
, a powerful creature of the Water element with the
opportunity
ability: however, what made the difference was the
shield
ability, which halved the damage of the enemy creatures, giving my Gladius creature the time she needed to eliminate the enemy monsters one by one.
---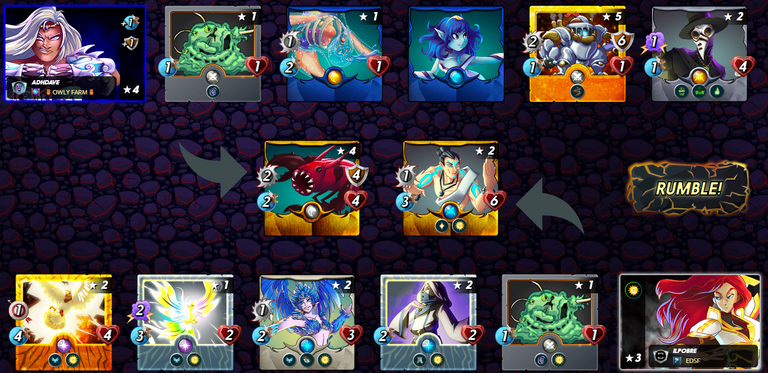 Brawl match by Ilpobre
- the opponent chose a higher-level Summoner but, despite the
earthquake
ruleset, didn't deploy any creature with the
flying
ability:
@ilpobre
, instead, used every card at his disposal to counter the malus in force, drastically reducing the damage suffered by his creatures, who managed to bring back a good victory!

We can celebrate another great result for the EDSF Guild, while enjoying the SPS rewards and looking forward to fight in the next brawl.
One for all, all for one!
---
If you red this far, thank you! If you want to leave an upvote, a reblog, a follow, a comment... well, any sign of life is really much appreciated!
And if you feel brave, you can also try following me on:
-
Twitter
-
Torum
If you are not registered on Splinterlands ... well, you are still in time to do the right thing
And if you want to rent your cards automatically with a super-efficient and user-friendly bot, try the Rental Golem by Splex.GG and earn passively without lifting a finger!

---
Versione italiana

Italian version

---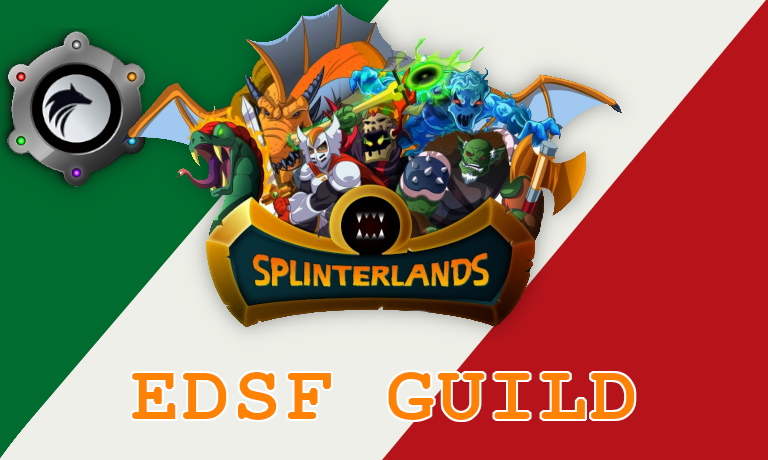 Ad un Soffio dal Podio
Alziamo ancora l'asticella! Stavolta la Gilda si aggiudica addirittura il quarto posto, migliorando ulteriormente il risultato raggiunto nella scorsa brawl e non salendo per un soffio sul podio. Dopo un paio di mesi passati a farsi le ossa nelle ultime posizioni del Tier 2, la Gilda EDSF sembra proprio aver preso il via: capiterà sicuramente di nuovo di trovarsi a lottare nelle retrovie, ma almeno adesso sappiamo che arrivare sul podio non è impossibile. Arrivano inoltre finalmente gli SPS nelle brawls, aumentando quindi le ricompense per tutti i membri partecipanti! Un altro ottimo motivo, quindi, per non perdersi nessuna brawl e continuare ad aiutare la Gilda a crescere sempre più.

Il quarto posto consente quindi di ottenere non solo 1050 punti di
merits
, ma anche 14.881 SPS in stake: un buon bottino insomma, soprattutto per chi è abituato a giocare nelle leghe più basse. Come sempre, il merito del risultato è di tutta la squadra, ma i primi tre posti nella classifica dei membri vengono stavolta occupati da: 🥇
@giuatt07
, con 6 vittorie e 2 sconfitte; 🥈
@arc7icwolf
, con 6 vittorie e 2 sconfitte; 🥉
@ilpobre
, con 5 vittorie e 3 sconfitte.

Passando all'analisi dei match giocati, vediamo ora alcune delle vittorie conquistate da questi tre giocatori. >
cliccare sull'immagine per ingrandirla o sul nome del giocatore per essere portati direttamente alla battaglia su Splinterlands.com
---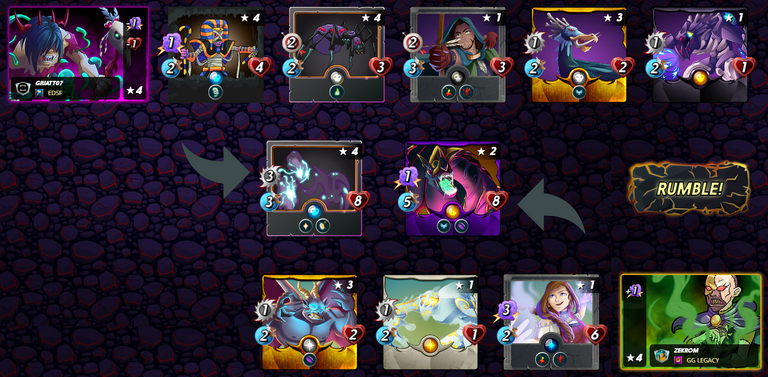 Partita brawl di Giuatt07
-
@giuatt07
si trova a fronteggiare
Delwyn Dragonscale
, un Evocatore capace di potenziare l'attacco magico delle creature dell'avversario: con la presenza di
Thaddius Brood
, tuttavia, il bonus nemico viene vanificato e le forze schierate dal giocatore della Gilda EDSF conquistano la vittoria, soverchiando facilmente le creature avversarie.
---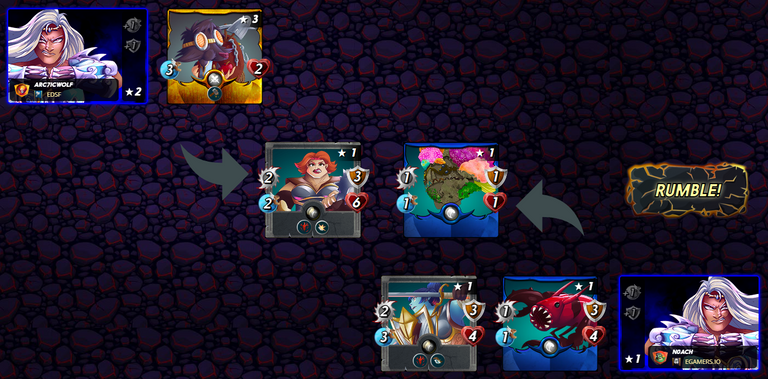 Partita brawl di Arc7icWolf
-
Alva The Crusher
, schierata da
@arc7icwolf
, si trova ad affrontare
Isgald Vorst
, potente creatura dell'elemento Acqua dotata dell'abilità
opportunity
: a fare la differenze è, però, l'abilità
shield
, che dimezza i danni delle creature avversarie, dando il tempo alla mia creatura di eliminare una ad una quelle nemiche.
---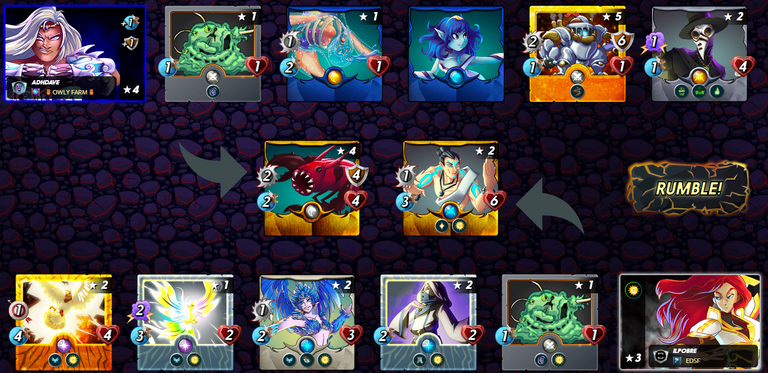 Partita brawl di Ilpobre
- l'avversario sceglie un Evocatore di livello più alto ma, nonostante il ruleset
earthquake
, non schiera nessuna creatura con l'abilità
flying
:
@ilpobre
, invece, sfrutta ogni carta a sua disposizione per contrastare il malus in vigore, riducendo drasticamente i danni subiti dalle sue creature, che riescono così a prendersi una bella vittoria!

Celebriamo così un altro grande risultato per la Gilda EDSF, mentre ci godiamo le ricompense in SPS ed attendiamo di combattere nella prossima brawl.
Uno per tutti, tutti per uno!
---
Se sei arrivato a leggere fin qui, grazie! Se hai voglia di lasciare un upvote, un reblog, un follow, un commento... be', un qualsiasi segnale di vita, in realtà, è molto apprezzato!
Se poi ti senti coraggioso, puoi provare a seguirmi anche su:
-
Twitter
-
Torum
Se invece non sei registrato su Splinterlands... be', sei in tempo per rimediare
E se vuoi rentare automaticamente le tue carte grazie ad un comodissimo e super-efficiente bot, prova il Rental Golem by Splex.GG e guadagna passivamente senza muovere un dito!
(html comment removed:
DISCLAIMER FOR NON-ITALIAN READERS
###### *This post is about my brawls with the EDSF guild: unlike my other posts, this one is first written in italian and than translated in english. My apologies to all non-italian readers if this results in a poorer text than usual, as I find translating faster than writing but, at the same time, I have a lot of diffculties while trying to translate some idiomatic expressions. If something looks unclear or doesn't make much sense, please write it in the comments and I'll try to improve the translation.* ###### *The english version is under the italian one.*
---
)
---
---