WOO - Lucky day for a WOO content creator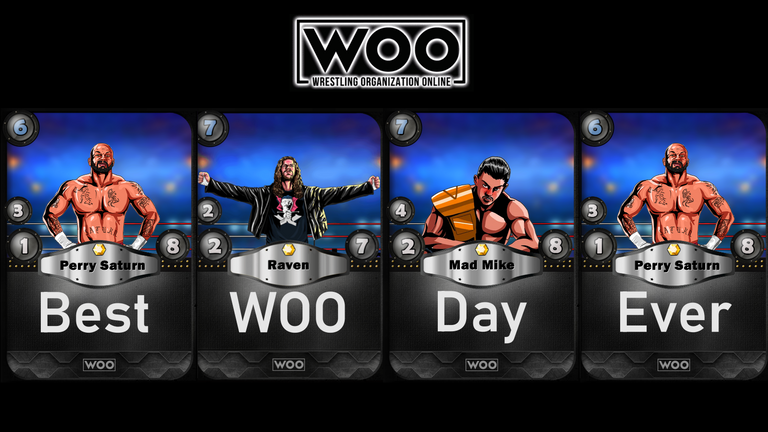 I will discuss 2 topics in this post:
My experience as a content creator with the WOO team
My lucky day 16th of September, which is connected to the first topic as well
 Small introduction to WOO feel free to jump over this part if you already know the project: 
WOO is the abbreviation of the game Wrestling Organization Online. It is an upcoming NFT card game on the 
HIVE blockchain were wrestlers will be fighting each other with different attributes and skills in shows.
The plan is to launch the game in 2023.
$WOO references the game currency. It is the DAO token name for the game and will be used for future purchases as well (like during the general sale of the Alpha packs starting on the 31st of October).


Being a WOO Content Creator
The WOO team created a lot of earning opportunities for people interested in the project. I created an overview of my earnings in this post: WOO - 100k $WOO staked and how much do I earn from which of my assets
As you can see one of the earning options is to delegate Hive Power to @wrestorgonline. In return you will get rewarded with WOO tokens. The current APR is 33.78% in $WOO.
The second advantage is, that the WOO team has a nice upvote now on interesting posts.
I delegated my HP and started to write WOO related topics, when the delegations started to trickle into @wrestorgonline. I always try to write posts, which have interesting information about the project. Currently mainly about gathering $WOO, but I want to get more into the upcoming game as well from the available information from the Dirt Sheet, Blog posts and AMAs.
The WOO team checked out my content and started to upvote them always with a positive message at the end of the post. After a few weeks and a few popular posts I was approached by the WOO team with a no strings attached offer to be a content creator. I never did something like this before, but enjoyed to do similar content for Splinterlands before, so I went for it. I receive the content creator role on their discord channel and a few alpha packs. Now this was quite motivational, and I had still a few topics I wanted to write about.
This happened a few weeks ago. Since then I'm writing posts on a regular basis, at least once a week, which get upvoted and the outstanding once are highlighted in the WOO discord channel. I even got a shout out on one WOO AMA for my content! Now this is an ego boost.
Now let's move to more recent events.

Lucky Day 9/16
I'm a supporter of WOO from the beginning on, and even though I was a bit skeptical of the project at the beginning, the more I know about it and the team the more I believe in it and looking forward to it's release dates.
As currently we are mainly in the accumulation phase of $WOO for pack sales and land sales I try to increase my WOO by airdrops, mining, staking and sometimes day trading as well. In the last weeks the amount of people joining the WOO train increased, so I decided that my mining needs an upgrade so I decided to open 5 Saturn, 5 Raven and after these also 5 Alpha packs. It was a hard decision, as I lost the airdrop points for those packs. But it was well worth it.
This is the result of my Saturn pack opening: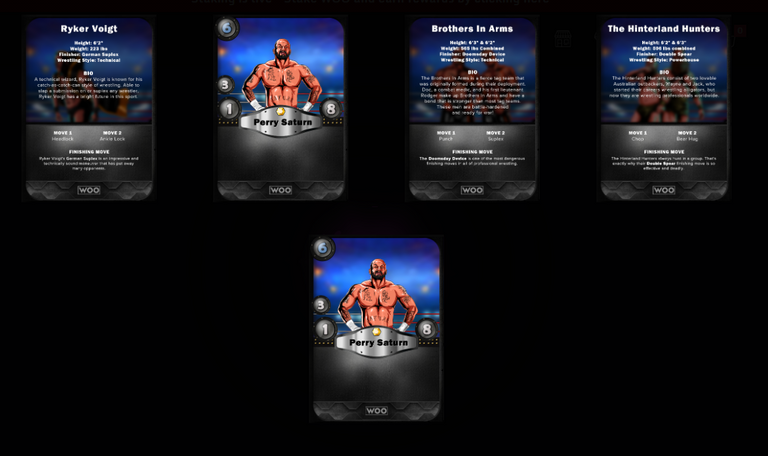 I was extremely lucky, Perry Saturns will be between the strongest cards in game. No more packs will be sold containing this card and it gives 2080 mining tickets.
In the next 5 Raven Packs I also received 1 Raven card and in the 5 Alpha Packs I got even a legendary Upper Management card.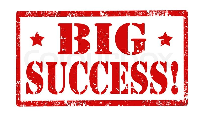 Now getting back to Content Creation
Now let's get back to me being a Content Creator. I had to share my Saturn luck in the WOO discord and mentioned, that the only card missing from my collection is Mad Mike. I was looking forward to get the card on the general sale on the 31st of October. But this day just kept giving. A few hours later I wanted I got a message from the WOO team, that I received a gift and I should check my collection.
I had Mad Mike there!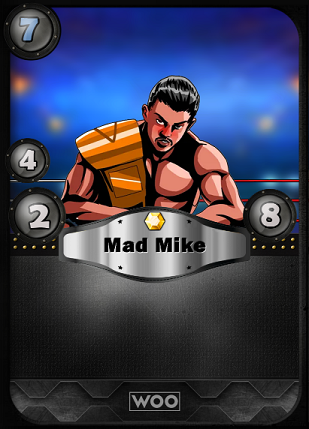 So to summarize:
the WOO team looks out for good content
the WOO team takes good care of their content creators
Please be aware that post where 90% of the posts is the same, like giveaway post will get lower upvotes
I can just advice to you to look into this project a bit more and start creating some great content. WOO is still on the beginning of a great journey this is the right time to build on it.

Welcome to the WOO family!
That was all for today. I hope you liked this overview and if you are missing any content, then feel free to ask, or jump into the WOO discord channel
---
---