WEDDING PREP | DIY TIPS

Designed thru canva.
Weddings are in popular, particularly in the Western world, during the month of June. The month is called after Juno a roman goddess connected with fertility and marriage. So by this, I've decided to share some of my wedding planning tips and experiences on how to discover low-cost wedding stuff. This is a good advise, especially for those who are planning a wedding in the near future.
As a rookie, I've had a lot of questions about how and where to begin without the assistance of a wedding planner. If you plan on getting married, you should plan on months or perhaps a year to complete all of your preparations. This is the list I have, and I hope it will be useful to you as you plan your DIY wedding.
1. A date. This is important especially for folks who wish to hold their wedding on a special day or the weekend so that their family may attend. For us, the wedding date was arranged after our child's birthday. So we'd always remember how lovely her birthday and the next day were.
2. Wedding location. Some people select churches or locales that they consider to be highly personal to them. Some couples opt for beach or garden weddings. Some people even like to hold it in a hotel. Oddly, other people advise me to "have your wedding in a church because it's not too expensive." So I asked two churches in our municipality. The one in our barangay costs around P6,550.00, with two principal sponsors, choir, pre-Cana seminar, and confirmation certificate included for free. You will add an extra P50.00 for each primary sponsor. The alternative, which includes free choir, costs only P3,500.00. With this information, I have to wonder how they can say that. Knowing that the priest who will bless us is a relative adds to the expense of this one.
After you've chosen your wedding venue, you'll need to acquire your marriage license, baptismal certificate, and confirmation certificate. These are the documents you'll need to secure your church venue reservation. The civil registrar's office at your respective LGUs or City Hall will issue your marriage license. For you to acquire this, you must provide your Certificate of no Marriage (CENOMAR), birth certificate, and a valid ID or community tax certificate (cedula). If you are 30 years old or older and meet those criteria, you will pay less than 500 at the treasurer's office. However, for couples aged 21 to 29, the above prerequisites, as well as the marriage seminar, are required. I suppose the schedule is determined by each area.
If you're a Catholic, a baptismal certificate indicating that the document is for marriage can be obtained from the convent of the church you believe you're registered with, along with the confirmation certificate. If you haven't been confirmed yet, you can contact the secretary for a schedule, and the certificate will be ready in a few days.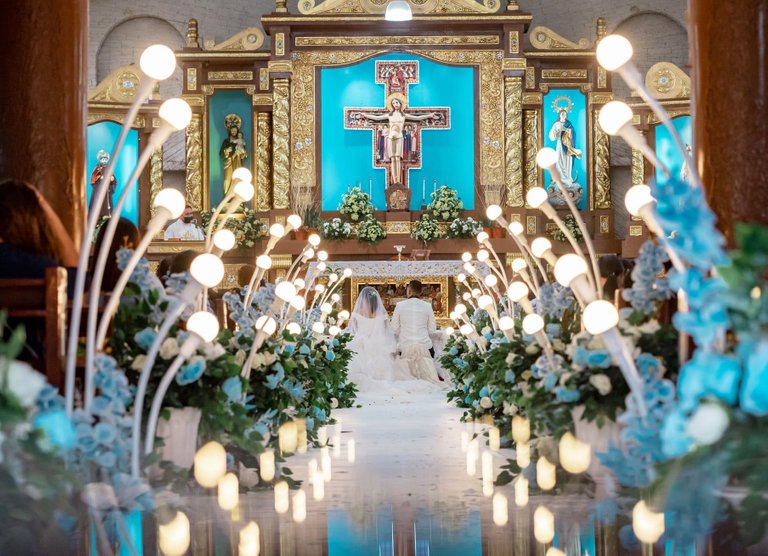 Photo taken at St. Francis of Assisi Parish Carigara by Jhun Braca photography.
3. Reception Venue. Apart from the church service, this will undoubtedly be the highlight of the wedding because all of your family and friends will be present to share this beautiful day with you. Laughing, dancing, and appreciating the moment. Choose a reception location that will be convenient for everyone, and keep the weather on your chosen date in mind. As a result, you have the option of having it in a garden reception, hotel, beach, or even a hall. It will undoubtedly be too expensive in cities, but if it can be held at your home, it may be cost-effective. For us, we chose a school gymnasium for our event. It is not only convenient, but it is also quite economical, as it costs merely P3,000.00.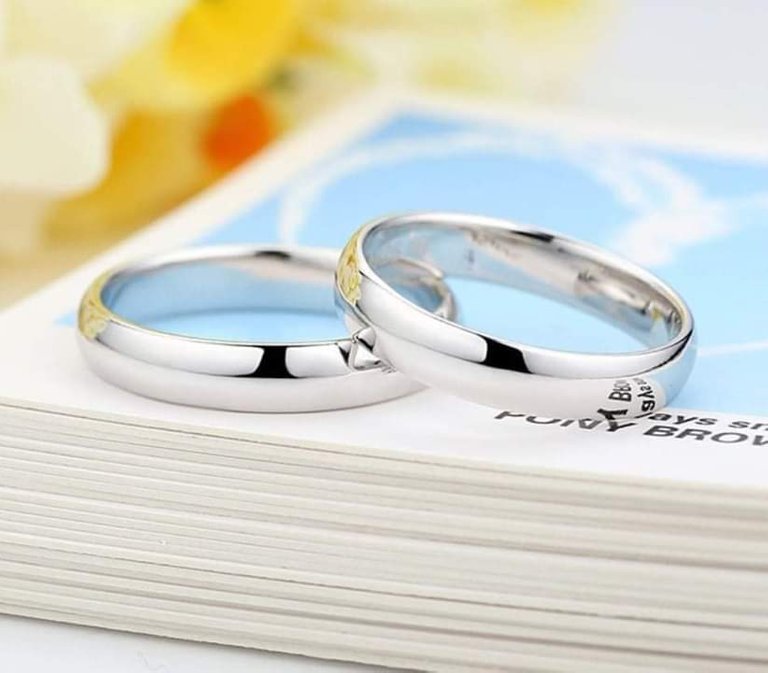 Choosen design from our favorite @dainty.me store.
4. Wedding band. Personalizing a ring is a good idea if you know someone who produces jewelry. Aside from being inexpensive, you get to pick your design. However, if you don't have somebody who knows how you might look for inexpensive rings online or in mall jewelry stores. It helps if you know your ring size because the price of each ring is determined not only by the design and weight of the ring but also by its size. We chose the silver band ring with our favorite design from our favorite merchant @dainty.me, which costs around P1700 + P150 for name engraving, because our initial order for the gold ring could not be made before the wedding.
5. Invitations. Giving invitation cards to family, relatives, and friends is a lovely way to present and inform them about your wedding day. Make your invitation designs with Canva, as I can suggest. It's an internet website with unique designs that are incredibly easy to use. If you have a printer, document printing will be substantially less expensive. The paper that will be used is widely available in national bookstores. I've done my wedding invites using Canva and it only cost me P400 to purchase the specialty paper plus the P20 each of the invitation cover that I purchased online.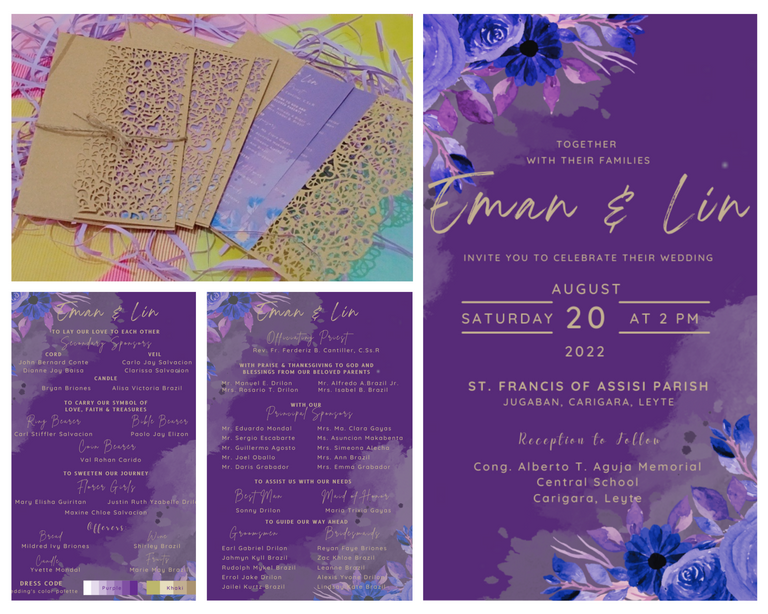 Our DIY invitations made from Canva.
6. Motif. The wedding's color palette. This is regarded to be the most accurate picture of the bride and groom as a couple. There are a variety of ways to do this, such as picking a shared activity, favorite season, favorite color, or favorite place.
One of the most effective ways to create a theme is to use color. Wedding themes are typically based on the bride's preferred colors, but it's also important to consider the ambiance the color evokes and what it says about you.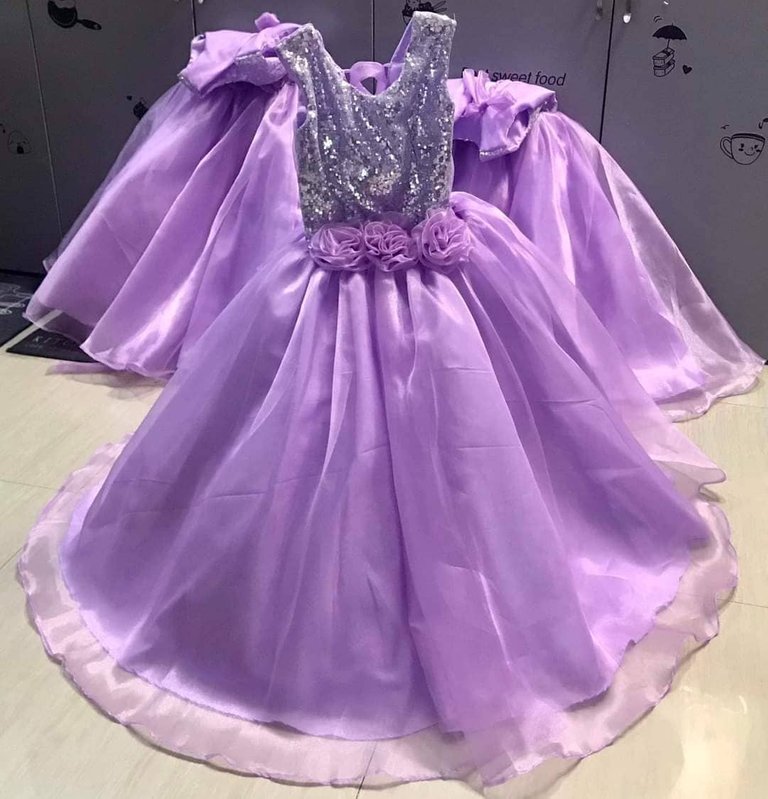 Her choosen dress for the wedding. From Mhayles' Collection.
My 4-year-old daughter once asked my sister-in-law if she could get her a purple dress since purple is her favorite color and wearing it gives her a fantastic sensation. So, to fulfill her desire, we picked a purple motif paired with a khaki color to create a delicate style with a vintage feel.
7. Wedding gown and the attire of your attendees. The persons in your entourage, your main sponsors, and motif are all thoughts you should think about when planning for this item, as indicated on your invitation cards. I recommend renting this because it will only be used once. We rented all of the entourage clothes, including my wedding gown and my partner's tuxedo, for only P5,000.00.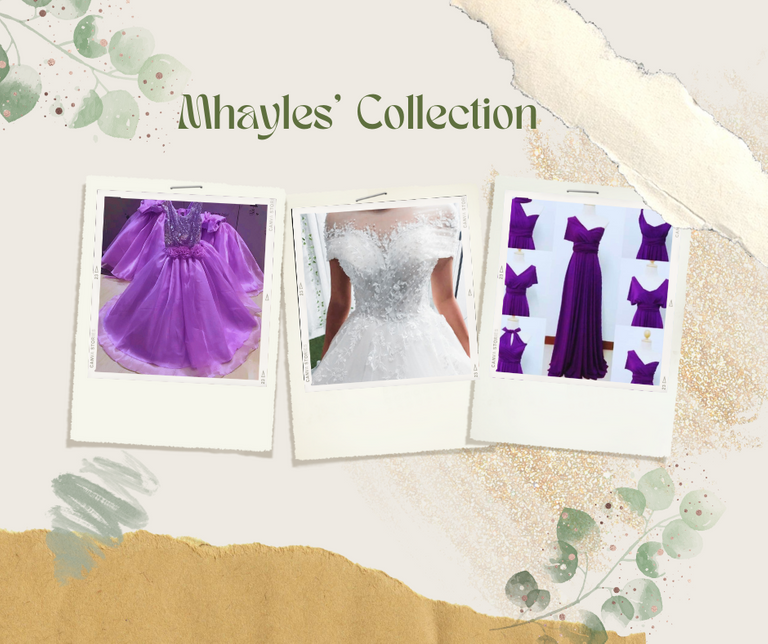 Designs from Mhayles' Collection. An affordable rental store.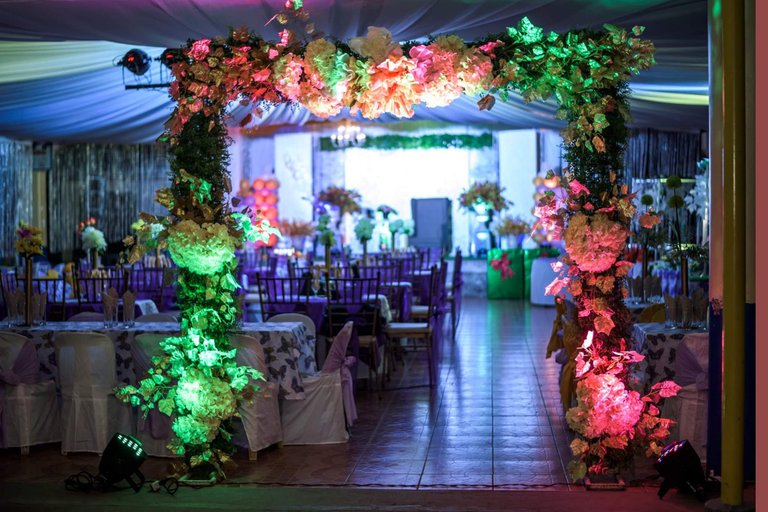 During a wedding event at CATAMCS - our prospect venue location, Jhun Braca captured this shot.
8. Decorator or event planner for churches and venues. Choose a decorator who is reputable and trustworthy. Someone who can aid you in making your special day exciting and beautiful. Depending on your area, this can cost anywhere between P10,000 and P40,000.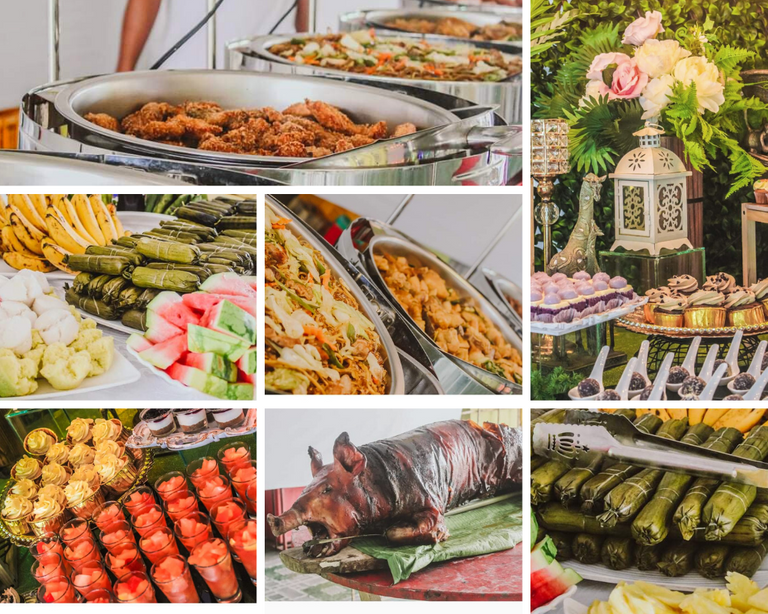 Food which will be served at the wedding.
9. Food. Everyone will be looking forward to the most exciting phase, the happy tummy. As we all know, when it comes to parties, we all get thrilled because we get a free meal. In any case, select a catering business whose cuisine is delicious. Catering meals typically go from P250 to P550 per person, depending on the meal package you select.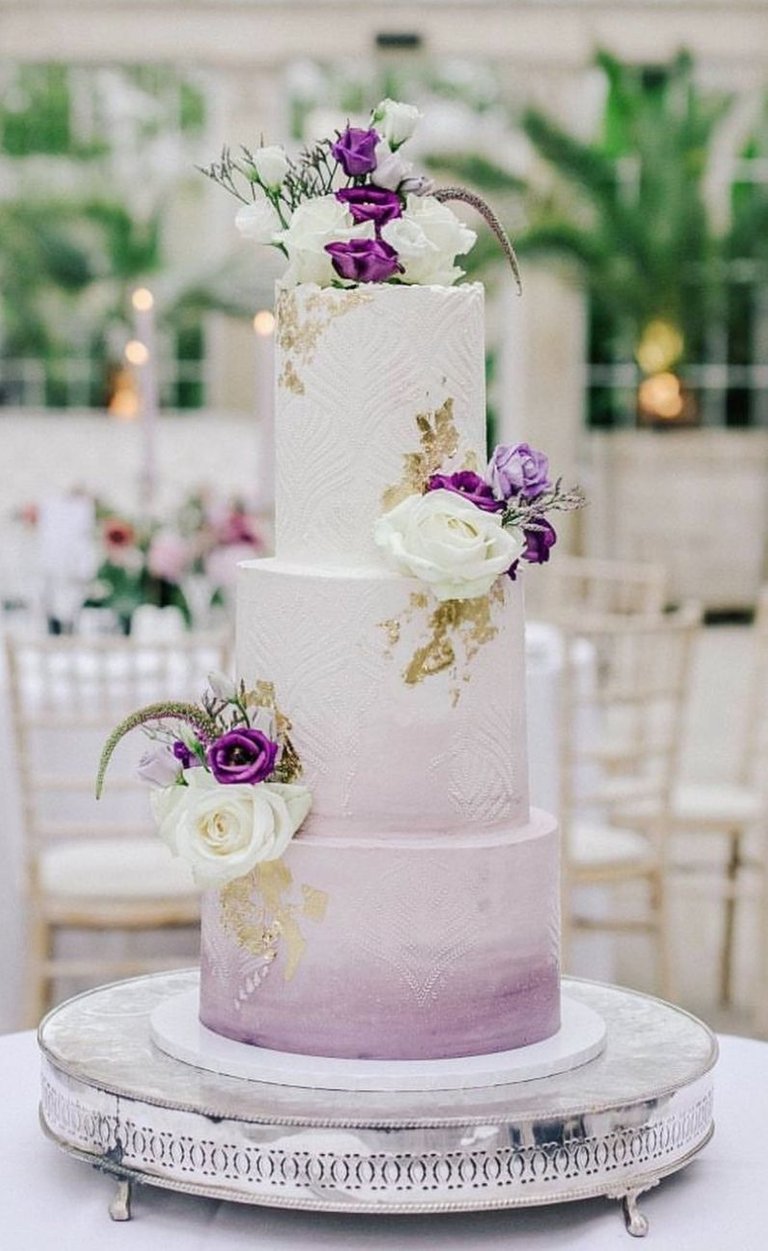 Proposed wedding cake. To be made by @sweetbites by Jaz.
10. Cake. We all know that wedding cakes are far more expensive than the typical cake served at birthday parties or other events. If you know someone who creates great cakes, you should have it done for them; otherwise, you can use Facebook to look for cake shops. The budget was a present from my sister-in-law and costs roughly P5,500, compared to P10,000 in other stores.
11. Photographer. This occasion will not be memorable unless we have those images to remember it by. Professional services range in price from P8,000 to P22,000, depending on the bundle you choose. To save money, we agreed to keep the budget around P10,000 and avoid the pre-nuptial shoot. Jhun Braca, a well-known photographer in our area, is our point of contact.
12. Lights and sounds. This is a very useful item for wedding planning. Choose a professional in this field to avoid boredom on your wedding day. We decided to set a budget of P3,000 to P5,000 for ourselves. This is probably a lot less expensive than other enterprises.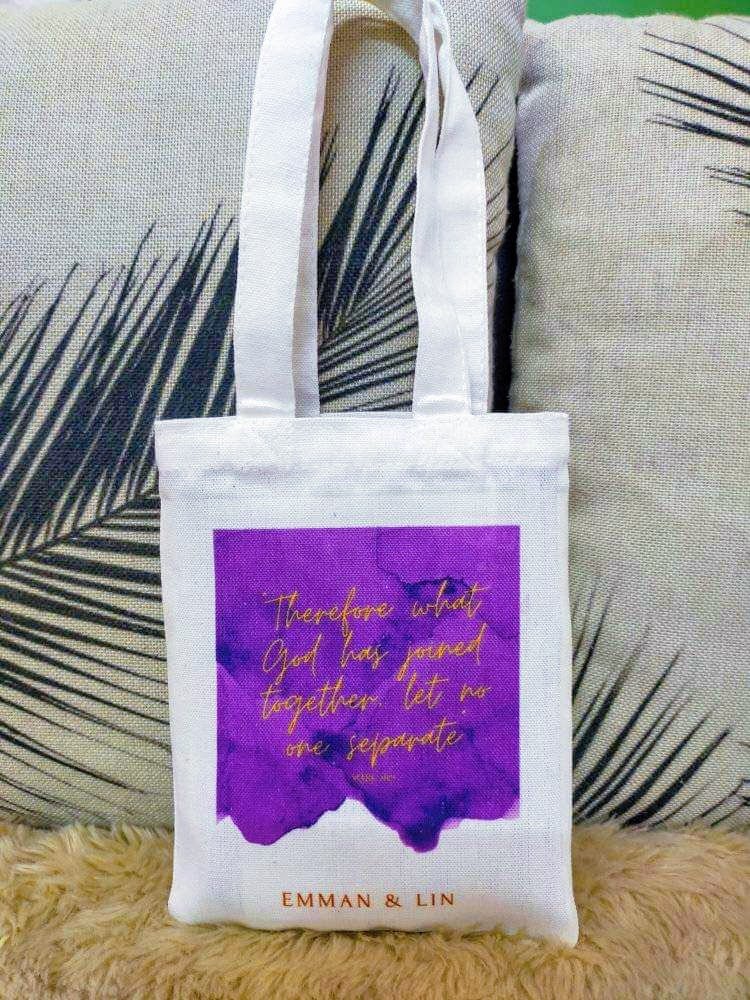 Designed by @arkicarls. Final output made by @marfel ph.
13. Giveaways. Get inspiration for this one from Pinterest. Alternatively, you can make it yourself. For myself, I ordered tote bags for the guests, which cost P52 each. I chose to order a personalized mug with a special chocolate tablea wrapped in a box for the main sponsors, which costs around P222.00 each.
14. Make-up artists. Never forget to look your best on your big day. You, like your bridesmaids, will not let the images taken be unattractive. Look for a specialist in this field. We set up about P12,000 for this because our make-up artist pals would be using the airbrush technique, which is extremely expensive but well worth it.
So, those are the items on my to-do list. My recommendation is to inquire as many as possible to save money on your wedding preparations. It would be even better if you have family members who could assist you with part of the costs. We are quite fortunate to have some of those, as our families on both sides covered over 3/4 of the wedding costs. If you have almost 50 guests on your guest list, P80,000 or less is a deal for anyone who wants to get married. Getting married, on the other hand, is cost-effective if you don't invite many of your friends and relatives 😅. What matters most is that God blesses you and your life partner by allowing your relatives and closest friends to witness your marriage.
Adios! See you in my next blog Hivers....
---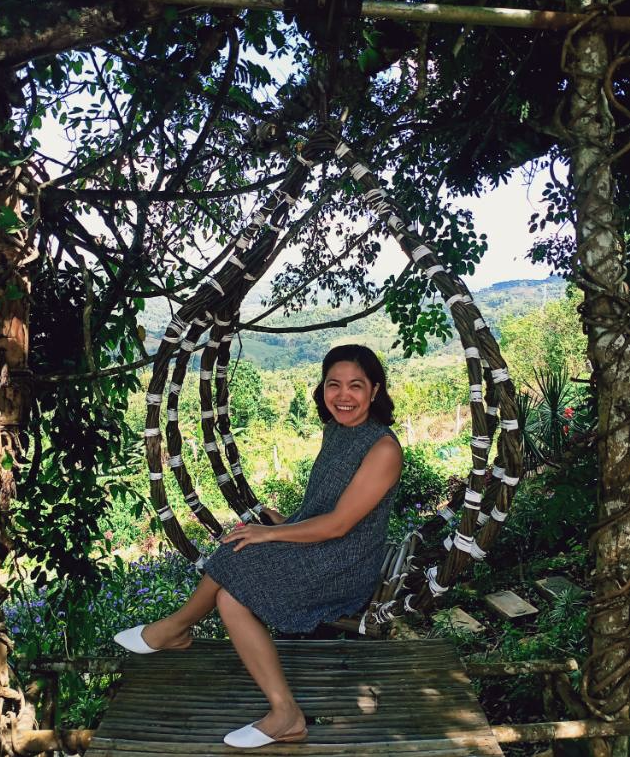 ar Lin19
I am Ruffalyn, from a coastal municipality in the province of Leyte, a soon-to-be architect by profession and a working mom. Join me as I bring to light the inner piece of me.
Thanks for reading! If my content entertains you, then drop some 🧡 by upvoting and leaving a comment. Kindly click the following button to keep posted on my journey here on Hive.
---
---