Anger and terror - watercolor step by step /// Rabbia e terrore - acquarello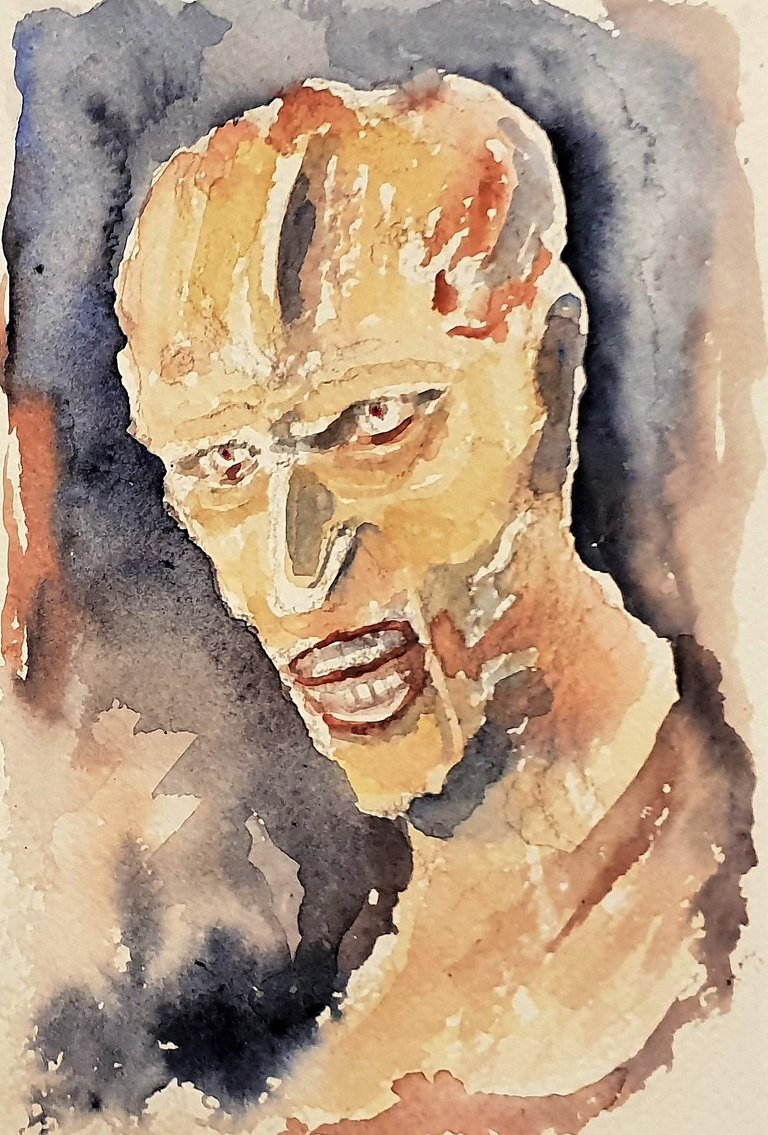 Anger and terror

2  0  1 9 
watercolor on paper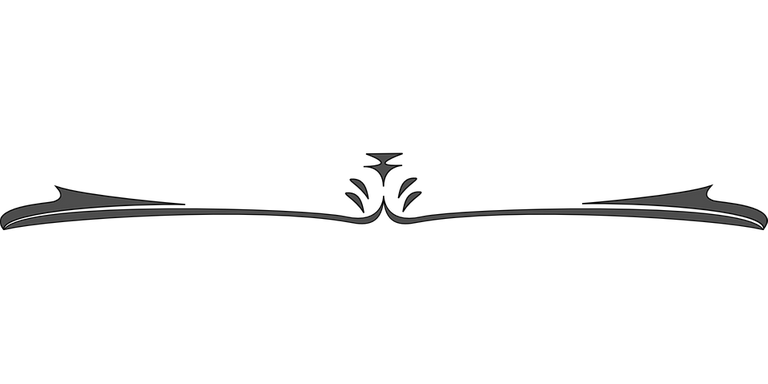 [ENG]
Anger and terror
Greetings to all.
Today I return to share a painting with the technique of watercolor.
The subject is my representation of two moods: anger and terror.
A gaunt face, almost mummified where I highlight the teeth that gnat.
A monstrous face, where anger and terror come together.
A horror subject that very well relates to the events of the war, of the gratuitous violence on civilians of death.
I'm going to show you step by step how the creation of such a monster happened.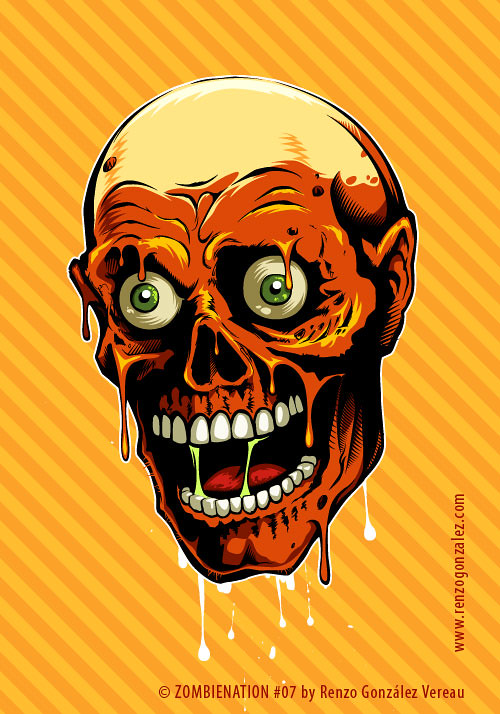 this is the source of inspiration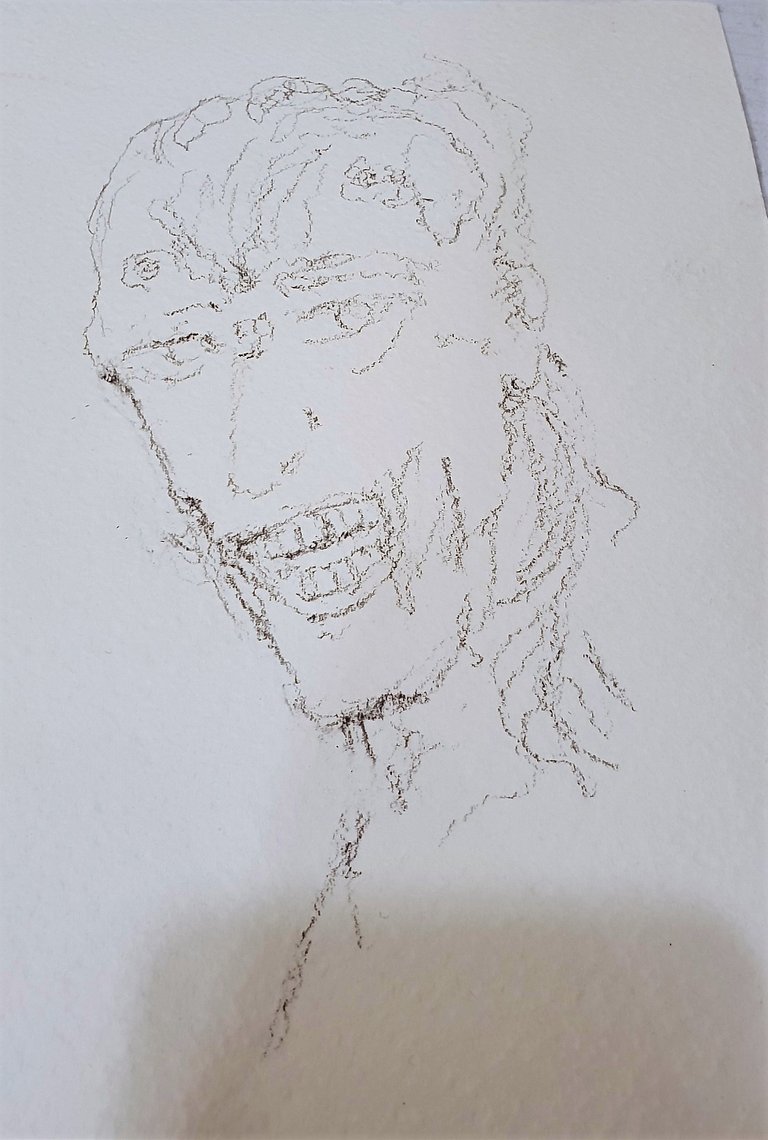 1- pencil drawing of the subject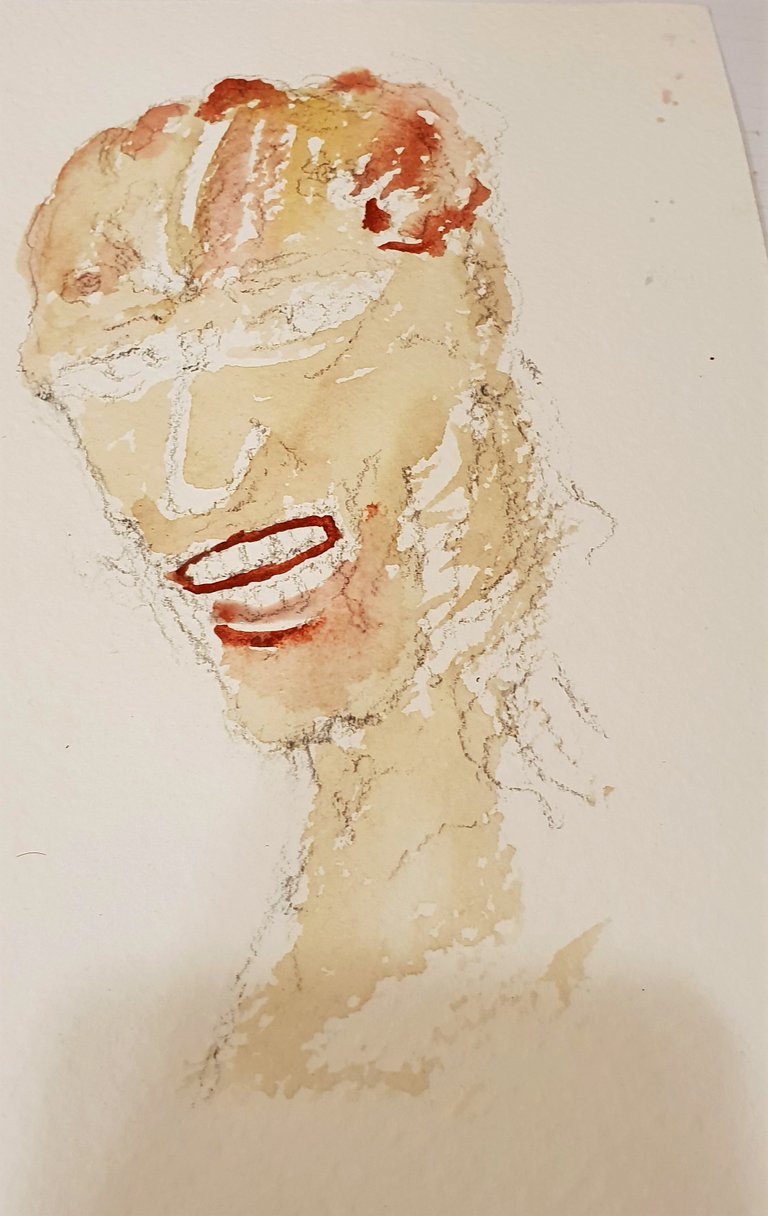 2- ochre watercolor draft ingediness on the face and red on the lips.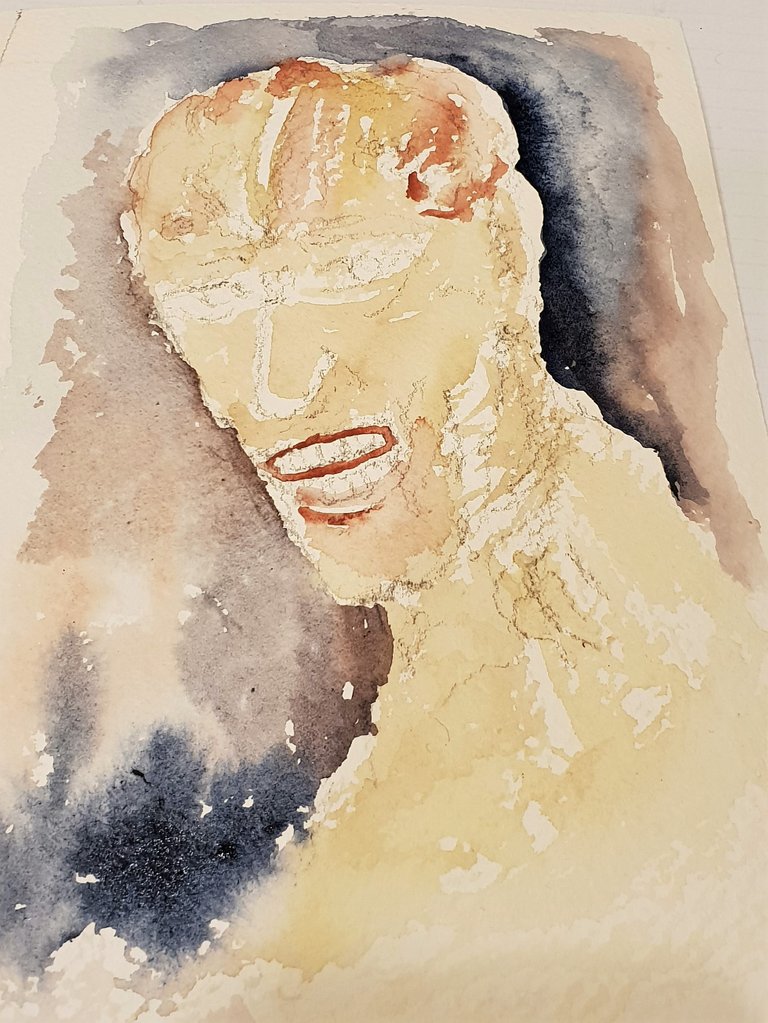 3 -so those very wet background with gray payne and Indian red.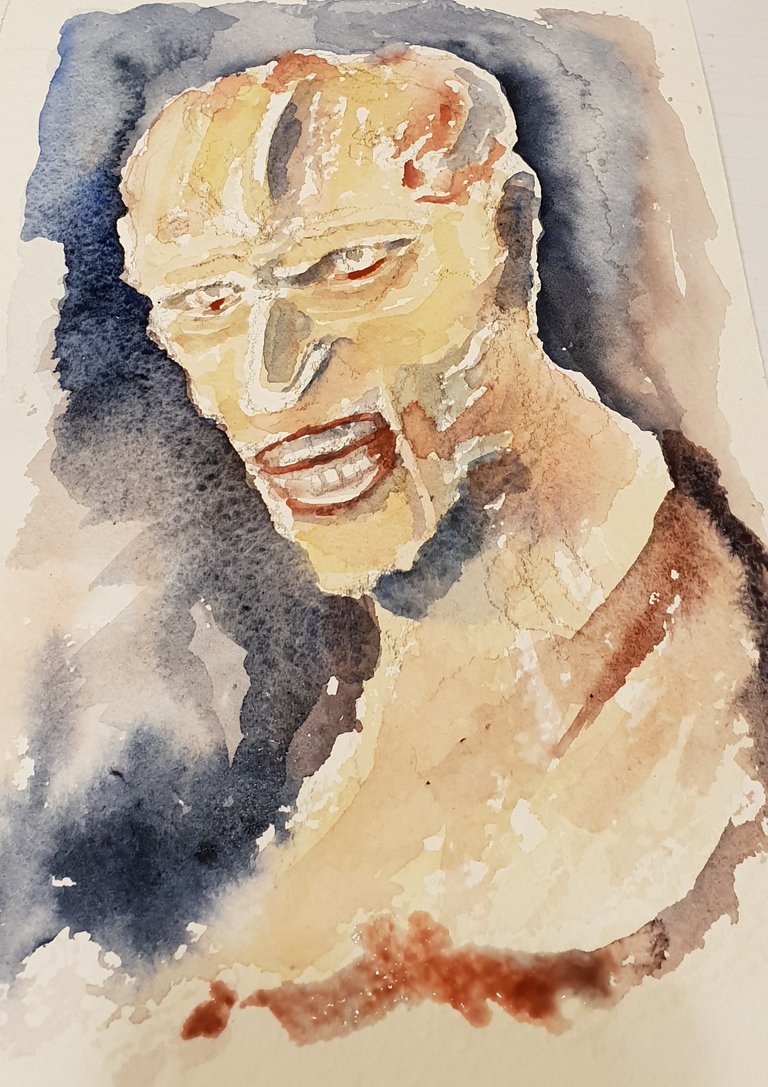 4- to payne's gray I add cobalt blue and even part of the monstrous face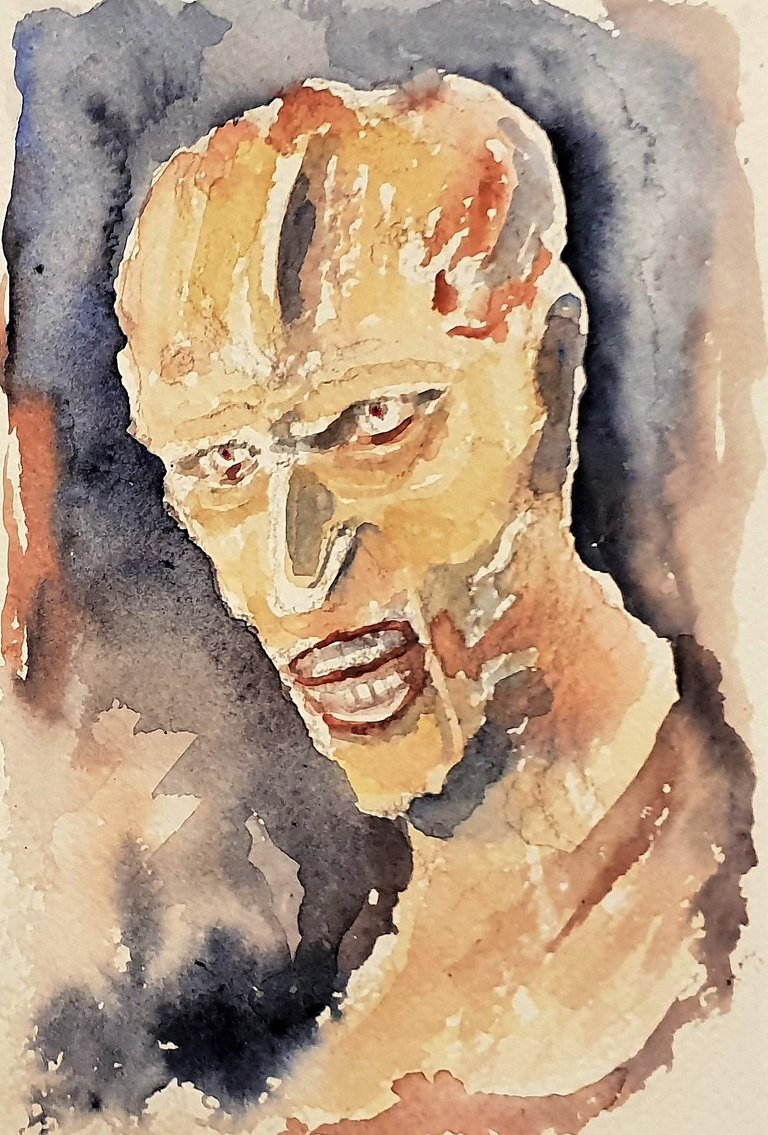 5 - finally strengthen with more marked shadows from darker tone, nose and orbital cavities.
And this is the result!
Ugly, isn't it?
Anyway I hope that my portrait has interested you and I embrace you virtually.
Armando
Let's talk about peace!!!
STEEM ON!!!

Saluti a tutti.
Oggi torno a condividere un dipinto con la tecnica dell'acquarello.
Il soggetto è una mia rappresentazione di uno stato d'animo: la rabbia.
Un volto scarno, quasi mummificato dove evidenzio i denti che digrigna.
Un volto mostruoso, dove la rabbia e il terrore si presentano insieme.
Un soggetto horror che molto bene si lega alle vicende della guerra, della violenza gratuita sui civili della morte.
Vi mostro passo dopo passo come è avvenuta la creazione di un simile mostro.
E questo è il risultato!
Brutto vero?
Comunque spero che il mio ritratto vi abbia interessato e vi abbraccio virtualmente.
Armando
Parliamo di pace!!!
STEEM ON!!!


https://www.ntopaz.com/ go for a ride, for art lovers.


Art teacher
Curator of cultural activities
Artistic director and President of the Cultural Association "I Colori della Vita"
https://www.icoloridellavita.life/
and "Fuori Controllo" Festival
https://www.facebook.com/fuoricontrollofestival/



---
---