Autumn on the river - watercolor /// Autunno sul fiume - acquarello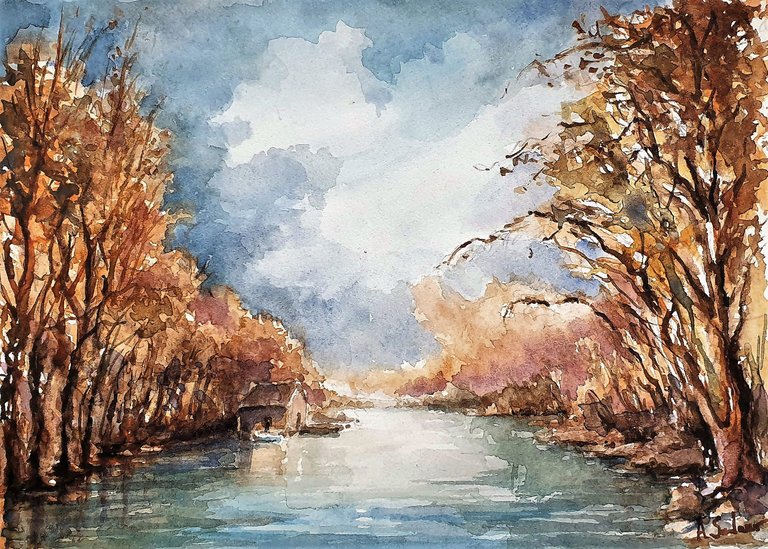 Autumn on the river

2  0  1 9 
watercolor on paper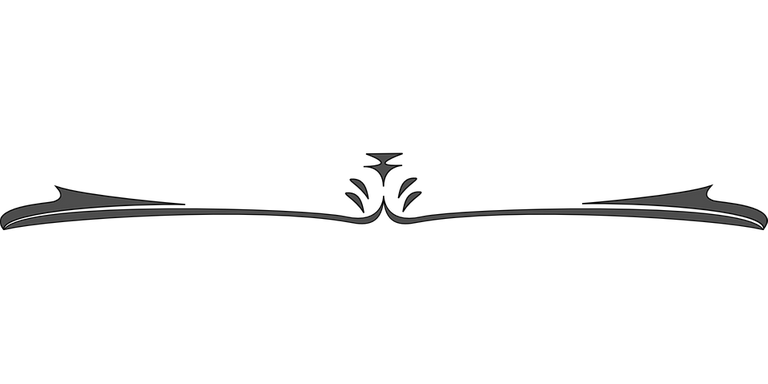 [ENG]
Autumn on the river
Greetings to all.
Here in Europe we are in the middle of the autumn season.
In Italy, in my parts south of Rome the temperature is still mild.
Ideal for trips and excursions inside the nature that I love to explore.
As it is my usual I look for places with trees and water.
I found a beautiful view on a river lined with colorful autumn trees.
A beautiful place, where the gurgling of the water alternates with the rustling of the wind among the leaves falling from the trees.
A solitude that nourishes within your soul a desire to pass it on to others.
How so?
My only means of communicating moods is only painting, watercolor in this case.
I tried to represent a moment of the magical place I visited.
I hope I've been able to give you some good feelings.
I also share two other watercolors from the autumn theme, it is the season of melancholy.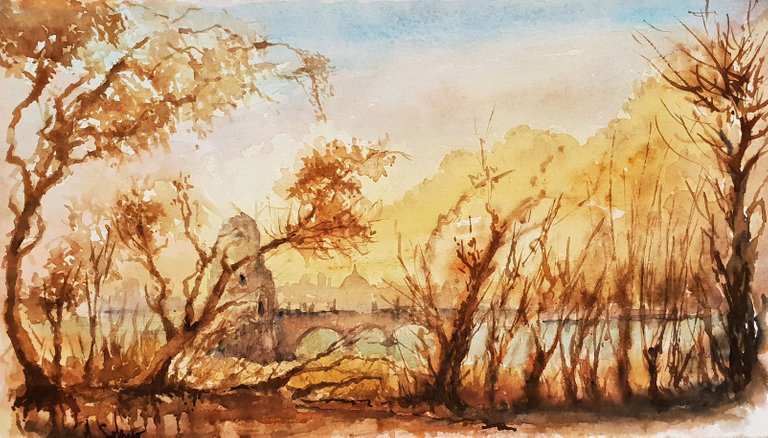 autumn on the Tiber - watercolor - my painting
I love autumn!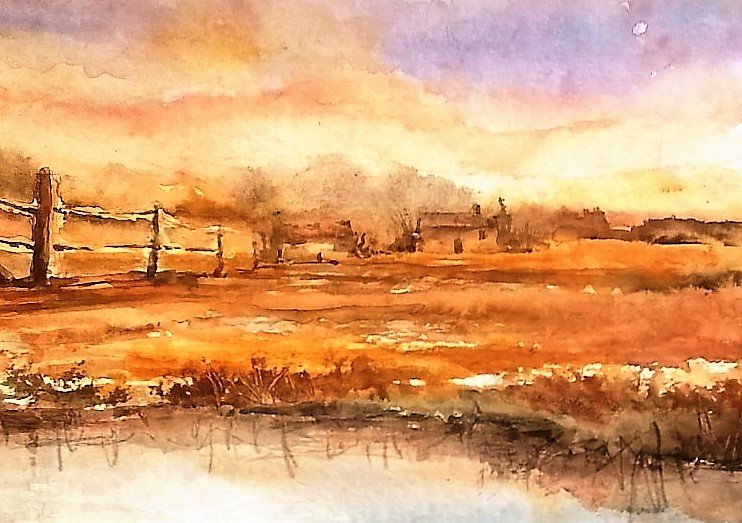 warm autumn - watercolor - my painting
I hope you like my paintings and I'll give you a hug.
Armando.
Let's talk about peace!!!
STEEM ON!!!


[ITA]
Autunno sul fiume
Saluti a tutti.
Qui in Europa siamo nel pieno della stagione autunnale.
In Italia, dalle mie parti a sud di Roma la temperatura è ancora mite.
Ideale per gite ed escursioni dentro la natura che amo esplorare.
Come è mio solito cerco posti con alberi e acqua.
Ho trovato una bellissima veduta su un fiume costeggiato da alberi colorati di autunno.
Un posto bellissimo, dove il gorgoglio dell'acqua si alterna al fruscio del vento tra le foglie che cadono dagli alberi.
Una solitudine che alimenta dentro il tuo animo un desiderio di trasmetterla agli altri.
In che modo?
Il mio unico mezzo per comunicare stati d'animo è solo la pittura, ad acquarello in questo caso.
Ho cercato di rappresentare un momento del posto magico che ho visitato.
Spero di essere riuscito a trasmettervi delle buone sensazioni.
Condivido anche altri due acquarelli dal tema autunnale, è la stagione della malinconia.
Adoro l'autunno!
Spero che i miei dipinti vi piacciano e vi mando un abbraccio.
Armando
Parliamo di pace!!!
STEEM ON!!!

https://www.ntopaz.com/ go for a ride, for art lovers.


Art teacher
Curator of cultural activities
Artistic director and President of the Cultural Association "I Colori della Vita"
https://www.icoloridellavita.life/
and "Fuori Controllo" Festival
https://www.facebook.com/fuoricontrollofestival/



---
---