Back at Hudayriat Island | A "Heavenly" Swim + Some Loo Loo Finds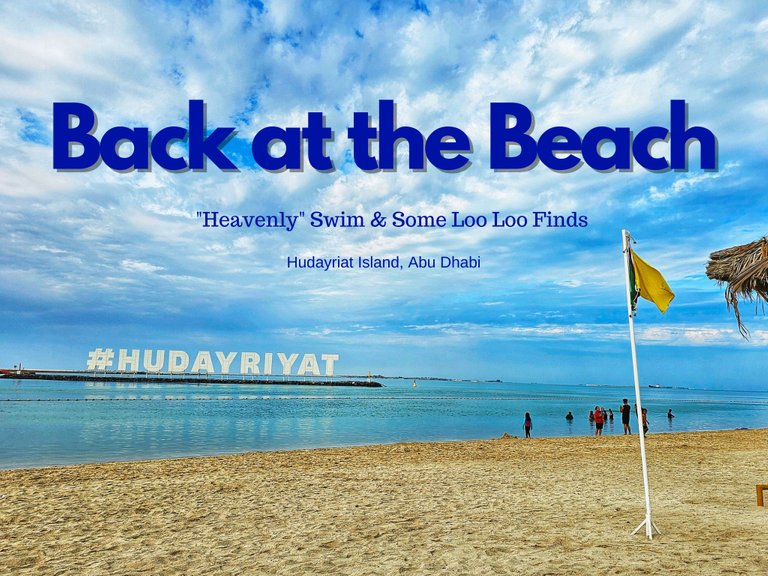 The beach again, finally!
The kids have been waiting for this moment since last November when we last went to the beach. It's been too cold to swim the past couple of months and we promised them that we can "try to come back again in March". March is almost over and yay, we finally were able to visit last Sunday. We decided to go back to Al Hudayriat Island not too far from our home.
The weather was perfect with cloud cover almost the whole morning. The breeze was cold and I was wondering the whole time we were walking if the kids would be able to handle the cold water. Well, there's only one way to find out!
There are some renovations ongoing at the beach -- the entrance was covered by high walls and we had to find ourselves out of a labyrinth-like road and paths. It's okay, a few misleading signs (or maybe it was me who did not know how to follow the signs) would not tamper our moods. It's a great morning. Finally, we entered the Marsana Beach side of Al Hudayriat.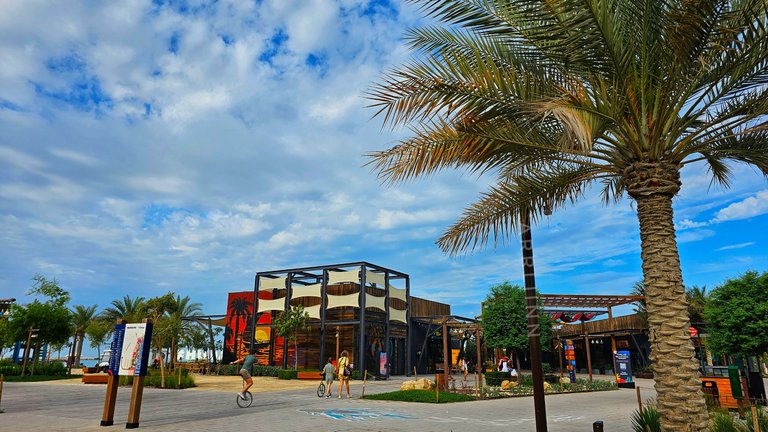 A couple of kids on their unicycle near the entrance.
Fun! Fun! Fun!
The kids had an amazing time at the water. Why did I even doubt if they would be able to tolerate the cold? LOL. The sun would peek from time to time, but it was mostly cloudy the whole time we were there.
It even drizzled a bit at some time close to noon -- yes we were there until past noon! While us, the adults would like to head home, the kids did not want to get out of the water.
"It's fun to swim while it's raining. It's heavenly," one of the kids even commented.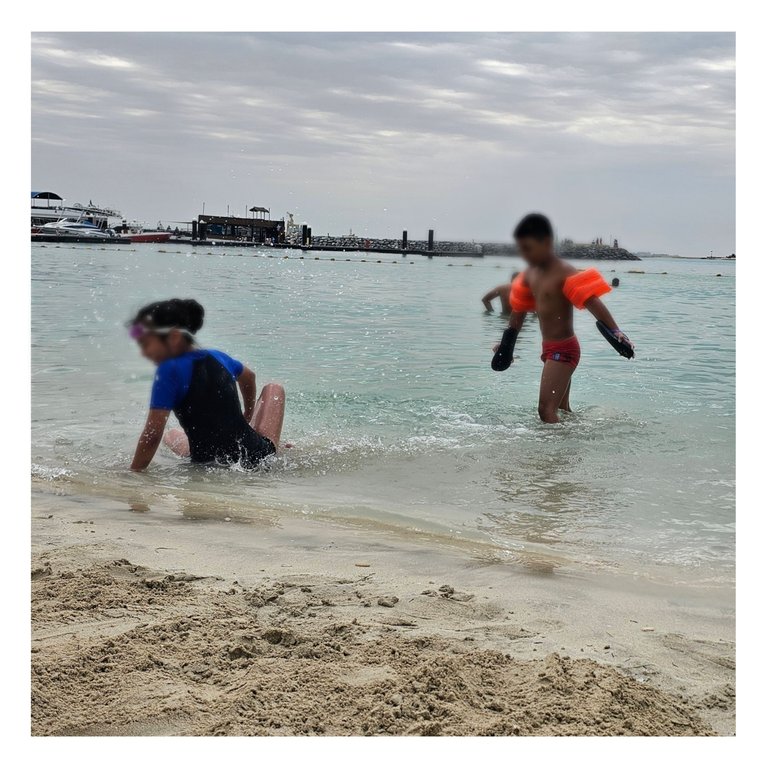 Apart from the swimming at the beach, there are lots of other activities to do at Hudayriat such as beach volleyball and biking.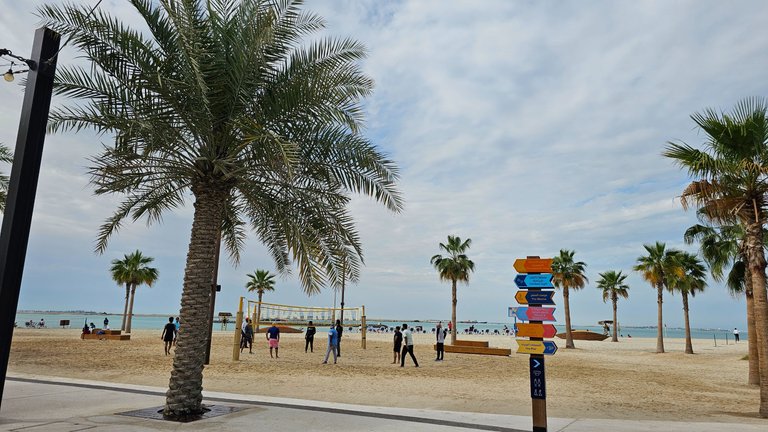 Food lovers (who doesn't love to eat?!) will definitely enjoy this little paradise too -- there are lots of restaurants and coffee shops to choose from.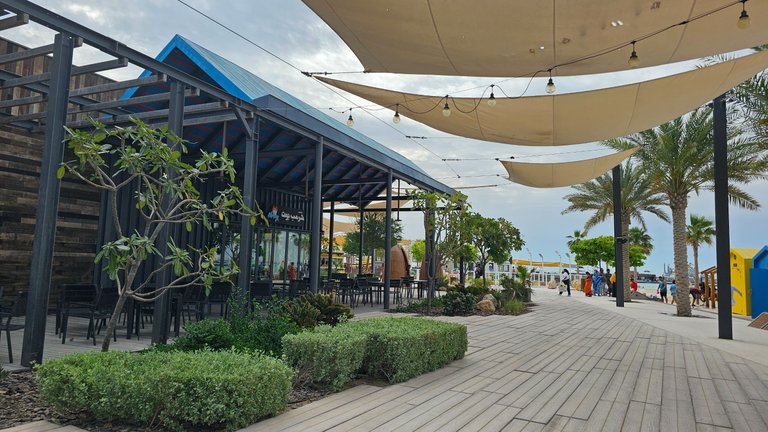 "Ahh, what a paradise," the dolphin said.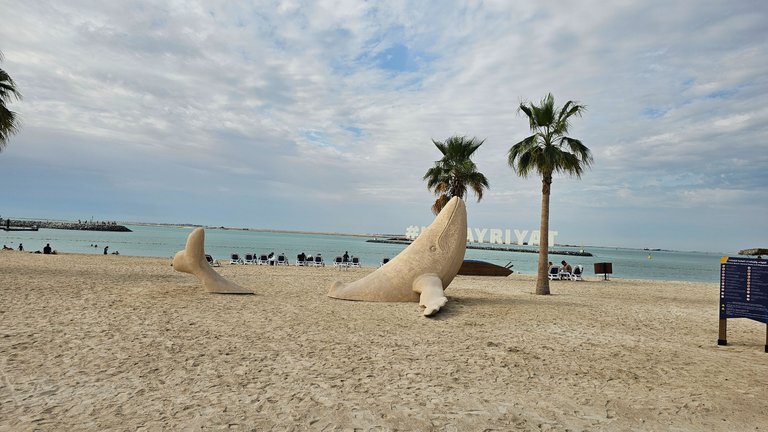 Where's the loo?
I had to get up after a while, to look for the loo. At first I thought the toilet was just right behind me (there's a sign that says so) but apparently it was not open to the public. The woman pointed me to where I could find the toilet.
"Do you see that triangle over there?" She said. I was like, "What triangle?!"
Apparently, it's this one below. I thought it was a restaurant or coffee shop... well, apparently these is where the loo is.
I am not very good at this - I don't exactly know what kind of design this is. Has wood planks on its exterior, but inside it is modern and industrial in style.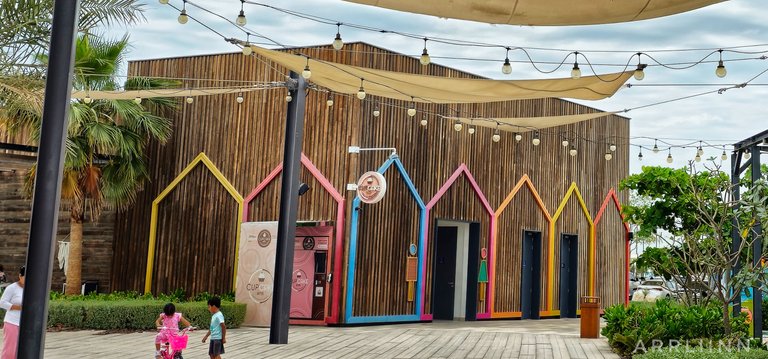 It's a popsicle!
Little Man had to go to the loo as well and I told him where it was. I said, there's a sign for "male" and "female". He stared ahead blankly.
"Can't you see it?" I asked.
"No," he replied.
"Do you see the circle?"
"Yeah..."
"How about the rectangle?"
"Yeah."
"The thinner rectangle?"
"Yeah," he said yes on all.
Then that's it. That's the "male" symbol, I said. That's the toilet.
"No, it's a popsicle!"
I just shook my head. LOL.
This one is from another building with the same design.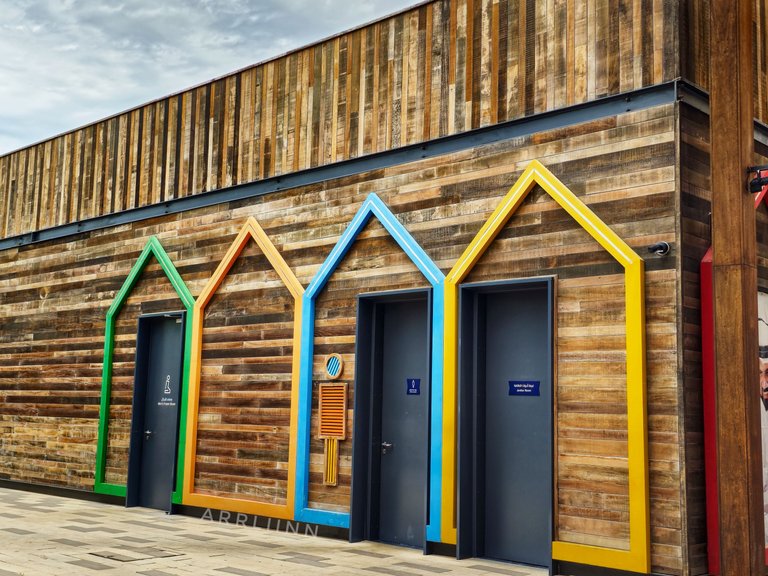 While inside, the design is very modern - aesthetically pleasing. I specifically loved the lights and the mirrors.
The stainless steel sink is one long, continuous design. I am not sure if I would like that if I were using the sink alongside strangers. I mean how about seeing the water from someone washing her hands, flowing right in front of you?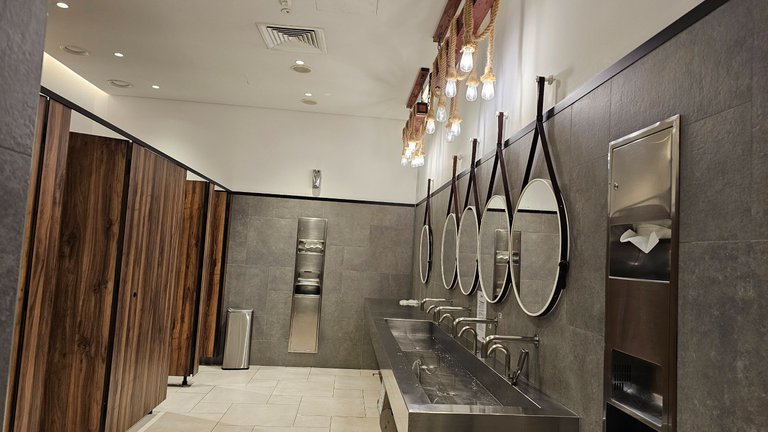 Showers and Changing Rooms
Are they also referred to as loo? I'm not sure if they are, but since we're already here, let me just share a couple of photos from the beach shower area and changing rooms.
There are three showers in this spot with separate faucets for washing sandy feet. I find this useful especially for those who got their feet dirty from just walking at the beach, but did not go for a swim.
I am not sure if there is a private shower area in this part of the beach. The private ones I know of are at the other side at Al Hudayriat Beach.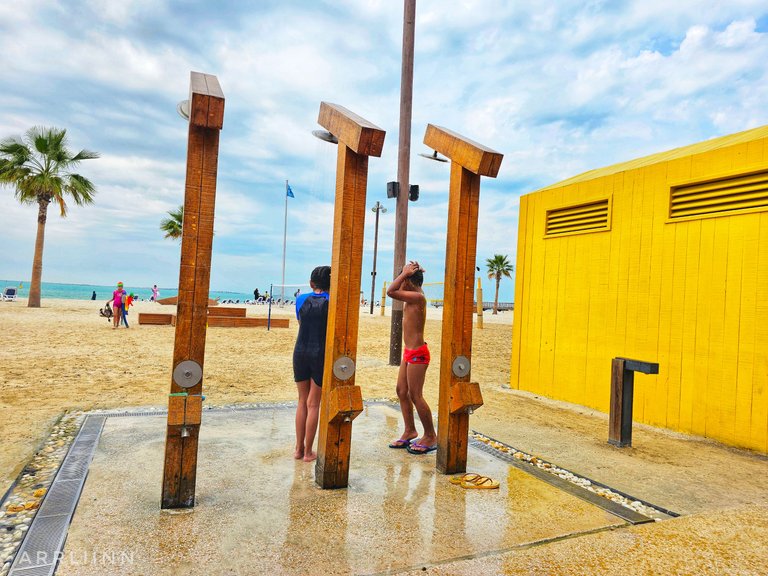 Next to the showers are the changing rooms - blue for male, and pink for female. The yellow shed is a stock room.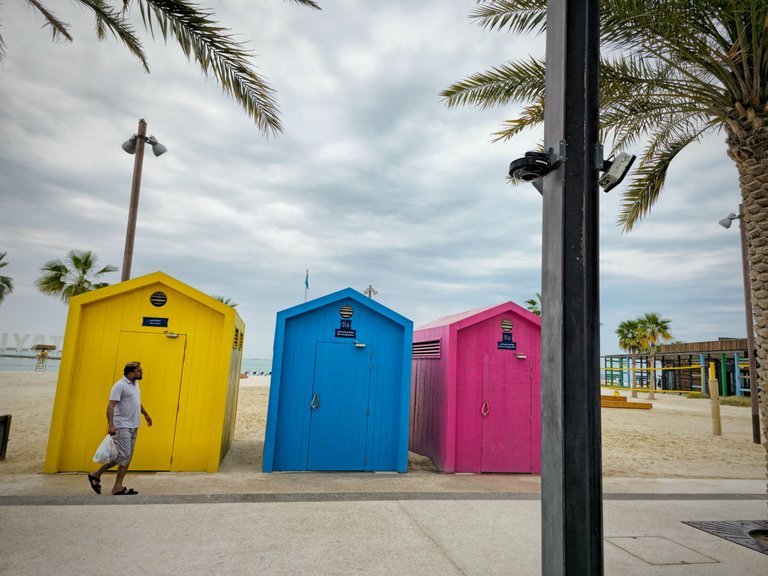 The changing room is big -- I would say too big for one, even very spacious for a wheelchair.The problem here is that when it gets busy and there would be a lot who will need it. I think it would have been better if the changing room was divided into smaller cubicles with doors.
This was supposed to be a post to share about our #sublimeSunday or #weekend experience, but I got too preoccupied it dragged and I could have made it a #WednesdayWalk. I took too many photos while trying to familiarize myself with my phone's camera. Then again, why not a #LooLoo community debut? Apparently there is #toiletThursday. It's already Thursday in some parts of the world anyway.
Anyway, if you made it here to the bottom of my post, thank you for sticking up with my blabbering. :D
Hope you're having a wonderful day.
All photos are owned by the author.


---
---